R e n o v a t i o n J o u r n a l 2 0 20
Part 3
F r o m W i n t e r t o S p r i n g
Chapter 22 ~ The Waterfall
(9.1.2020)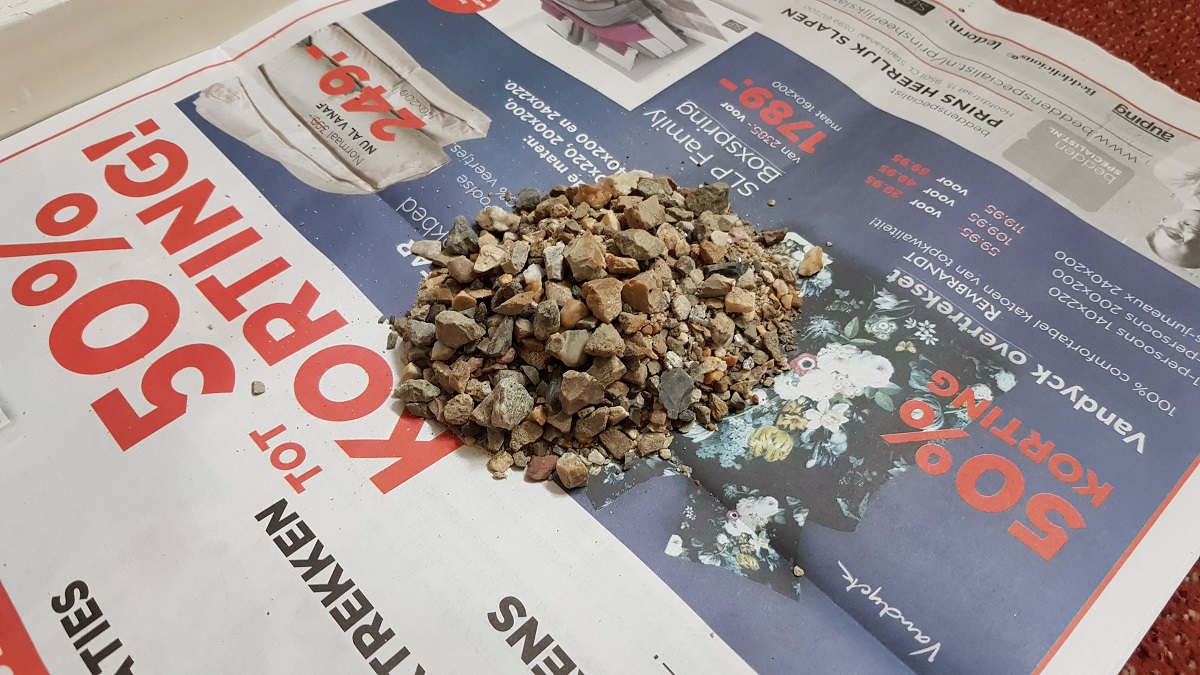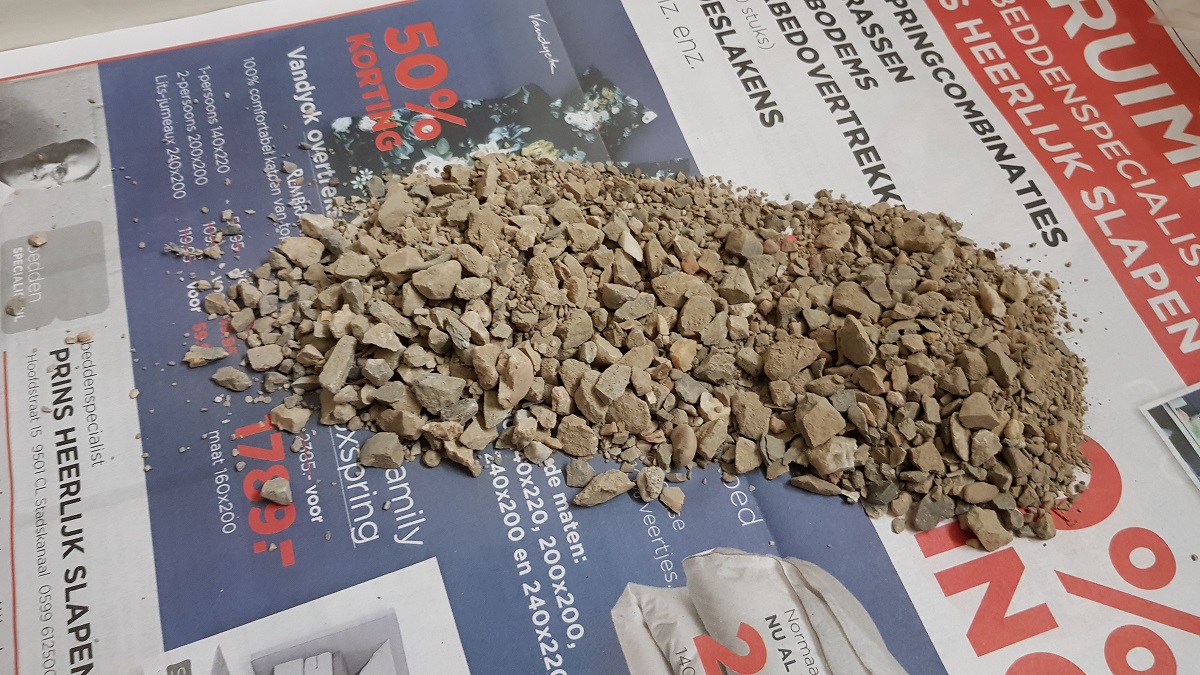 As promised, my friend brought 4 bags of rocks in different shapes and colours, while staying at my residence.
I made a selection for the lower part of the stream.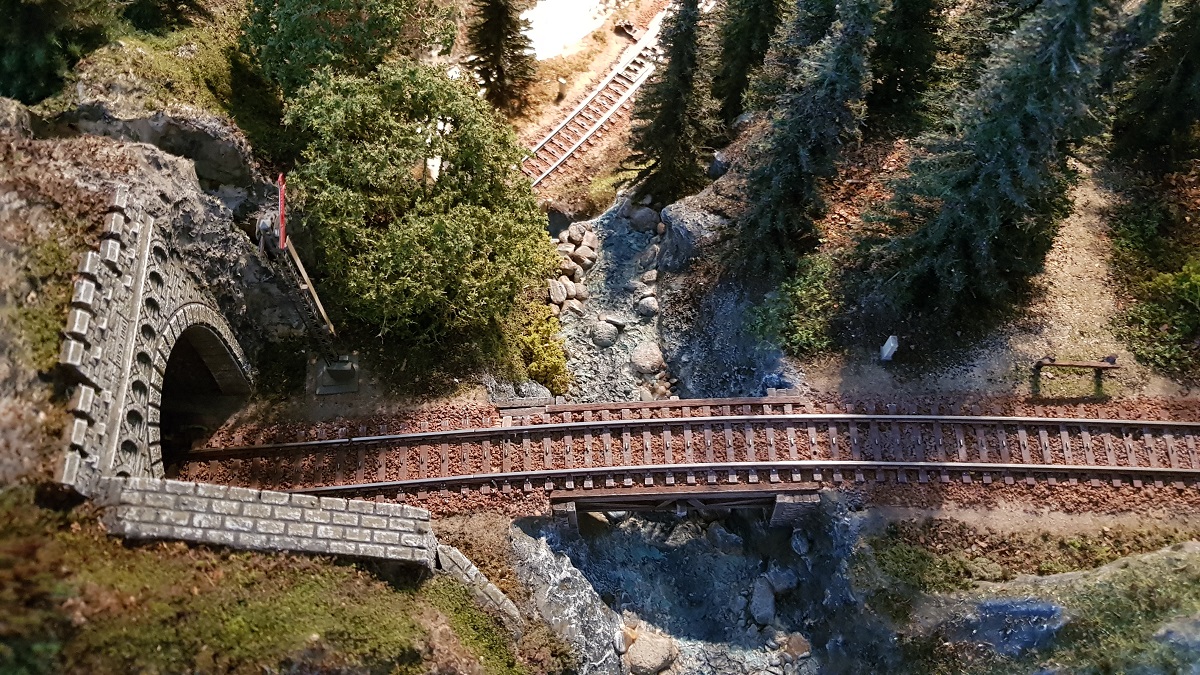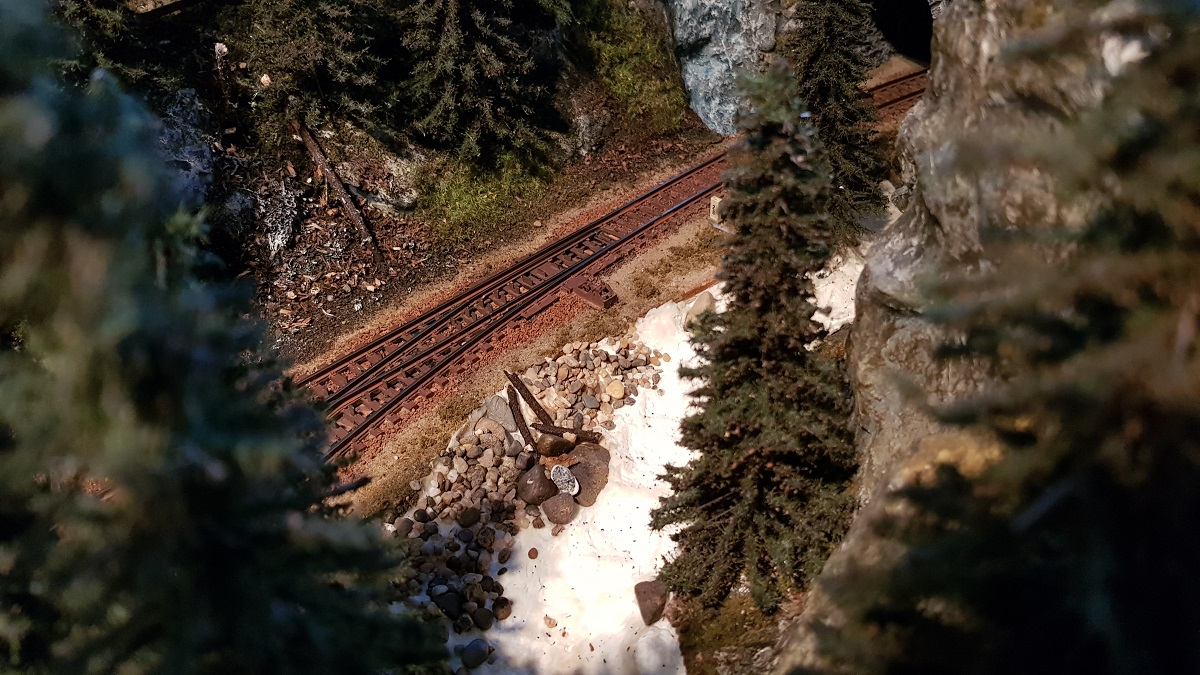 As you probably will remember, last December we ended the Journal with working on the waterfall
with this white layer of toilet paper, some rocks and fallen trees. I left it like this into the new year...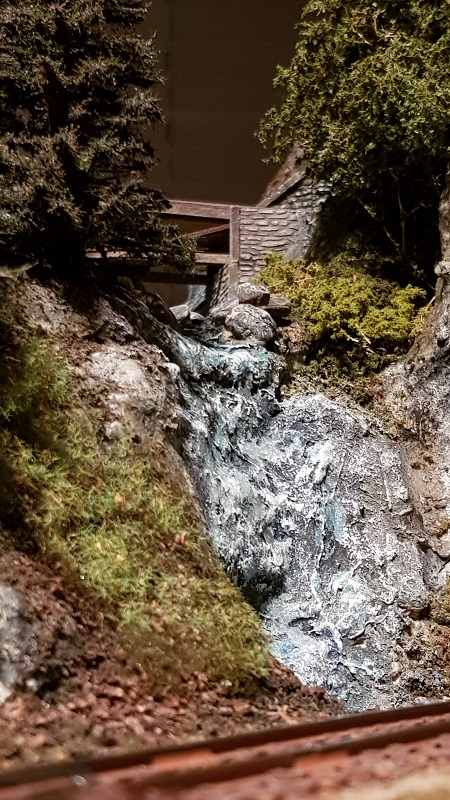 Today my plan is to painting the brook, adding some rocks and trying to make 'water' out of silicone.
In three steps...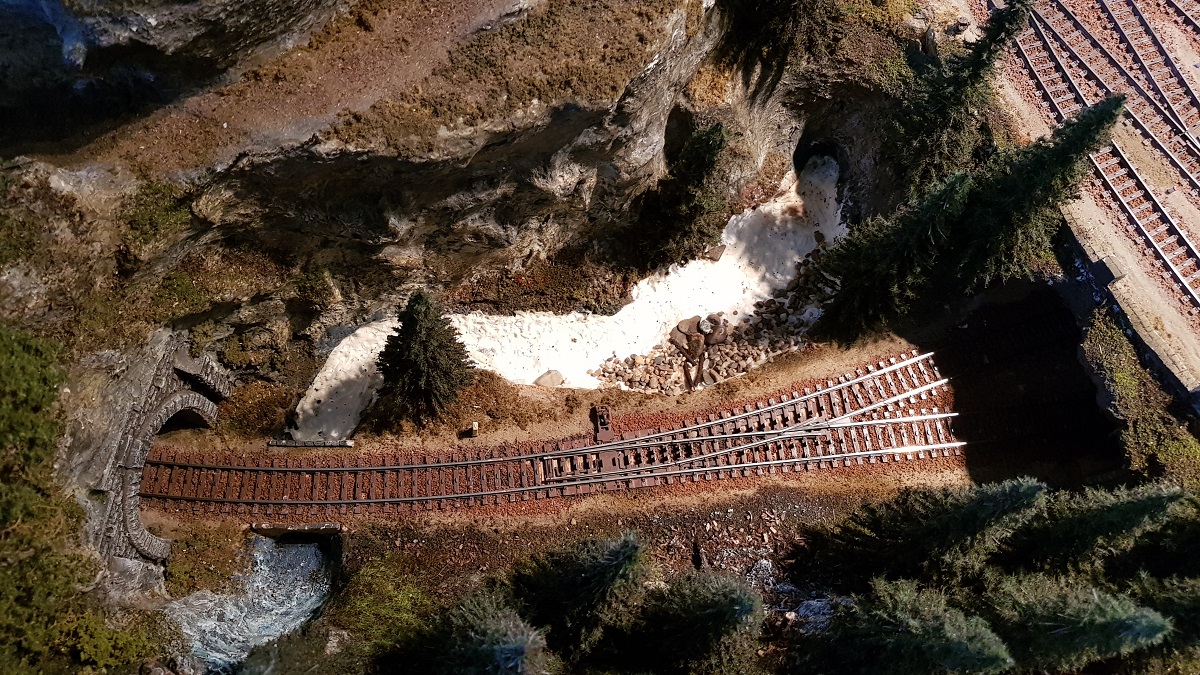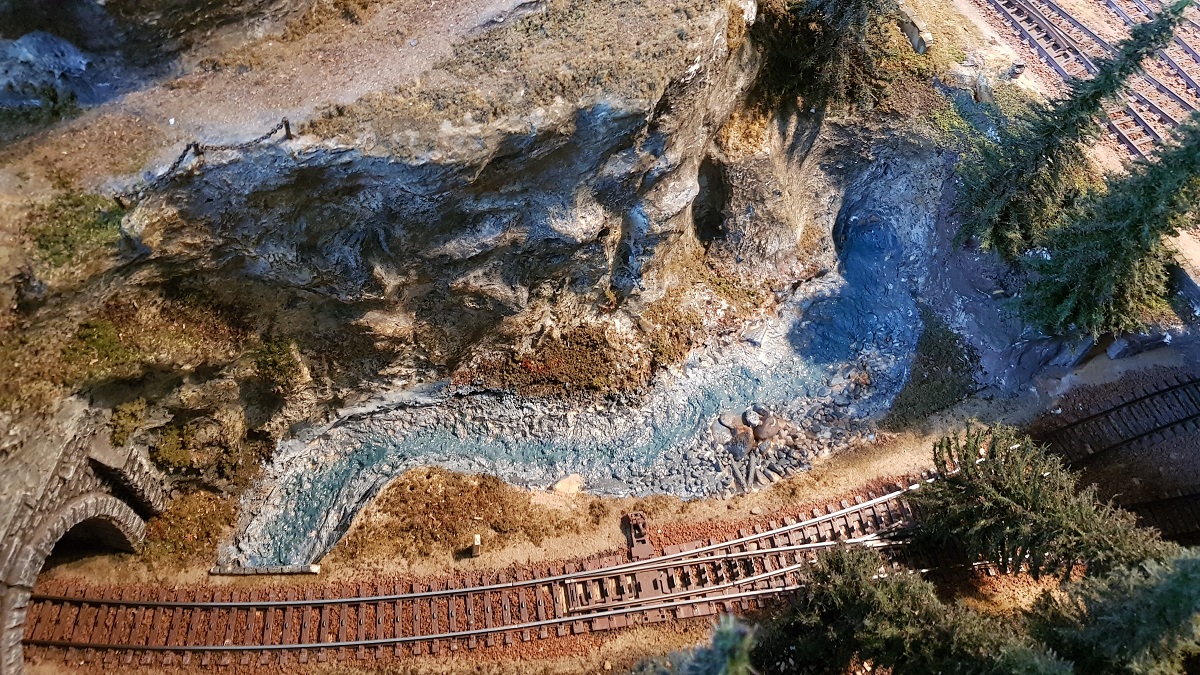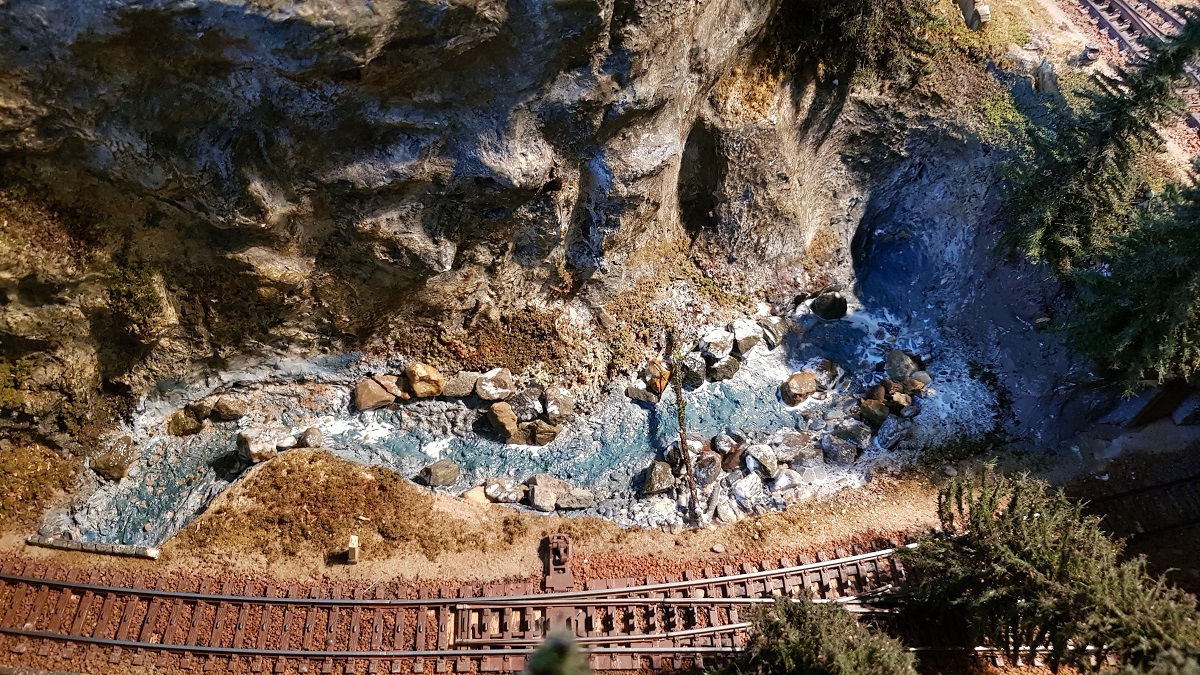 Nah... too many rocks in an unnatural division... less is more...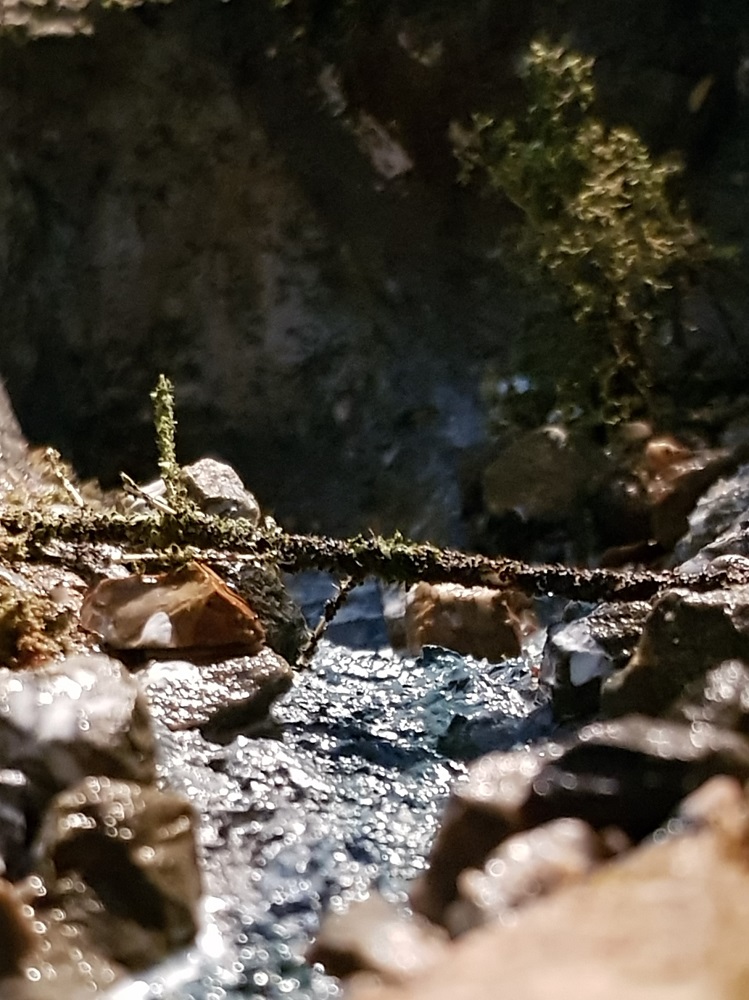 This is still only paint. But the idea suits just fine!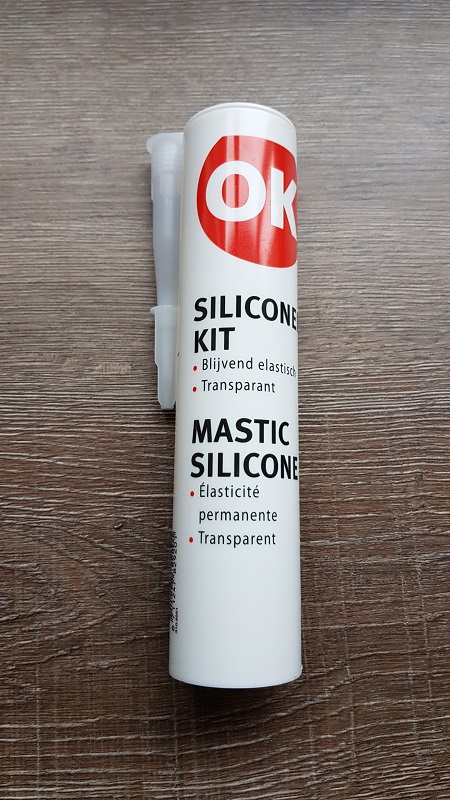 I bought myself a tube of silicone, just for some streams and jets of water...
Never done this before!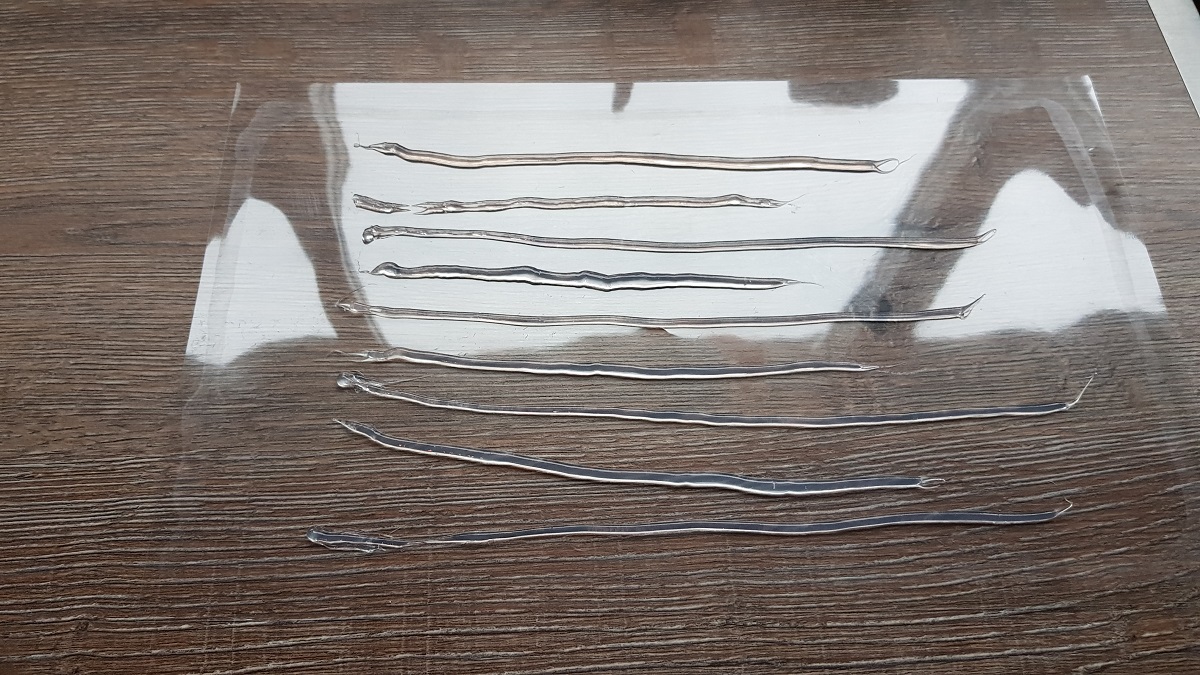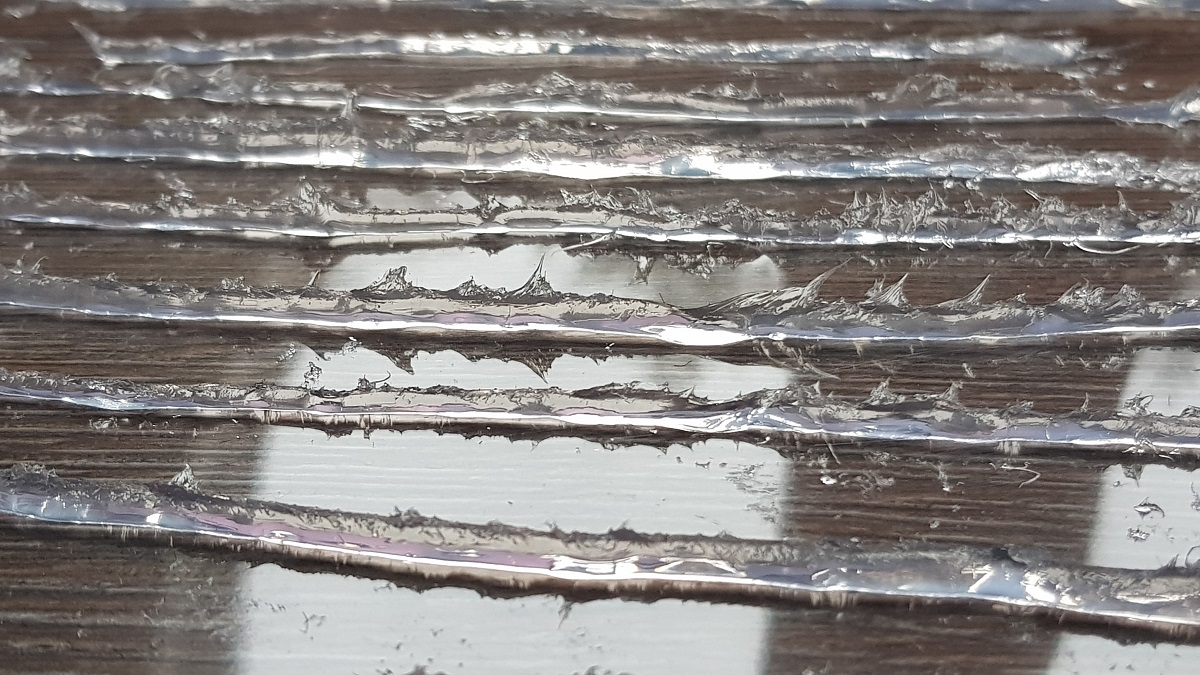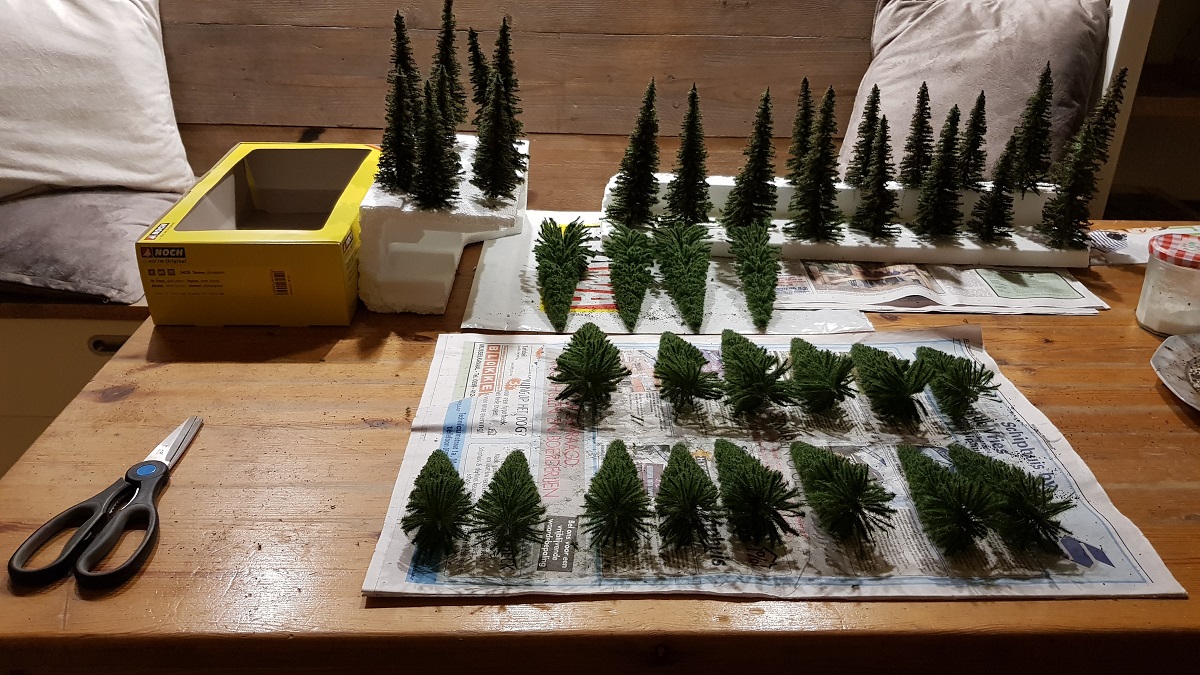 In the mean time, I bought another box of Noch trees. I can hardly wait to plant them.
But since I have to work in the middle and deeper section of the layout, therefor bending over a lot, these trees will only bother me.
So... patience is a virtue!
Let's see what tomorrow will bring!
Chapter 23 ~ T h e C a s t l e
(10/11.1.2020)
Working on the Waterfall I am approching the castle at the right side of the layout.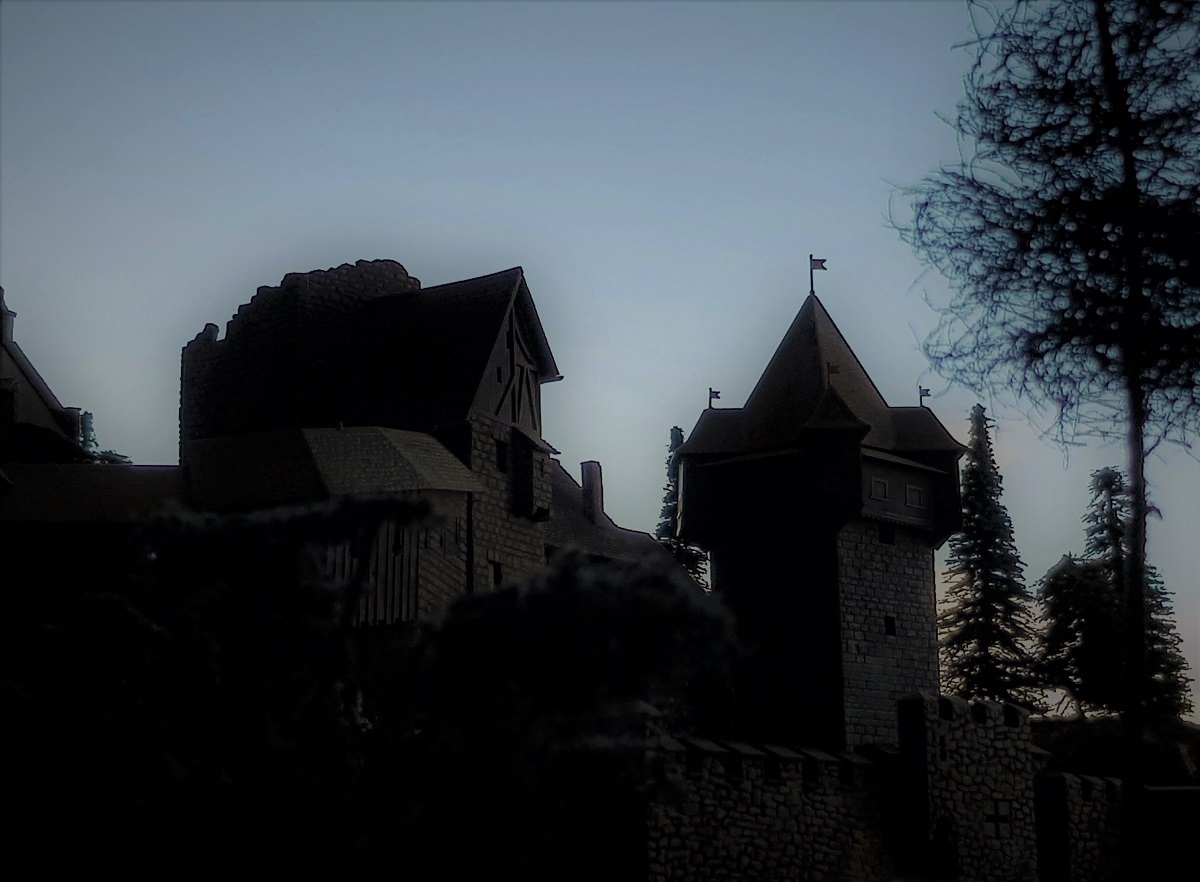 Since I gave the walls certain upgrading some years ago - that is to say: black jointings with yellow stones -
I had the idea that the walls look rather dull these days, like on the next two pictures: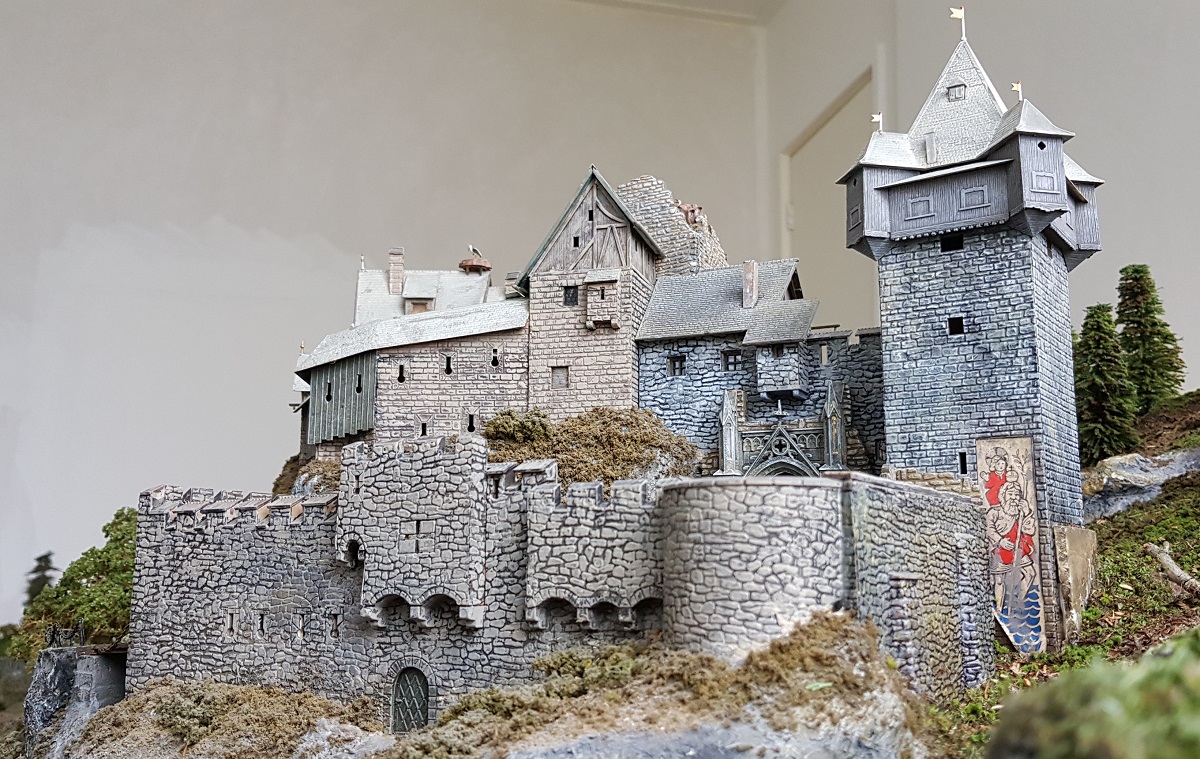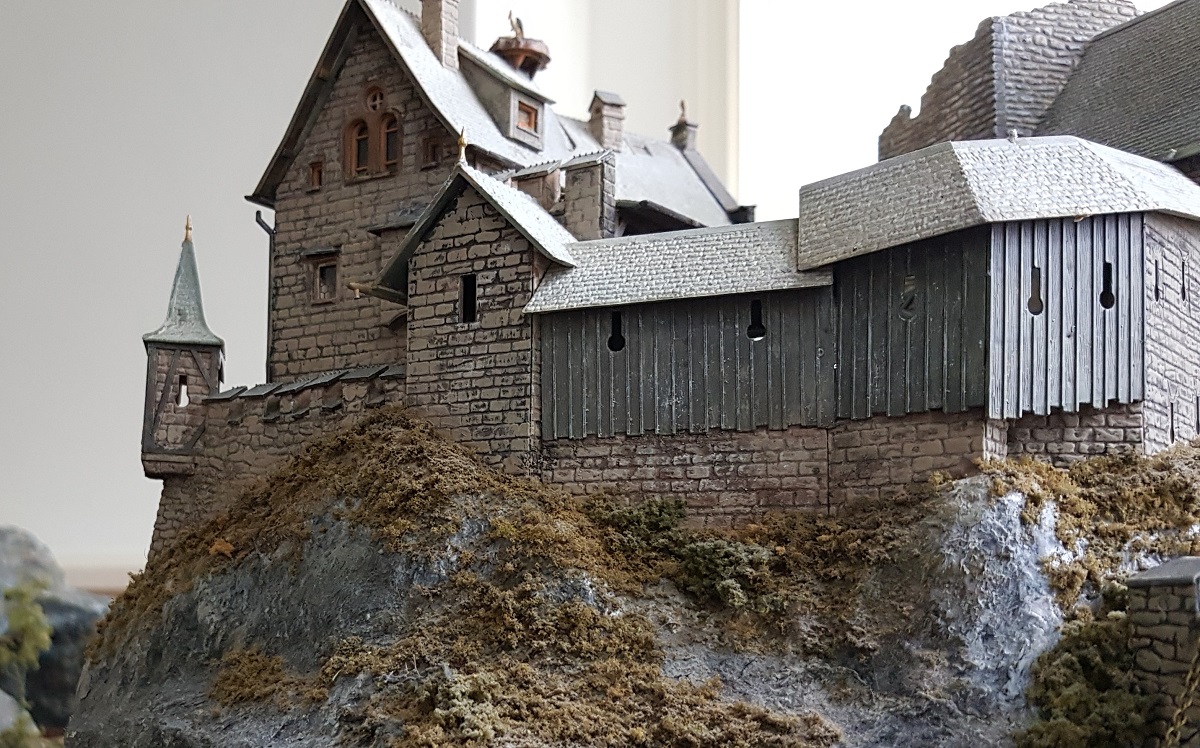 So... I all gave them a fine white dry brush stroke and behold... a fresh look apeared.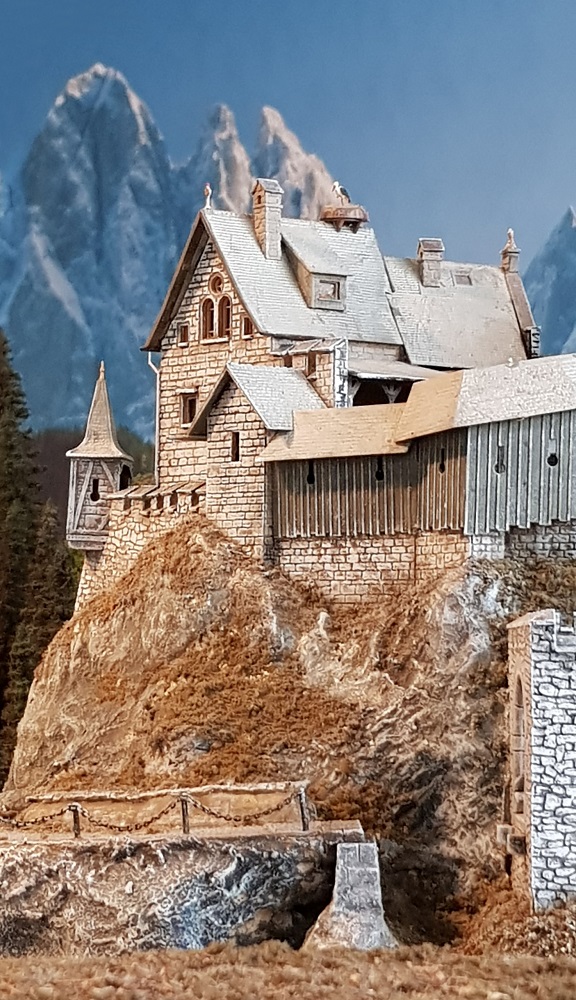 10.11.19
And as it goes, while standing before the layout and doing some comtemplation one evening,
it suddenly struck me that the lightgrey roofs made the whole castle look even the more dull.
With a contrasting green black forest in the backgrond and these freshly painted white-greyish walls, I felt something was missing.
And all of a sudden - as if struck by lightning - the idea hit me!
Like the Castle of Sleeping Beauty in De Efteling, similar to the roof of my very own station in the valley,
the castle needs amarantha red roof tiles.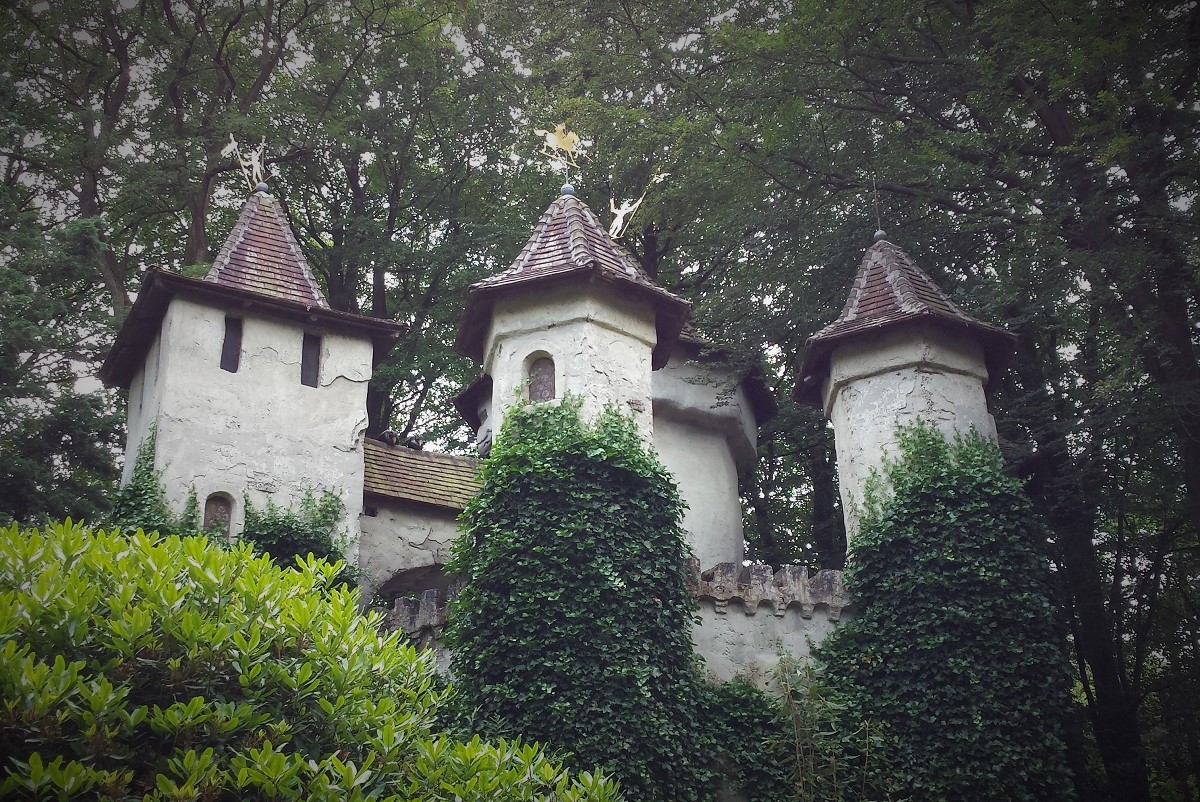 The one and only Castle of Sleeping Beauty, at De Efteling
11.7.2016 © Frits Osterthun
So, new Vallejo paint was ordered! Waiting anxiously....
In the mean time I had in mind to do some real vegetation - "speeding up and making meters" -
as in covering the whole area around the castle with new vegetation.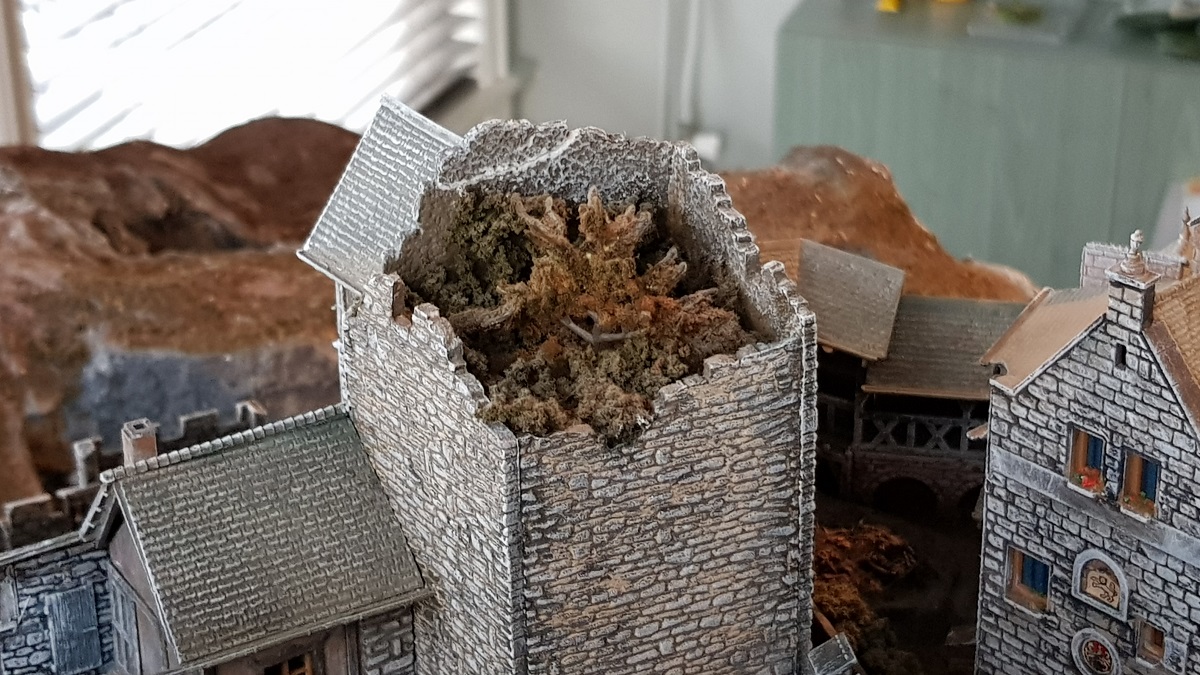 However, my eye then fell on this ruined tower!
That is to say: the tower I created myself with styrofoam in stead of the original one,
as you can read in a previous chapter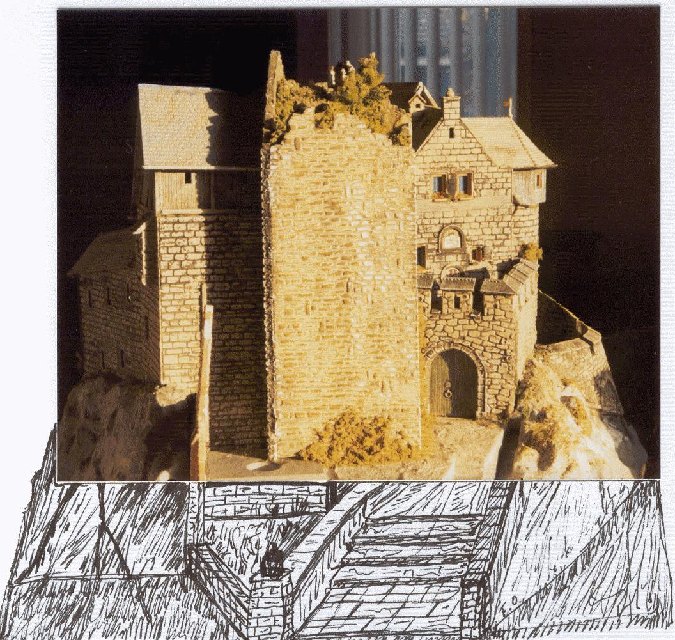 So here we go again: "Delay, delay!"
No vegetation today, since creating another miniature came into my mind!
Why not shaping a small new world on top of this ruined tower?!
With fresh vegeation, some wooden beams lost here and there, and not in the least some ramps dangerously dangling on the wall?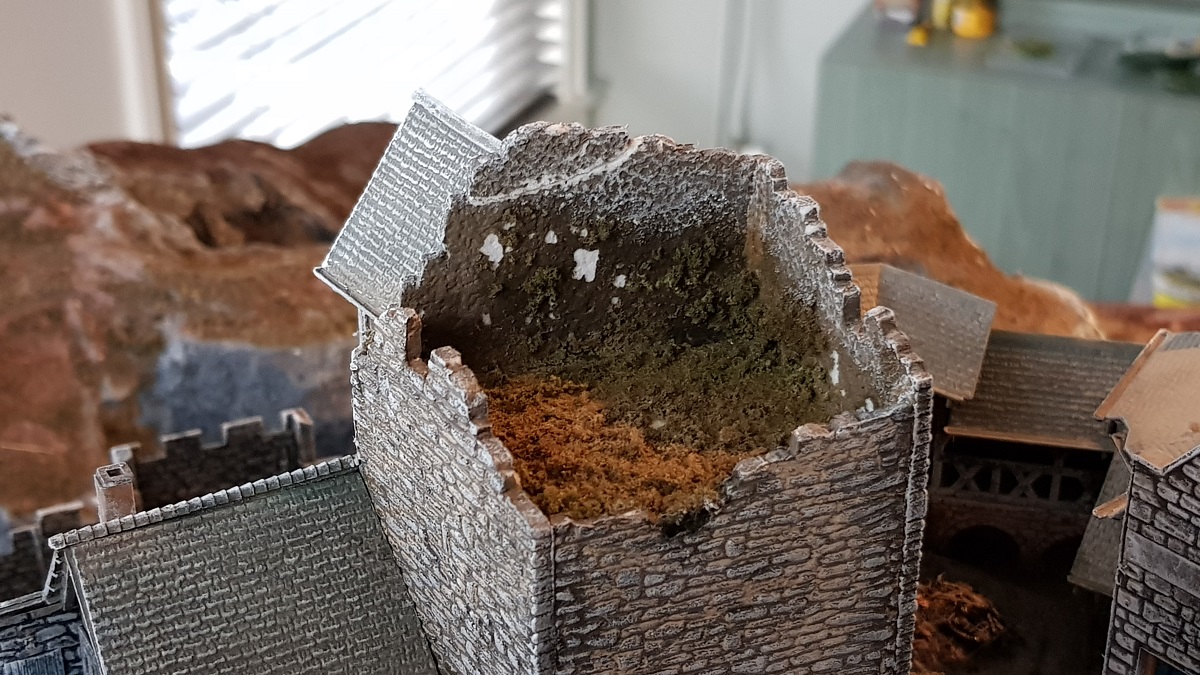 Stripping the top with great care...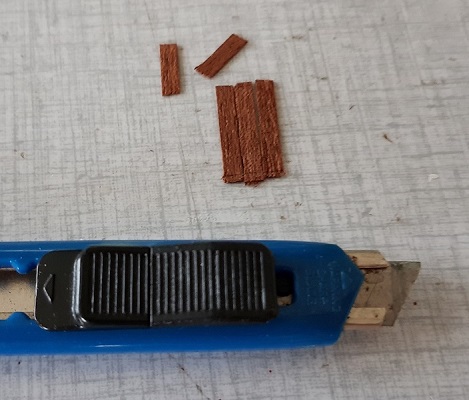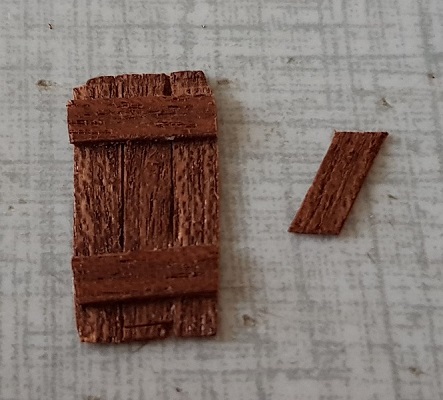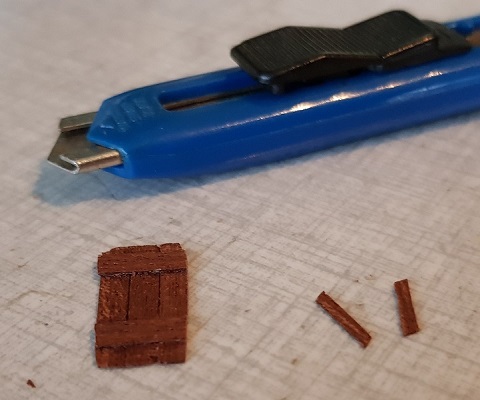 Making a door, not only with support connections...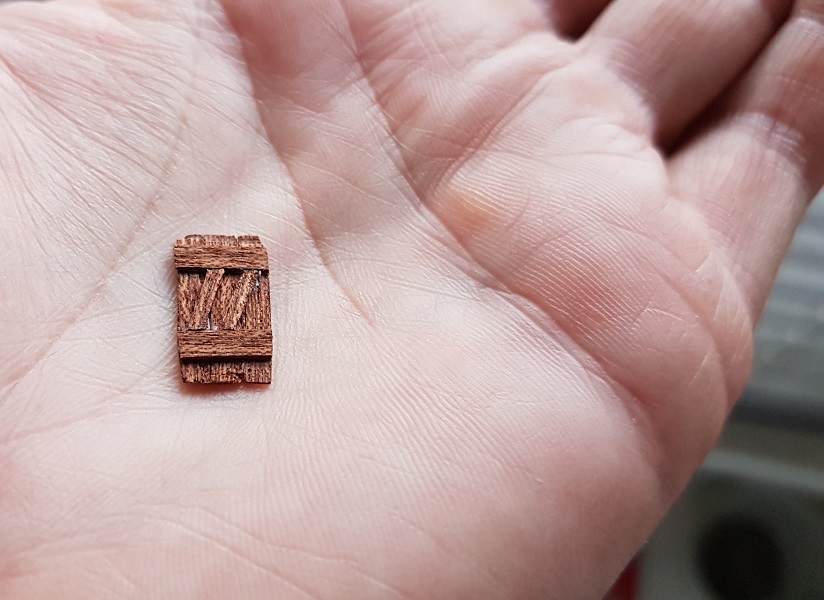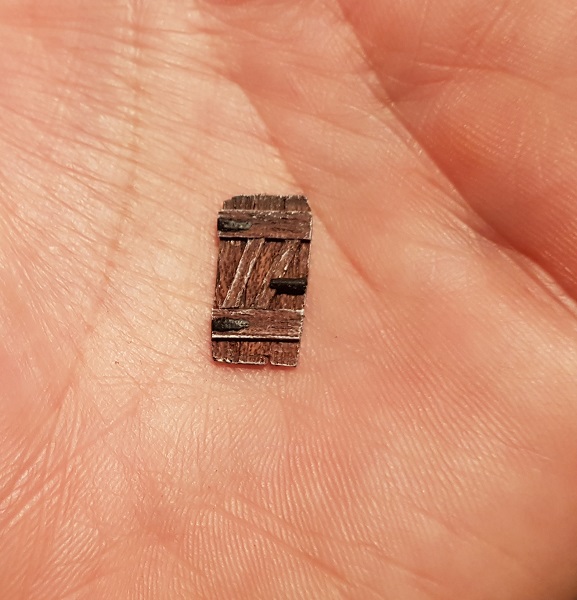 ...but also with handle and hinges!
Then there must be something like a little gauntrie or scaffolding in the corner, remnants of a loft, long forgotten...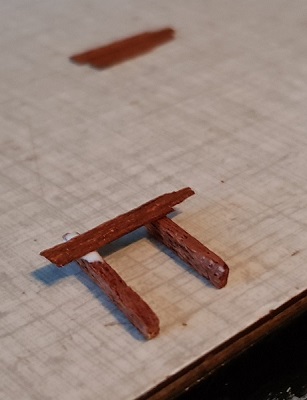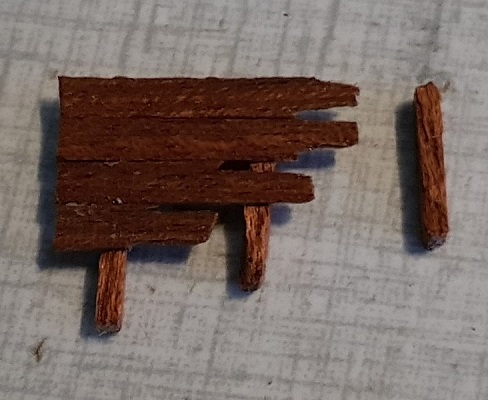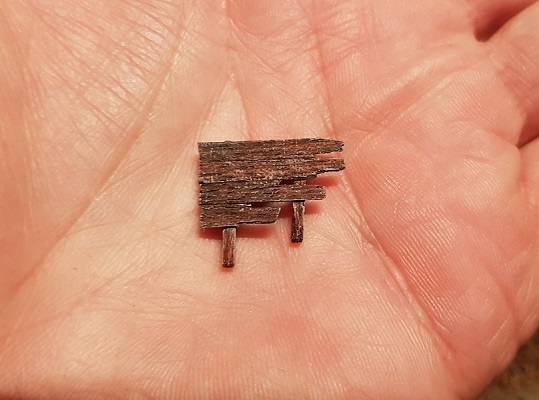 A first impression (at night):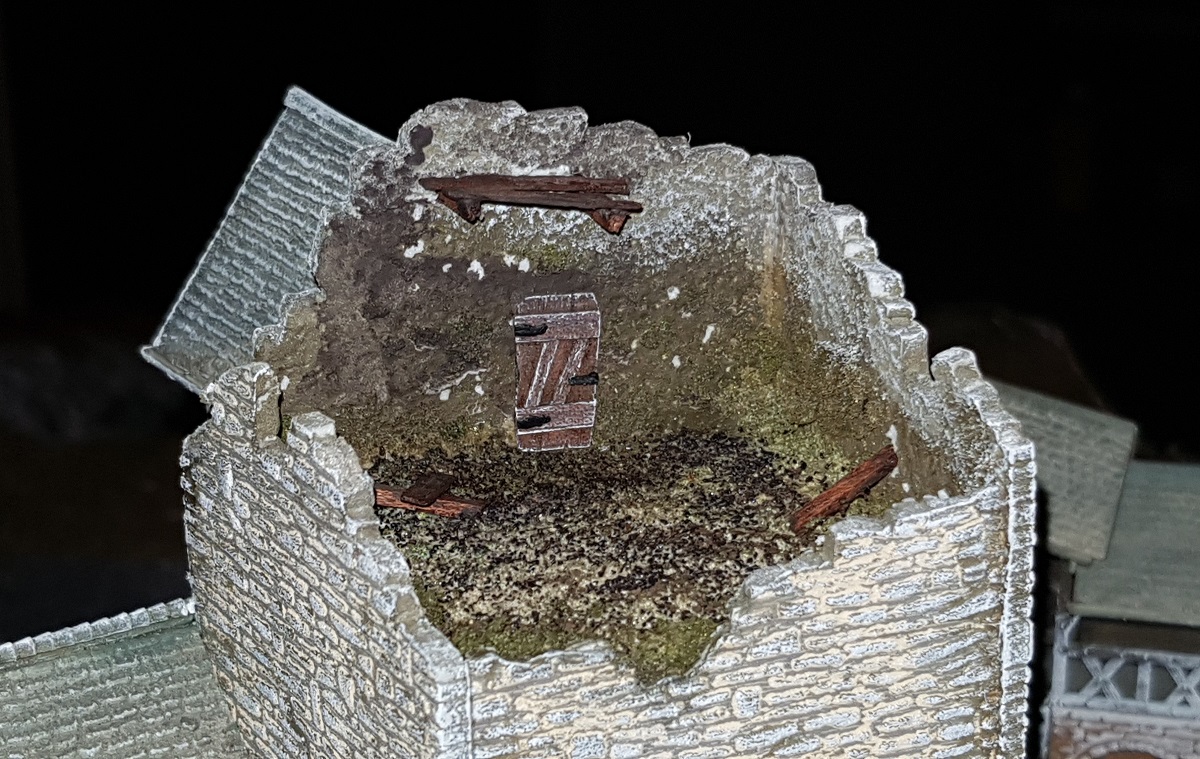 11.1.2020
But a door as flat like this to a wall? Nah!
It really needs depth!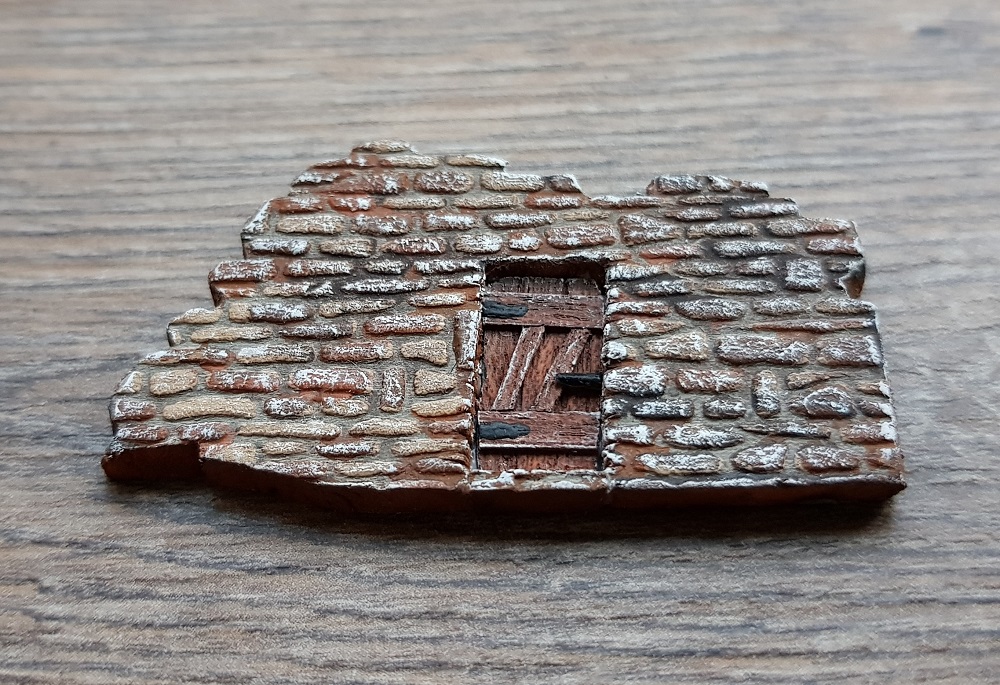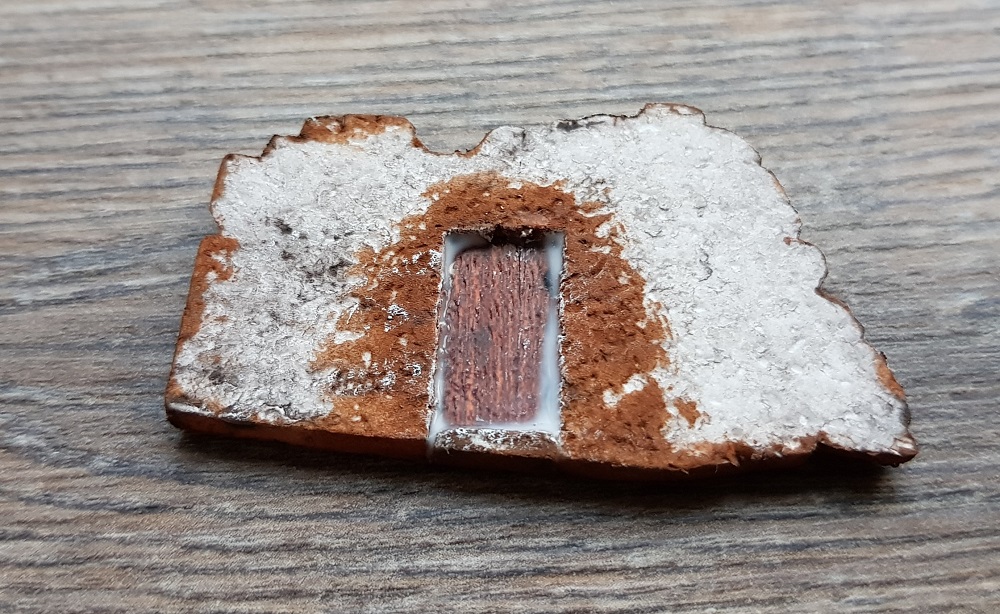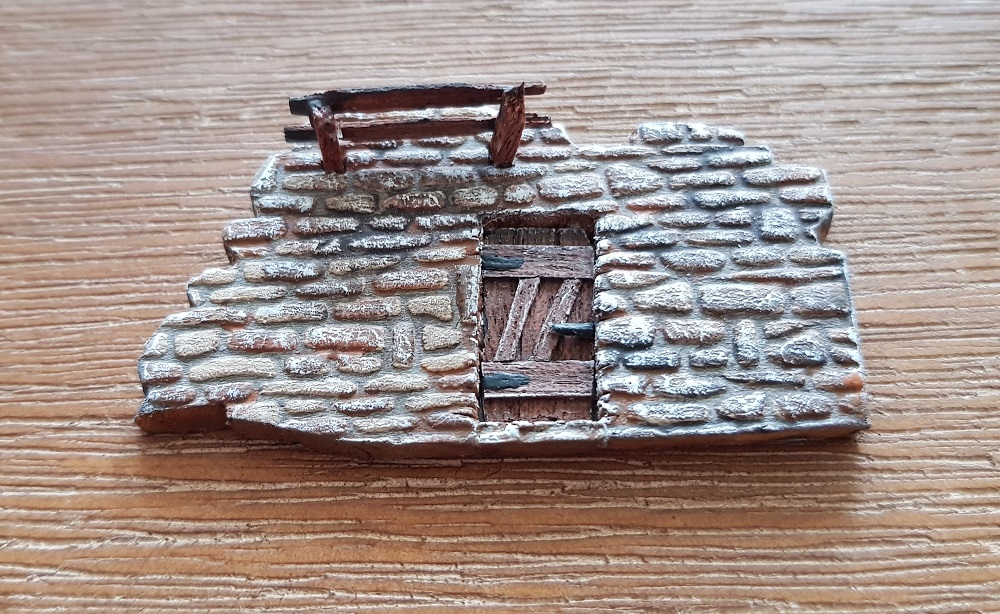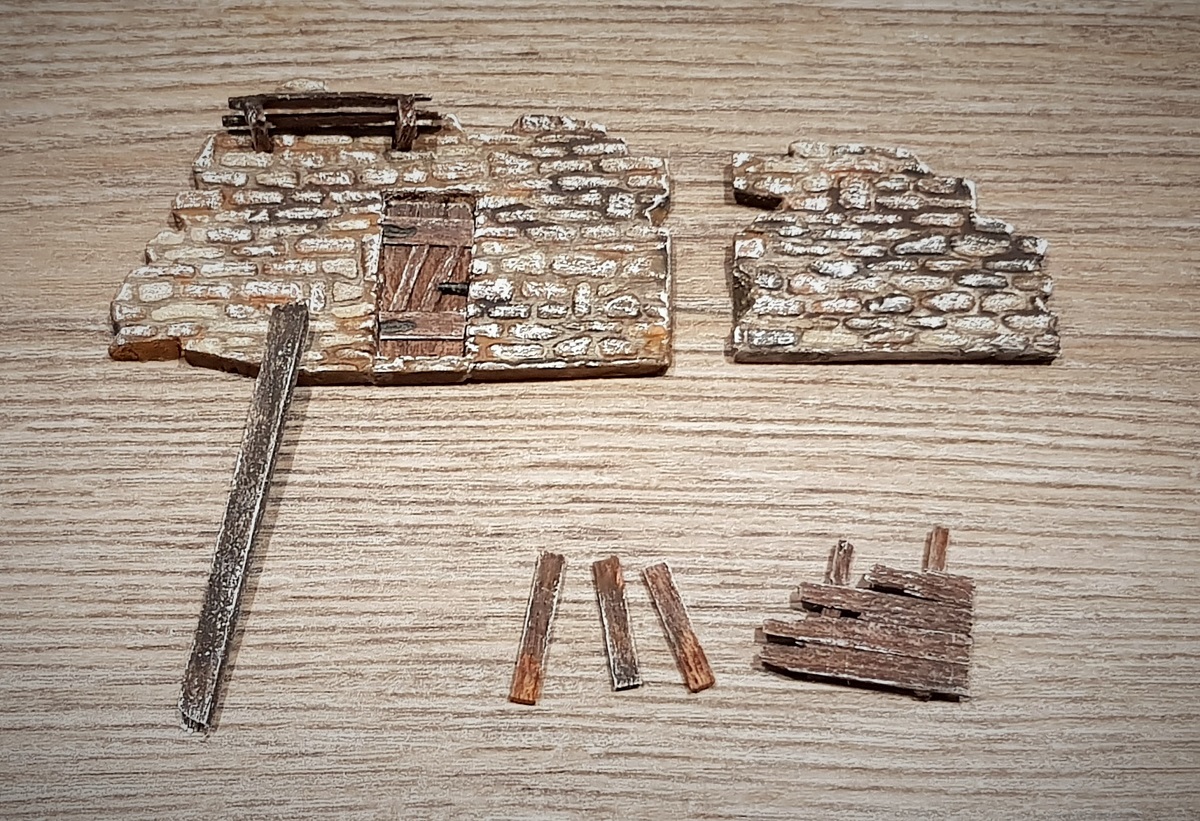 18.1.2020
These two walls together will form an inner corner wall at the south-east side.
Beams and ripped planking will fit up the upper floor of this ruined tower.
While painting some beams meant for the tower top interior,
I got the idea of making some more and have them sticking out of the wall in the lower part of the tower
as if there is another floor inside!
Or perhaps there has been a balcony or platform on the outside, remnants of a time past!
We'll see to that!
And then there was... P A I N T !
(16.1.2020)
I admit, it is quite an adventure with such dashing colors...
Nevertheless, the result is very convincing as you will see!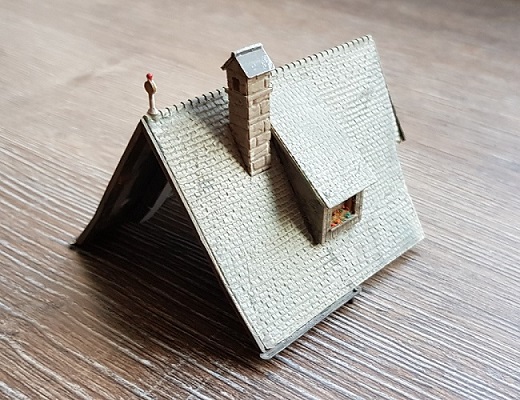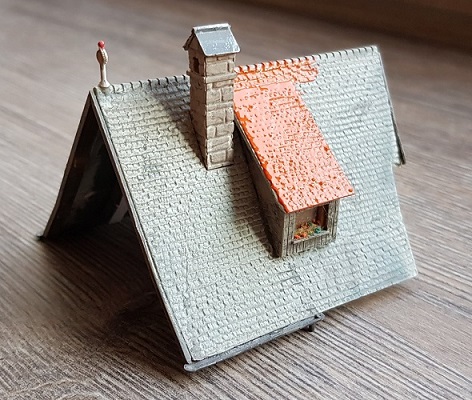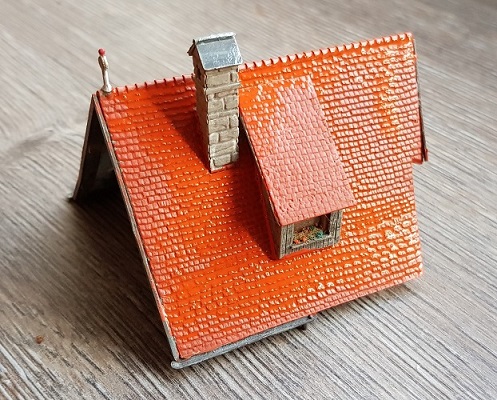 Only two parts of the roof can be removed. The rest is severely stuck.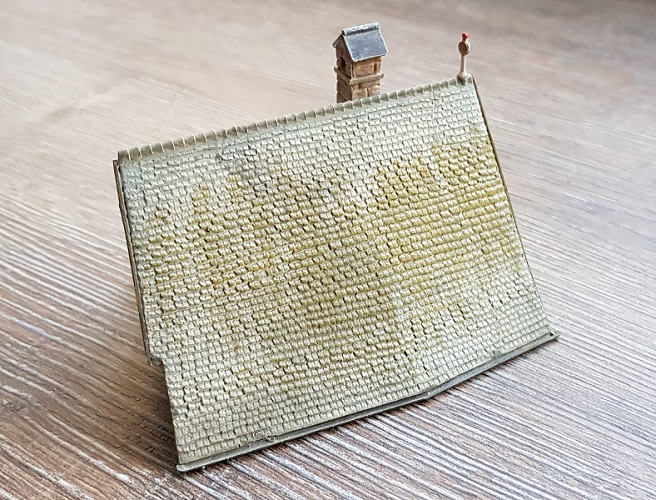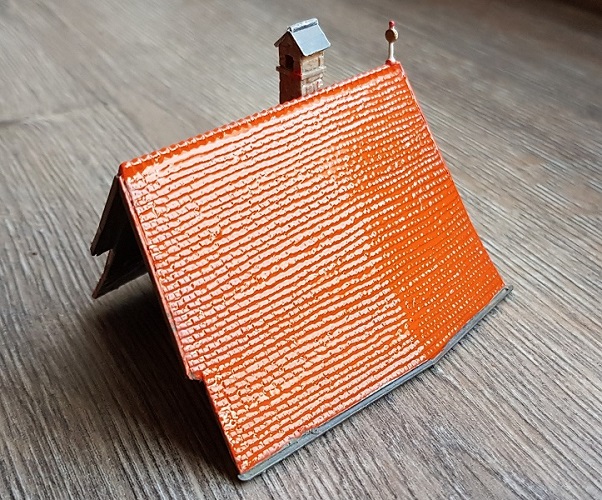 I choose for Amarantha Red (Vallejo 70.829) as a base color.
And this is what happened "in situ", step by step: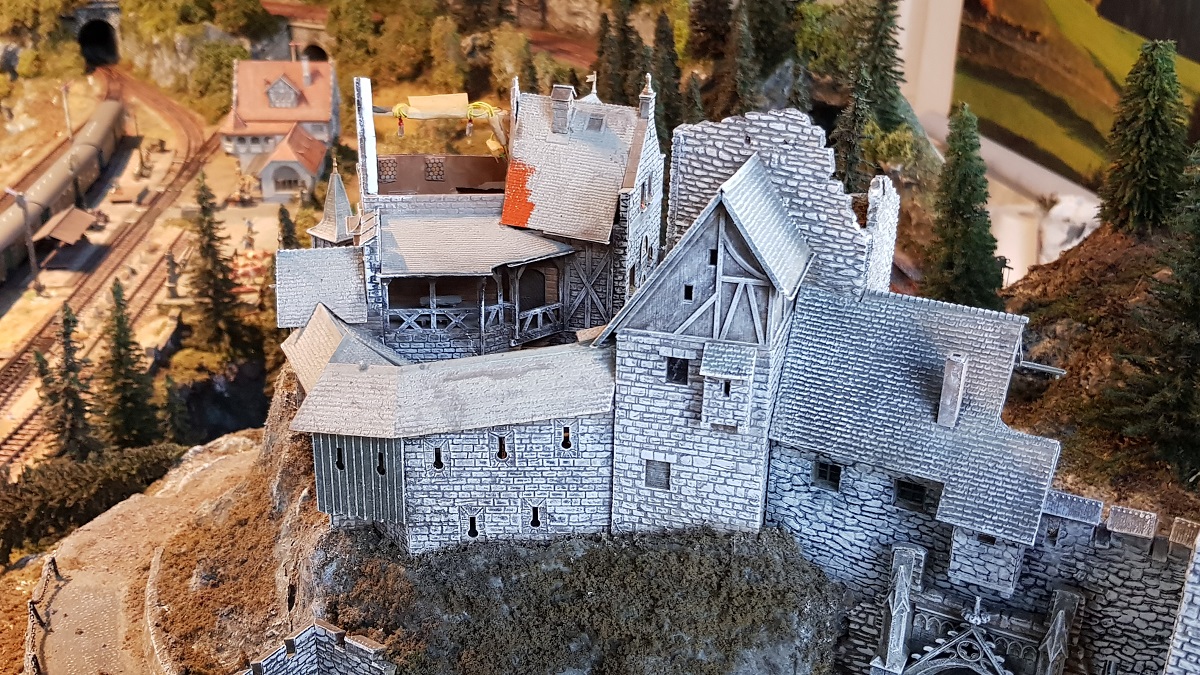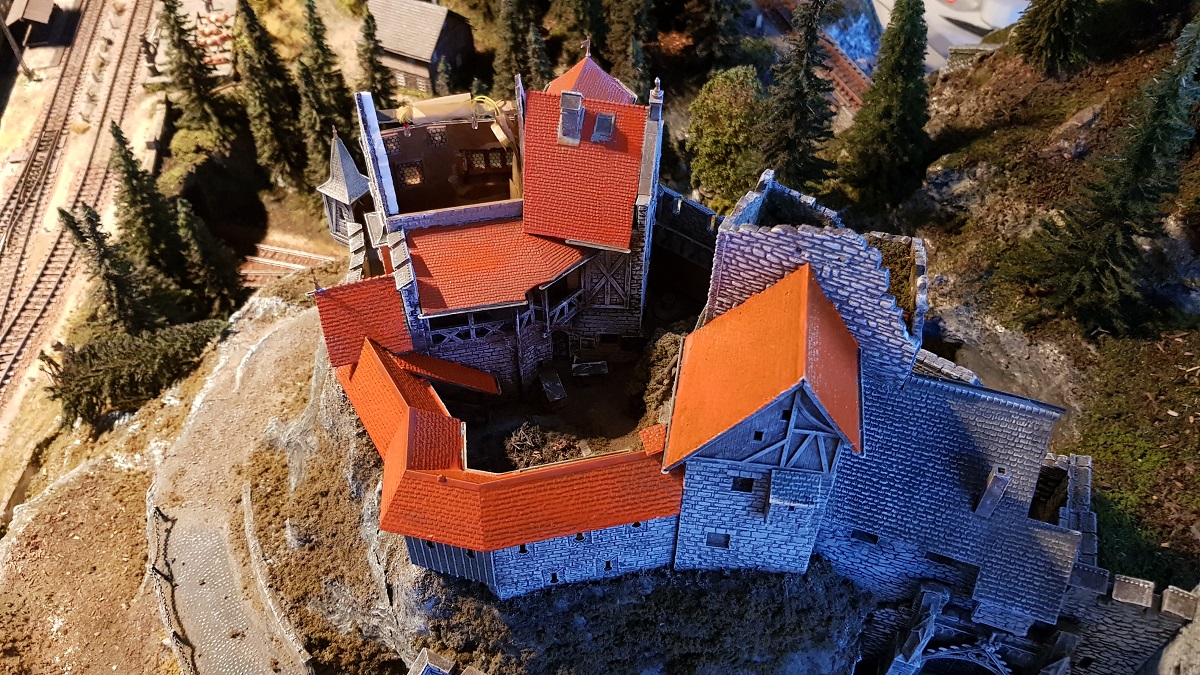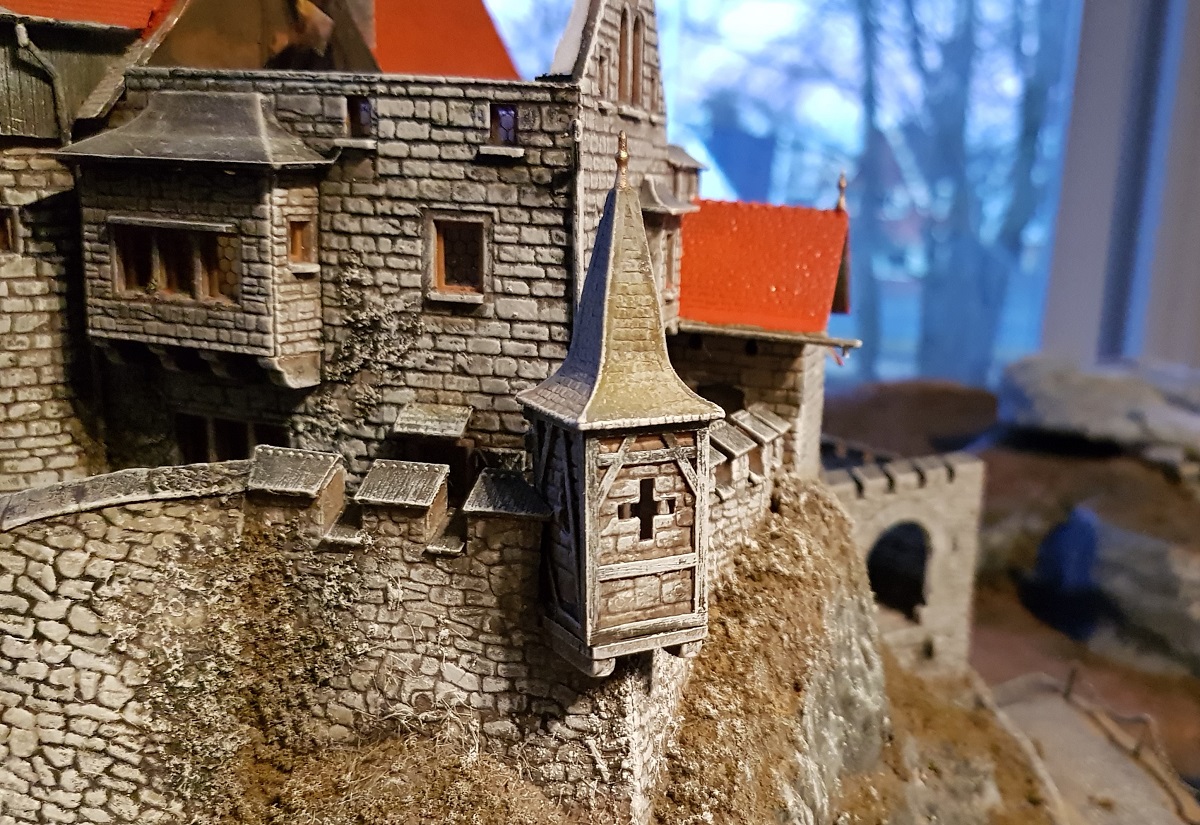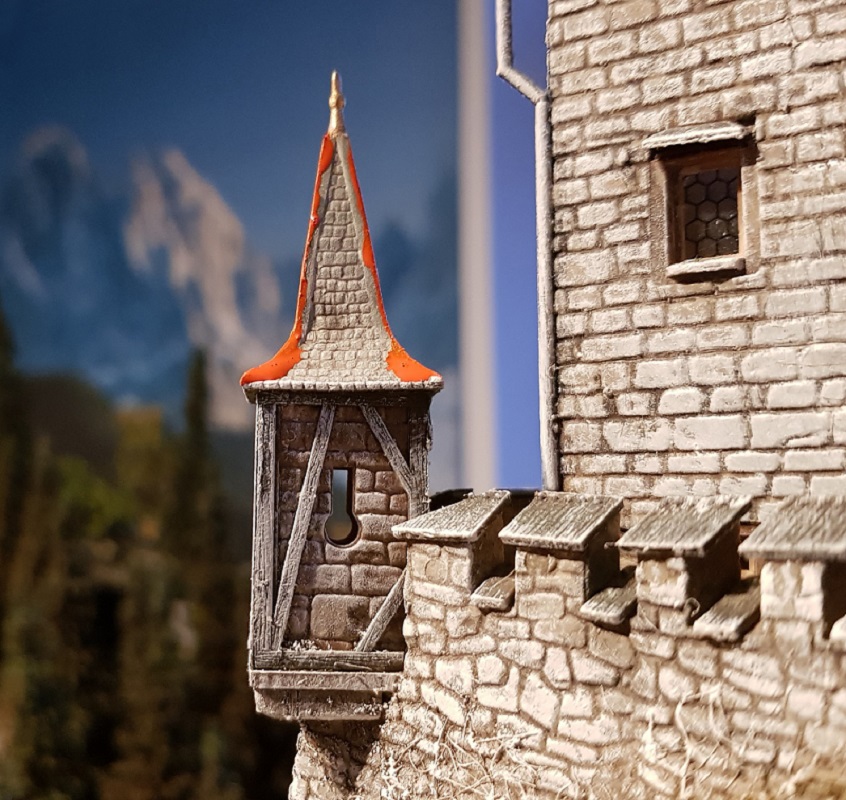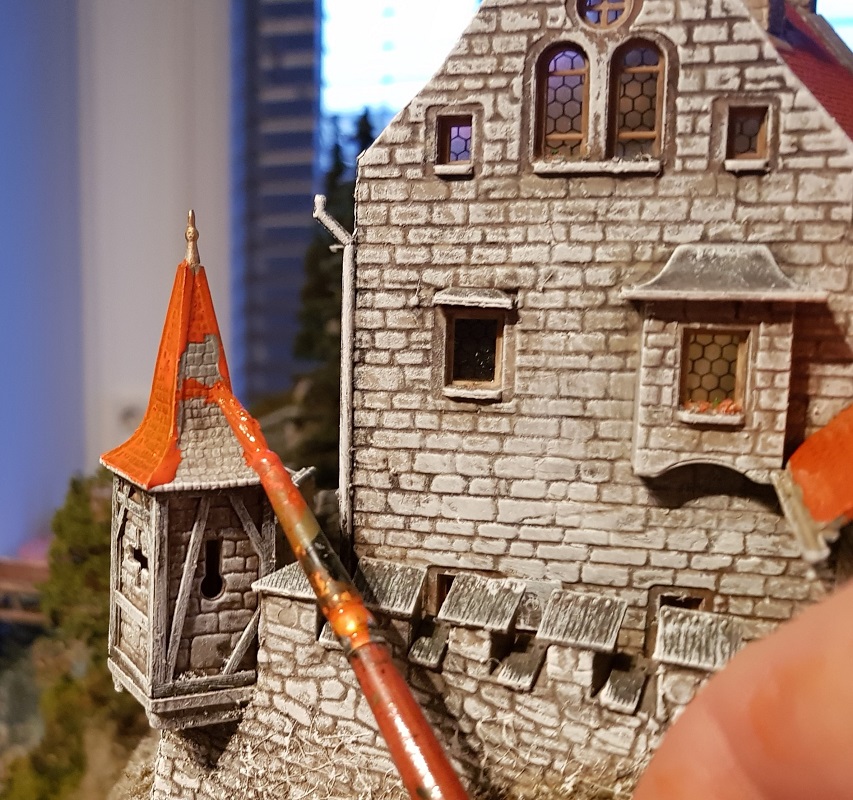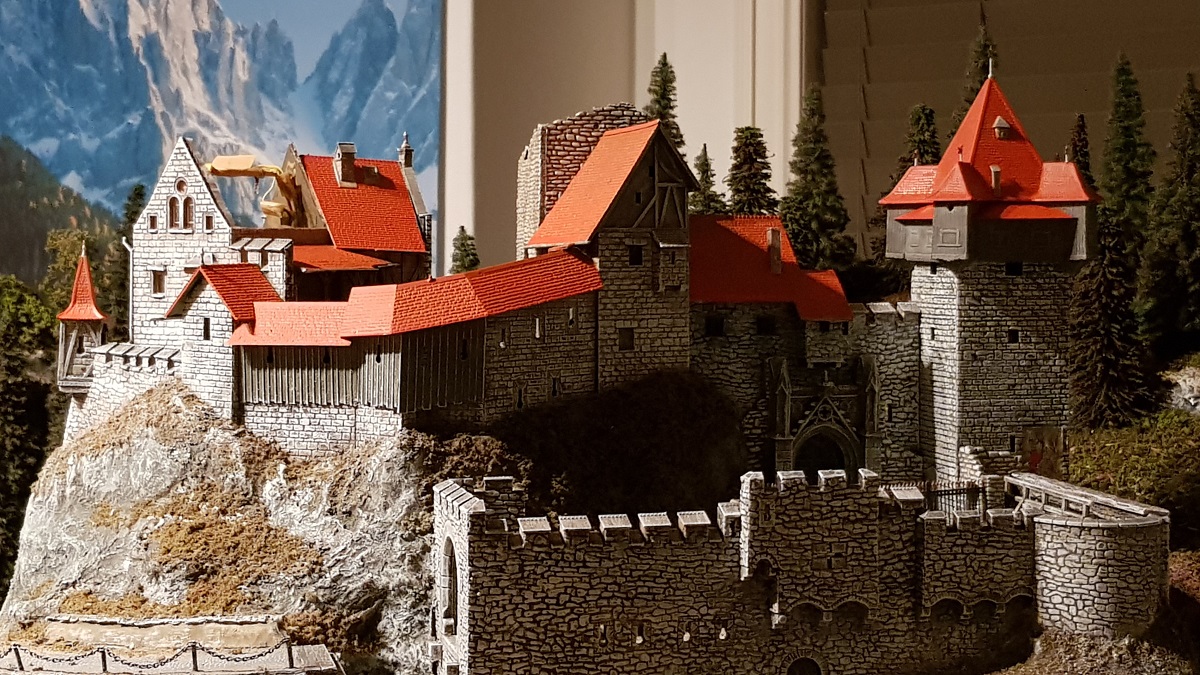 Anton Pieck would be enormously upset by seeing this bright color scheme in such a romantic landscape, but...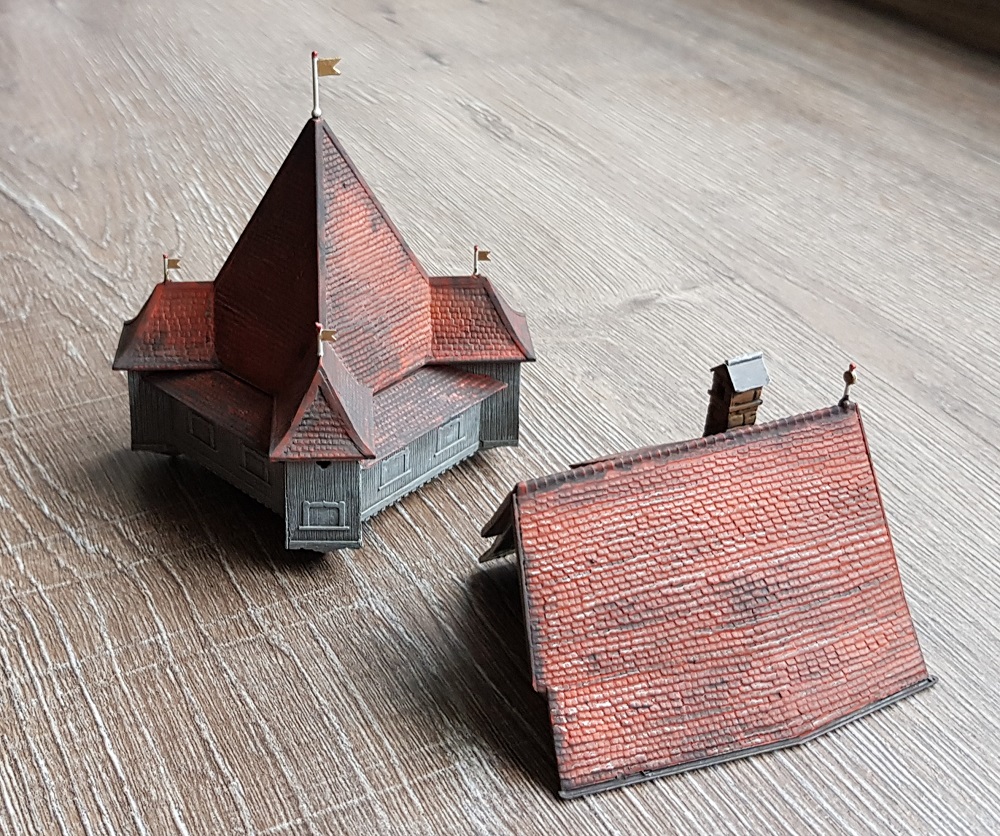 ... no worry: I'm sort of his pupil anyway!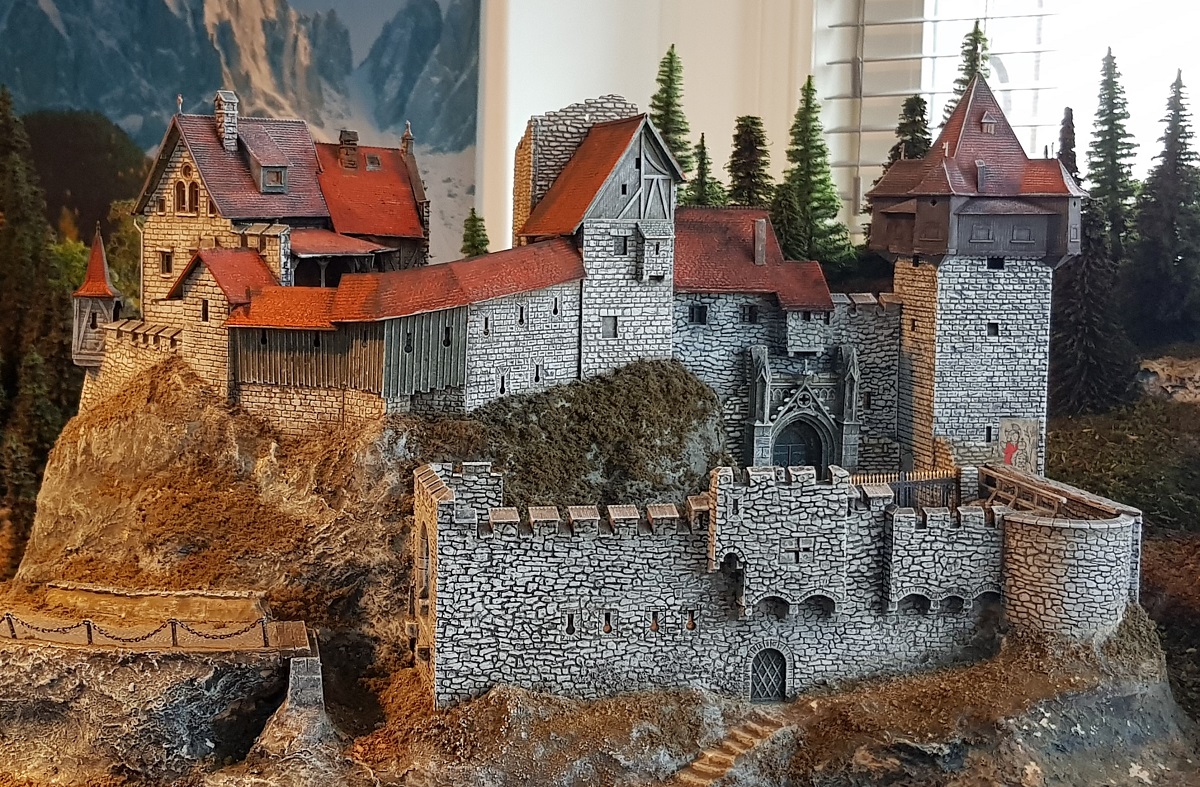 18.1.2020
It seemed that my lasur painting "in situ" was a little too cautious, since it lacks the dark hue of the main building's roof, top left.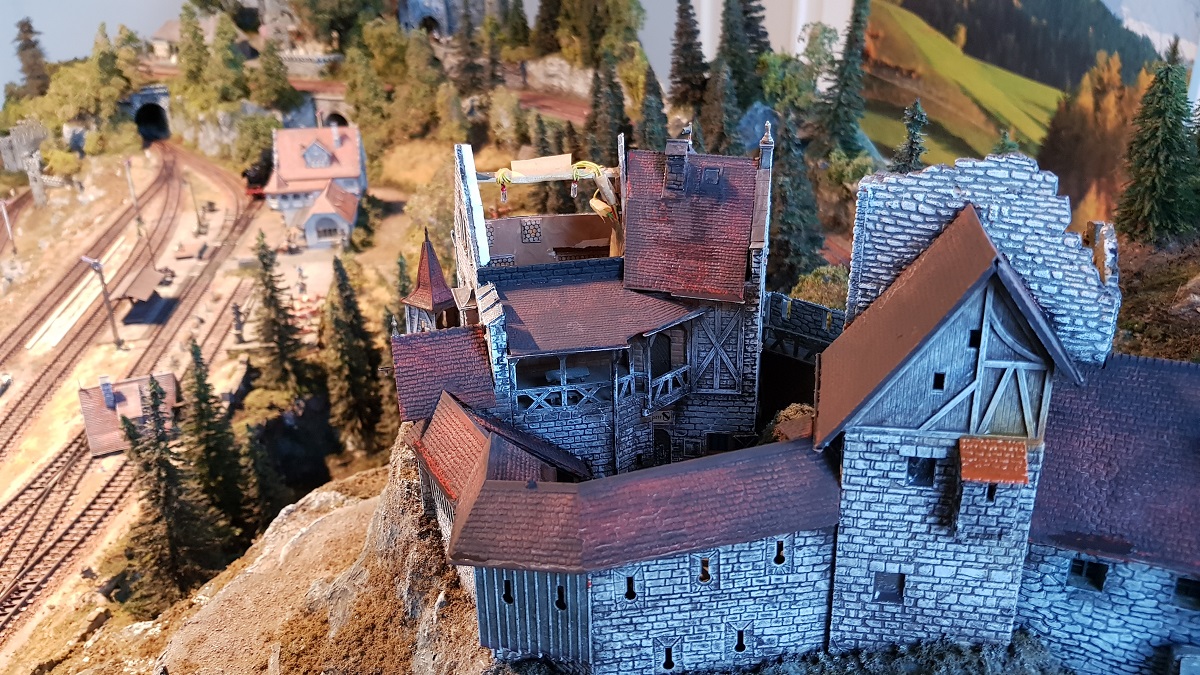 So I did it all over again! (I forgot the little tiled roof at the right...)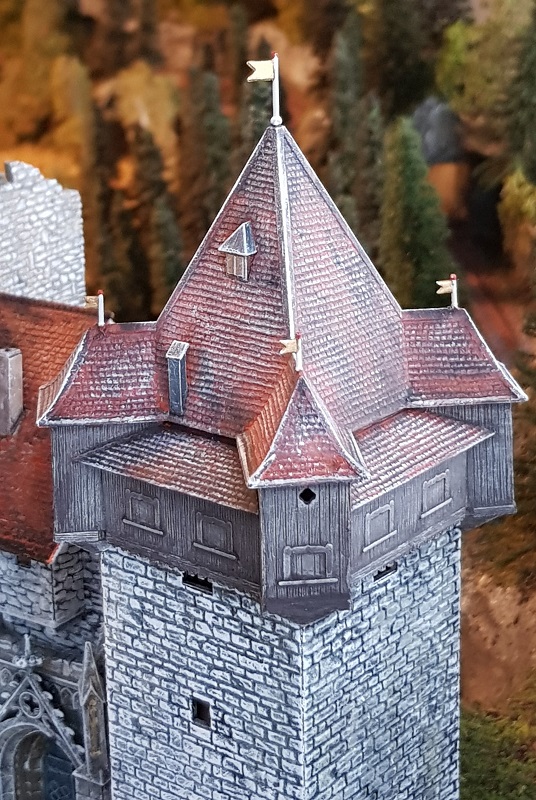 The transition from wood to stone is too strong!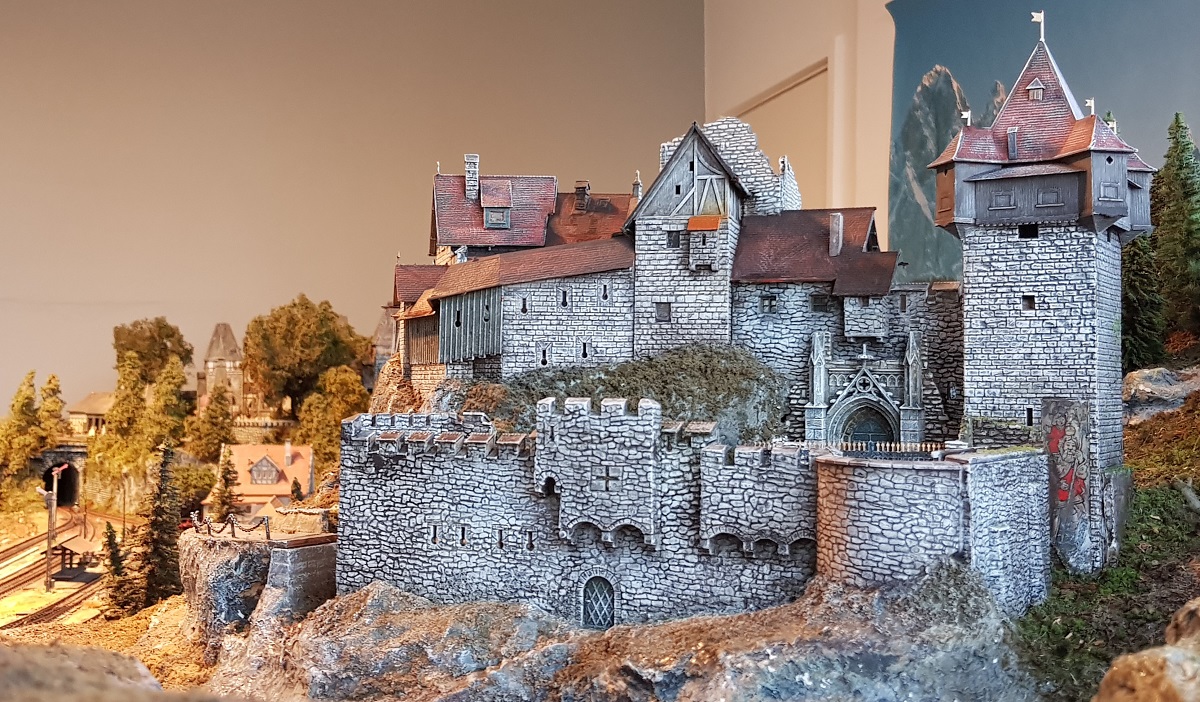 So these white stones gained a touch of lasur as well. Looks much better!
The tiles still need the touch of a dry white brush...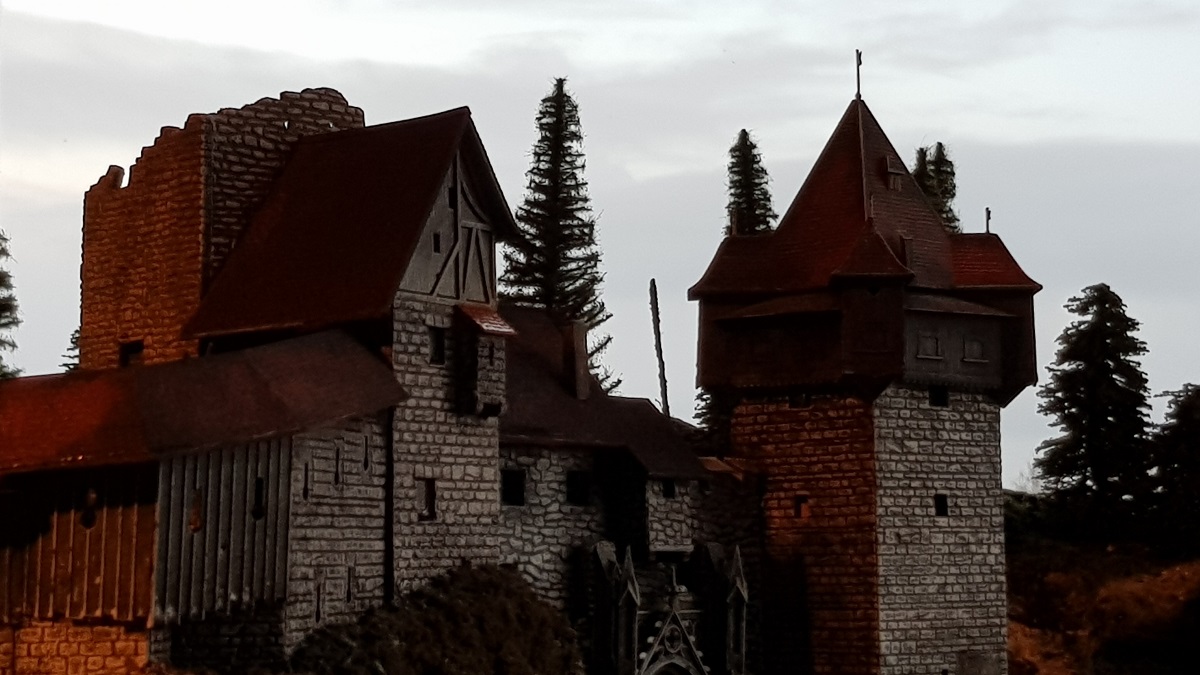 When the painting is done and the ruined tower finsihed, I will start with adding fresh vegetation all over the place.
I'm quite curious what the effect will be then!
Chapter 24 ~ A n e w P l a t f o r m
(8.12.2019)
Some years ago, a visitor of the Cochemer Bahn pointed out that something in the track plan did not correspond to reality.
Trains coming downhill couldn't stop for boarding or unboarding,
since there was no platform near the track and a switch to get on the adjacent track was missing.
I have made the decision to follow his advice, not in the least inspired by the former platform I made at the Endbahnhof,
but also inspired by the thought that the main station might need a more active look.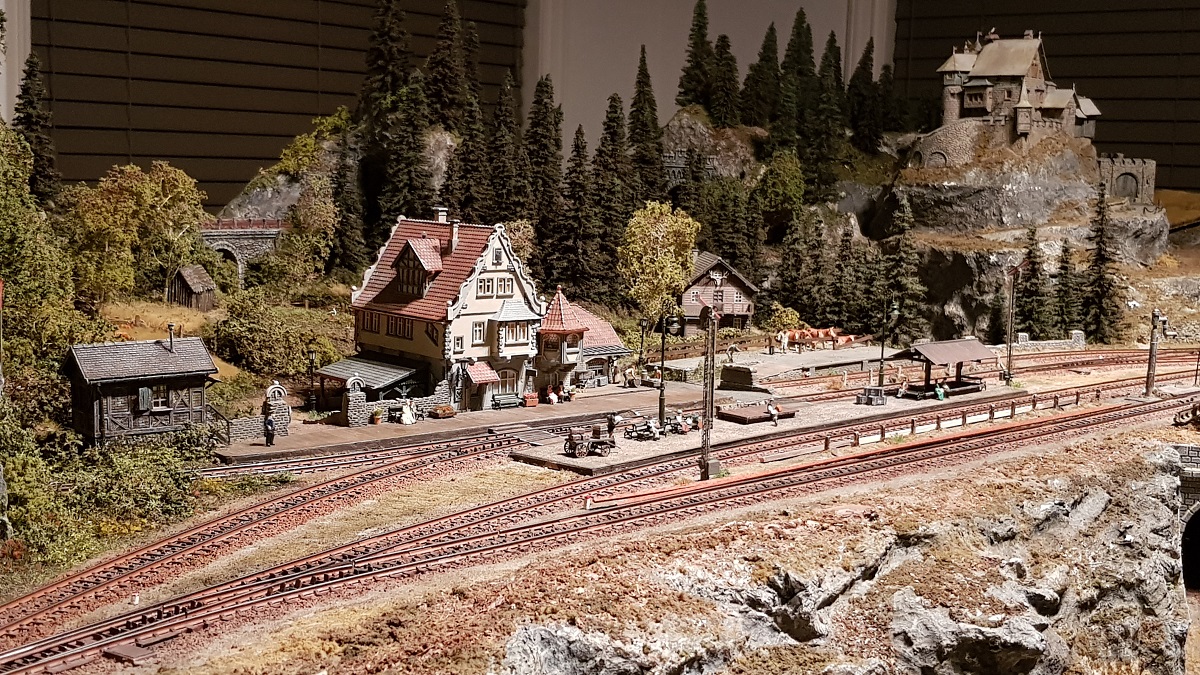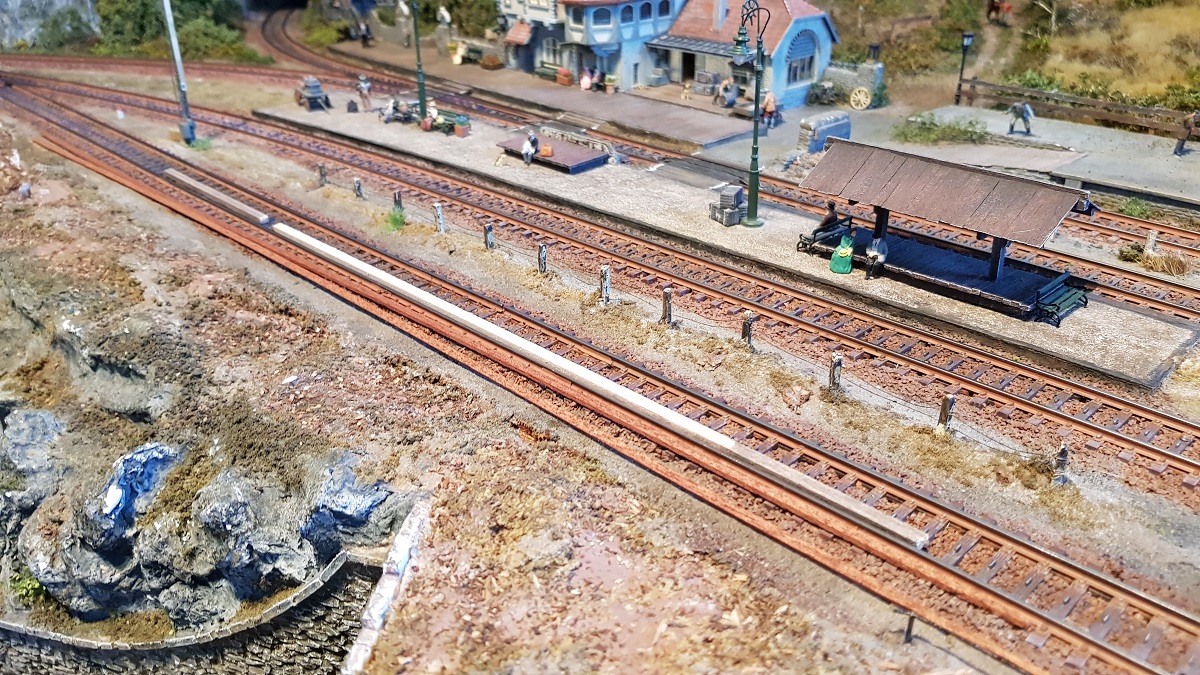 I will set the patform between the water crane and signal, almost the lenght of the main platform,
but effected in the old-fashioned way with wooden beams and boards.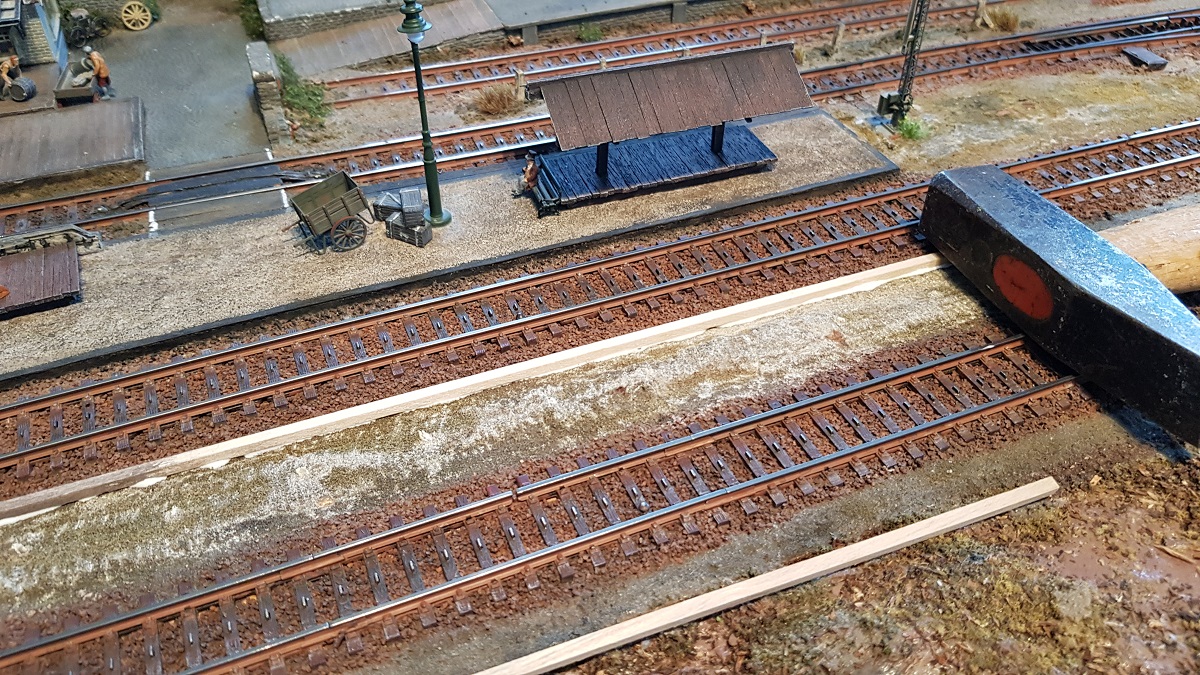 I needed a chisel to get rid of the matches and layer of sand which was hard as a rock due to white glue.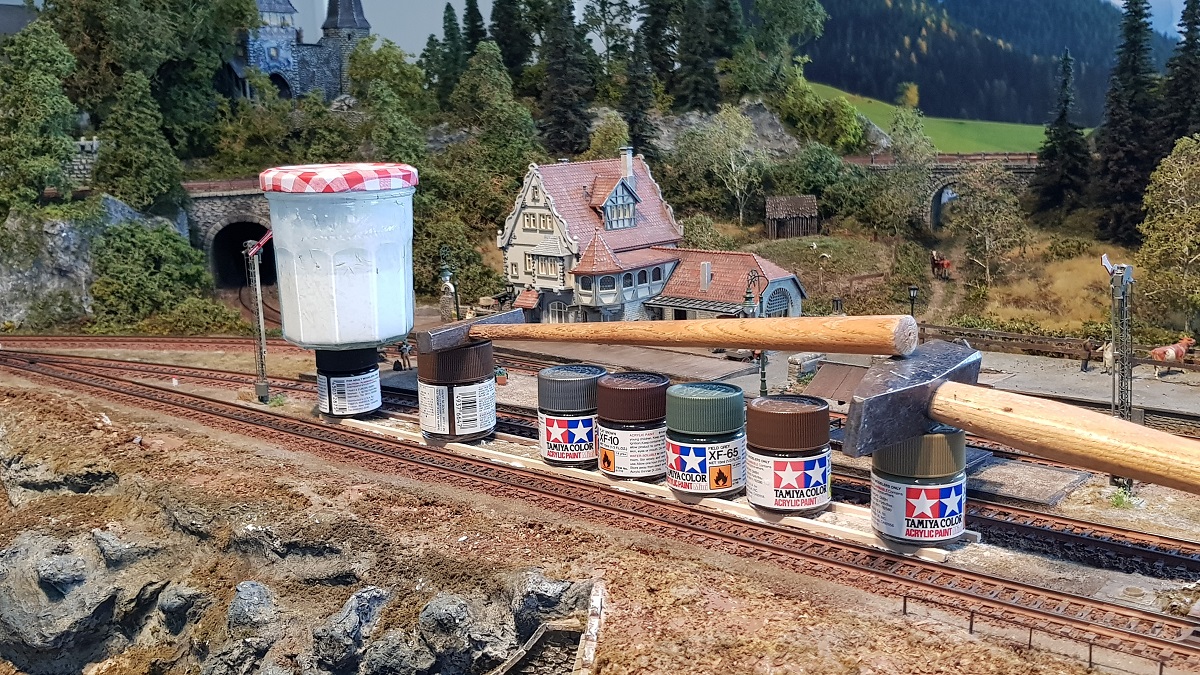 11.1.2020
The foundation is laid
~~~
T o B e C o n t i n u e d
~~~
Frits Osterthun © 9.1.2020