Latest News:
Monday, 28.12.2020
From the Rheine Files:
Neubaulokomotive 023 103-5, in front of the former Einheitslokomotive Baureihe 41, now with Neubaukessel and Ölfeuerung as 042 364-0.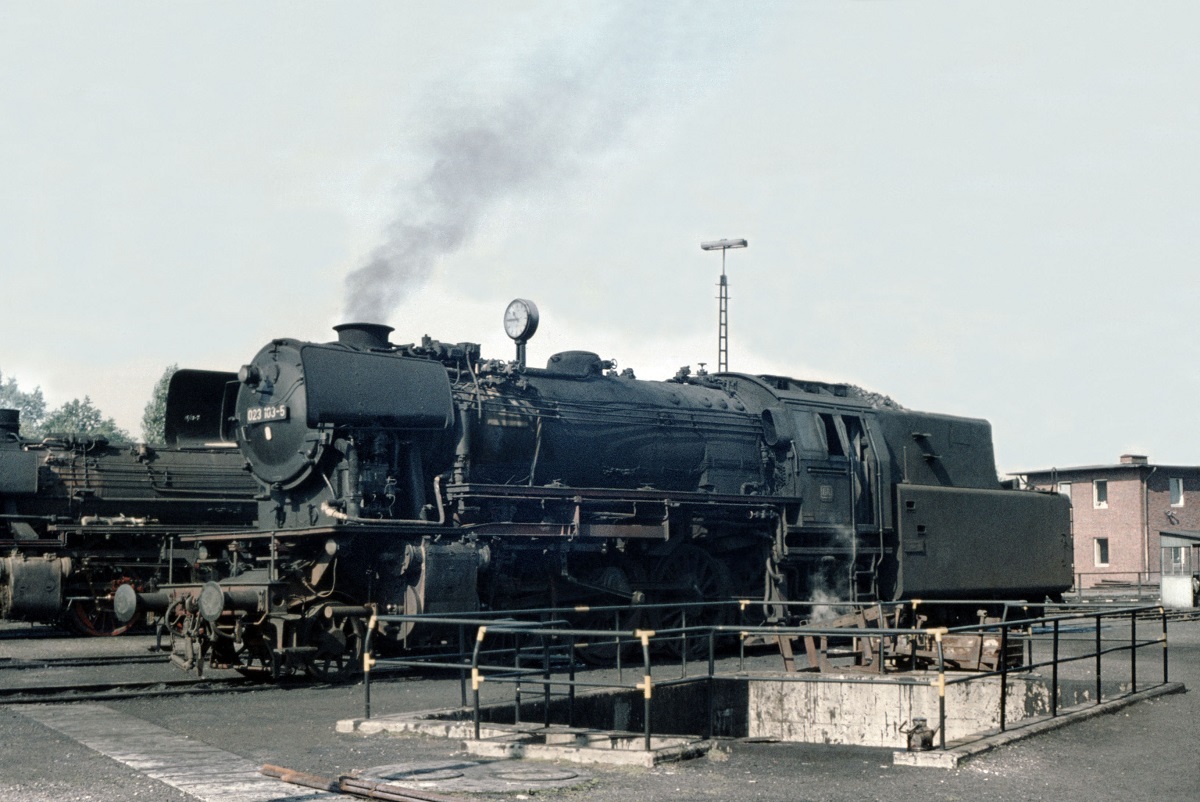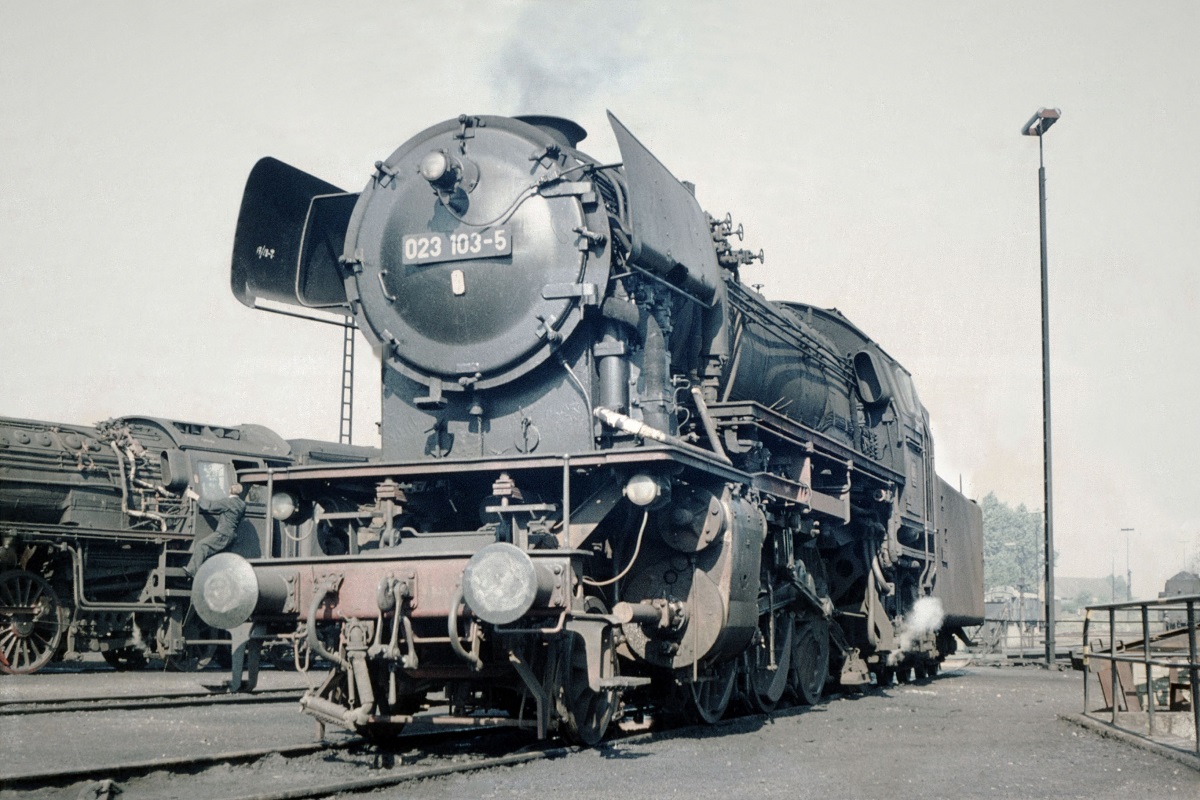 Wednesday, 23.12.2020
My friend Sander visited me today and he brought some models of his collection with him to run on the Cochemer Bahn. Besides having a lot of fun, sharing dinner and our mutual interest in Era 1, we filmed some of his trains on my layout. The first one is the PtL 2/2 Nr. 4519 in Fotolook.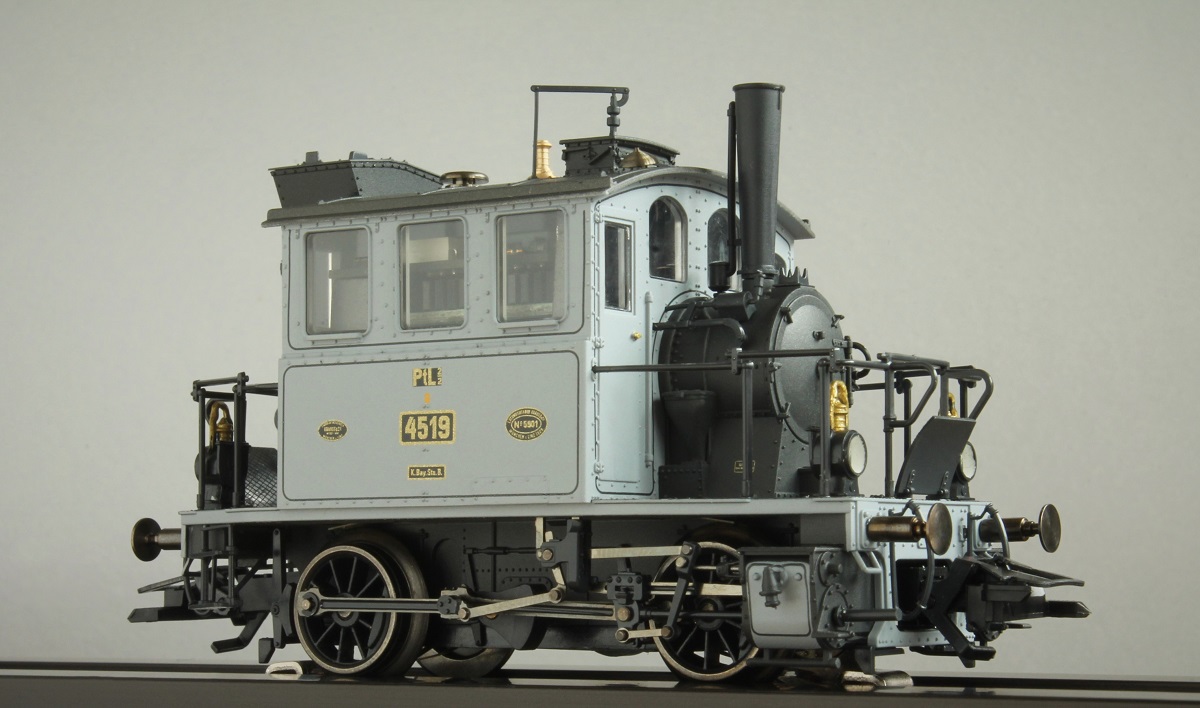 Märklin 36868
Then he had the Swedish trainset (Märklin 28702) with additional coach (Märklin 42702), only released in Sweden.
The widespread 'European' version lacks a post box (Briefkasten). See the video right here.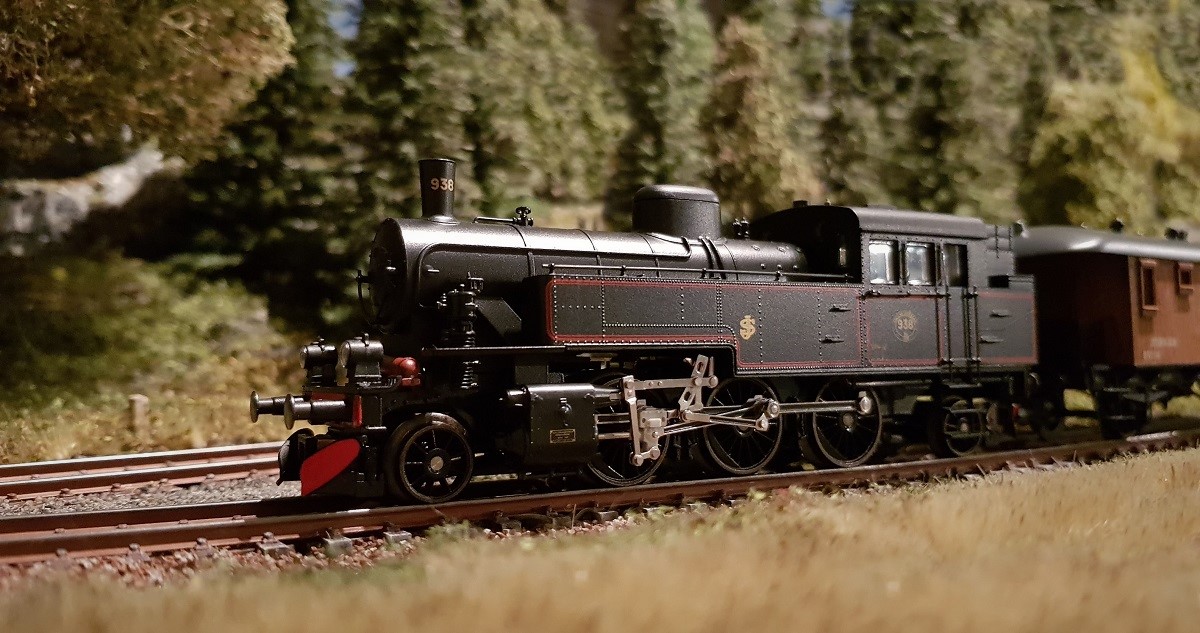 Märklin 28702 (ret.)
Next is the Bay. BBII Nr. 2502 (Roco 43281), also converted into AC (here's the video):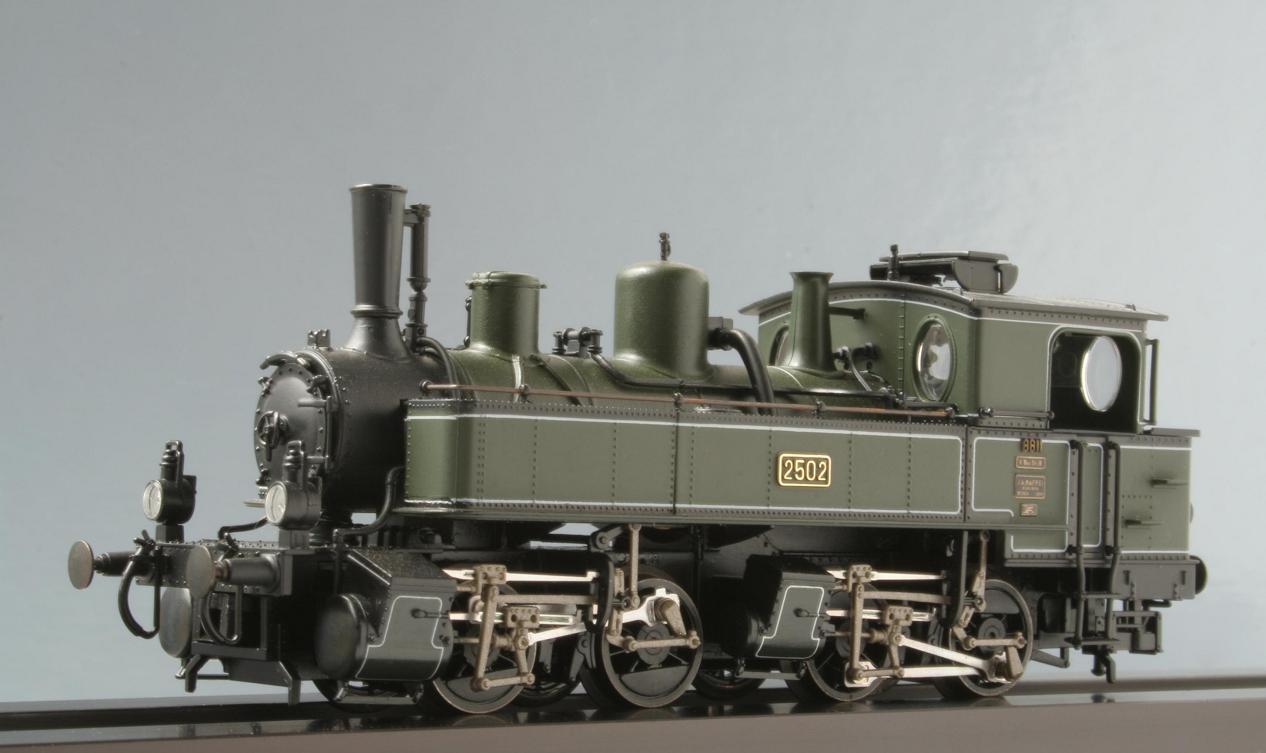 Roco 43281
And finally, the Bay. DVI, also with video right here: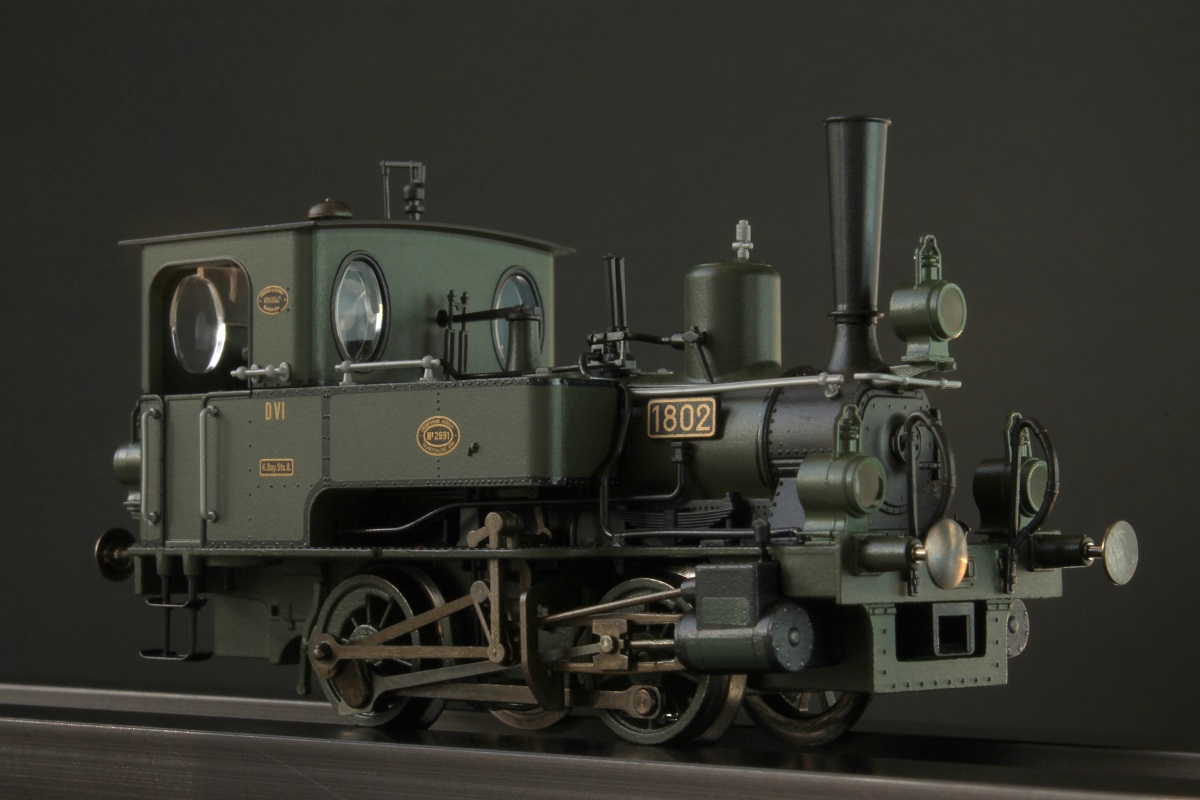 Fleischmann 400602
Friday, 18.12.2020
Finishing the Coal Bunker. Read more about it in Chapter 38 of Journal 7
How the coal bunker was made, is described in Chapter 33 in Journal 6
A short recap:
February 2020: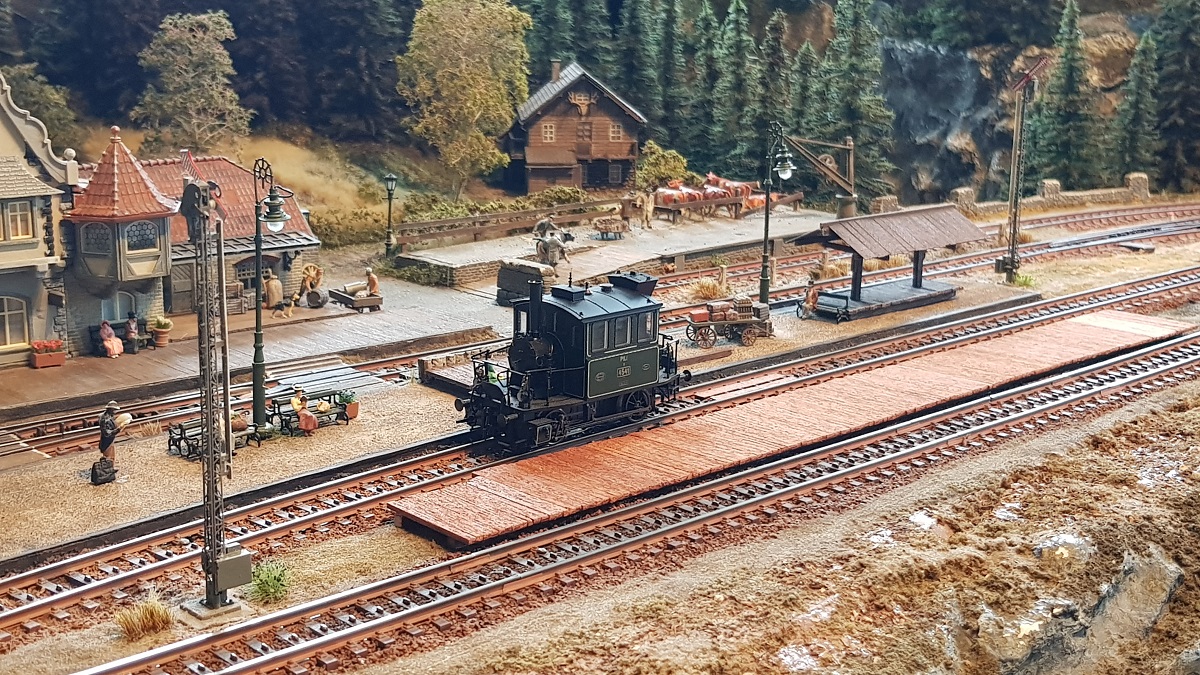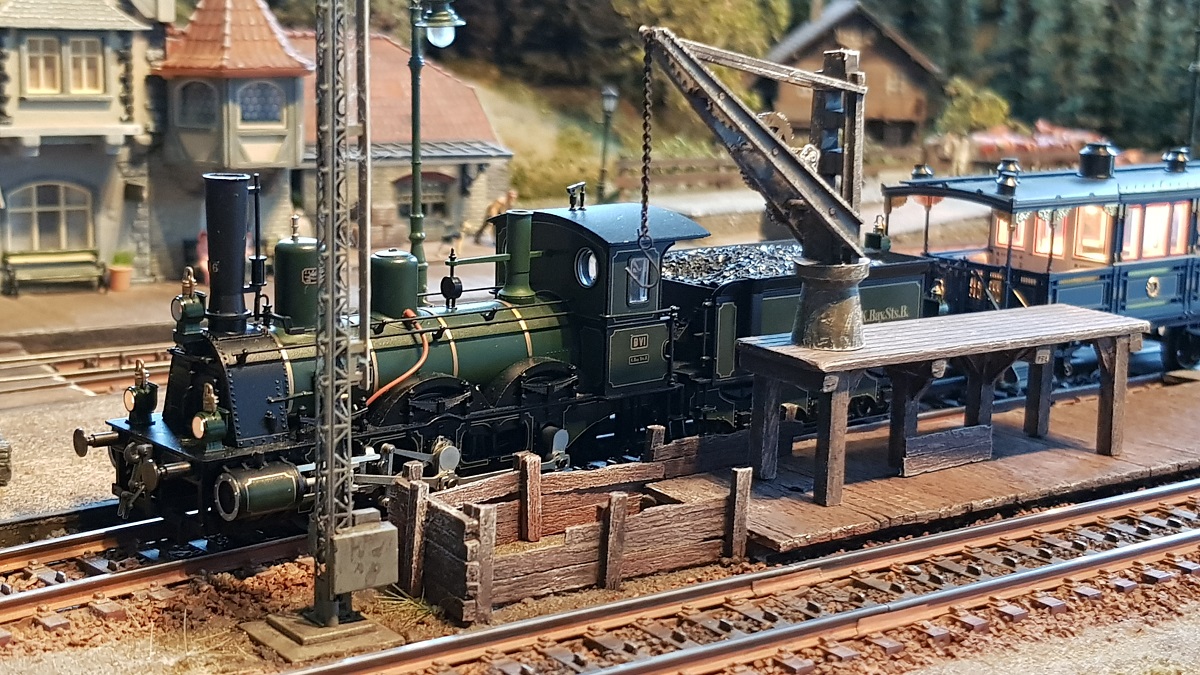 August 2020: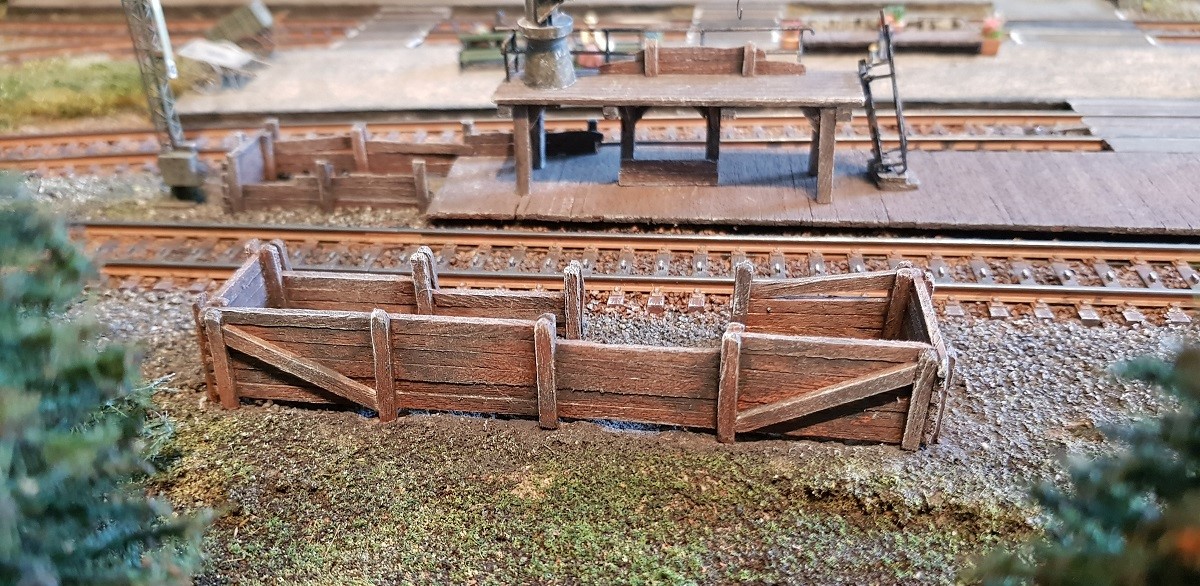 December 2020: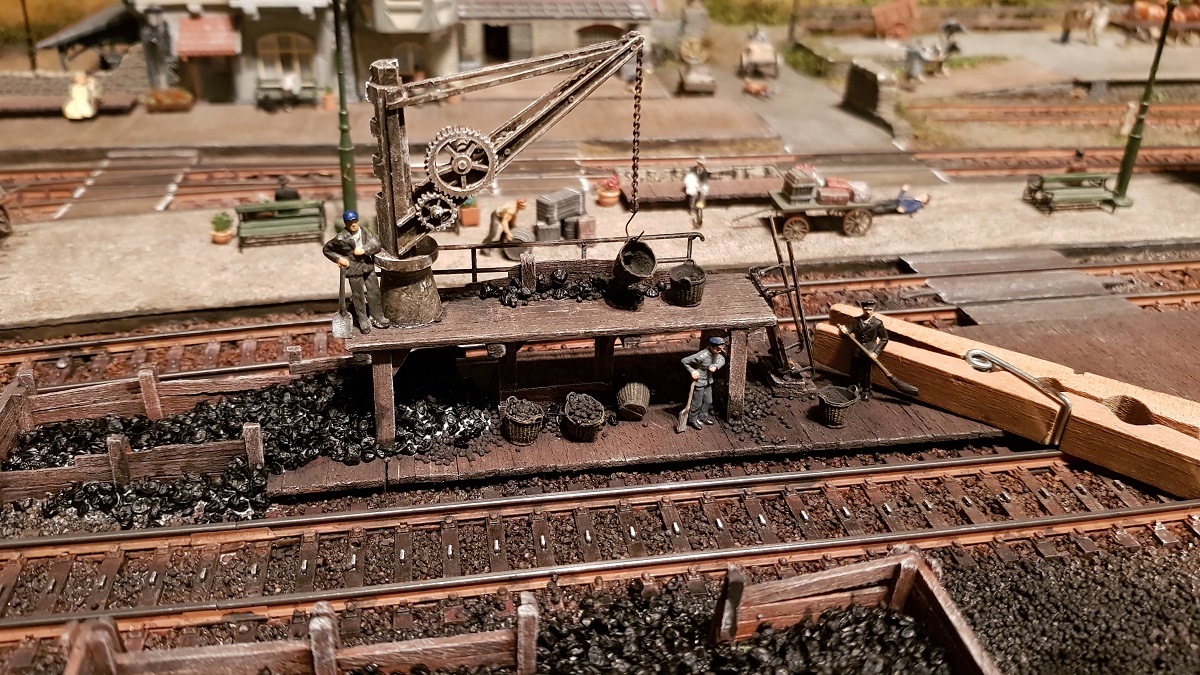 18.12.2020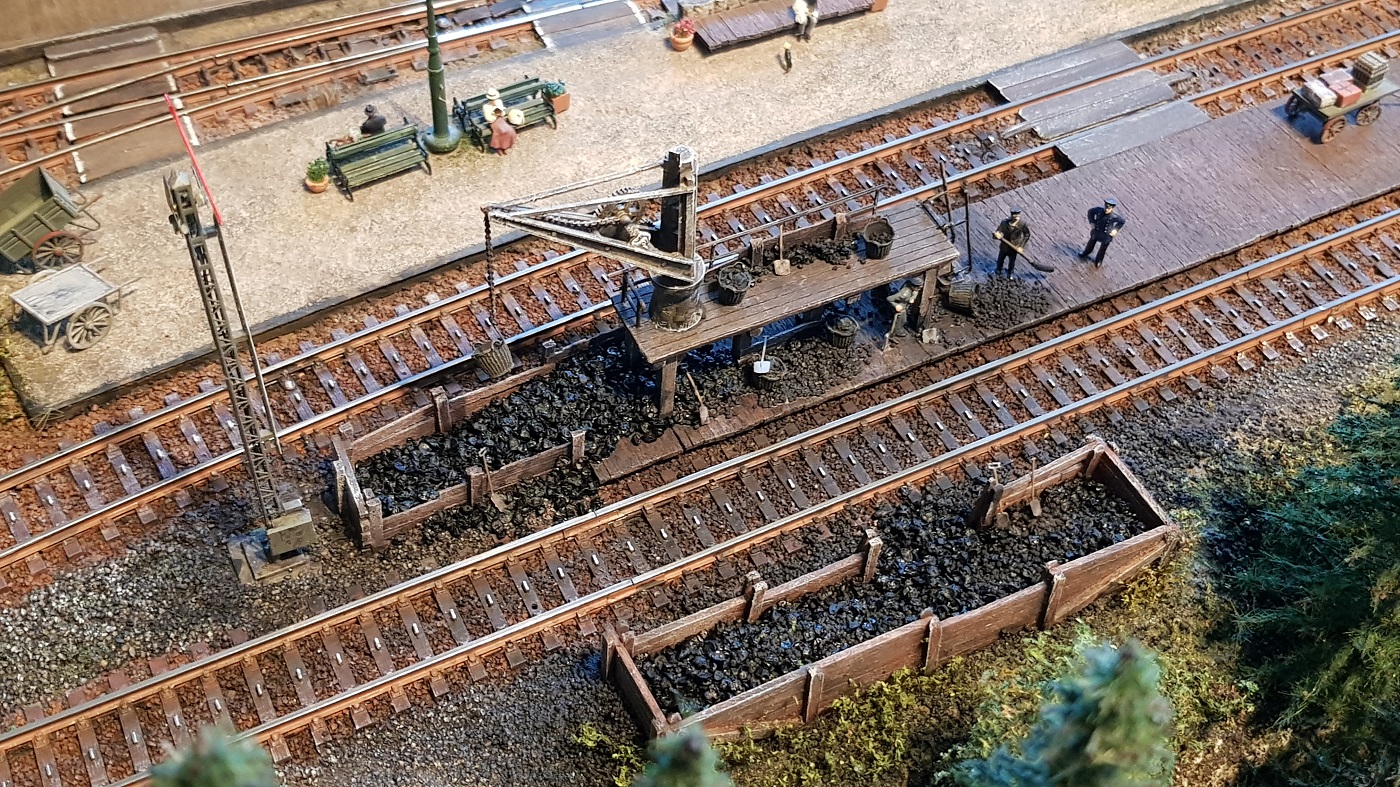 21.12.2020
Thursday, 17.12.2020
Four days to spend in the hobby room. I started with Working on Weeds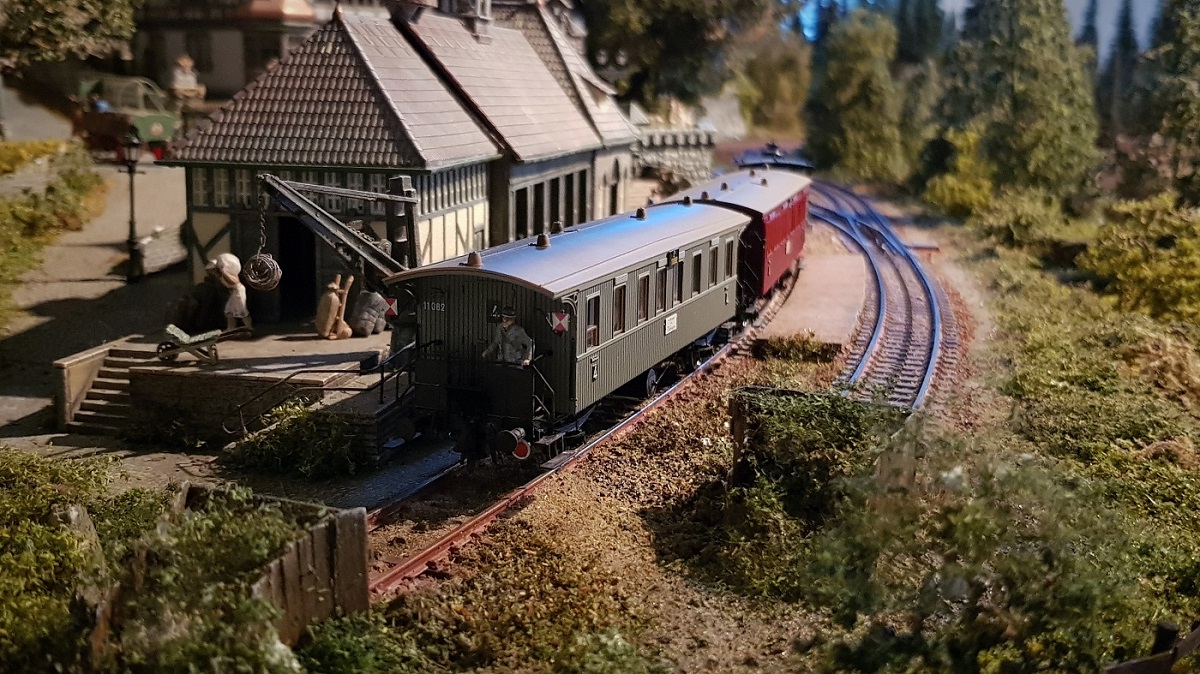 Tuesday, 15.12.2020
From the Rheine Files of my uncle's, here's the Neubaulokomotive 023 092-0 taking coal and water.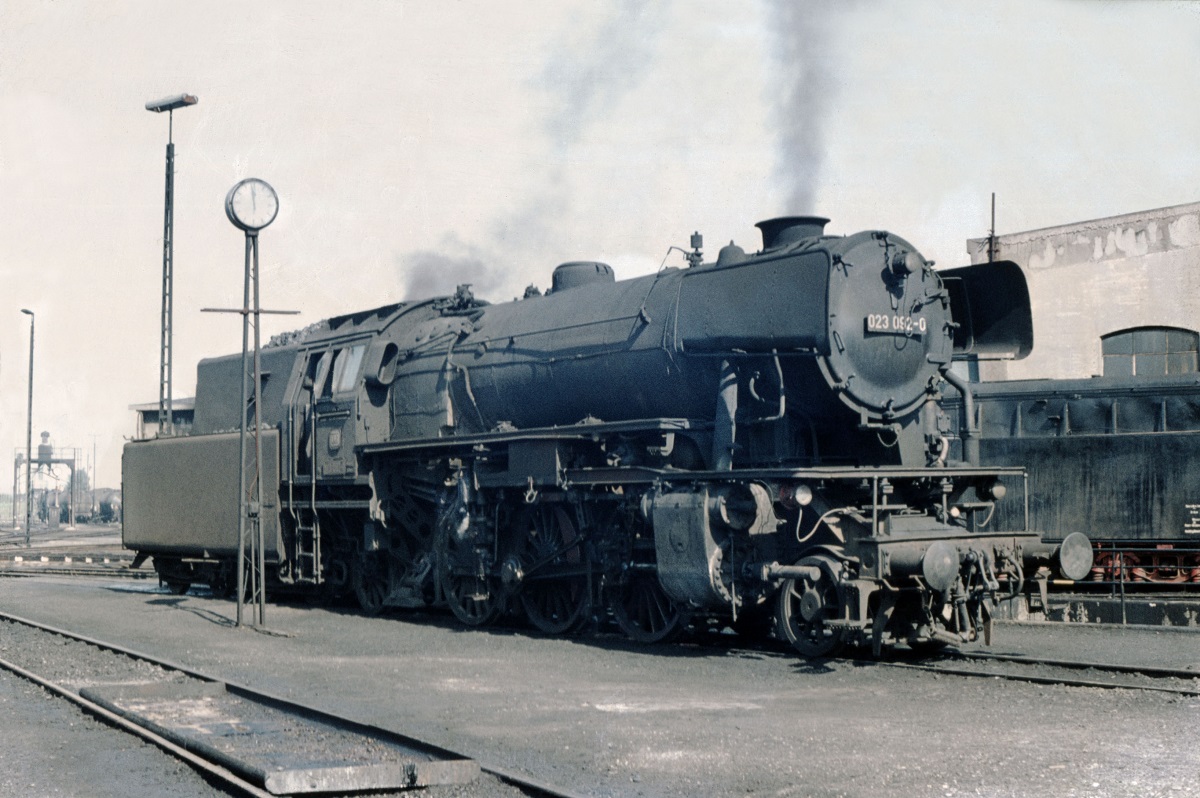 Friday 11.12.2020
Today I worked several hours on the layout again. The right-hand corner of the CB has a forest surrounding a small lake, hiding the track going uphill.
See the making of in Chapter 36 of Journal 7.
In 2002 I was rather proud having achieved making a scenic view like this: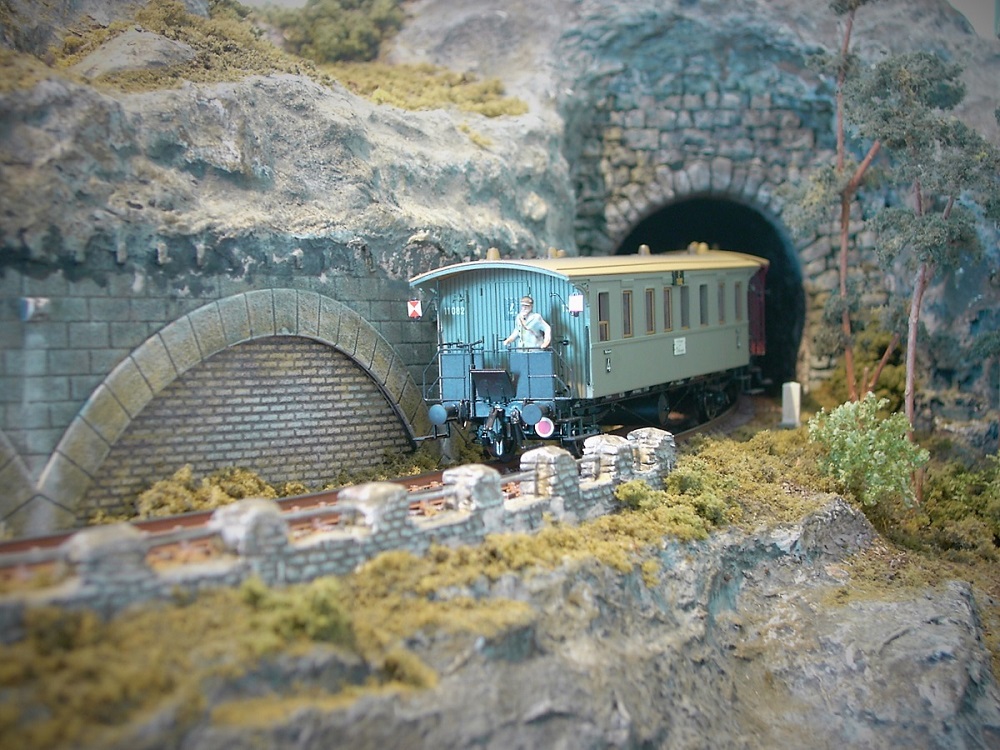 In 2020, probably humbler, not at least the merrier, it looks like...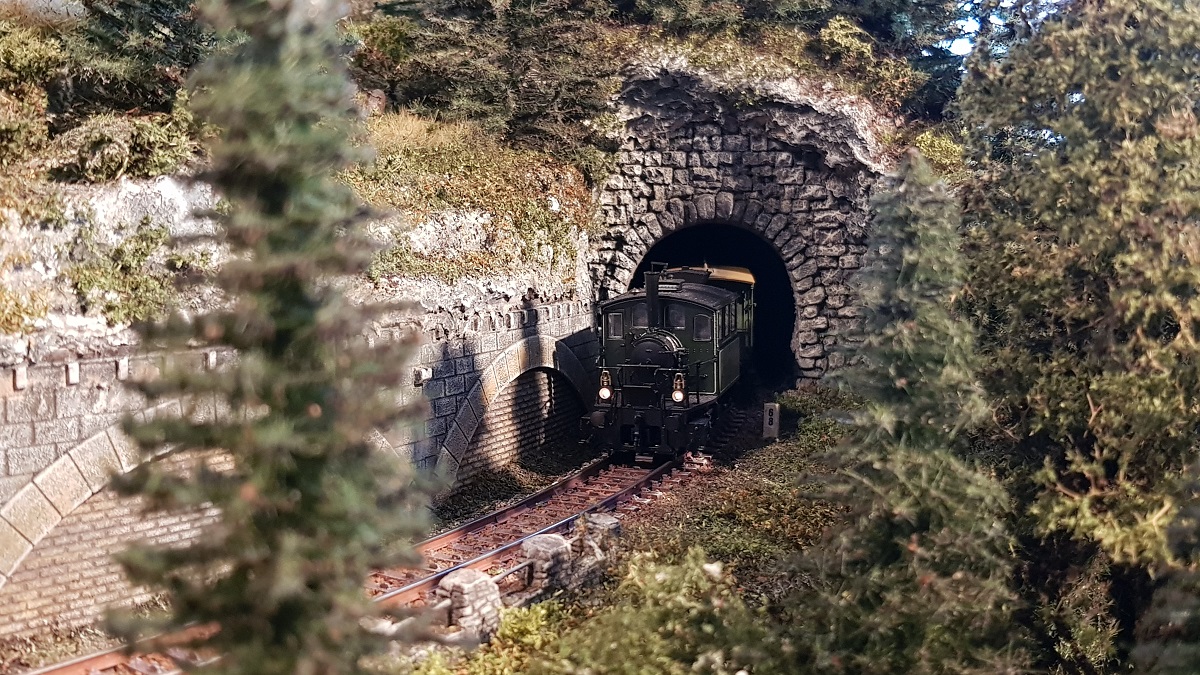 Saturday 5.12.2020
Some new additions right out of my Micro Metakit Treasure Room...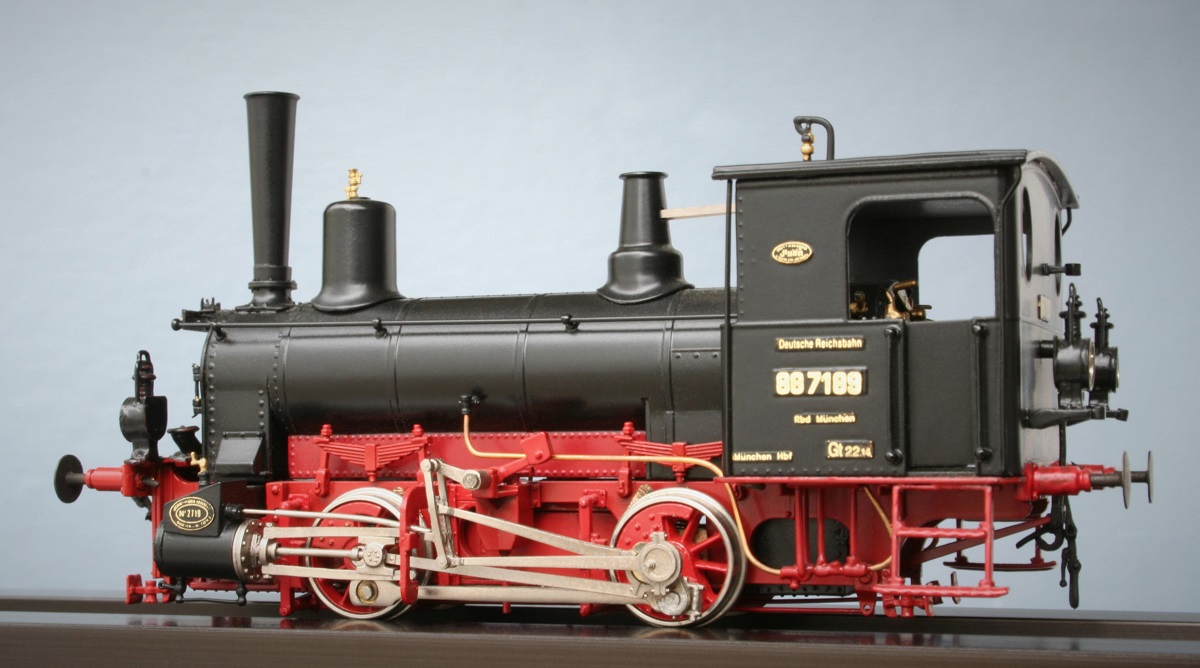 Micro Metakit 94303H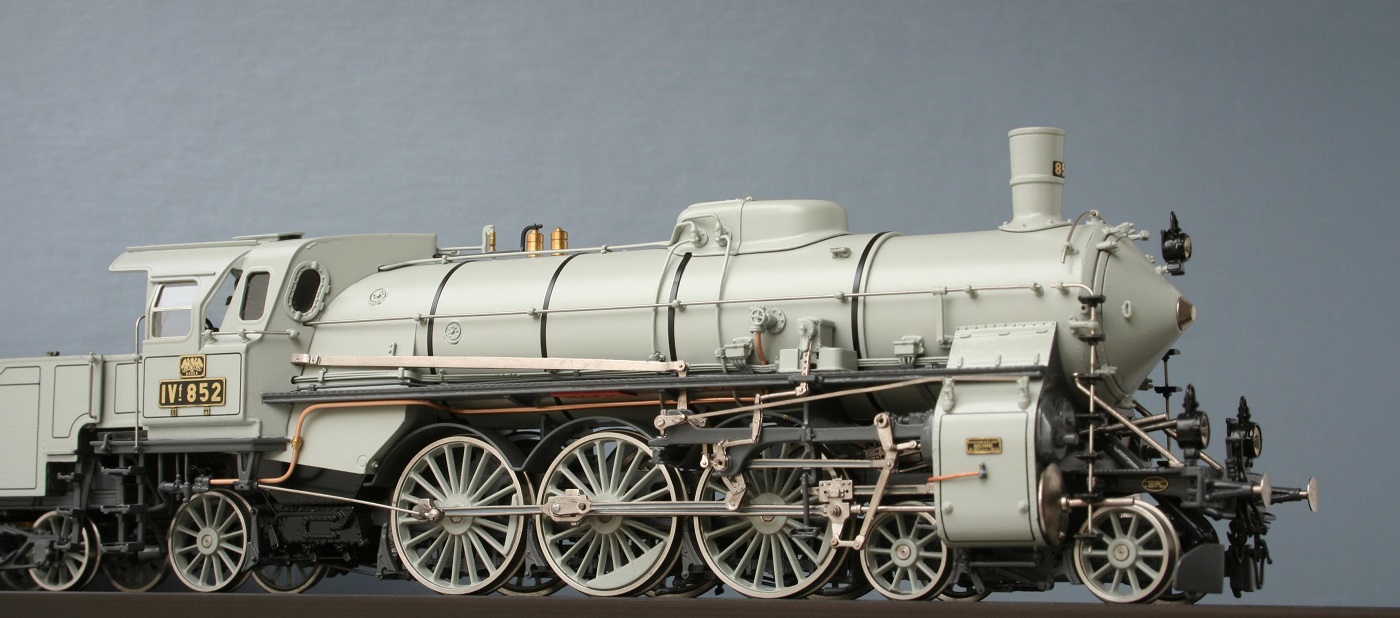 Micro Metakit 02300H
Thursday 3.12.2020
A small upgrading of the 'Zinkpestlokomotive' Württ. T5, Nr. 1209 (Brawa B 40183), of which many parts are still missing, like cabin crew, windshields, handrails, chimney cover etc.
Brawa couldn't offer these spare parts anymore.
So, adding new cabin crew (Roco 40001), painting a 'wooden plank structure' on the stairs, and removing the broken handrail at the front which I couldn't fix properly, alas.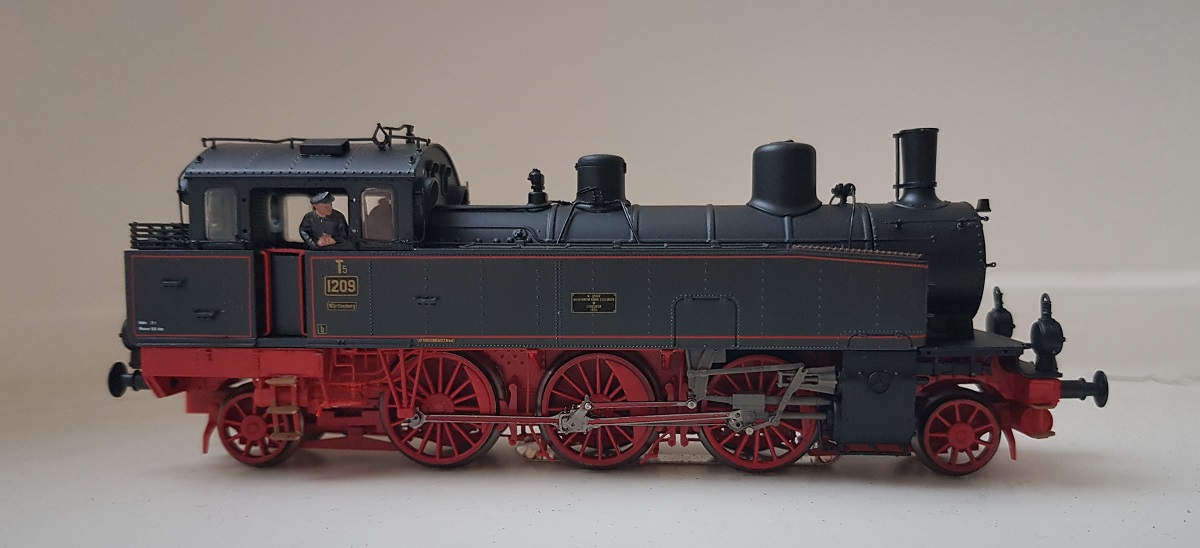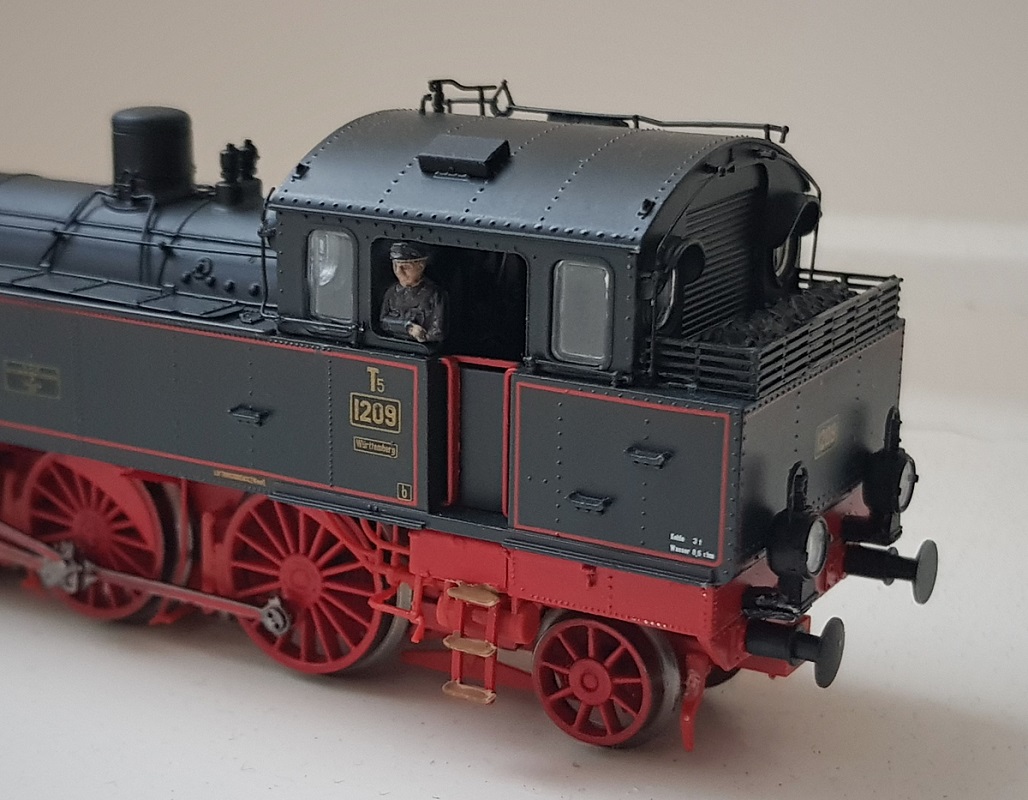 For those who don't know her history: the one below was my original Brawa 40813, when I bought it in 2009.
The picture after that shows how it came out of the box in 2019.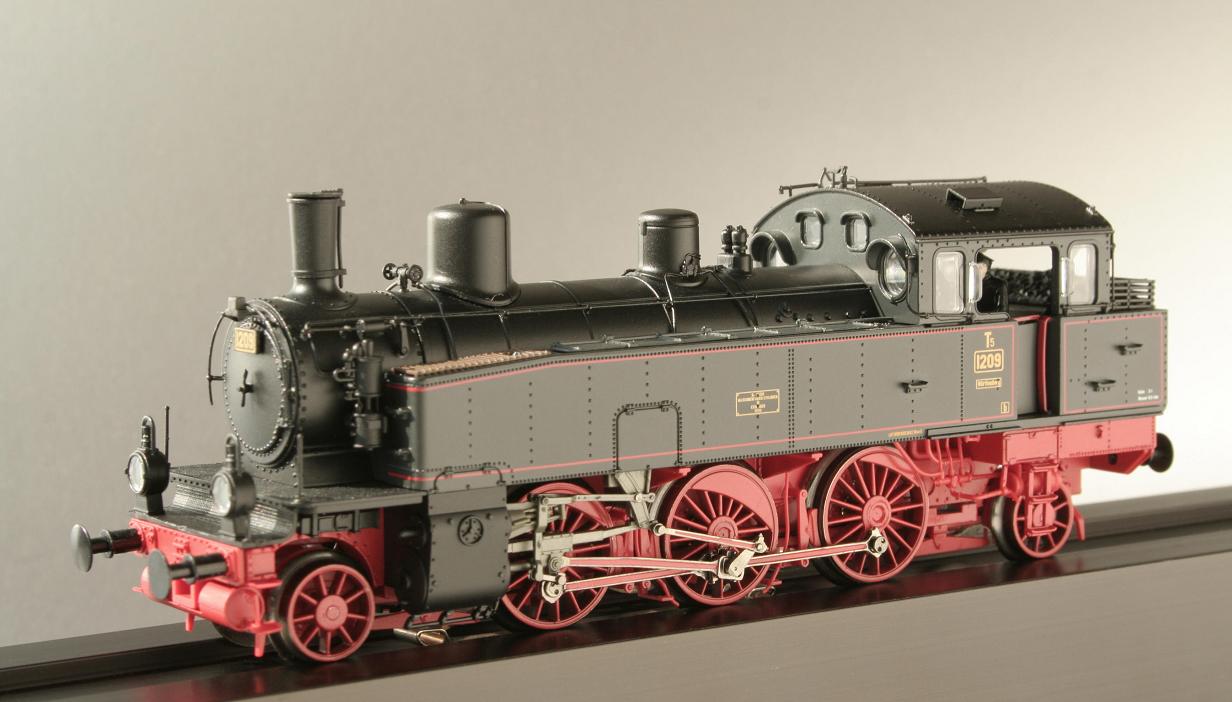 In 2009...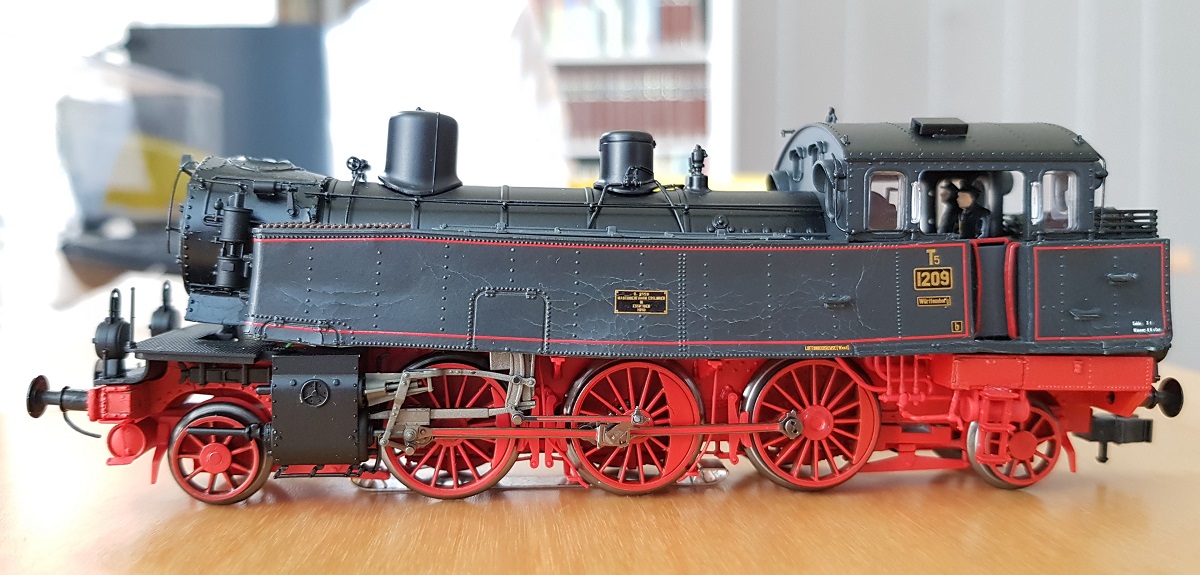 ... and in 2019
Saturday 28.11.2020
Today, I turned my Württ. G12 over to my friend at the shop to replace the light conductor that somehow got damaged during the upgrading.
It was a rather delicate job that I didn't entrust to myself. He had to remove all of this, before he could replace the conductor itself. But in the end, le voilà.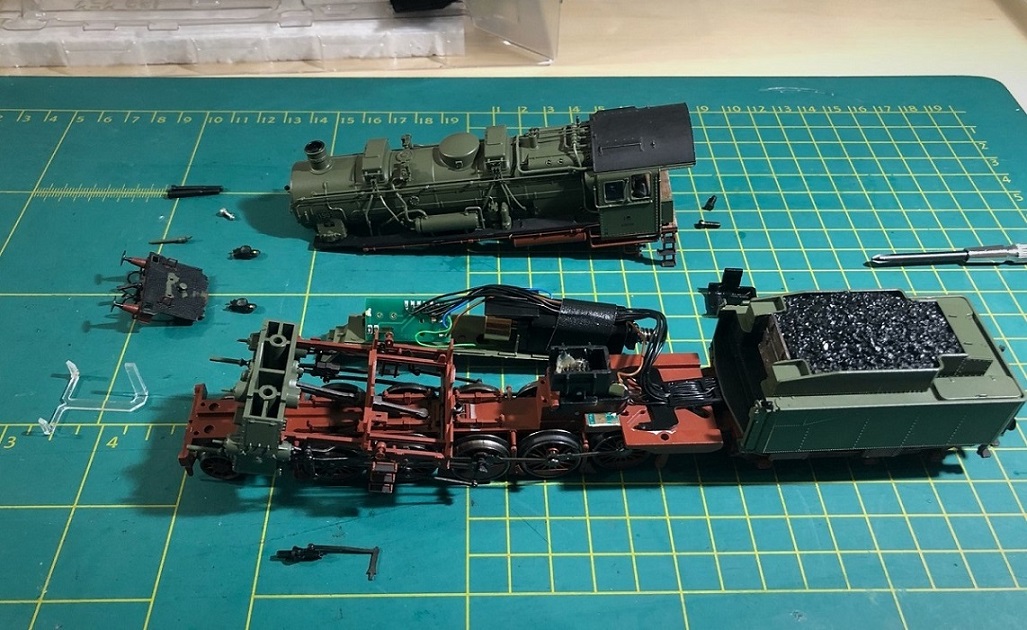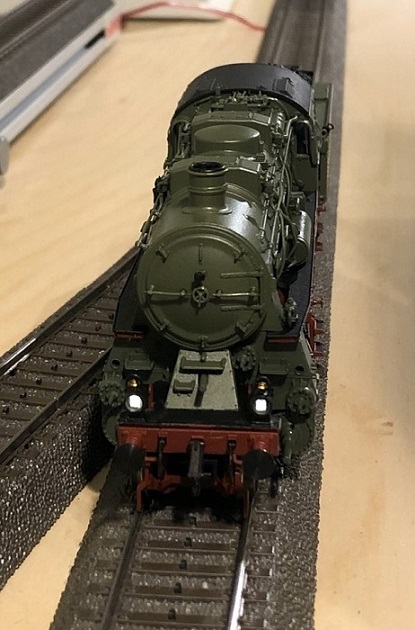 He did a great job. I am considering repainting the steps and making them 'of wood'.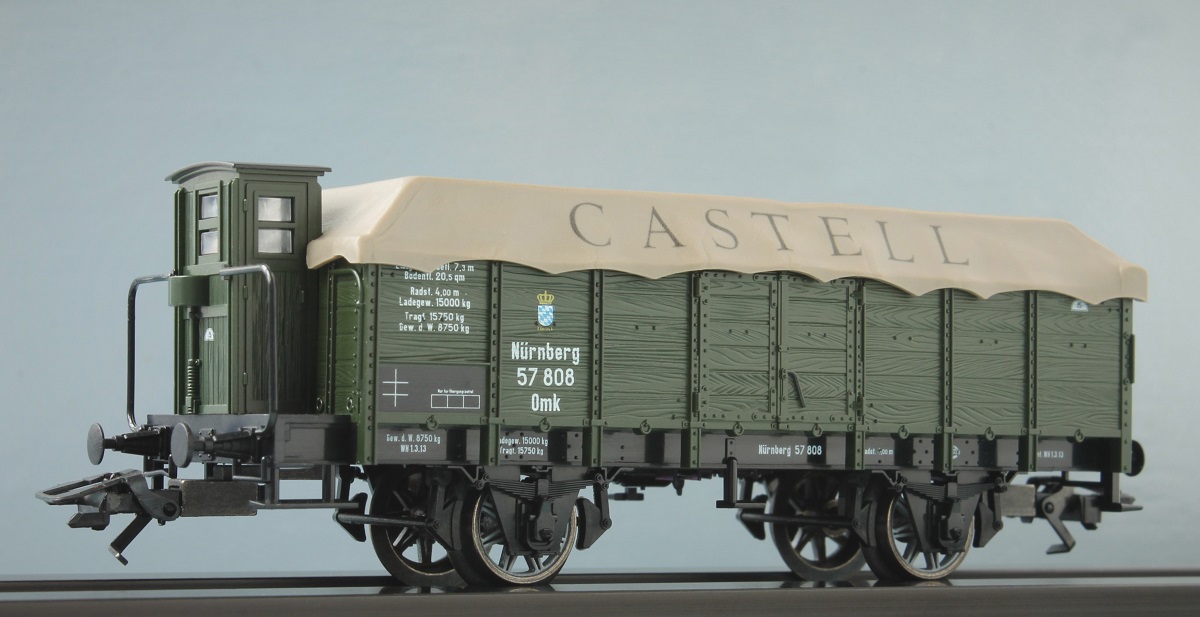 In between I shot this peculiar model of his (Trix 24311).
I purchased three new items from Brawa as well, that just arrived this morning into the shop (the last two sold out even weeks ago):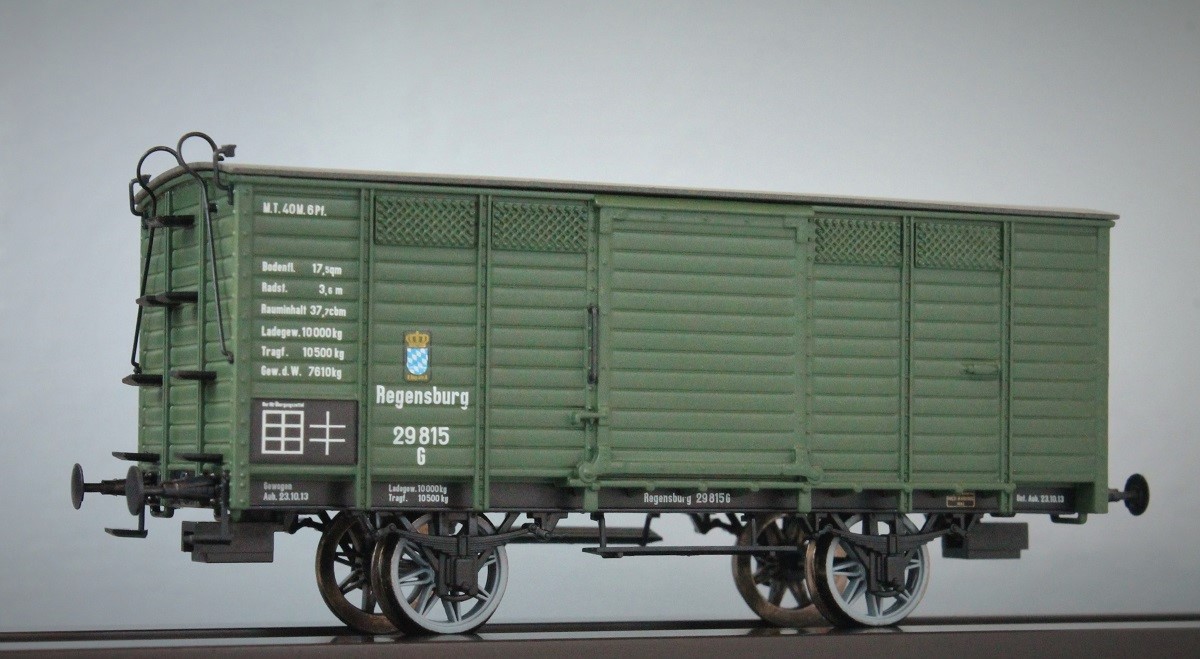 Brawa 48032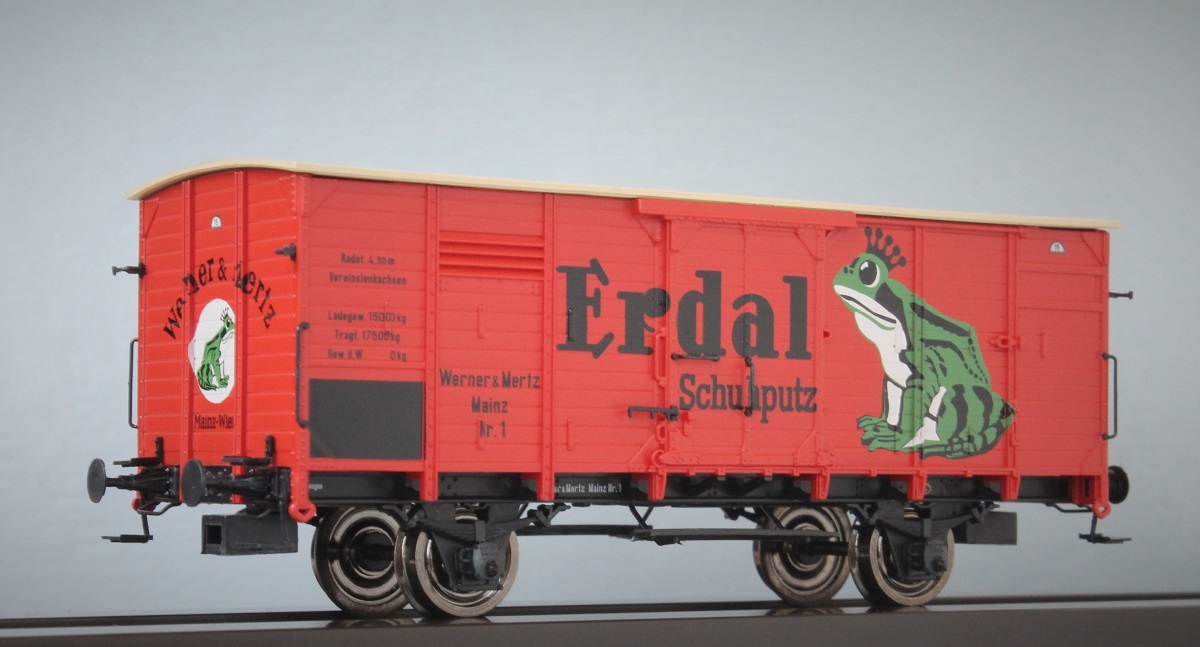 Brawa 49797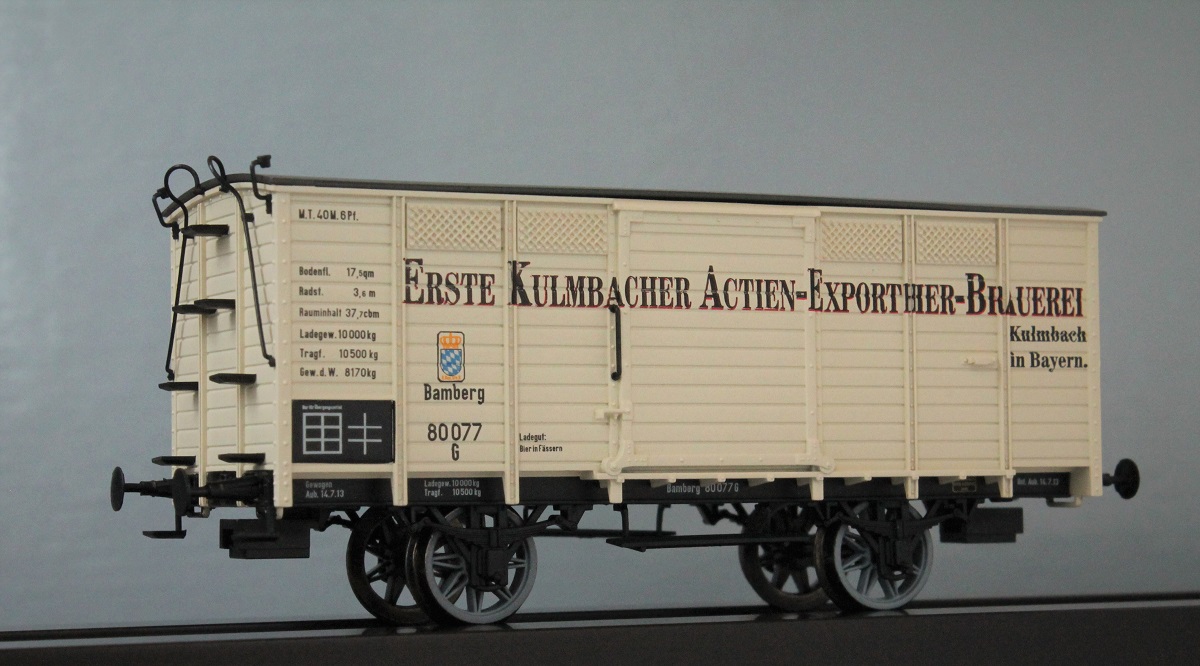 Brawa 48038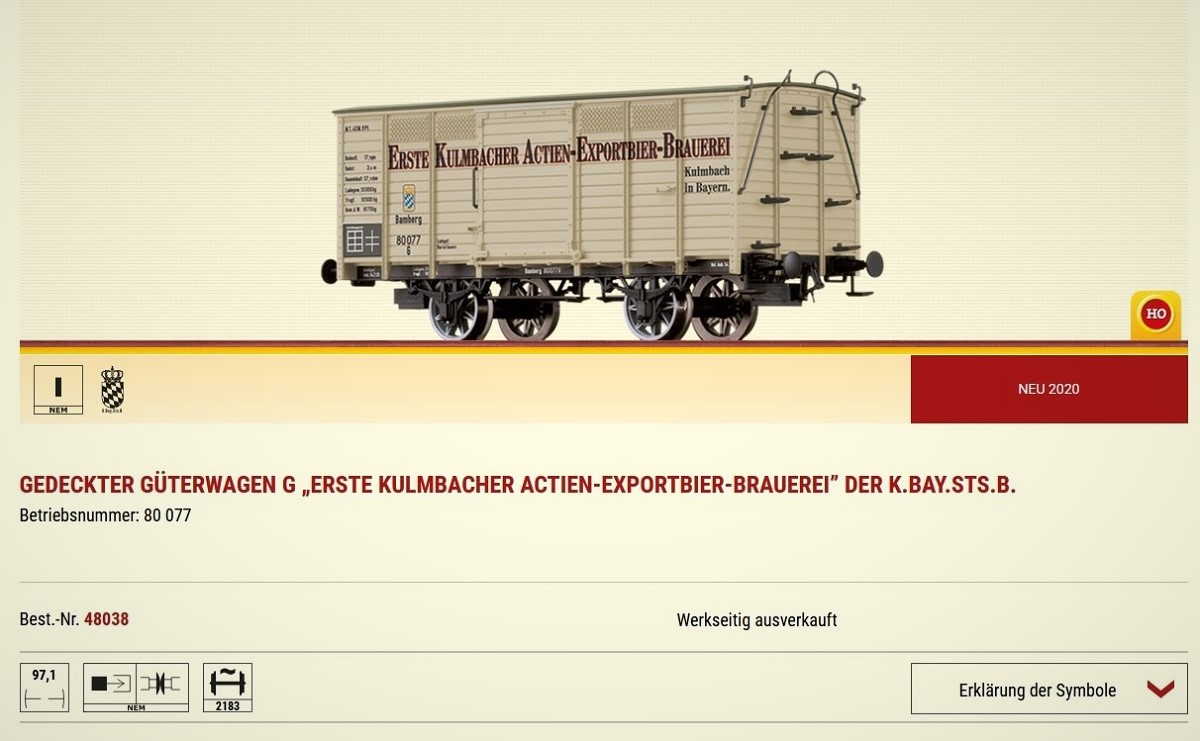 In the afternoon, I visited another friend, who is a famous violinist from Hungary. He showed me some of his gems that his father (also a violinist) bought on his tours in Germany.
Among them the famous Swiss Crocodile (Märklin 3015) in a pretty mint state (left some dust). He also had the second edition of the famous CM 800 with rare number 89 028.
Besides that his father had bought him a Belgium Diesel on Nohab base (Märklin 3066). Pretty nifty.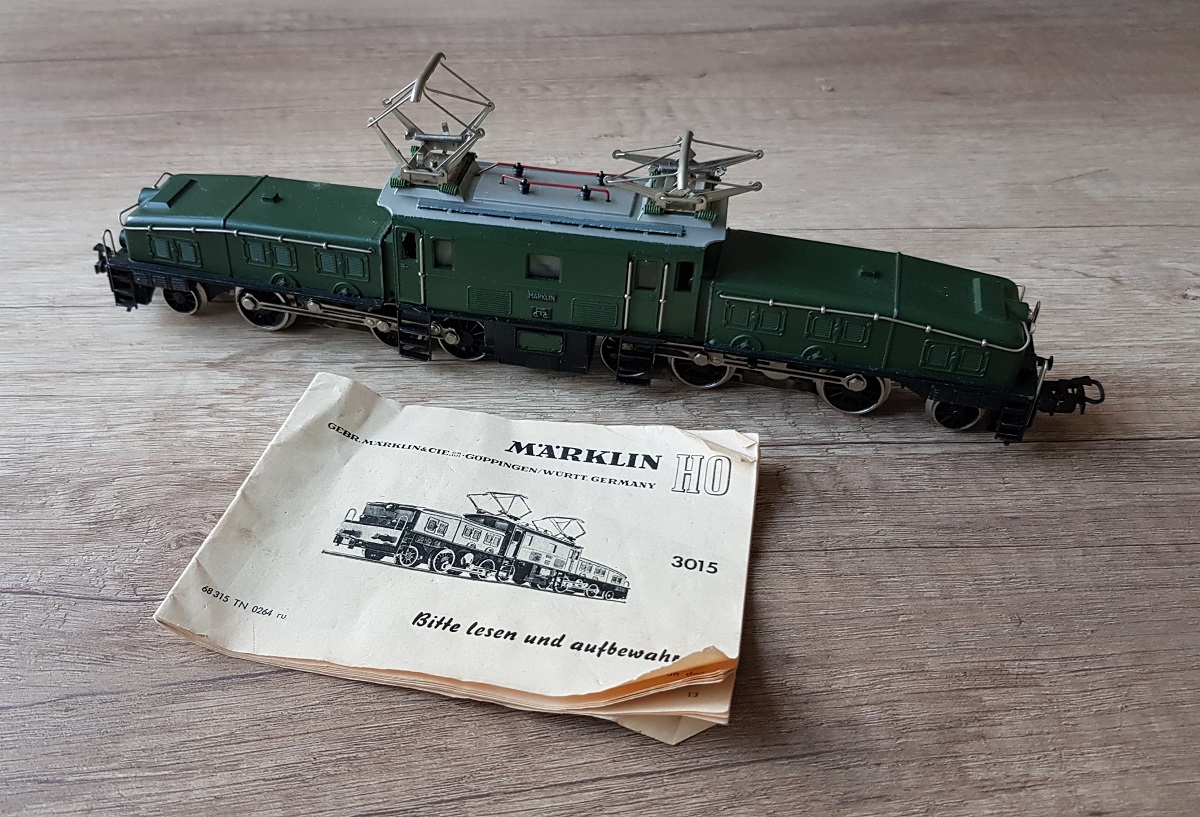 Märklin 3015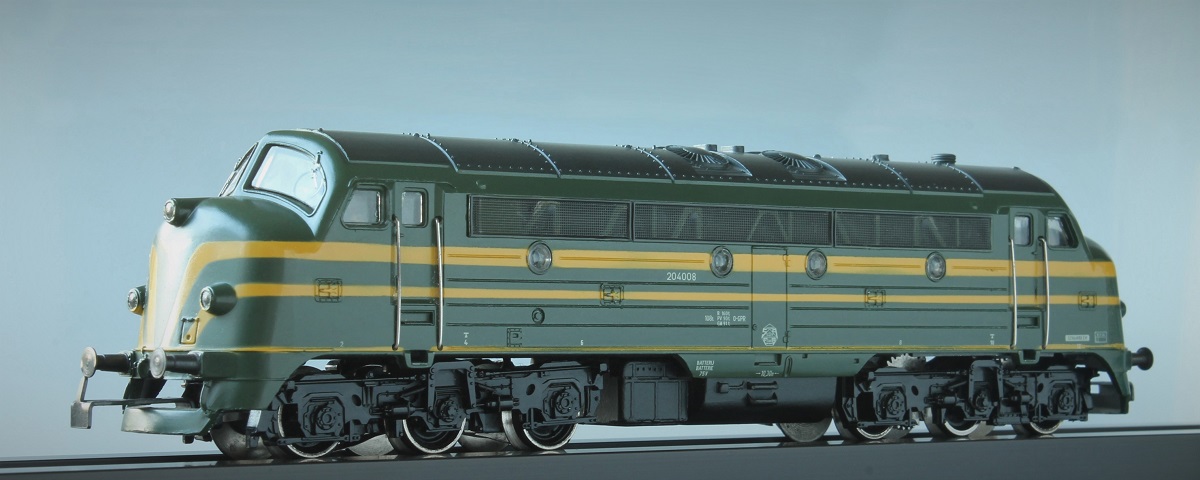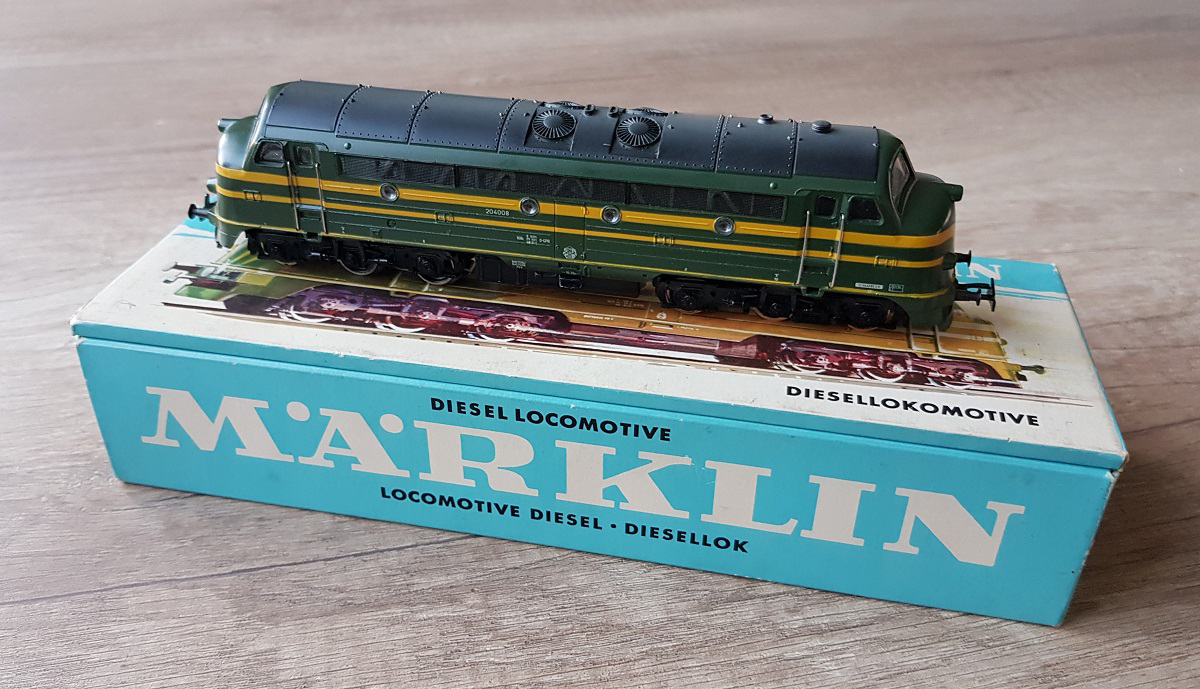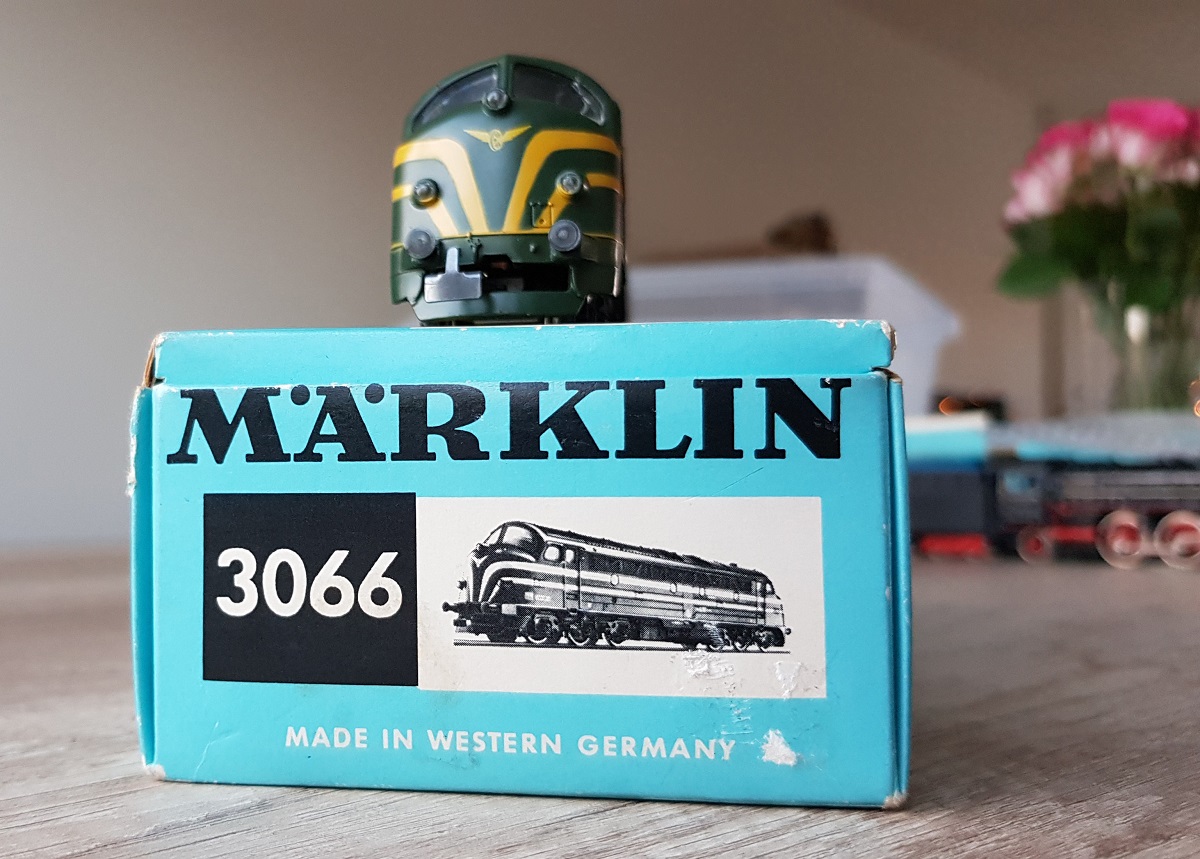 Märklin 3066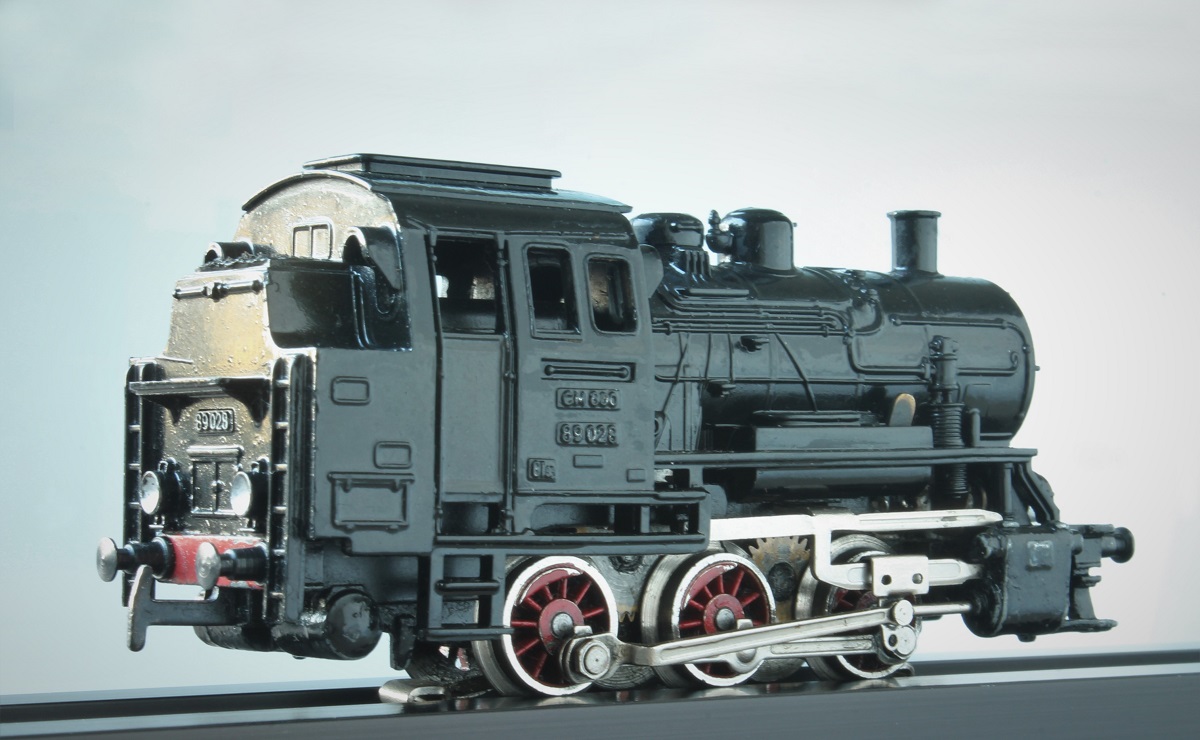 CM 800 / Märklin 3000.2
Saturday 21.11.2020
A tuft of grass between the tracks... Read more about it in Chapter 35 in the Renovation Journal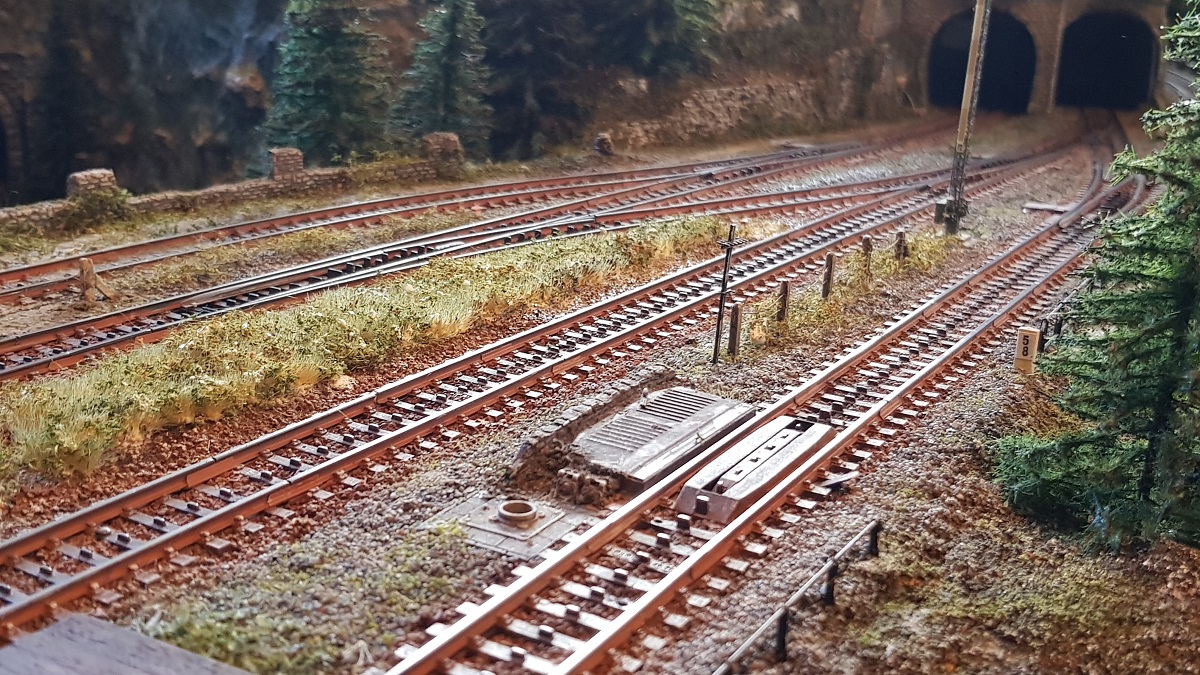 Saturday 7.11.2020
After many weeks of 'silentium in renovationem', I picked up thread and needle again. Some 15 trees have to be cut, which is a pretty intensive job. Besides, I had in mind changing the rooftiles of the Town Hall in the same way that I altered the Cochemer Burg (see Chapter 7).
After some researching last night, I found out that the original Rathaus Allmannsdorf - situated in Mainaustraße, Konstanz, Germany - has exactly the same roof and weathering as I painted my model. Mirabile dictu...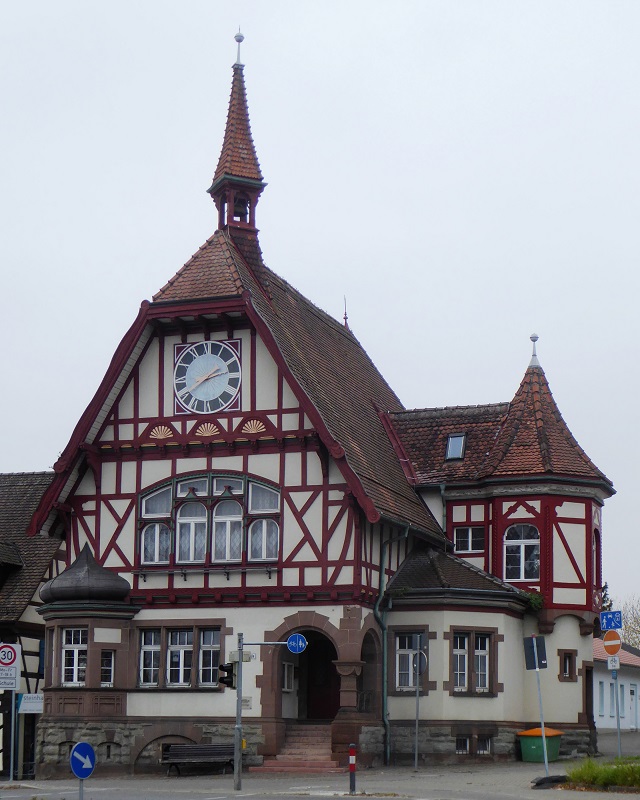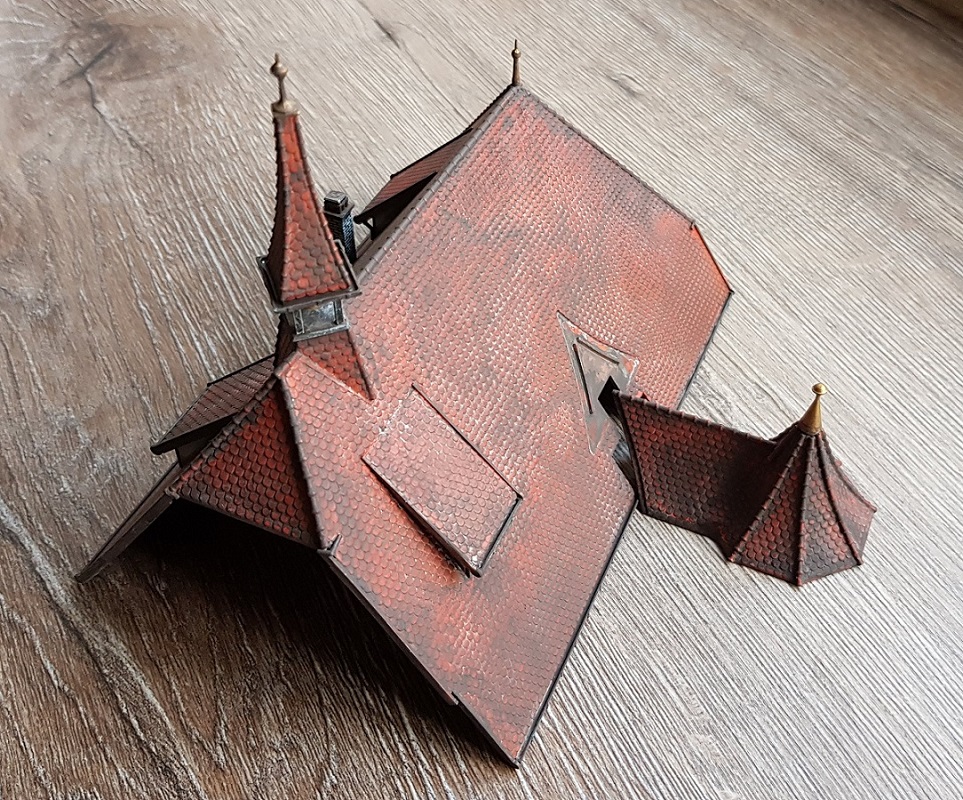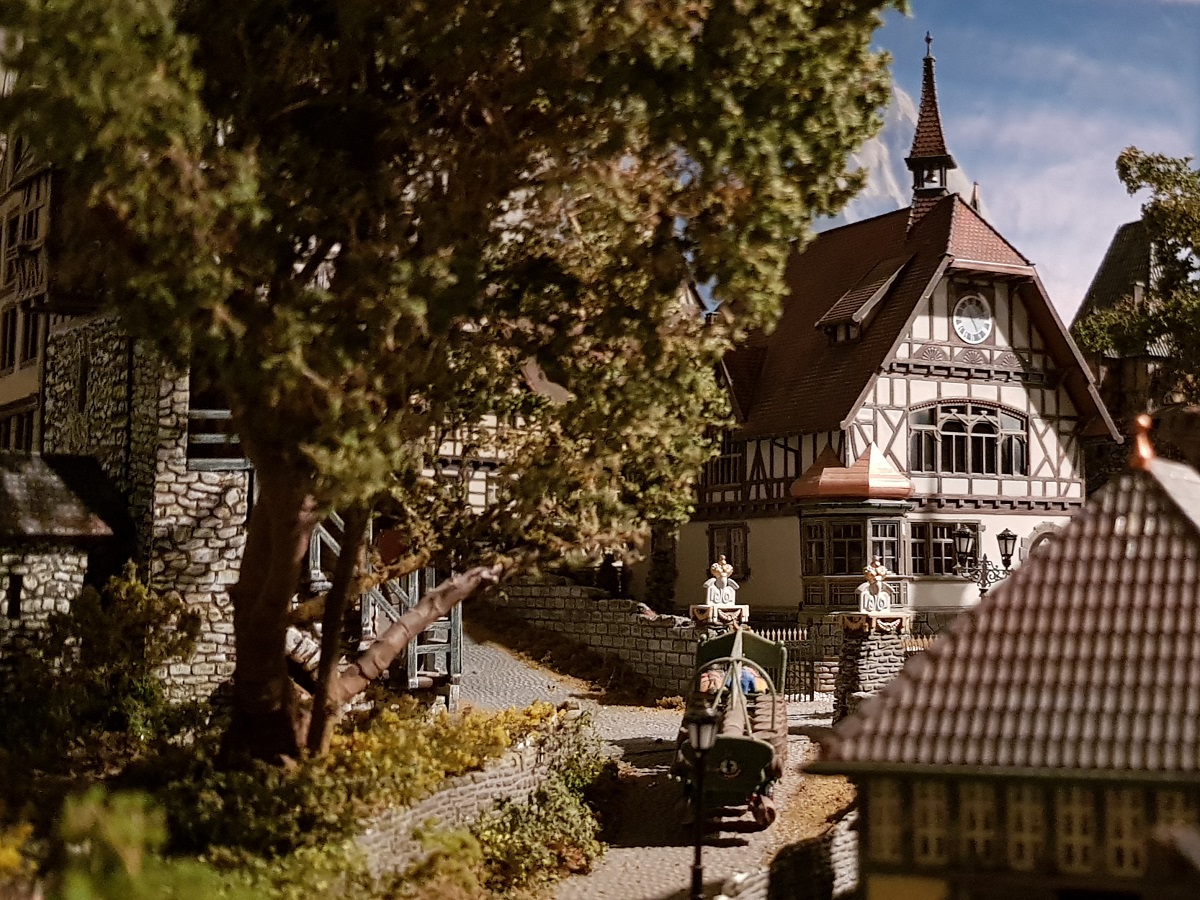 Friday, 6.11.2020
Some years ago, I had contact with Jean Buchmann from Strasbourg (France). He ran a website with materials from Alsace-Lorraine (AL), or as they say in Germany:
Elsaß-Lothringen. His friend Philippe Hofmann had a fine layout in AL-style.
These days I will implement the AL-steamers of German origin into my ModelsList, while adding some fine pictures of Hofmann's layout as well.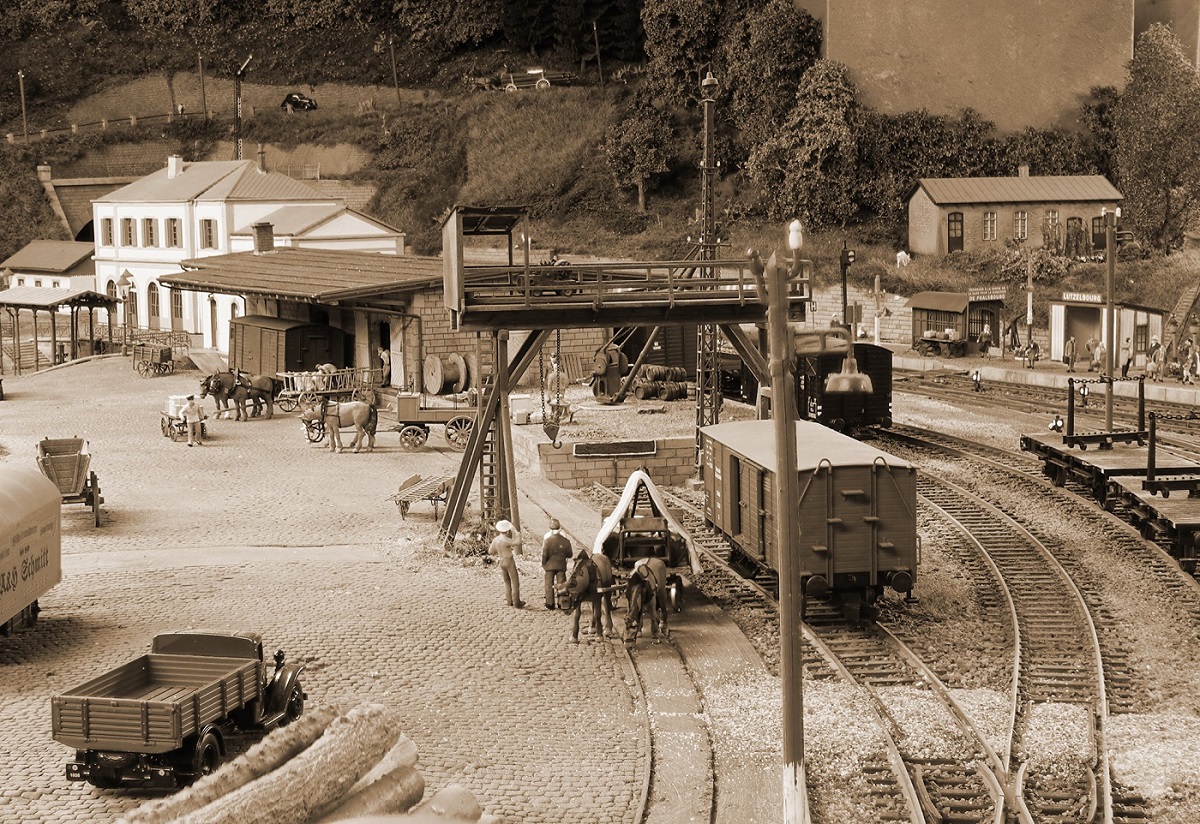 Courtesy Philippe Hofmann.
Wednesday, 3.11.2020
Yesterday I received message, that the owner of the shop, where I have taken uncountable pictures of train models is no more.
After suffering a severe stroke some weeks ago, he passed away in hospital last Sunday due to a fatal pneumonia.
It fills me with great sadness that a person of such friendly character and loving nature, who was always self-effacing, ready to help others, is no longer with us.
I don't know if the store will continue to exist. But he will remain in my mind, in the most precious memories. Requiescat in pace, amicus meus.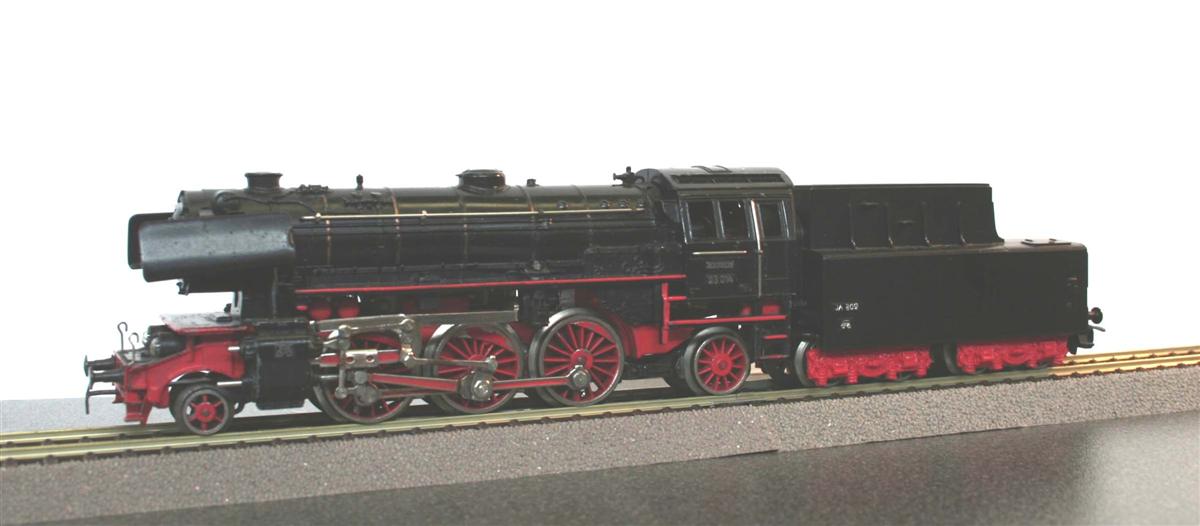 This is how the photographic adventure began on 31.5.2006 in the back of his store (Märklin DA 800)...

... and the last one I took on 17.10.2020 (Märklin 39209)

Tuesday, November 3rd

These days I received many outstanding pictures of rare brass models in high resolution and even higher quality. These wonderful photos were professionally taken by a very famous collector and owner of the brass-royalmodels.com website Alexey Gavrilyuk (Алексей Гаврилюк) from Kiev, Ukraine.

All photos are unique and made exclusively from models that are in his personal collection. Alexey has collected one of the most stunning collections of the rarest small series models of rolling stock from different countries and eras in H0.

They were sent to me by Alexander Nozadze, befriended with Vadim from Lvov, Ukraine, who helped me out in the past with pictures of rare models from the 60's.

It will take some weeks to implement all these pictures in my ModelsList, considering models from Micro Feinmechanik, Fuchs, Fulgurex, Bavaria and Lemaco.

I noticed that Alexey has had a mentor, considering the way he applied my LEO principle and using a very familiar Märklin track profile. Most flattering...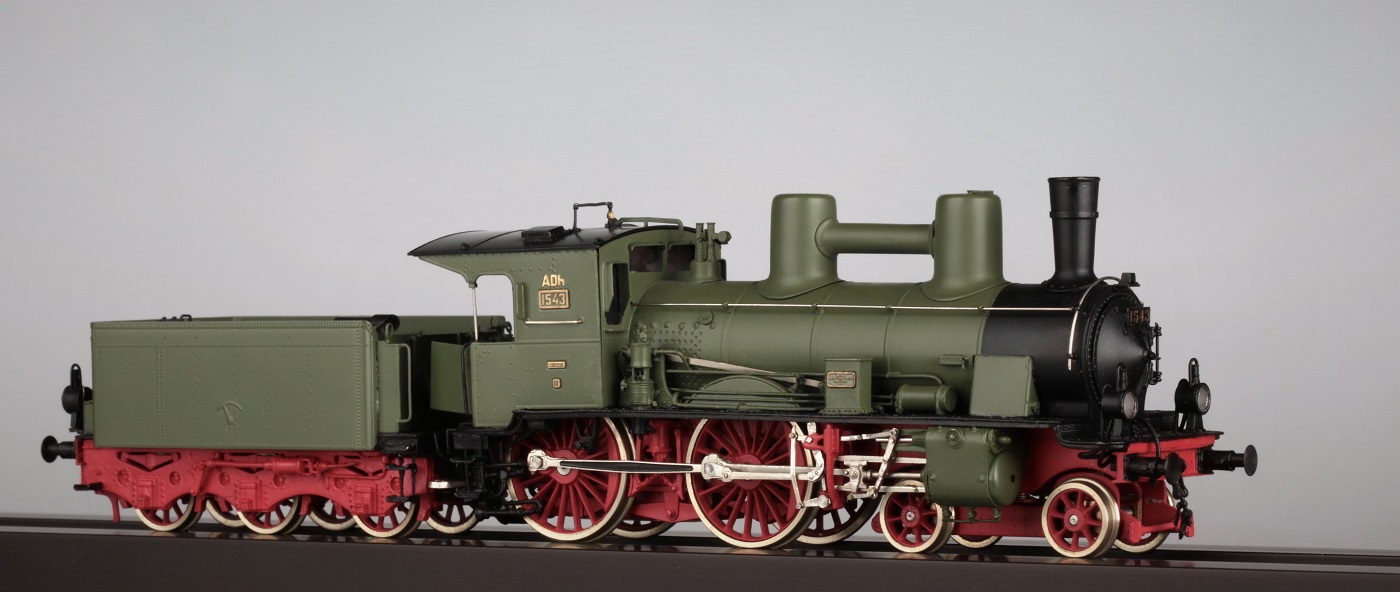 This one's from Alexey...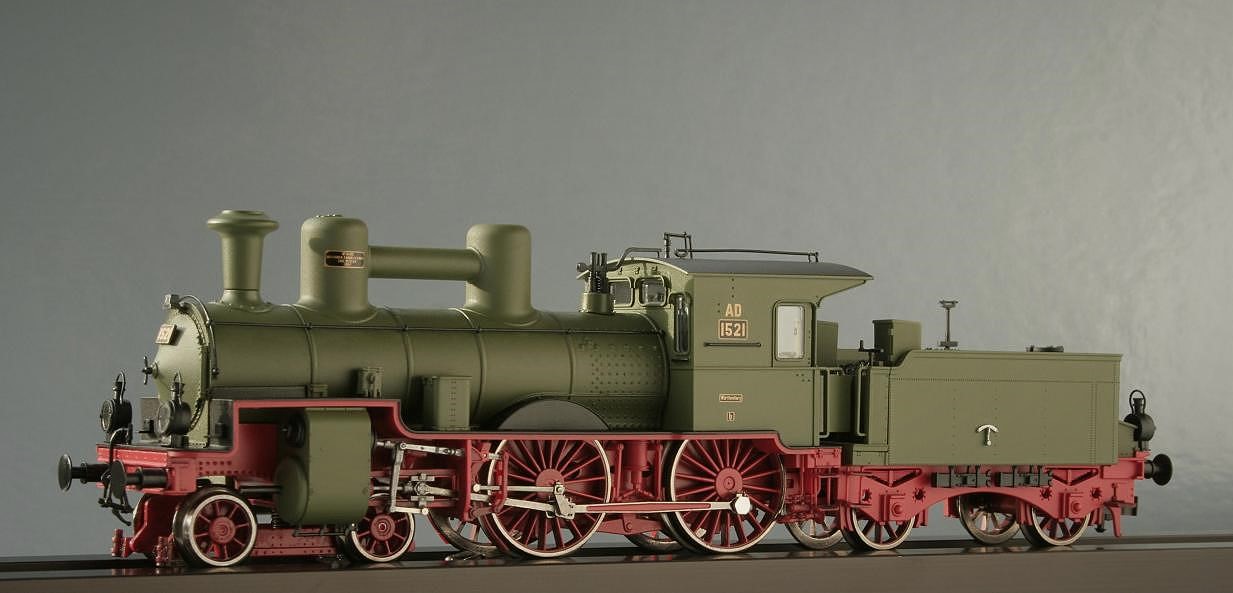 ...to be compared with mine.
Saturday, October 17th
A rather large photoshoot at my dealer's, with a.o. newly released electric locomotives and additional materials...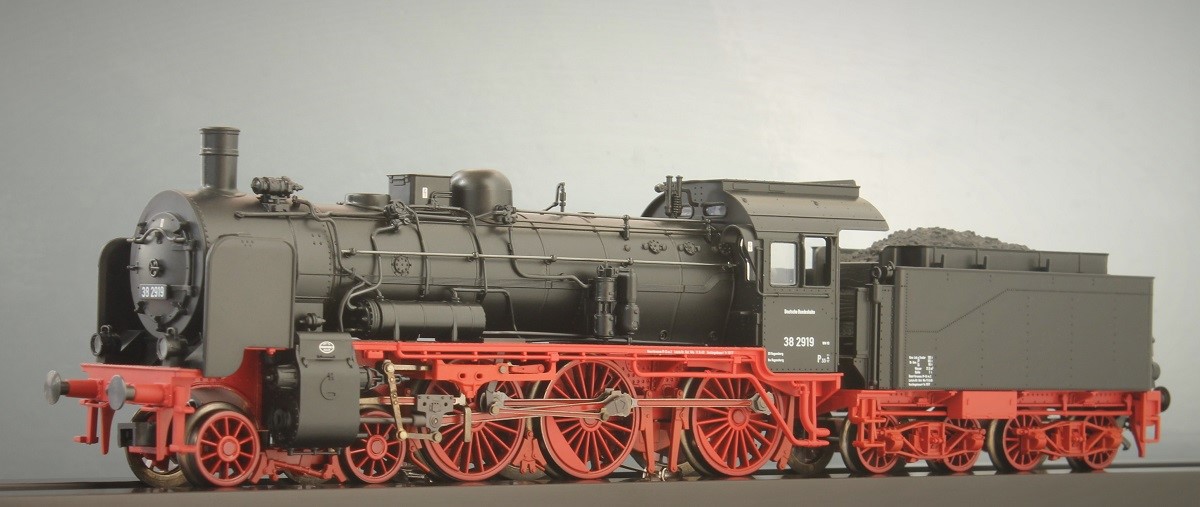 Märklin 39380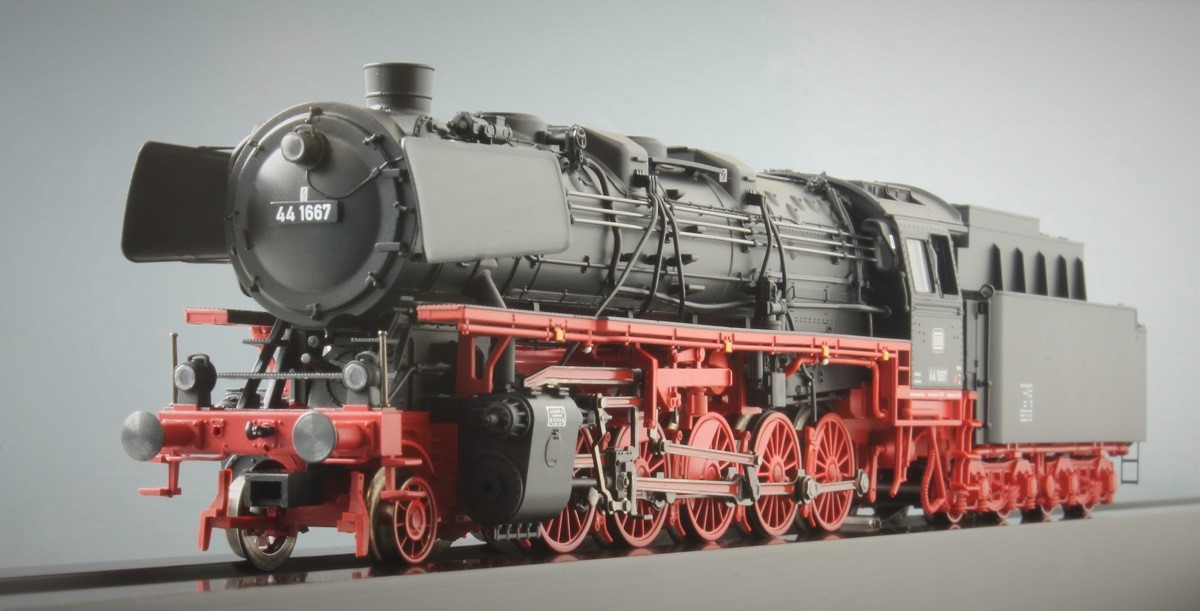 Märklin 39883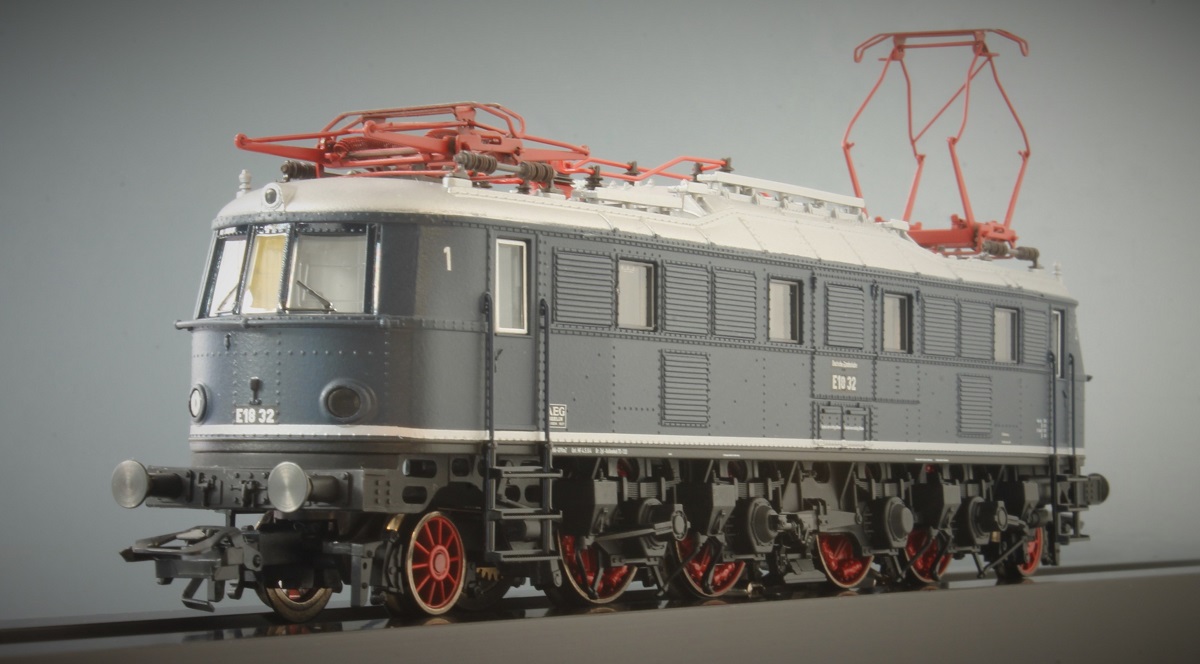 Märklin 39683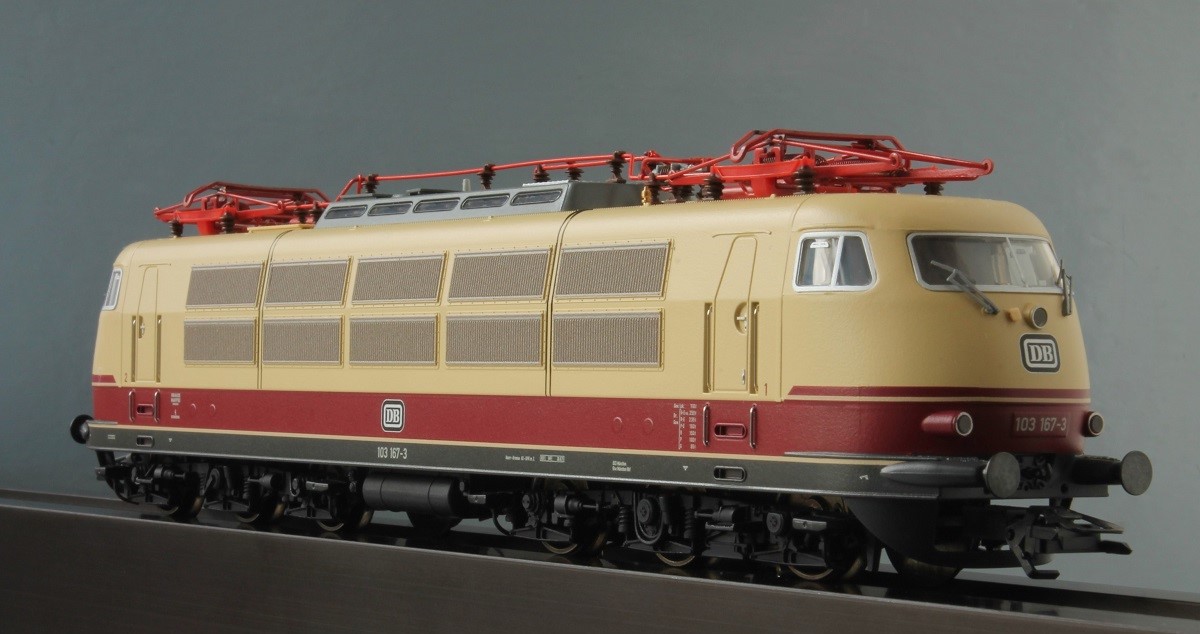 Märklin 39150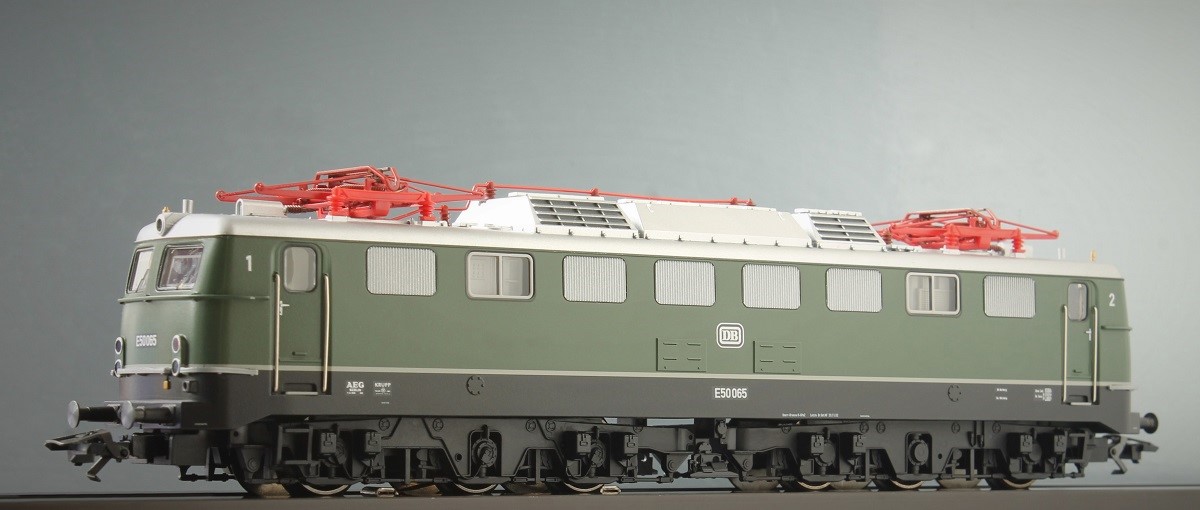 Märklin 37855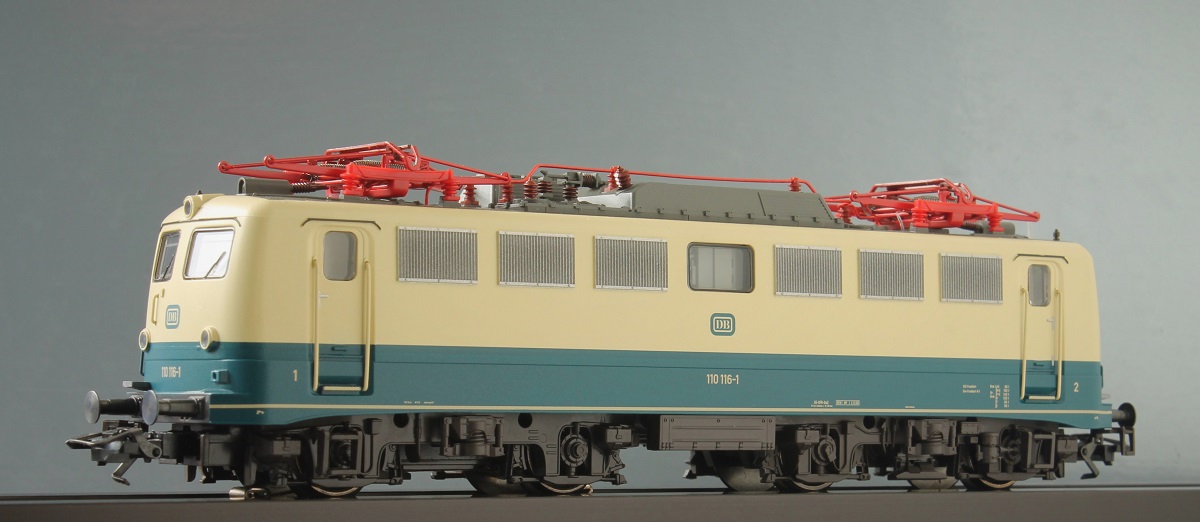 Märklin 37110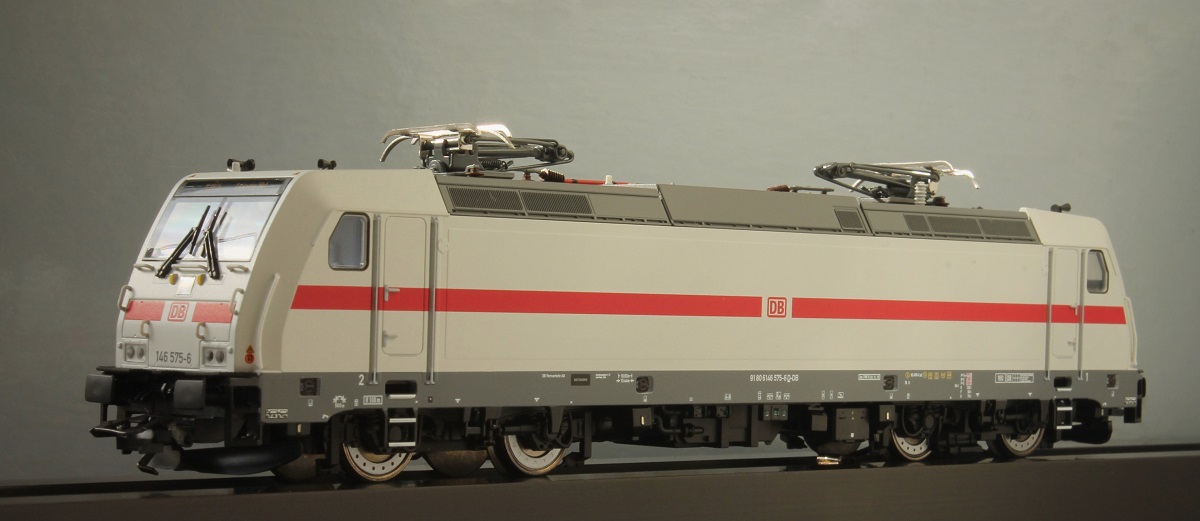 Märklin 37447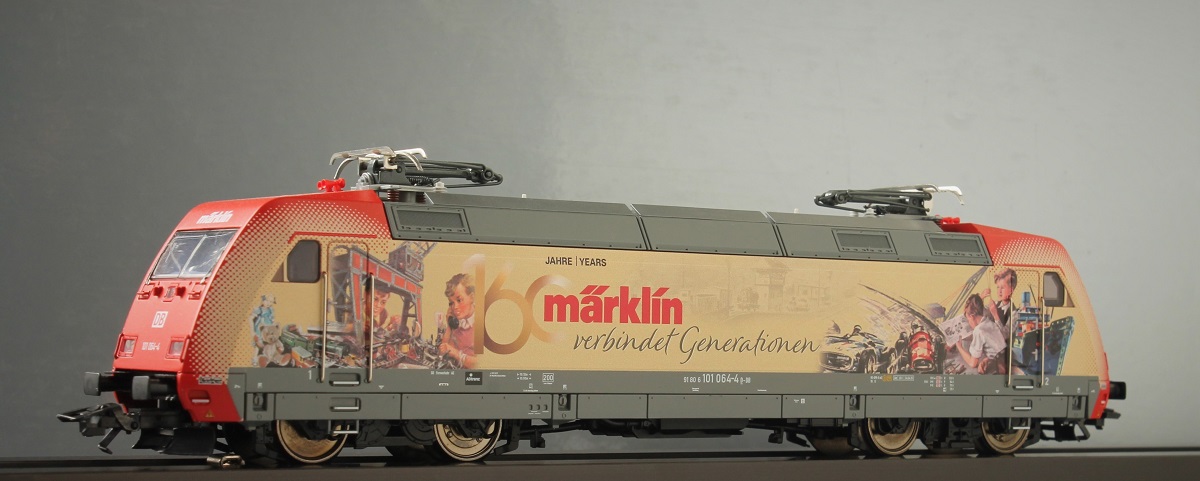 Märklin 39378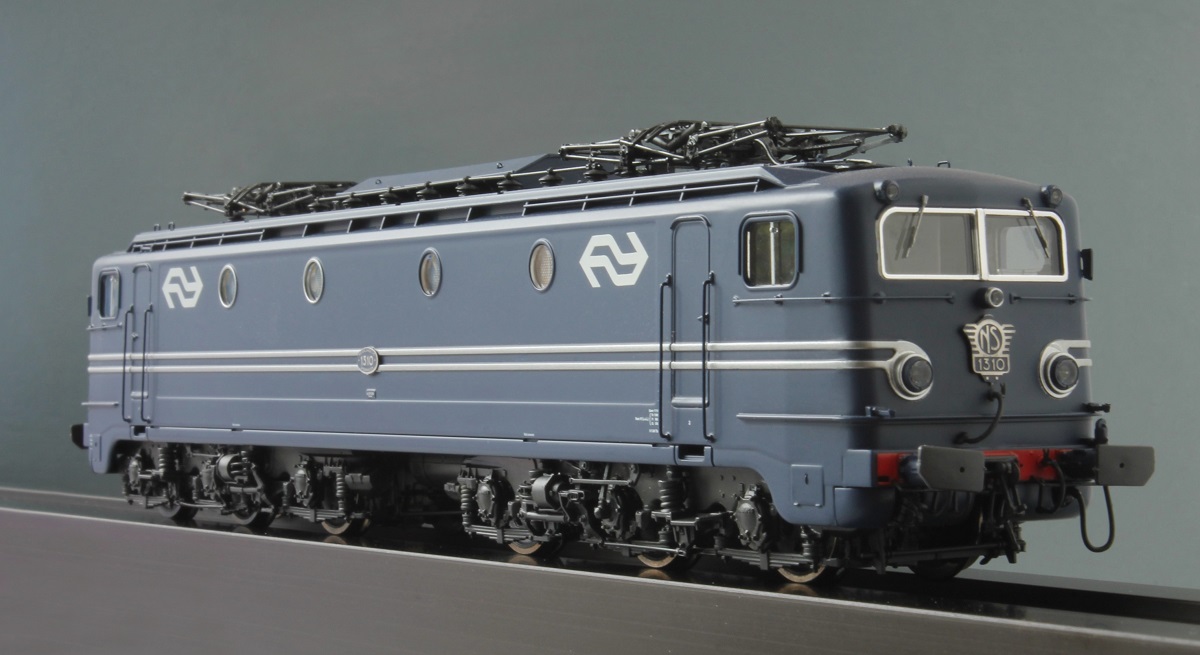 Artitec 24.373.01 as NS 1310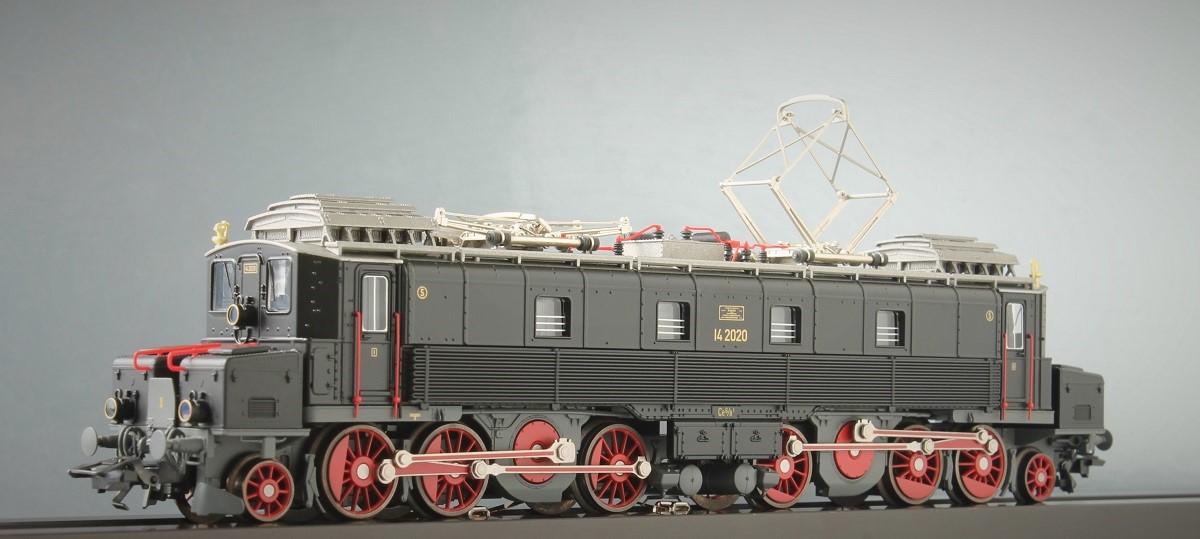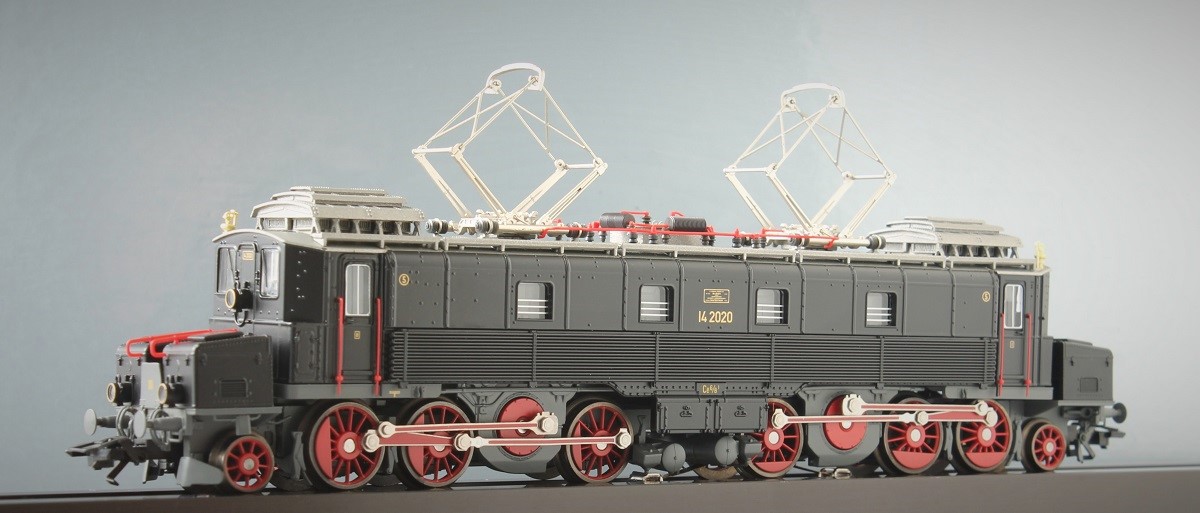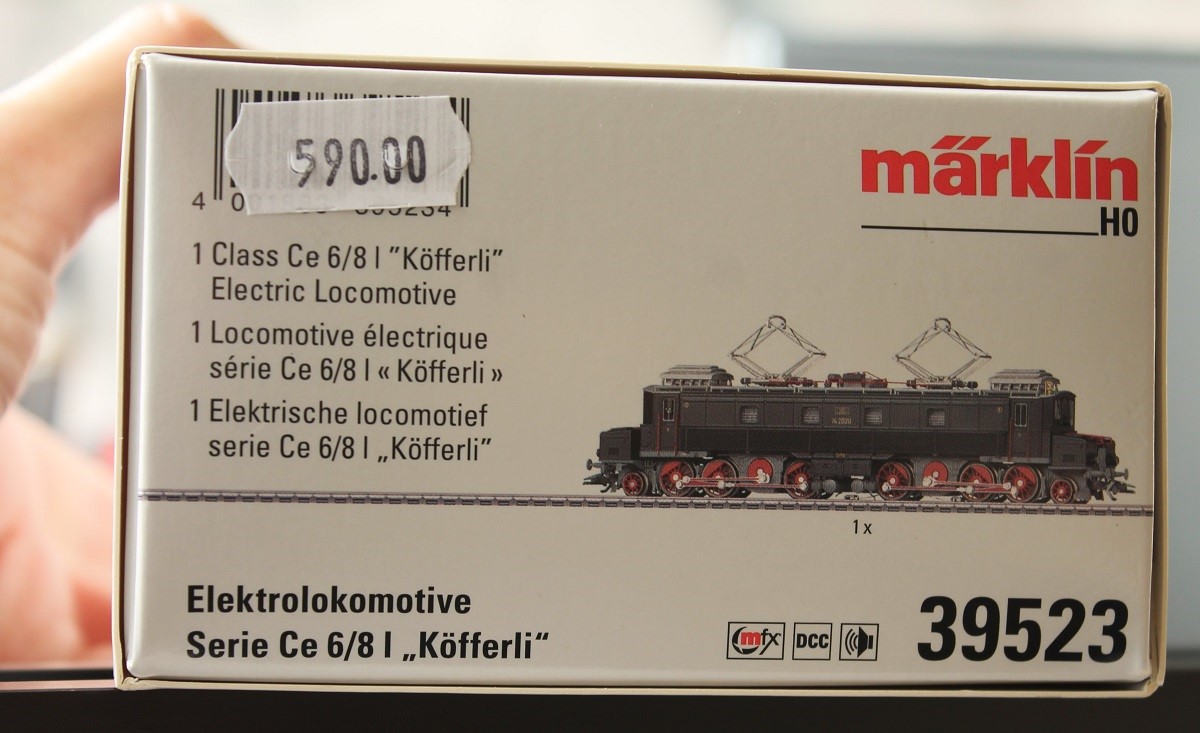 Märklin 39523 (SBB Ce 6/8 I "Köfferli" Nr. 14 2020)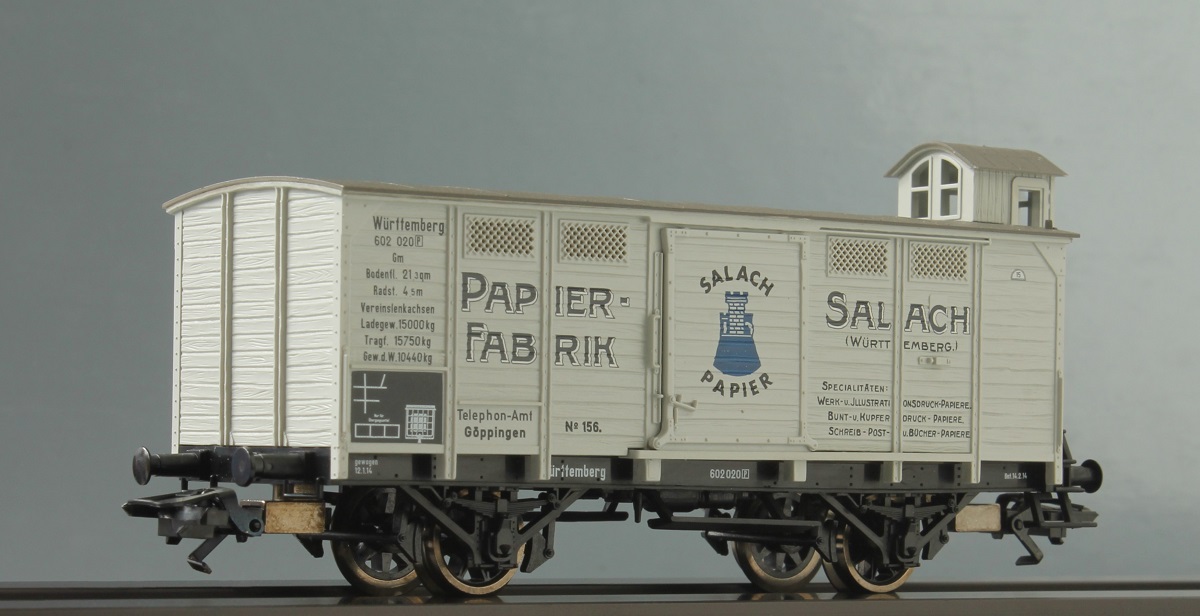 Trix 24820 Club Wagen 2020 (alas not mine)
I also bought myself this lovely era 1 Märklin car set (45175), which goes with the Württemberg G 12: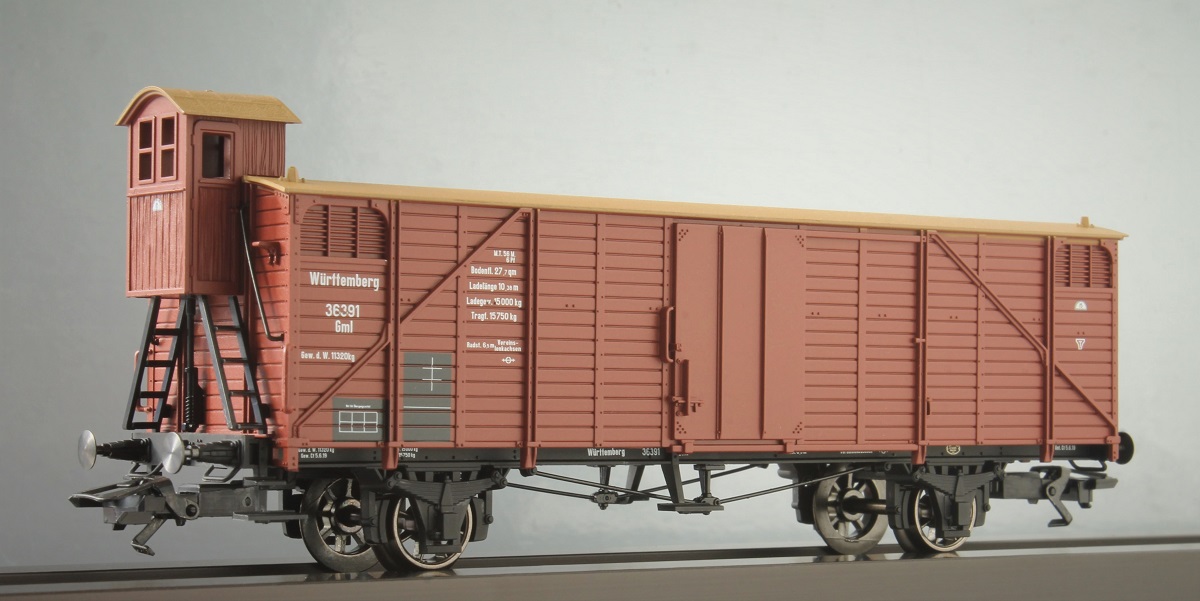 Märklin 45175-01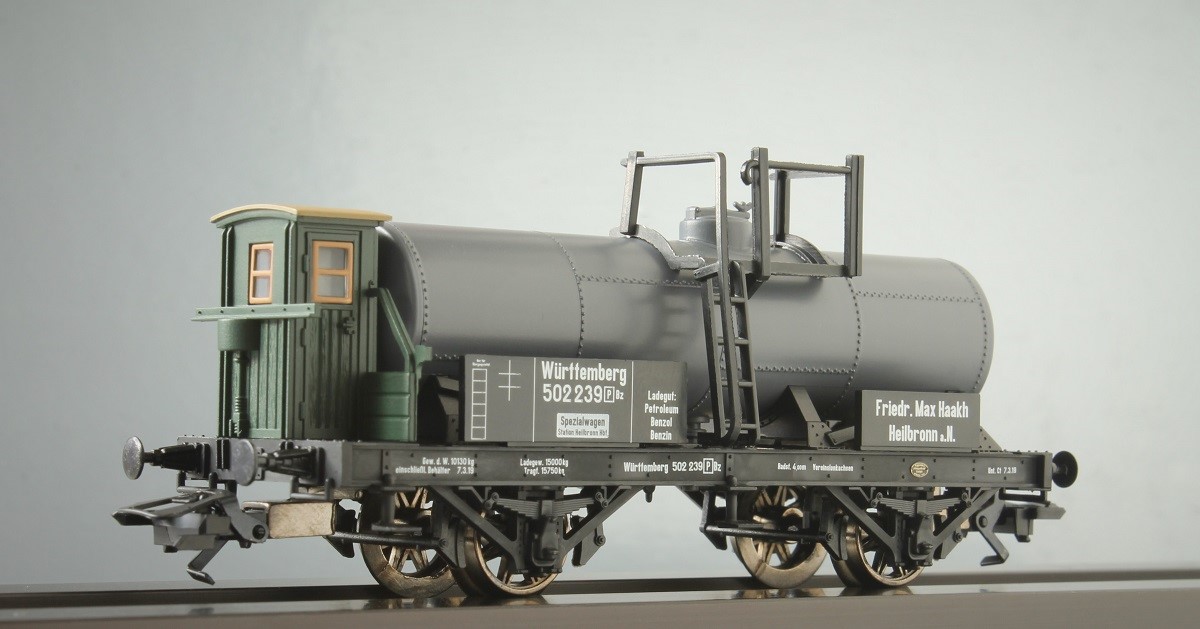 Märklin 45175-02 (basis Trix)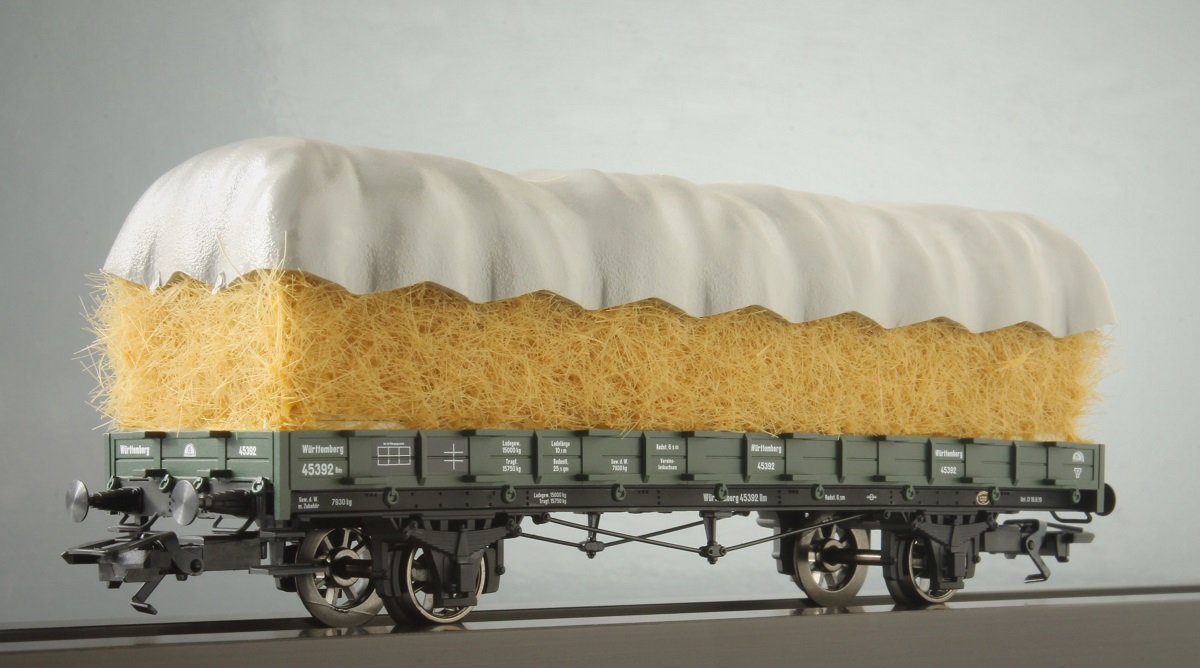 Märklin 45175-03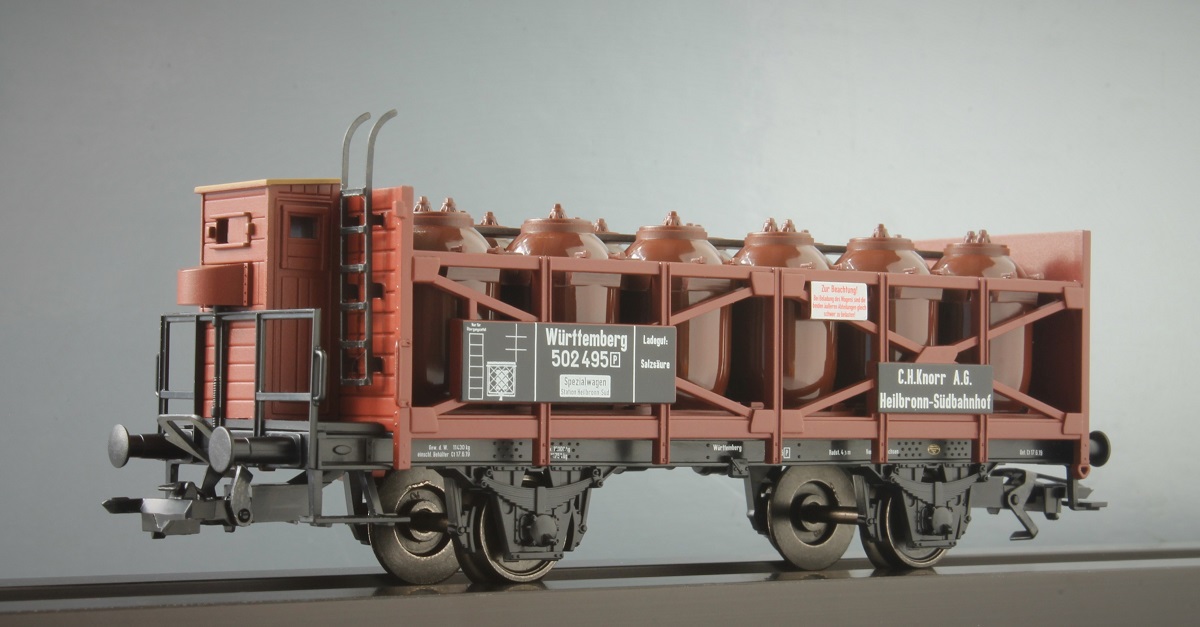 Märklin 45175-04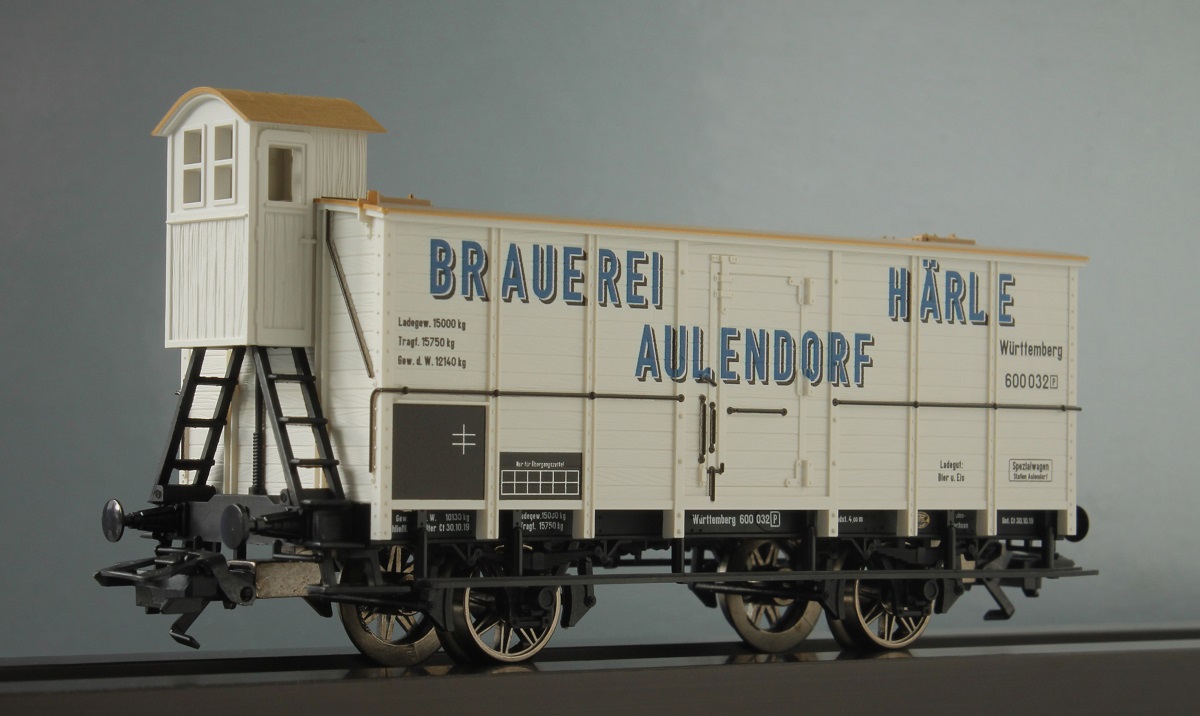 Märklin 45175-05 (basis Trix)
October 6th
The many pictures I took at the Landshut Micro Metakit Office in 2009 were doctored by me in a way of only cropping and restoring. I never adjusted contrast, light and vignetting. I think it quite an improvement to do adjust then again. Finishing 00200H to 04603H. The rest will follow in the next days.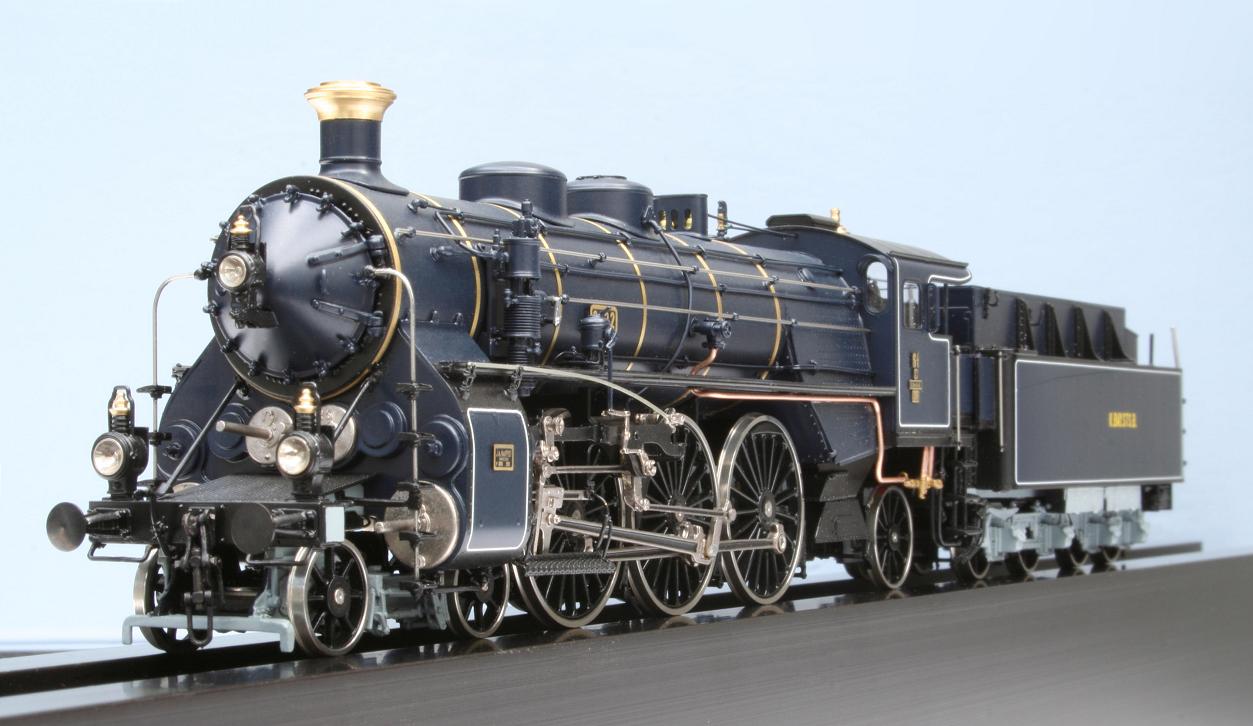 As it was...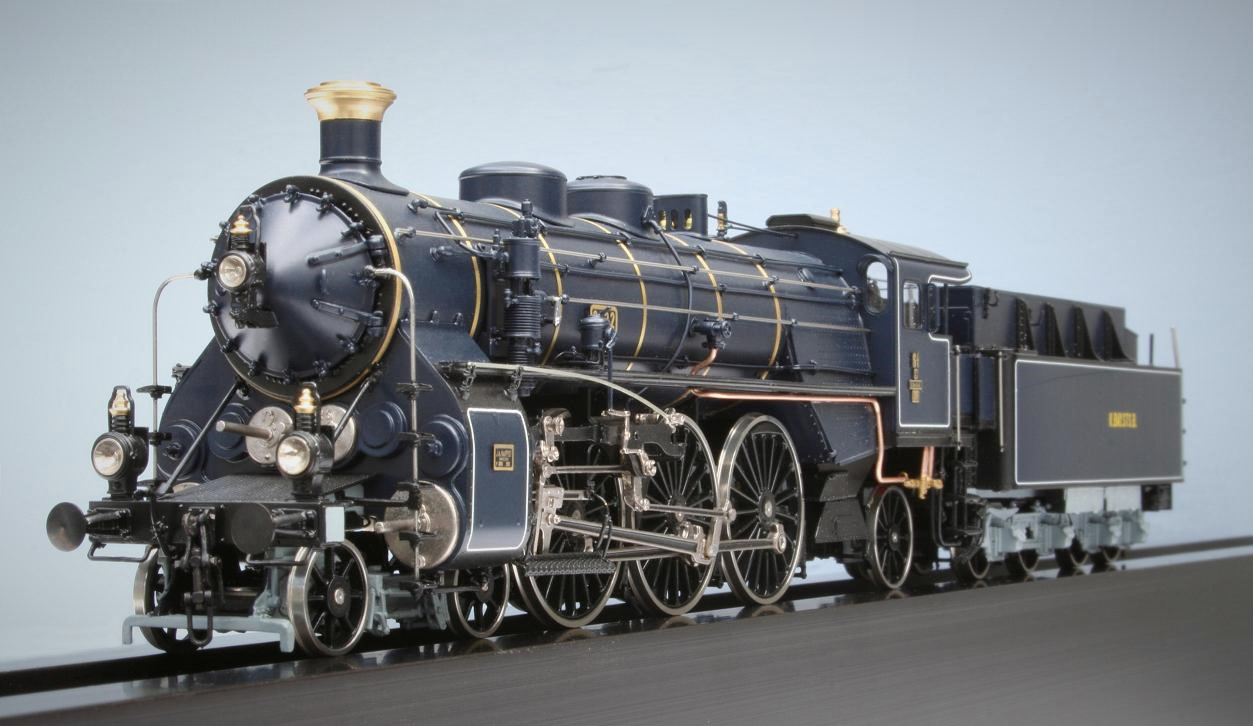 ... and now is.
September 27th
A day of adjustment... see the report about adjusting the Württemberg G 12 (Märklin 37586)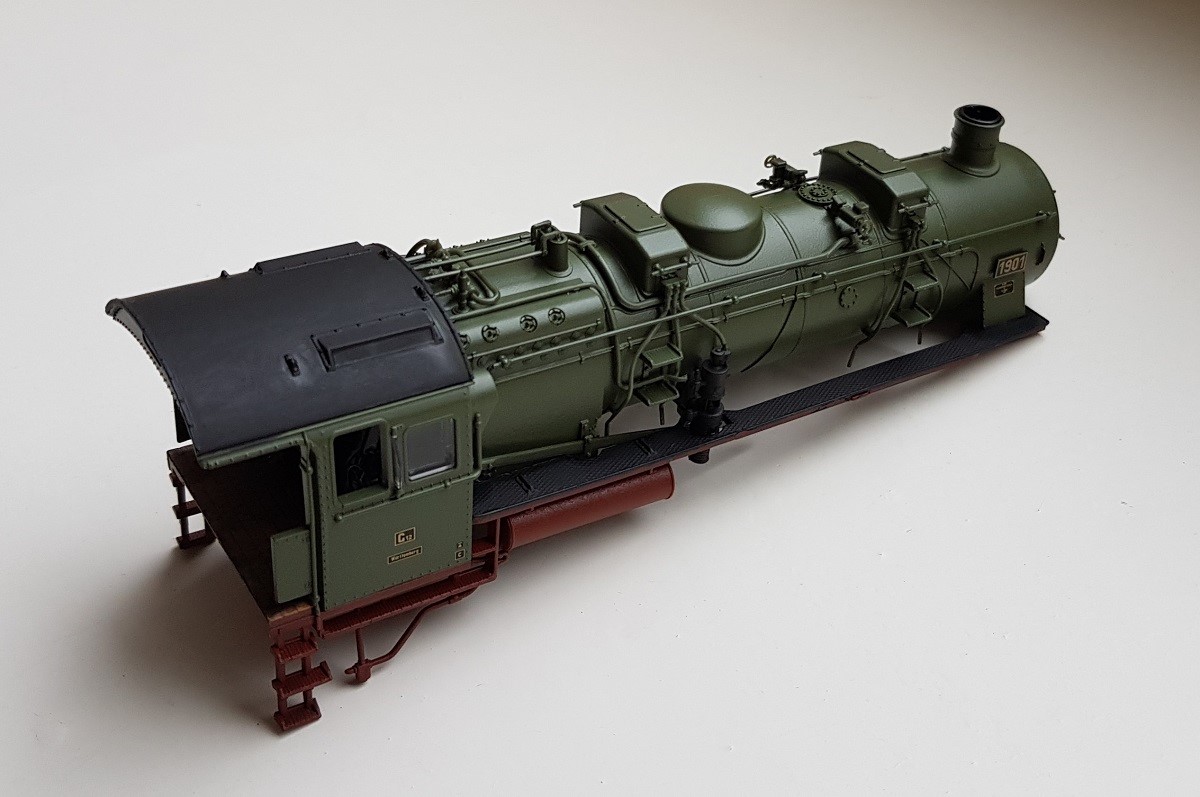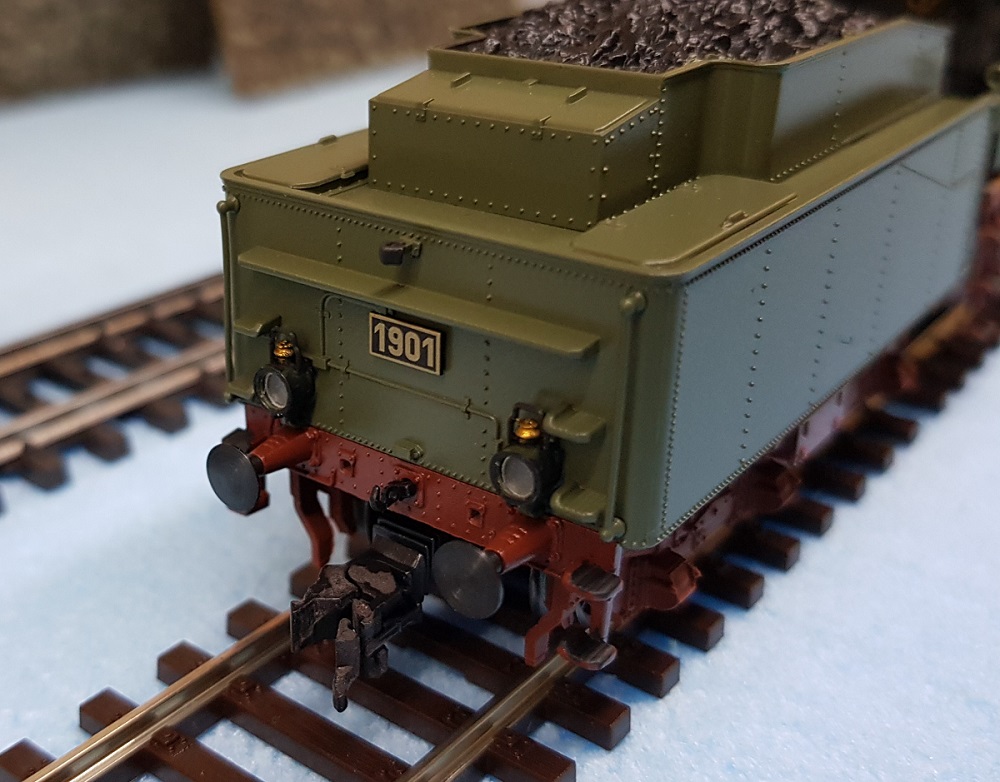 September 13th
Searching in my attic, I found 5 Micro Metakit calendars.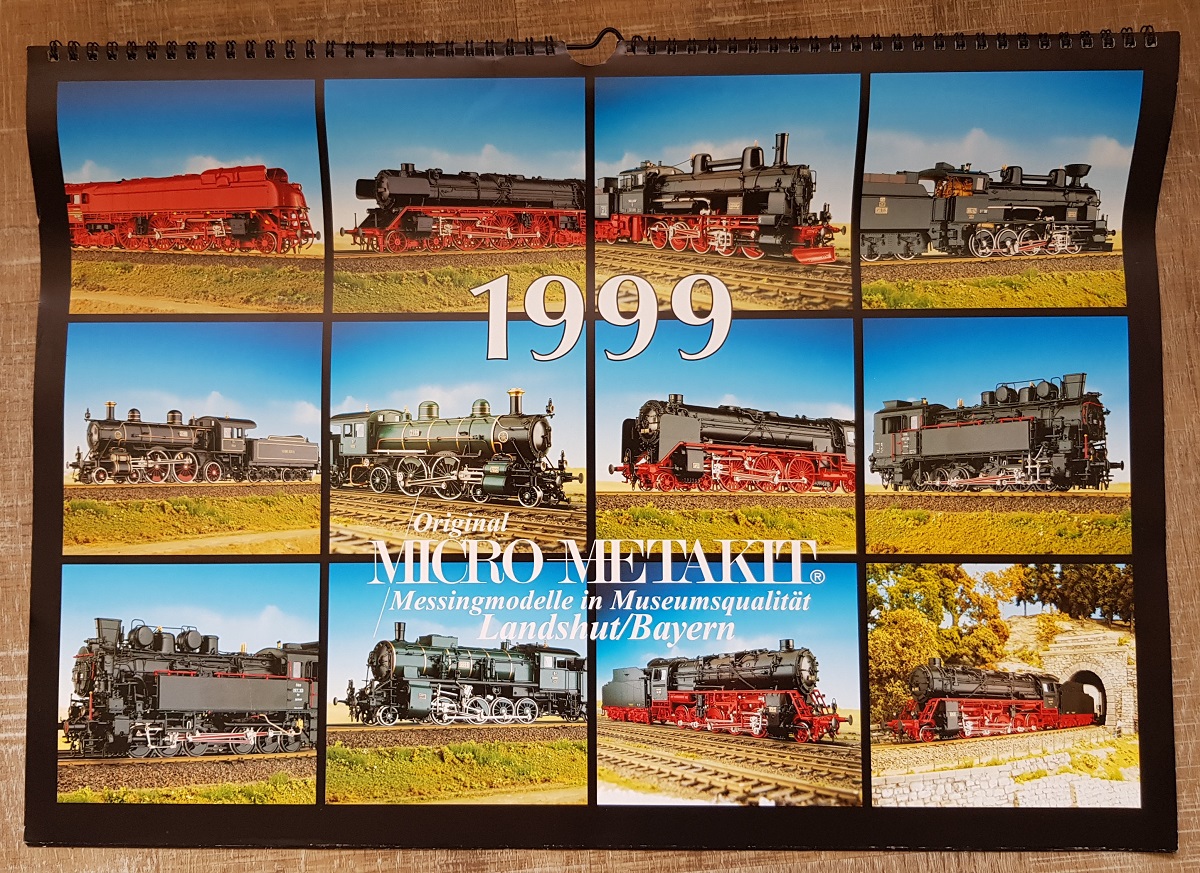 During the 2009 photoshoot at Landshut (Germany), I met Herr Passberger who was too kind in handing them over to me.
Truly, they have marvellous pictures, made by Studio Spörle.
As an homage to Micro Metakit and in honour of the late mr. Passberger who passed away at Christmas 2017, here's one of the finest:
the bay. B IX HILPOLTSTEIN and B IX STARNBERG.
I treasure the memories with both Thomas Maulu and his father, who helped me during a three day shooting at the Landshut Office.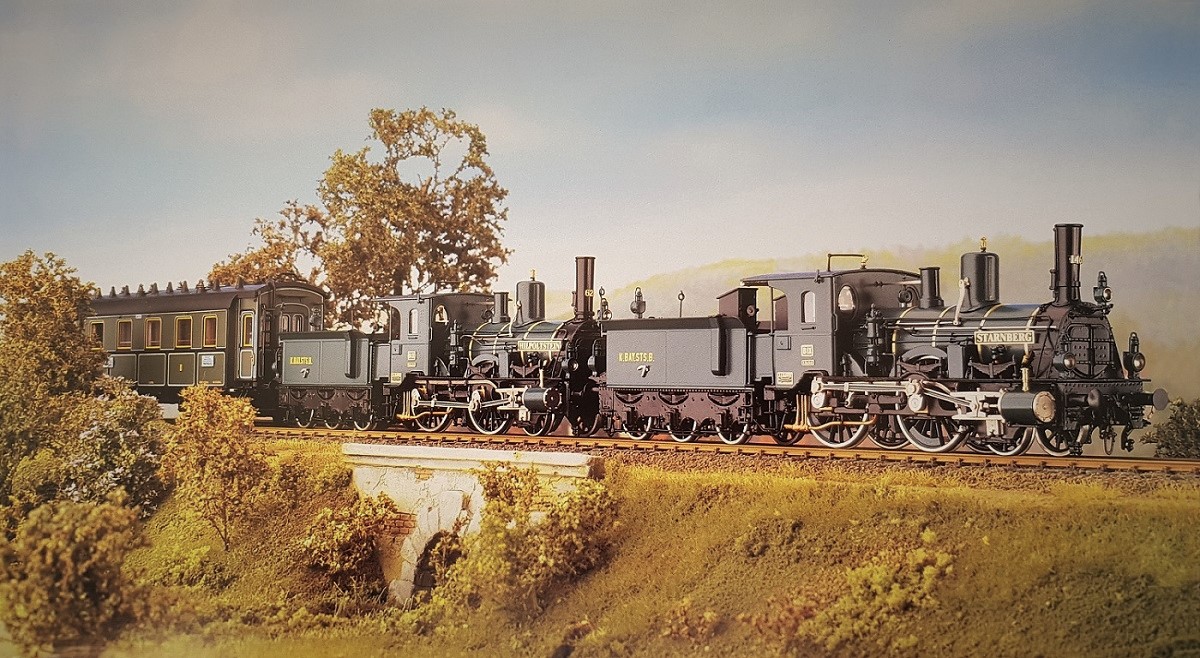 Micro Metakit 97504H ~ Frits Osterthun © 2009
September 8th
Between t a k i n g a n d p o s t i n g a picture there's a process of doctoring. A brief presentation of how I do things, right here!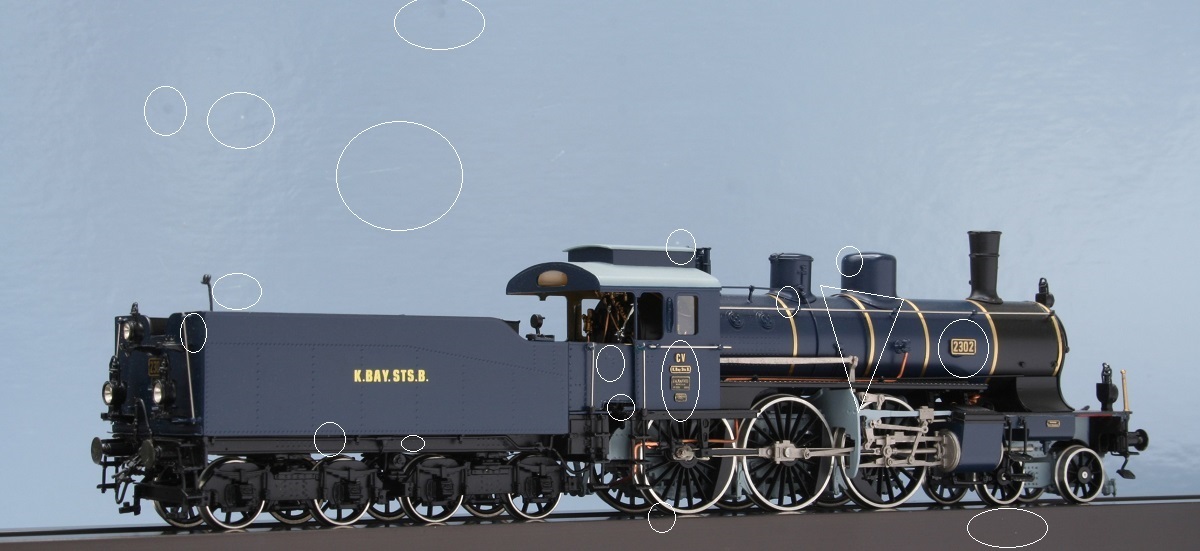 September-December 2020
New Micro Metakit pictures from the 2009 Landshut Photoshoot, that were
N e v e r r e l e a s e d b e f o r e
U n t i l l n o w !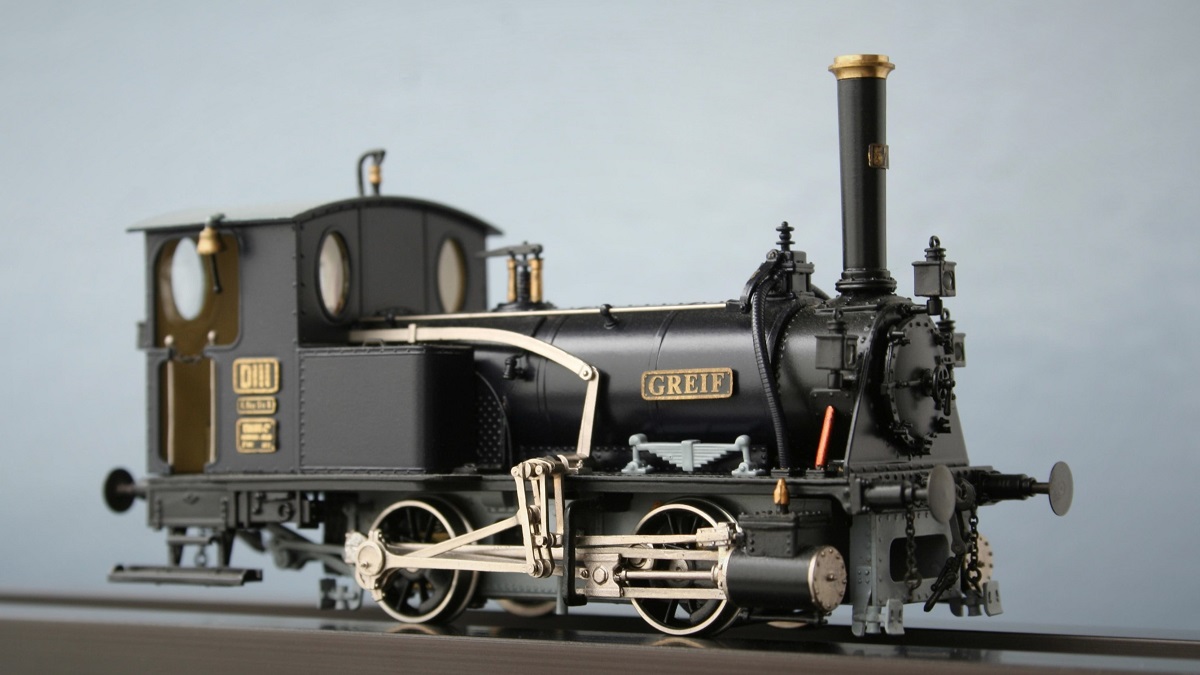 This picture of the Bay. D III Greif ~ Landesausstellung zu Nürnberg 1873.
Micro Metakit 93002H / Landshut 15.7.2009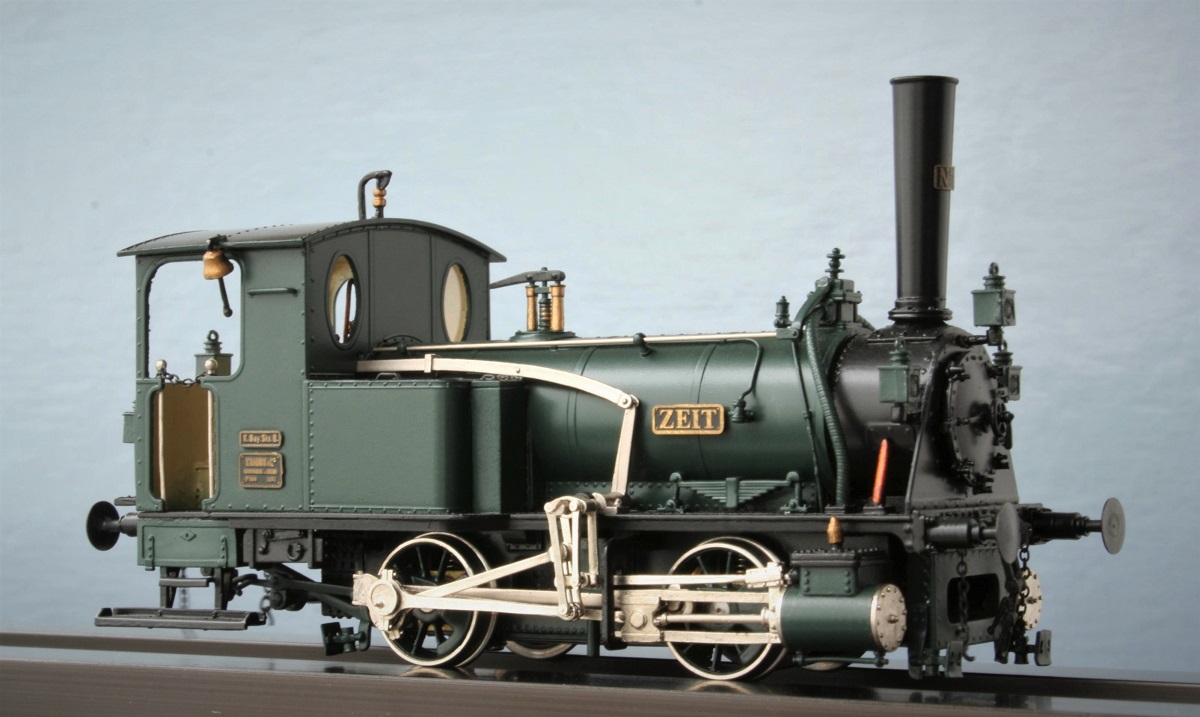 Micro Metakit 93003H ~ Landshut © 15.7.2009 (never released as such until now)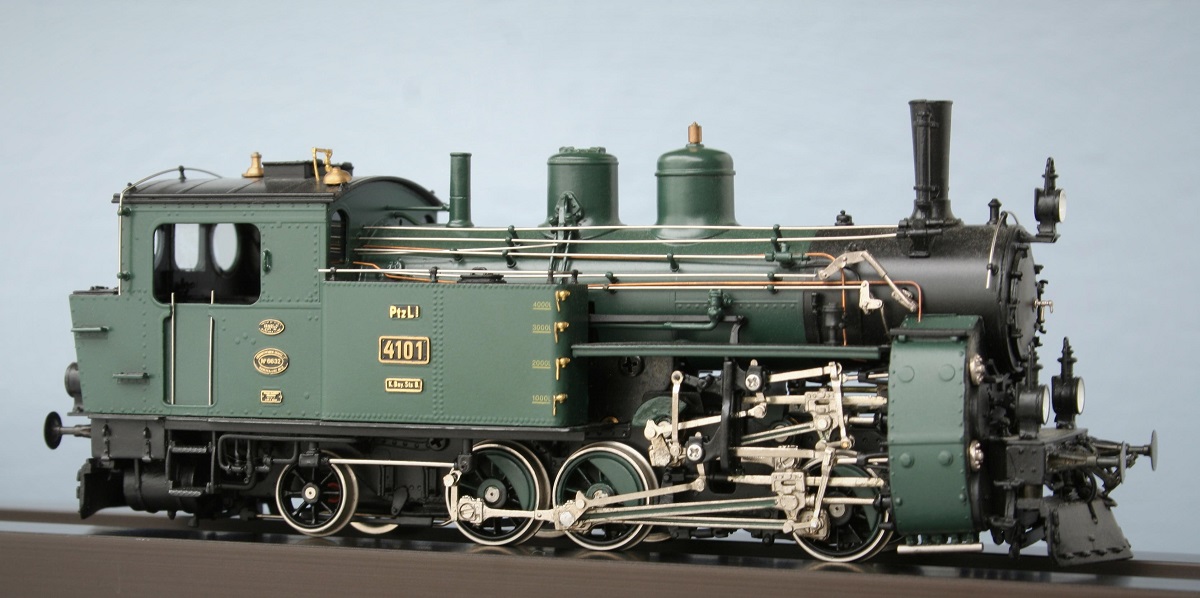 Micro Metakit 90010H ~ Landshut © 15.7.2009 / edit&added 12.11.2020 (yep, the running wheel is not in place)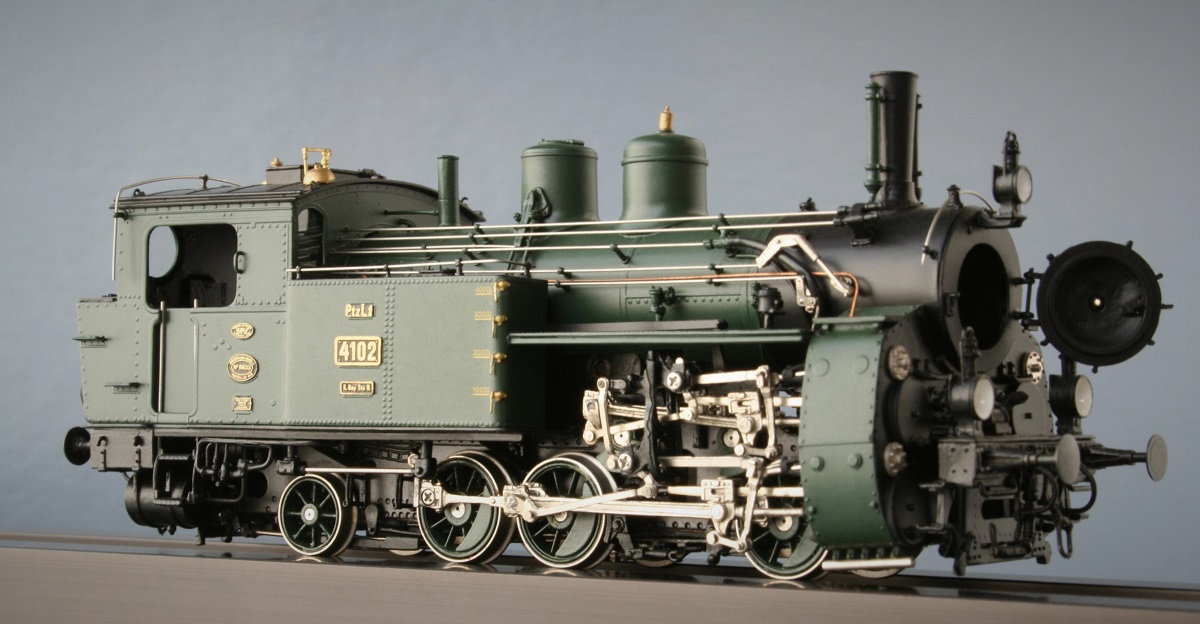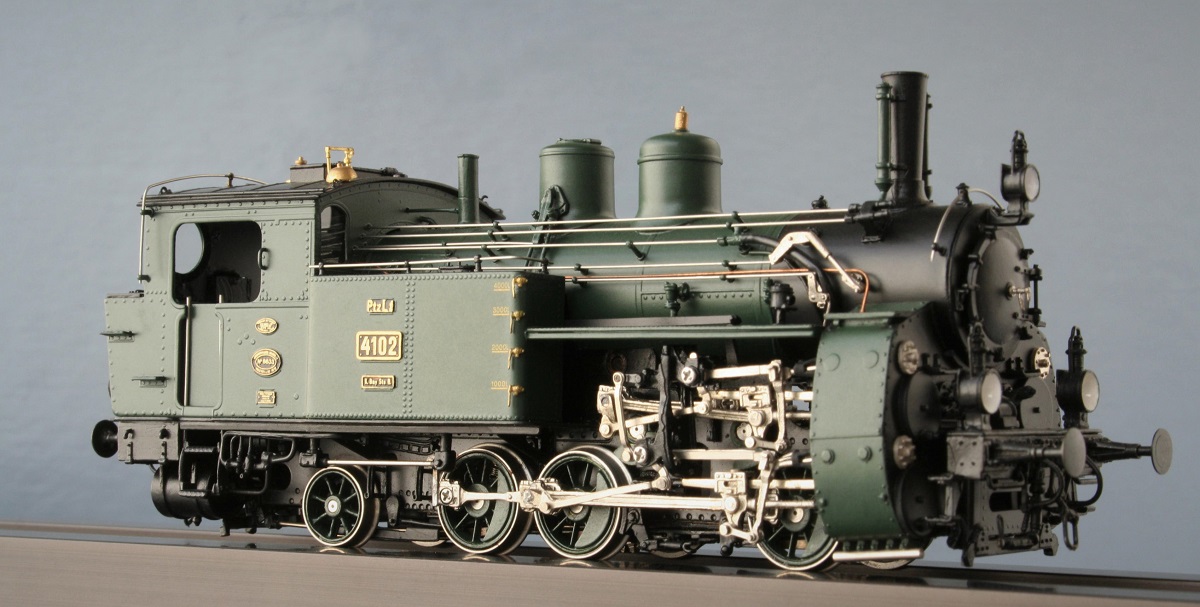 Micro Metakit 90000H ~ Landshut © 15.7.2009 (never released as such until now; broken handrail 'fixed')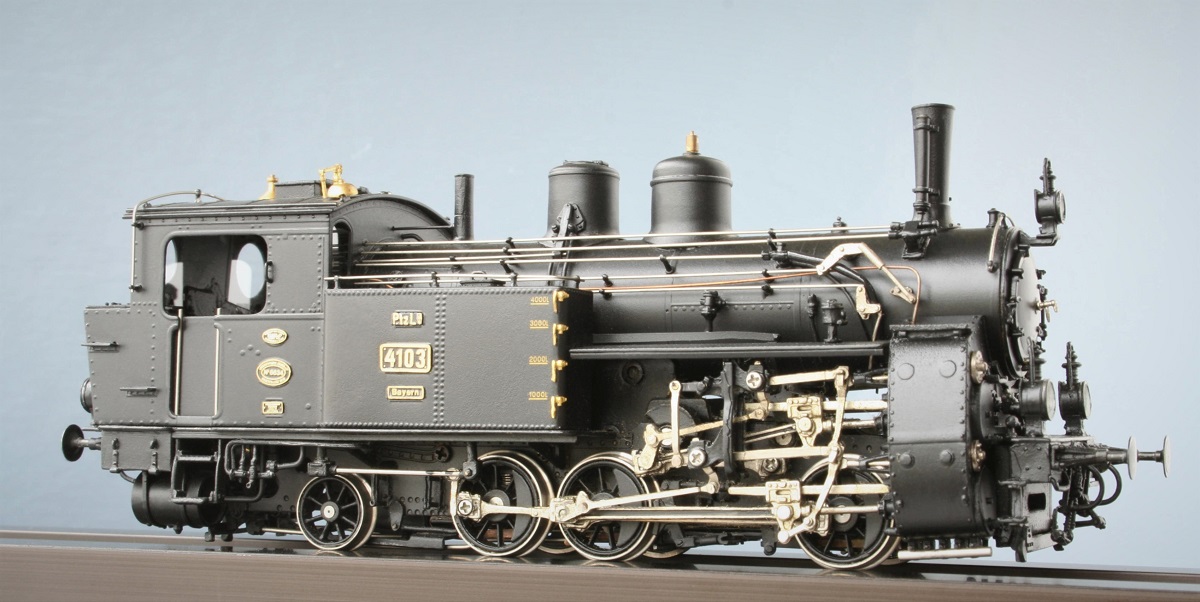 Micro Metakit 90001H ~ Landshut © 15.7.2009 (never released as such until now)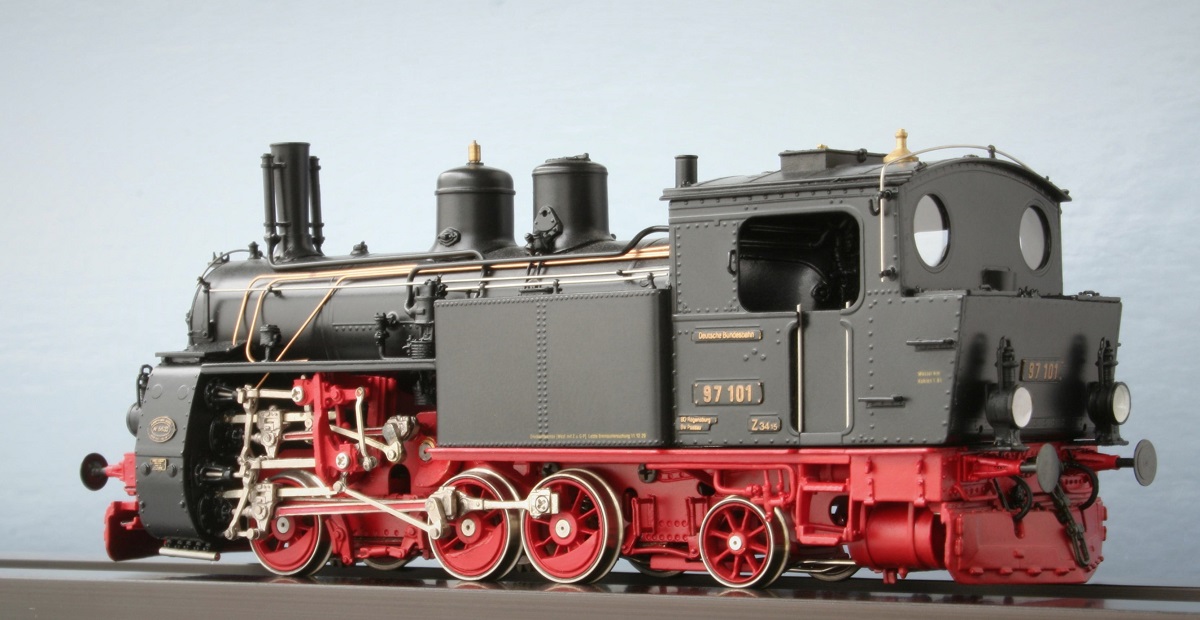 Micro Metakit 90002H ~ Landshut © 15.7.2009 (never released as such until now)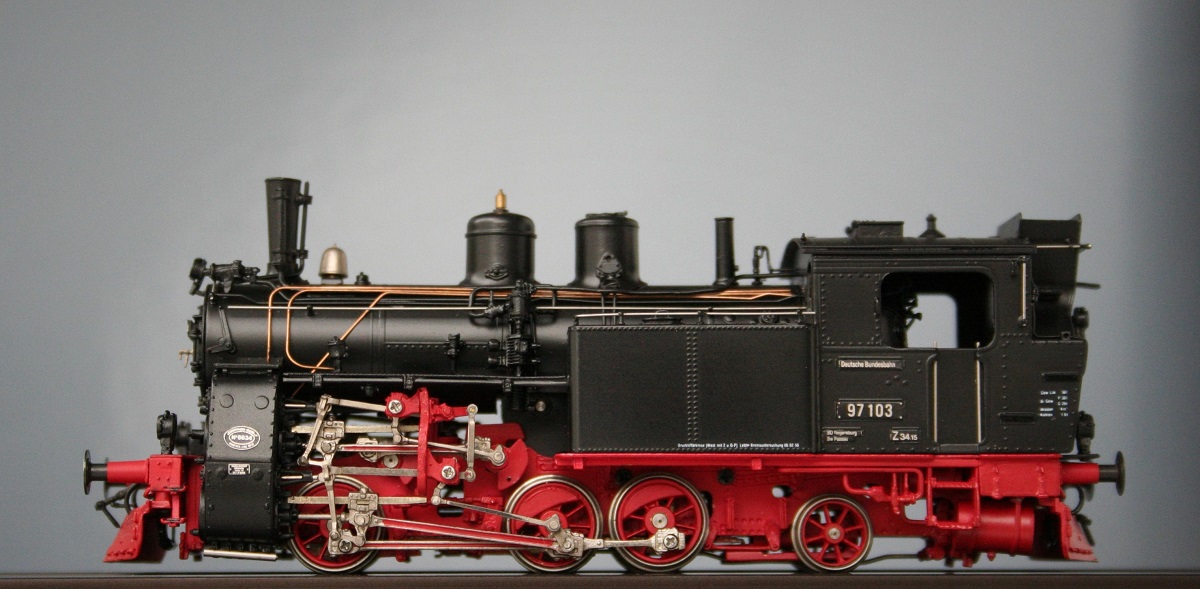 Micro Metakit 90003H ~ Landshut © 15.7.2009 / edit: 15.11.2020, with DB shield on the left side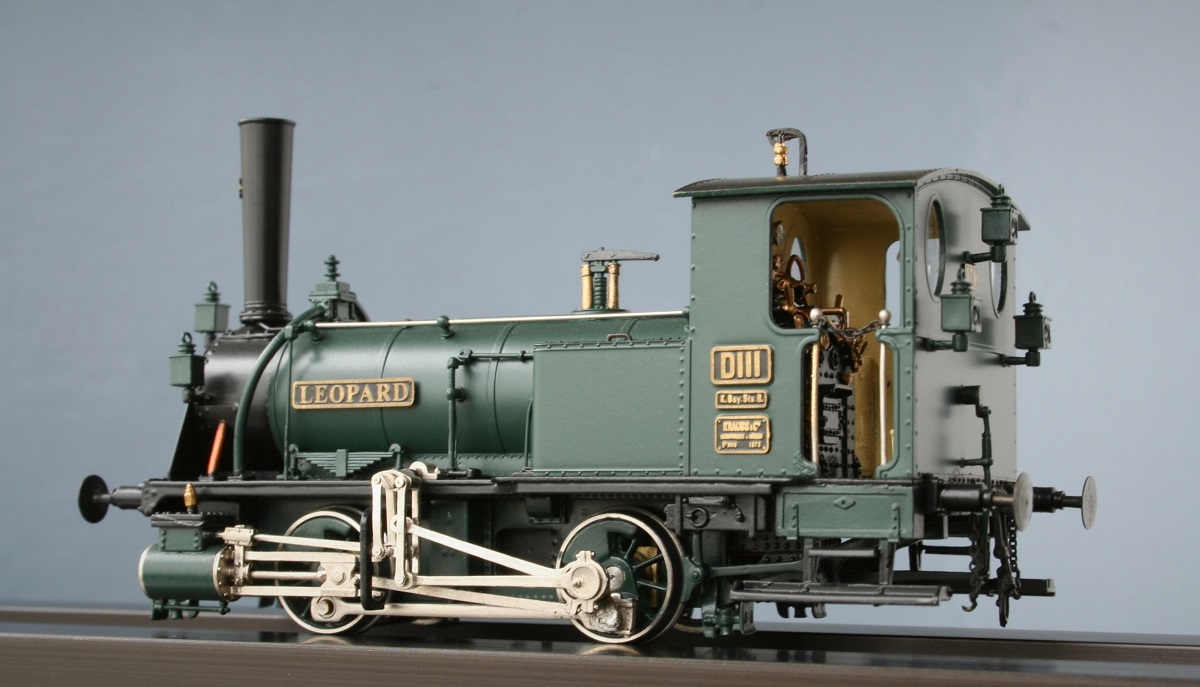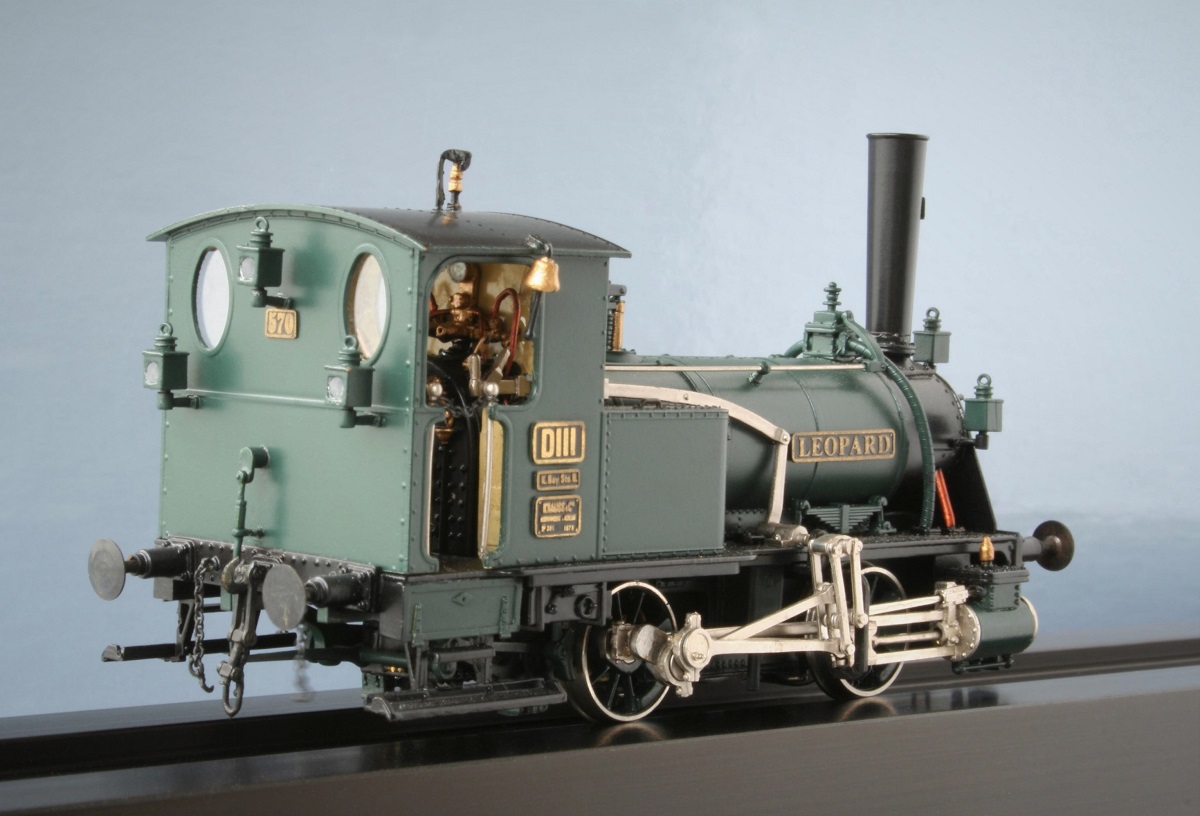 Micro Metakit 93003H ~ Landshut © 15.7.2009 (never released as such until now)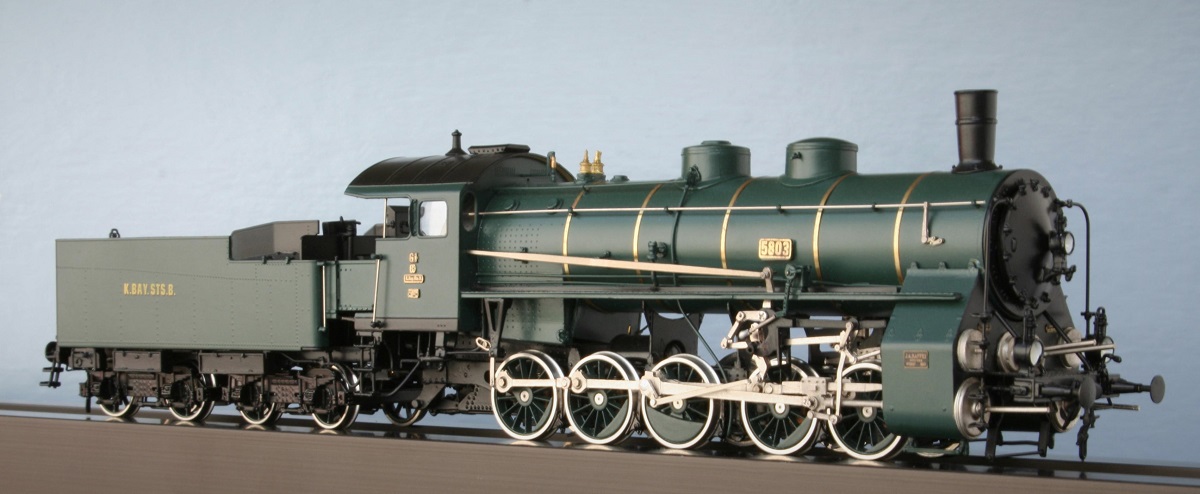 Micro Metakit 93300H ~ Landshut © 15.7.2009 (never released as such until now)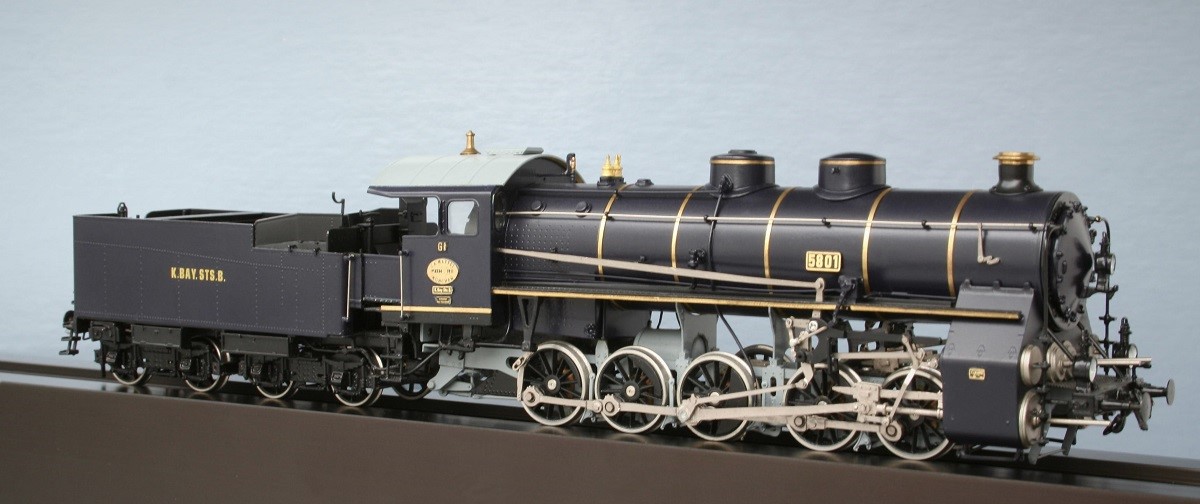 Micro Metakit 93301H ~ Landshut © 15.7.2009 / edit 18.11.2020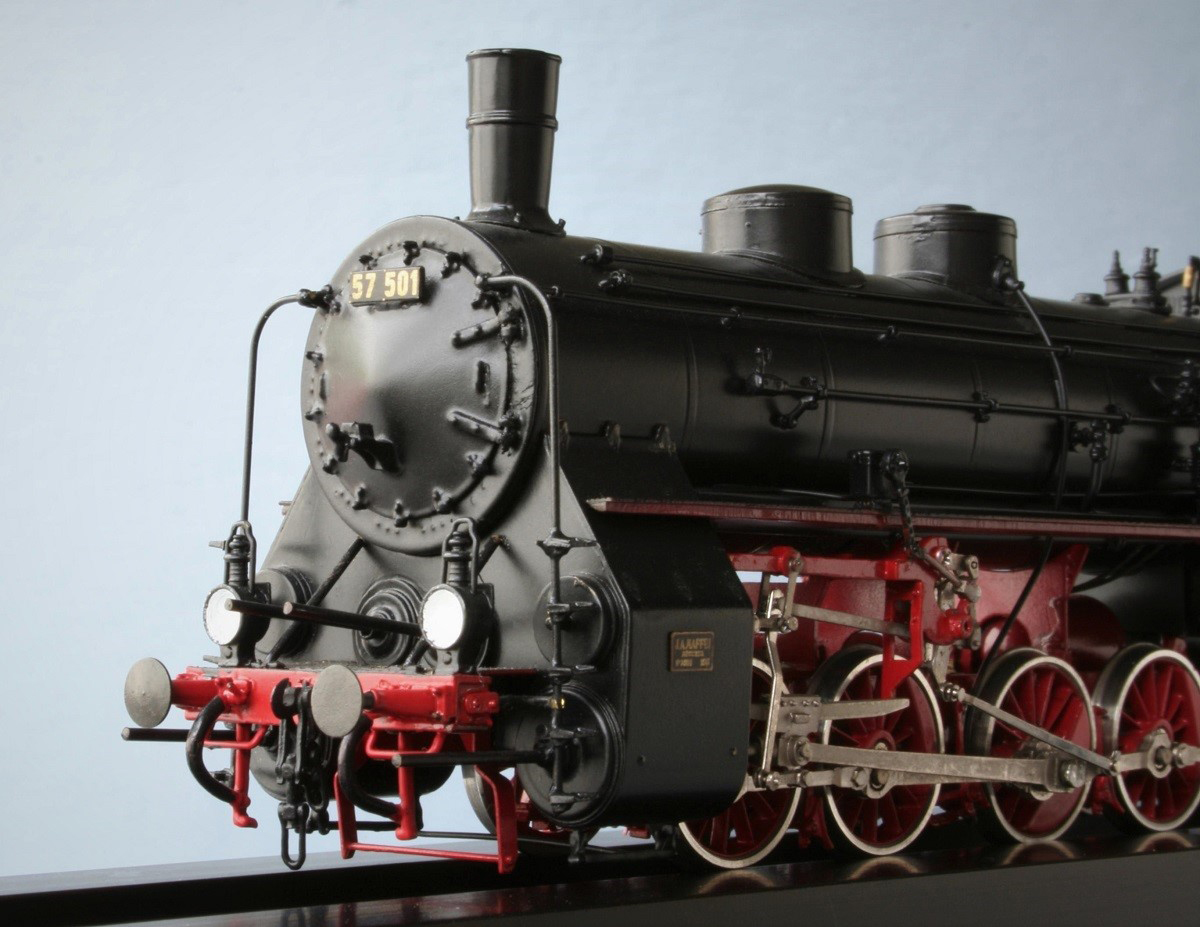 Micro Metakit 93302H ~ Landshut © 15.7.2009 (never released as such until now)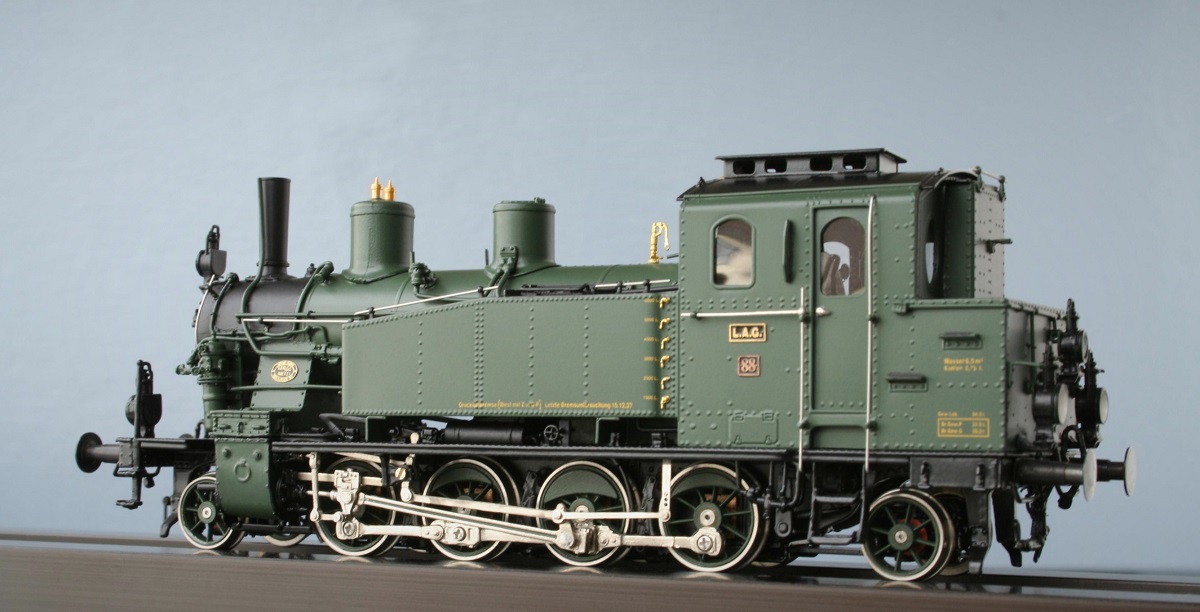 Micro Metakit 89102H ~ Landshut © 15.7.2009 / edit 9.10.2020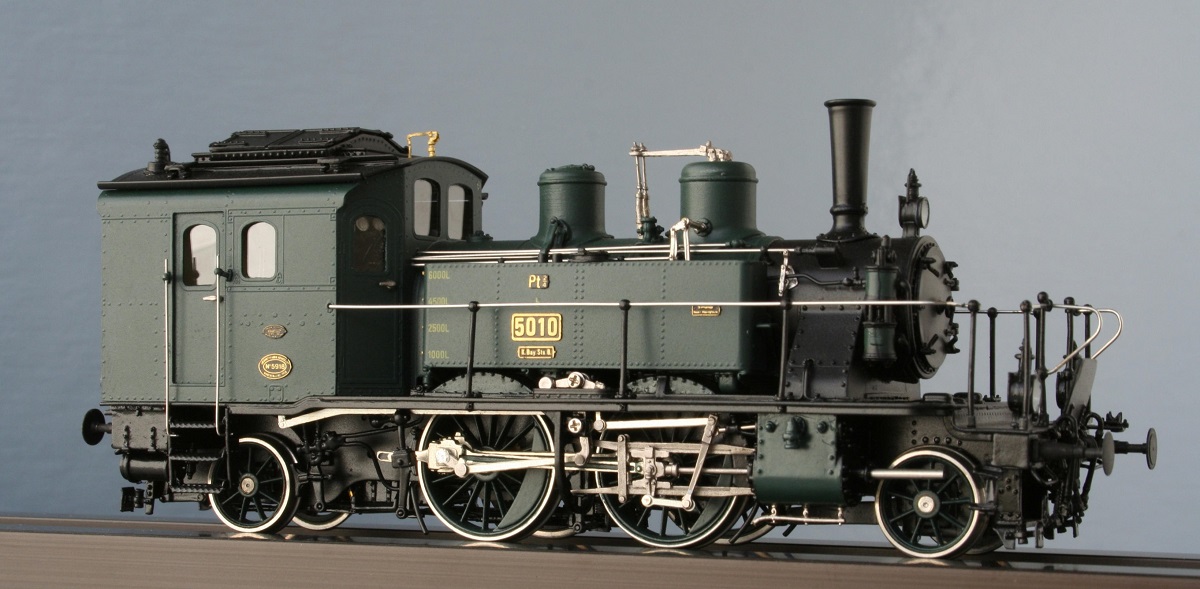 Micro Metakit 93100H ~ Landshut © 15.7.2009 / edit 12.10.2020

Micro Metakit 92400H ~ Landshut © 15.7.2009 / edit 12.10.2020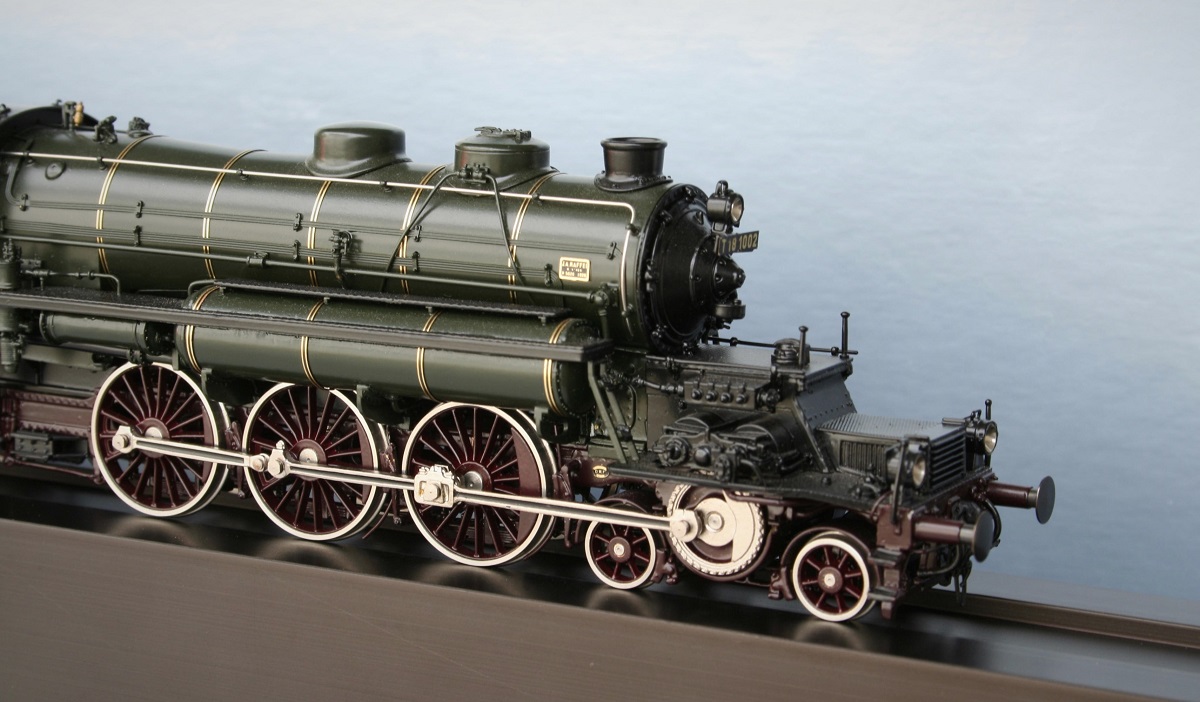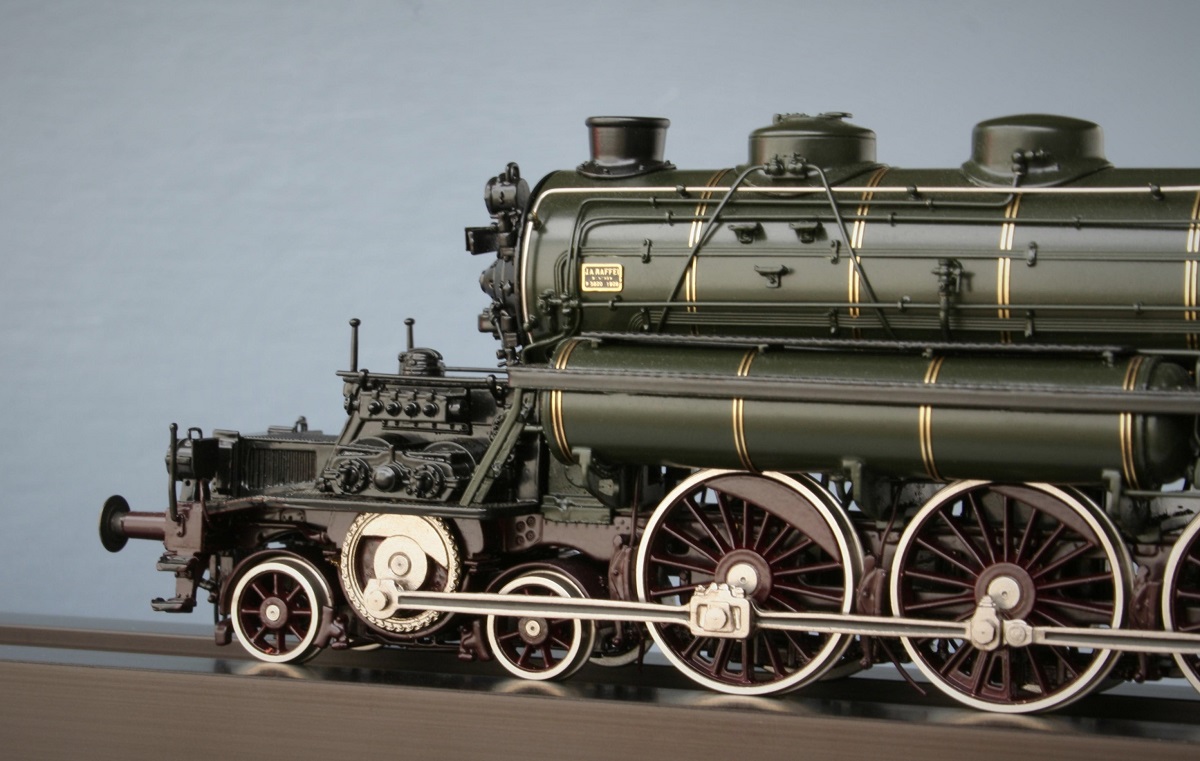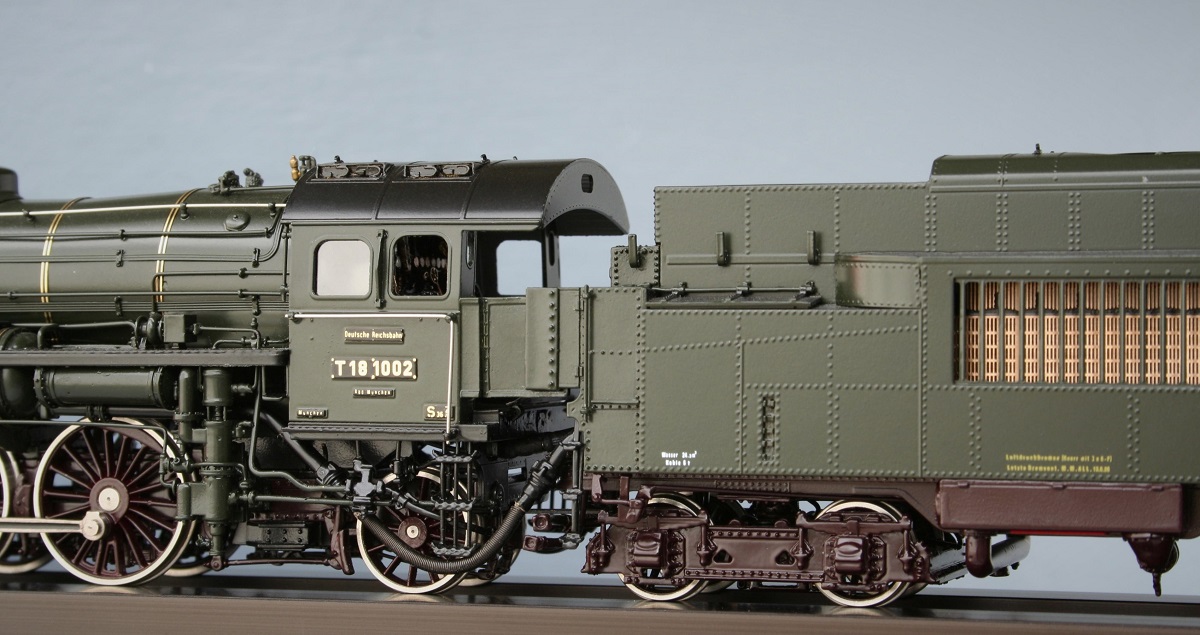 Micro Metakit 00301H ~ Landshut © 15.7.2009 / edit 20.10.2020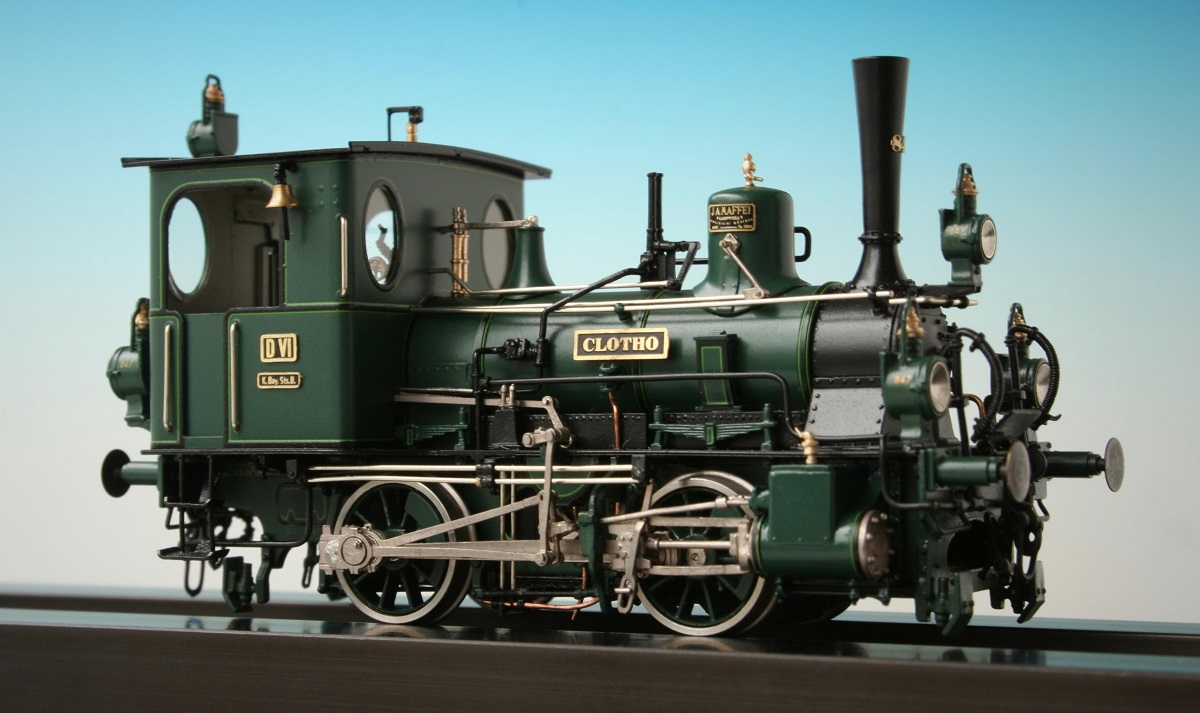 Micro Metakit 04101H ~ Landshut © 15.7.2009 / edit 29.10.2020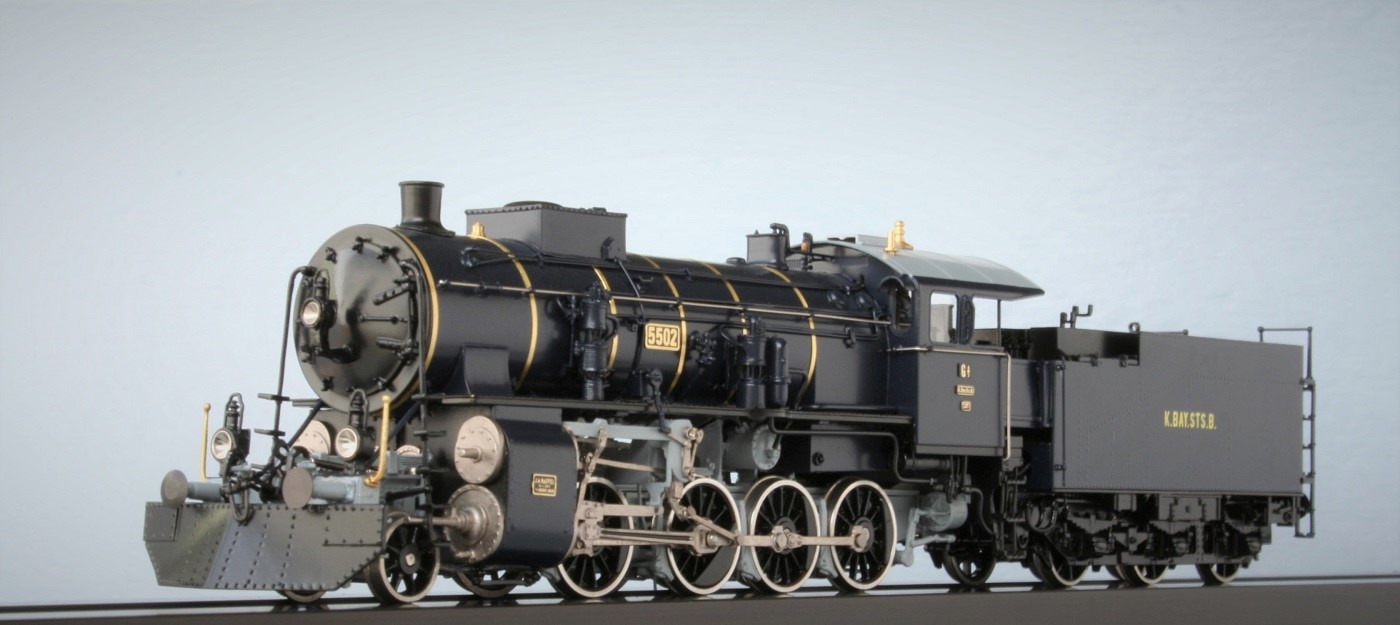 Micro Metakit 97400H ~ Landshut © 15.7.2009 / edit 31.10.2020

Micro Metakit 05103H with 99902H ~ Landshut © 15.7.2009 / edit 1.11.2020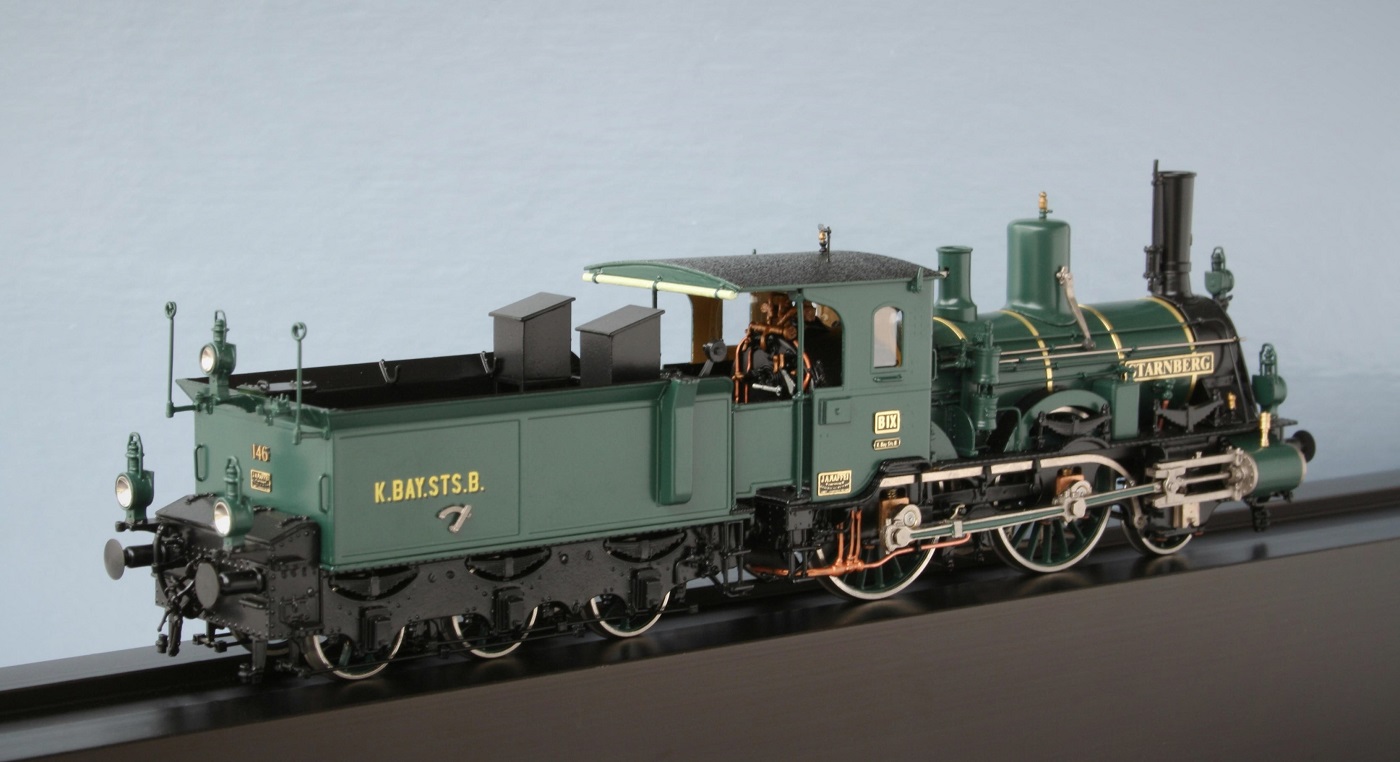 Micro Metakit 97504H ~ Landshut © 15.7.2009 / edit 5.11.2020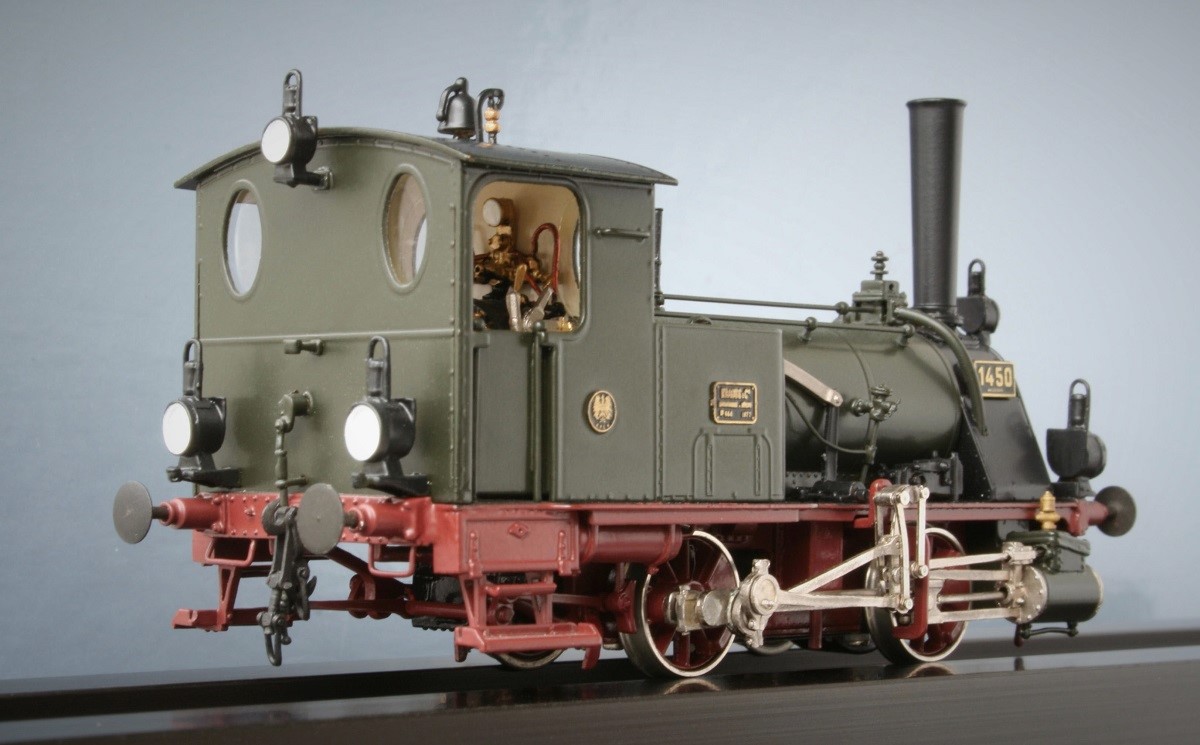 Micro Metakit 94500H ~ Landshut © 15.7.2009 / edit 15.12.2020, with closed cabin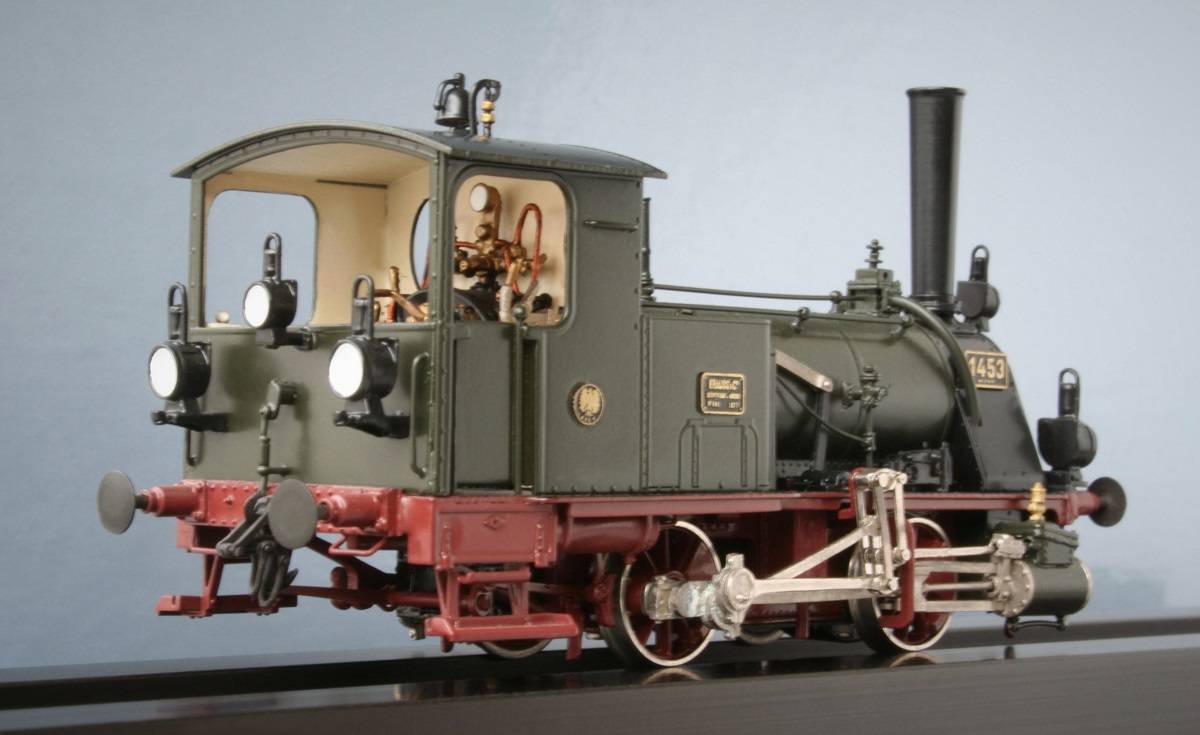 Micro Metakit 94501H ~ Landshut © 15.7.2009 / edit 15.12.2020, with open cabin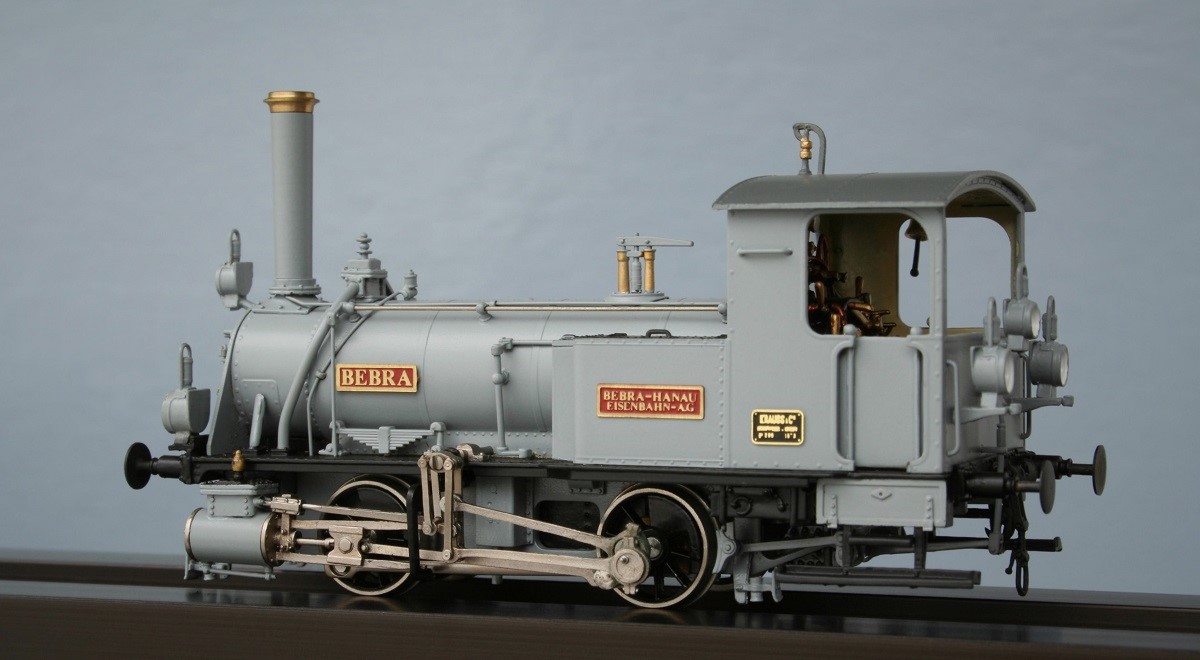 Micro Metakit 94502H ~ Landshut © 15.7.2009 / edit 12.11.2020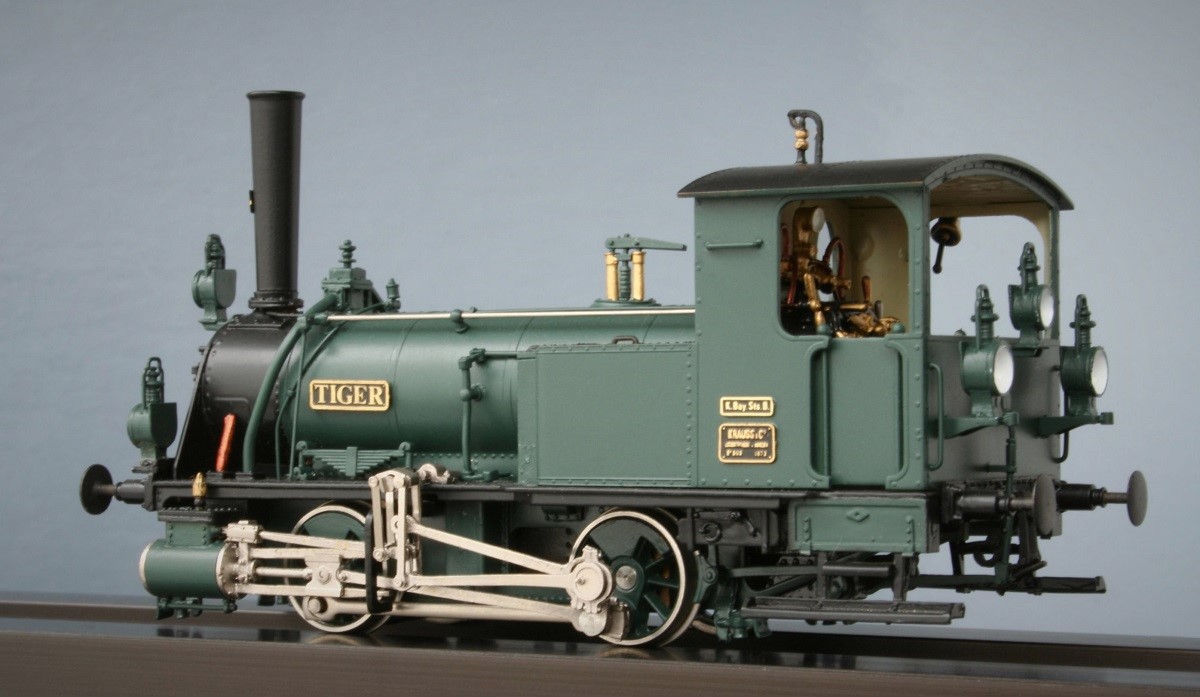 Micro Metakit 94504H ~ Landshut © 15.7.2009 / edit 13.11.2020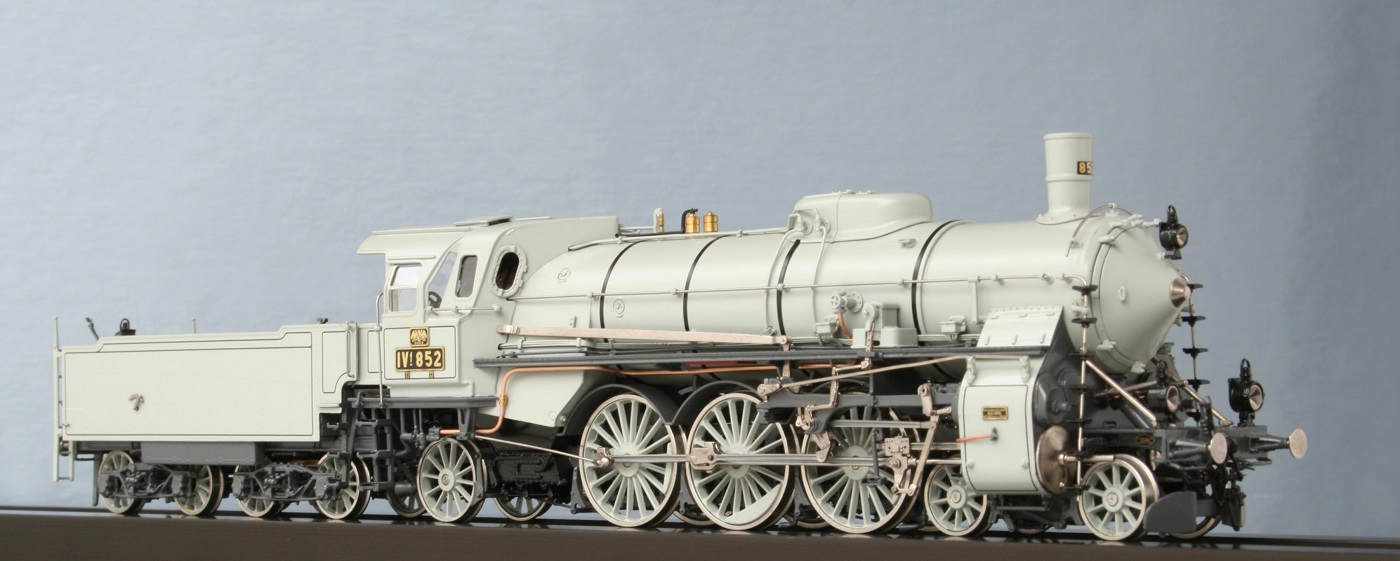 Micro Metakit 02300H ~ Landshut © 15.7.2009 / edit 23-26.11.2020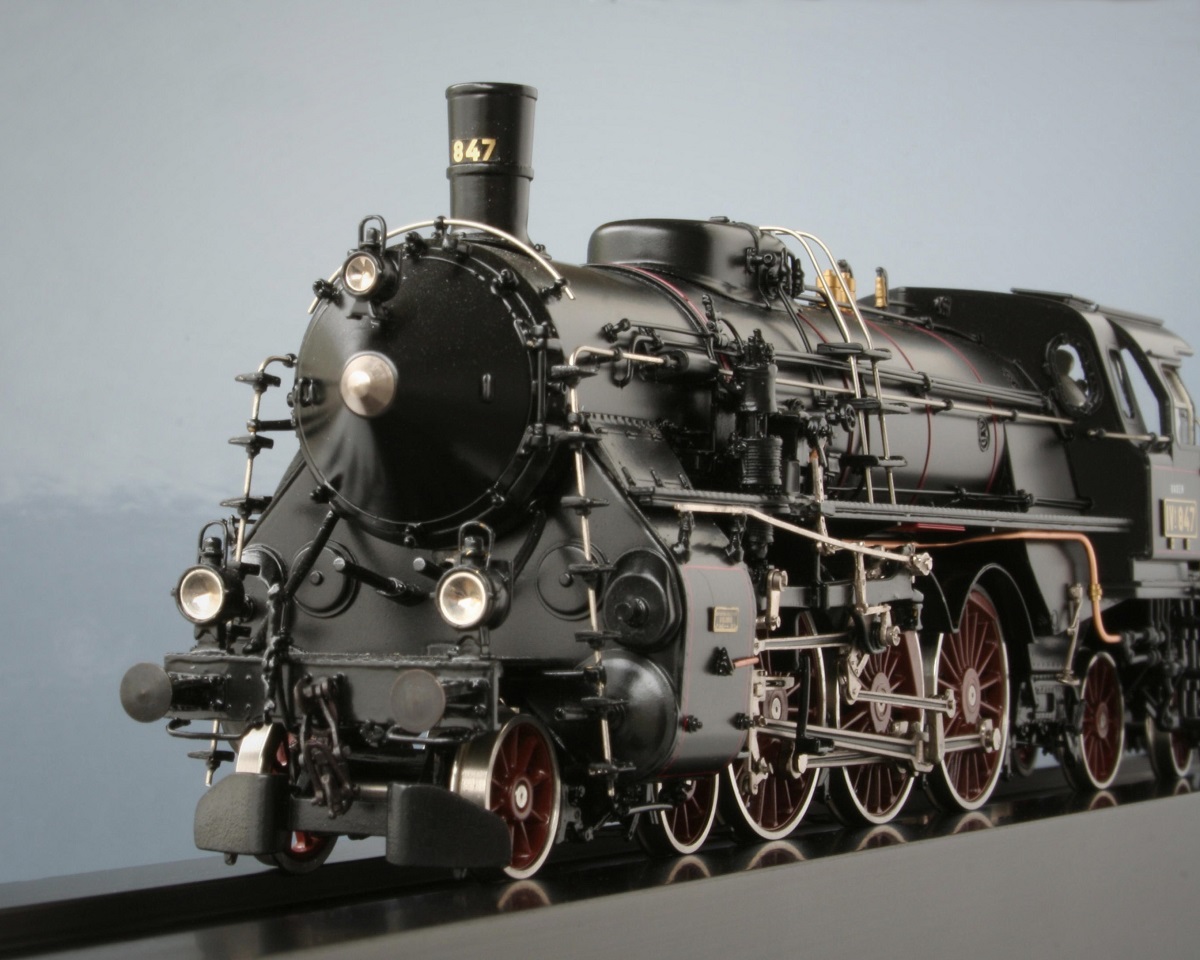 Micro Metakit 02302H ~ Landshut © 15.7.2009 / edit 23.11.2020

Micro Metakit 98802H ~ Landshut © 15.7.2009 / edit 16.11.2020

Micro Metakit 94900H ~ Landshut © 15.7.2009 / edit 13.11.2020 (until now erroneously numbered as 94100H)
These and other pictures of Bavarian Locomotives can be found at the B a v a r i a n C o l l e c t i o n
Saturday, August 29th
An additional coal bunker was made... see the making of in Chapter 33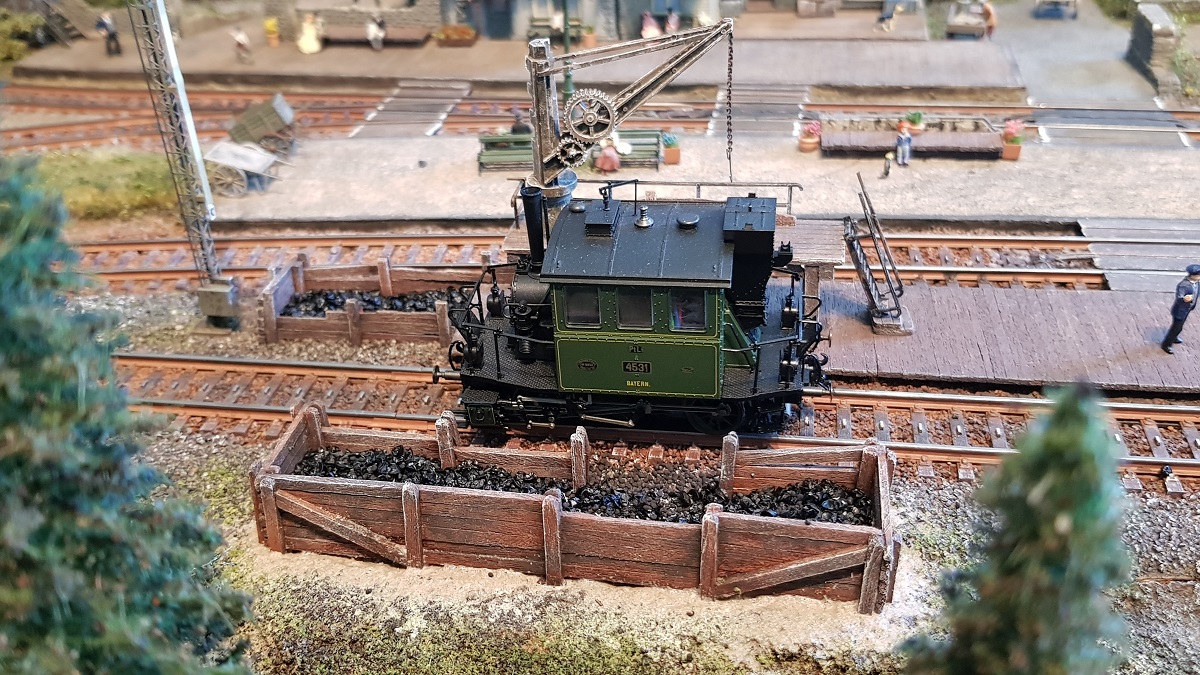 Saturday, August 22nd
A small photoshoot at my dealer's and purchasing additional vegetation, trees and other stuff.

Märklin 41358 (probably the same model as 2016 edition)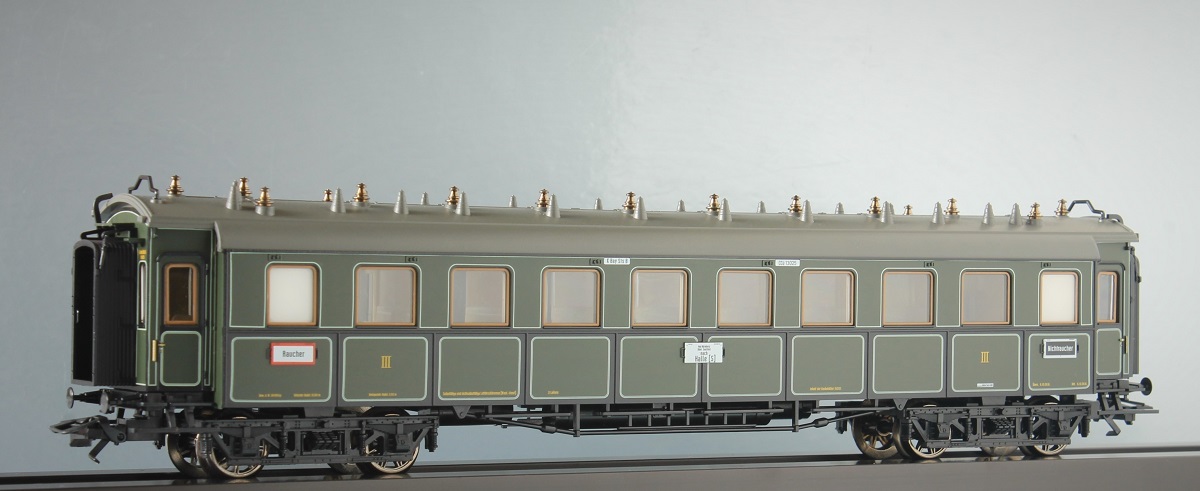 Märklin 41359 (edition 2019)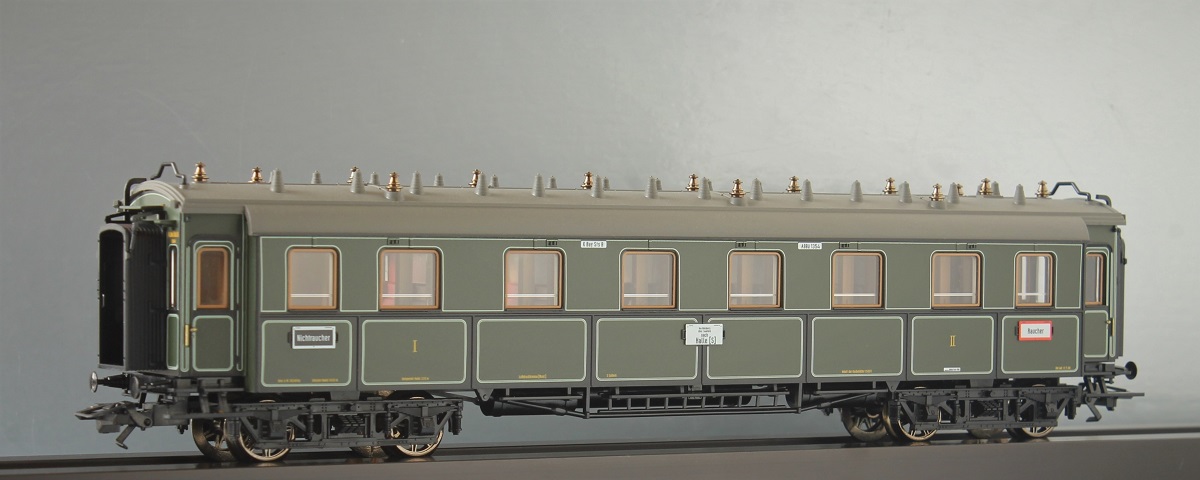 Märklin 41369 (edition 2019)

Märklin 41379 (edition 2019)

Märklin 37897
... and a small purchase for myself (released 2012)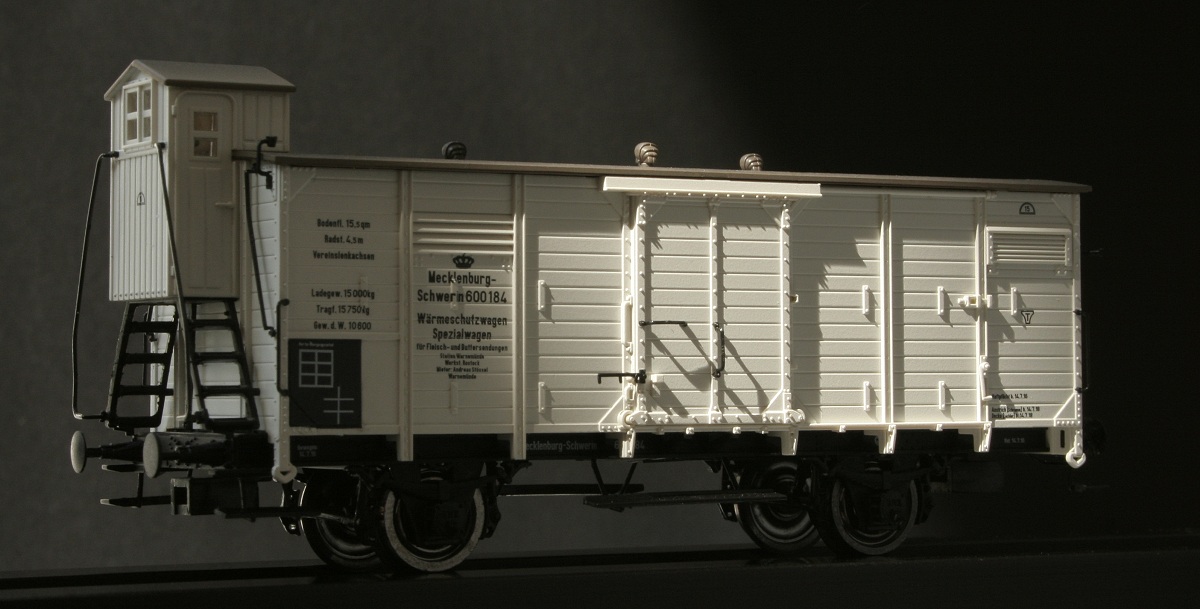 picture taken 30.6.2012 (Brawa 48265)
Friday, August 21st
How funny things can go. A visitor at my dealer's asked if the photographer (he meant me) would be interested in shooting some rare models from Christian Fuchs,
currently being offered on eBay.
My dealer sent word to me and I was able to contact this guy. Last Friday I spent an hour or so at his place and shot five rare Bavarian steamers.
If I'm correct, Chistian Fuchs only released seven Bavarian steamers.
He also had a Roco S 3/6 Nr. 3604 (63367) and a Trix Fine art Class 17.4 (22502).
The latter one is a very rare model as well, which I shot years ago, but that one was damaged and full with dust.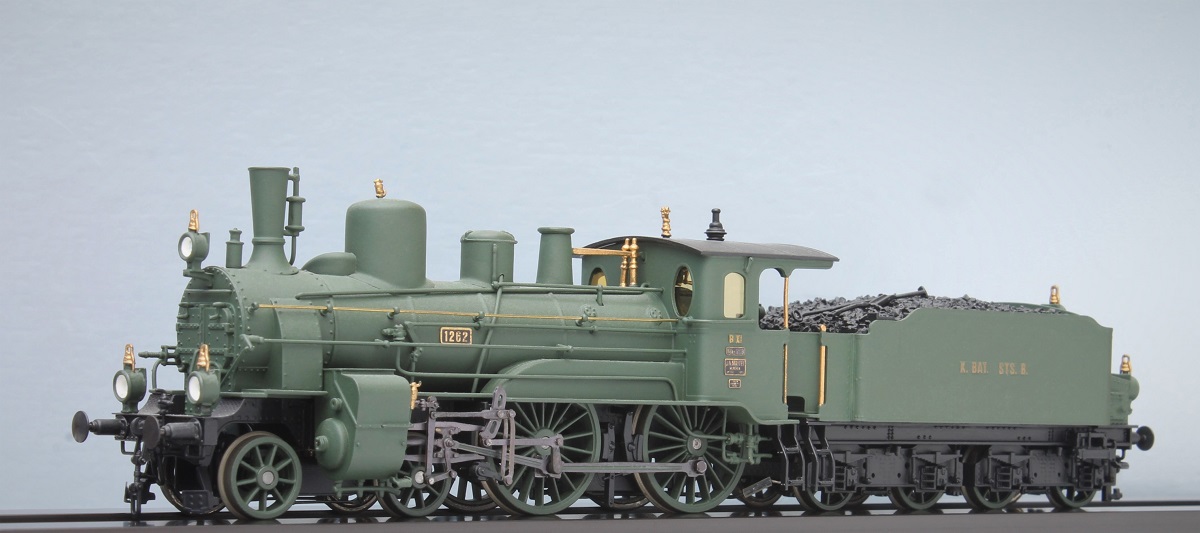 Christian Fuchs 300 - bay B XI ~ Nr. 1262 (Baureihe 36.7-8)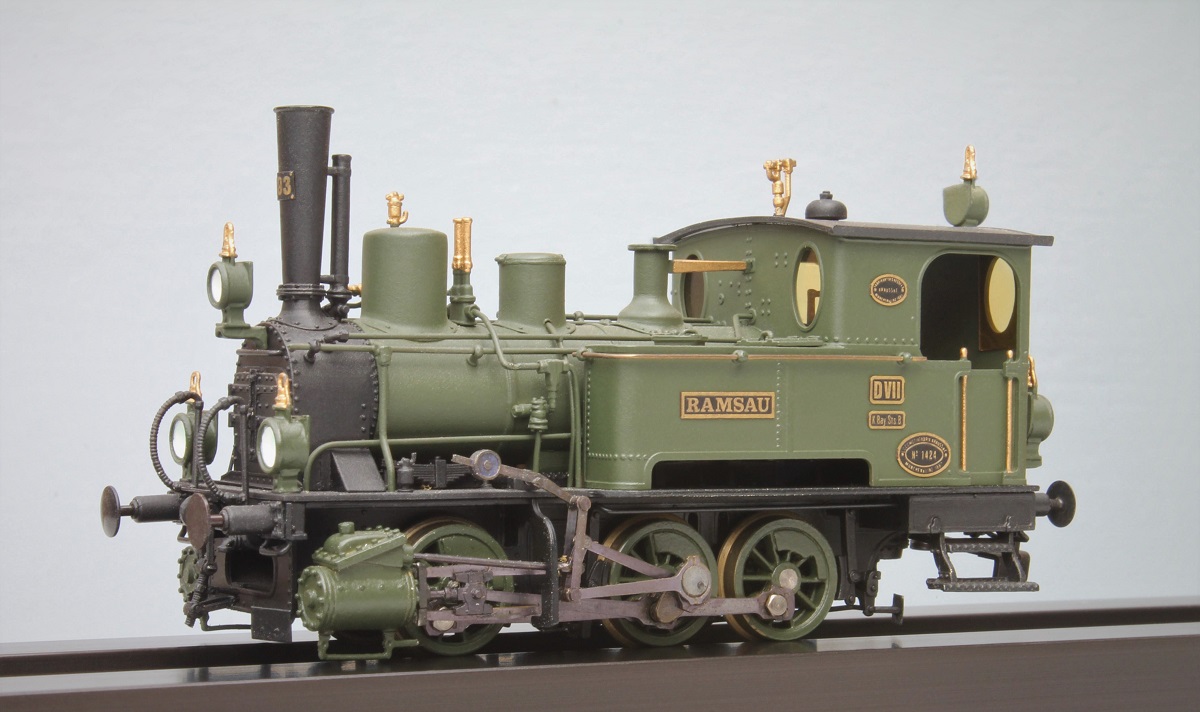 Christian Fuchs 400 - bay D VII ~ Nr. 903 (Baureihe 98.76)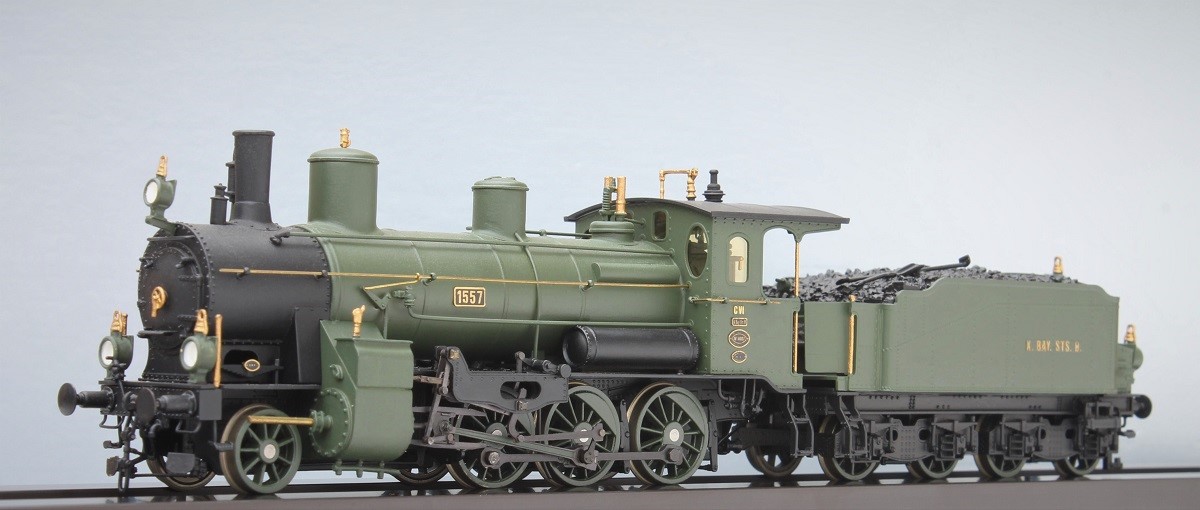 Christian Fuchs 500 - bay C VI ~ Nr. 1557 (Baureihe 54.13)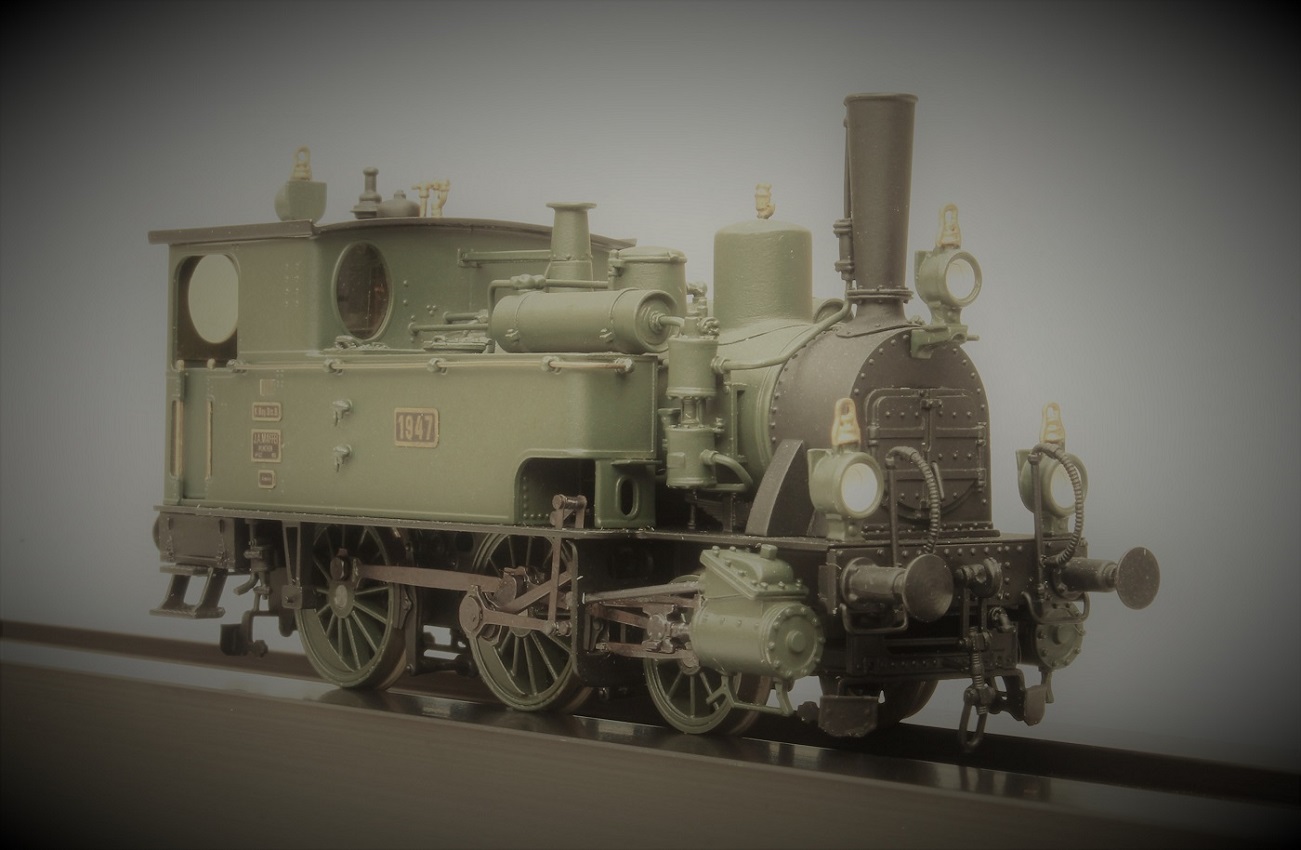 Christian Fuchs 600 ~ bay. D IX ~ Nr. 1947 (Baureihe 70.71)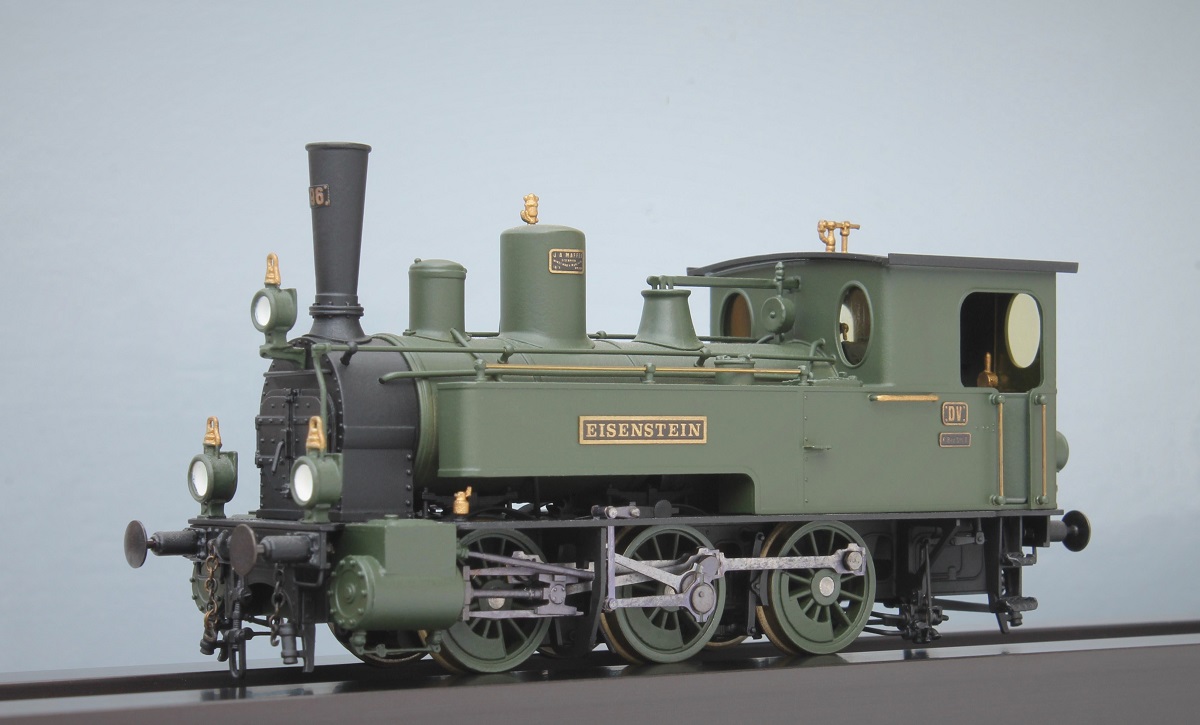 Christian Fuchs 700 - bay D V ~ Nr. 796 (Baureihe 89.81)

Roco 63367 ~ bay. S 3/6, ~ Nr. 3604 (LE 2013)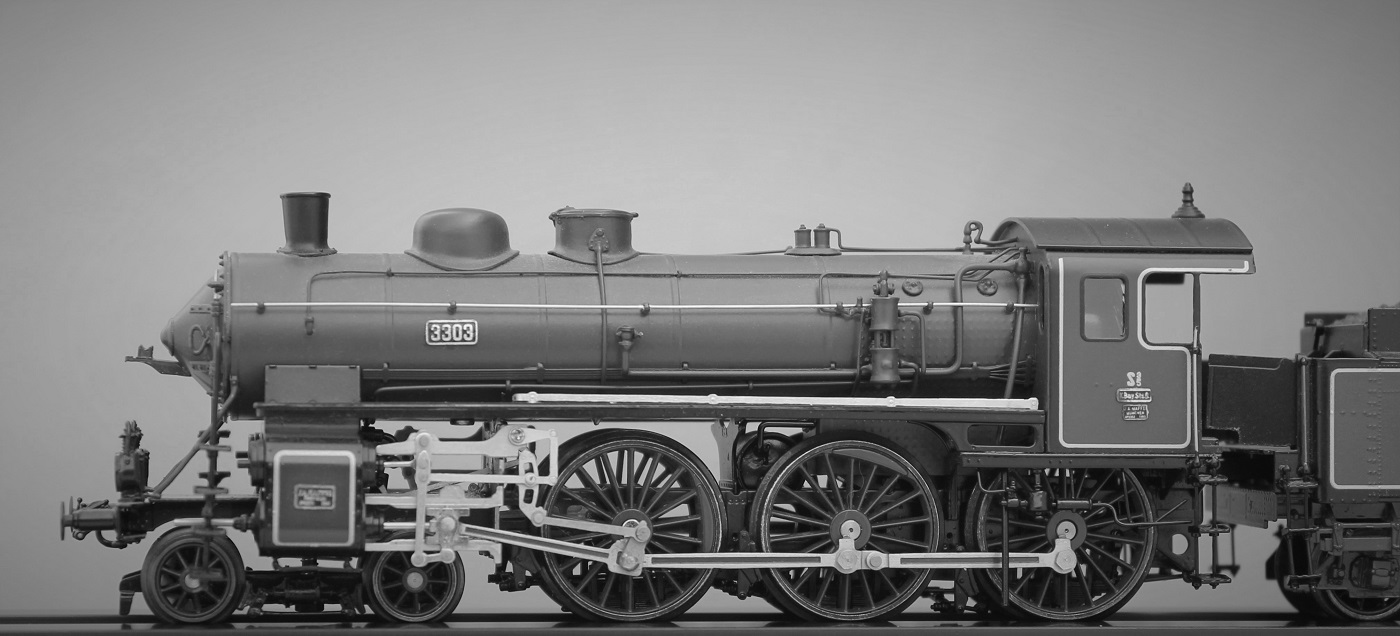 Trix Fine Art 22502
August 14-16
Some (holy)days spending in the train room...
More to read in Chapter 32 of Journal 6.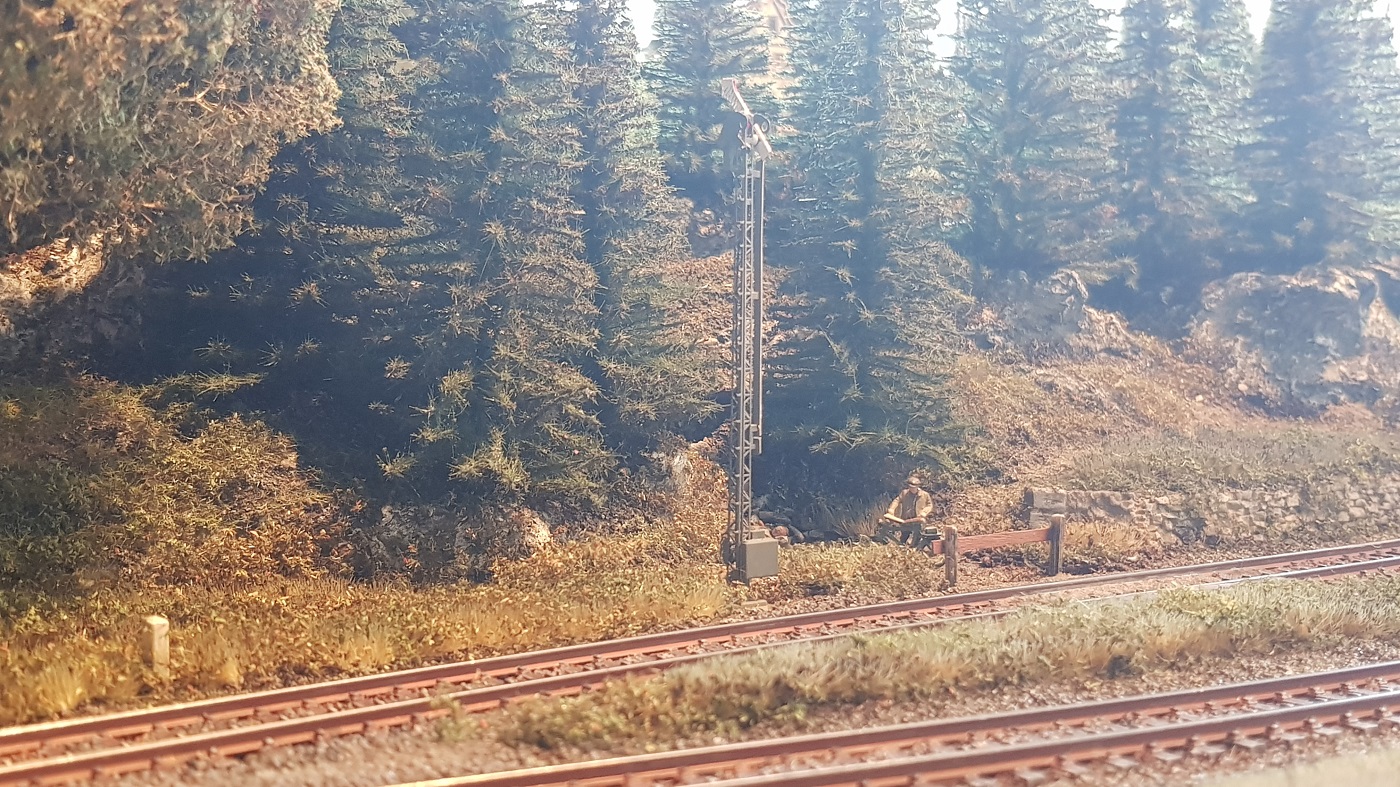 Another piece of forest ~ not intended, yet accomplished
August 2020
Due to Covid-19 I will 'celebrate' my Summer's holidays at home which gives me a lot of time for a lot of things.
* I started filming the Württemberg G 12 (Märklin 37586) on the Cochemer Bahn. Soon to come on my YouTube chanel.
* Then there are still lots of M i c r o M e t a k i t pictures that I took in Landshut in 2009, waiting to be doctored and implemented in the website.
* For obvious reasons, the R e n o v a t i o n continues. Read more in Chapter 31.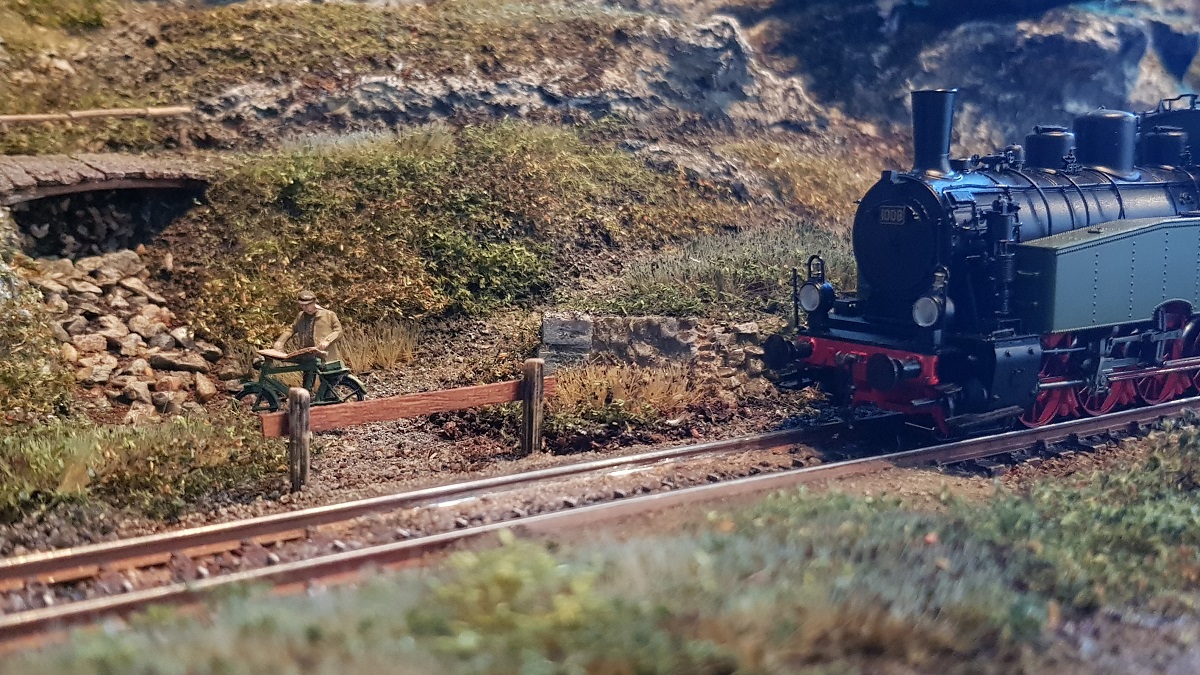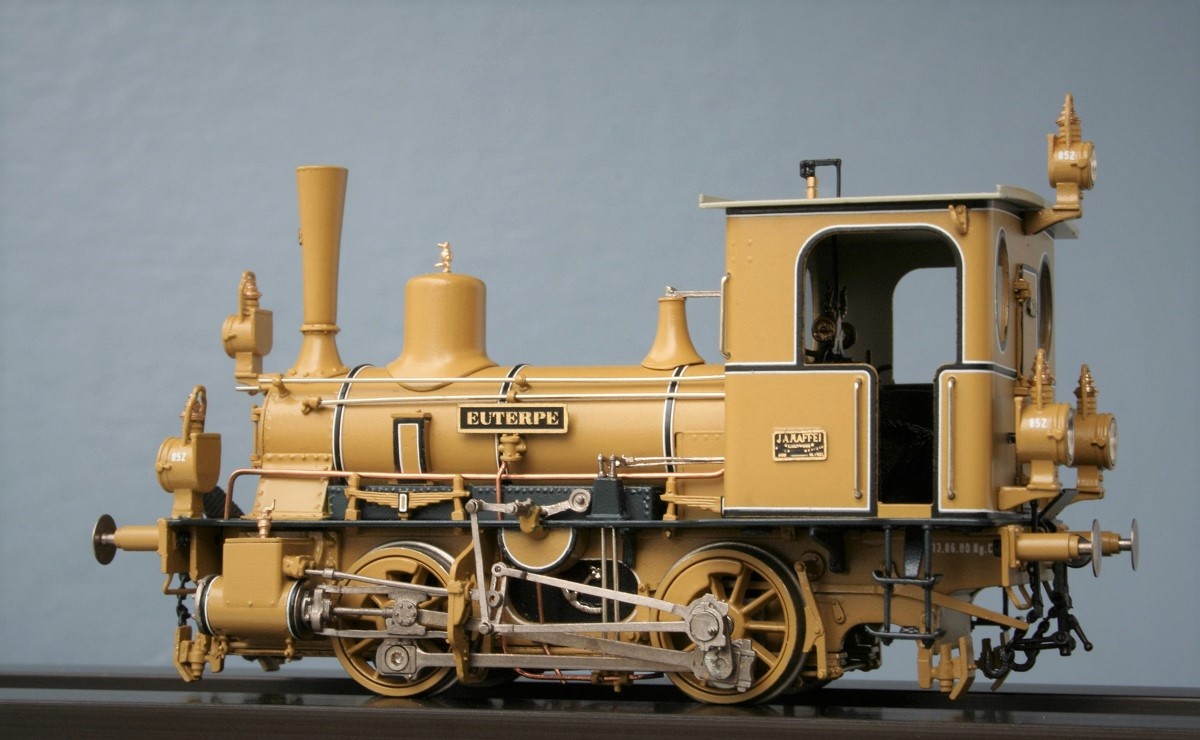 Micro Metakit 04100H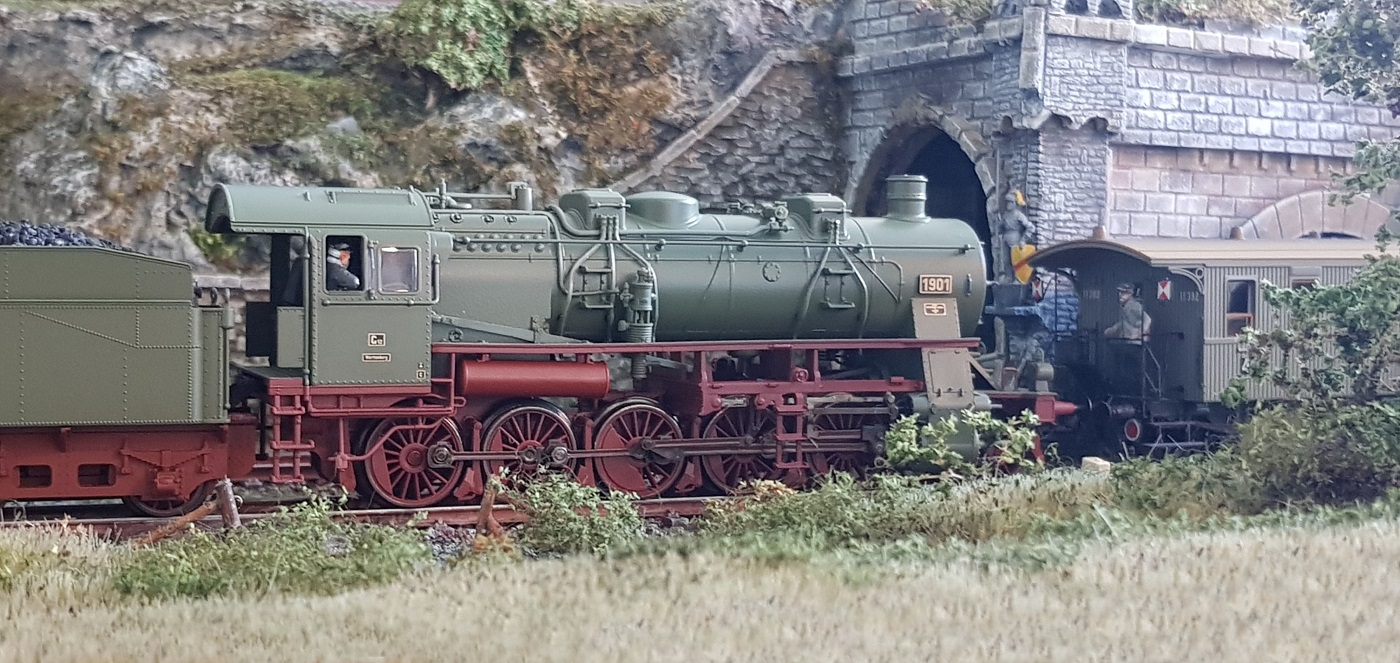 Filming the G 12 both in single ride and pulling a Württemberg freight train.
Sunday, July 26th 2020
A new chapter of the Journal is written: Part 6 ~ M i d s u m m e r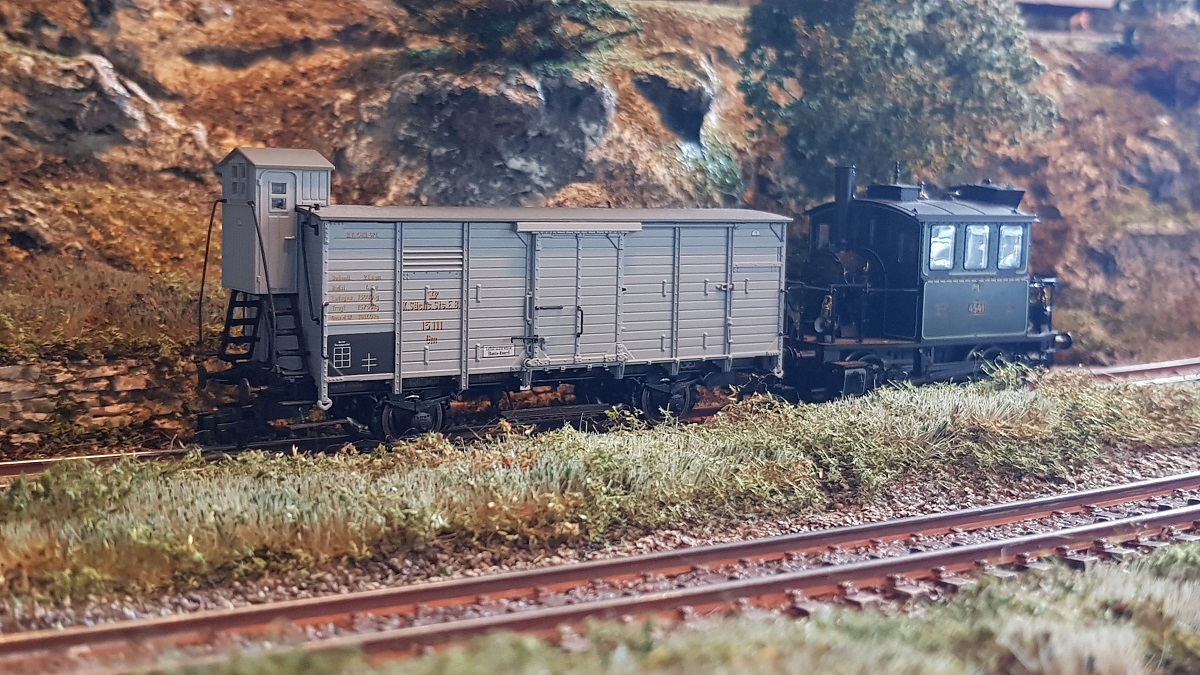 Saturday 25 July 2020
Some deferred maintenance: the Bay. G 4/5 got a new shelf at the tender, whereas the S 3/6 "3624" finally got staff.
In advance, I painted the Busch dry grass 1301 into some more vivid grass, before being applied to the layout, to avoid color deviation.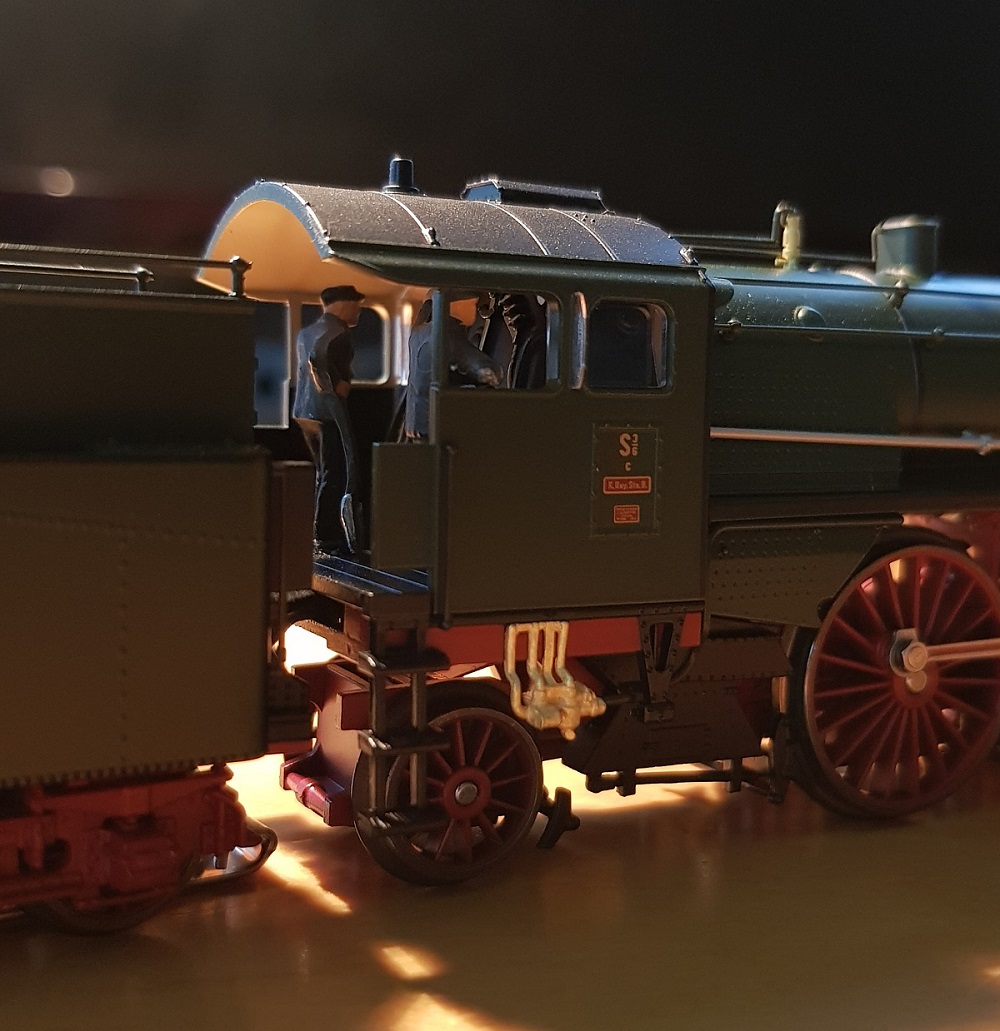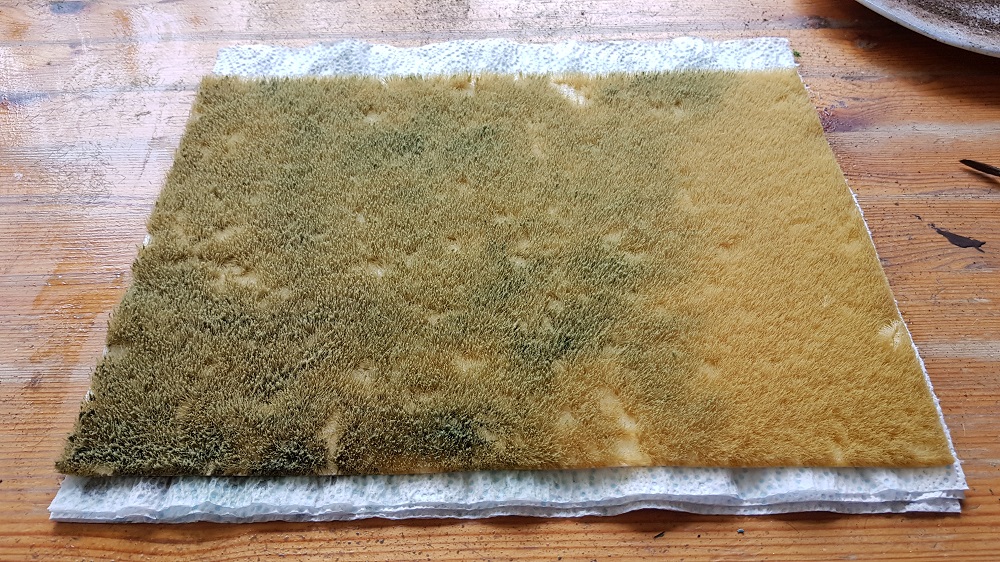 Saturday 18 July 2020
The front land - or in German: die Paradestrecke - gets my attention these days. The making of this section will be told in the Journal.
Soon to come...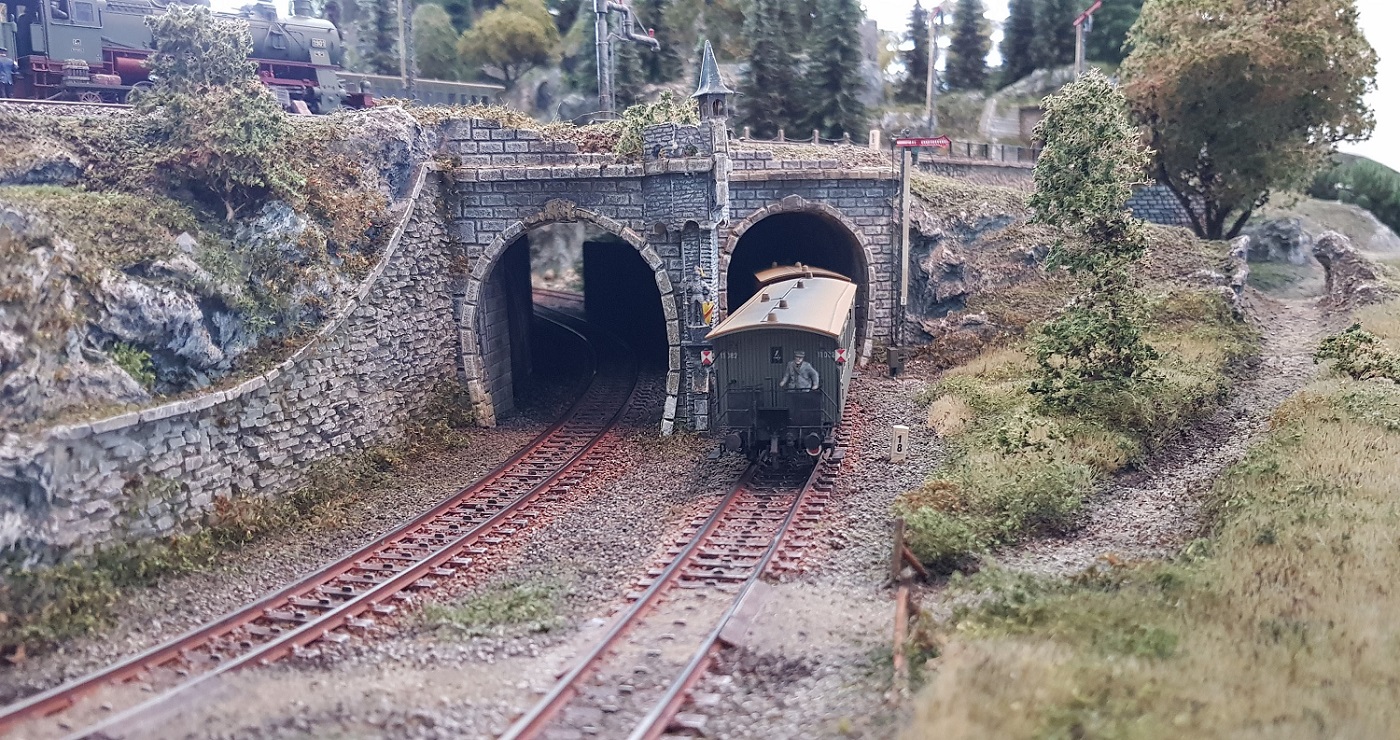 19.7.2020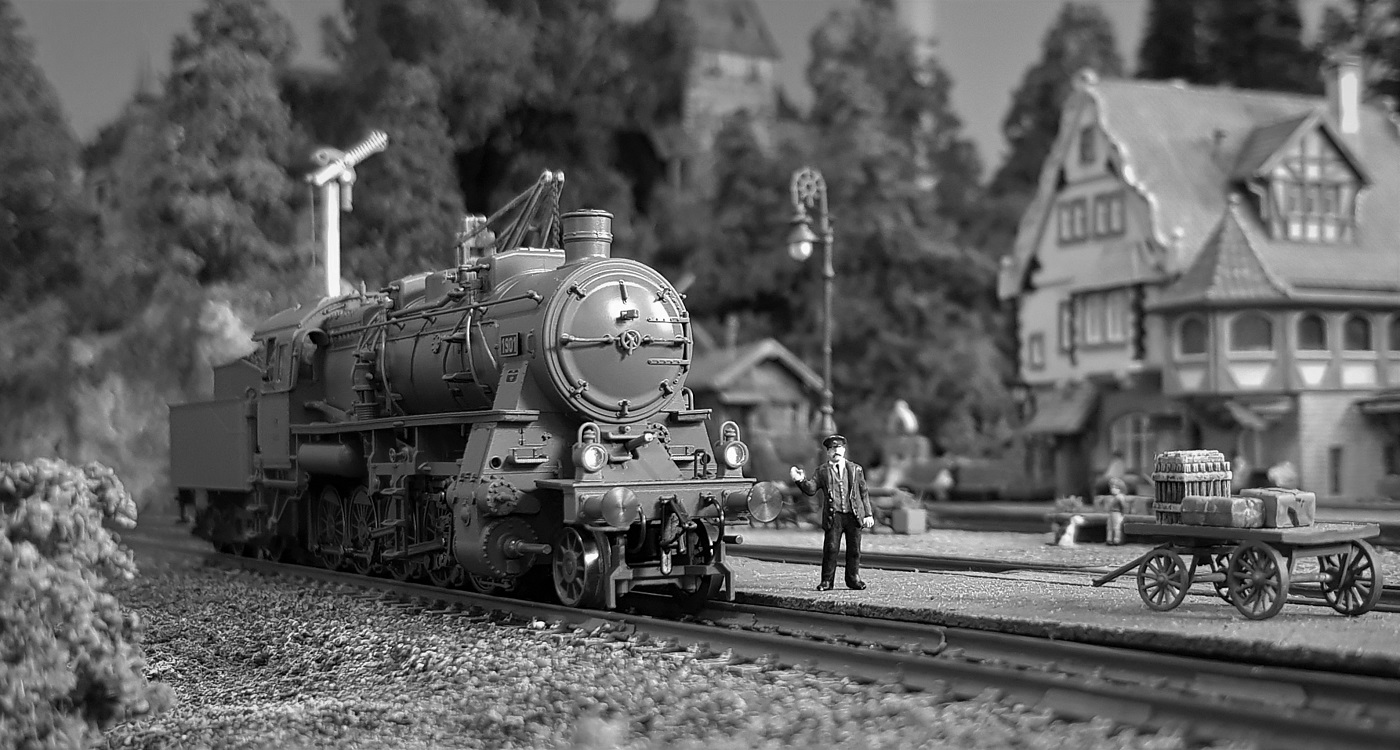 Wrtt. G12 "1901" at the Cochemer Bahn
The 4th of July 2020 ~ the G 12 at my dealer's!
So, today I took a 5 hours drive back and forth to my dealers, since my Württemberg G 12 had arrived in the shop last week. Couldn't wait any longer...
The G 12 looks truely beyond expectation. I had my sincere doubts about the colour scheme, since the green of both my Wrtt. K 1802 and Wrtt. C 2010 are not directly paté. The pictures I had seen differed too much in shade. To see is to believe (in this case).
Now, the reddish brown gear and wheels of this G 12 make a perfect match with the rest! Tomorrow I will make proper pictures...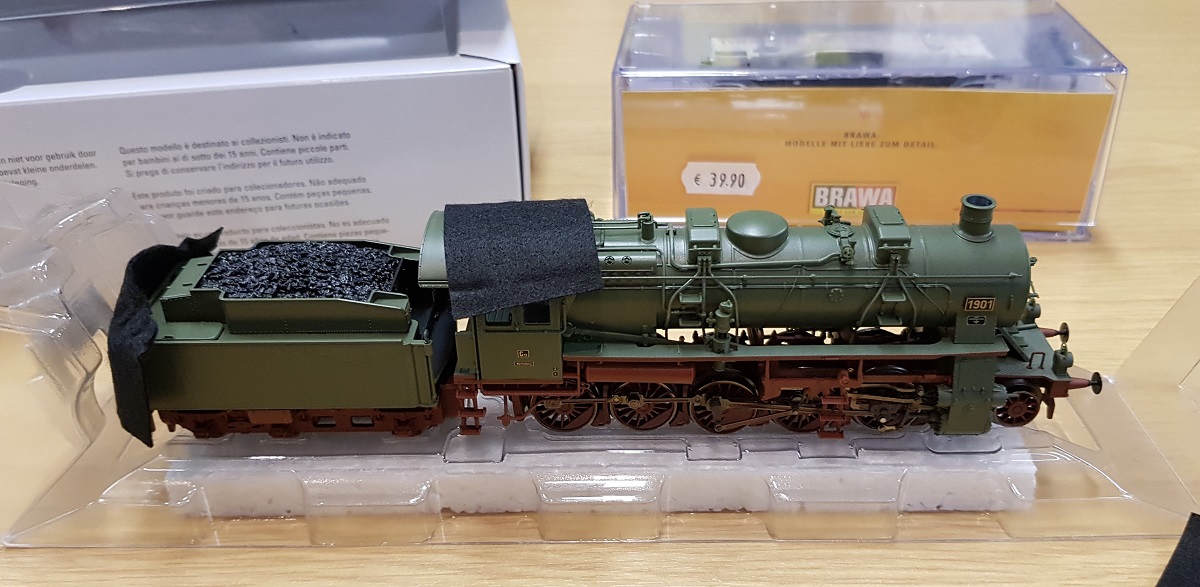 Märklin 37586, which I can call mine now. Here still in the shop...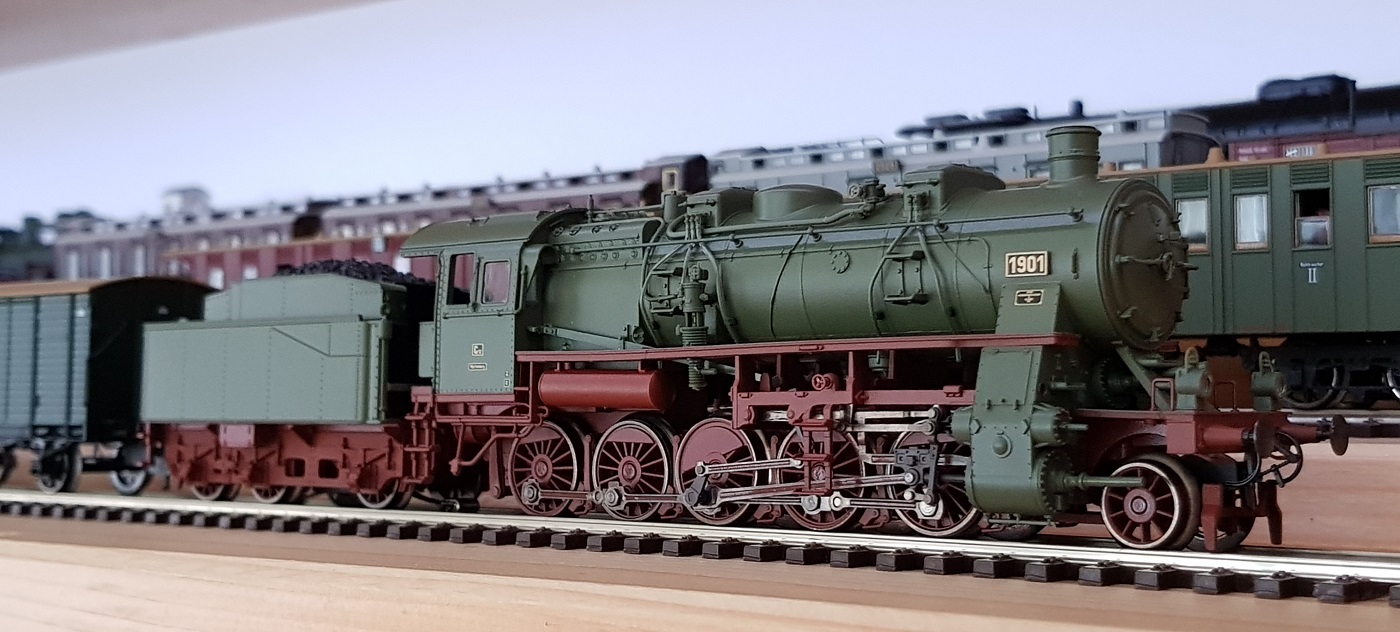 ... and now (5.7.2020) in the showcase!
Then there are these lovely cars from Brawa, following the Württemberg G12...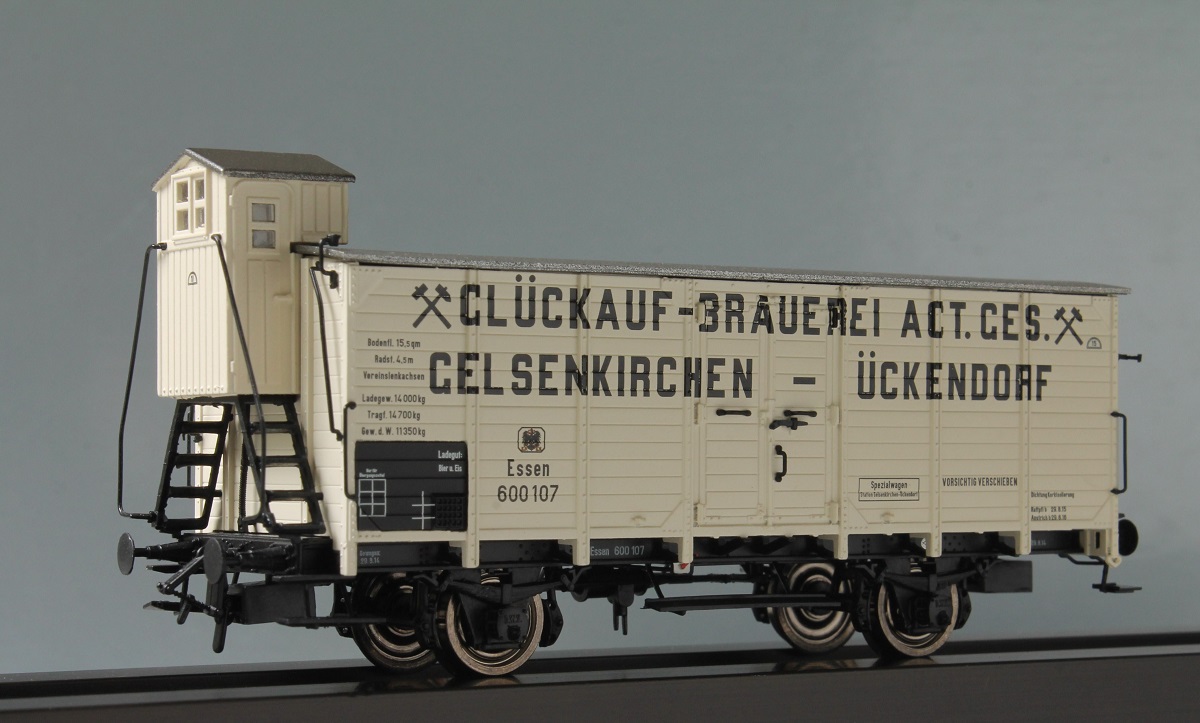 Brawa 49775 (Sommerneuheit 2020)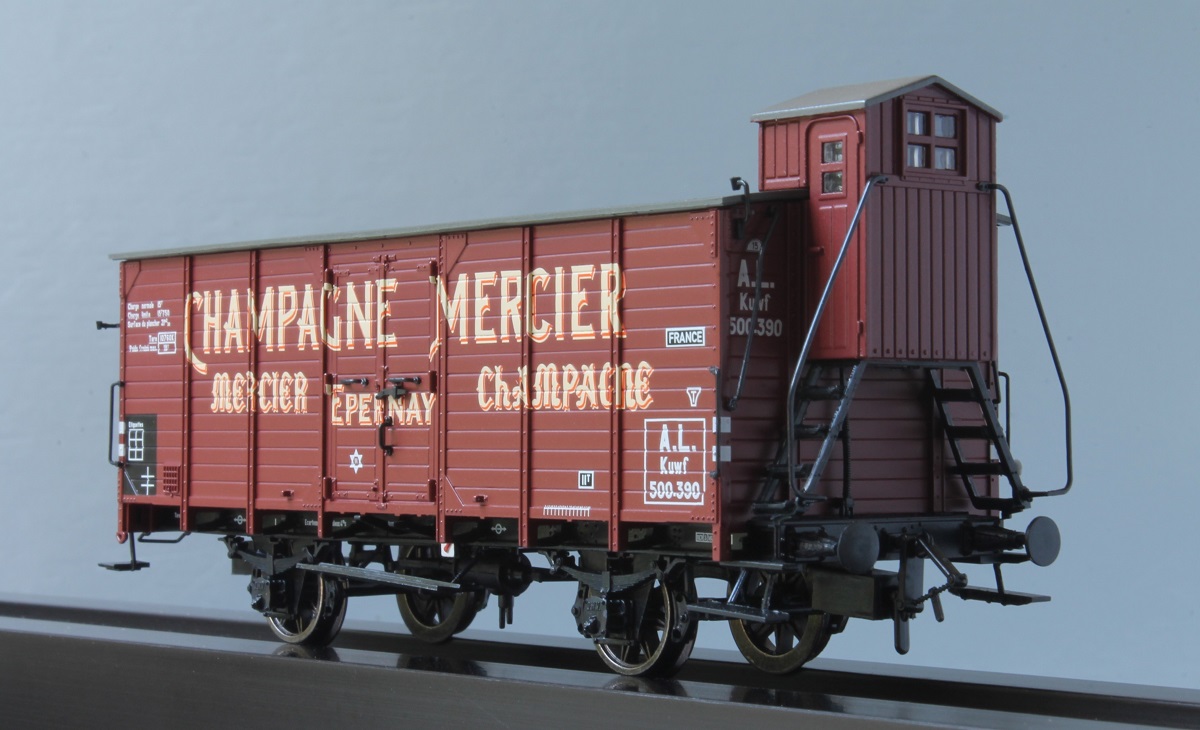 Brawa 49806 (Sommerneuheit 2020)

Brawa 49805 & Brawa 49806 (Epoche 1 & 2)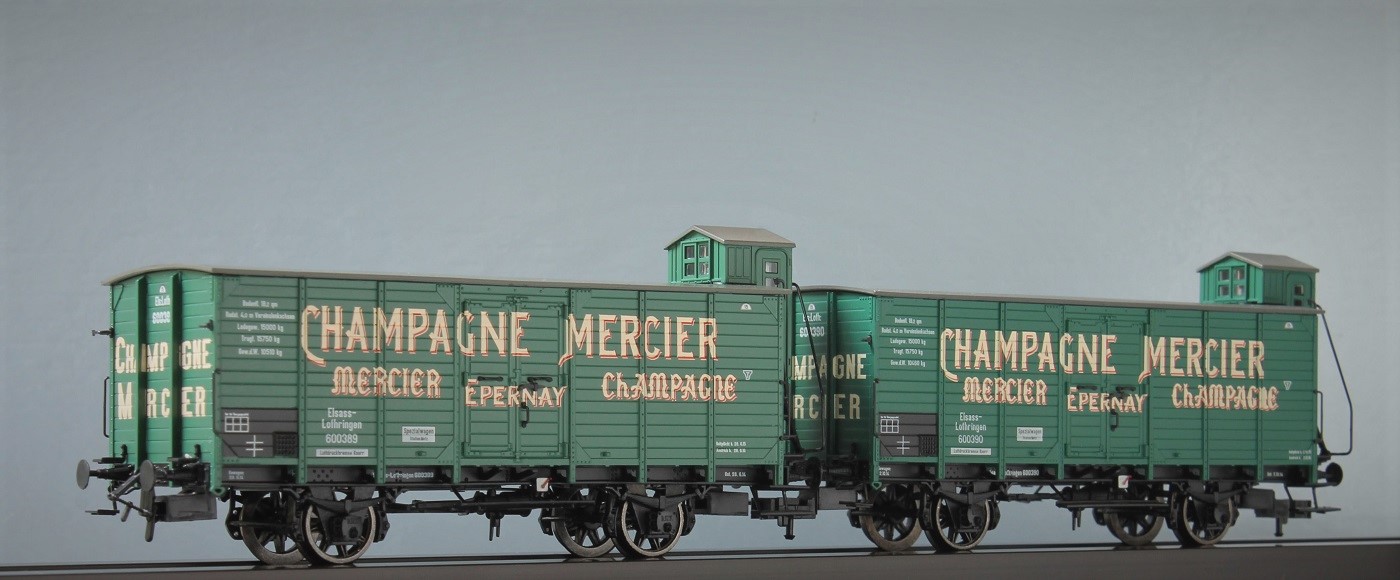 Brawa 49805 & Brawa 49775 (600 089 & 600 090)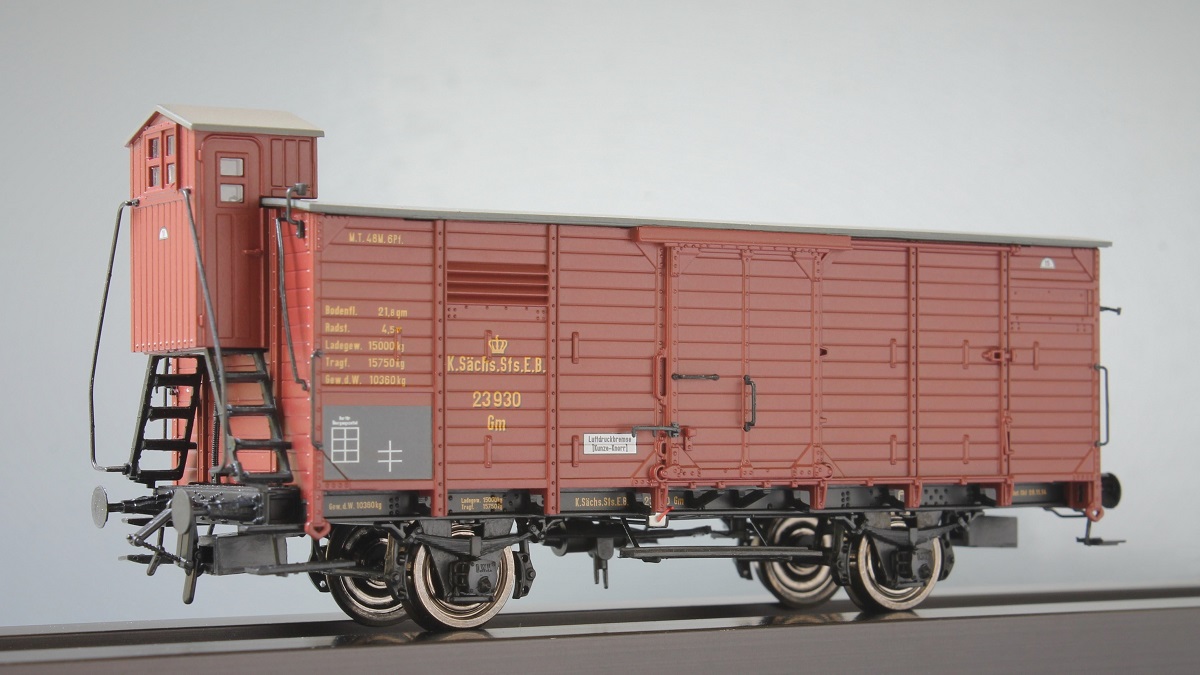 Brawa 49787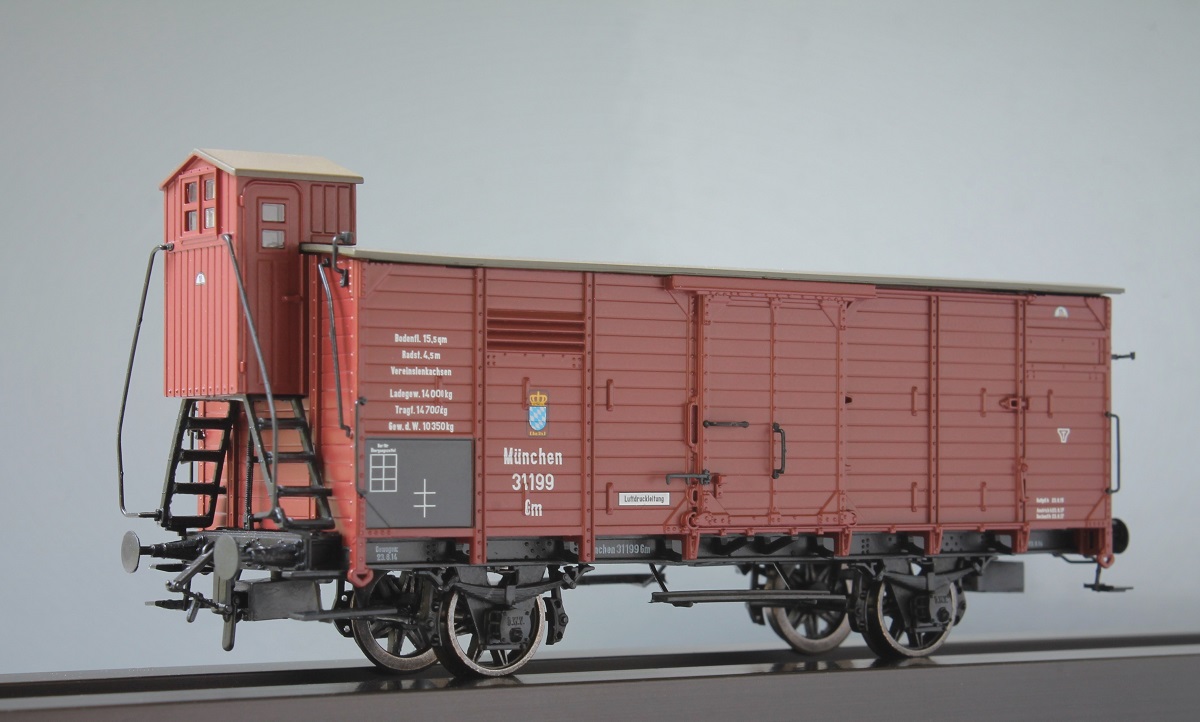 Brawa 49788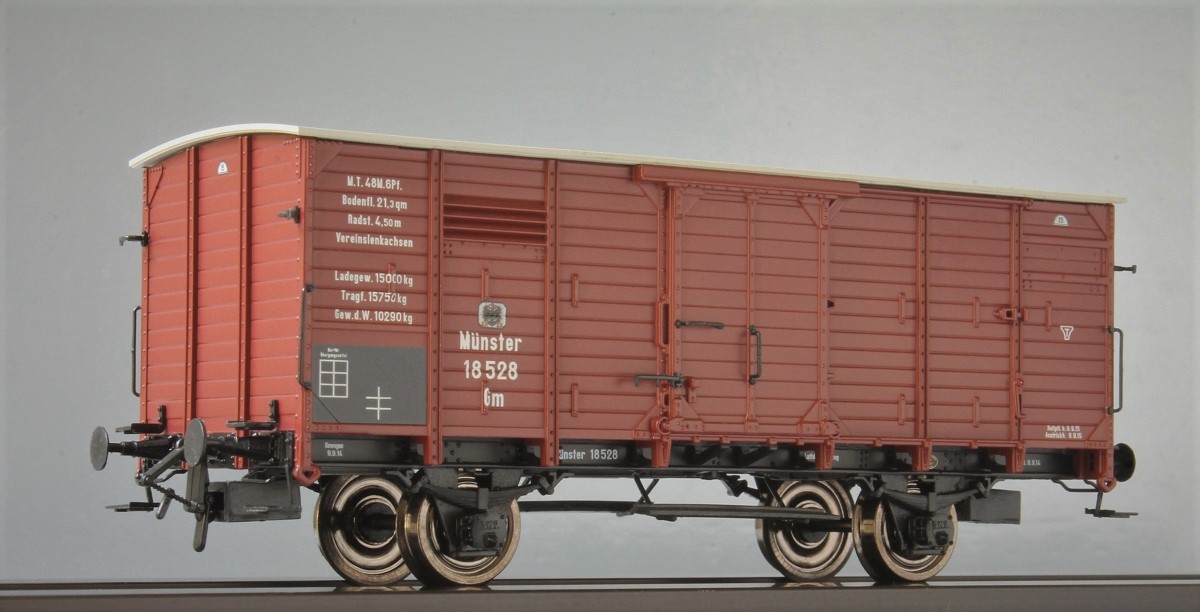 Brawa 49789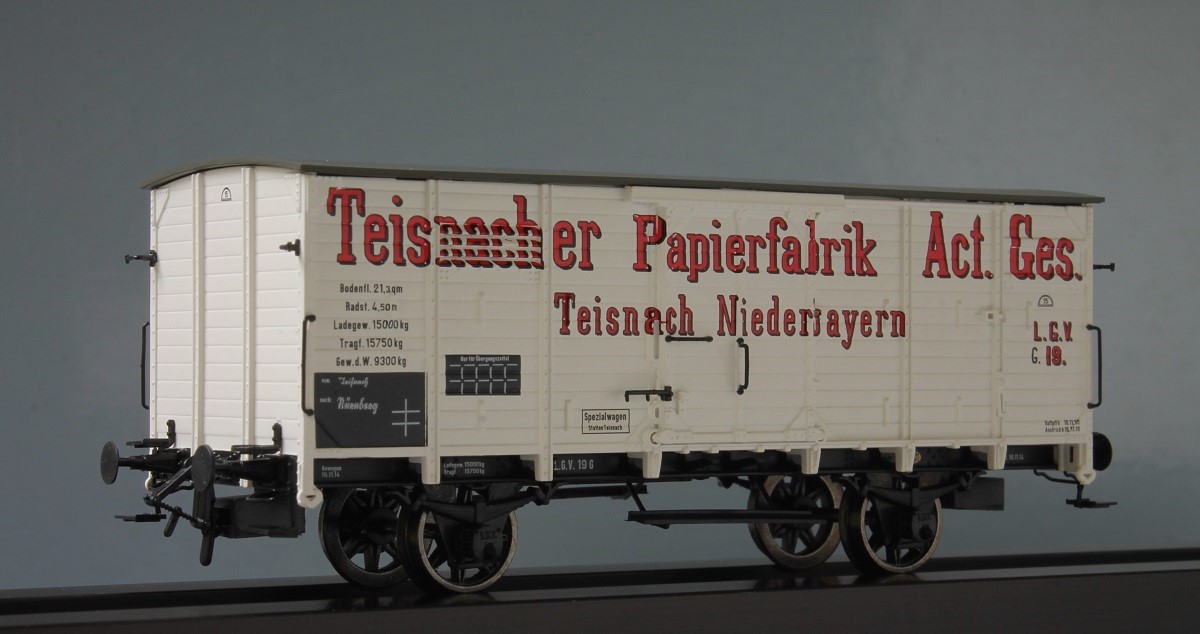 Brawa 49794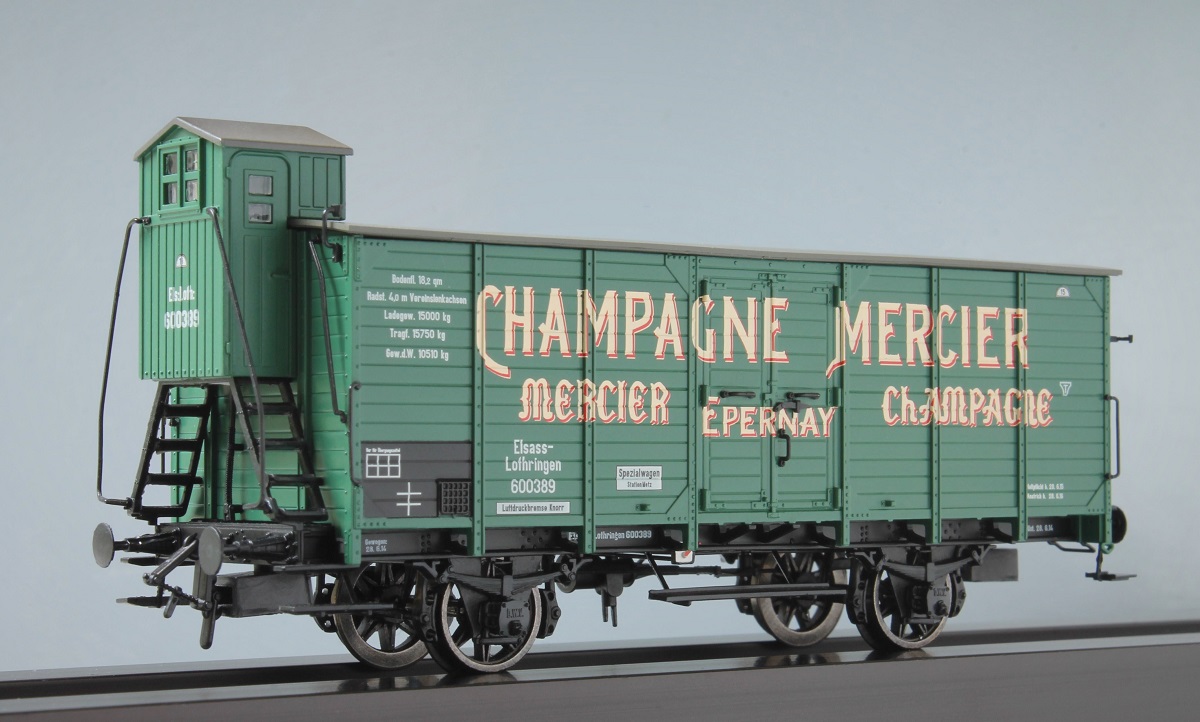 Brawa 49805
A small F o t o s h o o t was at hand as well. To begin with... the DRG 95 004 (Märklin 39098):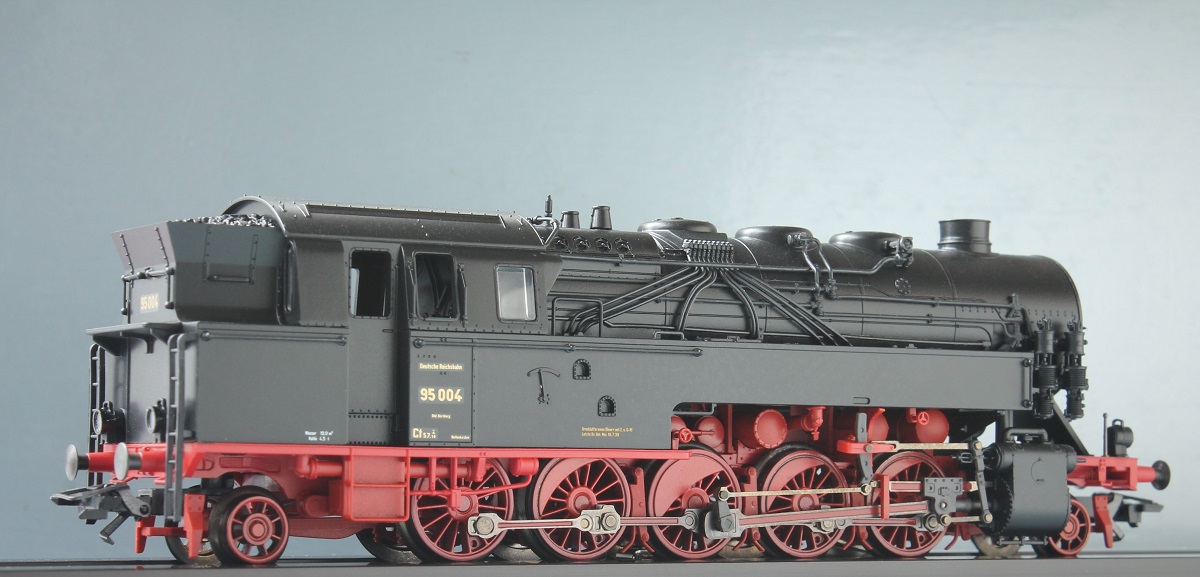 Märklin 39098 as DRG 95 004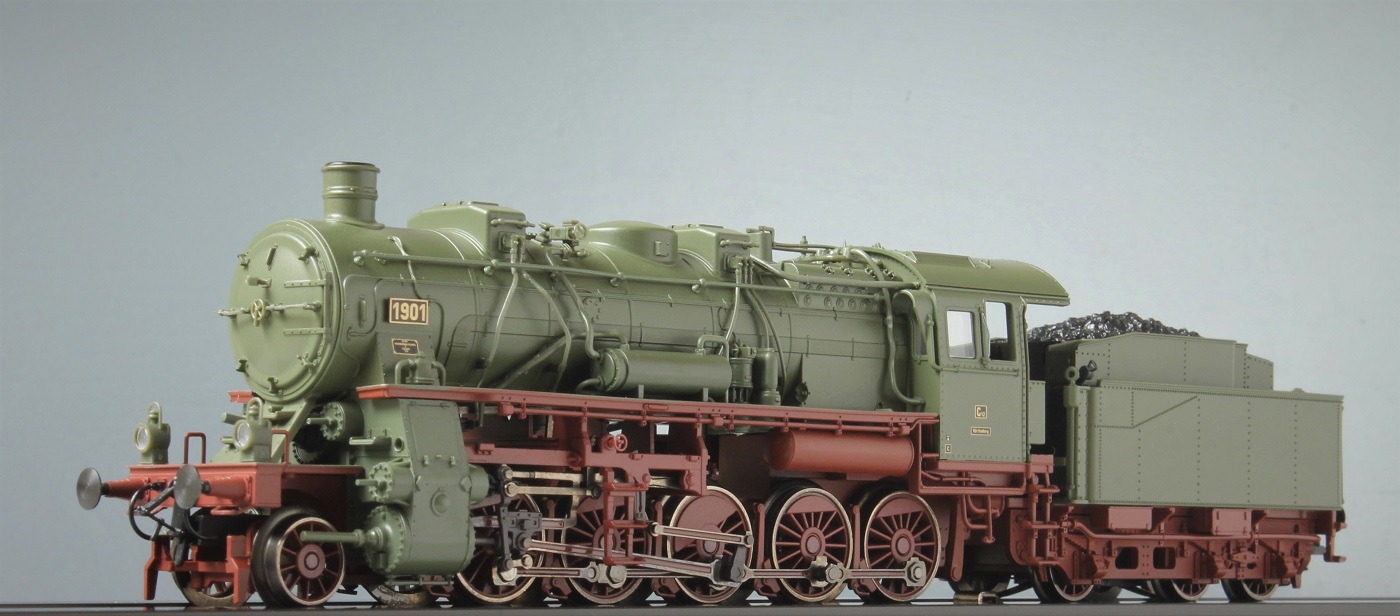 M 37586 as Württembergt G 12, Nr. 1901

Märklin 37949 as DB 03 219 (released 2018)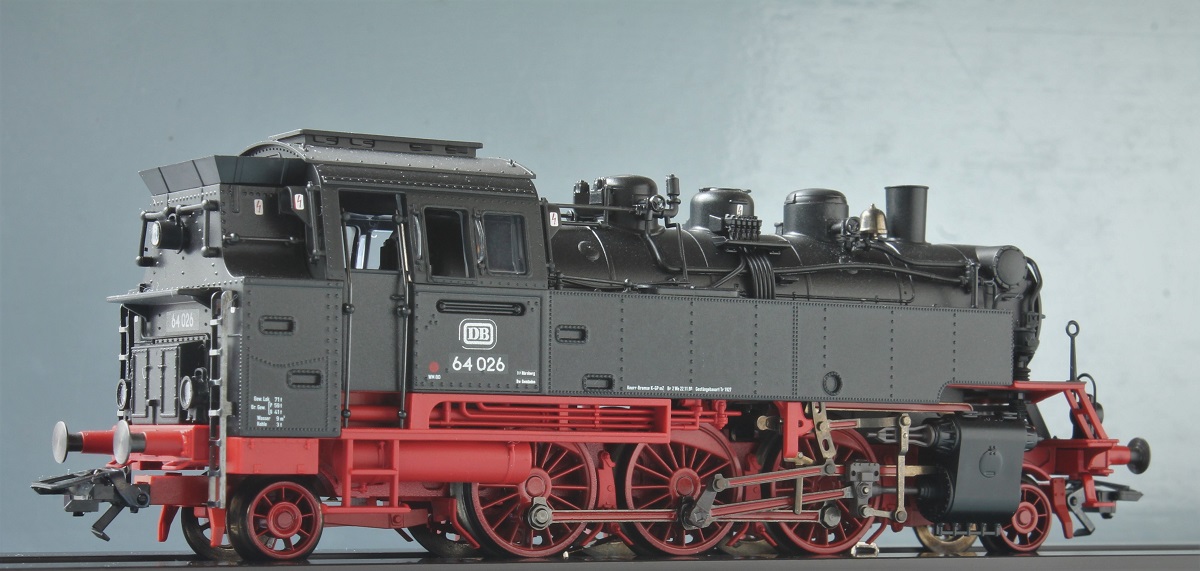 Märklin 39658 as DB 65 026 (released 2019)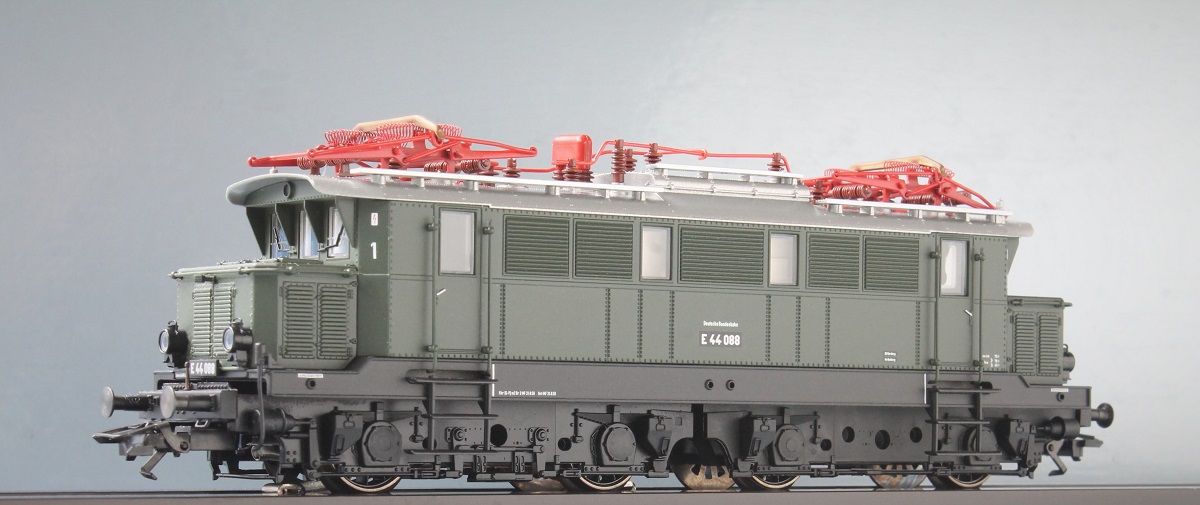 Märklin 37444 as E 44 088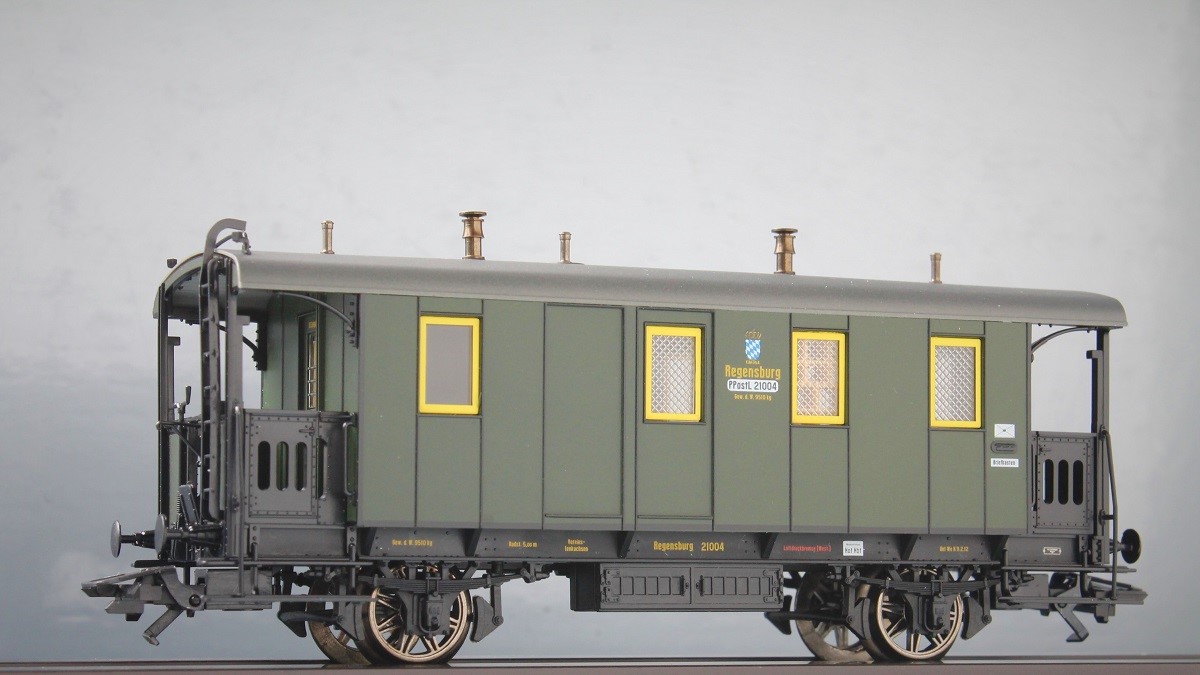 Märklin 42061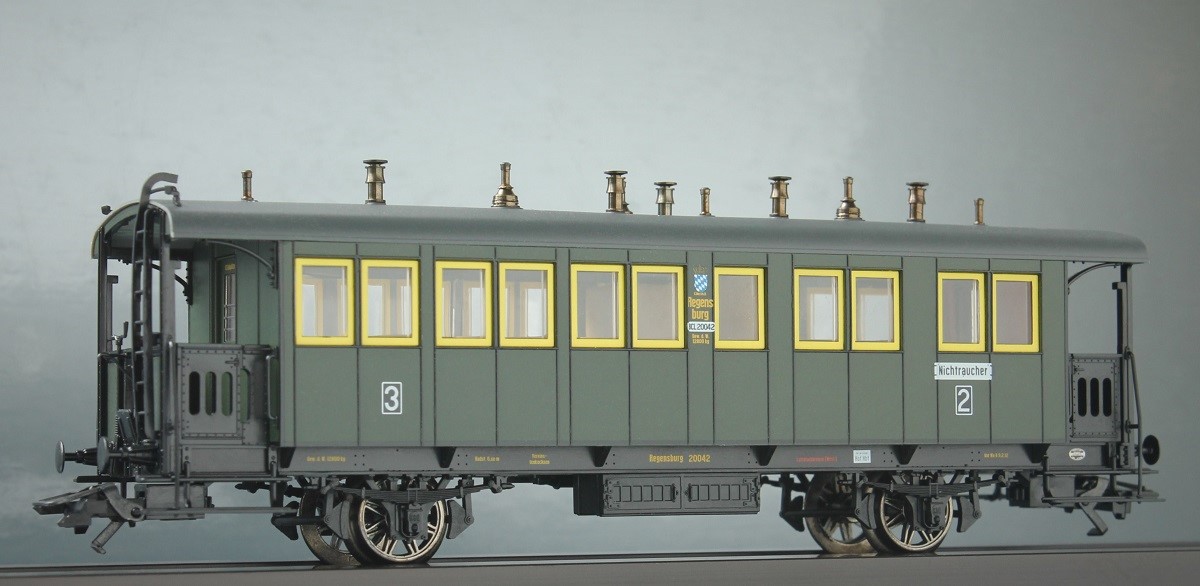 Märklin 42071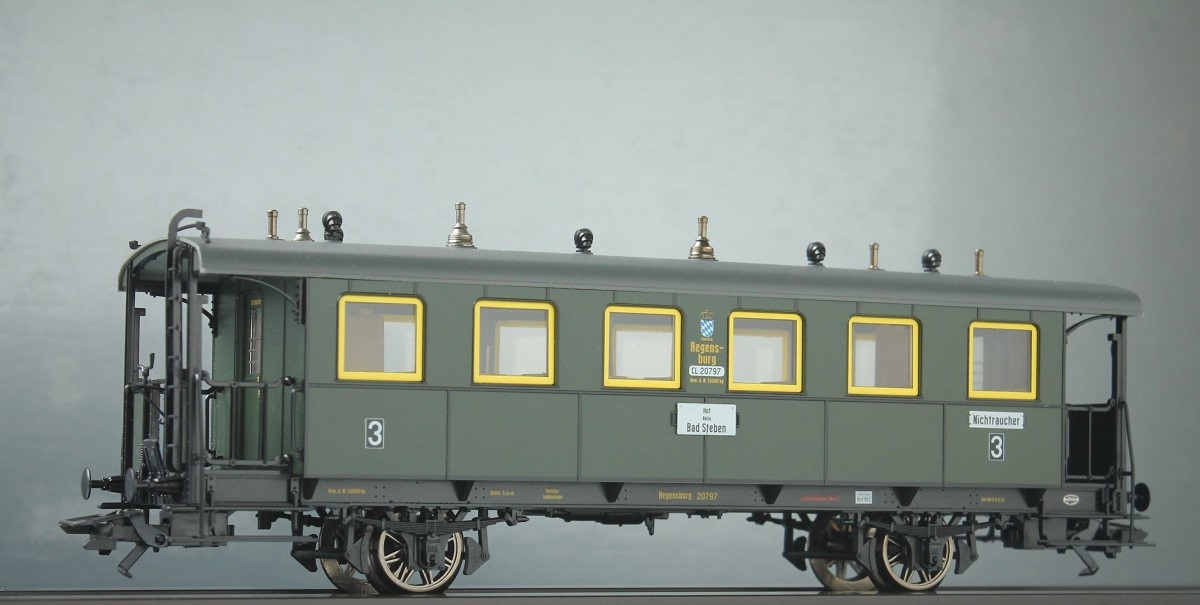 Märklin 42081
27.6.2020 ~ A r r i v e d a t t h e S h o p
My dealer called me that my backorder was in the shop... looking forward to picking it up.
No less then six Brawa cars (including the green Champagne, just outside the picture), 5 boxes with 5 fir trees (alas no more boxes with 18 pcs),
two sheets of Busch summer grass 1301 and one box of Nature Trees.
The waiting is still for Märklin's Württemberg G 12 (Märklin 37586) to be send to my dealer's...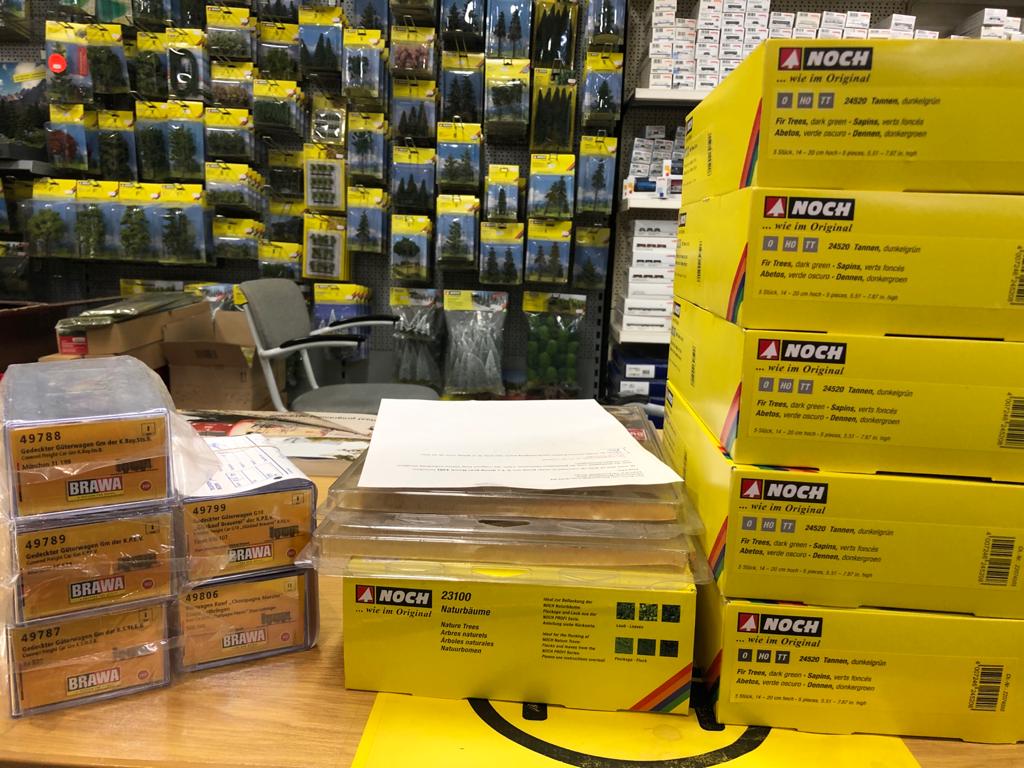 15.6.2020 ~ F u r t h e r o n ...
Today I opened the second bottle of Noch 60874, so now the upper reaches of the waterfall have running water as well.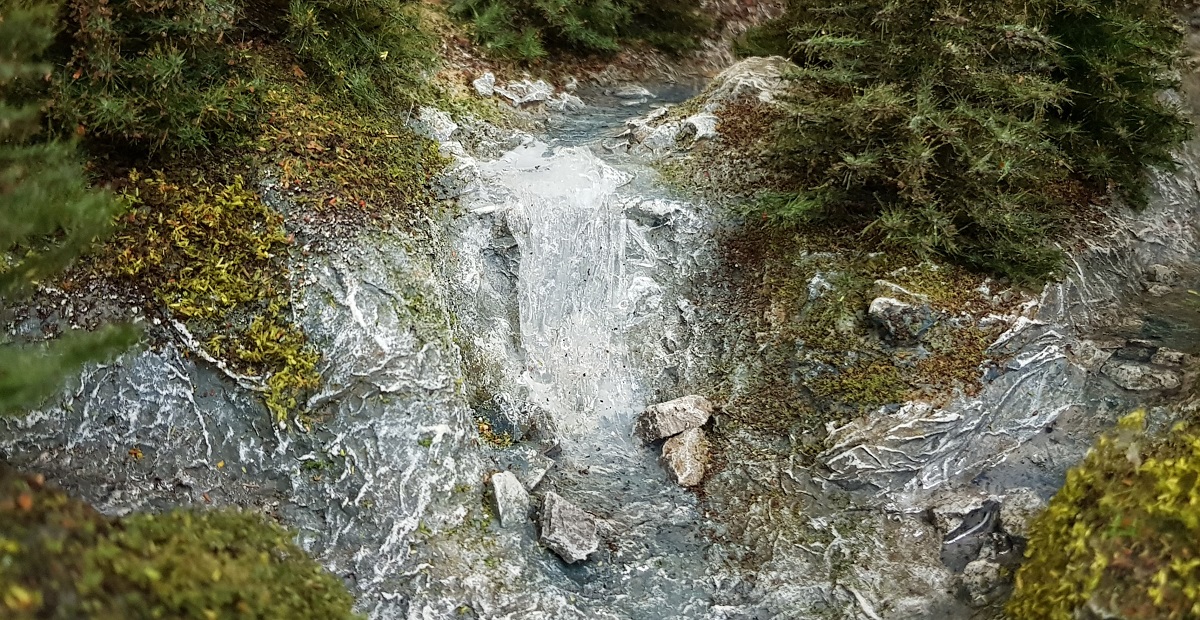 10-11.6.2020 ~ W i l d B o a r s
Never knew that wild boars would have so many different coat colors. Or that a buck stands out from a red deer because of its rump patch.
Anyway, after some research this afternoon, I was able to provide both the wild boars and the roebuck with an original color, and that in various stages, of course.
The hairy skin, the tusks, the hooves, even the light gray nose of the boar, with an eye for a boar or sow. These are the details, which only become clear after studying various photos. For the roebuck I used a mixture of sand brown and black with a lick of amaranth red. A mixture of sand-white, beige and brown was applied for the rump patch, the striking spot under their tail. You may not see them again when they disappear in the forest of the Cochemer Wald. Anyway, it's the idea that counts. See: Chapter 30 of Journal 5.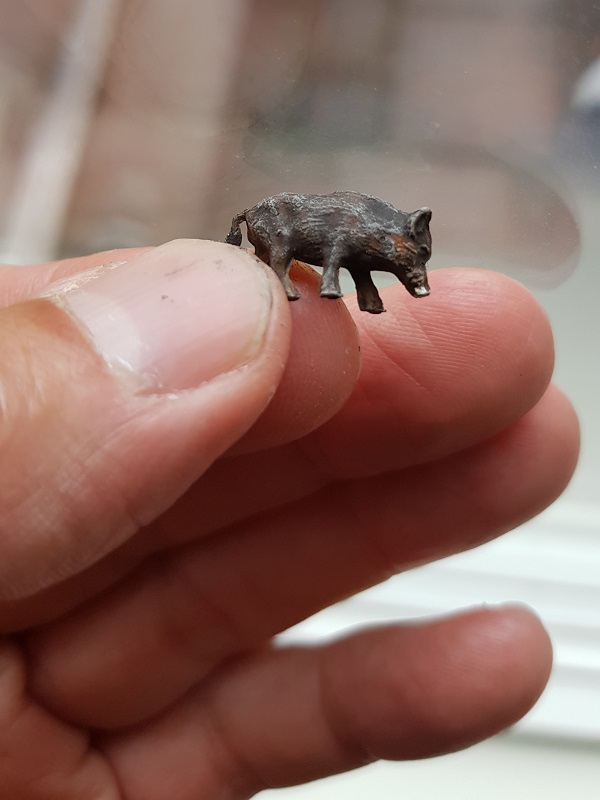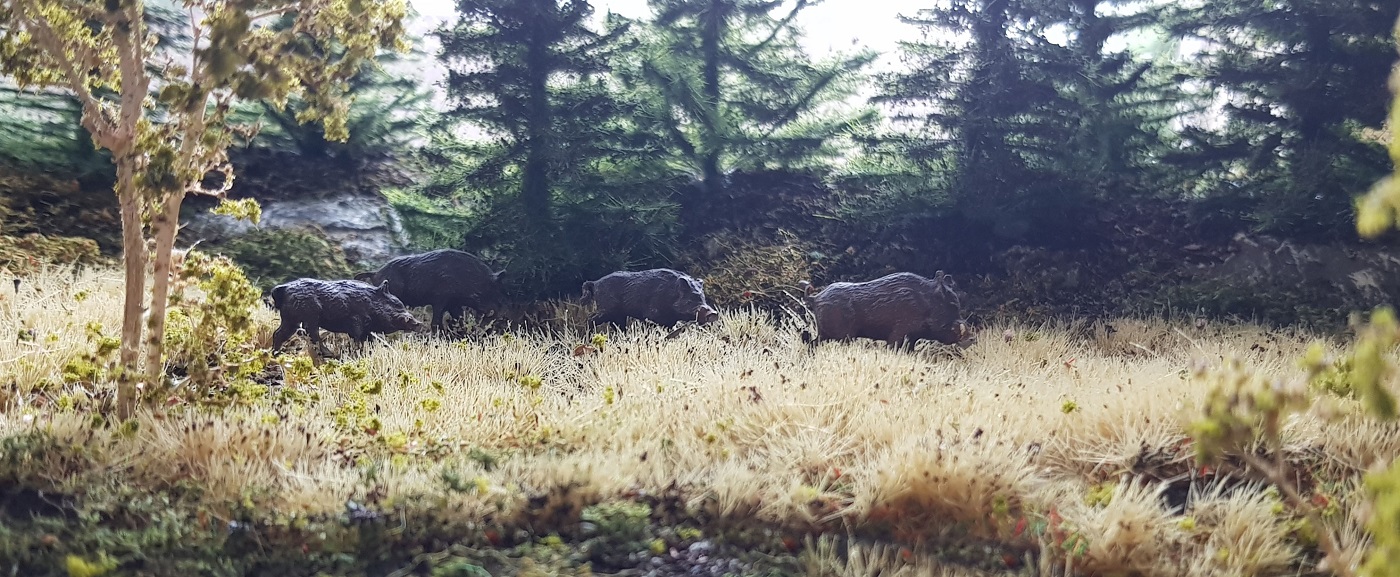 9.6.2020 ~ A d d i t i o n a l M a t e r i a l s
Unfortunately, due to Covid-19 many orders are being delayed. Still, I was able to buy some stuff again last Saturday. Like wheels for the two Trix cars I recently purchased; a turf needed for the front of the Cochemer Bahn; and a 500 cc bottle with 'water' for the waterfall.
The wild boars and deer are good for a spot somewhere on the edge of the forest, although their fur could use some extra color.
Alas, NOCH has stopped this year in releasing their 18-trees-in-one-box item (Noch 24530, € 60). That's why I'm now advised to fall back to 5-in-a-box (€ 20) for the remaining trees, which entails additional costs.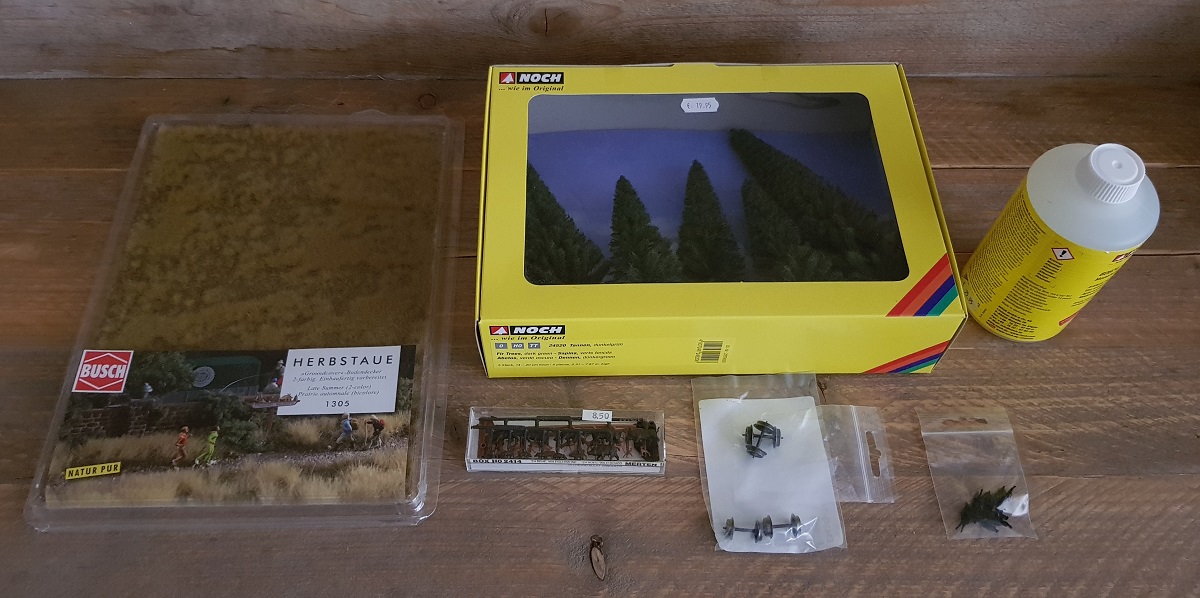 Trix 23903 & 23906, now forseen with Märklin close couplers and a new pair of wheel sets (at the right: E34382604).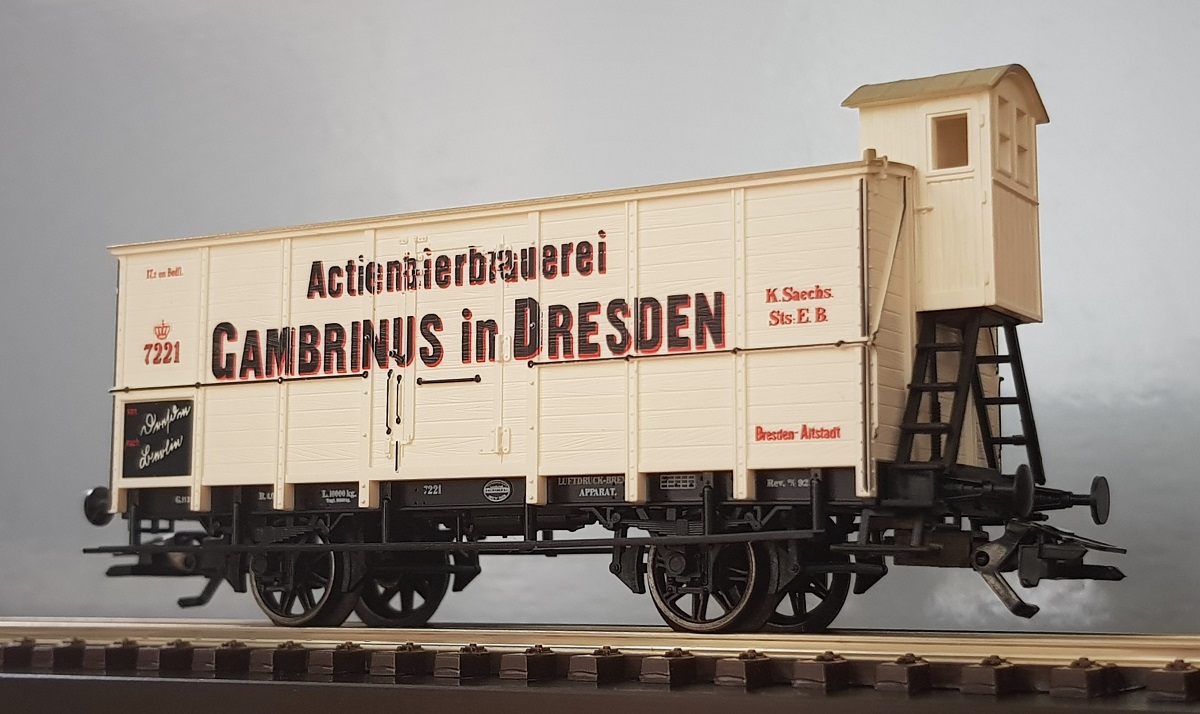 Sheer beauty.
4.6.2020 ~ Transition
My attempt to make a natural transition between gravel and vegetation with white dune sand was not a great success.
Therefor, I started drying with sand-gray watercolor, which gave exactly the effect I was looking for.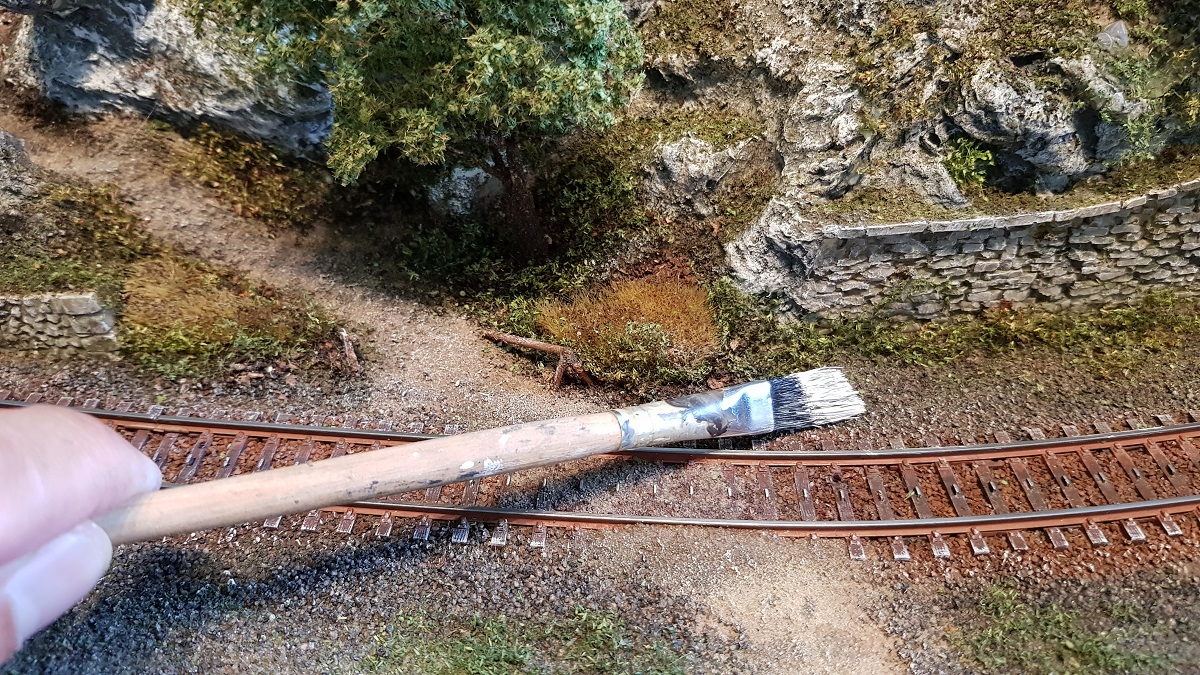 1.6.2020 ~ Frontal
The last stripped parts at the front are receiving vegatation. Read more in Chapter 29, Approaching the Finale.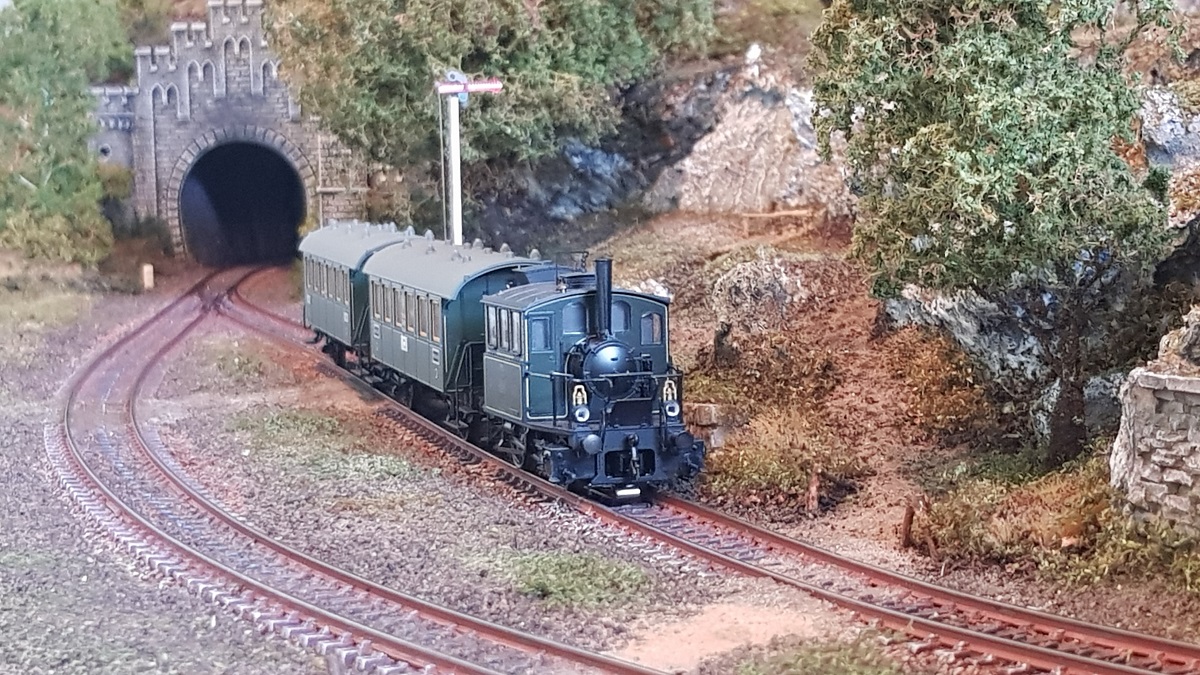 25.5.2020 ~ G r i t & D i r t
A dear friend of mine, working in 'earthmoving', brought me 10 sachets (they're more like bags!) of soil and grit.
Five kinds of color (from gray to yellow), respectively five kinds in size (prox. 3 - 8 mm).
Now that is a great opportunity in finding the right colouring (or mix of them) near the tracks, as well as spots and trails in the woods, where appropriate.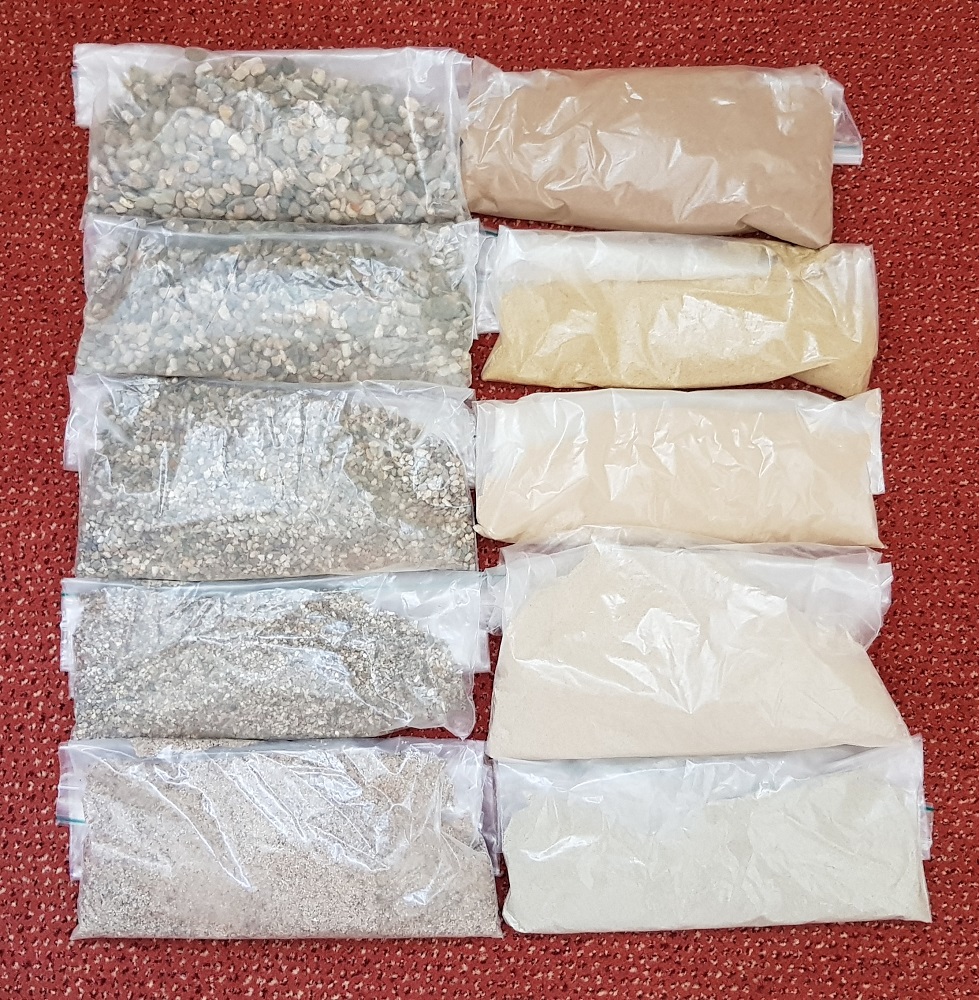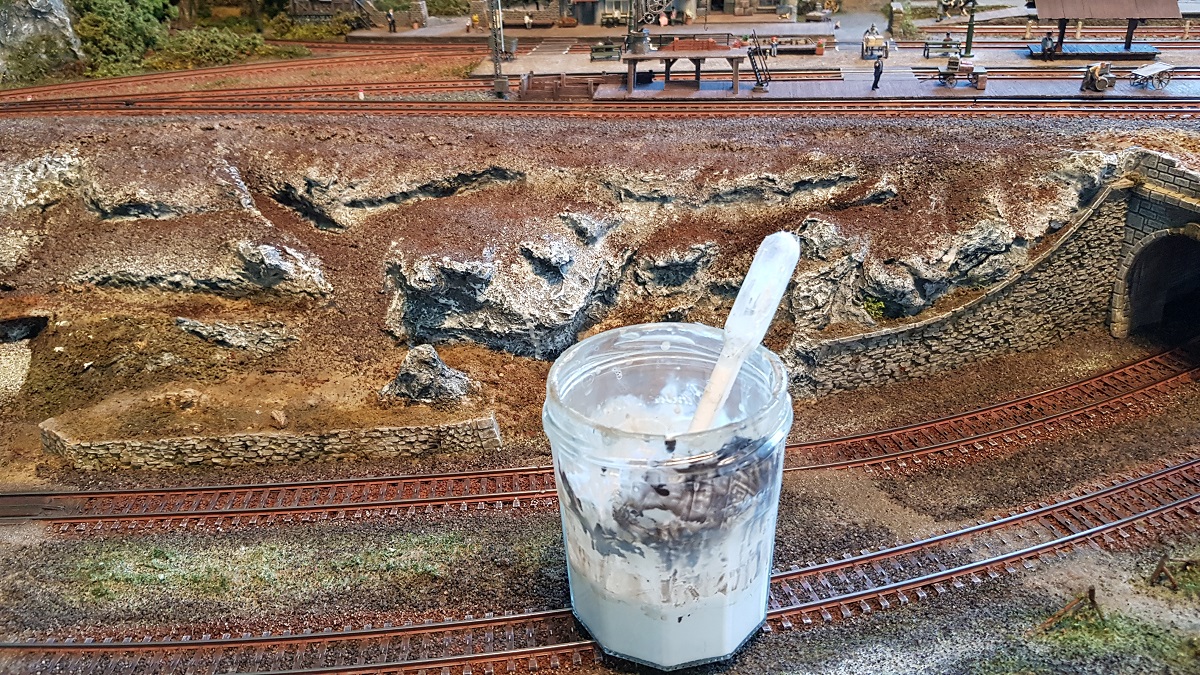 21.5.2020 ~Ascension Day
After the Ascension Day Service, the rest of this lovely day was spend on the landscape around the Lorelei Tunnel. I planted a huge tree that 'made the scene'!
Read more in Chapter 27 and 28.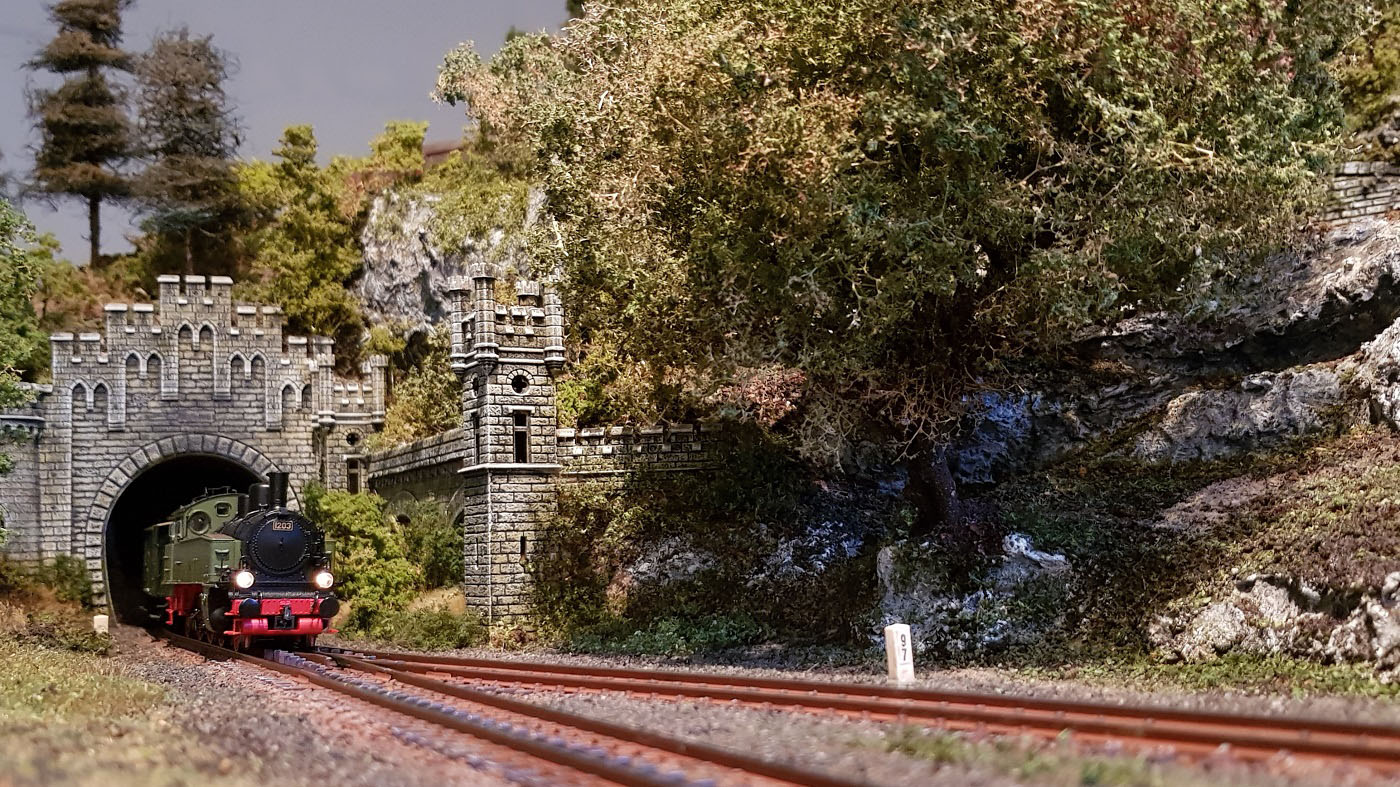 12-16.5.2020
Finally, I got the courage to take care of all the tracks, both near the platforms and along the parade track.
All too long I had no clue how to do it right. It should not be too idyllic, but at the same time not lose the time-typical atmosphere...
Thanks to a friend who convincedly pushed me in the right direction!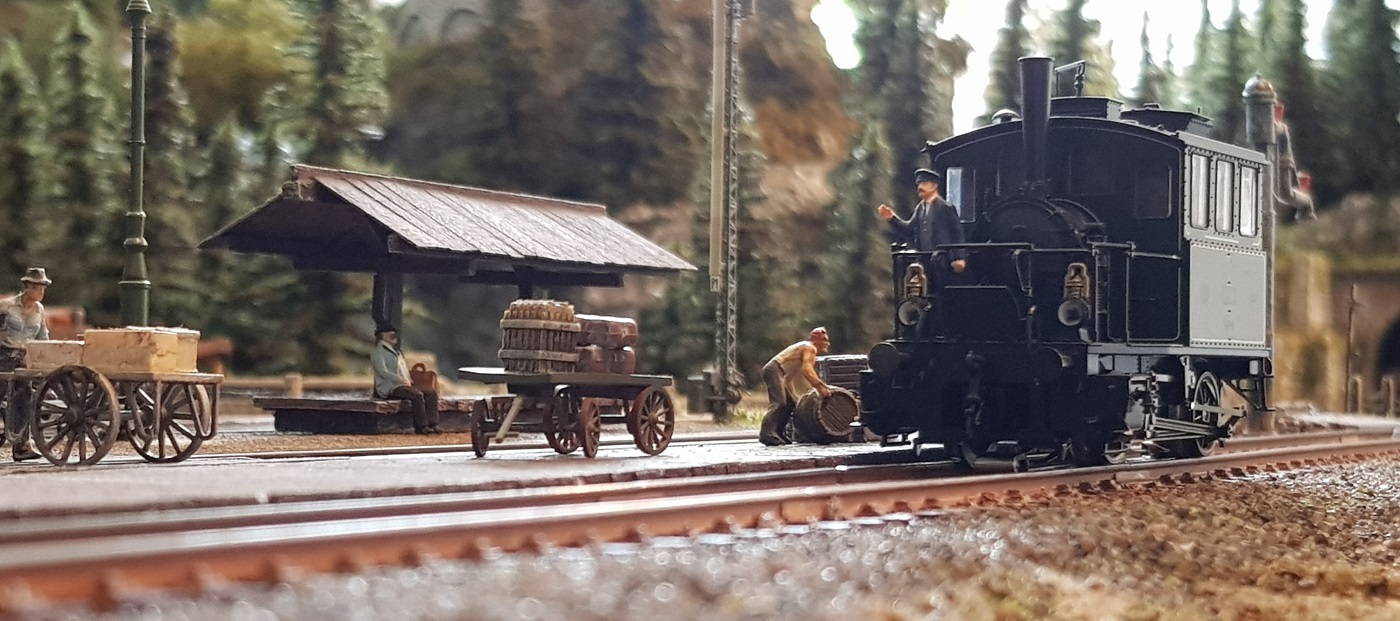 9.5.2020
Day of finetuning...
See more in Chapter 26!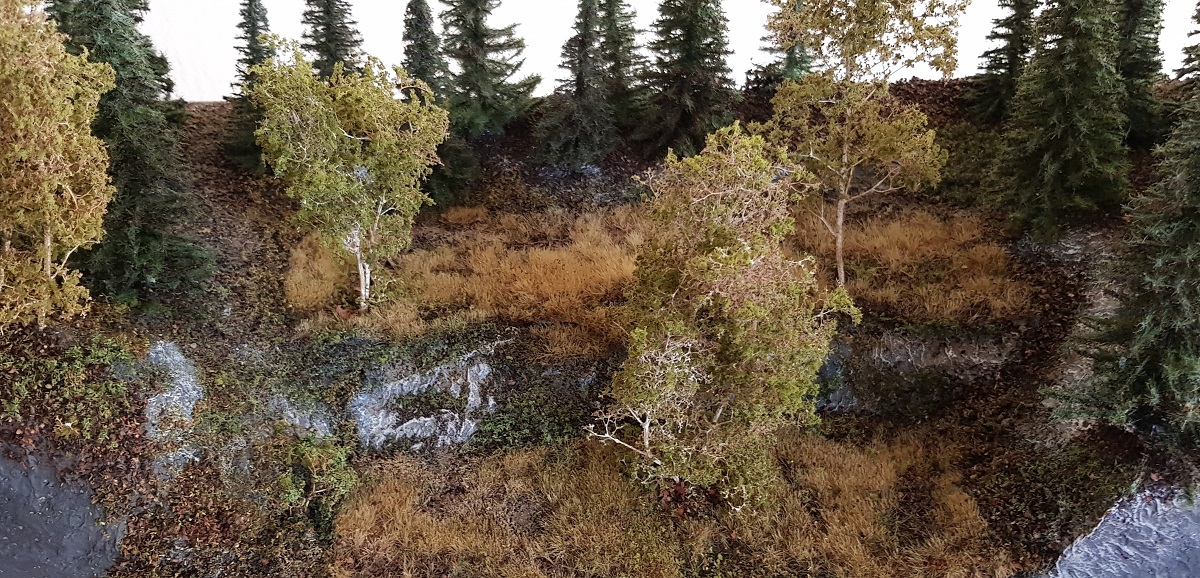 8.5.2020
Tree planting backstage. More pictures in Chapter 26!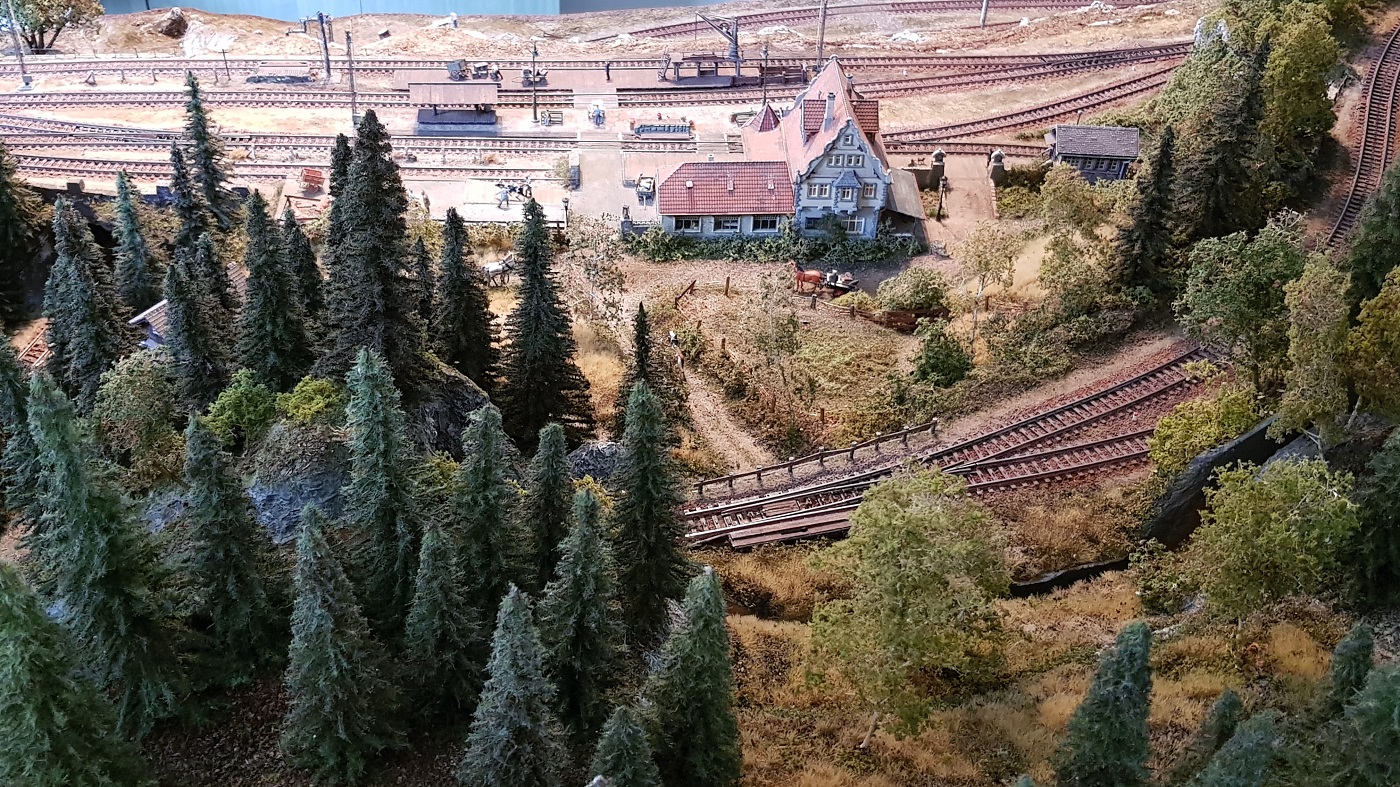 2.5.2020
The view is changing all the time. More pictures in Chapter 26!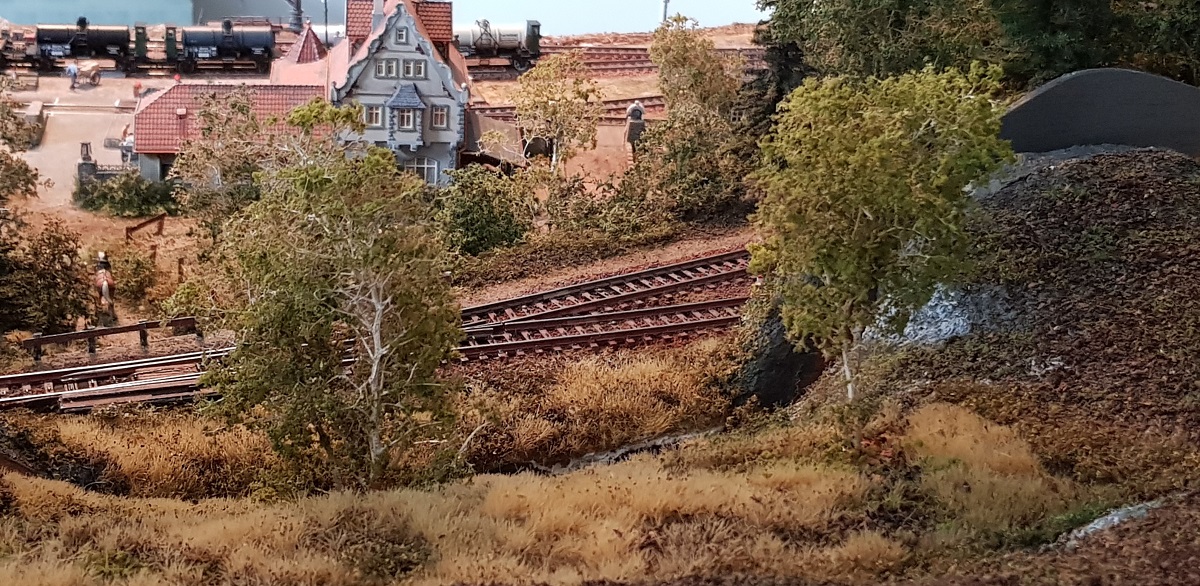 30.4.2020
Continuing the 'Oberwerk'... see: Chapter 26!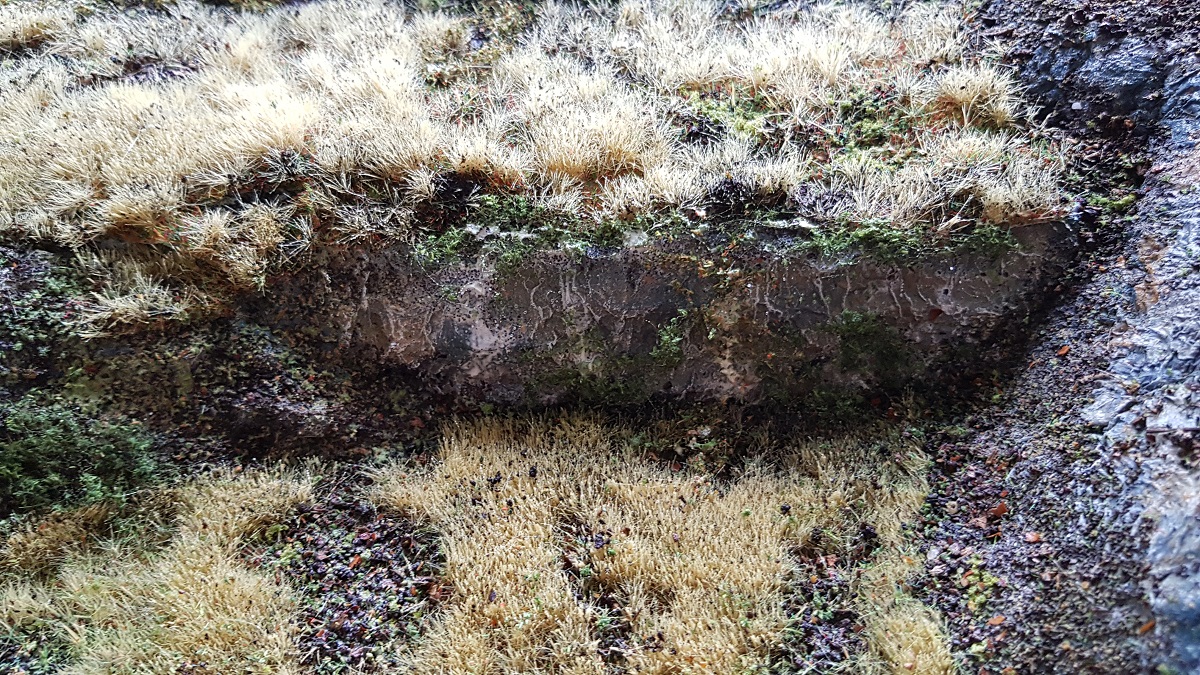 30.4.2020
25.4.2020
While enjoying a weekend outdoors, a friend brought me two Trix beer vans which he purchased for me, earlier this year on the 23 Febr. Houten Euretco Fair.
So, again two gaps in my Bavarian collection are being filled with Trix 23903 (Gambrinus in Dresden, 1995) and Trix 23906 (Ledererbräu Nürnberg, 1996).
Together with the newly released Roco 76060 (a set with triple KPEV vans) and the Bavarian coaches 74900, 74901 and 74902 (all six on basis Fleischmann!),
they make a fine addition of eight cars.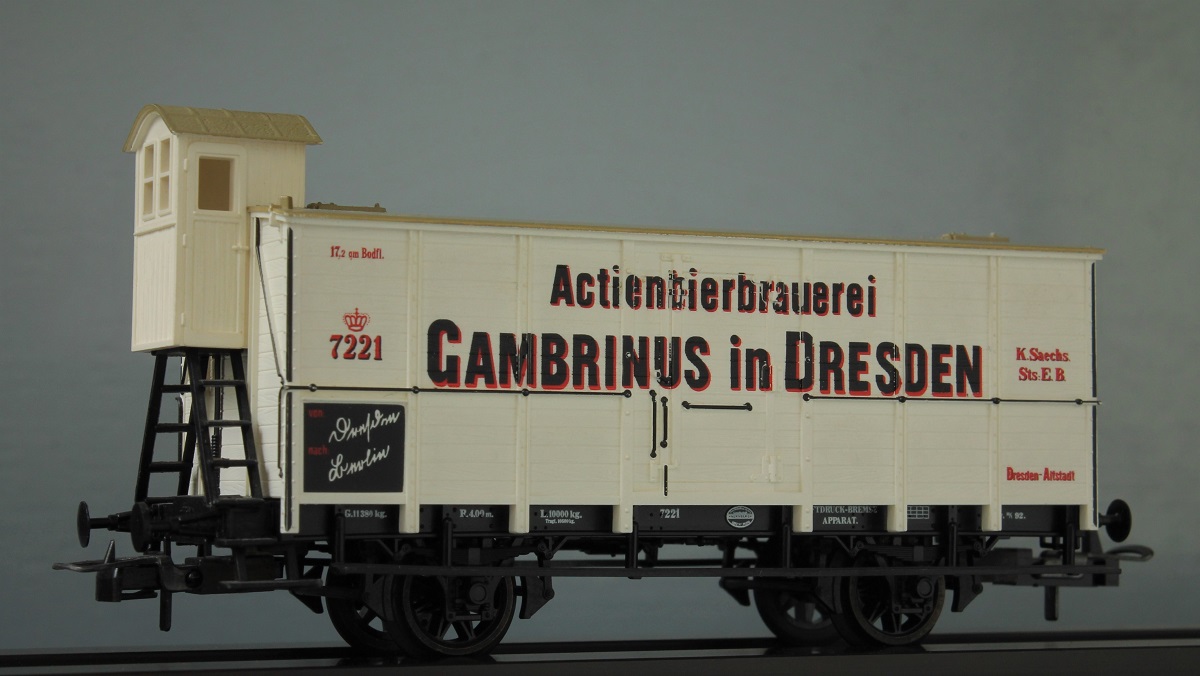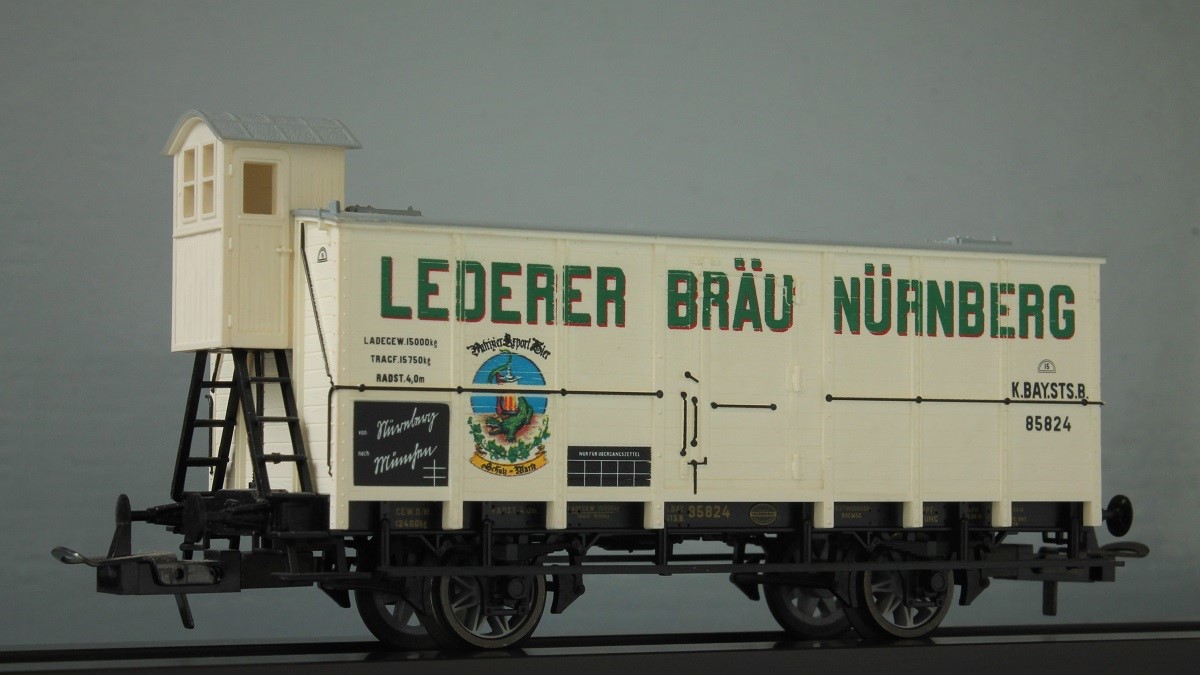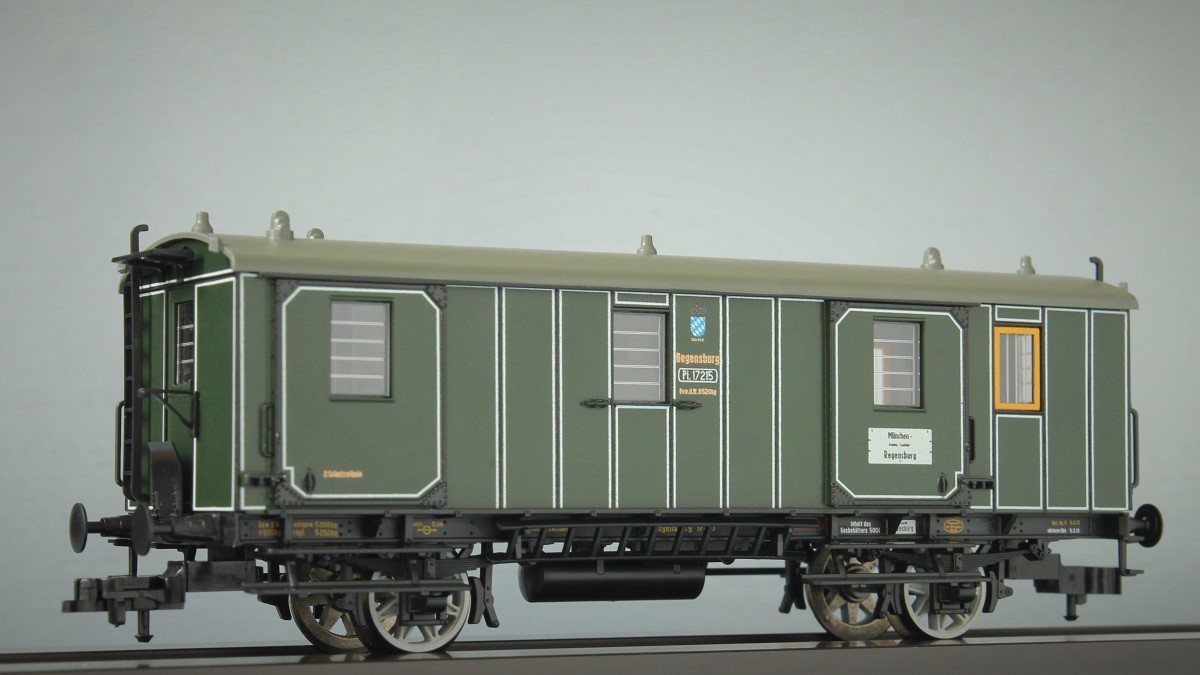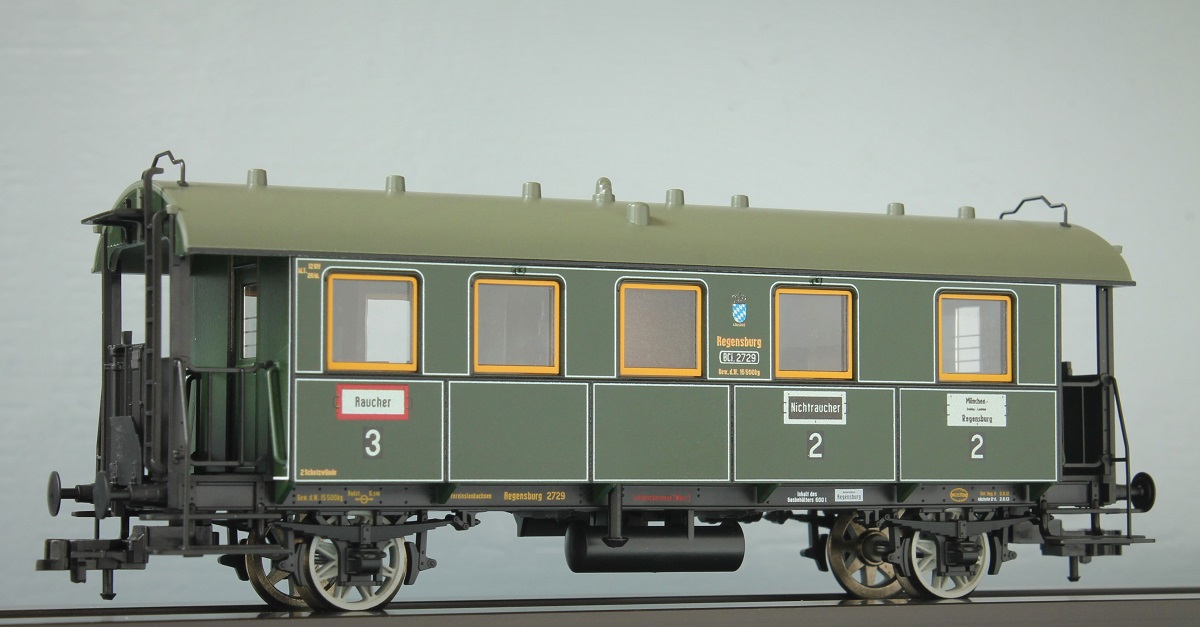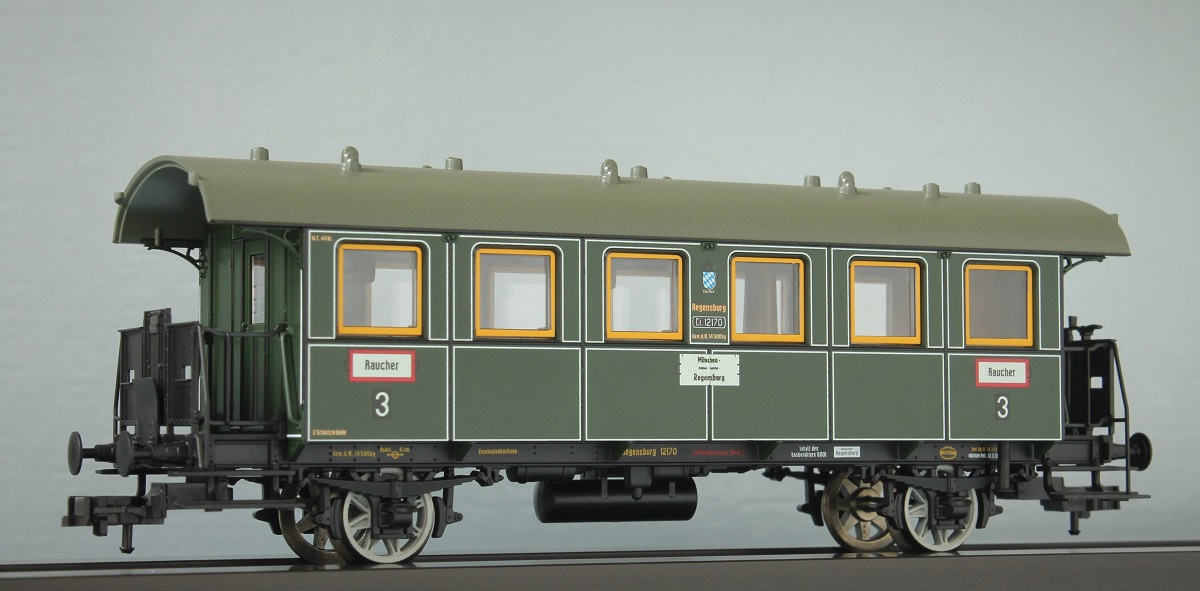 The difference between the Roco Kleinviehwagen (left, #76060/2020) and its original made by Fleischmann (#1904/2007, right):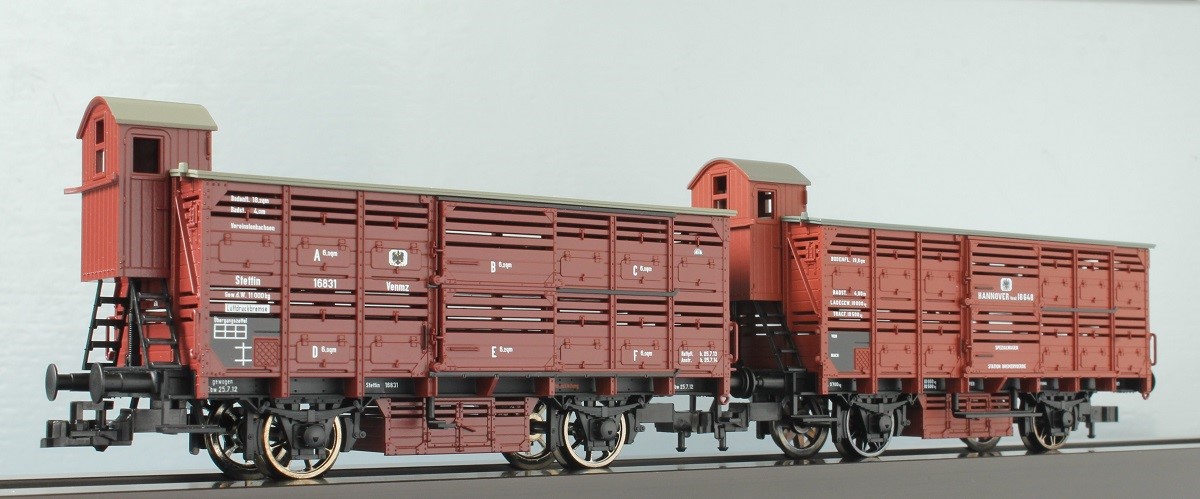 Roco choose for a darker brown, extended printing, Hülsenpuffer, a single step near the door and single spoked wheels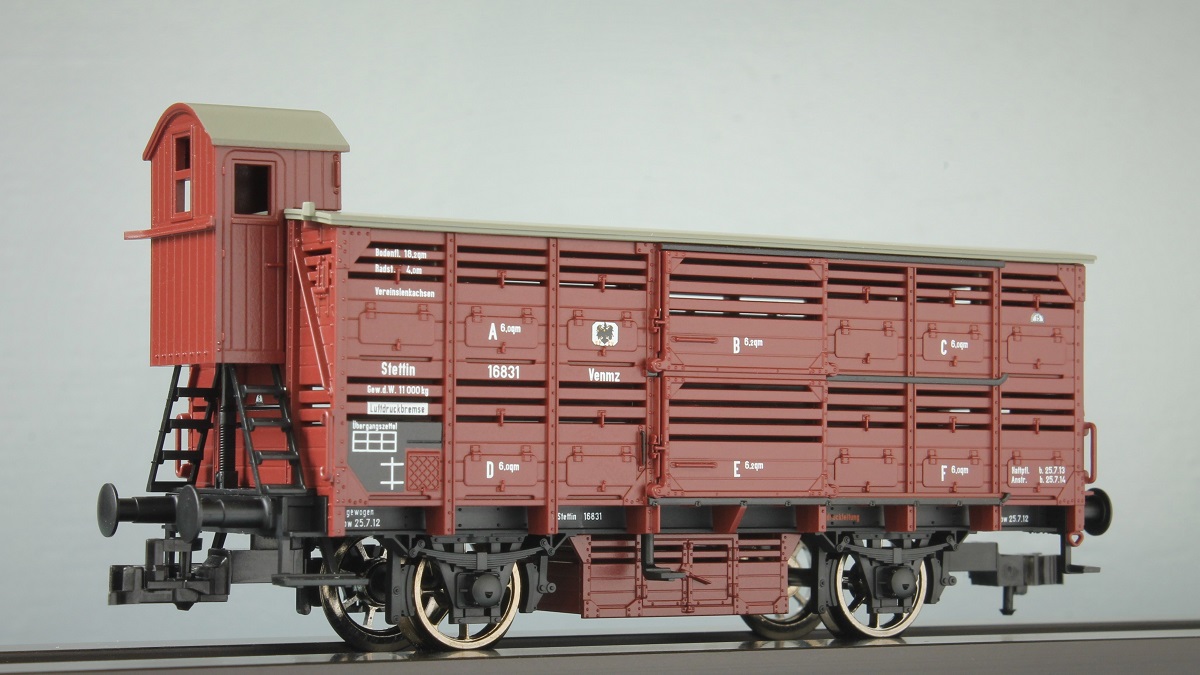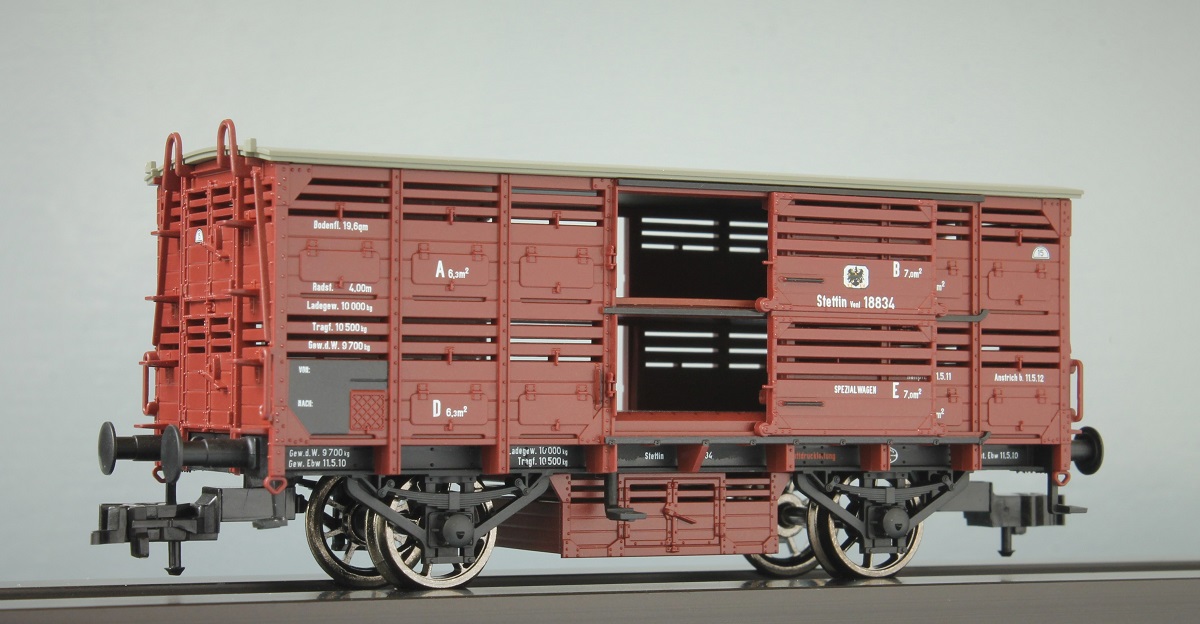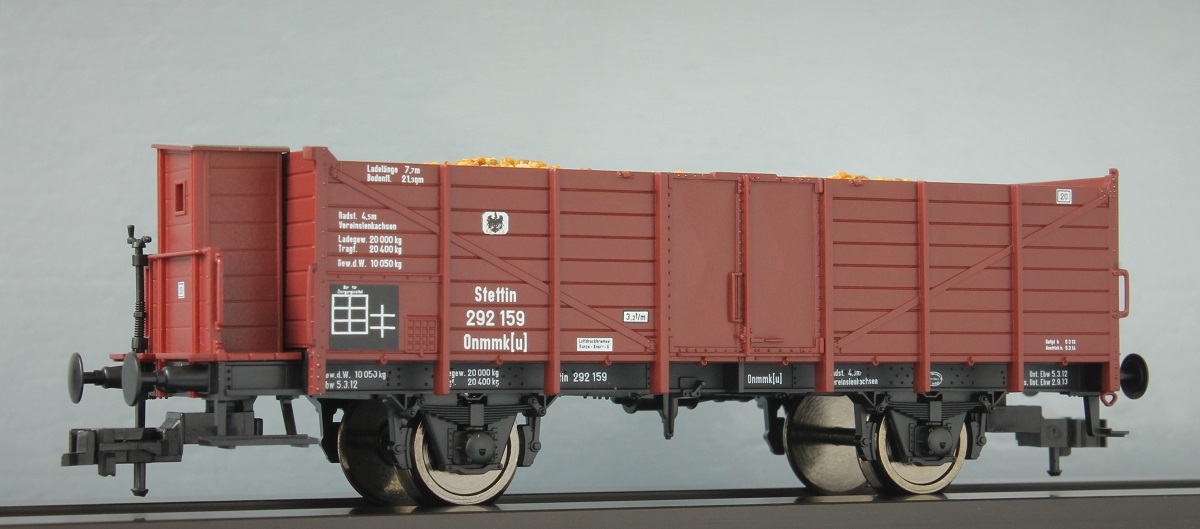 Roco 76060A, 76060B, 76060C
14.4.2020
Today, I started with the extension of the layout by adding more depth. An idea that came to me a year ago.
Read more about 'The Making of the Oberwerk' in Chapter 26, of Journal Part 4.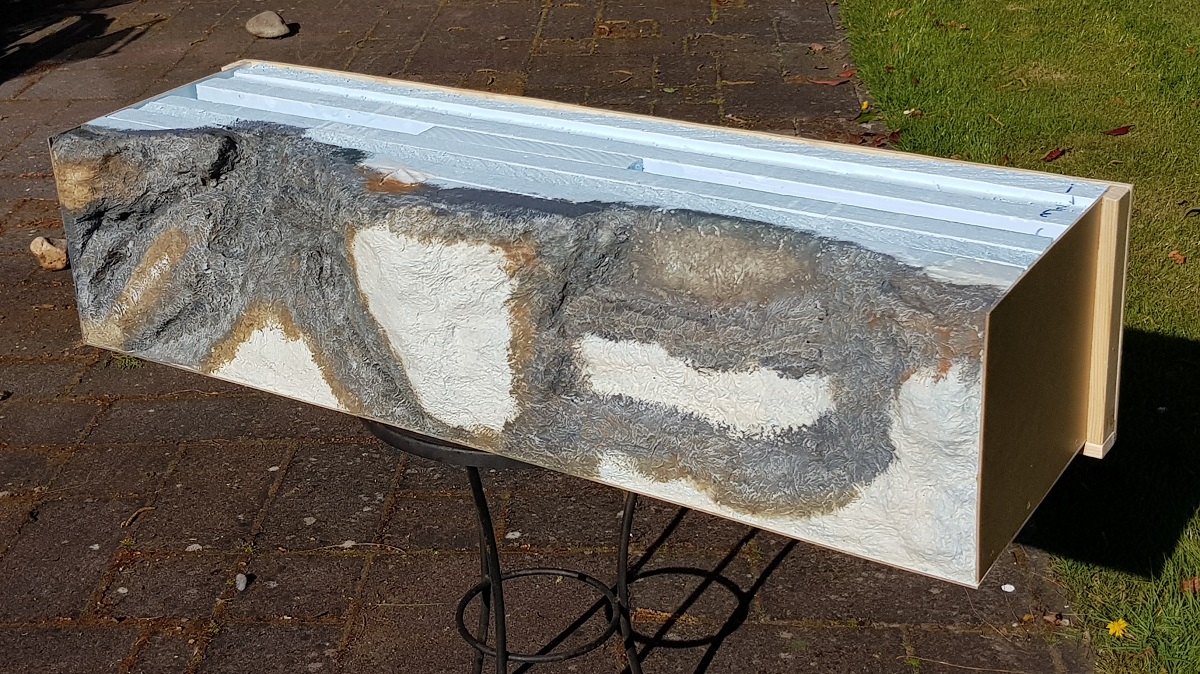 10.4.2020
A video of Prinzregent Luitpold's Salon 8, including a brief history on Ludwig's life's ending, on my channel now. For the time being, my last video for now.
4.4.2020
While I was pondering how to make the transition to the movie about Luitpold - who became Prinzregent of Bavaria after Ludwig II died - the solution came suddenly to my mind: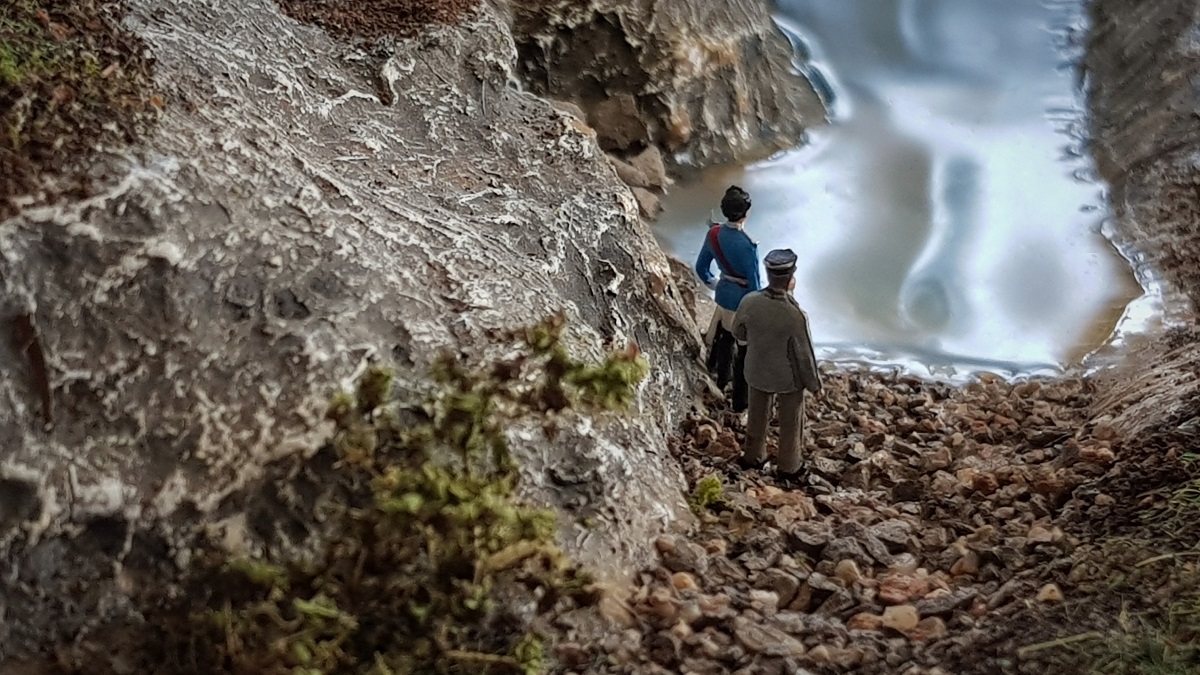 König Ludwig und Hofartzt Bernhard von Gudden am Ufer des Starnberger Sees, 13. Juni 1886...
4.4.2020
With the Prussian King and Germans emperor Kaiser Wilhelm II on the track, the series of 'Royal Trains' will be concluded with the royal coach of the Bavarian
Prins Regend L u i t p o l d, successor after King Ludwig II of Bavaria passed away at Lake Starnberg.
His wagon was seen today behind an in royal blue painted S 2/6, standing along the platform in a filtered sunlight...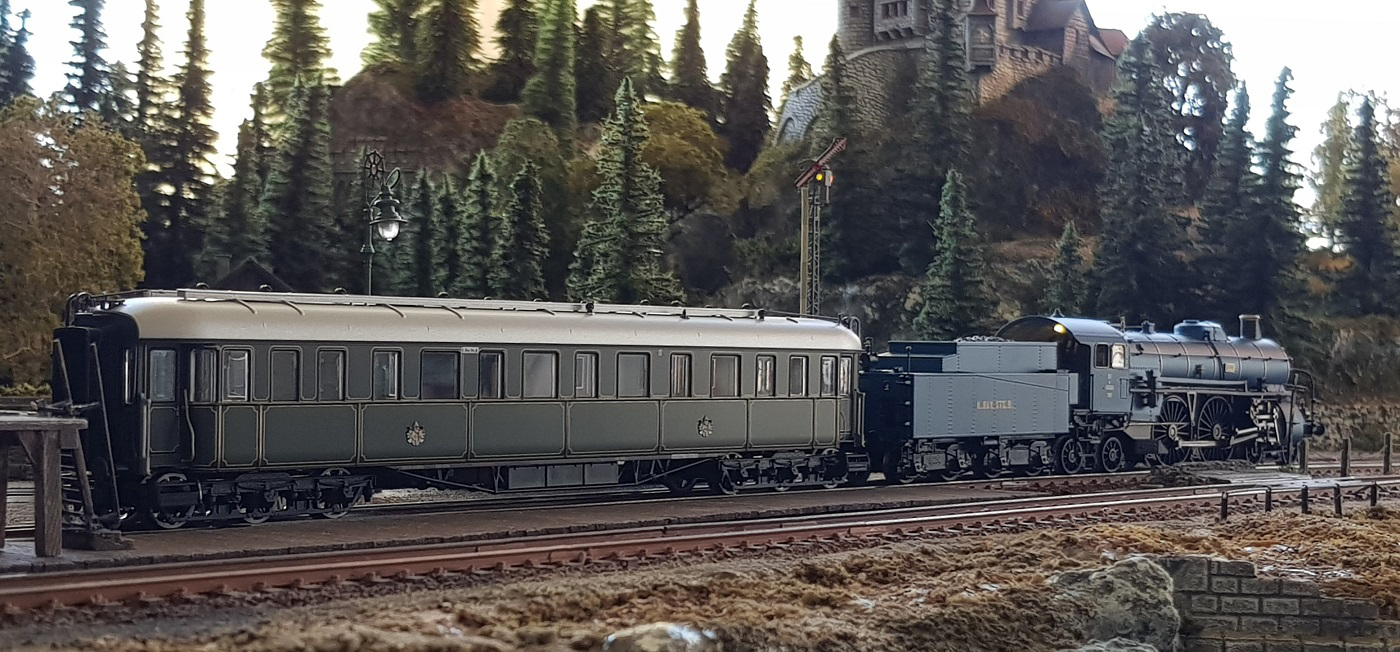 22.3.2020
After having finished my video on the Württemberg Wilhelm II, it was time for the Prussian namesake, Kaiser Wilhelm II and his train: the Kaiser-Wilhelm-Zug.
My camera captured the S 10 "Breslau 1008" in a spherical setting. The KWZ-video was released on April 3rd, 2020.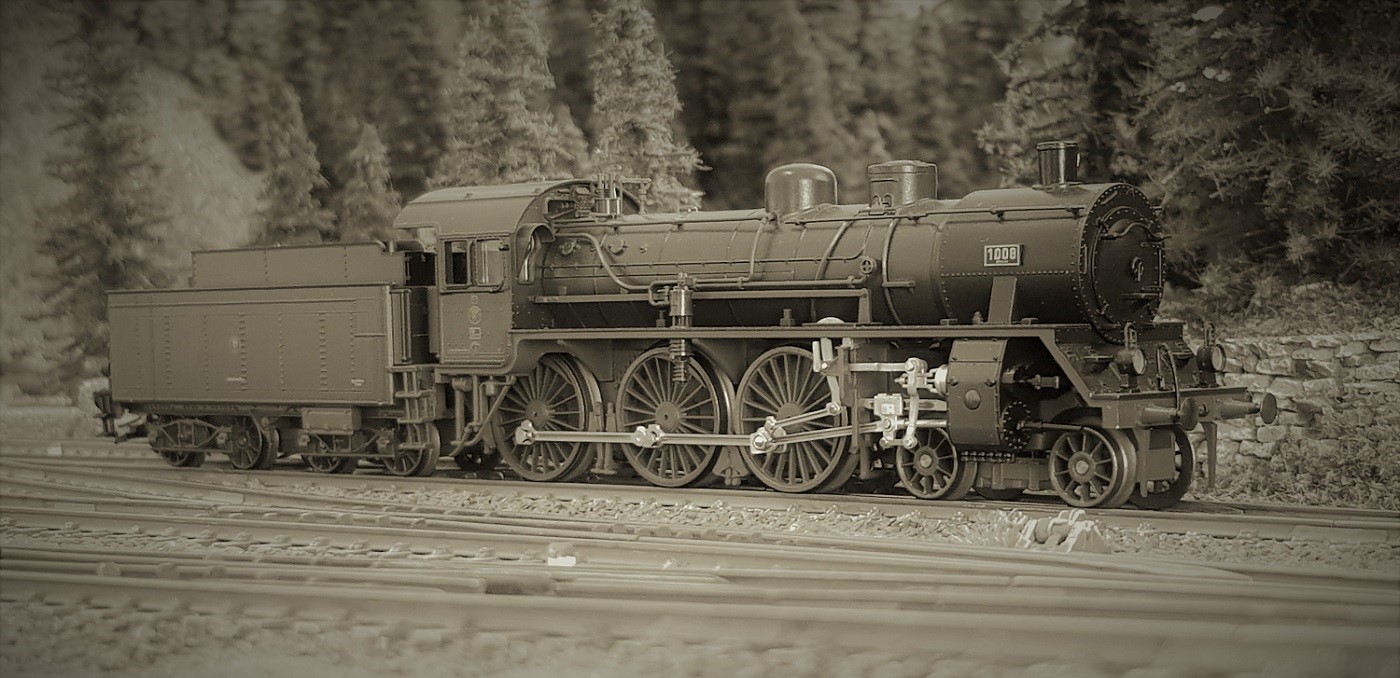 22.3.2020
Working on my video 'King Wilhelm II of Württemberg', it's hard not to put many if not all new pictures on the site.
But for today I want to share this one: the Württemberg C 2007, shunting the Royal Coach A15 in the radiant light of the sunset...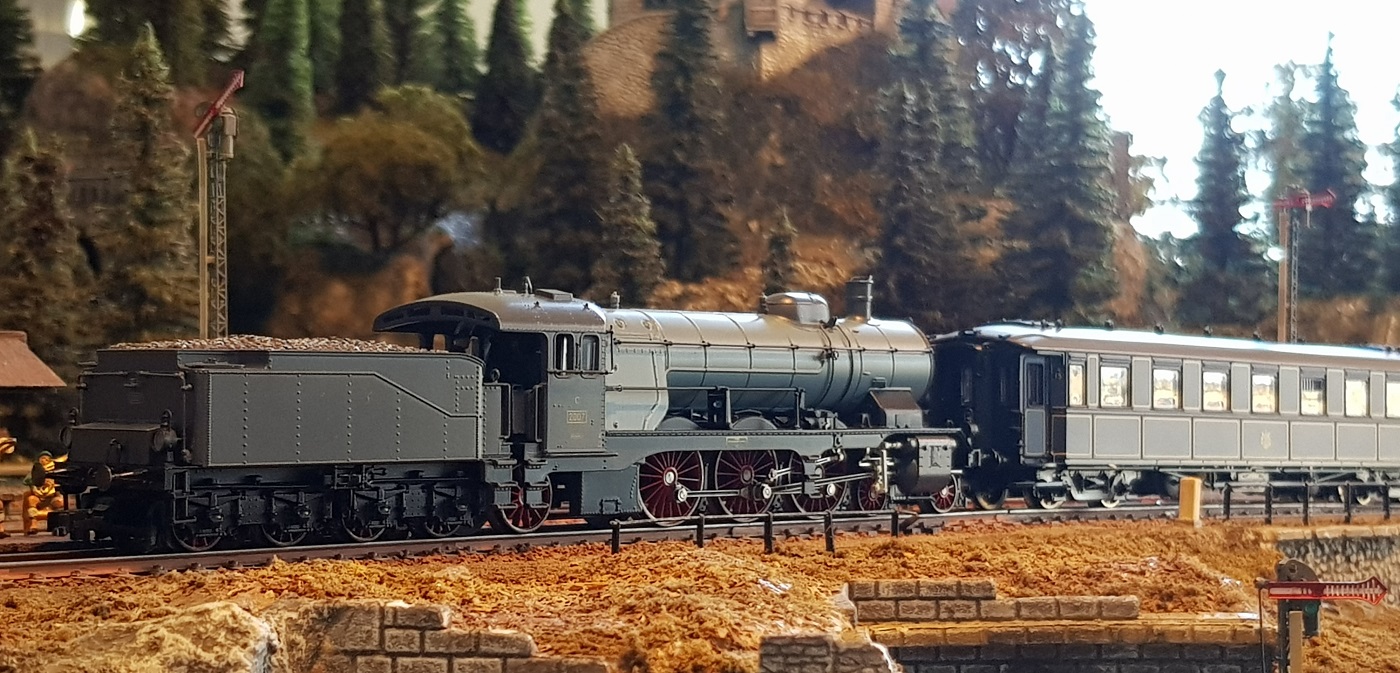 21.3.2020
From one thing comes another...
I never thought that I would weather an exclusive Märklin locomotive. But the recent filming and the major renovation of the layout have changed my mind.
There are models that gleam into the display case, but some deserve some upgrading. The Württemberg K is one of them.
Since the painting of the coal couldn't appeal to me, I decided that the K would be my very first engine to have real coal.
Read more about it in a small report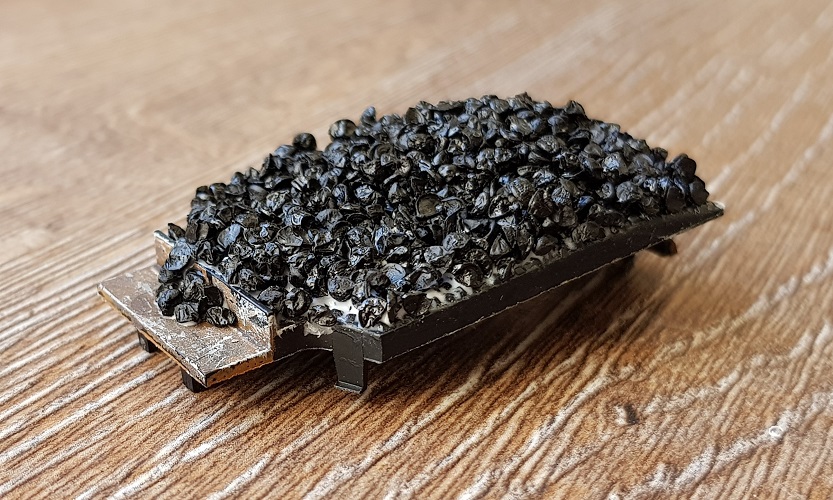 19.3.2020
While starting the Video starring the Royal Württemberg family with their Royal Coach A15, the thought came to my mind that the locomotive not only needs,
but since I painted the peat load of the Bay. B VI, I thought... why not give it a shot!
So three Württemberg Steamers got a painted load today, using Vallejo 70.983, Heki Lasur and a dry brush with Ash Grey:
* Märklin 3311, Wrt. C nr. 2007
* Märklin 3514, Wrt. C nr. 2004
* Märklin 37059, Wrt. K nr. 1801

C & K & C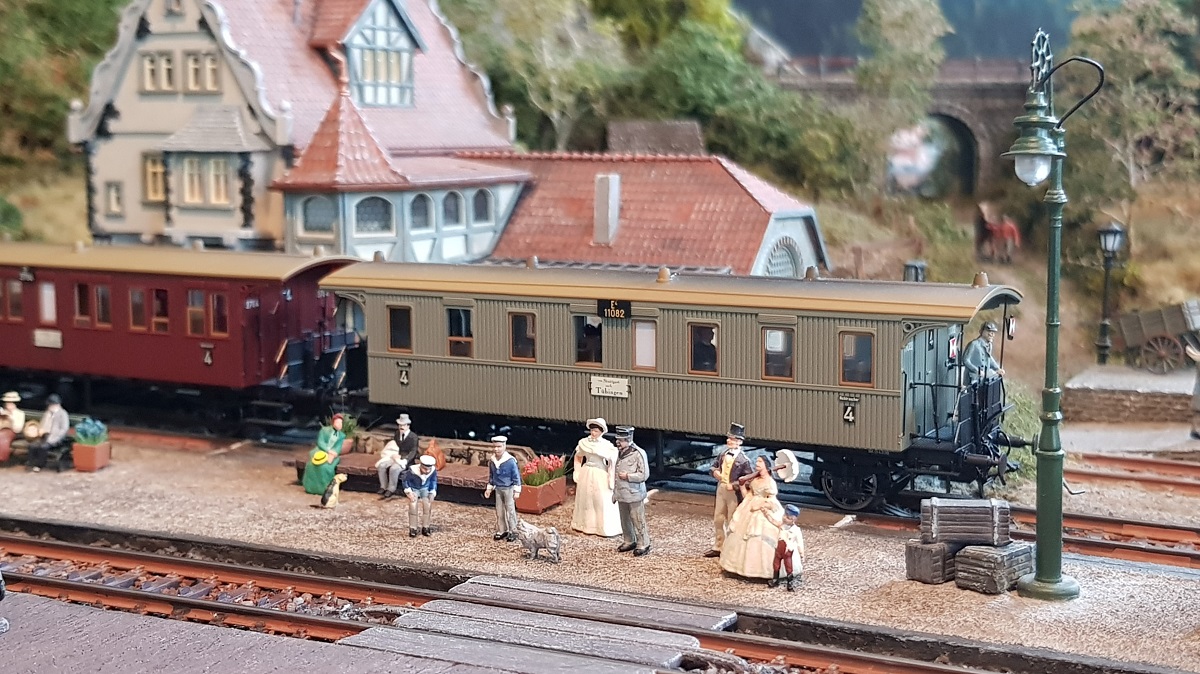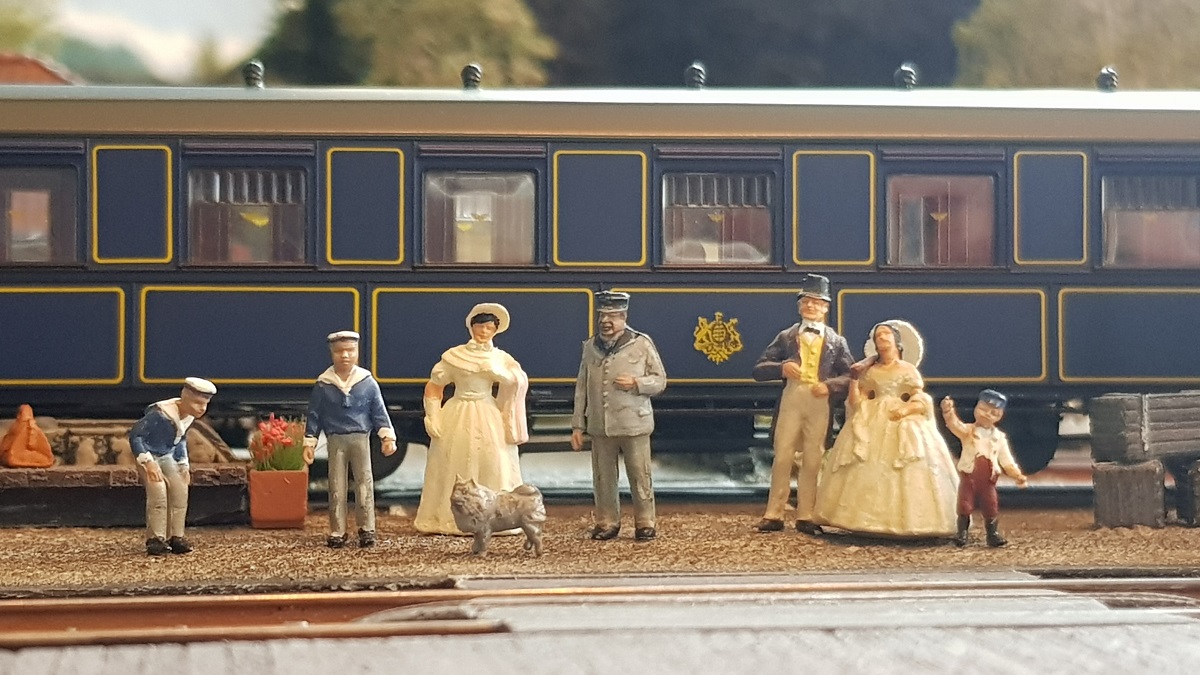 The royal family of König Wilhelm II from Württemberg
D a s b e s t e a u s W ü r t t e m b e r g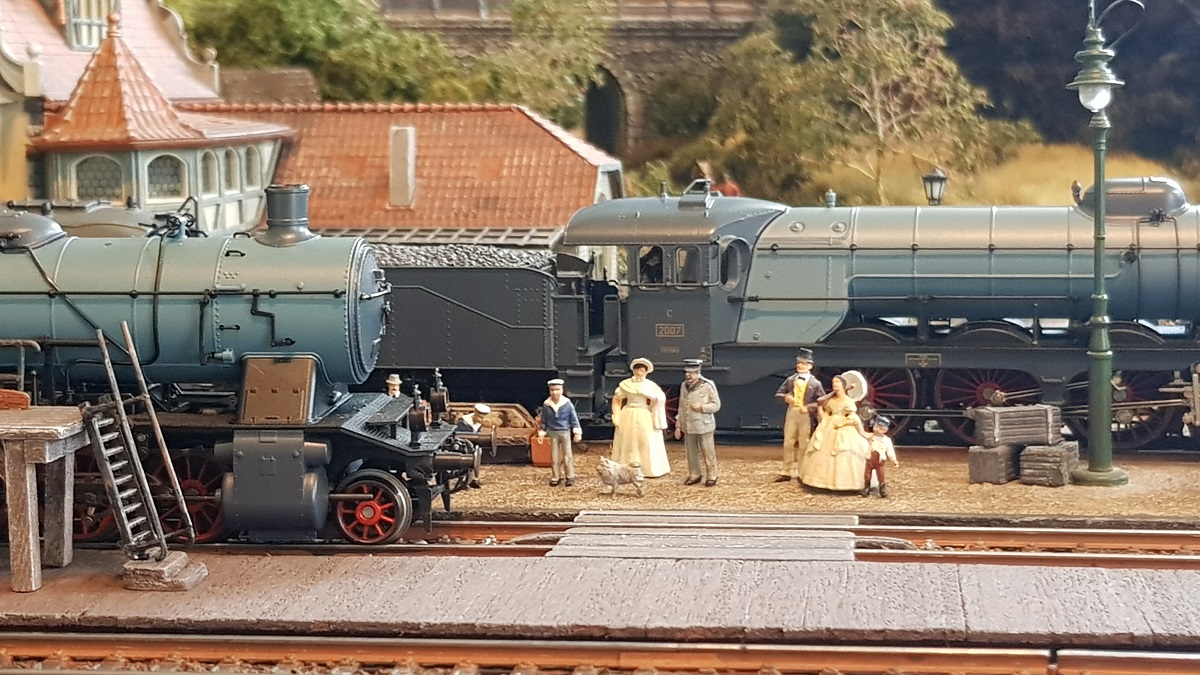 18.3.2020
I took me 5 days to realize this movie, but now it's there: the King Ludwig Train on the Cochemer Bahn.
Enjoy.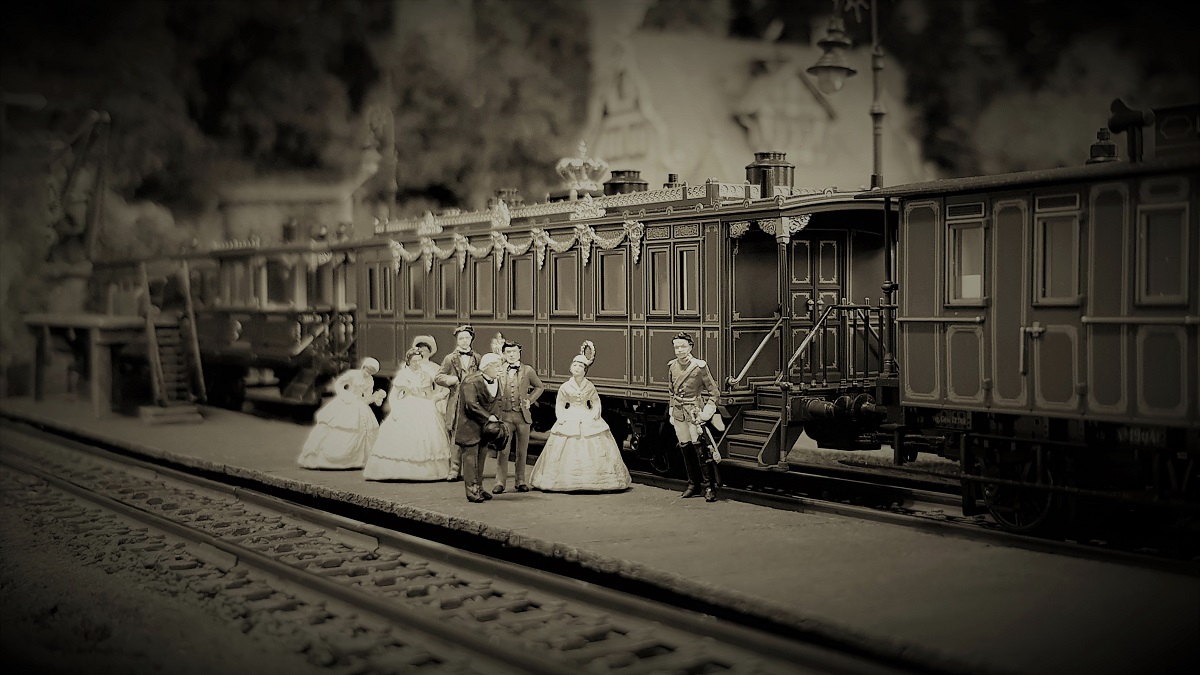 14.3.2020
While our country - and the world - is under the spell of the coronavirus, I had the idea of making a new video concerning the Royalties.
Form the 5 mentioned in my Royalty List, there are 4 in my collection. At first, I wanted to make only one video where all royal trains are presented sequentially.
However, the raw takes of the KLZ with BVI alone contain more than an hour...
So, there will be like four movies to come, to begin with the König Ludwig Hofzug (KLZ), the Royal Train of the Bavarian King Ludwig II.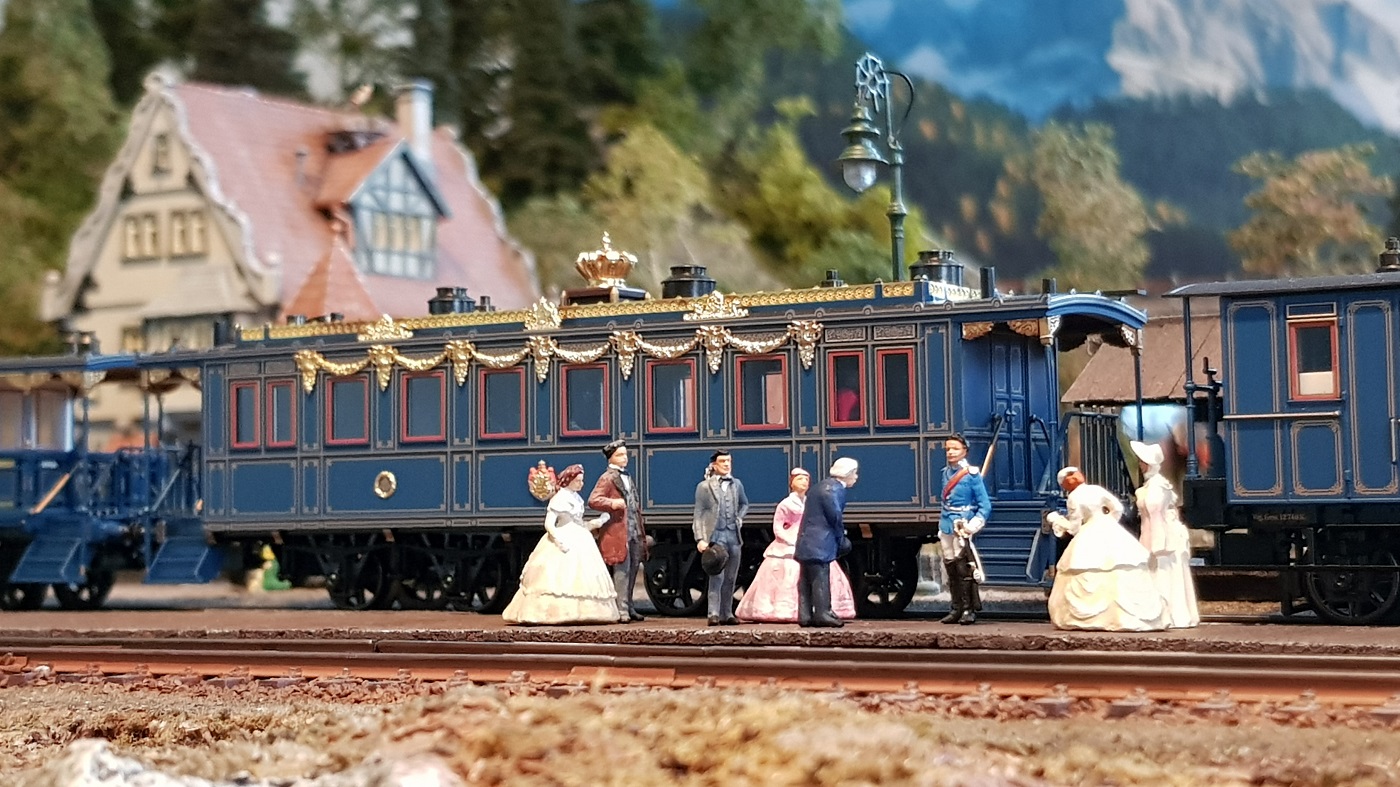 7.3.2020
My first attempt ever in making 'scale H0 water'... up to now: a total failure!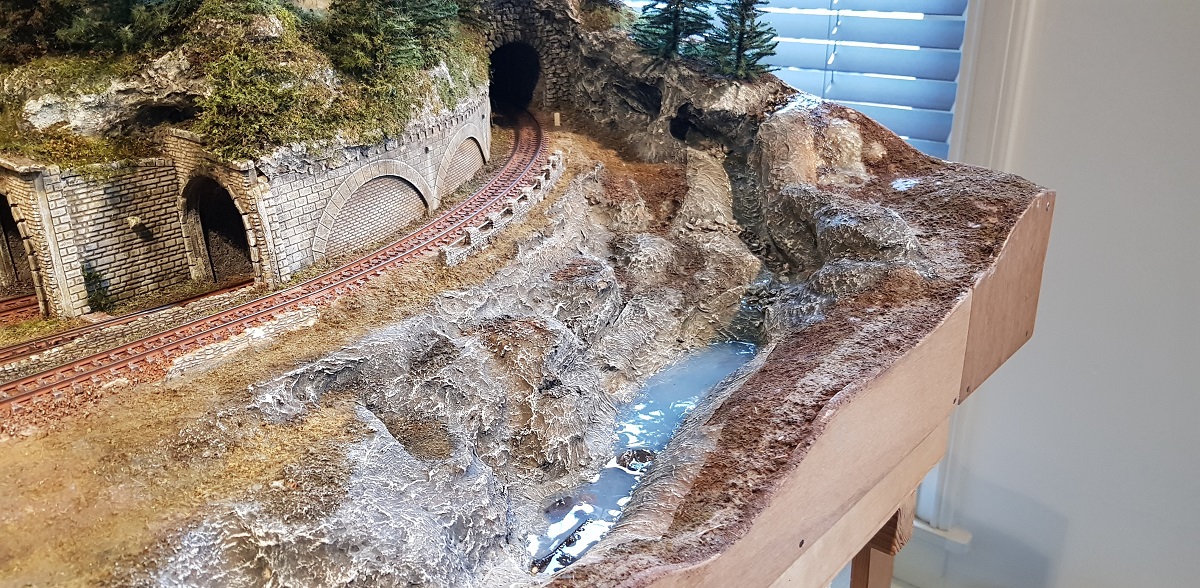 6.3.2020
Some detailing...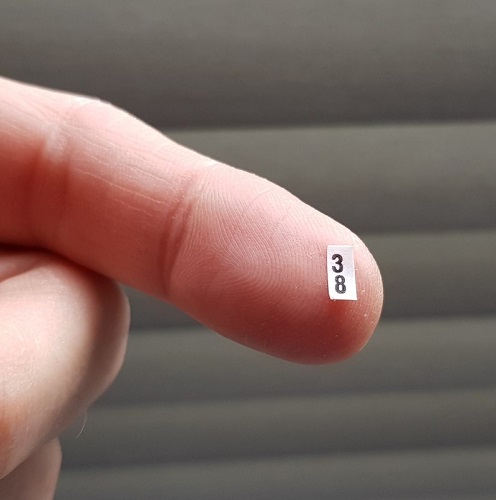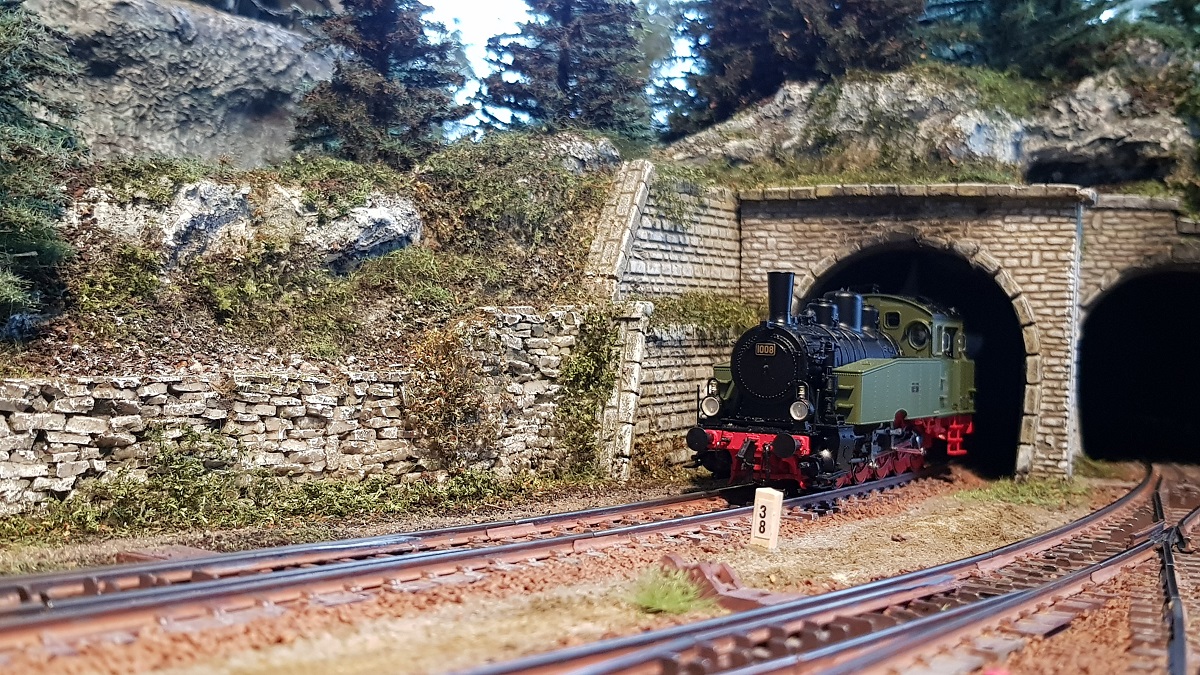 3.3.2020
Approaching the front while working clock wise...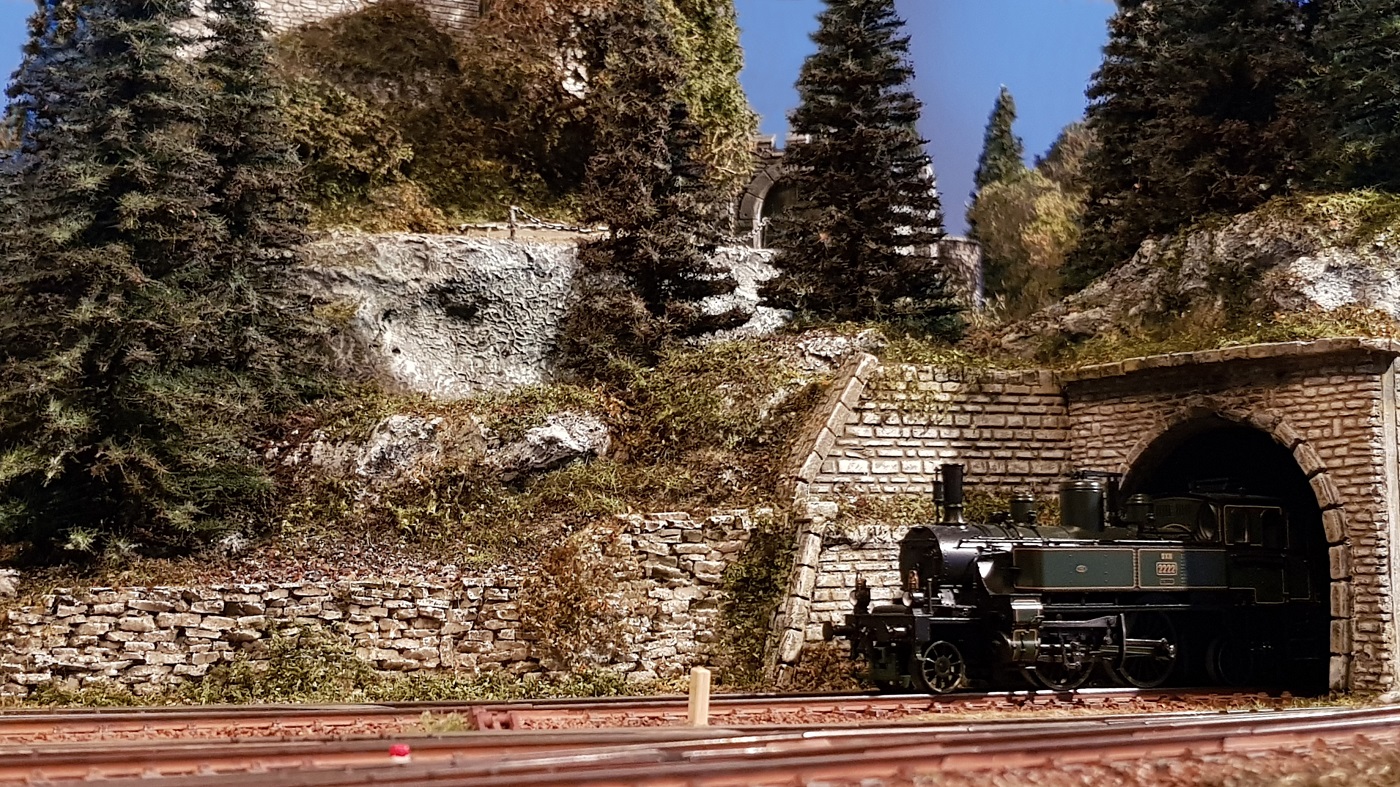 2.3.2020
For some days working on the Castle Forest, tunnel and... a new idea: the Forest Lake will also have a waterfall!
See: Chapter 23 C of the J o u r n a l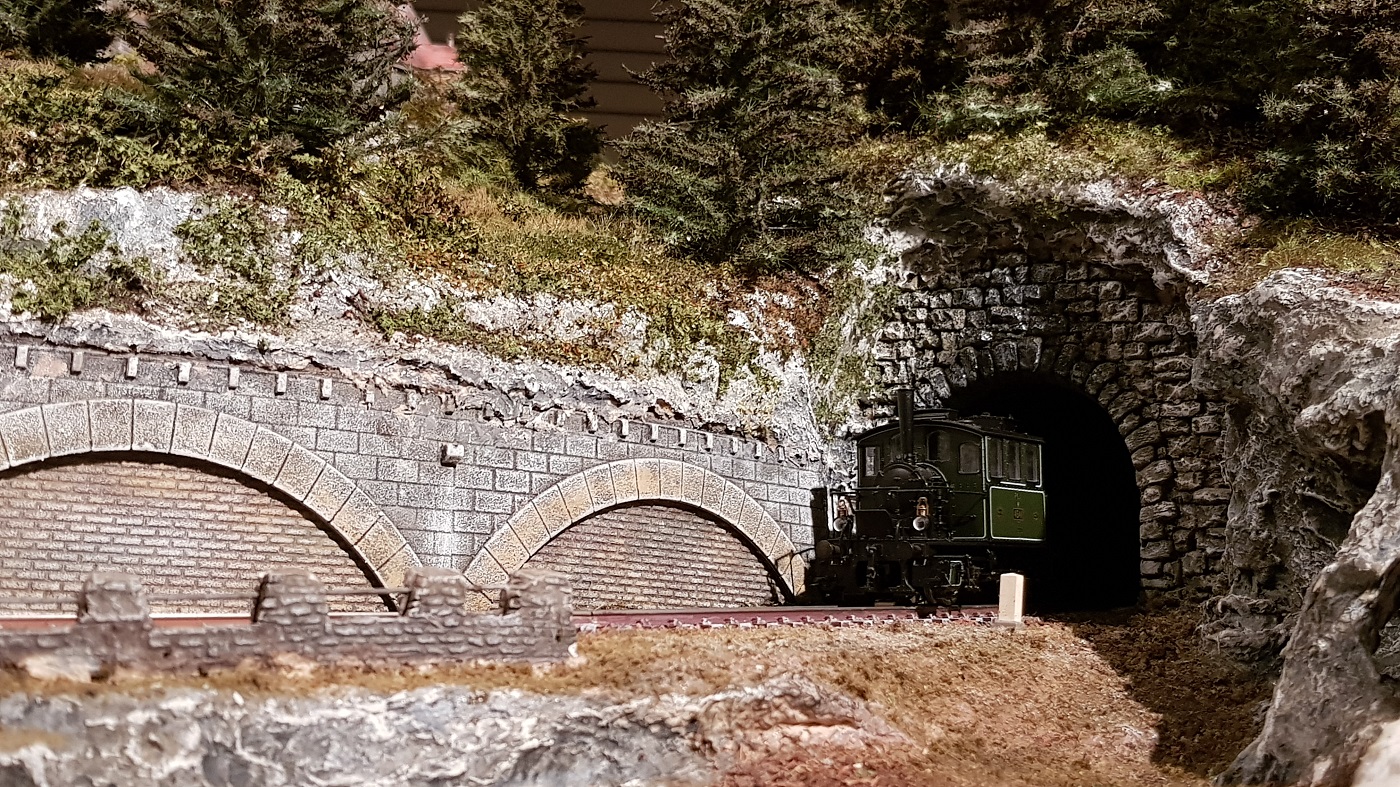 2.3.2020
2.3.2020
Two peat-fired locomotives of the Bavarian class B VI (Torflokomotiven) were painted for a more realistic look...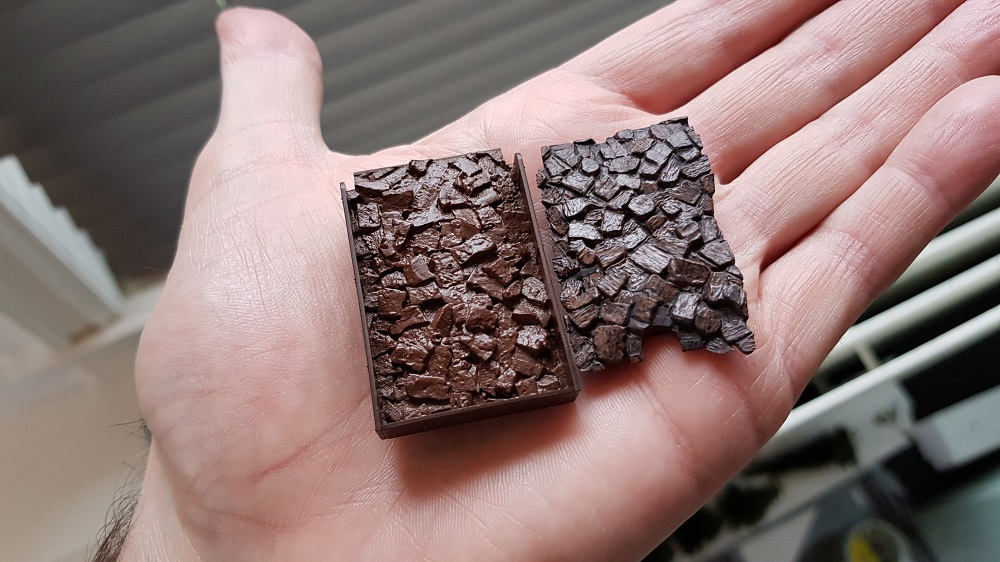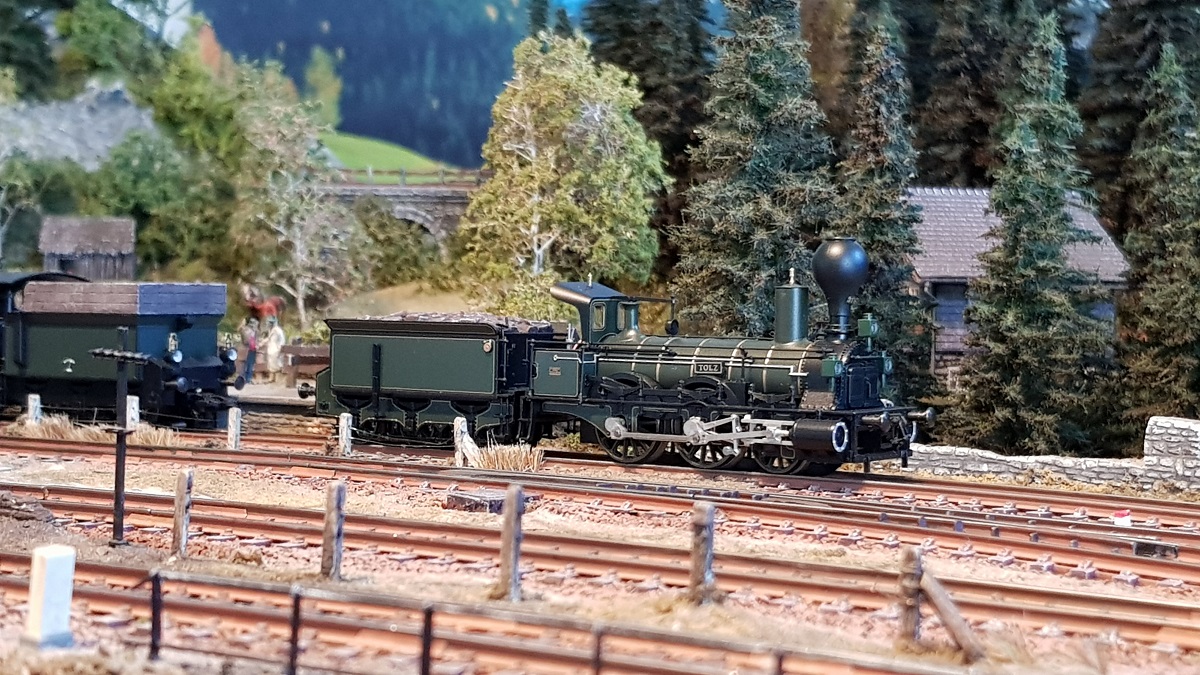 23.2.2020
A few hours to spend on the ridge on the south-eastern side of the castle.
See: Chapter 23C ~ The Hill Ridge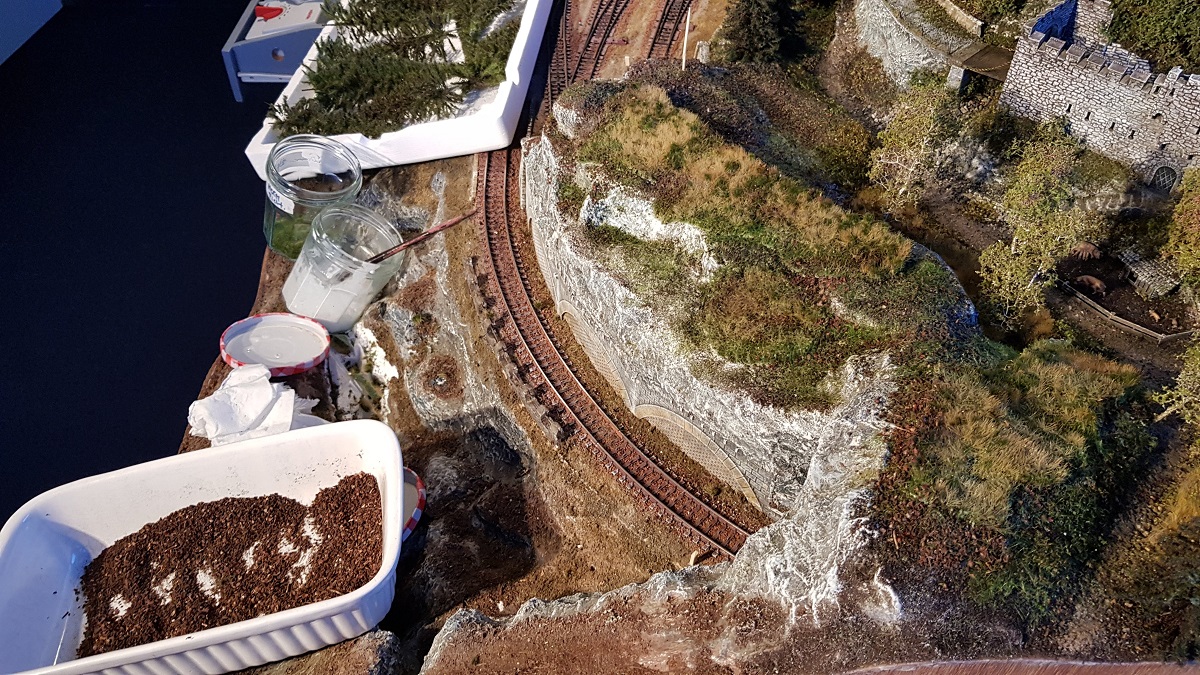 18.2.2020
Today I took the bold step to remove the ballast from between the sleepers on the small train bridge in the forest. I'm aware of the fact that white glue is pretty strong
and one needs a chisel to remove sand and ballast. However, one way or another, I managed to remove it with a small screwdriver and the result was promising.
It would have been perfect to remove the materials between the sleepers so that you might look down into the stream. But then I had to remove the whole foundation.
Therefore, I choose for stability over aesthetics...
The story about the making of this bridge continues in Chapter 21 of the Journal.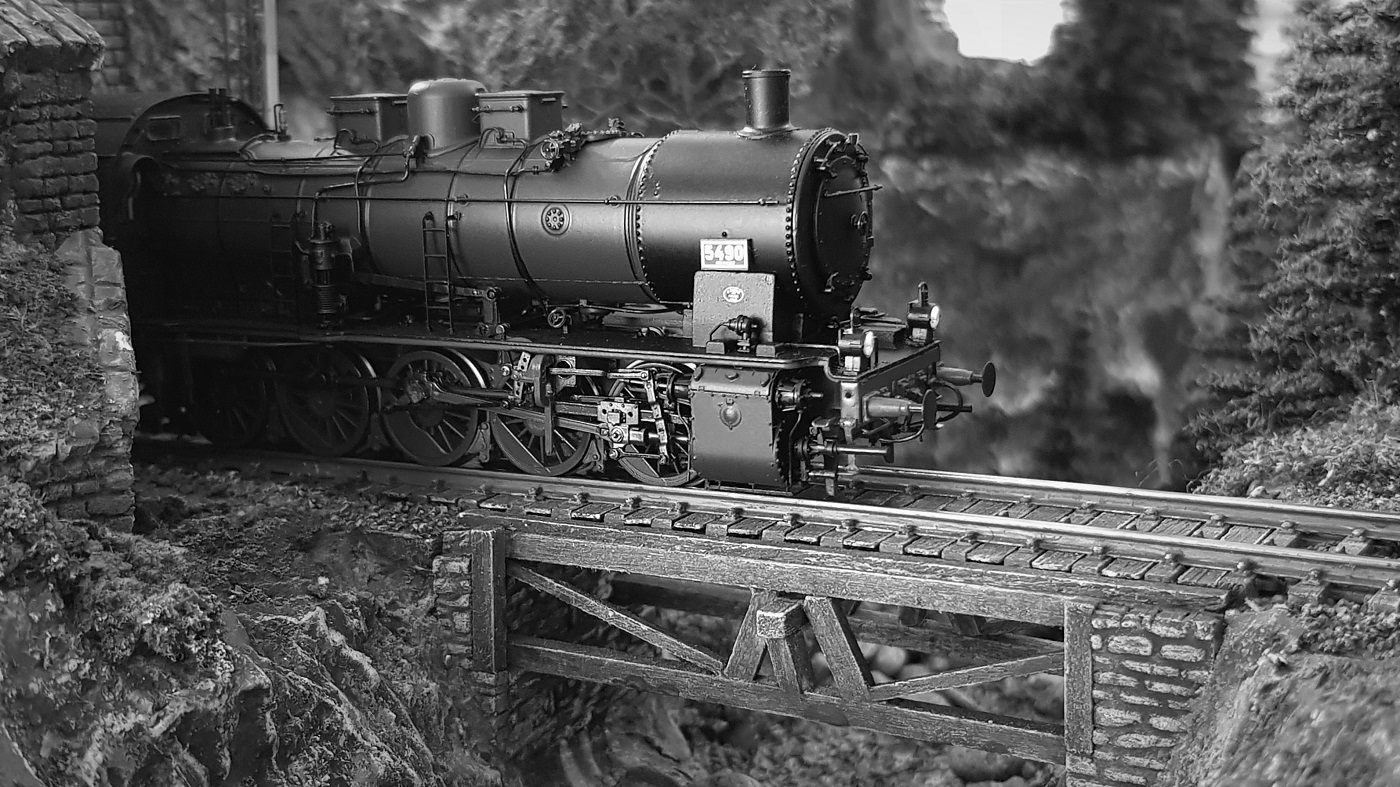 19.2.2020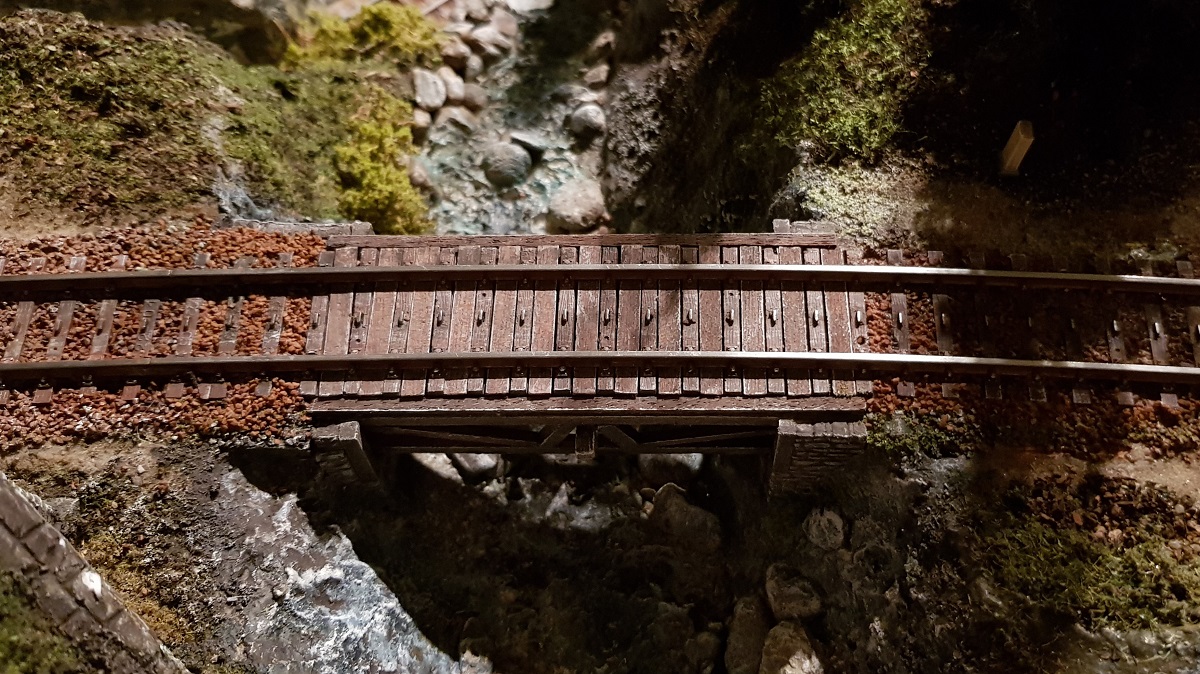 For one reason or another, the bridge seemed out of balance. Therefore, I removed three planks on the left!
Once again proved: less is more!
15.2.2020
Some photography...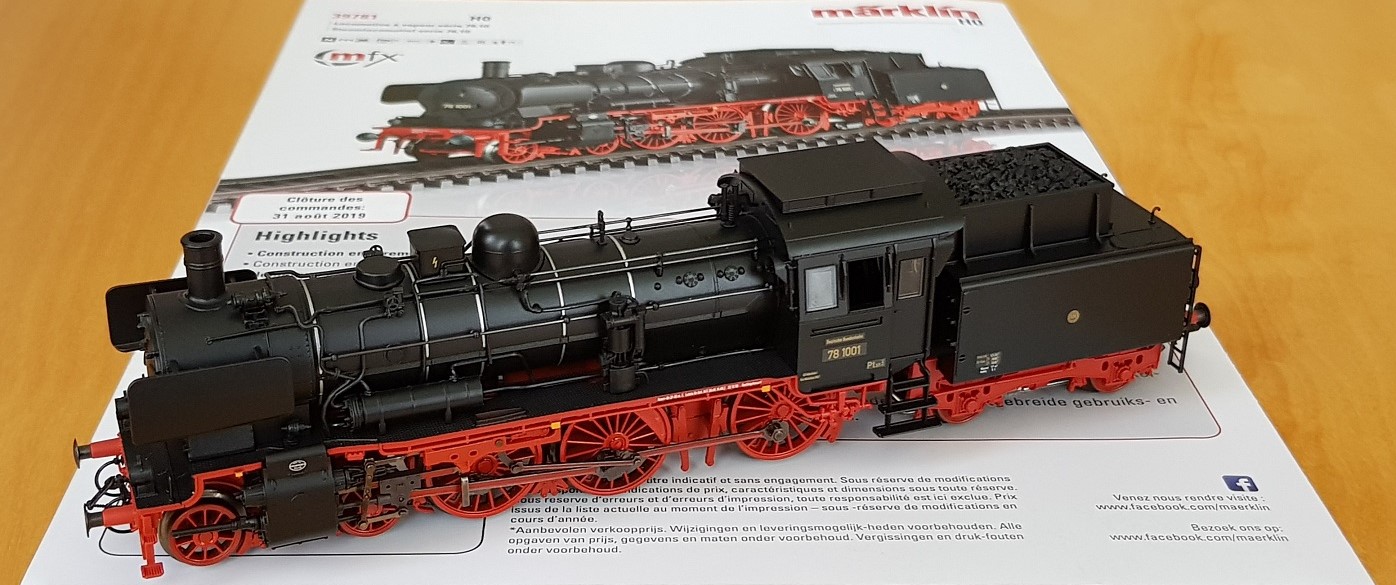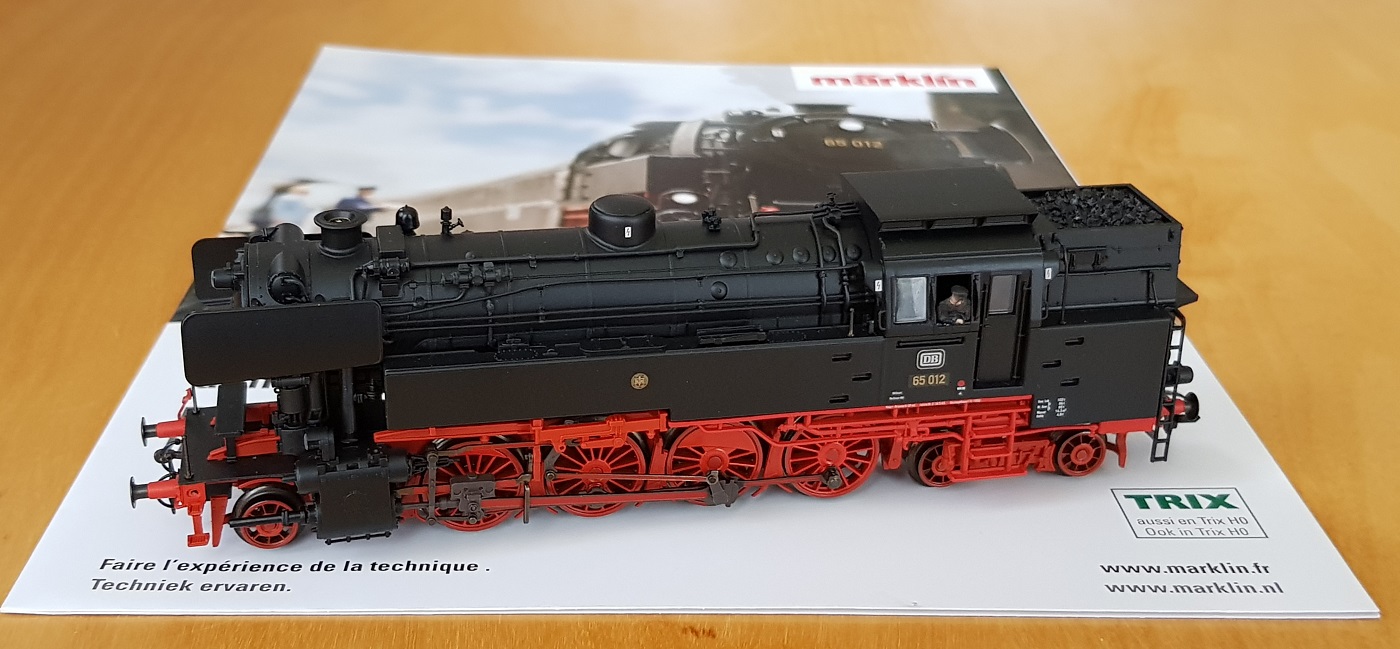 Furthermore, I gave the Pt 2/3 (Roco 79053) a Philotrain coupler and staff (Roco 'halflings').
Three out of four 'Milchwagen' got their shields 'Milchwagen' (right bottom side) and hook couplers. Quite an operation...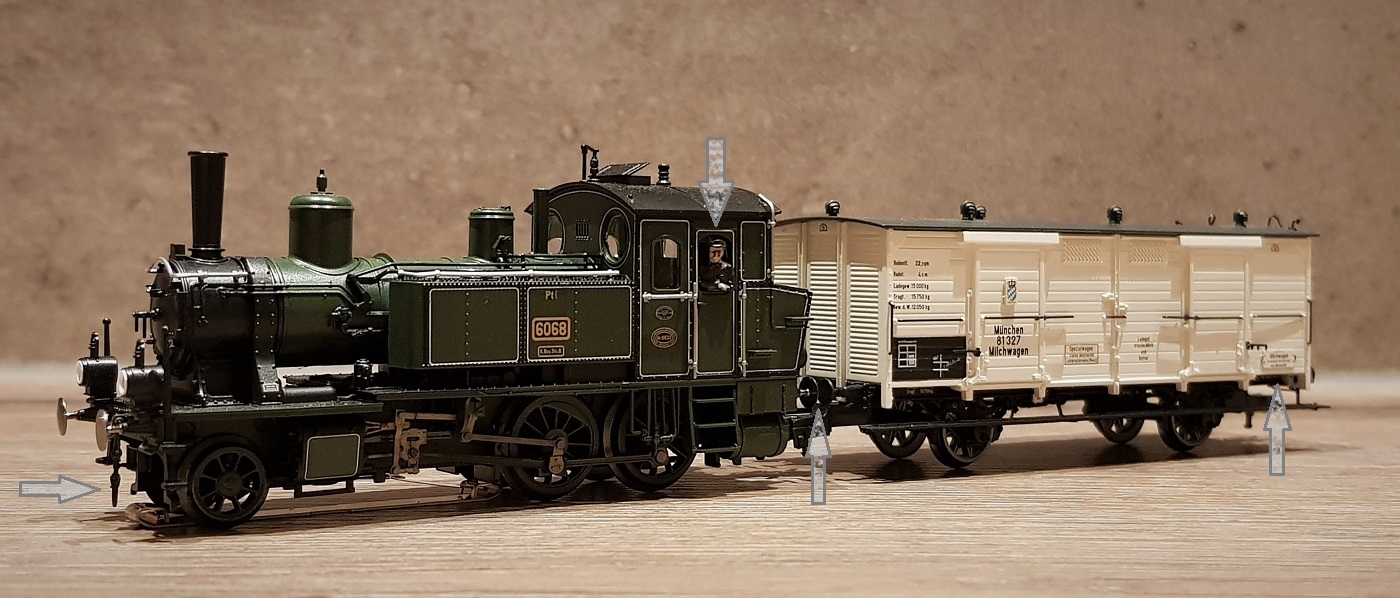 Roco 79053 with Brawa 48650
13.2.2020
The construction of the coal bunker took me all day...
The story goes on in Chapter 24.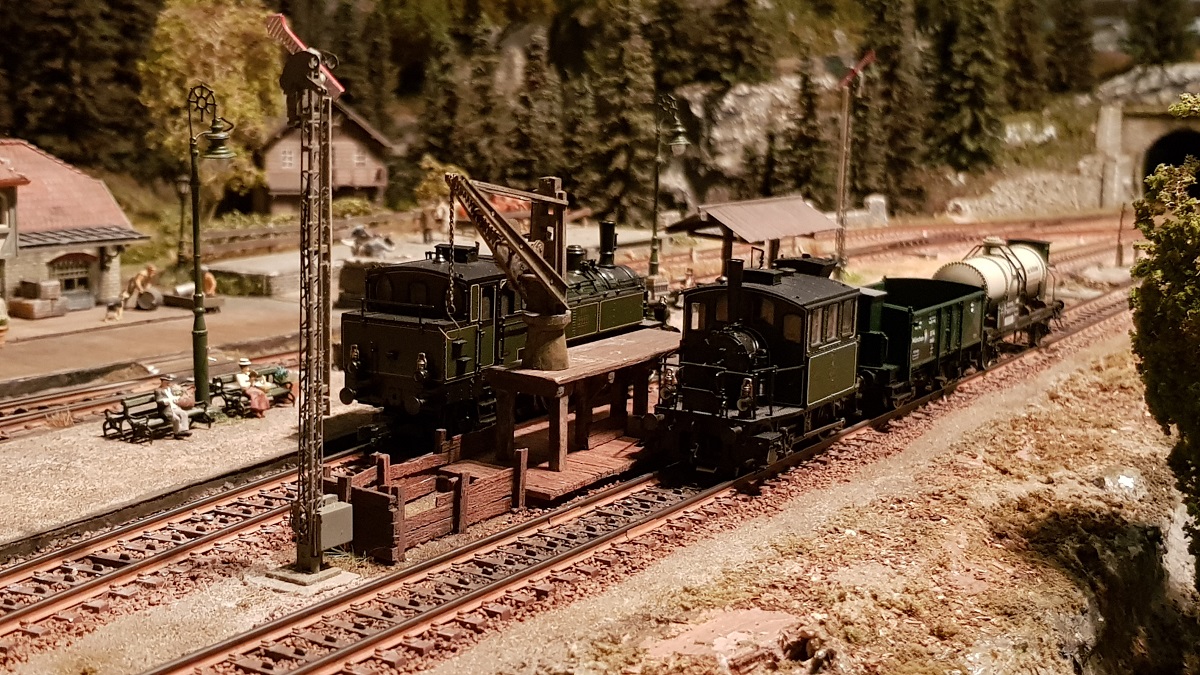 12.2.2020
Today I picked up the thread again from working on the platform. No fewer than 154 boards were laid.
This project also shows that some errors often lead to something better.
In this case: planks that were cut too short - while positioned in the curve - invited me to think of an adequate solution: a small coal bunker. Read more in Chapter 24.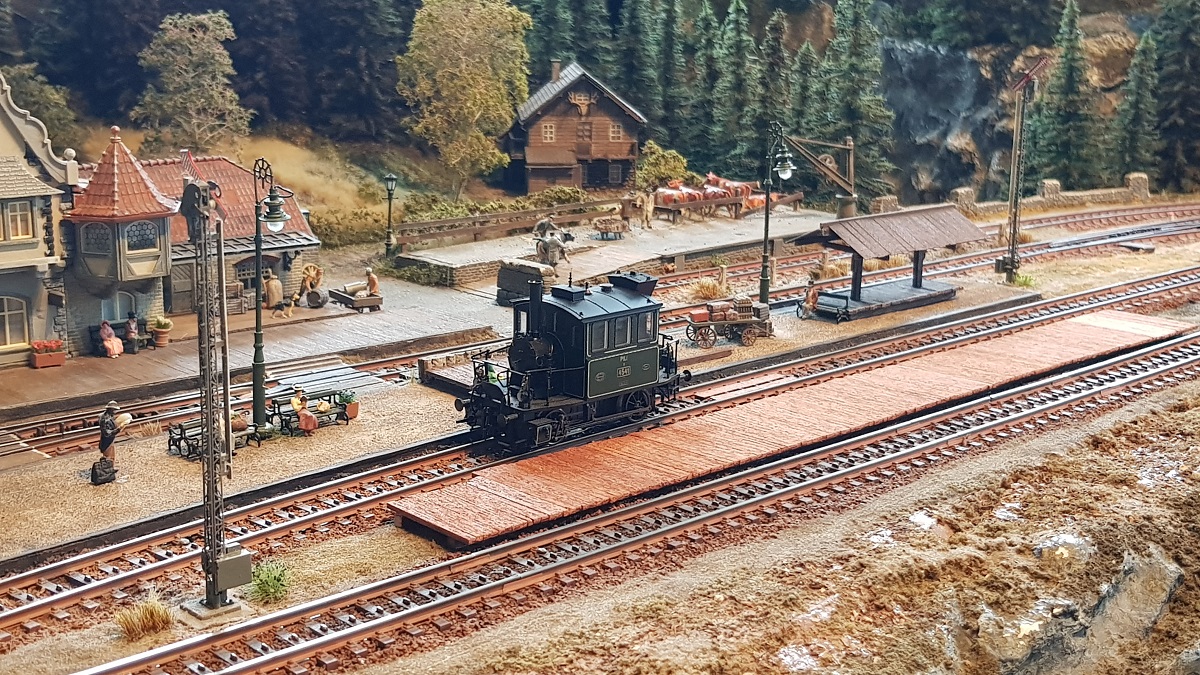 11.2.2020
At the edge of the Forest... today's work.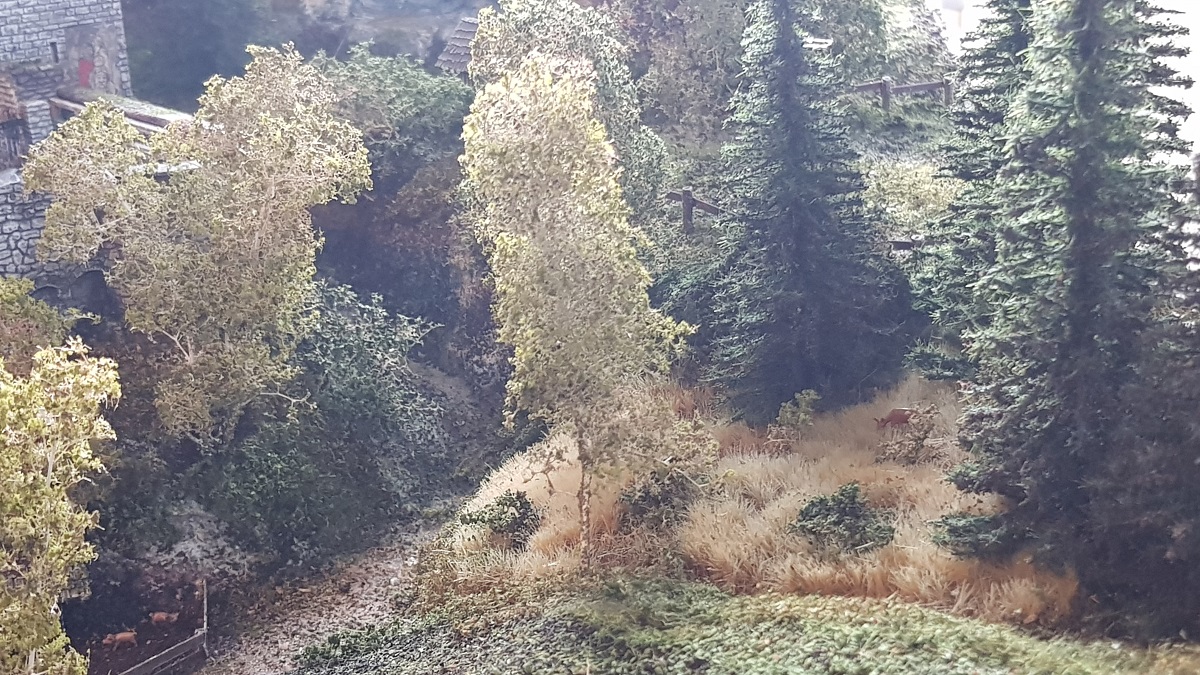 7.2.2020
A layout has never too many trees...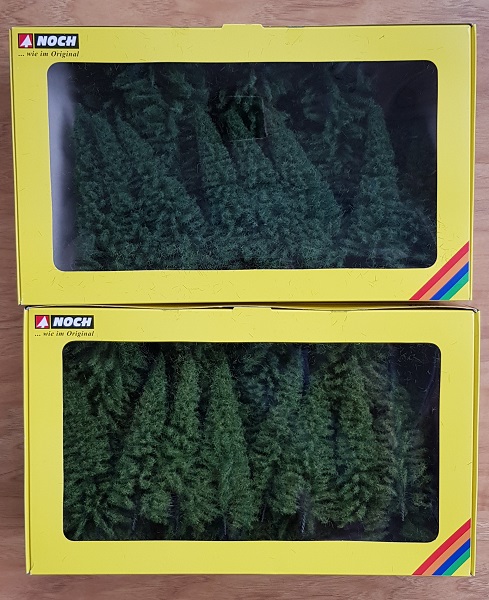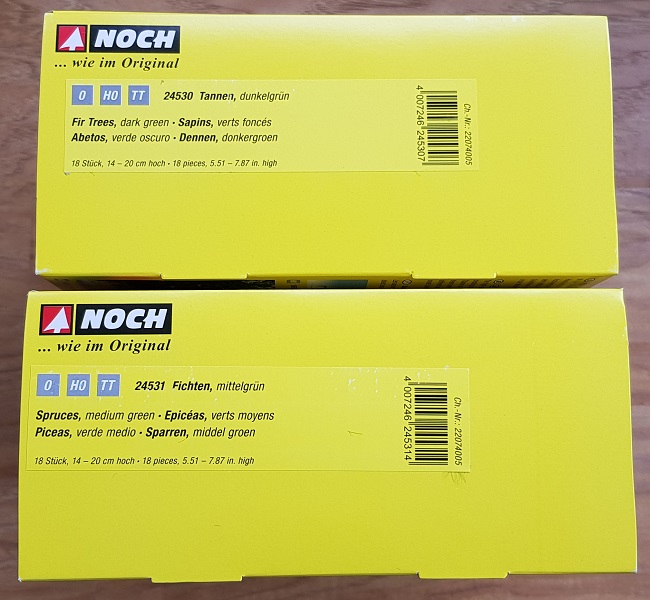 6.2.2020
T h e p i g s t y r e s t o r e d. More vegetation in and around!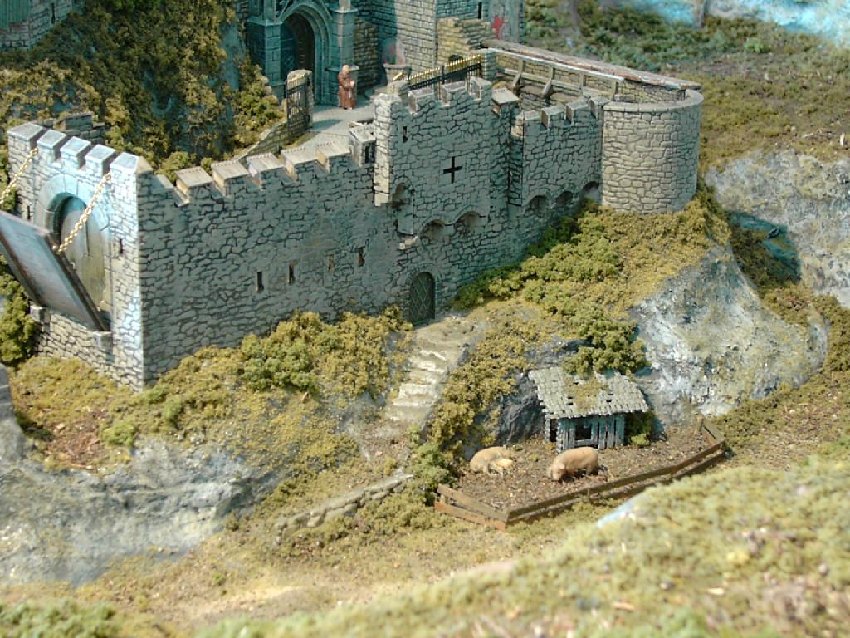 12.1.2006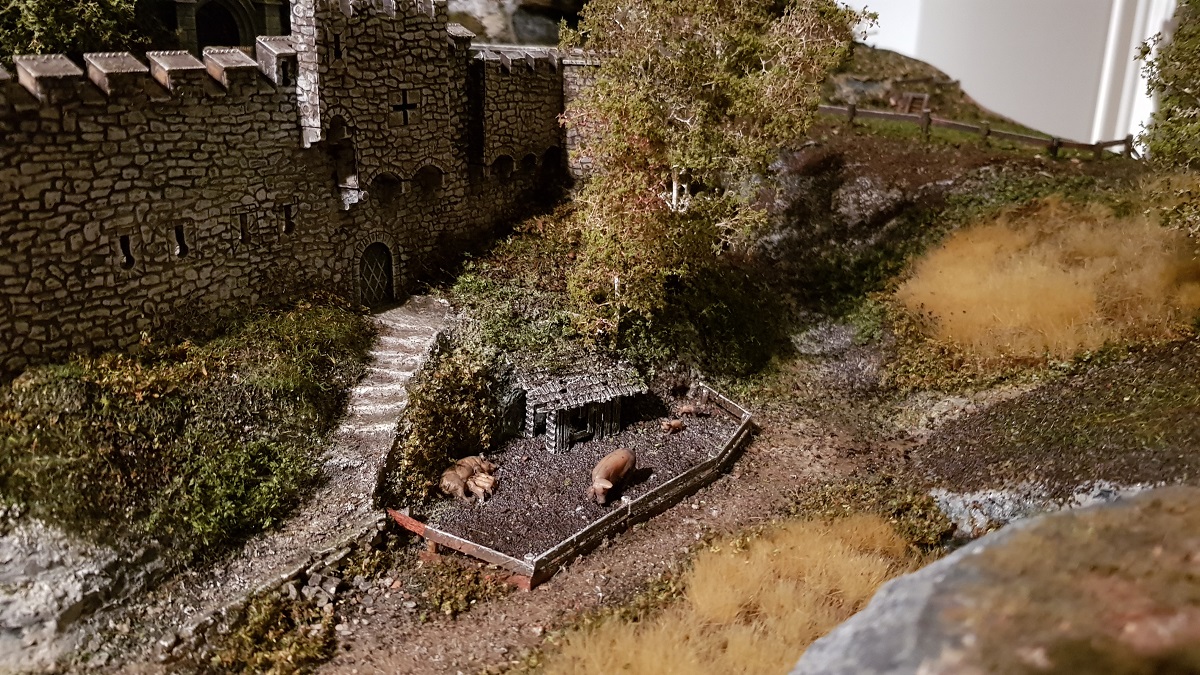 6.2.2020
5.2.2020
Working on a video of Baureihe 65... posted on 7.2.2020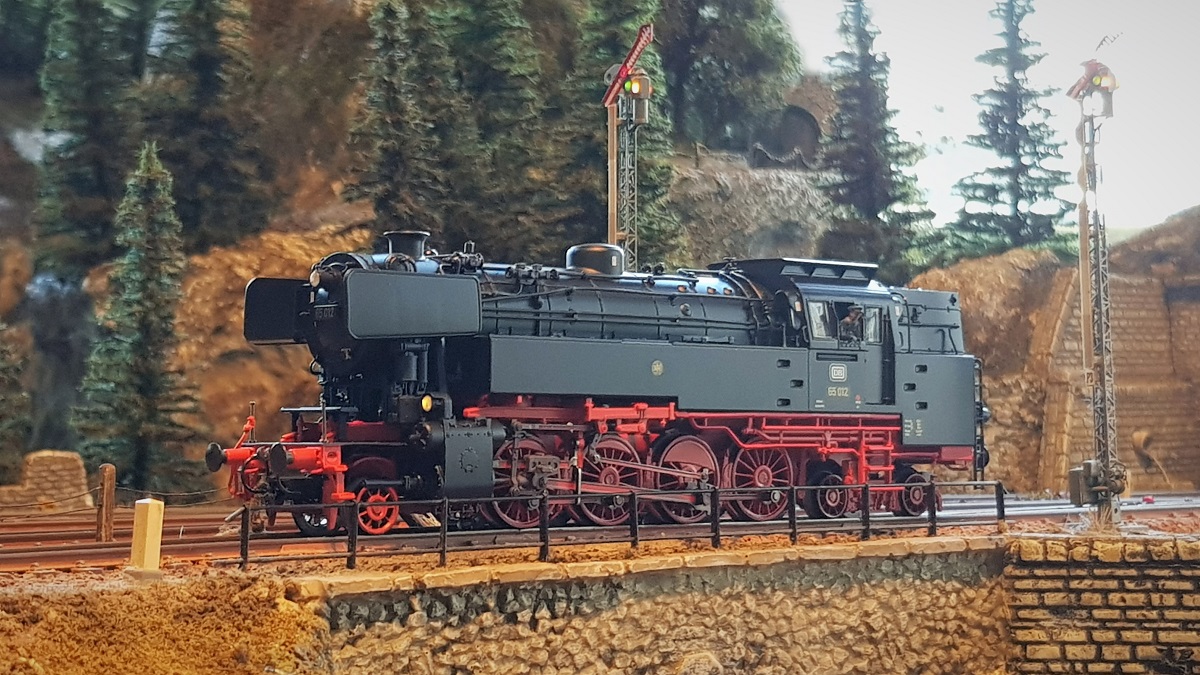 0202|2020
Today - a special date as palindrome - I posted a new video, starring the Cochemer Burg.
The music of National Treasure fits most perfect to the scenery...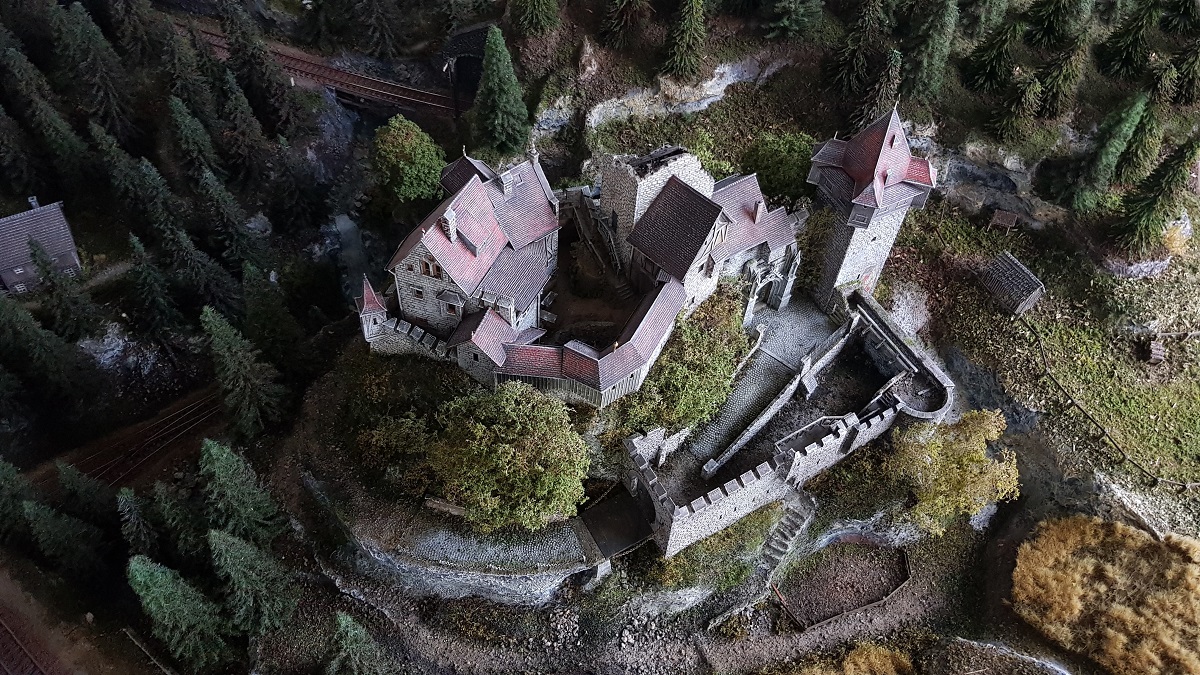 29-30.1.2020
V e g i i n t h e v a l l e y!
Read more about it in: Chapter 23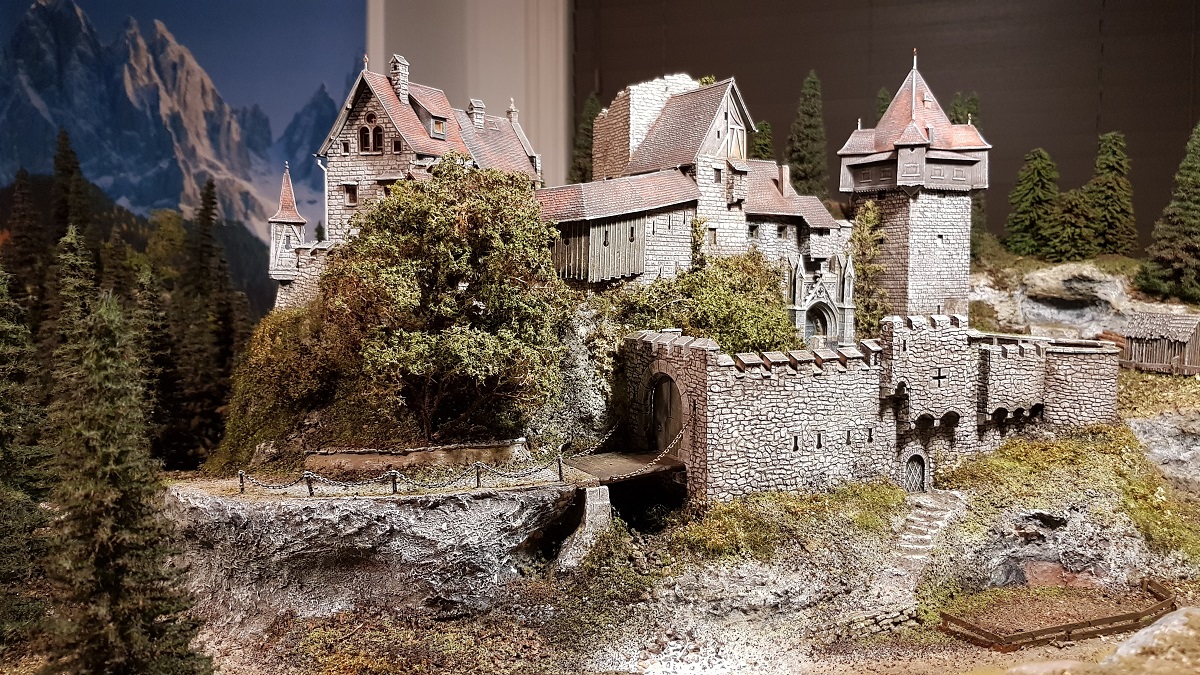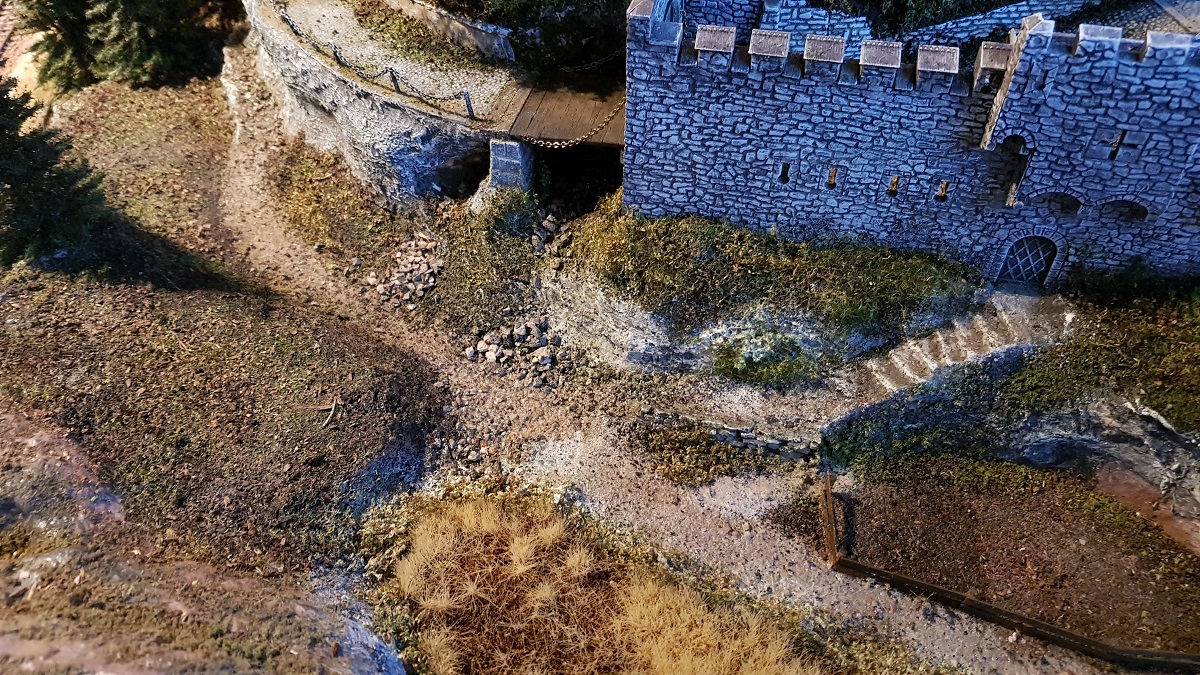 27.1.2020
Vegetation works around the castle. Read more at Chapter 23...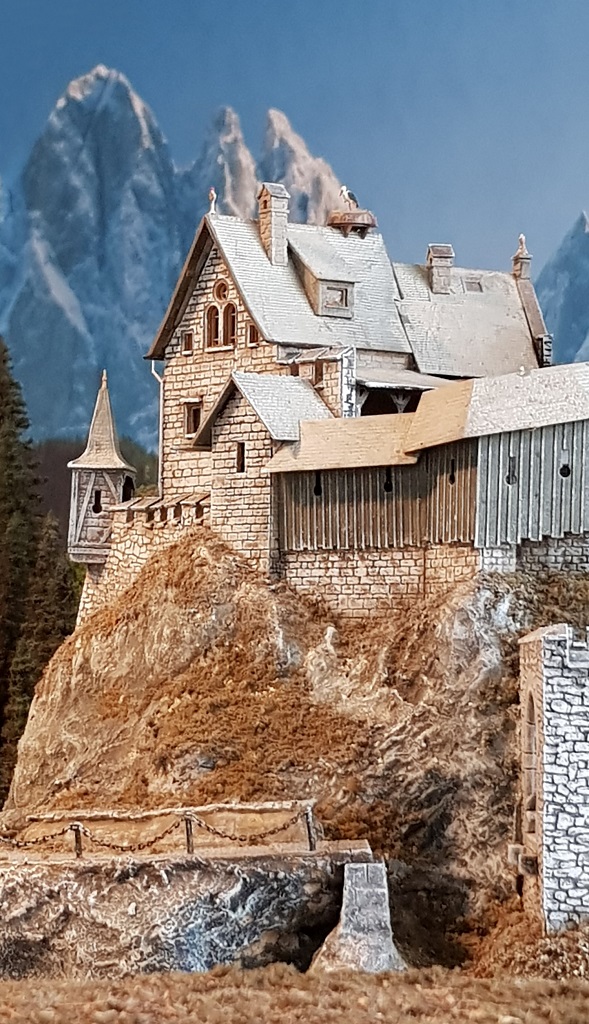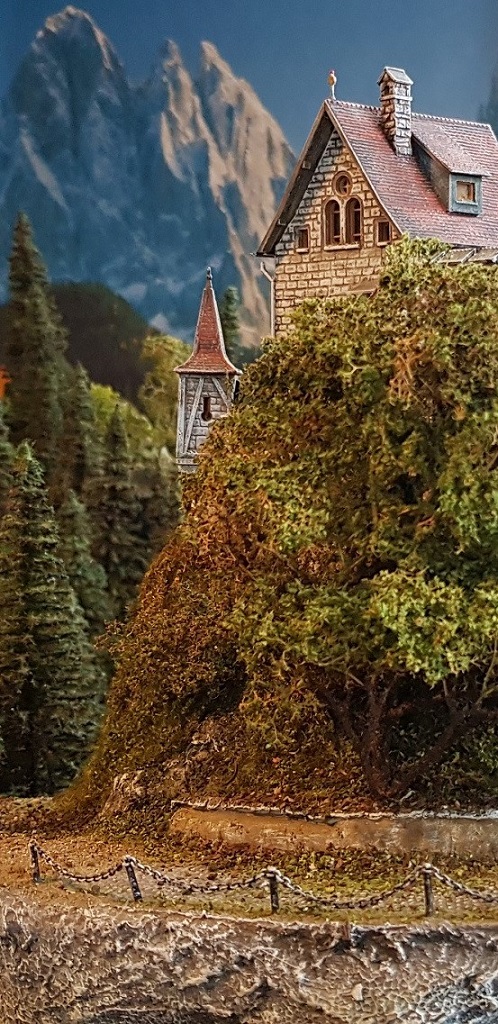 January 11th (left) and Januari 27!
21.1.2020
I finished the roof titles of the Castle and started creating a miniature on top of the ruined tower...
Read more at Chapter 23...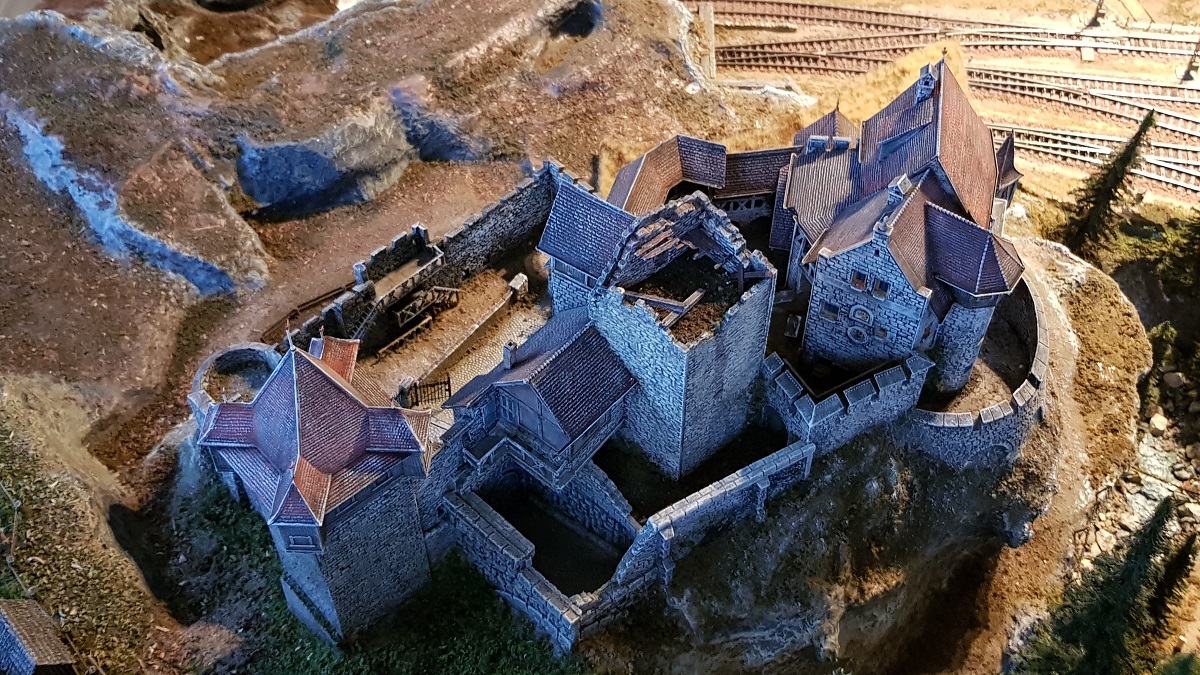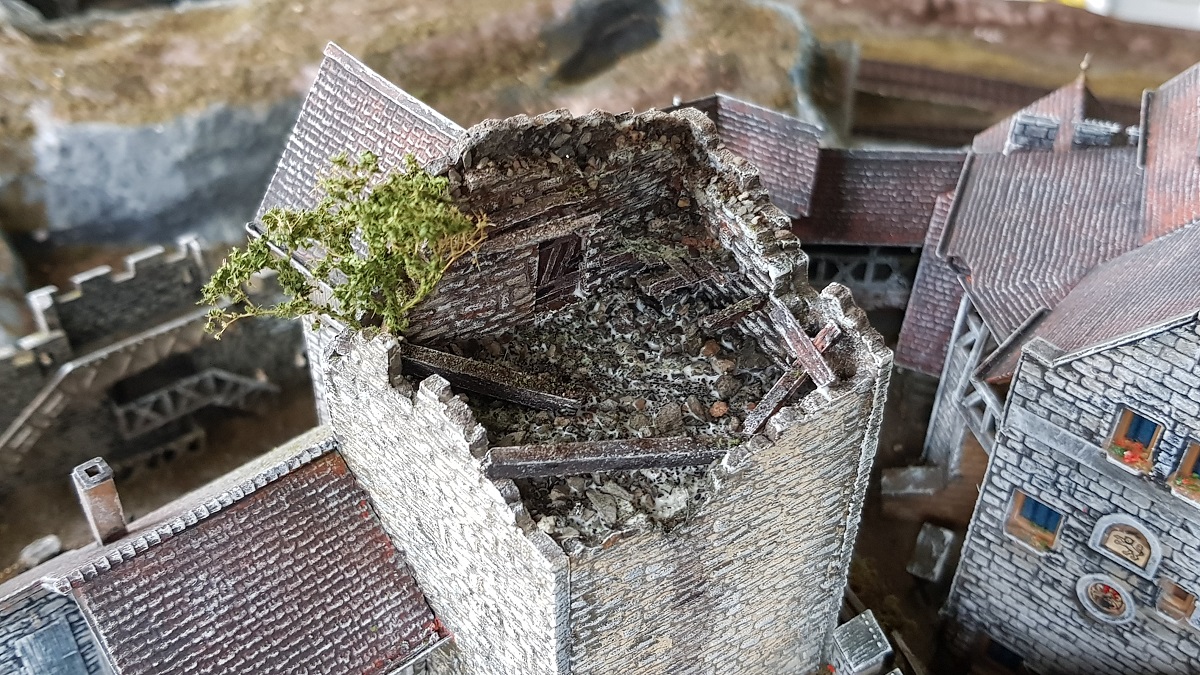 18.1.2020
A visit to the German town of Leer brought me this Trix beer van, a 2006 limited edition, found in a shop at Mühlenstraße, just lying there for another 14 years.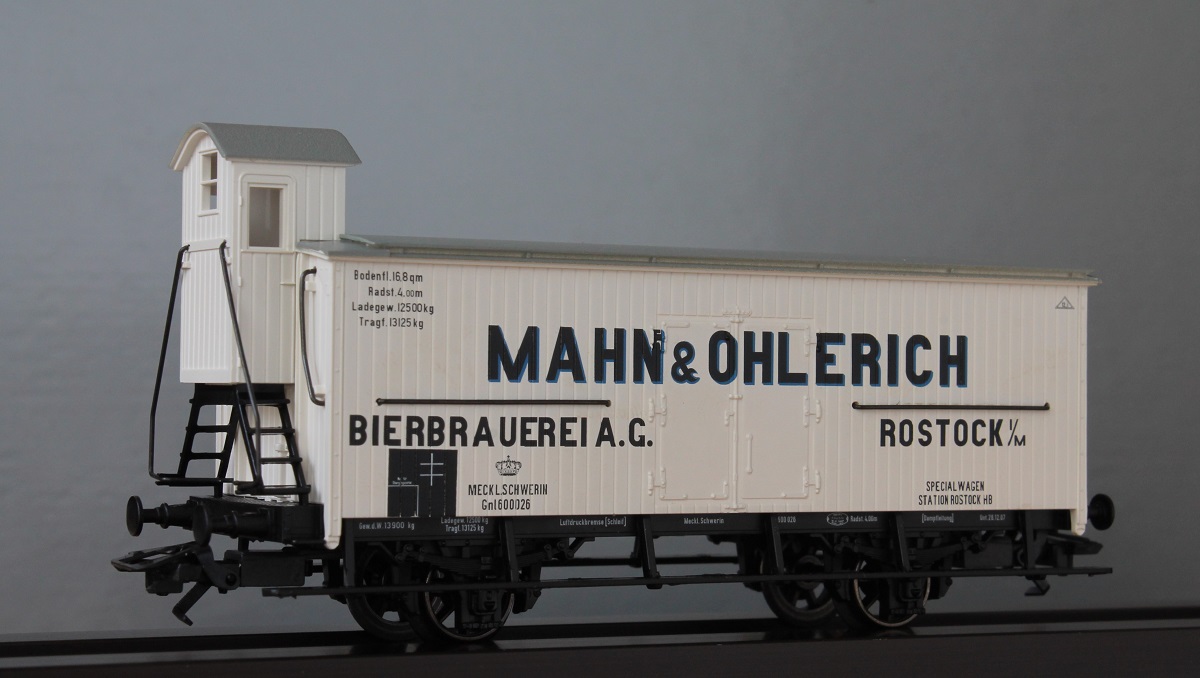 Trix 92014
17.1.2020
Mr. Eui Nam Kim of Fine Models (Otzberg in Germany) was so kind to send me on request some fine pictures of the 2019 released BR 77.1 (Bay. Pt 3/6). Since their website had only rather dull pictures with a not so stimulating grey background (with crack), and these superb models deserve a better presentation, it seemed that this has happened. Among the received pictures is the DRG version 77 124 of which only a CAD-scan is published. Much obliged, Mr. Kim!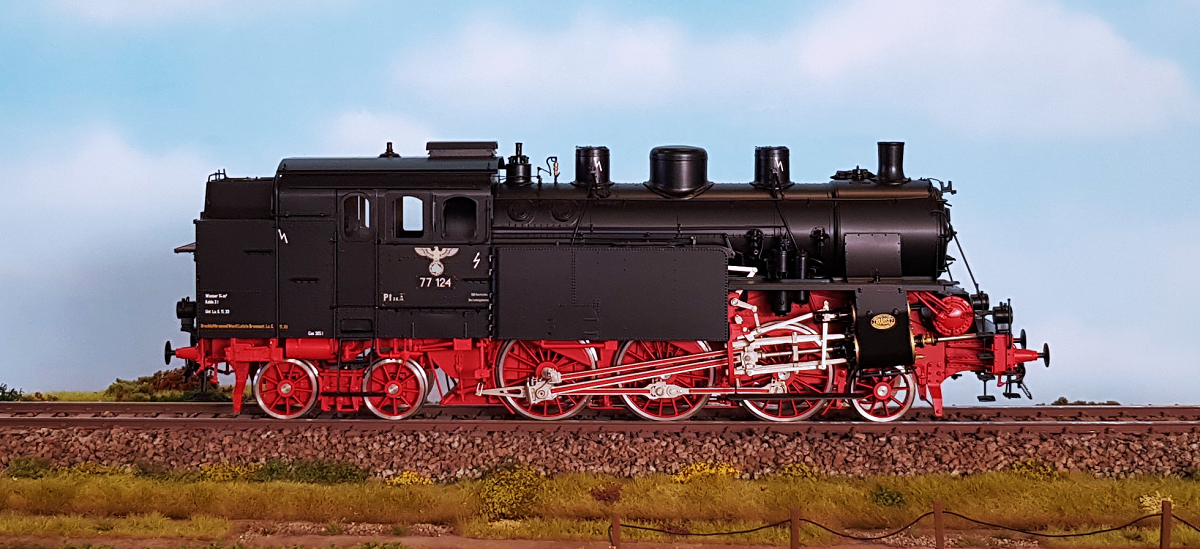 16.1.2020
A real adventure started today. Daring... daring. But yet one of the best ideas ever!
New tiles were delivered for the Cochemer Burg rooftop.
Read the whole story in Chapter 23 of Journal Part 3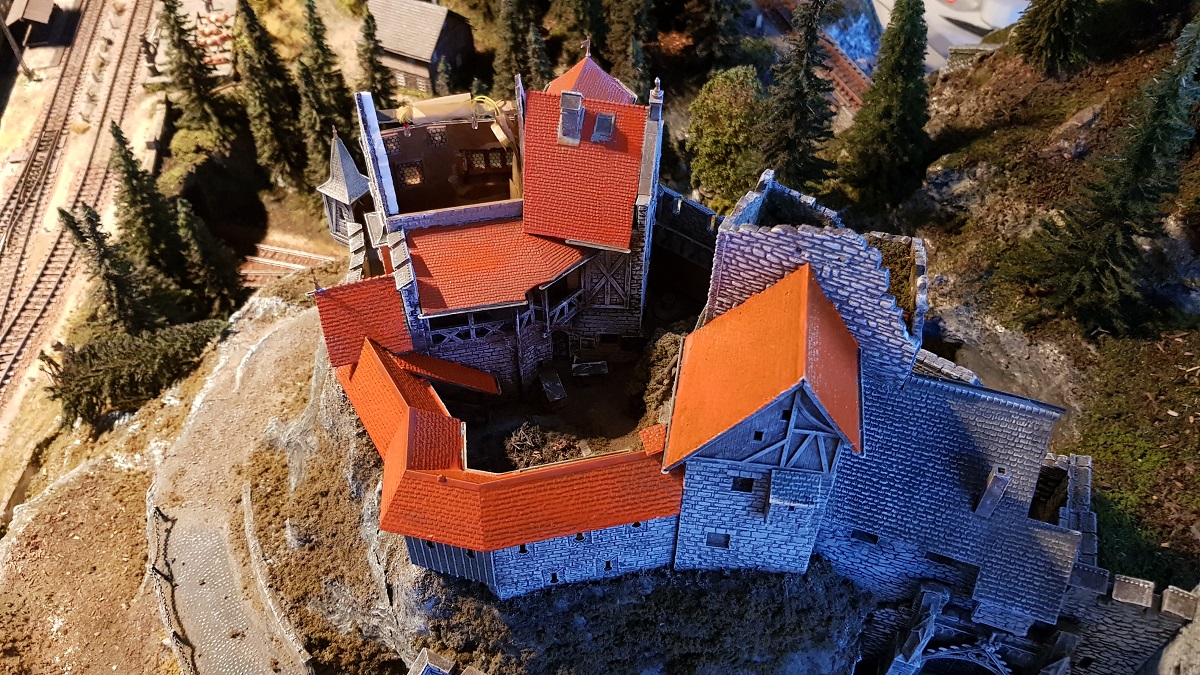 14.1.2020
Today, the DB 65 012 got personnel (Roco "halflings" with lasur topping) for the next video clip.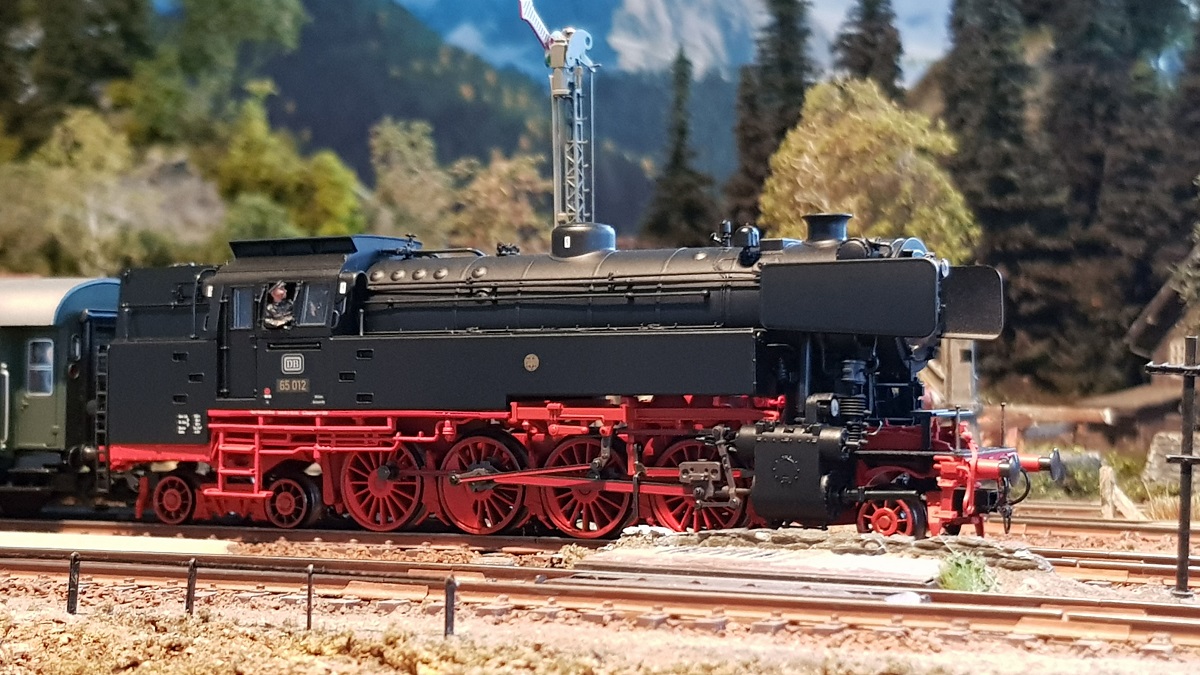 10-11.1.2020
While working on the waterfall, two other projects are simultaneously in progress:
1. The Castle ~ see Chapter 23 in the Journal!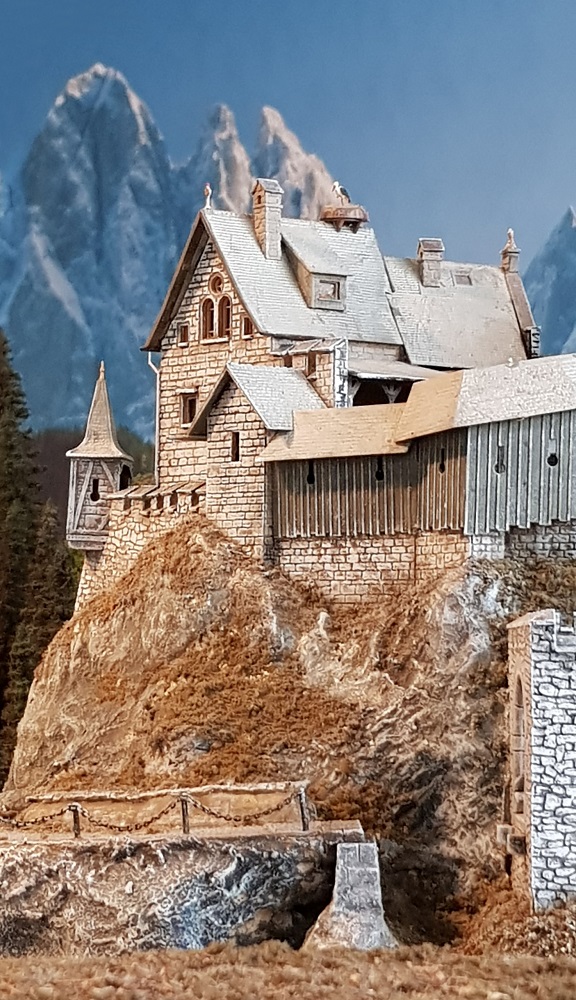 2. Another Platform ~ see Chapter 24 in the Journal!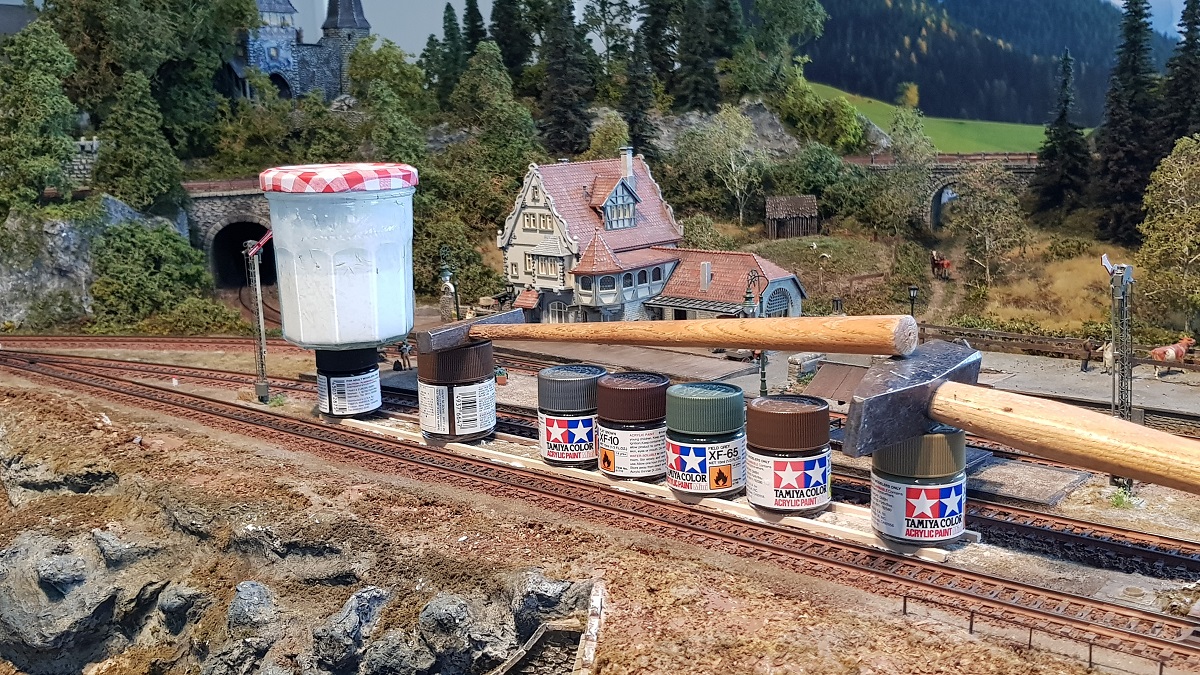 9.1.2020
I continued working on the layout again, picking up the thread of December: the W a t e r f a l l.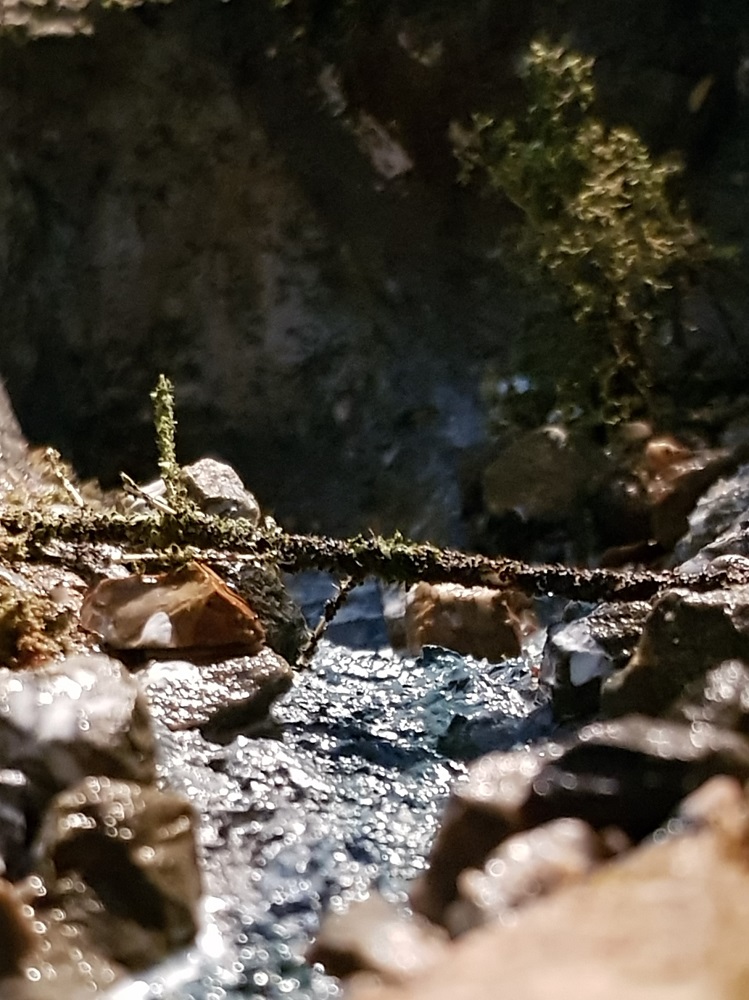 6.1.2020
Today I finished my up-to-now most elaborate film, Das liebe Landleben in Bayern um 1919.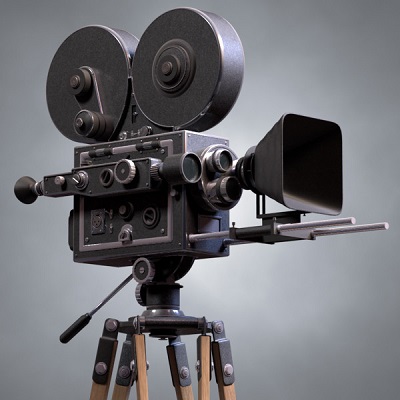 It took me some 5 days (and nights) in filming, editing, finetuning, searching for the right atmospheric music, looking for the sound of birds in the forest, etc.
While nearly finishing my film, I found a poem by this German poet called Karl Christian Tenner (1791-1866), who was born in the Bavarian Pfalz. How fitting!
His poem "Das Jägermädchen" fits most perfectly with the atmosphere surrounding the Forest Lodge, which in fact is the real star of this movie.
It was my specific intention to give this particular film a true and authentic German atmosphere, say Bayern pur sang.
Therefore I choose not only a German title, but went for a complete German text as well as a timeline according to Bavaria around 1919.
Even specific German words and phrases (terminus technicus) considering the German Railways in the early 1920's were not ignored.
Moments of reflection were intentionally added between different shots by using pictures of several Bavarian locomotives starring in this movie.
The final forestall shot with only singing birds is in effect meant to be the echo in our memories and for treasuring a time past.
Watch 'Das liebe Landleben in Bayern um 1919'
PS: I am most humbly flattered with over 700 views on YouTube within a day, as well as the kind gesture of mr. Jörg Vallen from the Busch Company a day after,
who kindly posted a message on their Facebook Account, which received already 497 likes in two days.