Latest News:
Thursday December 30th
After I started the construction of Stift Cochem on January 30, as an extension to the Cochemer Bahn, I got the module ready today - after exactly 11 months.
You might say that - in a way and left some finetuning - the Cochemer Bahn is hereby... f i n i s h e d.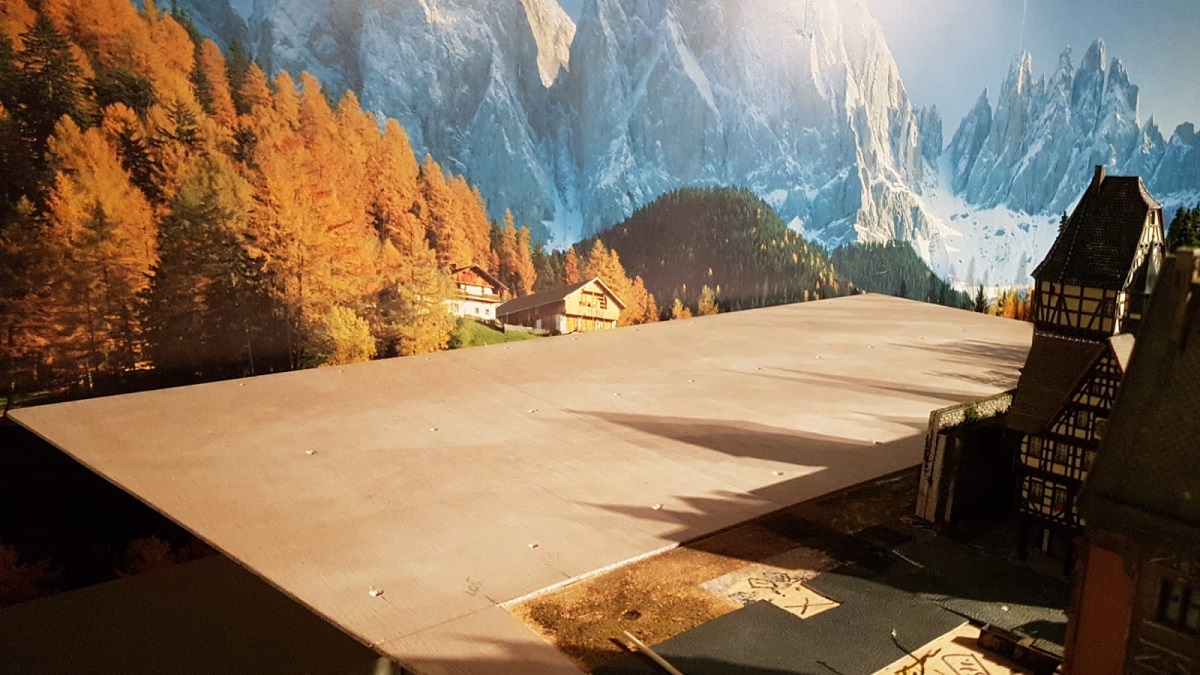 January 30th, 2021 until...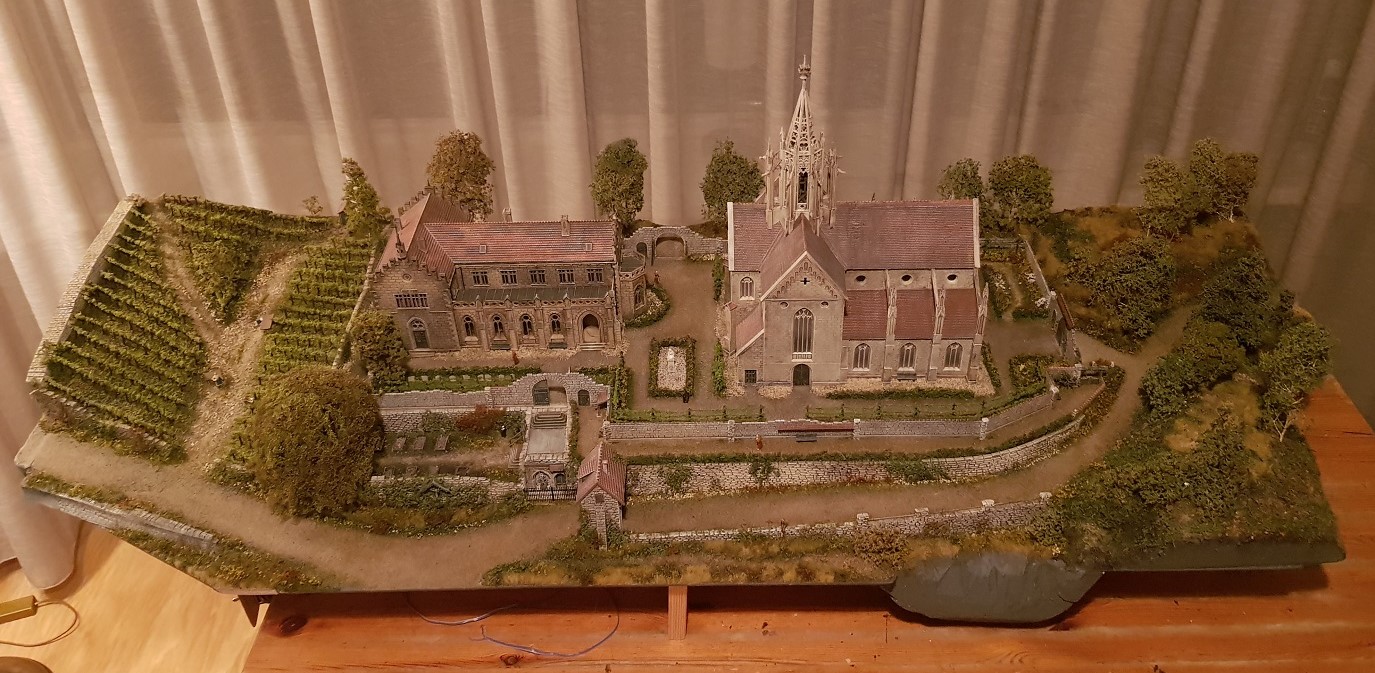 December 30th 2021!
Thursday, 23/12
While working on a new video starring two Bay. D VI locomotives (Fleischmann's Nr. 1802 and Nr. 848 Atropos), I discoverd two pictures left in the files, now added.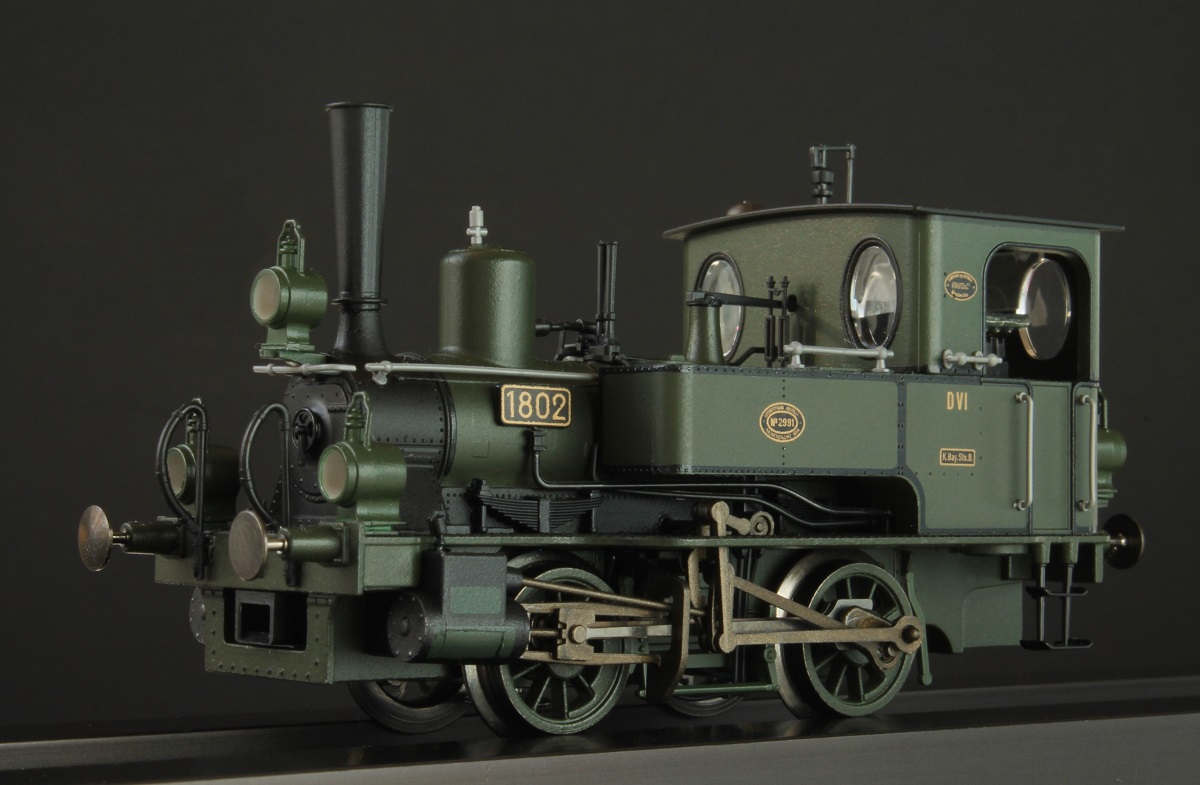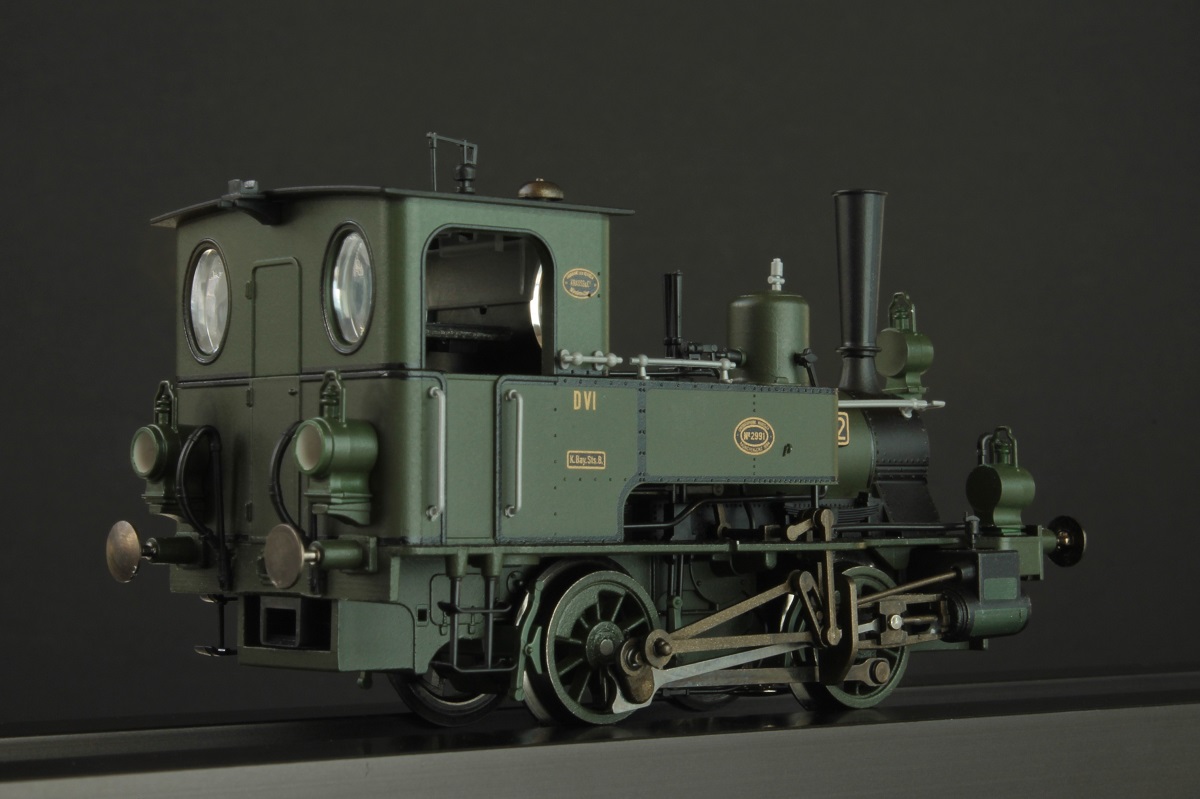 Fleischmann 400602
Wednesday, 22.12.2021
The area of Stift Cochem is getting more residents. Read more in Chapter 15.4.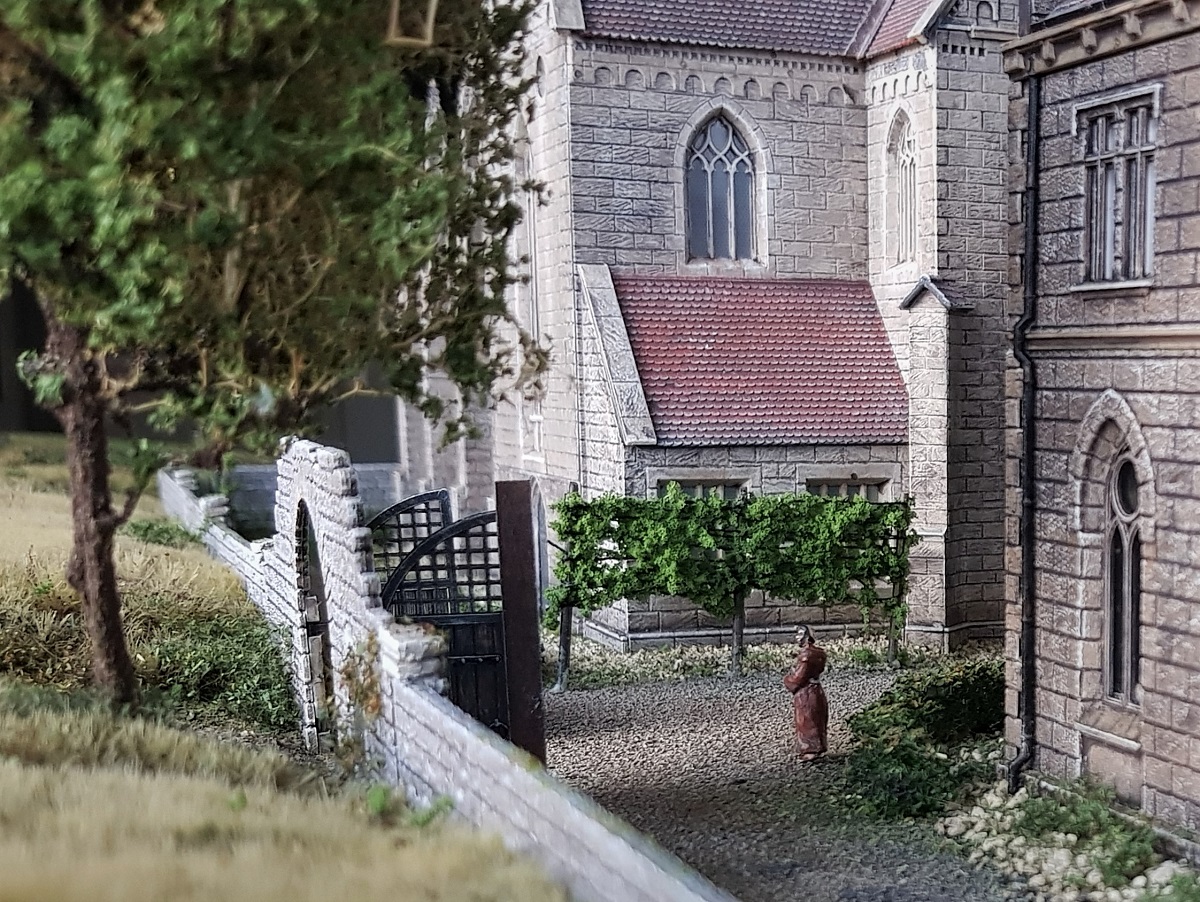 Waiting for the beer wagon to arrive...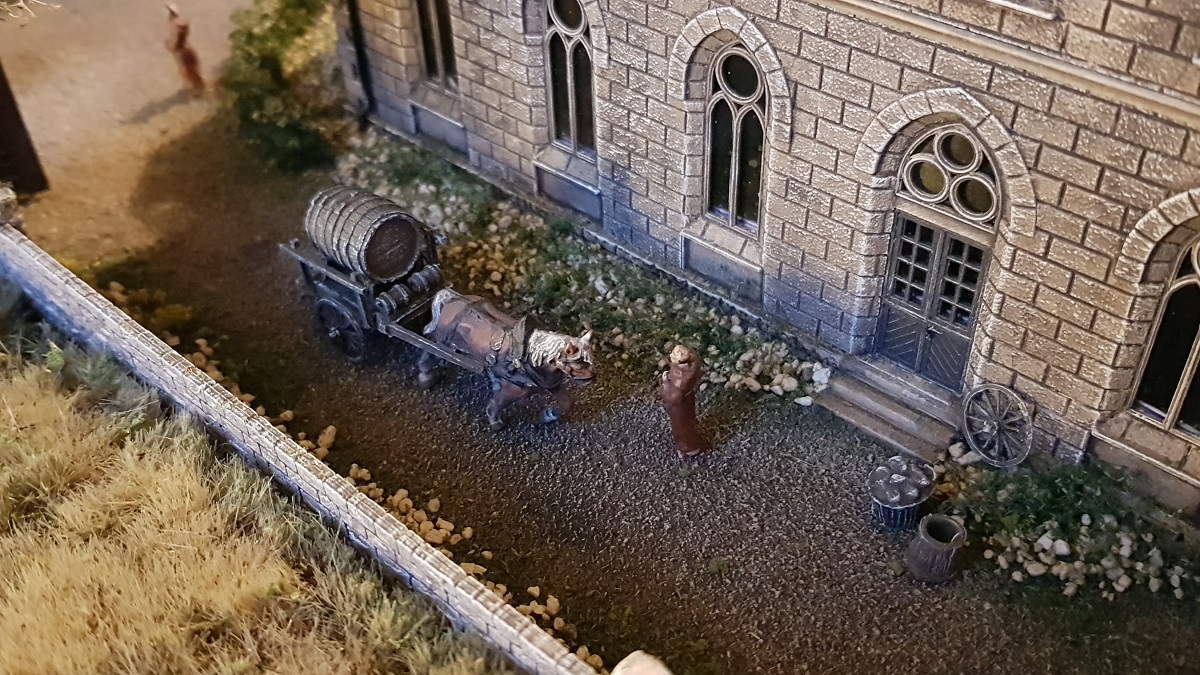 Tuesday, 21.12.2021
Last weekend, my friend brought back my D VI Atropos (Fleischmann 481803) after a small repair. Now I can call it truly mine.
Having the parameters set after my liking, it was time for a photoshoot as well as a videoshoot of the Atropos on the Cochemer Bahn.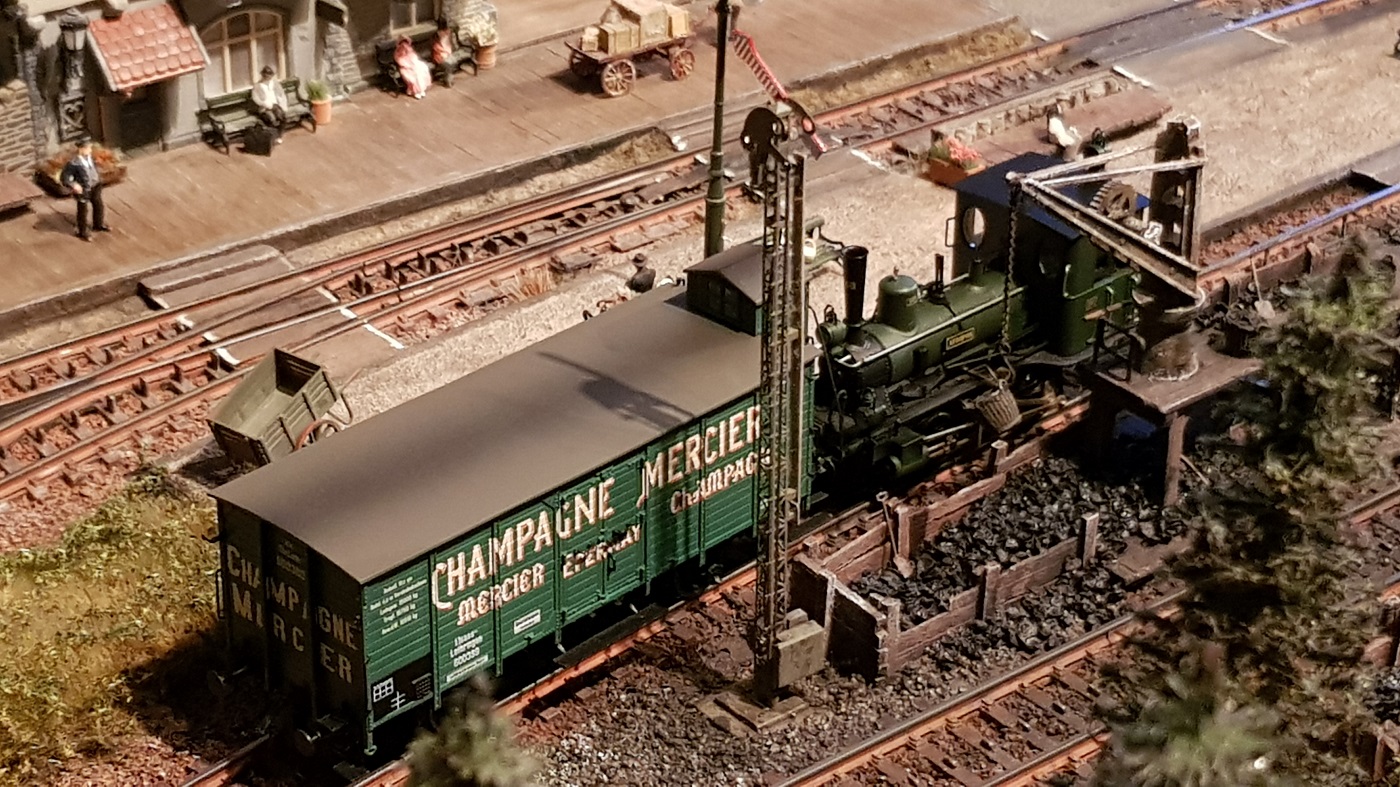 Sunday, December 19th
My fiend S. stayed this weekend with me and brought some locomotives from his own collection to run them on the Cochemer Bahn (coming up soon in some videoclips).
One of them was the Badanian Kittel (CidT 1004), which has never run before.
Before leaving back home, while putting the Kittel in the box again, he said: "Didn't you want this particular one anyway? I said: "Why not?"
And so the 37257 changed hands.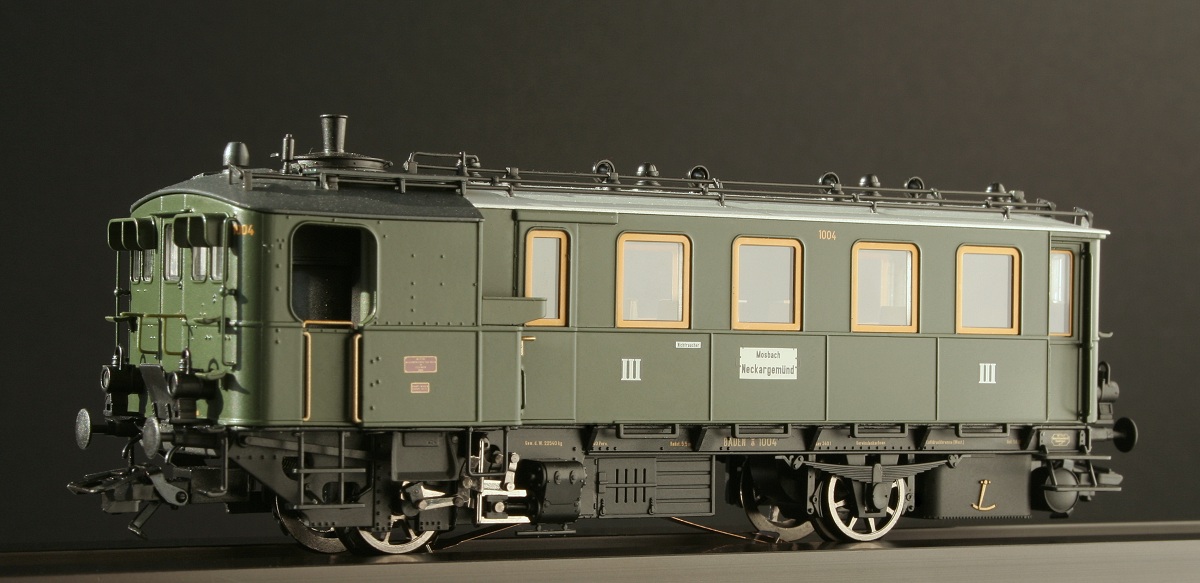 From the shop he brought me the Packwagen Osten 4021 (Brawa 49400)...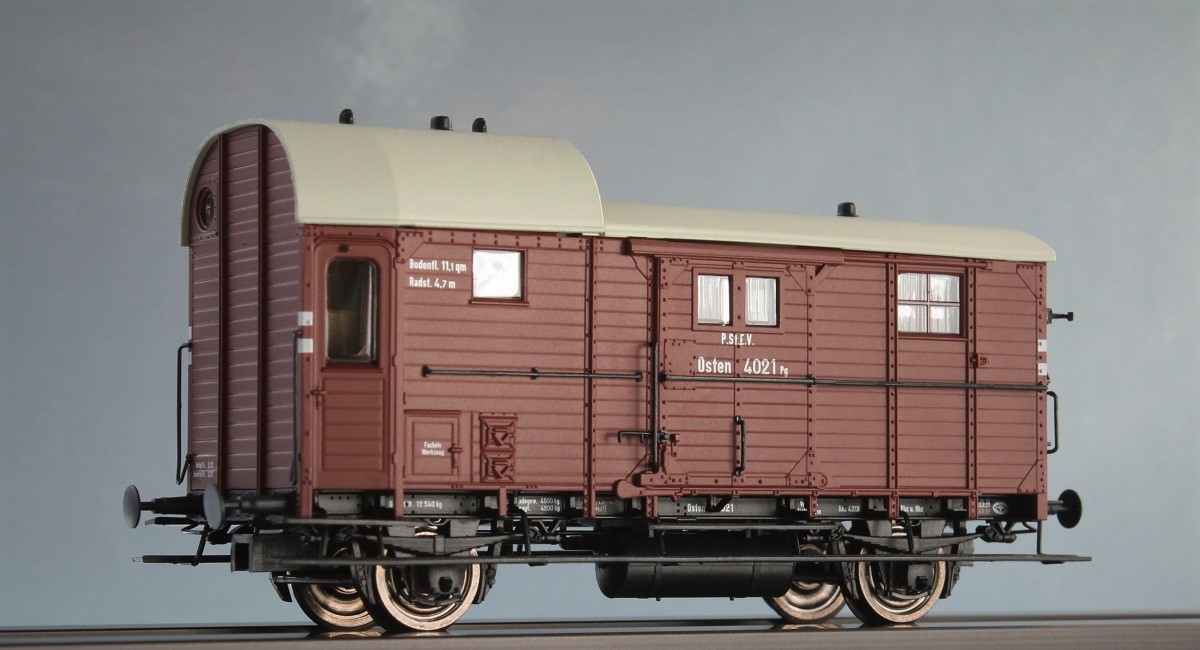 ...as well as a 1st class coach (Märklin 4032) form the old series, to complete my set Märklin 3148.
Lovely RETRO... reminding me of my dad's first train (3048)!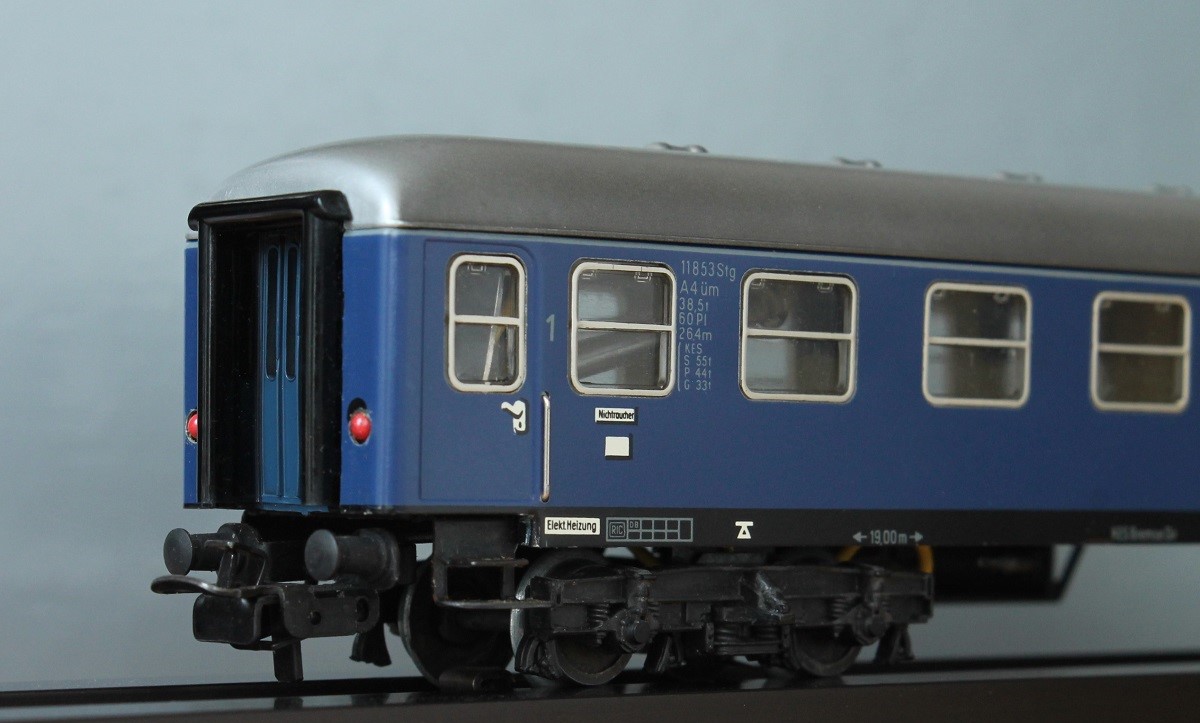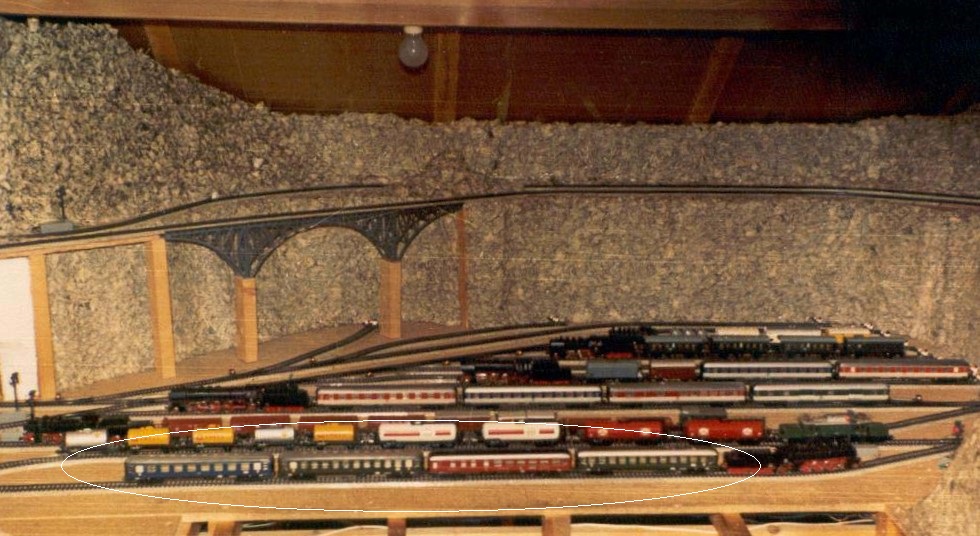 Friday, 17 December
Today I finished the vineyard. Planting some 120 vine trunks in two days, applying gravel on the paths, adding weeds, shrubs, dandelions, firethorns, a birch, four bushes...
Let's call it a day!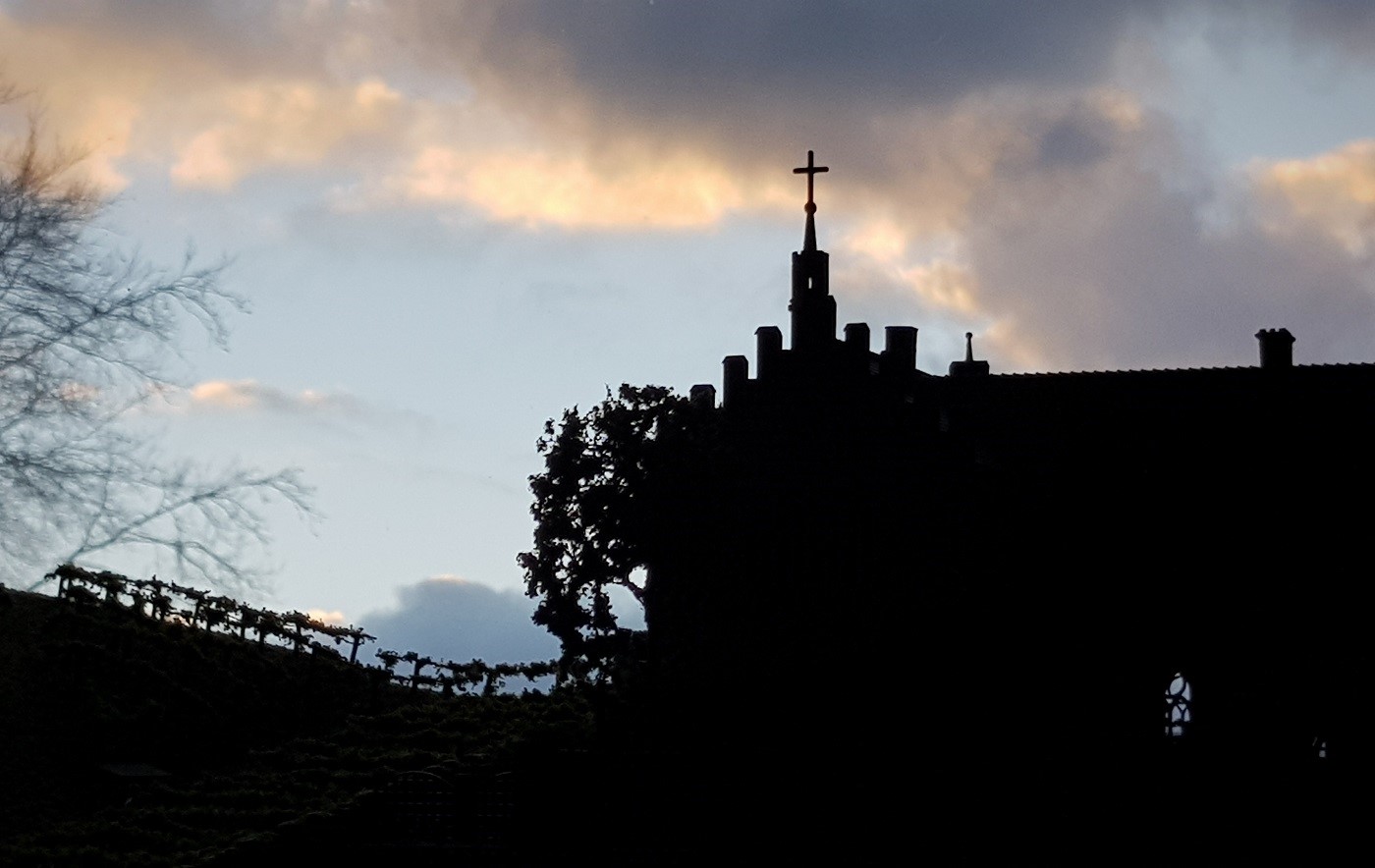 Wednesday, 15 December
This morning, Santa flew some 300 miles north from Wiesbaden while bringing me a Christmas Present from Markus Böhm.
Markus is an apprentice in photography, but will soon be a maester.
Six days ago, on December 9th he wrote to me:
Cochemer Observer, December 9, 1920 - According to well-informed circles, the airspace over Cochem will be closed early next week to allow the landing of a sleigh with reindeer. The guest has a secret load for the Cochem freight station. He had to intervene because there are rumours that there are heated discussions in the mayor's house about the use of the automobile and that the mayor is considering the purchase of a convertible for Mrs. Bürgermeister to pacify the (his) situation. However, this planned purchase exacerbates the already strained situation with the liquid gas supply in order to now be able to operate two automobiles. The Cochem train management has therefore been instructed to put the guest's cargo on the rails and put together a train to provide fuel for the mayor's vehicles. The train must include at least three special wagons to procure sufficient supplies. The use of a powerful freight locomotive is therefore expected. Finally, the guest has asked to guard the reindeer during his stay when he visits the monastery, because there are rumours of wolves in the area, which - contrary to initial belief - do not belong to the vegetarian species. We will keep you informed.
Santa/DHL delivered me this Trix Gaswagenset 23915: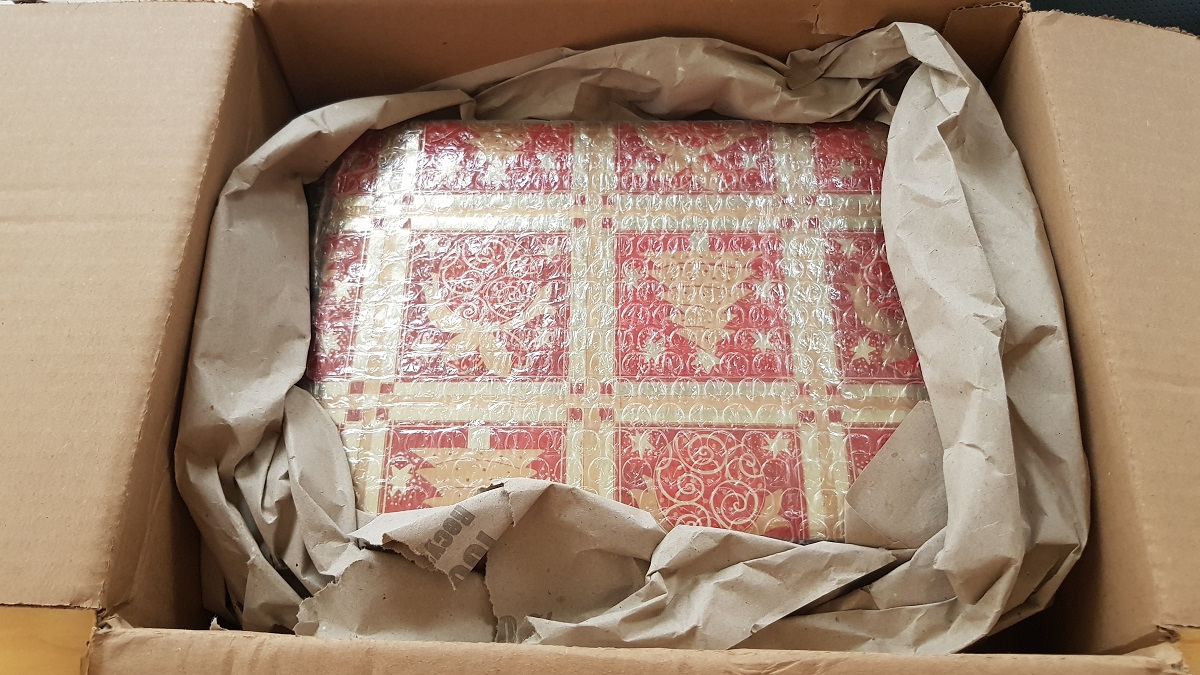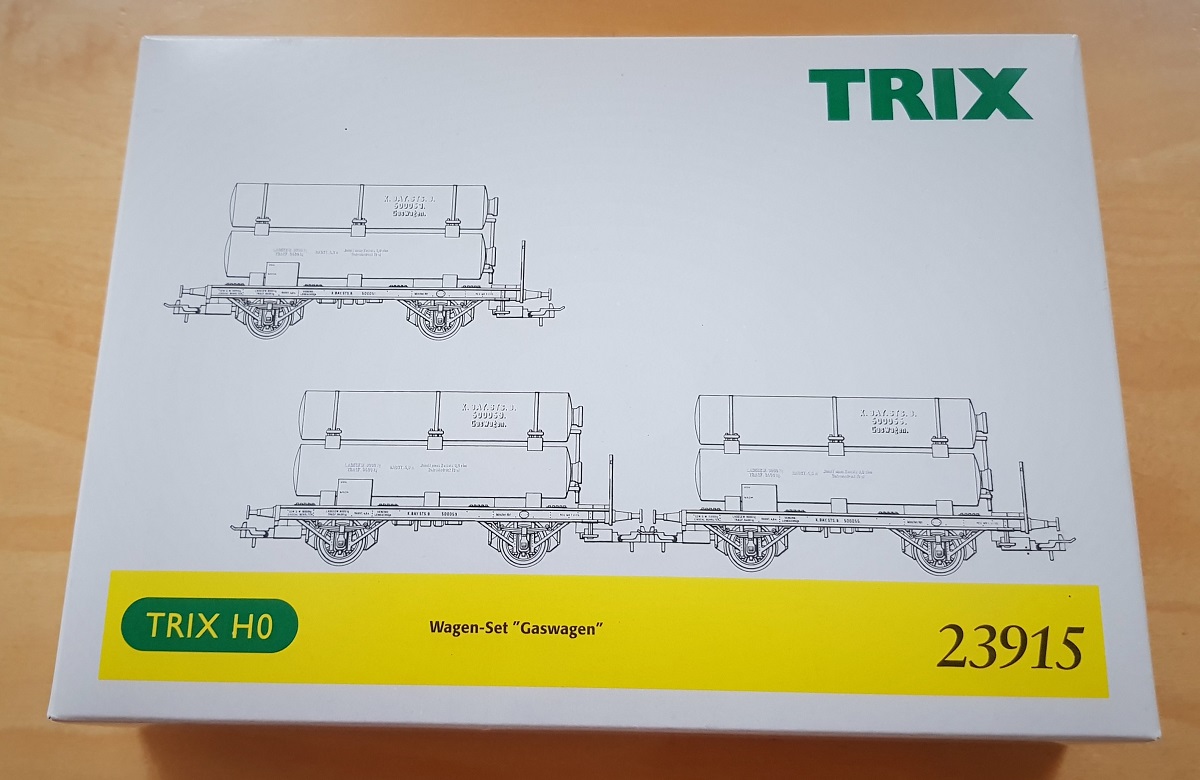 In the early morning and late afternoon I did some finetuning at the vineyard. Crushed stone, weeds and sand were applied to the field roads that runs through the vineyard.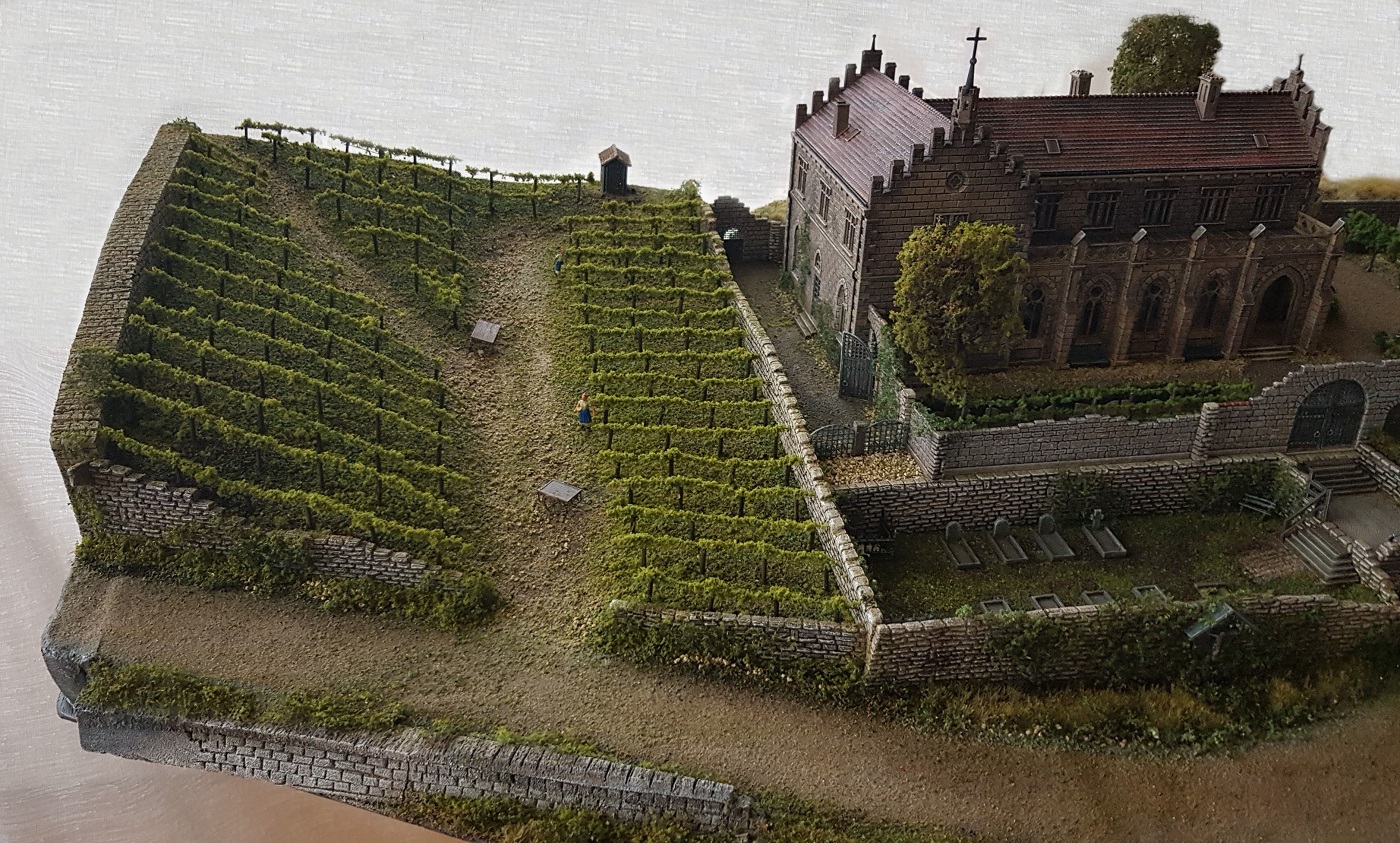 Saturday November 11th
After four days of intens working on the Monastry Compound. Read moer in Chapter 12.8 and Chapter 15.3
Wednesday, December 8th
The Monatsery Yard is being forseen with Limetrees. Chapter 15 tells how they were made.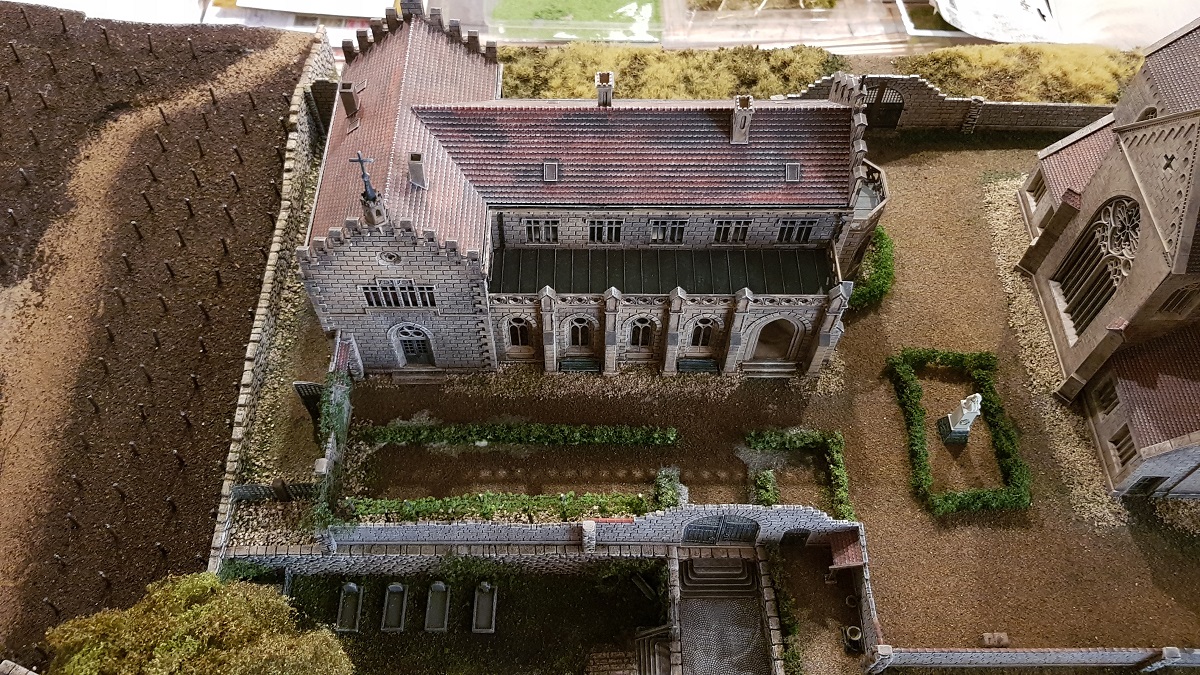 Friday , December 3rd
A pack of wolves has entered the Cochemer Forest from the East...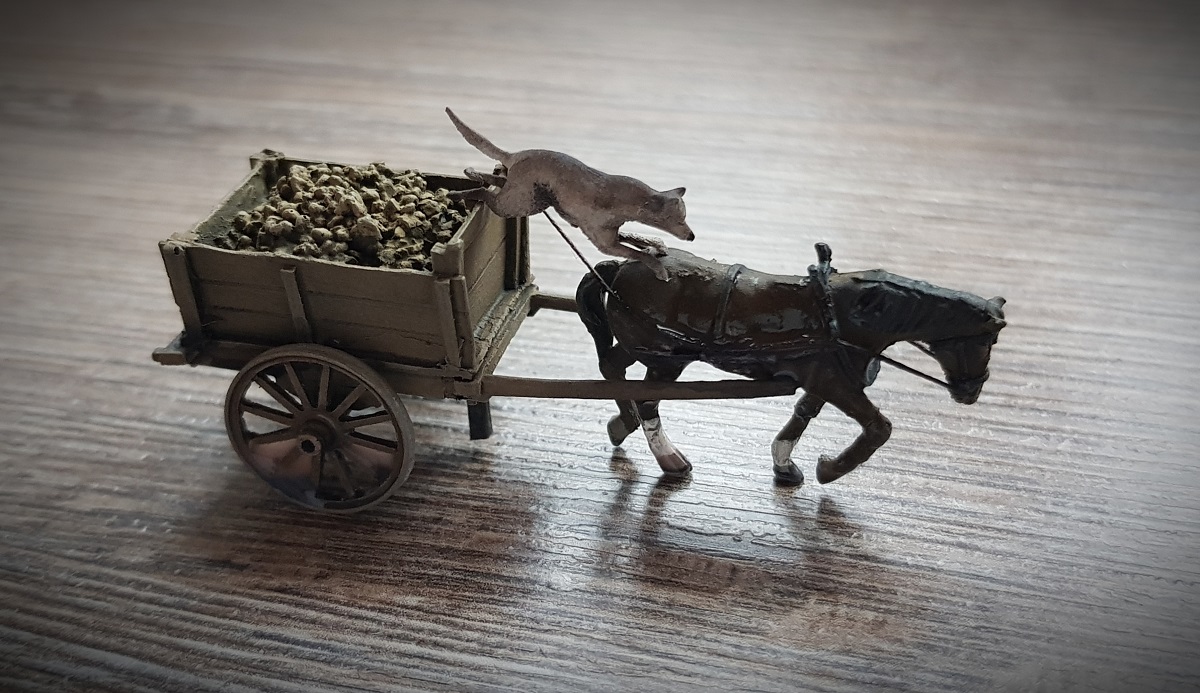 Thursday, December 2nd
Three - never released before - pictures of T 18 1001 from the Micro Metakit Files added...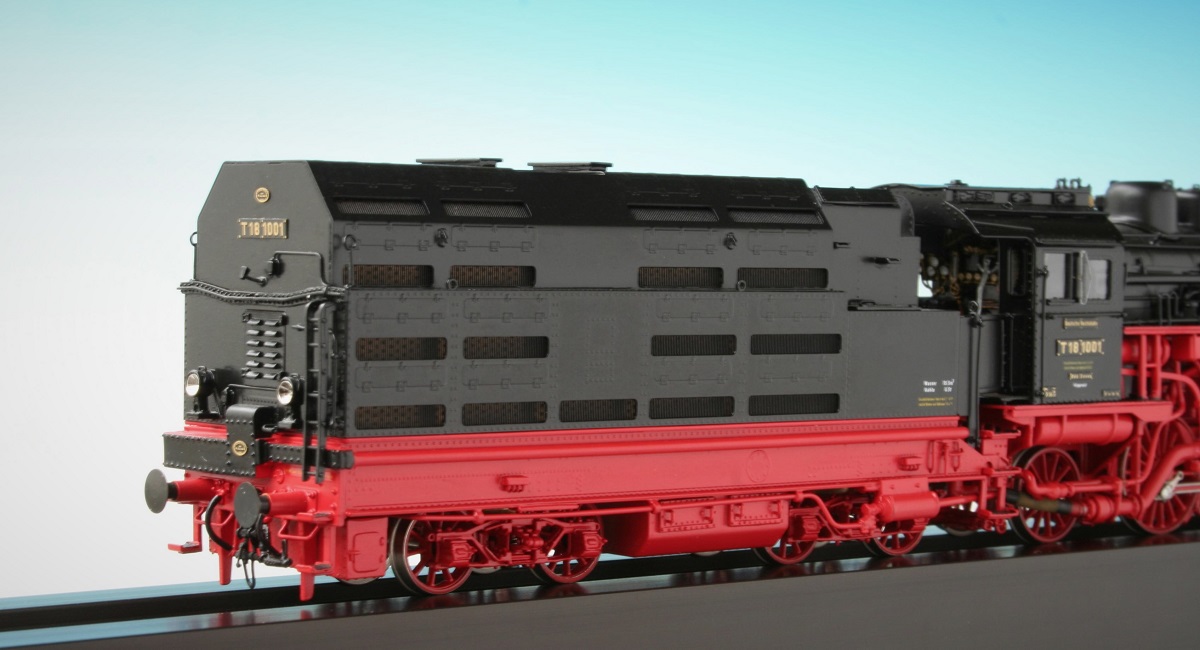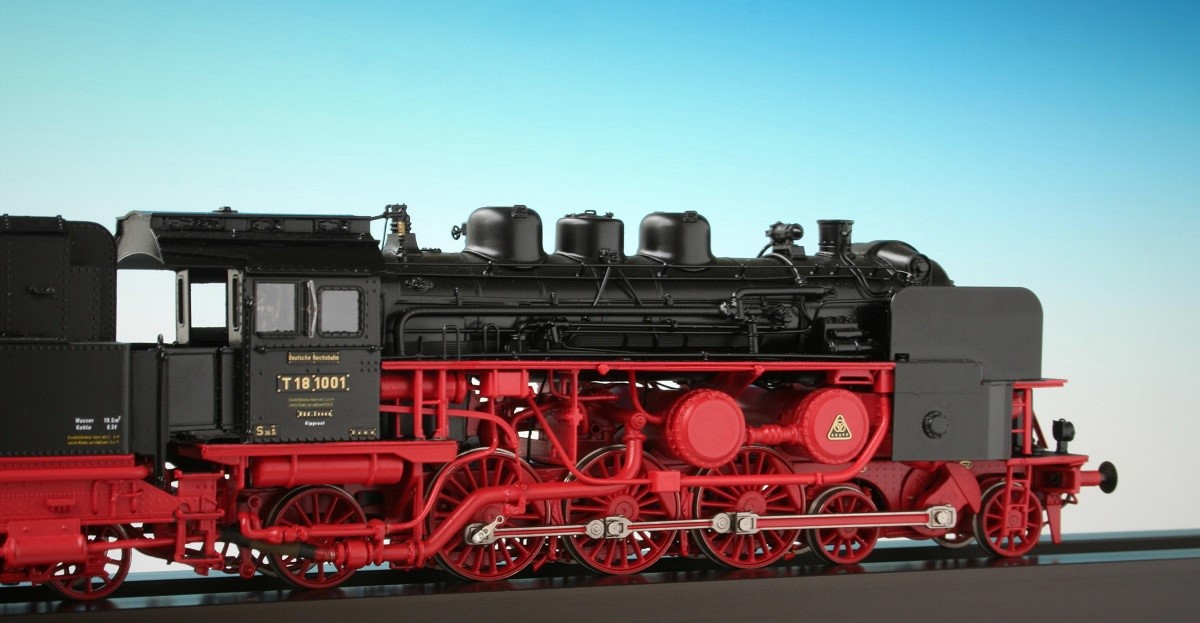 Saturday, November 27th
In appreciation, the city council of Cochem Town offers its beloved mayor a brand new T Ford. In a special wagon of the Machinenfabrik Augsburg Nürnberg A.G. (M.A.N.) the automobile is being transported by train, pulled by the majestic bay. G 5/p75, the strongest five-axle locomotive the German State Railways (Länderbahnen) have ever known.
To celebrate, Beer and Wine were replenished as well, with the last wagon coming over especially from Elsass-Lothringen.
A video was made considering it's safe transportation uphill.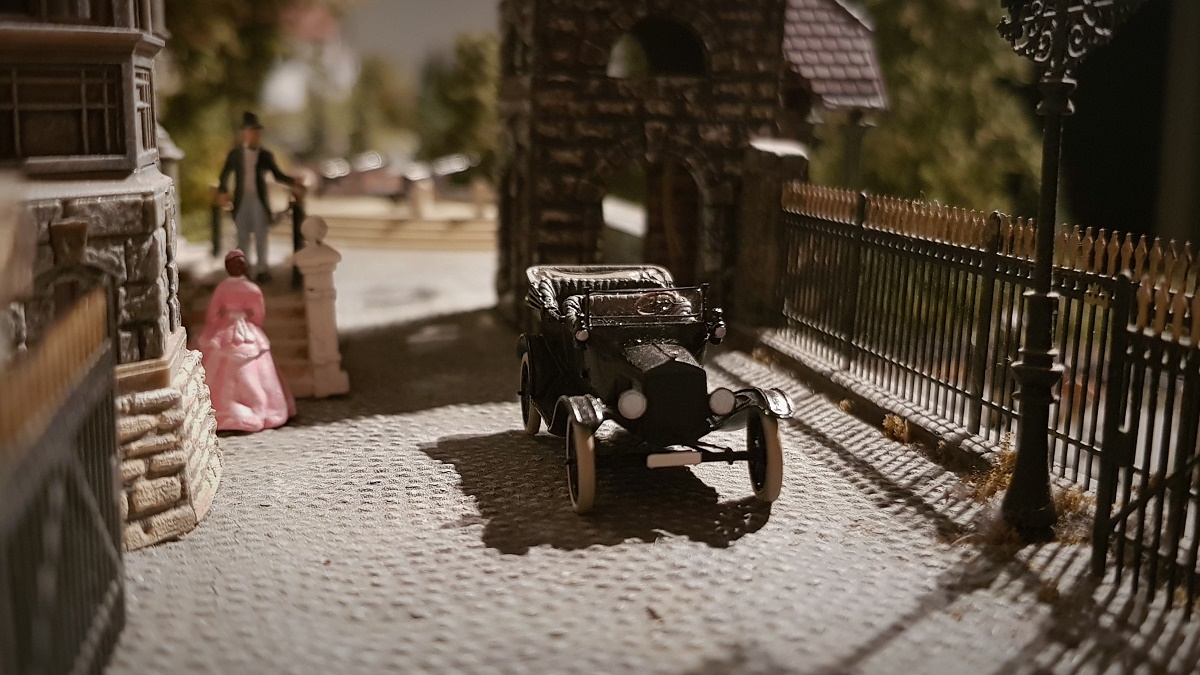 Frits Osterthun © 27.11.2021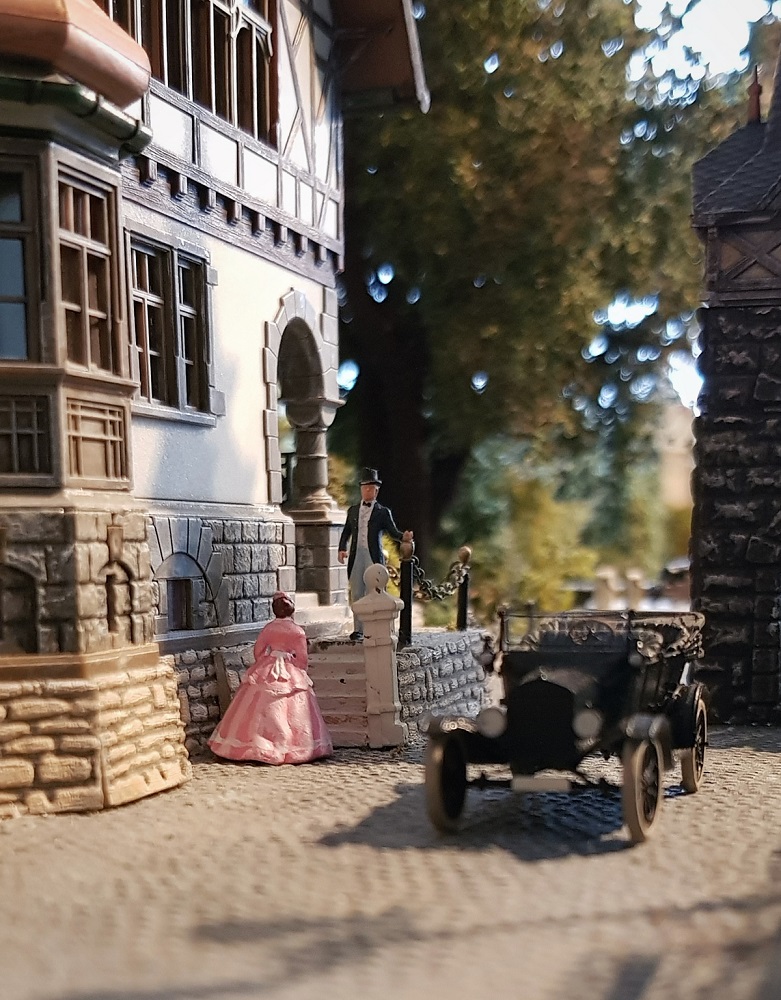 Wednesday, November 24th
As a gesture of gratitude for my website - inspiring him to photoshoot his own collection in a LEO-nistic way which is all too familiar to me! -
Dr. Markus B. from Wiesbaden sent me as a token of admiration (t)his Trix Profiwagen 24045 out of his own collection, since it was still missing in my own collection.
This morning I received it per DHL-Weihnachtsmann. How wonderful things are...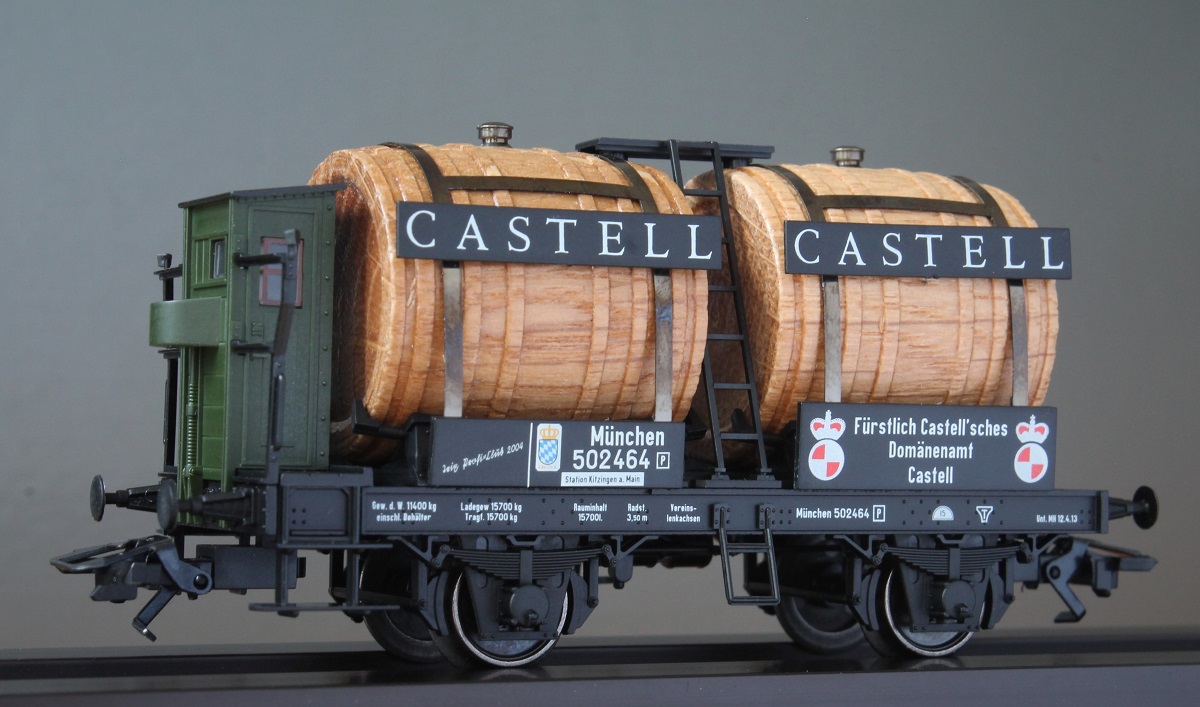 Trix 24045
Thursday, November 18th
Today visiting the Intermodellbau Dortmund Fair 2021. Great day, great people, great photo's...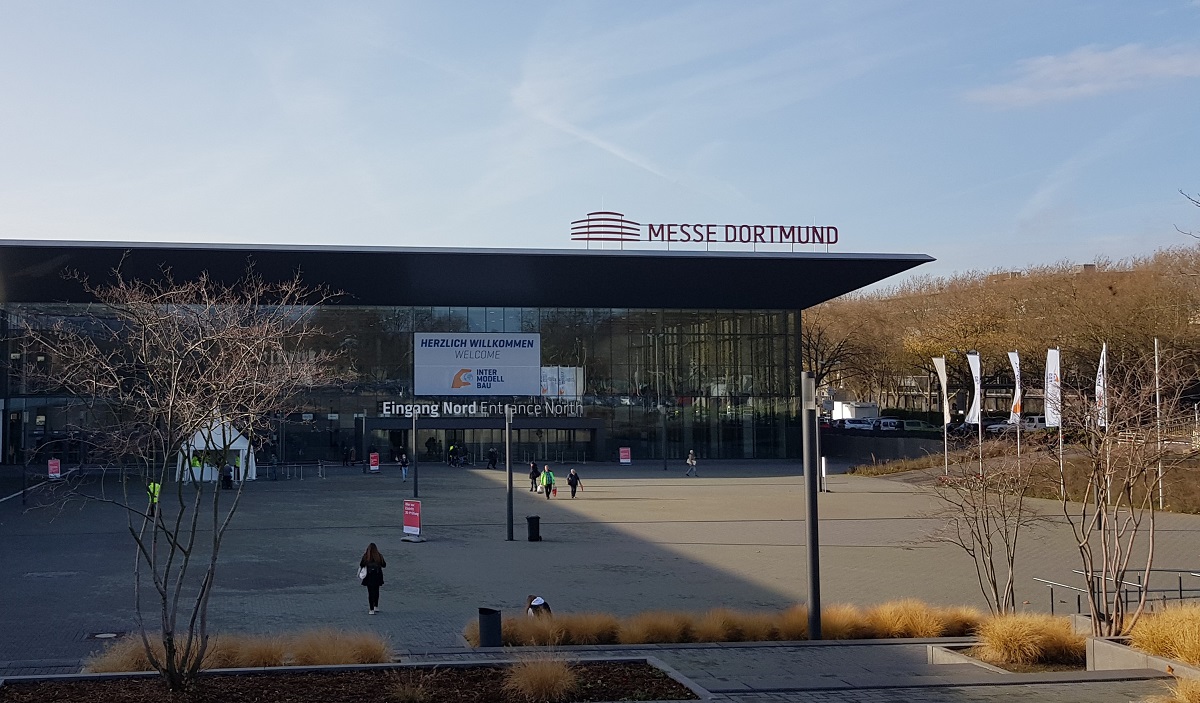 Frits Osterthun © 18.11.2021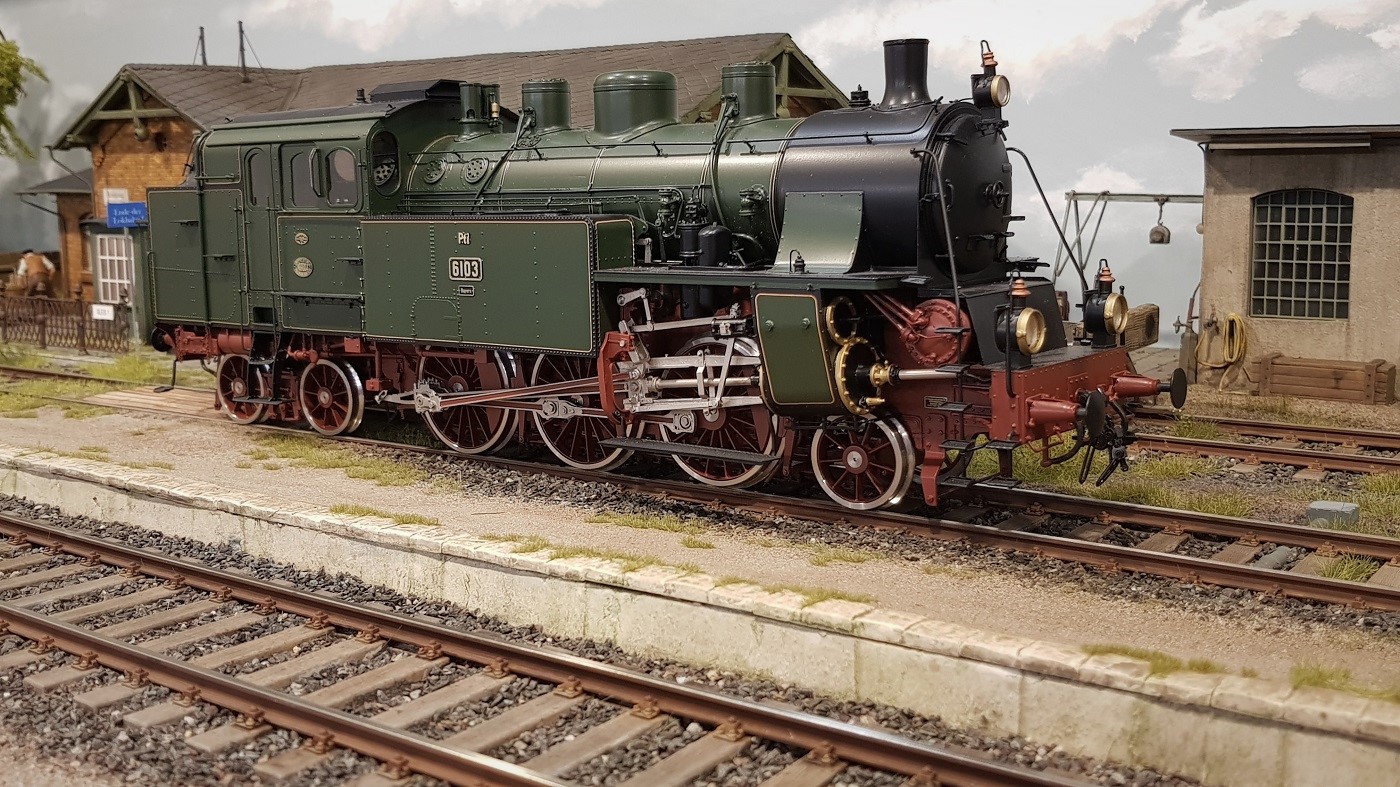 Fine Models Bay. Pt 3/6, Nr. 6103 (Spur 1) ~ Mr. Kim put this model on the layout after my request
Friday, November 12th
Two not released pictures of 01 015 from the Micro Metakit Files added...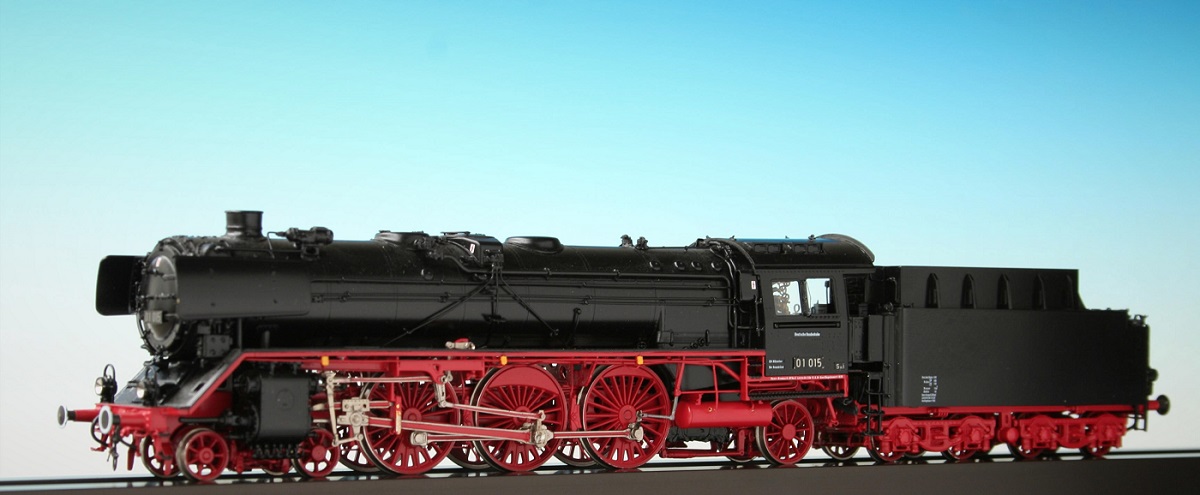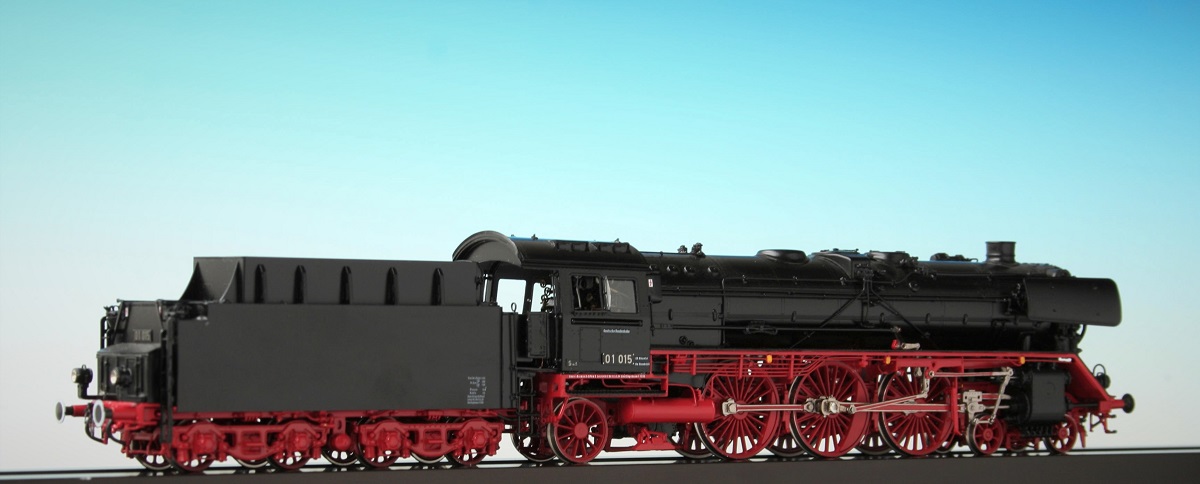 Micro Metakit 02204H

Micro Metakit 01302H, added 14.11.2021
Tuesday, November 9th
I treated myself on some Artitec stuff, both for near the wall and to fill the platform some more.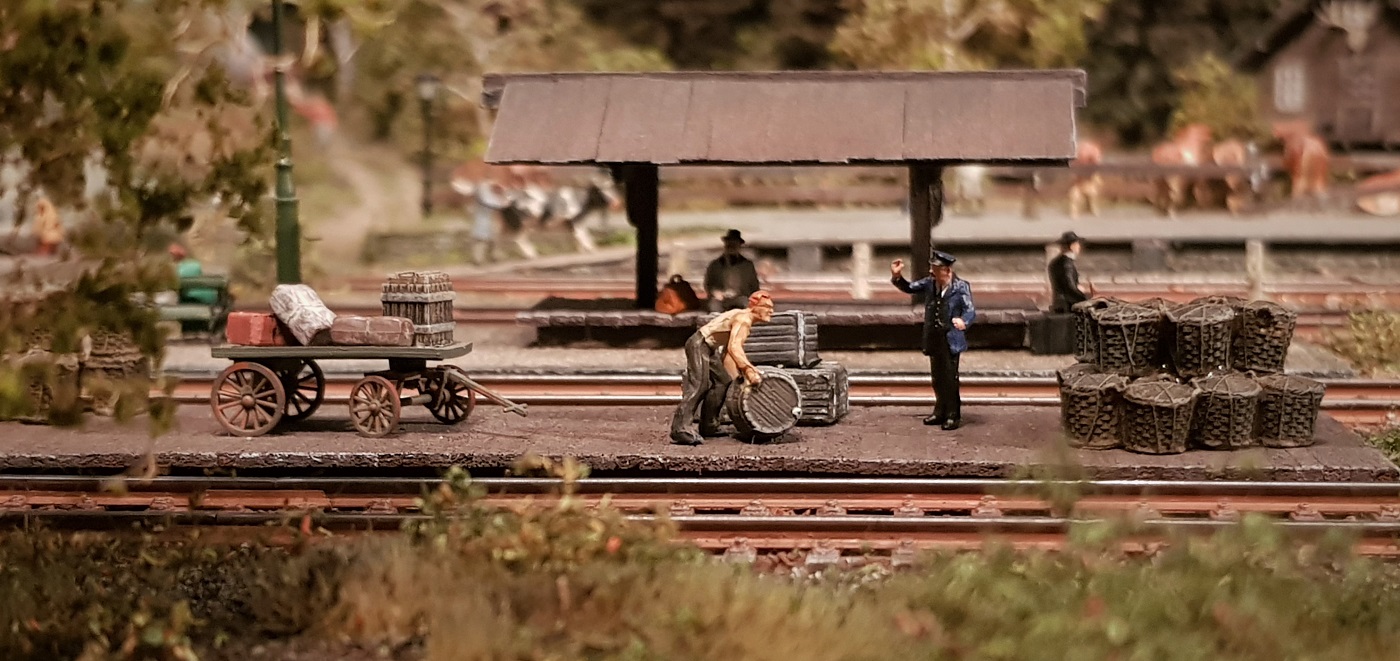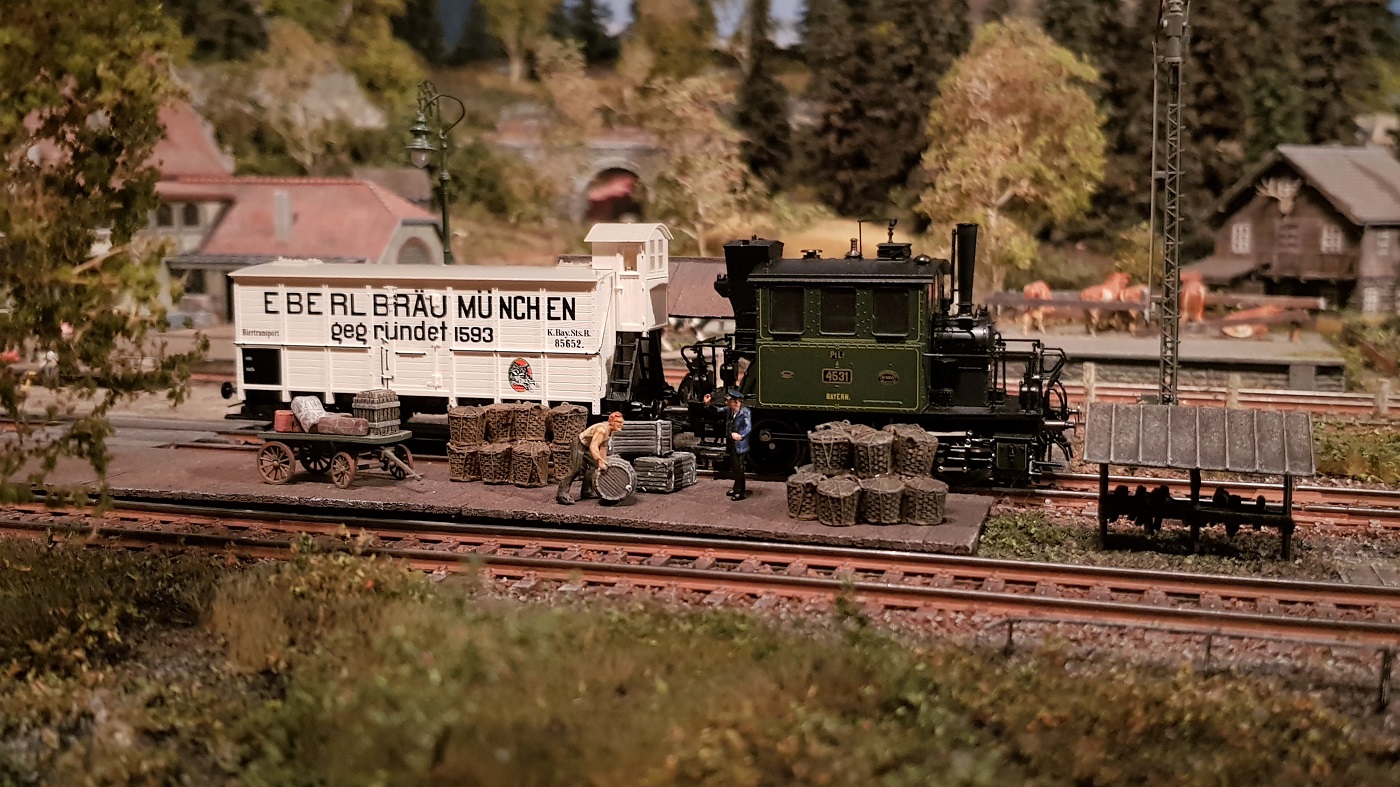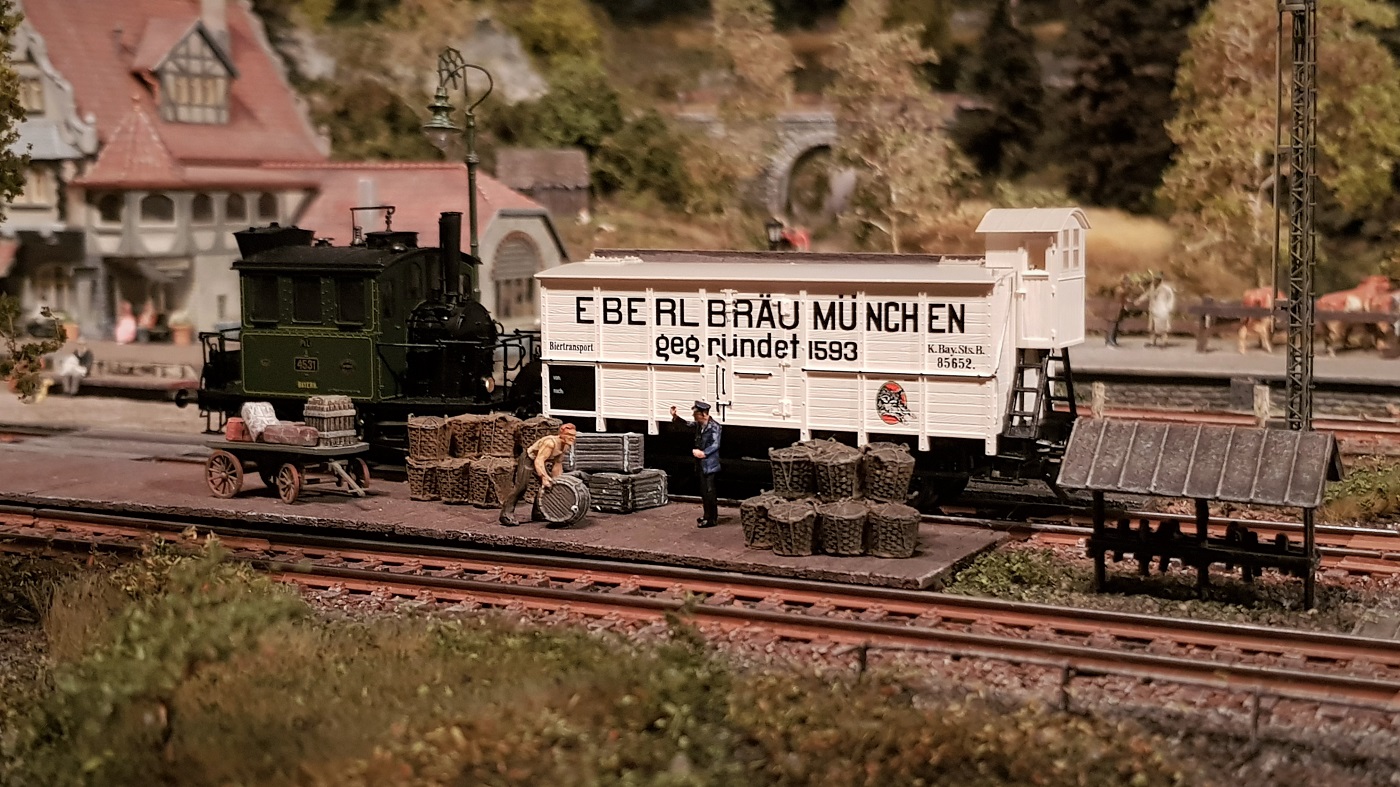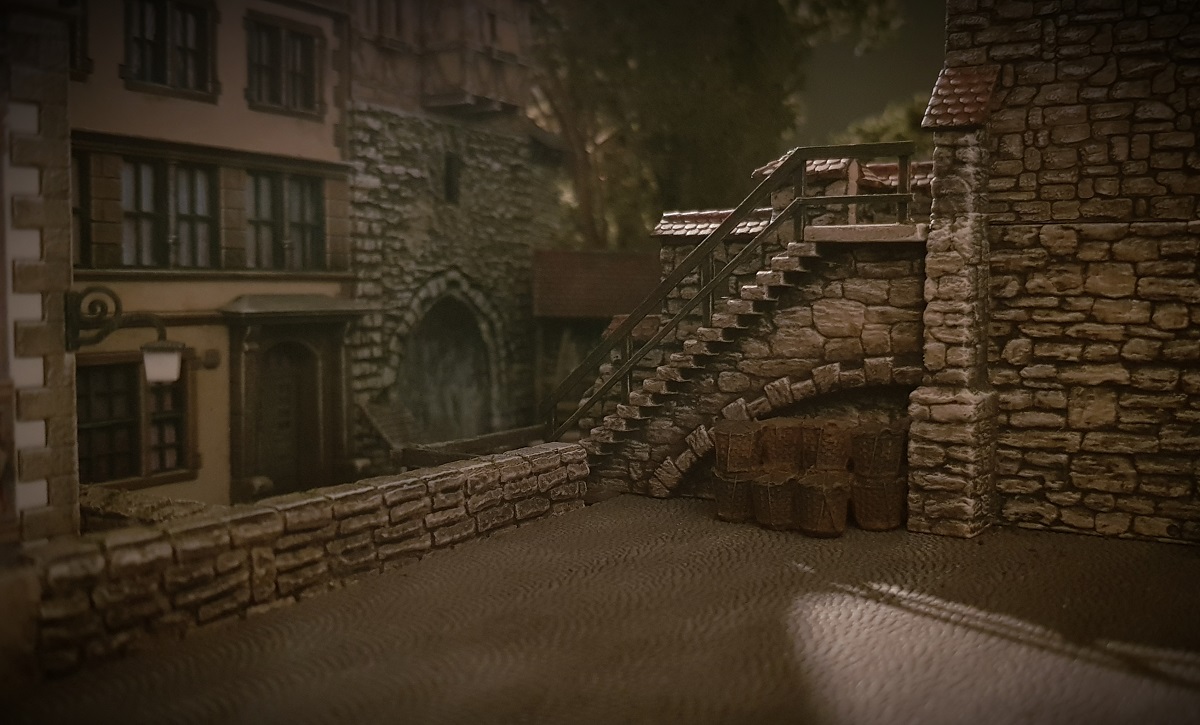 Saturday, November 6th
Fixing permanently three parts of the wall and finishing the vegetation on the transition in front. Read more in Chapter 13.6.
The making of the transition in the back is told in Chapter 13.5.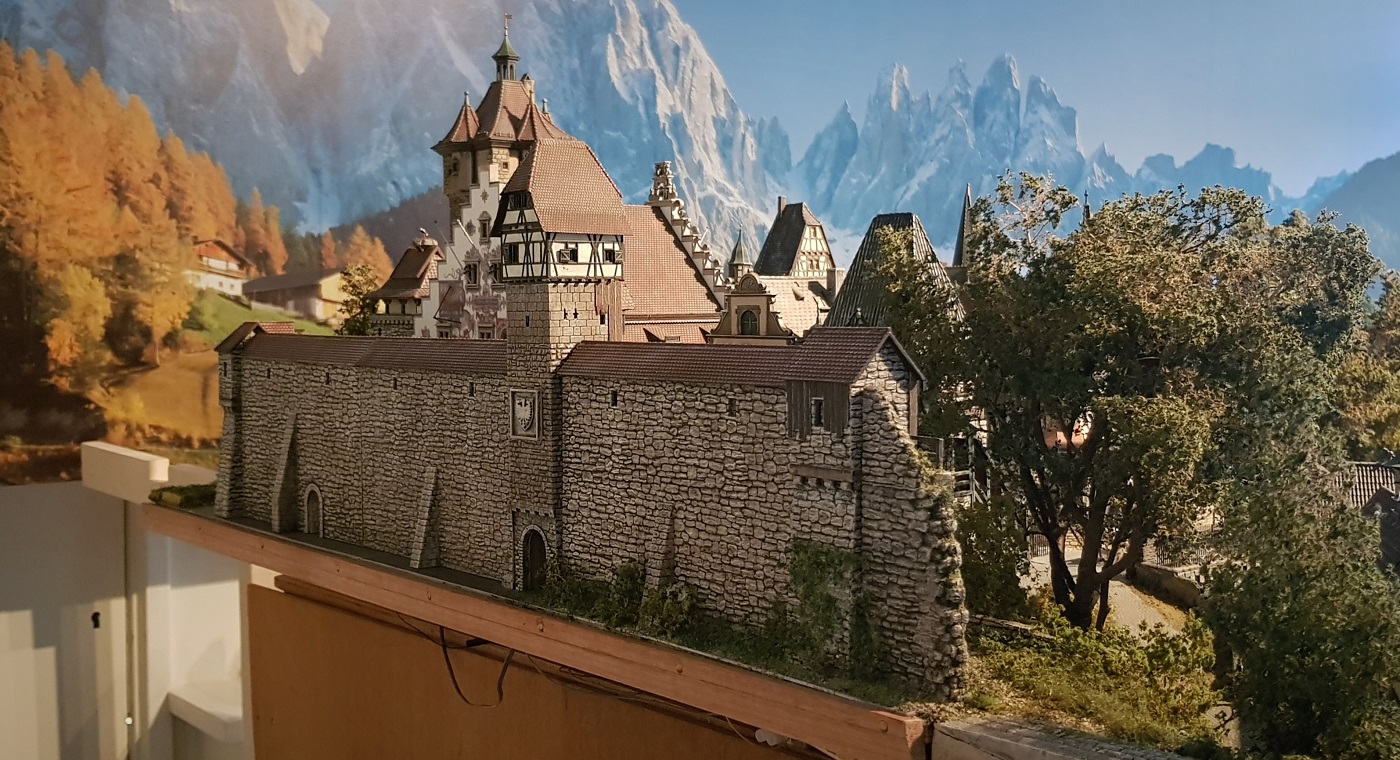 Saturday, 30.10.2021
Happy hunting at Eurospoor Utrecht...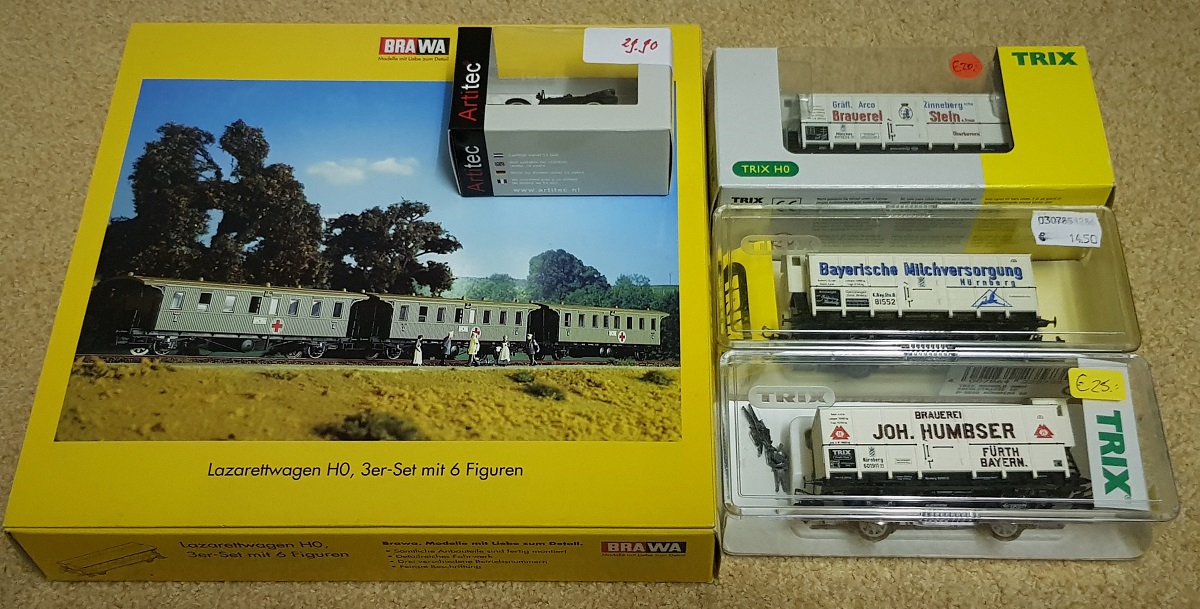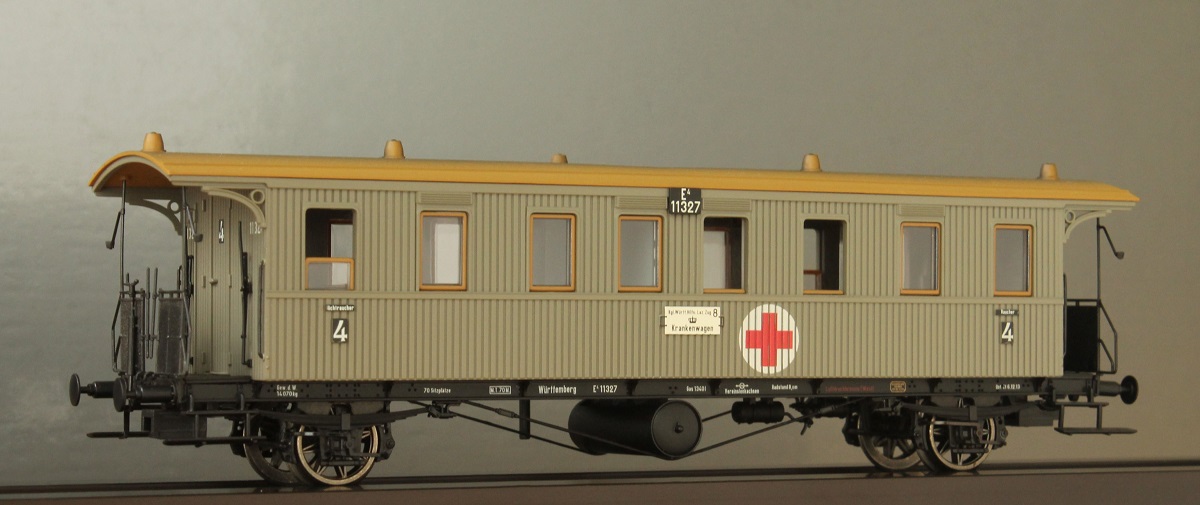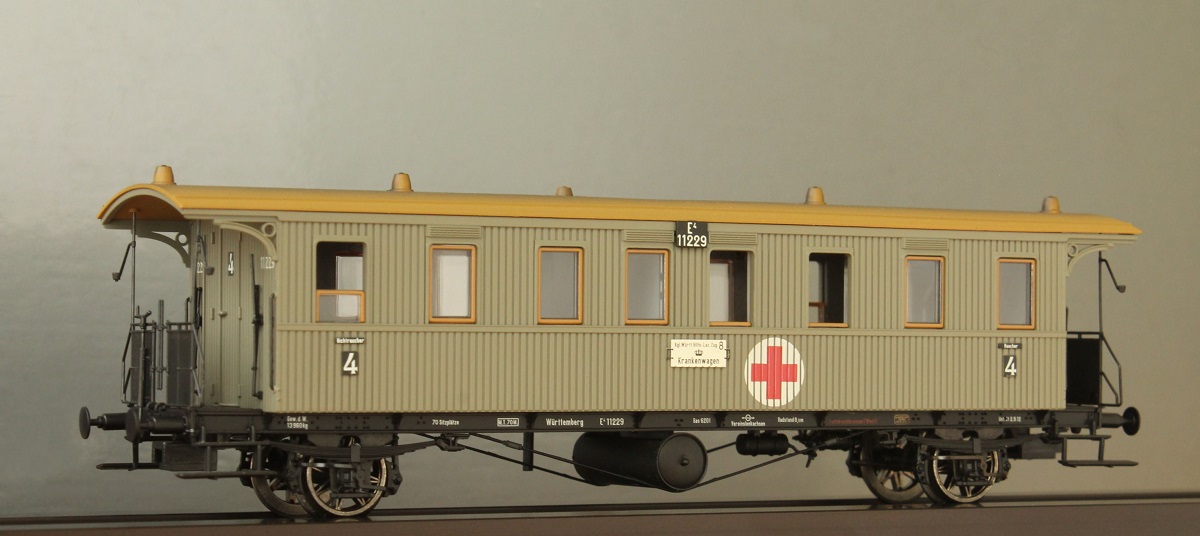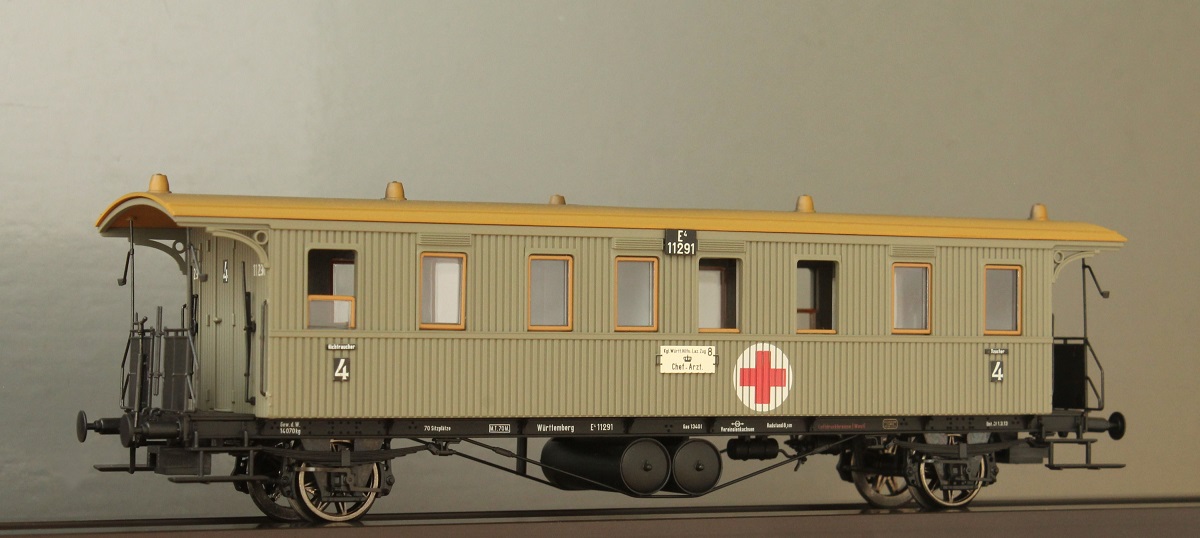 Brawa 2159
Friday, 29.10.2021
Added some new pictures from the Landshut Files, never released before.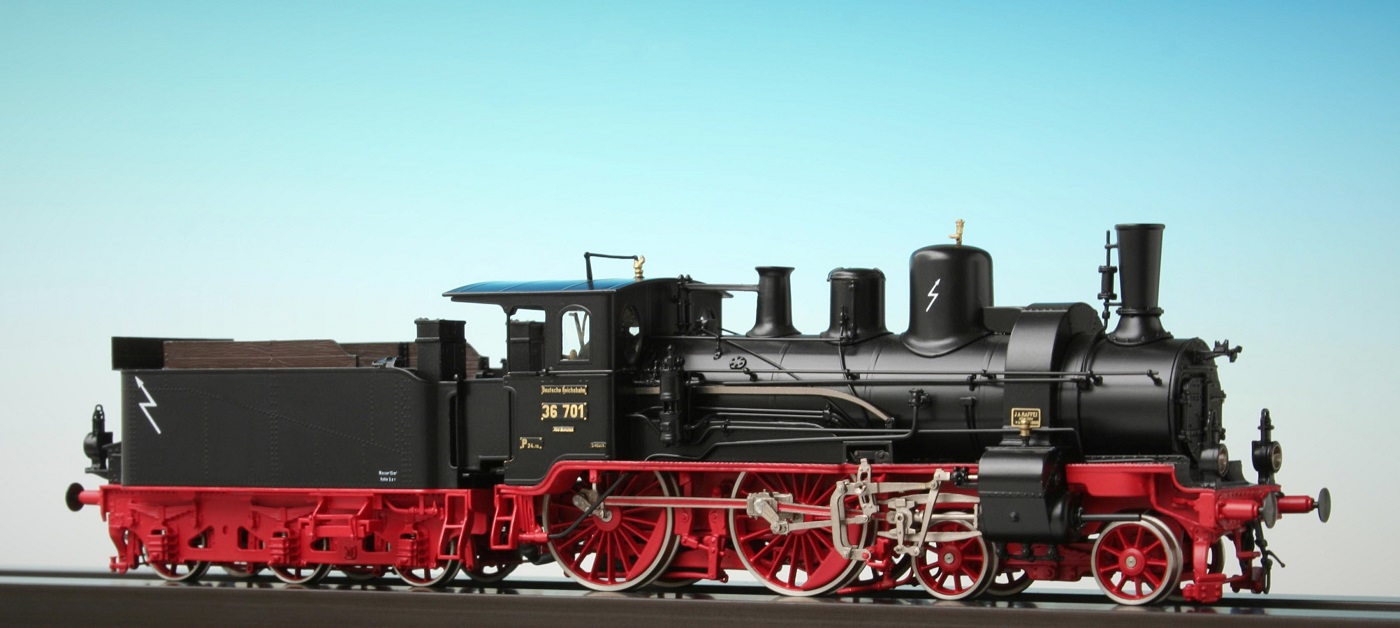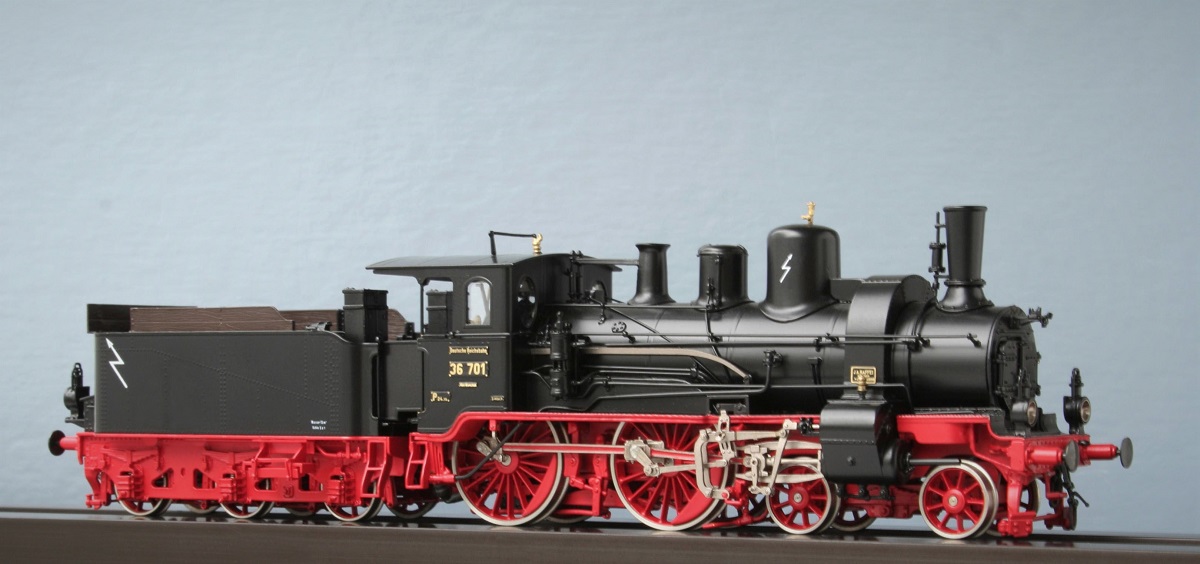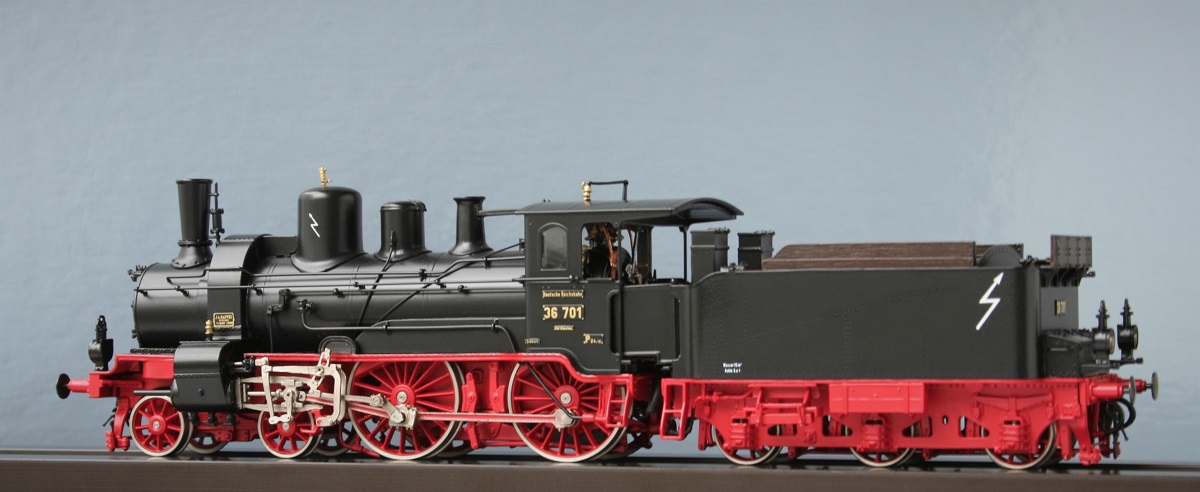 Micro Metakit 097310H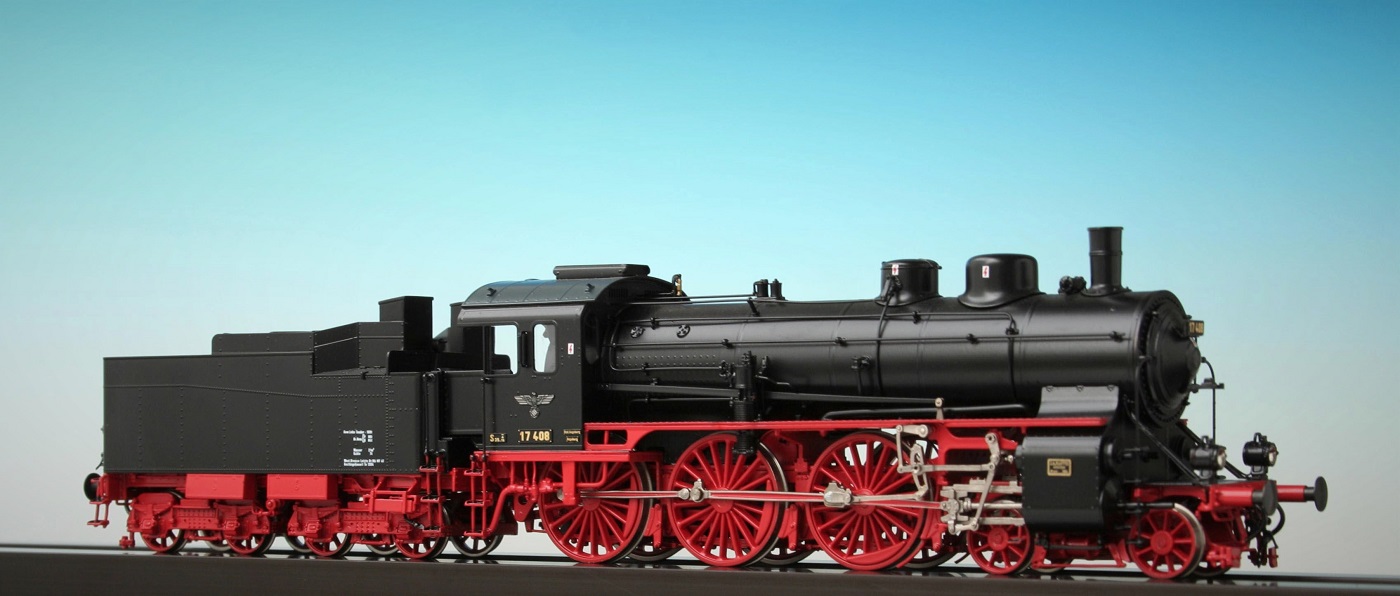 Micro Metakit 02504H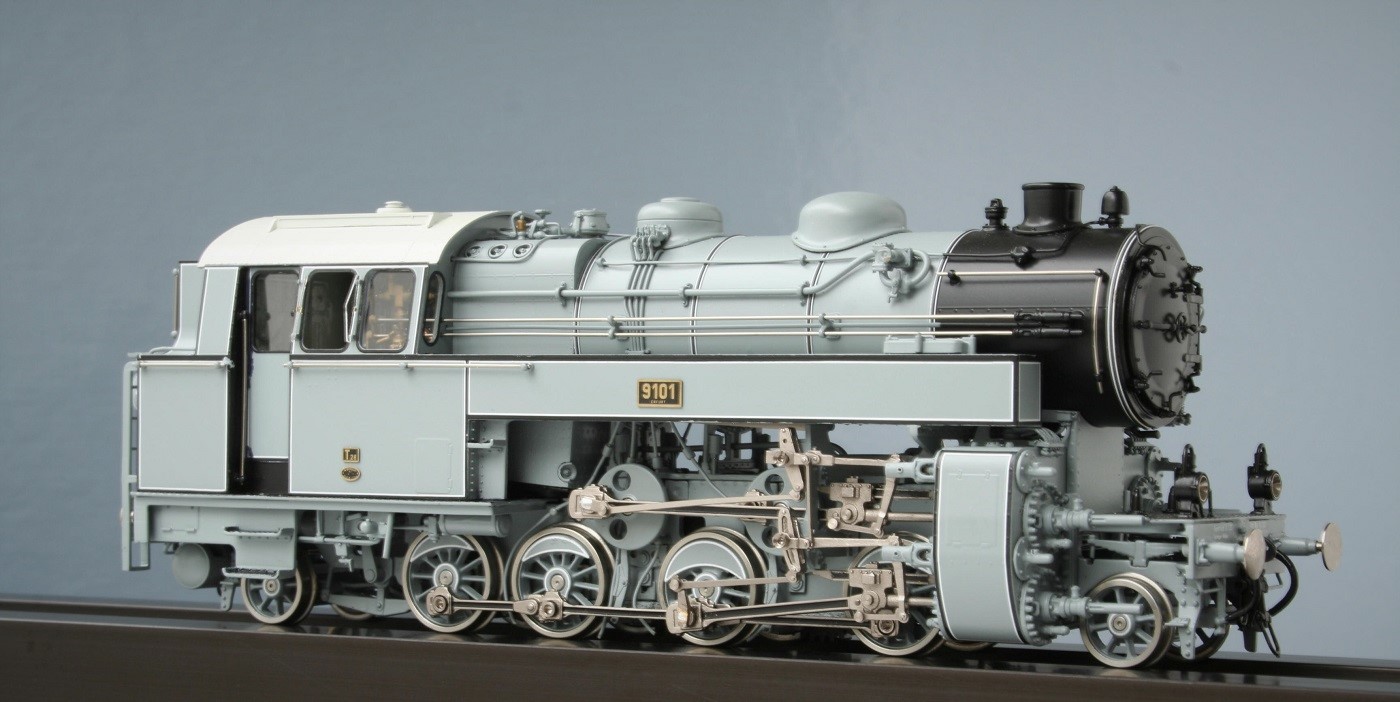 Micro Metakit 07400H
Tuesday, 26.10.2021
Just arrived: new addition to my library.


Thursday, 21.10.2021
Today I had some time to work on the Journal.
Chapter 12 is pretty extensive, since it captures the Stift Cochem with its various subjects. Nevertheless I kept all together...
Enjoy reading and watching!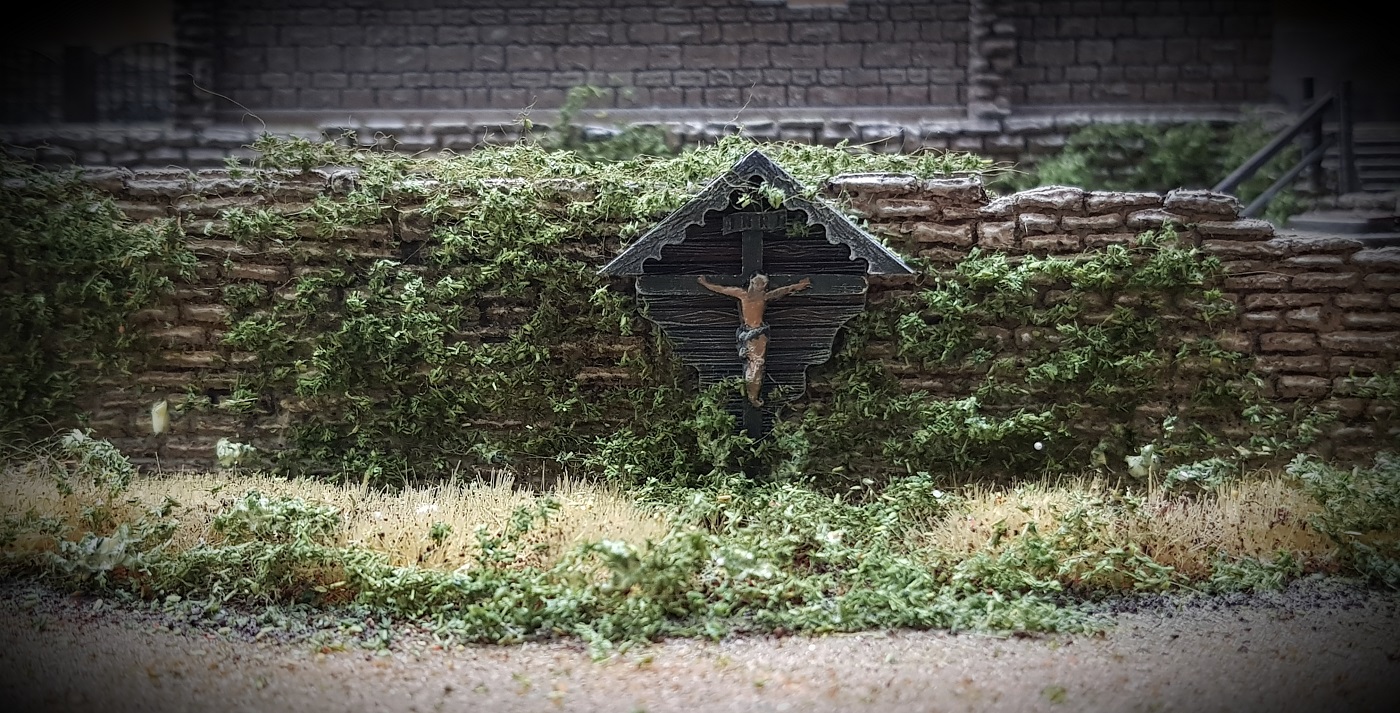 Thursday, 14.10.2021
Many hours working in detail at the Cochemer Bahn, installing the Old Townhall Lindau, some wiring, adjusting the nieghbouring tower and 'clothing' the environment.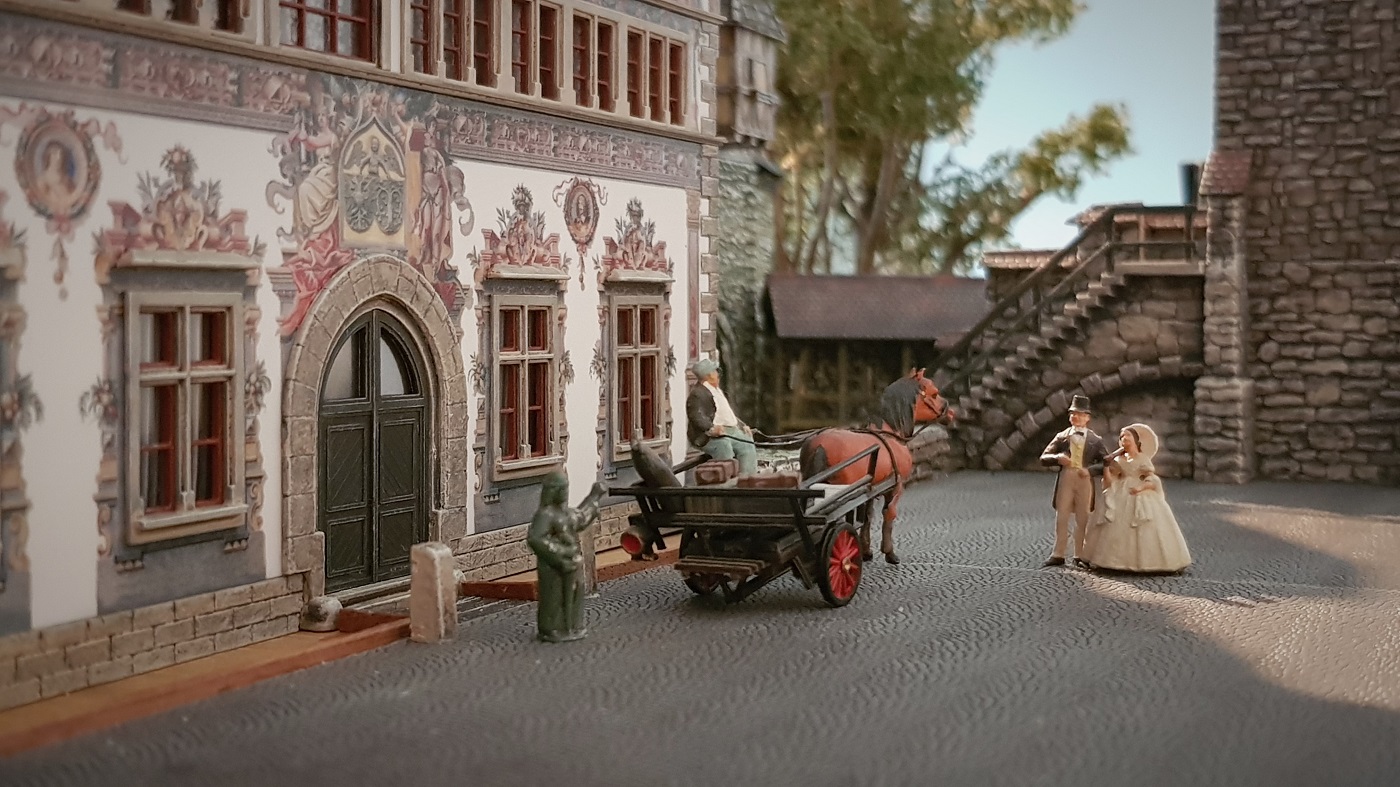 Saturdy, 9.10.2021
Some new and 'occasional' purchasing...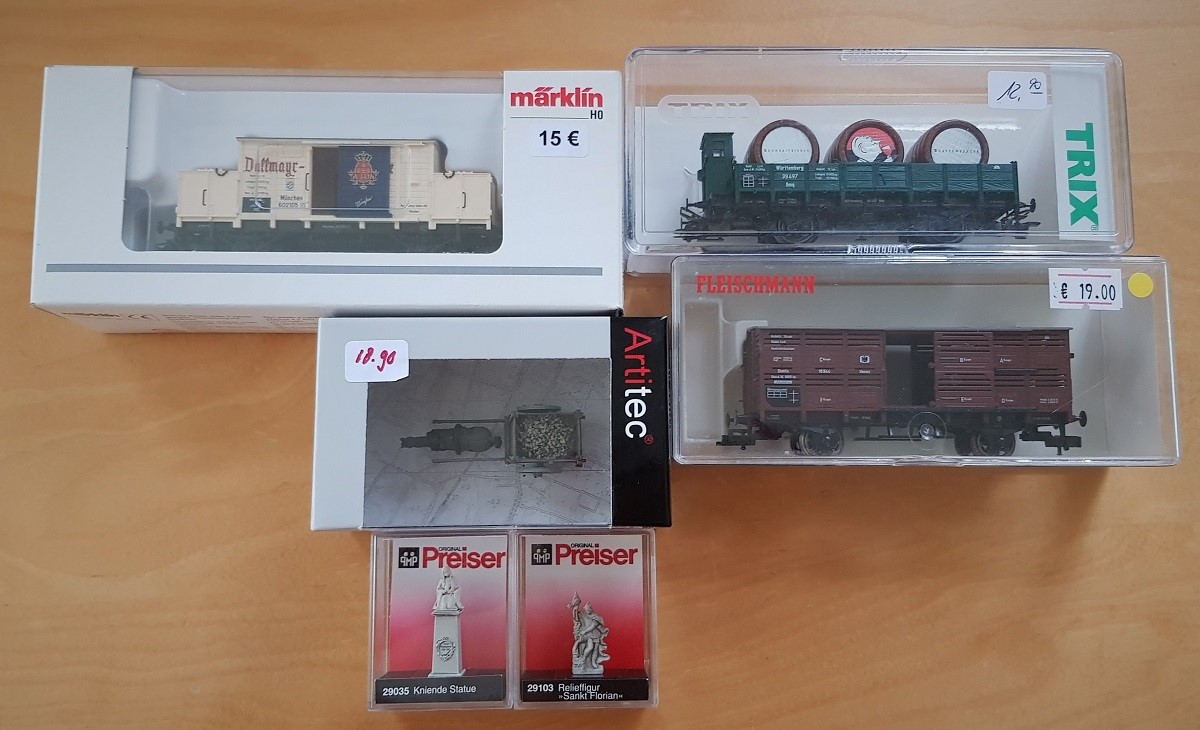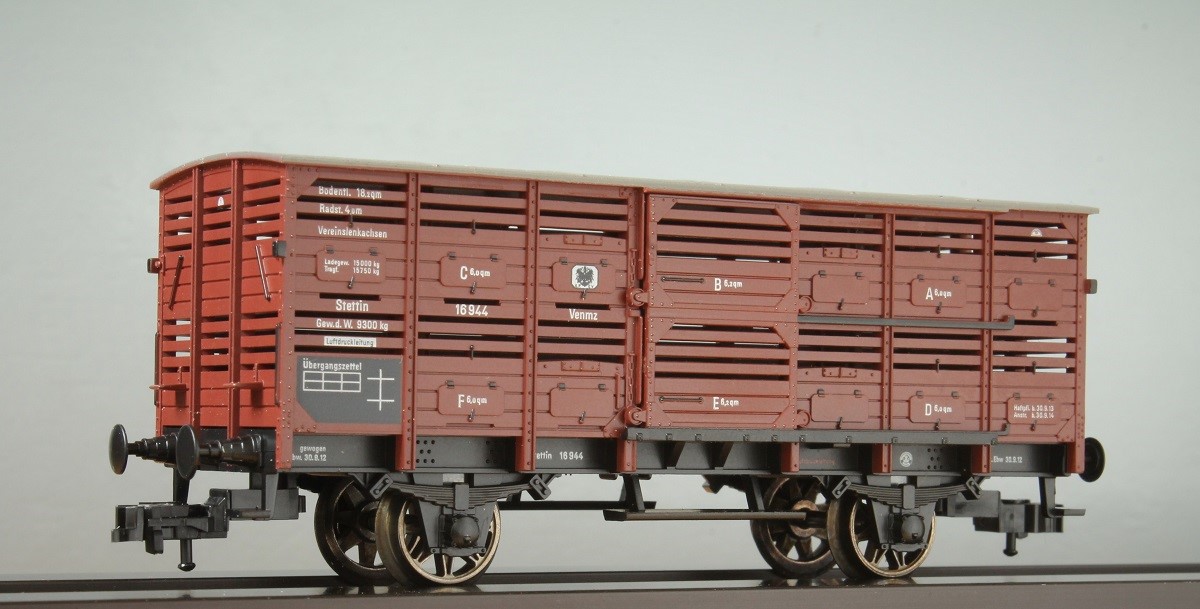 Fleischmann 5841 (the one I didn't order in 1987 for one reason or another...)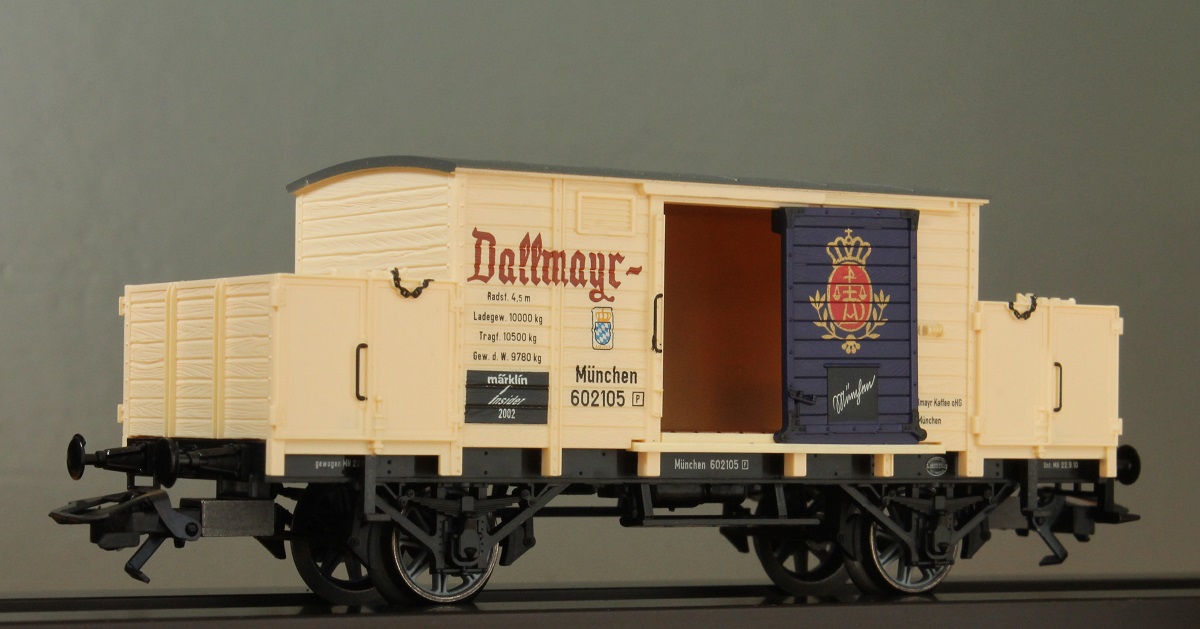 Märklin 47074 (Insider 2002)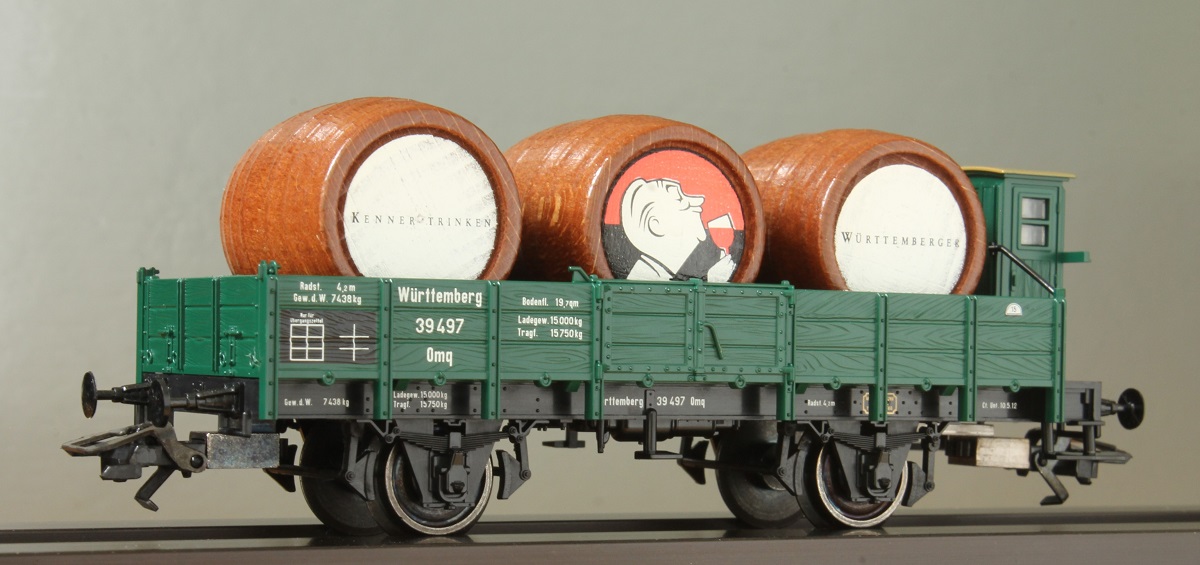 Trix 23984 (not so occasion, only € 8,00)
Thursday October 7th
Having not been around on my computer for a lng time, since working a.o. on the Altstadt Mauer 130401 and the Lindau Rathaus (130902) I did some photoshopping on my 2009 Micro Metakit Files. There are still plenty of pictures (in different positions) I never used. Here's f.i. the 03 1043 (Micro Metakit 03402H)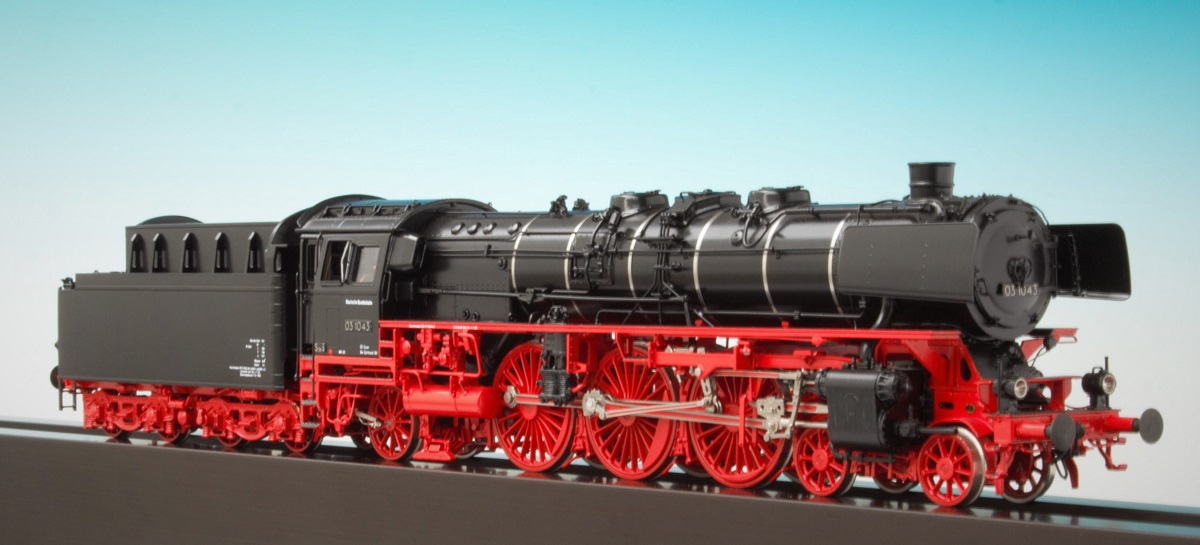 Micro Metakit 03402H
Tuesday October 6th
The Cologne firm Adler, by Enrico Voigt, sent me their very first Handmuster of the 05 002 for a photoshoot, both static and on the Cochemer Bahn.
The model contains parts of Liliput 105 15, Märklin 37050 and the Adler set A9001.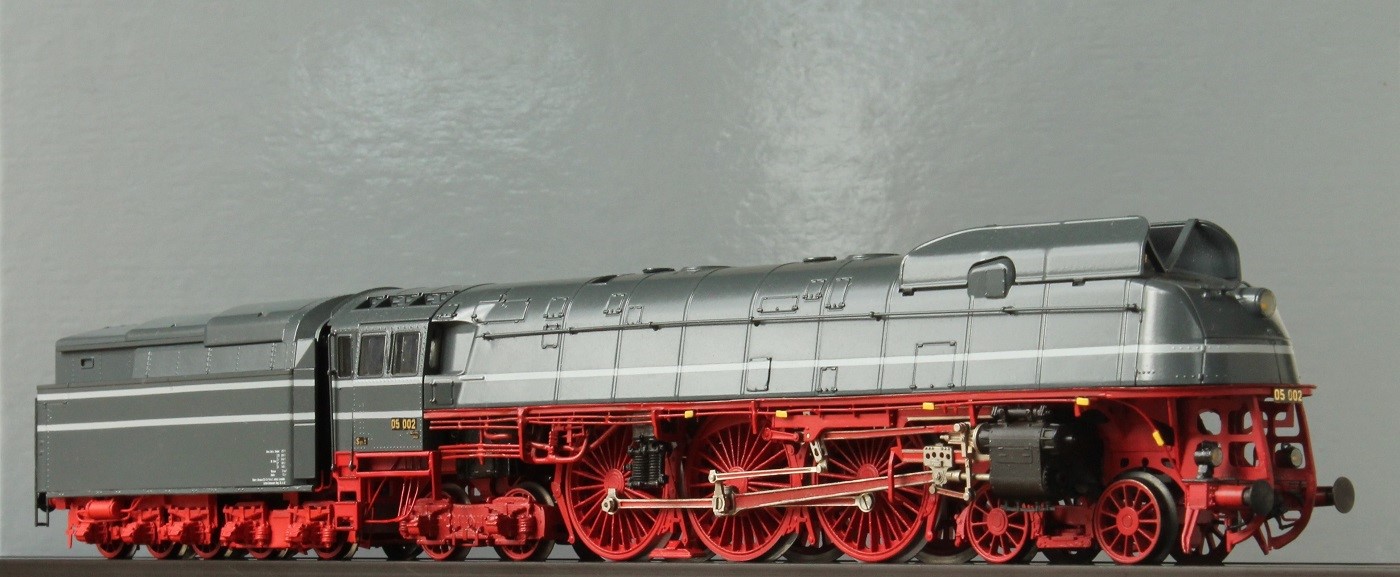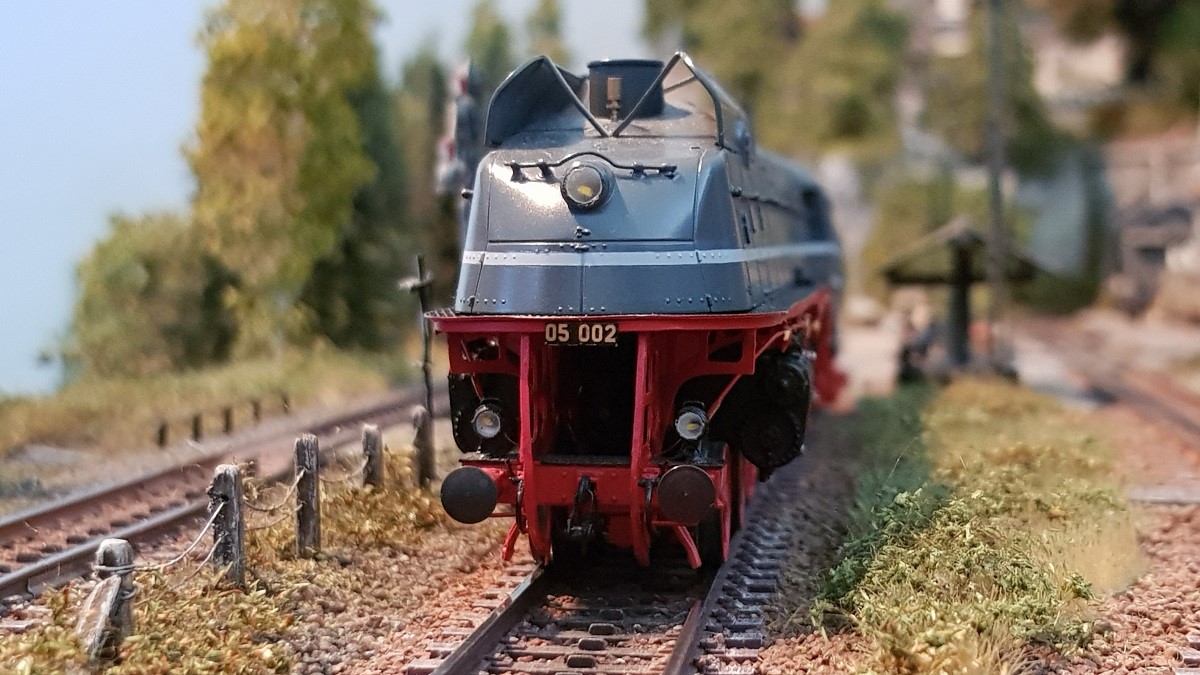 A-9001 Prototype 05 002 built as AC Version for Märklinsystem
Saturday September 4th
Unboxing the Altstadtmauer Faller 130401. A new chapter is written in the Renovation Journal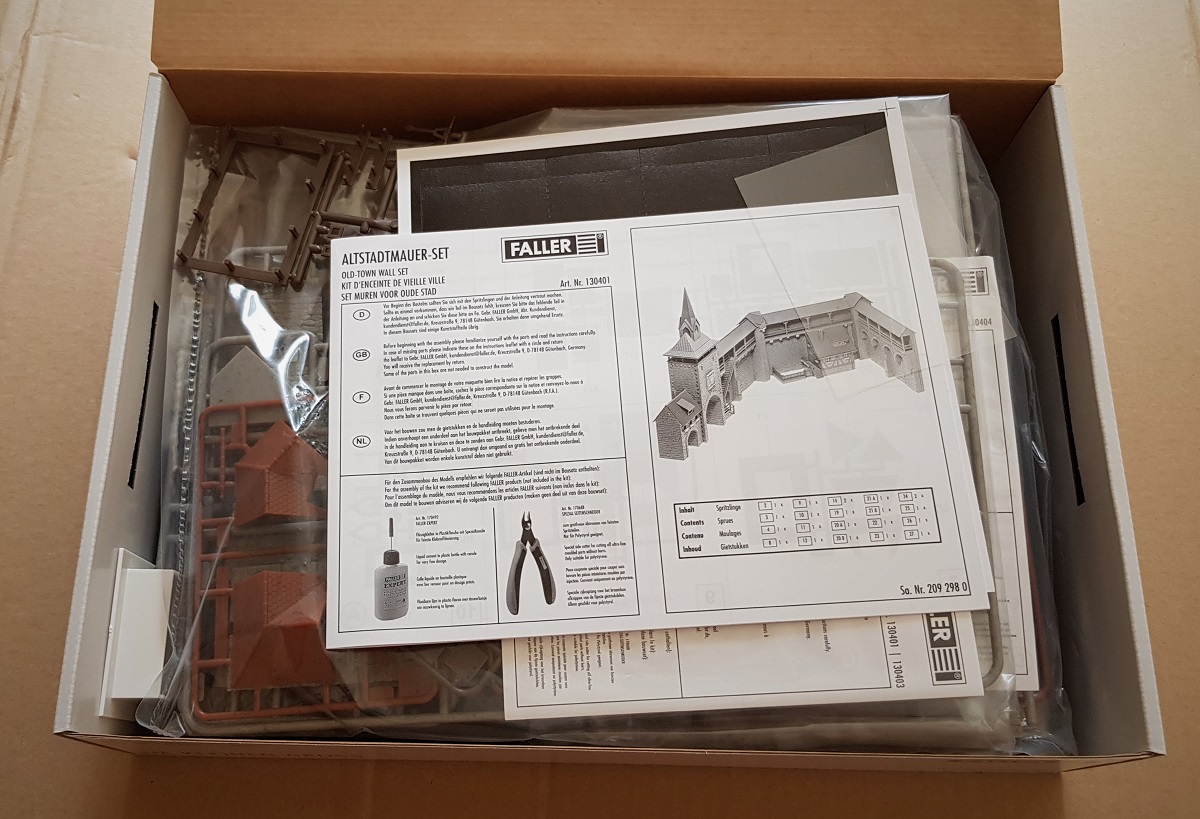 Monday, 23 August 2021
Sander bought me the Trix Clubwagen 2016 (Trix 24221) and converted the Fleischmann D VI Atropos (481803) into AC for the Cochemer Bahn aka my Bavarian collection.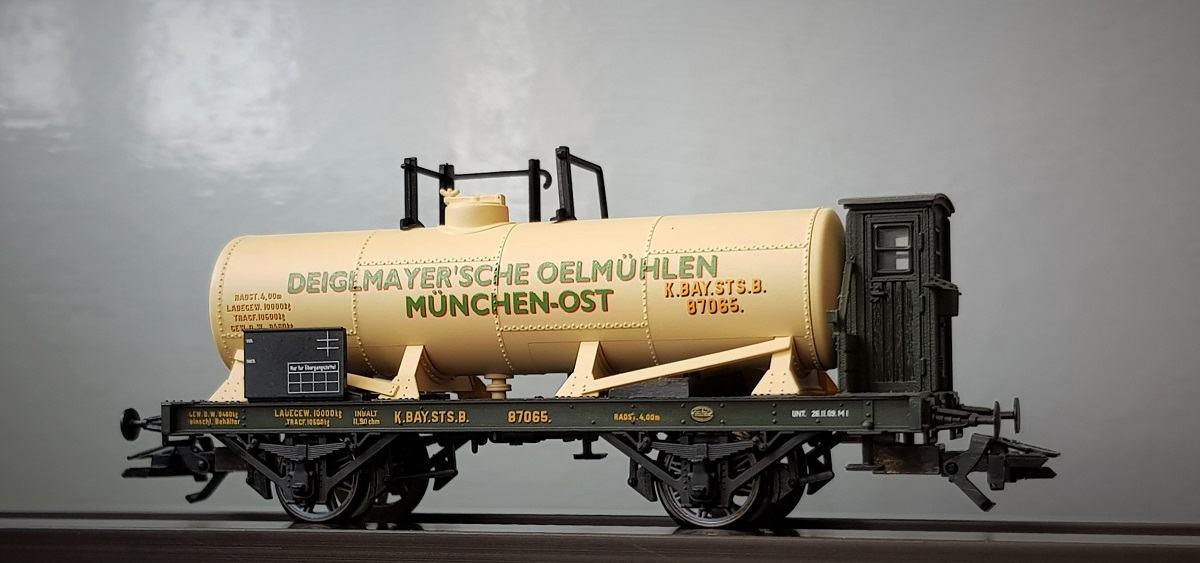 Trix 24221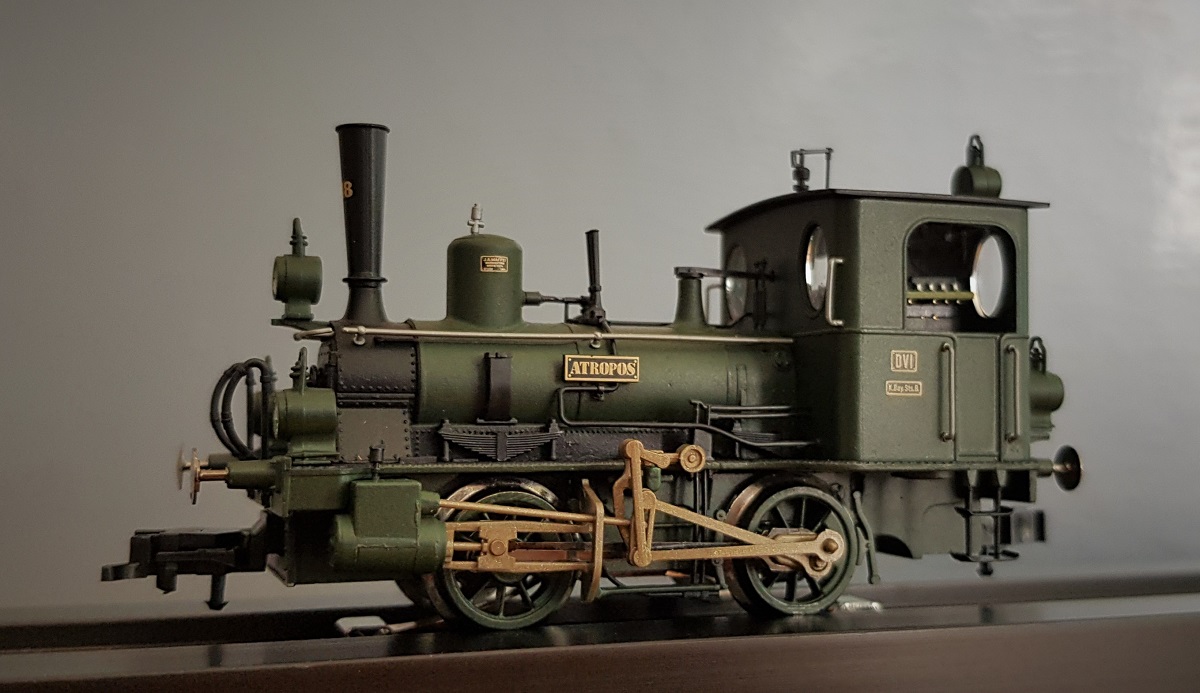 Fleischmann 481803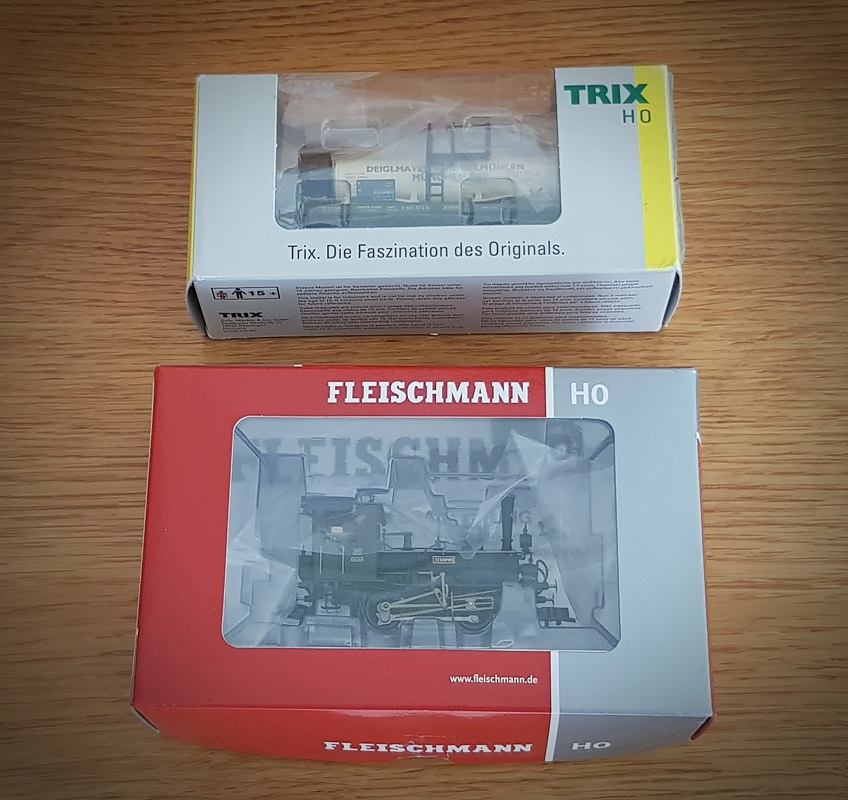 Tuesday, August 10th ~ Eisenbahn Verein Hameln
I was invited by Marcus van Son to visit the Eisenbahn Verein Hameln. I took several pictures of their layout, among which are these...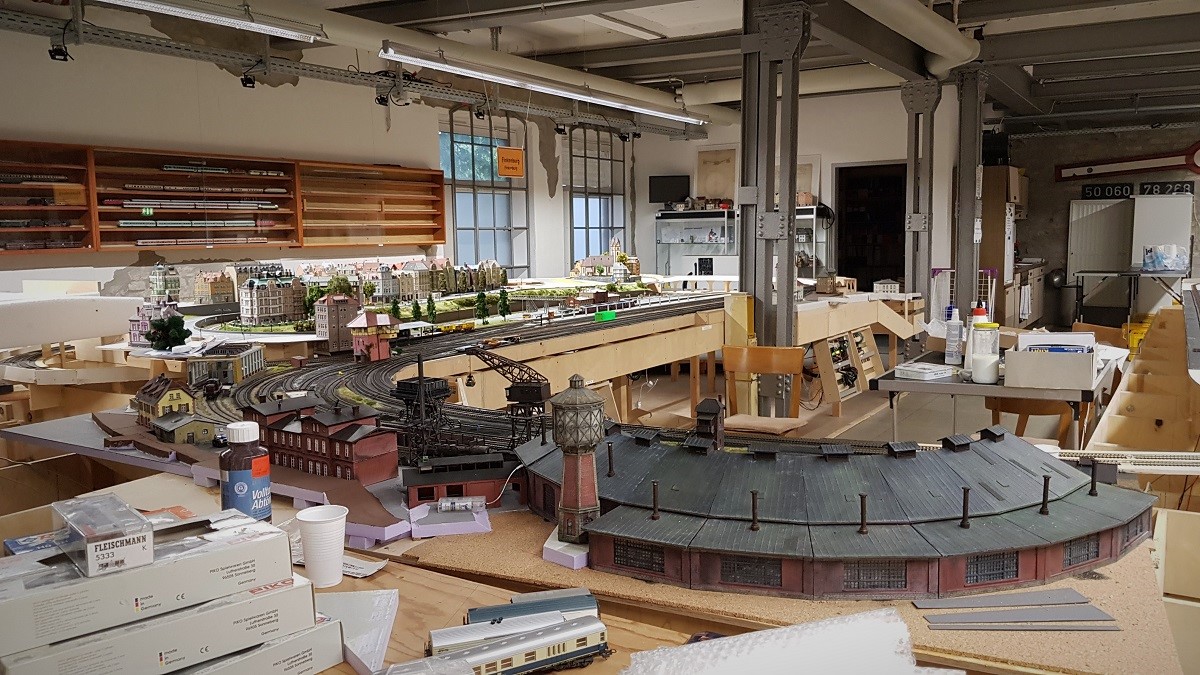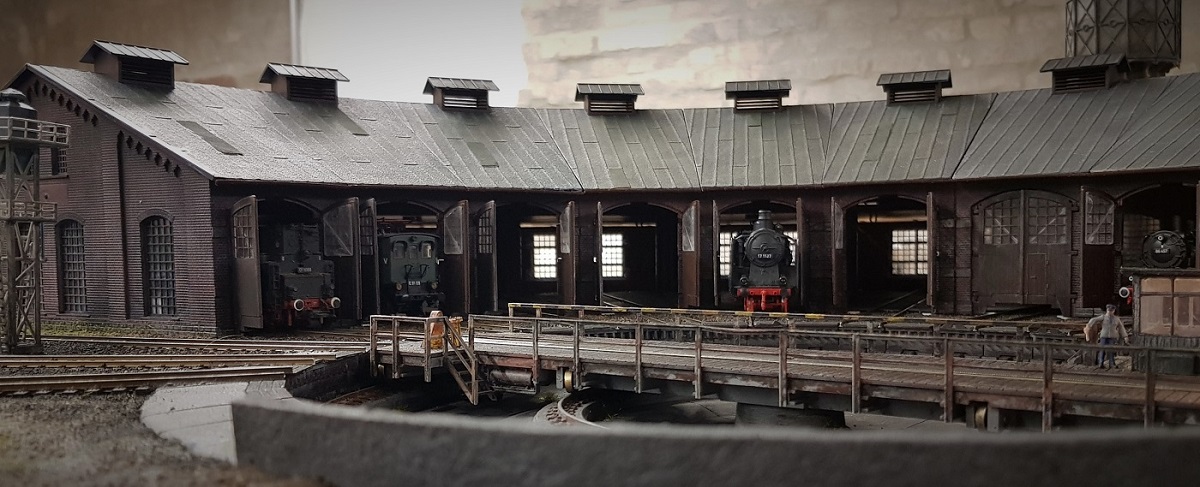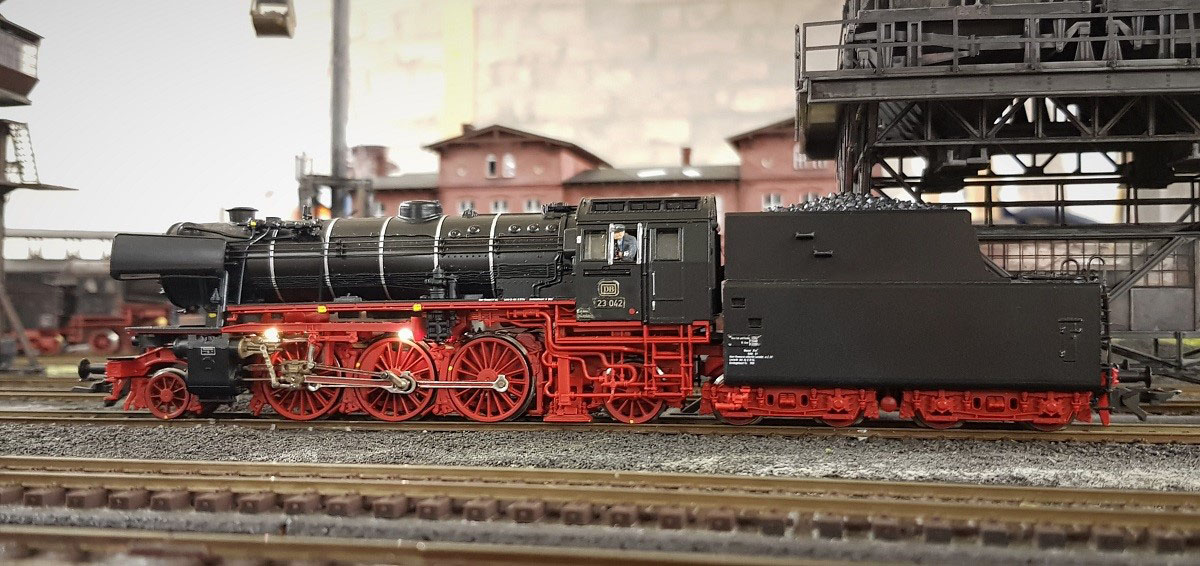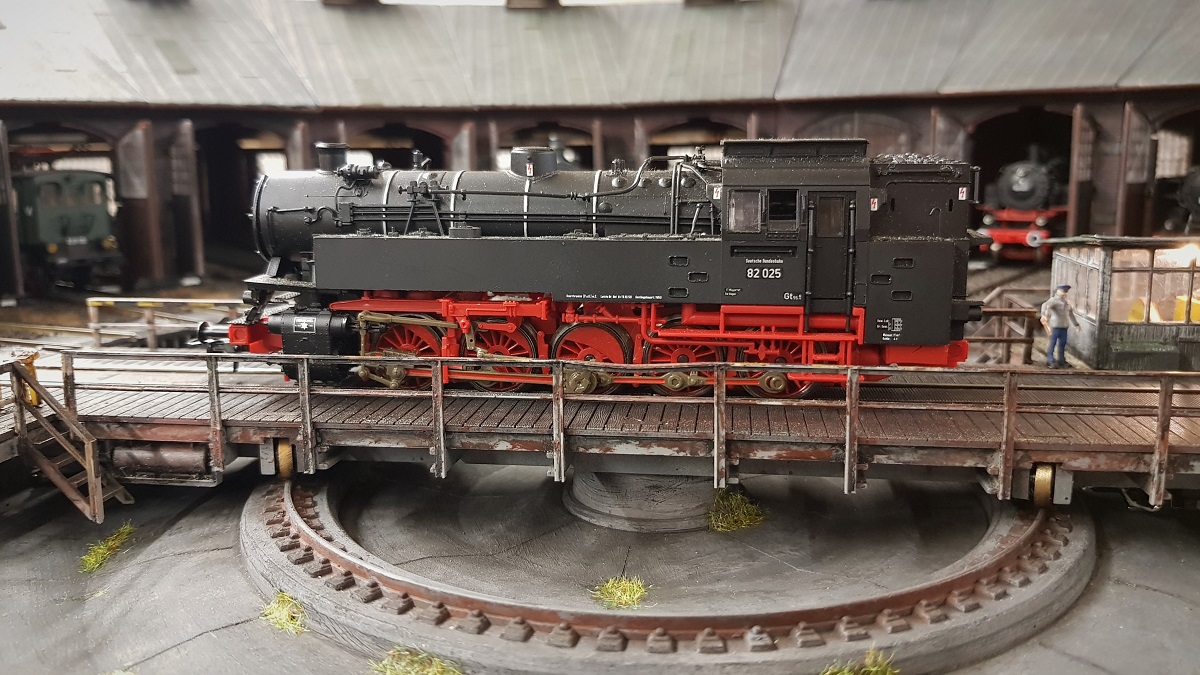 Umbau! Vereinsmitglied von Roco's Baureihe 23 Neubau, und Piko Baureihe 82 im BW Hameln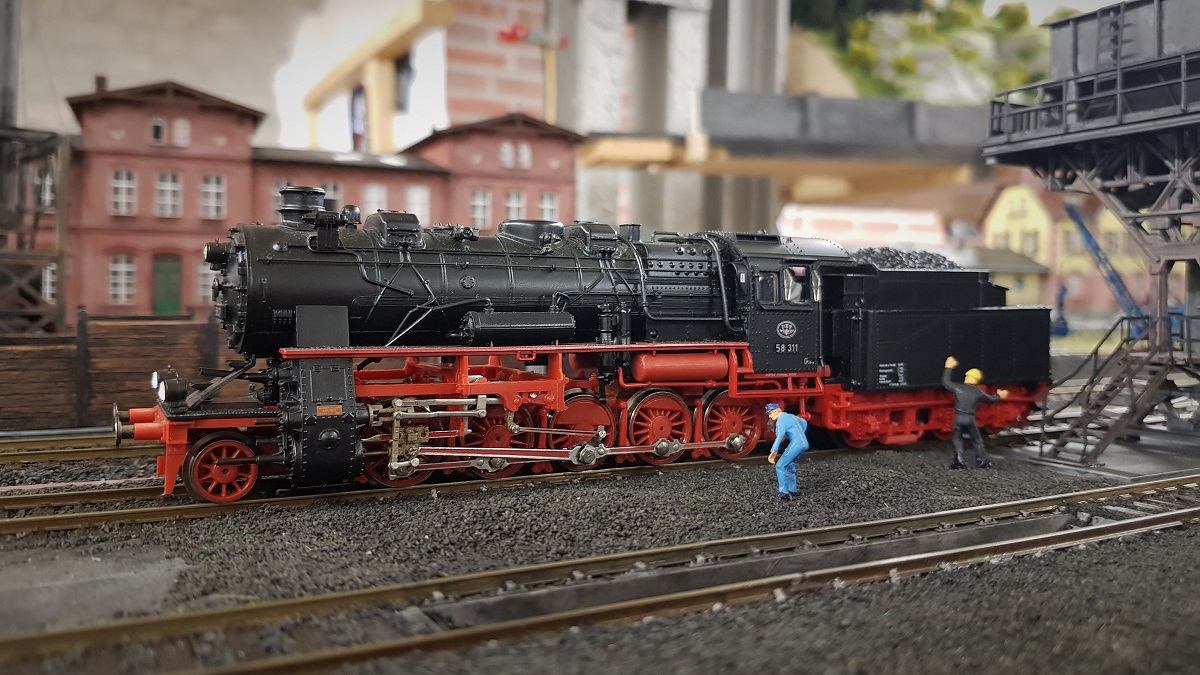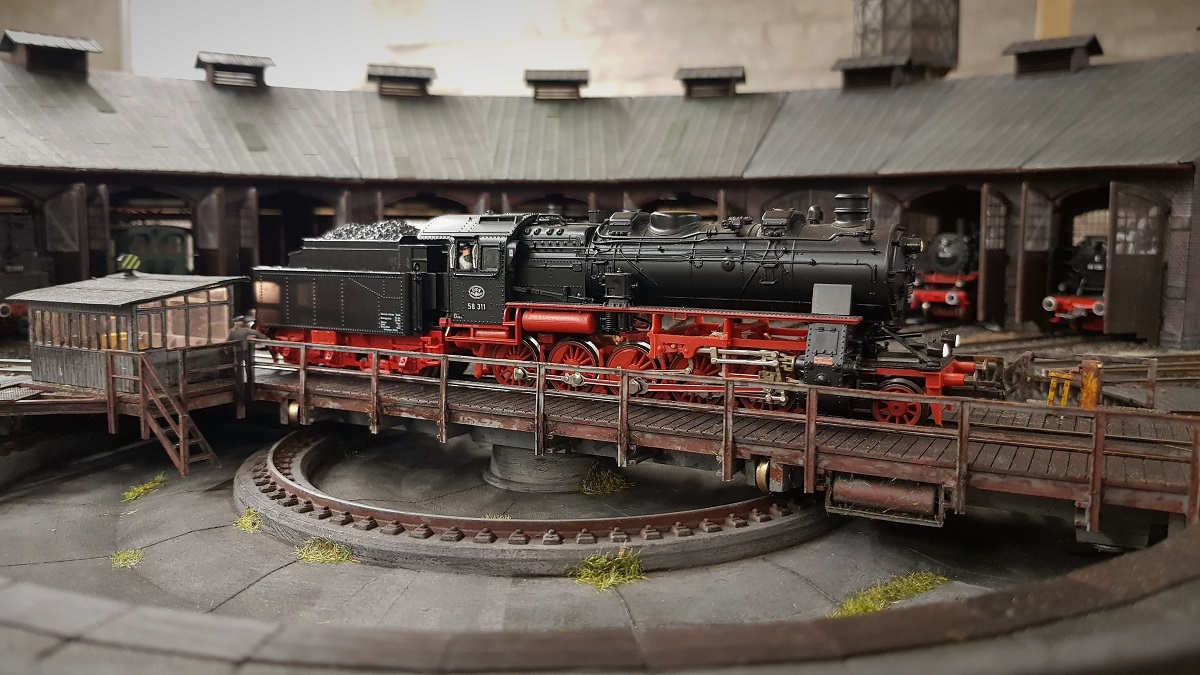 Museumslokomotive 58 311 des Ulmer Eisenbahn Freunde (Roco 43204)
Tuesday, August 10th ~ Rheine Bahnbetriebswerk
On my way to my holiday destination in Fischbeck, I visited Rheine in the morning.
Some 52 years after my uncle set foot on this premisis , I followed in his footsteps to see what's left of it. You can read the Story Rheine 2021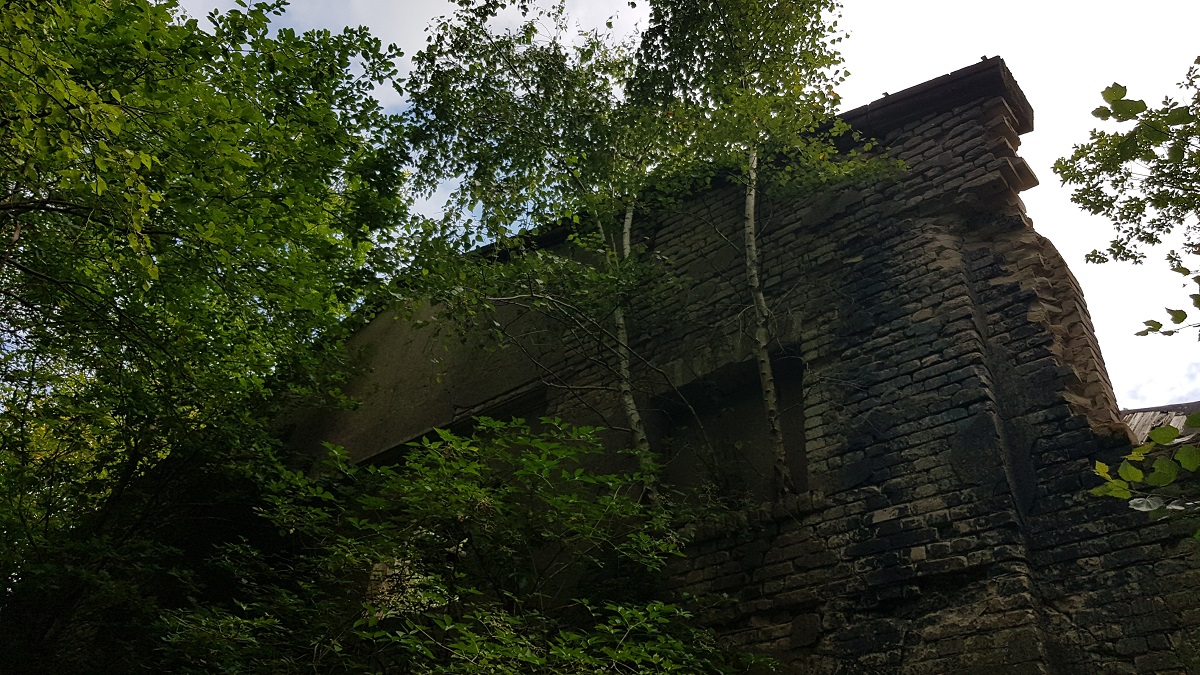 Monday, August 9th
In 2012 I shot the DRG version of Baureihe 23 Altbau, Roco's 23 002 at Gisbert's.
Recently he purchased the non prototypical version of the Deutsche Bundesbahn. You may compare them...


Roco 72250 & 73019
Sunday, August 8th
Small attribution today: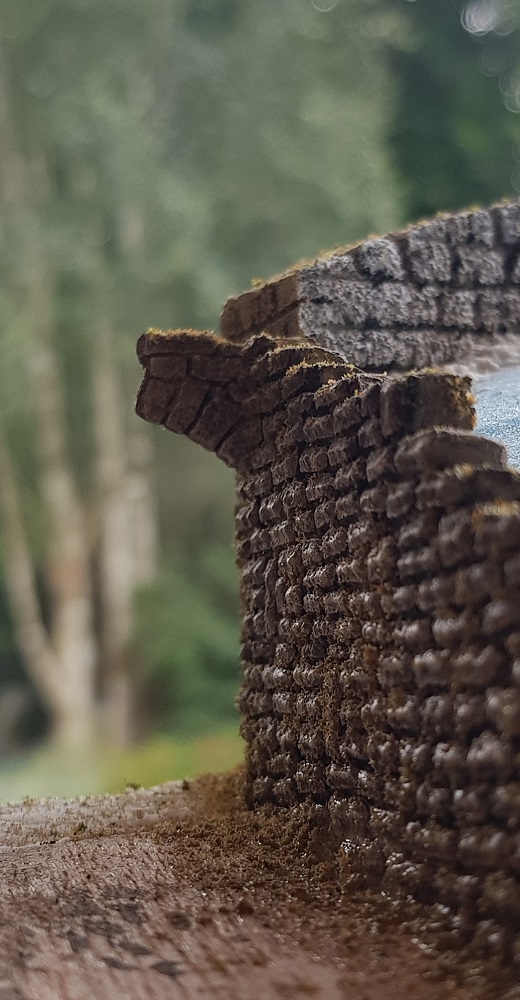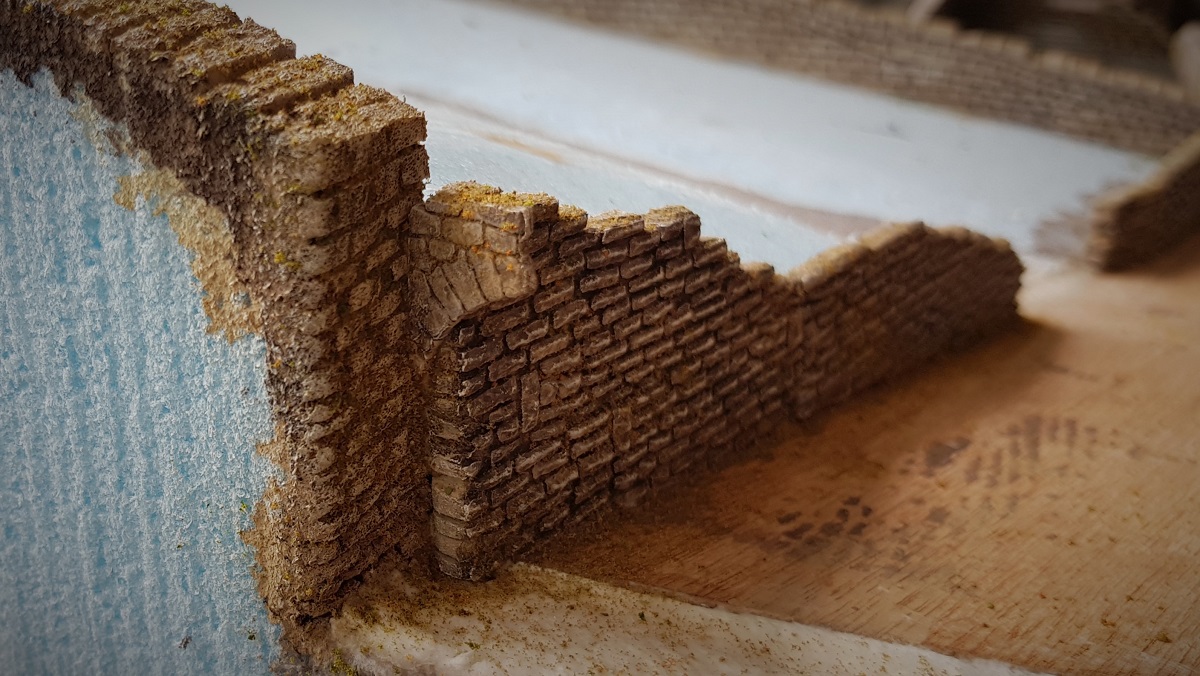 ... and from the Gisbert Files (with a lot of dust-doctoring):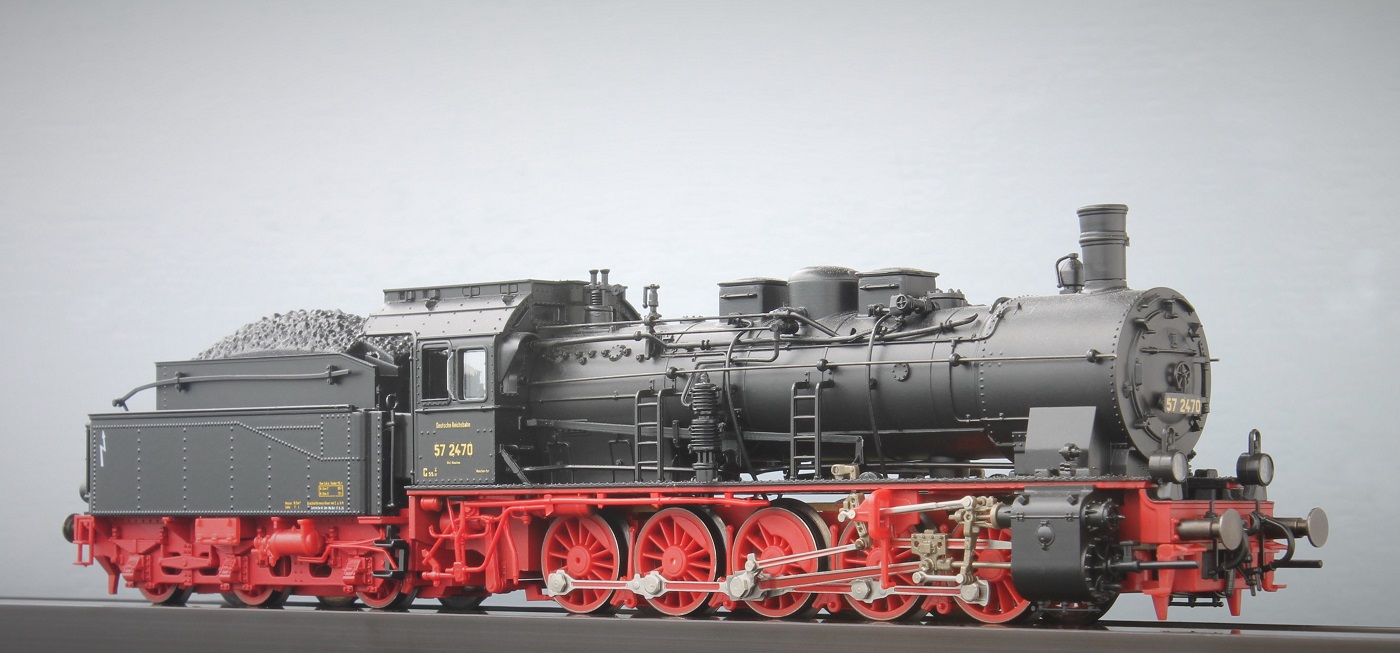 Tuesday, August 3rd
One of Liliput's gems is undoubtedly the Badische IVh Nr. 64 in black and brown-red, produced in 2004. On July 24, 2021 I photographed this model at Gisbert's.


Liliput 104030
Friday and Saturday (30-31)
Positioning the Perimeter Wall. Read more in: C h a p t er 12.3 v.v.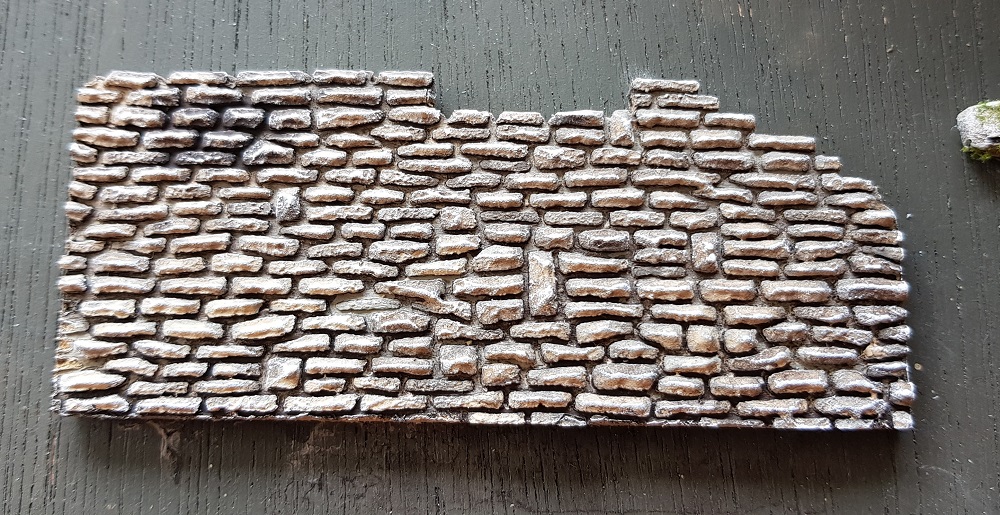 Thursday, July 29th:
On May 26th, 2006, I had my very first photohoot at my uncle's. One of the gems back then was de Saxonian Class XX HV, later known as Baureihe 19.0 (DRG).
It carried the nickname 'Sachsenstolz' (Saxonia's Pride). I shot the Gützold steamer (#48100) like this: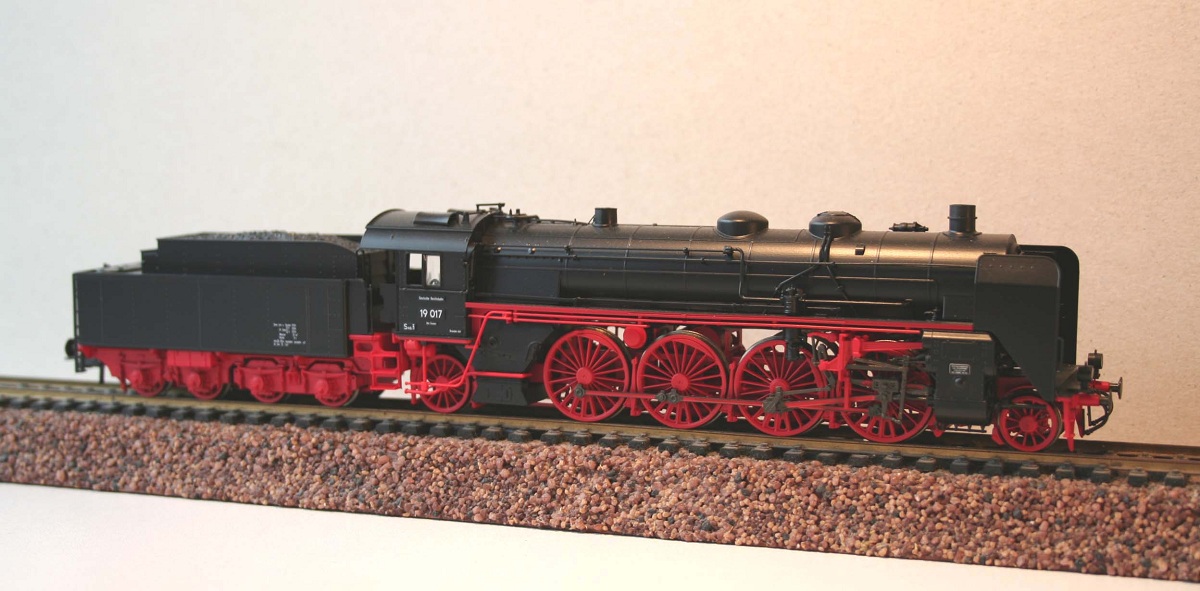 After he sold his whole collection somewhere around 2010, he started to collect again some models in the years after. One of them is again the Gützold 48100.
As you can see, my creativity in photoshooting has evolved in a certain way...


Gützold 48100
Wednesday, July 28th
A new chapter is written in the Renovation Journal: D e r W e i n b e r g (the vineyard):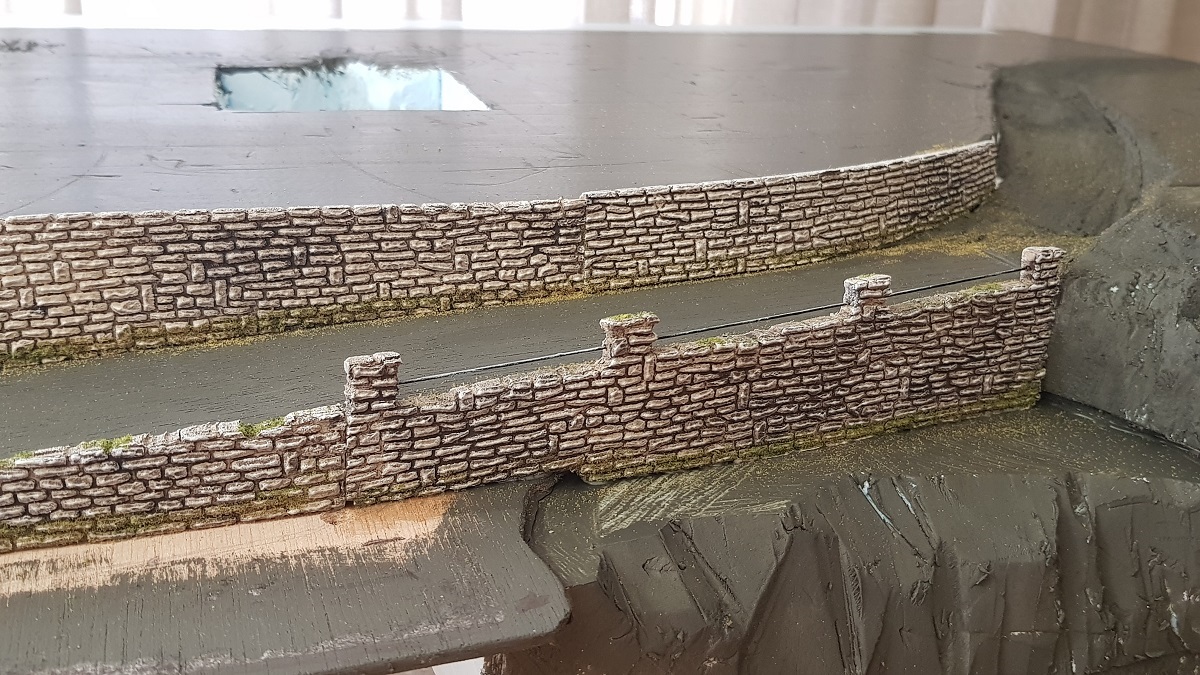 Saturday 17.7.2021
This weekend I finished the Kathedral. The whole story including 'the maing of' is described in Chapter 10.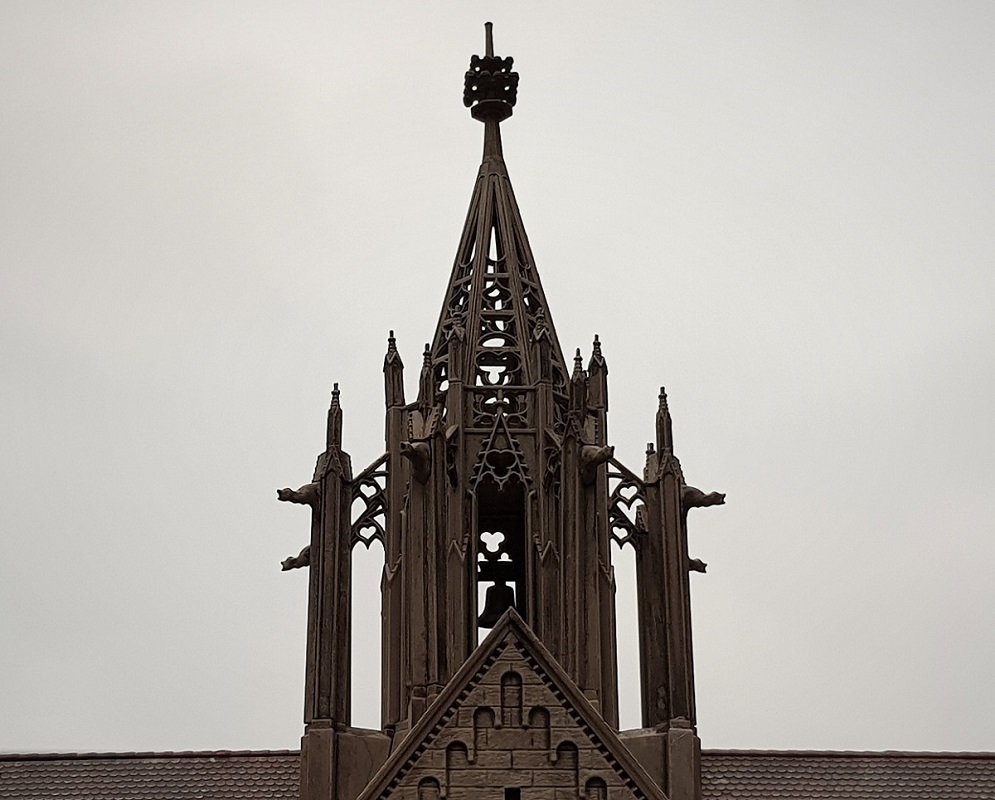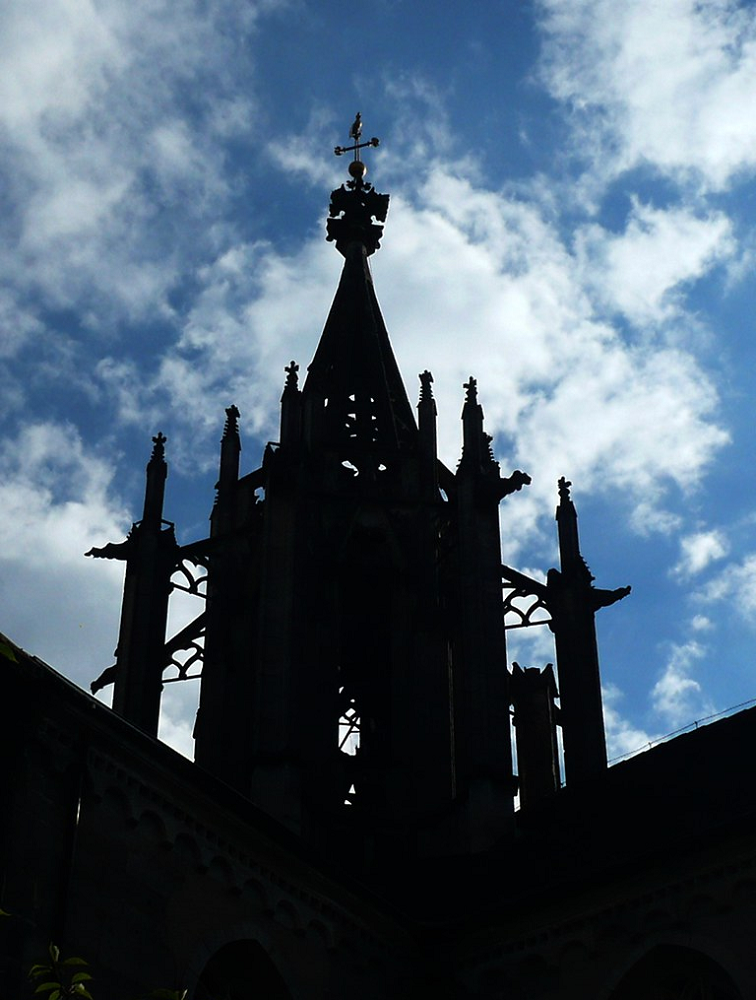 Thursday, 16.7
The Bavarian D VI in DRG livery. Only one pictures was released in 2009, some more will follow soon.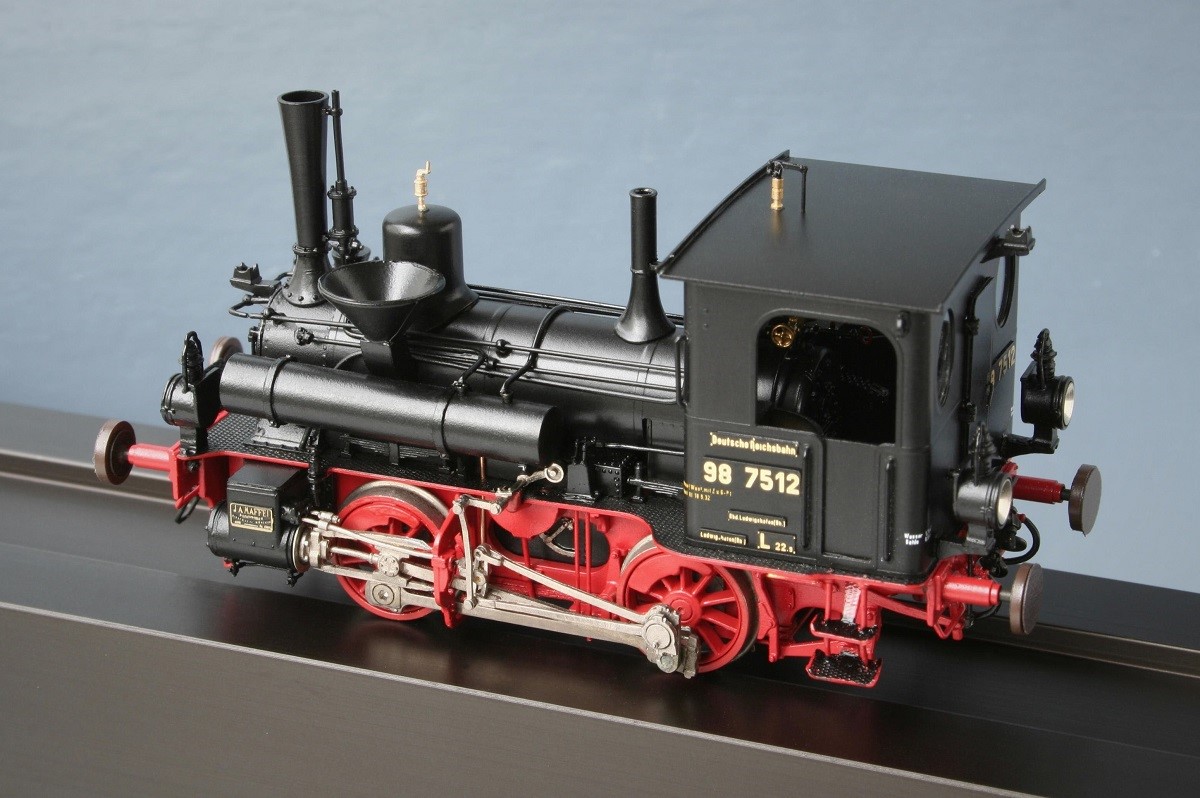 Frits Osterthun © 15.7.2009 / added 16.7.2021
Tuesday, 14.7.
Two significant shots (from the Osterthun Files Landshut 2009) of the Austrian Zahnradlokomotive (rack locomotive) System Abt, released as Class 369 by the BBÖ.
Only two engines of this type (Bauart Z 68.16) were produced in 1941 by the Wiener Lokfabrik Floridsdorf (WLF). During German occupation they were renumerd as DRG 97 401 and 97 402. Micro Metakit converted this locomotive to scale in 2004.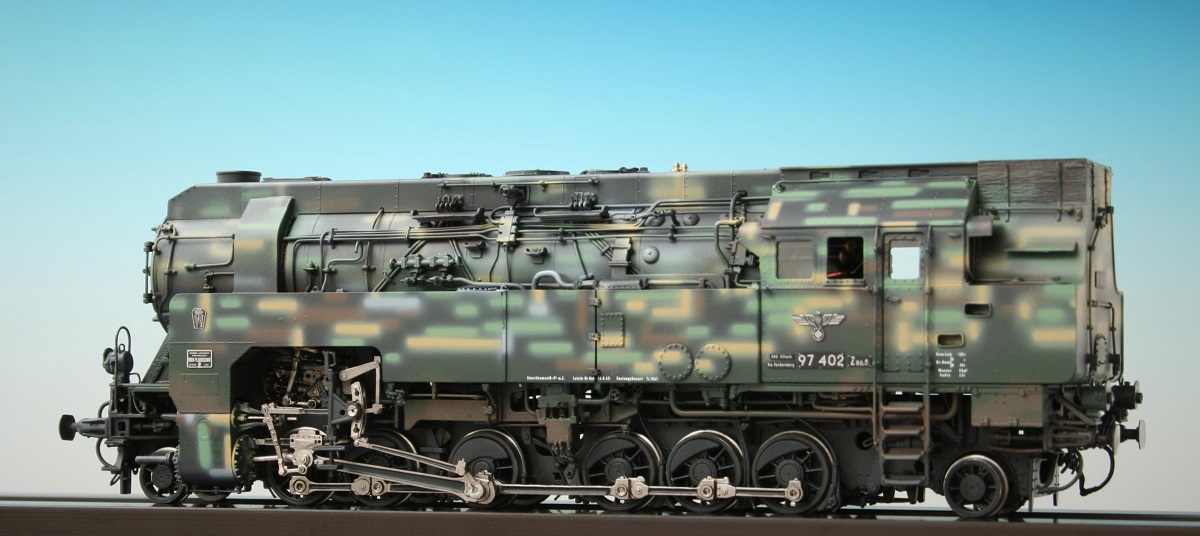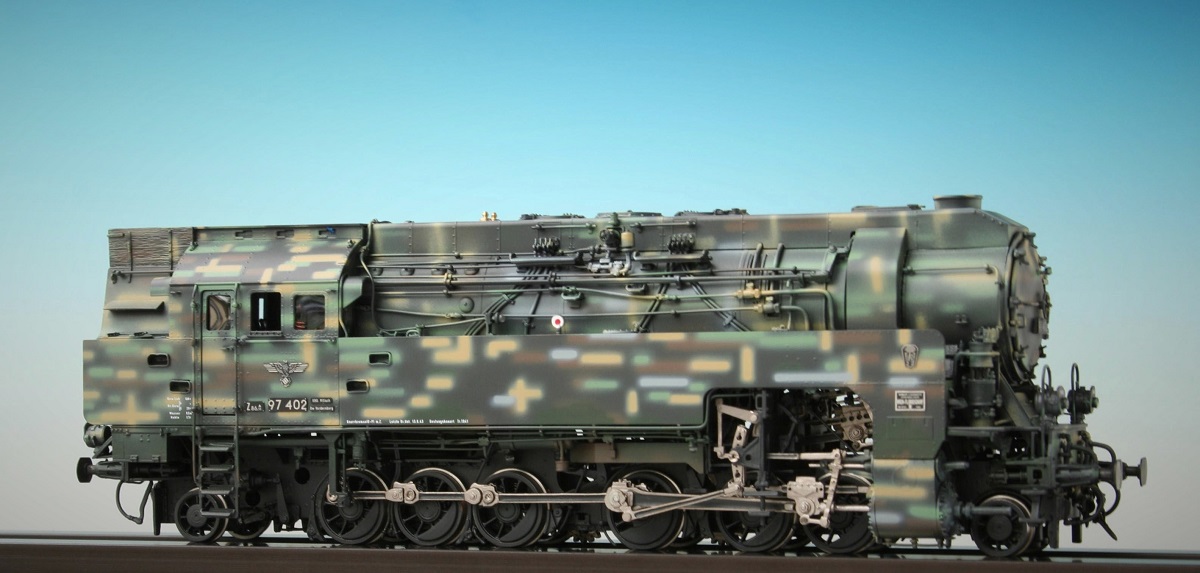 Frits Osterthun © 15.7.2009
Saturday, July 10th
This Italian steamer with Franco Crosti added to the Picture Book... two days later another couple.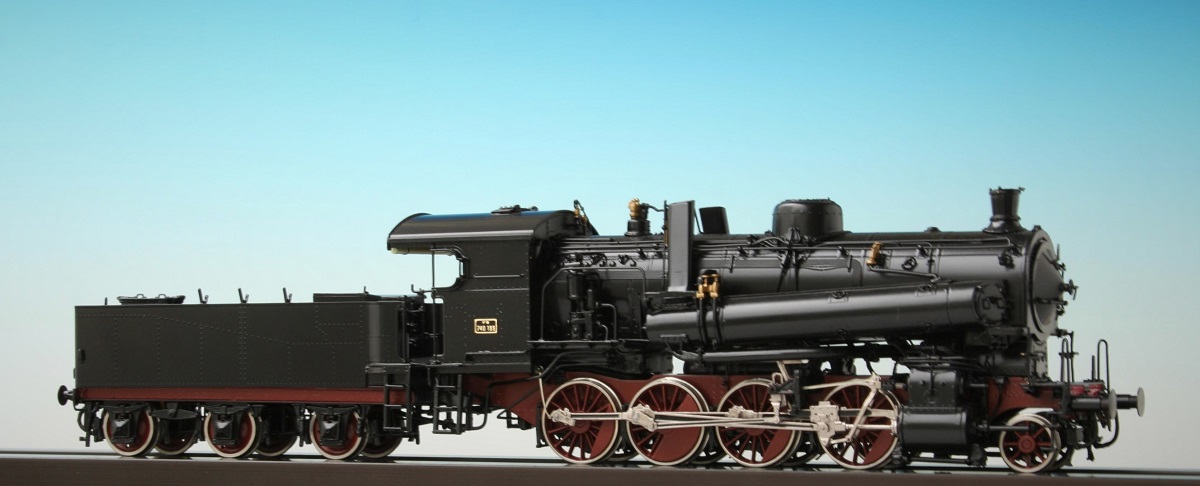 Micro Metakit 03901H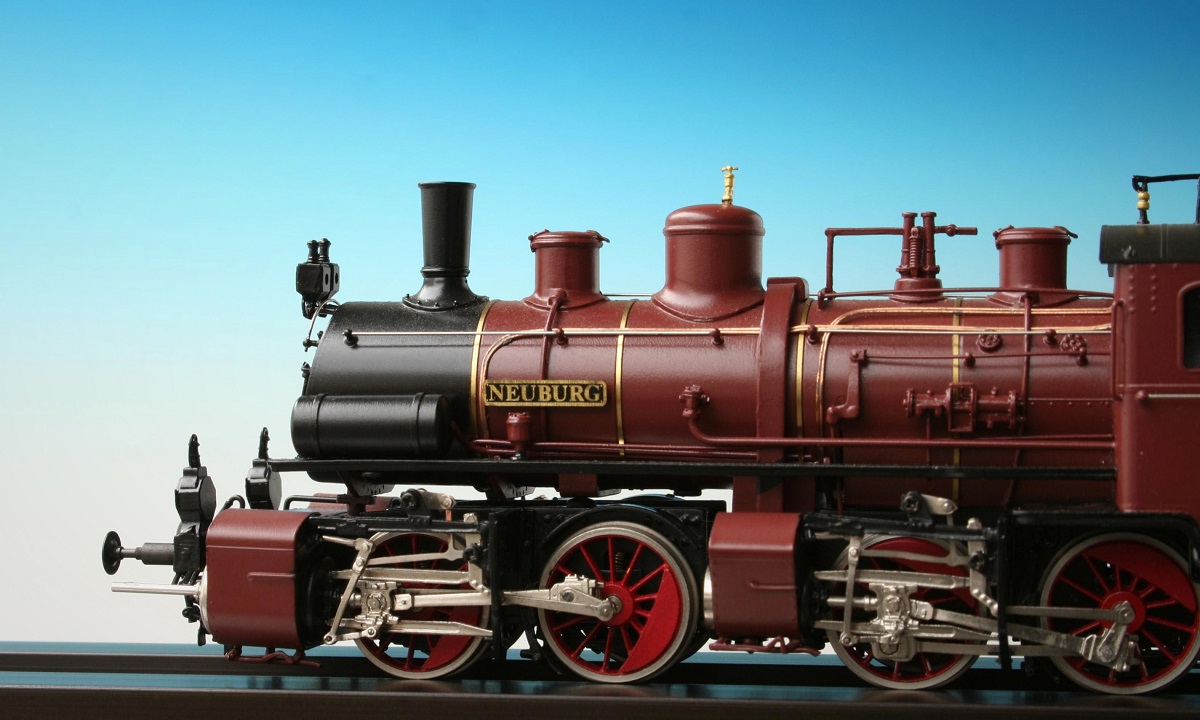 Micro Metakit 94103H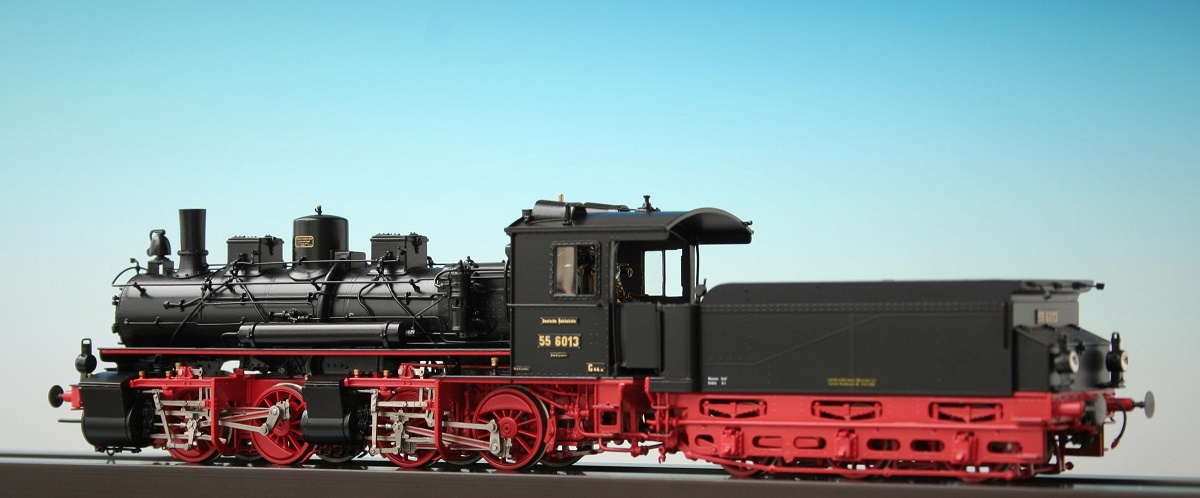 Micro Metakit 05405H
Mondag, July 5th
Two blue-backdrop pictures of Maffei's Bavarian BBI Nr. 2100 added. The Monastery roof is fixed, since the hall is not completely deserted.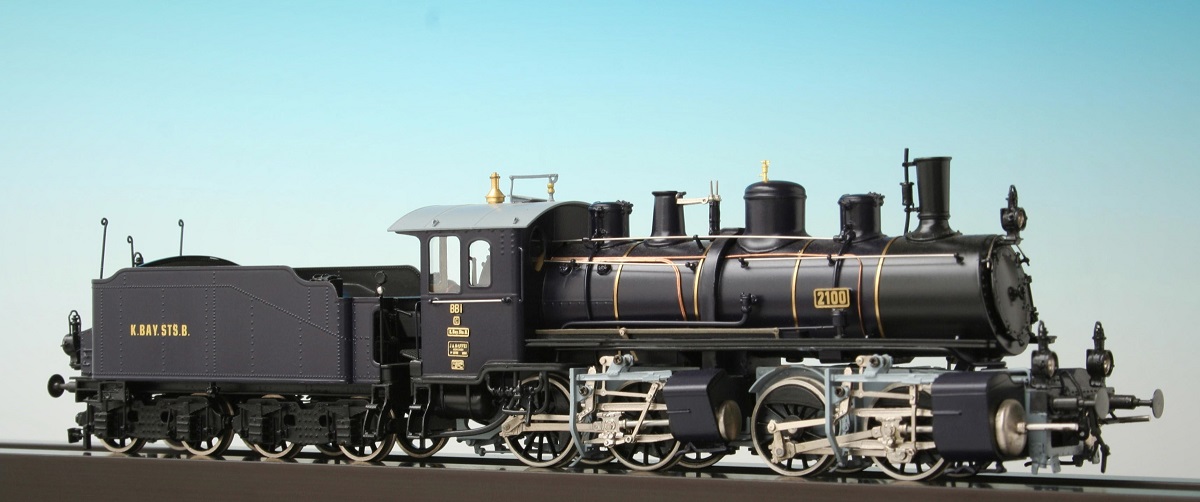 Micro Metakit 94100H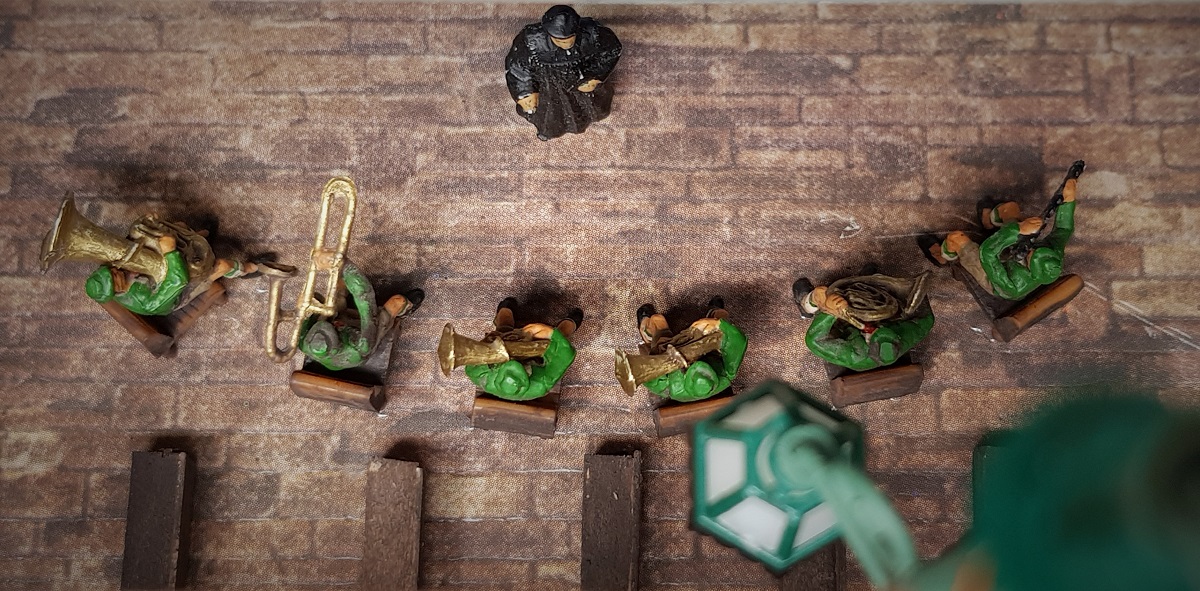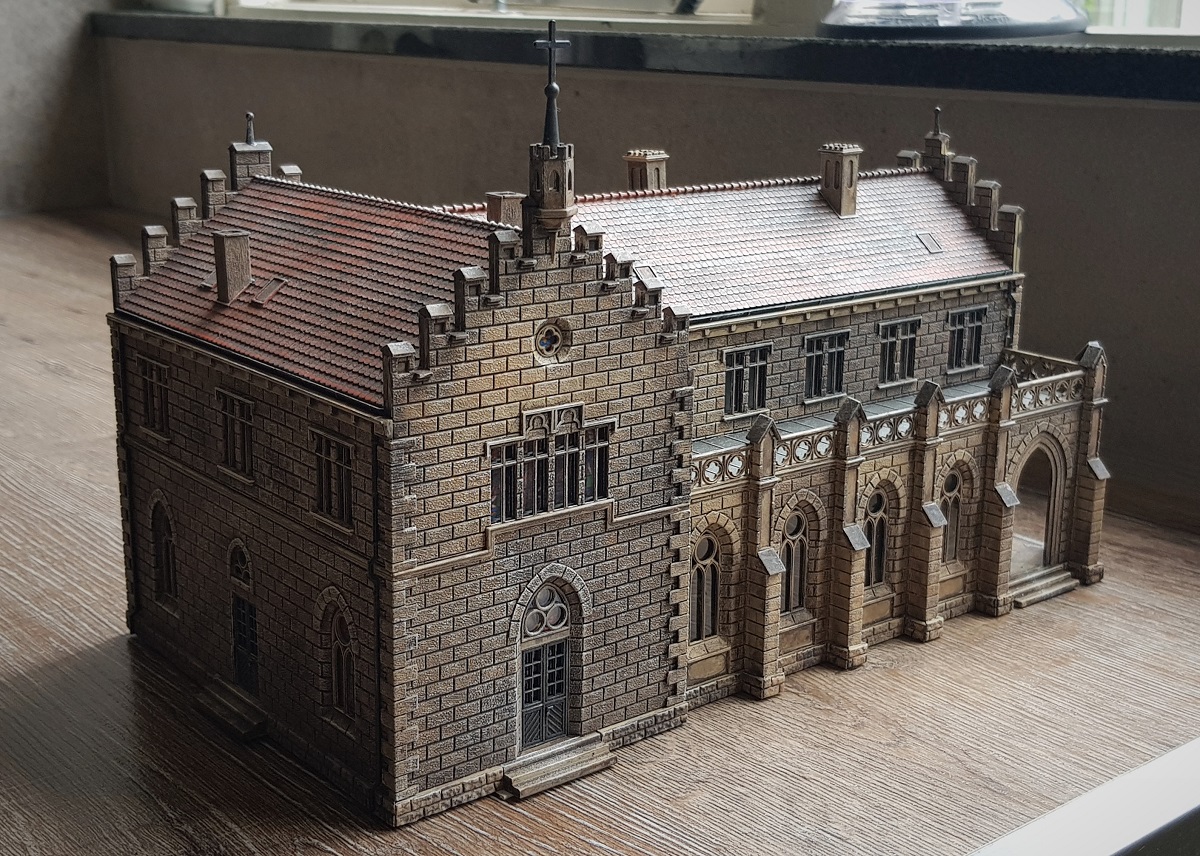 Saturdy, June 26th
Today I did some work on both the cathedral as the monastery. Read more in Chapter 10.9.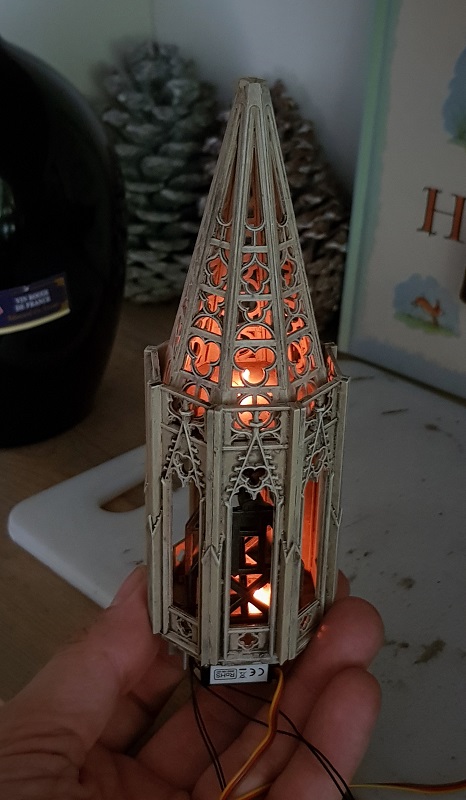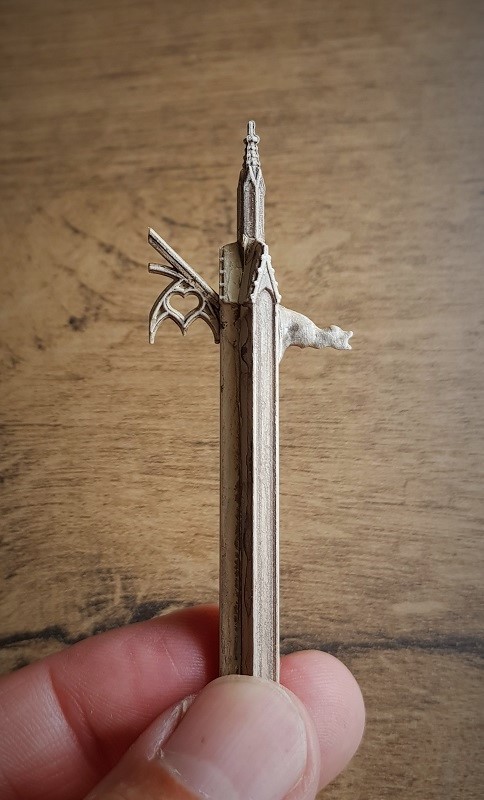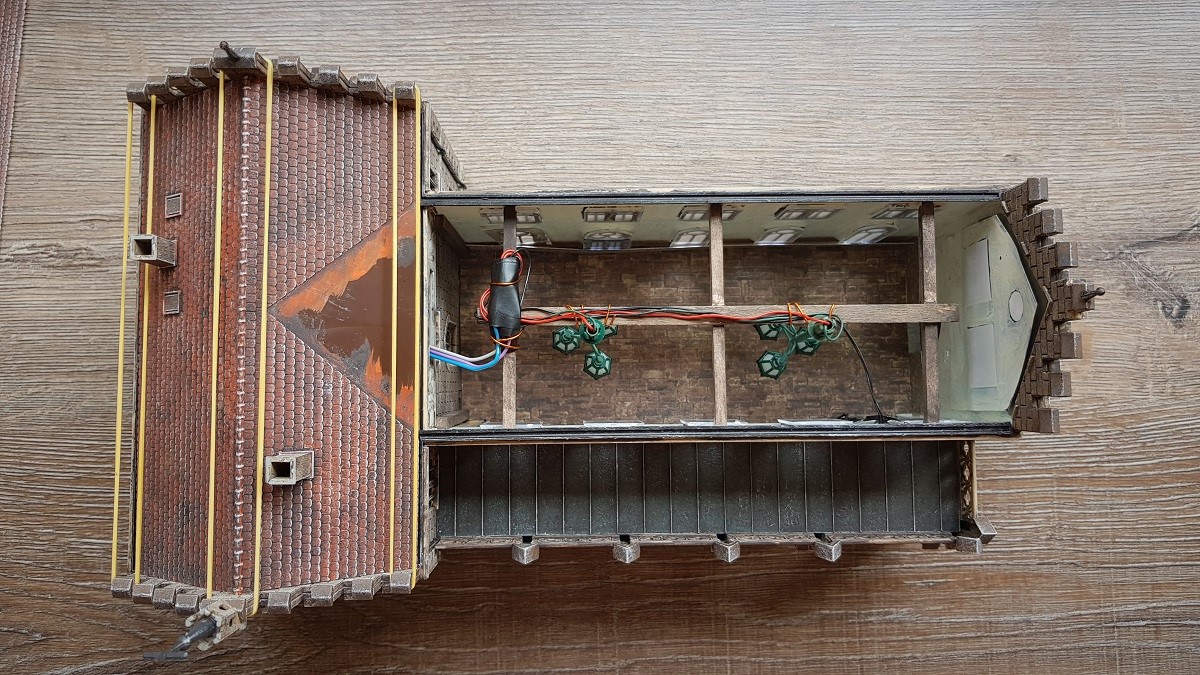 Sunday, 13 June
After weeks of waiting for and testing of the Faller Servo Control, I have continued building the cathedral these days - be it slow slow.
Now it's time for the tower. It looks promising...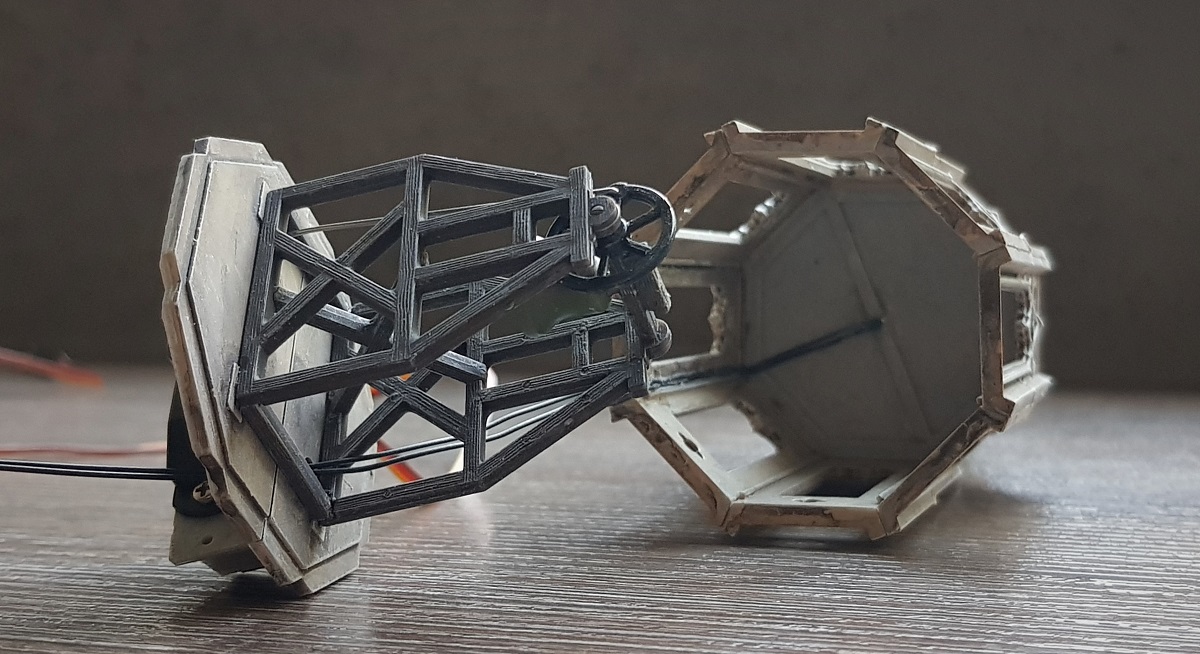 Saturday, 12 June
New pictures from the Micro Metakit Files were and still are being added, either with grey or blue backdrop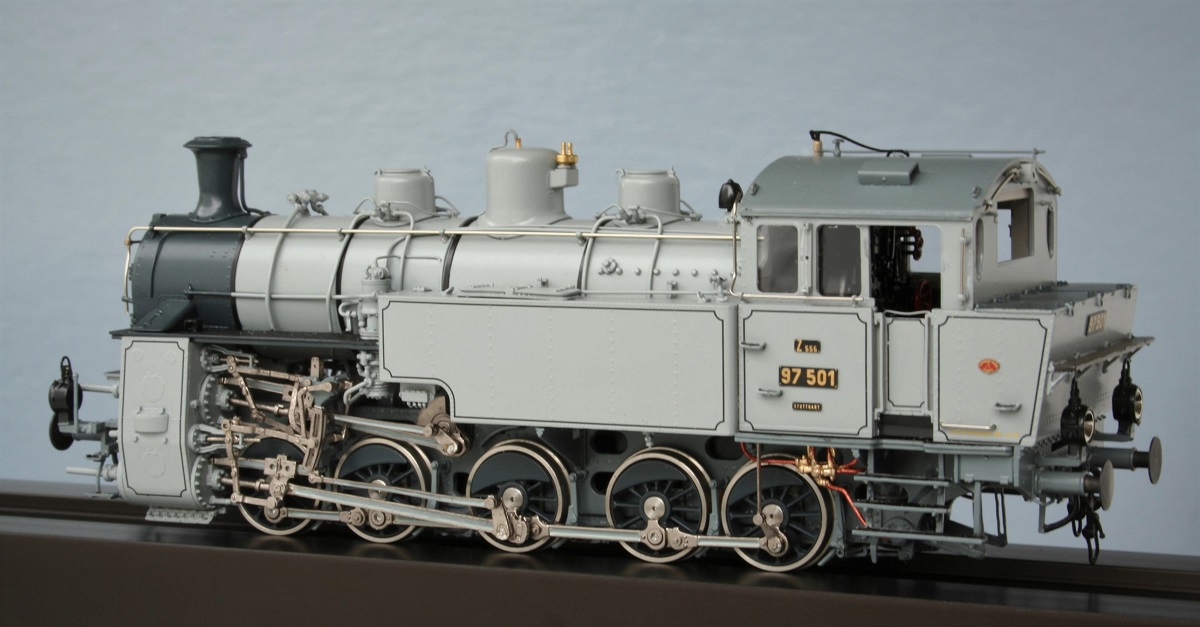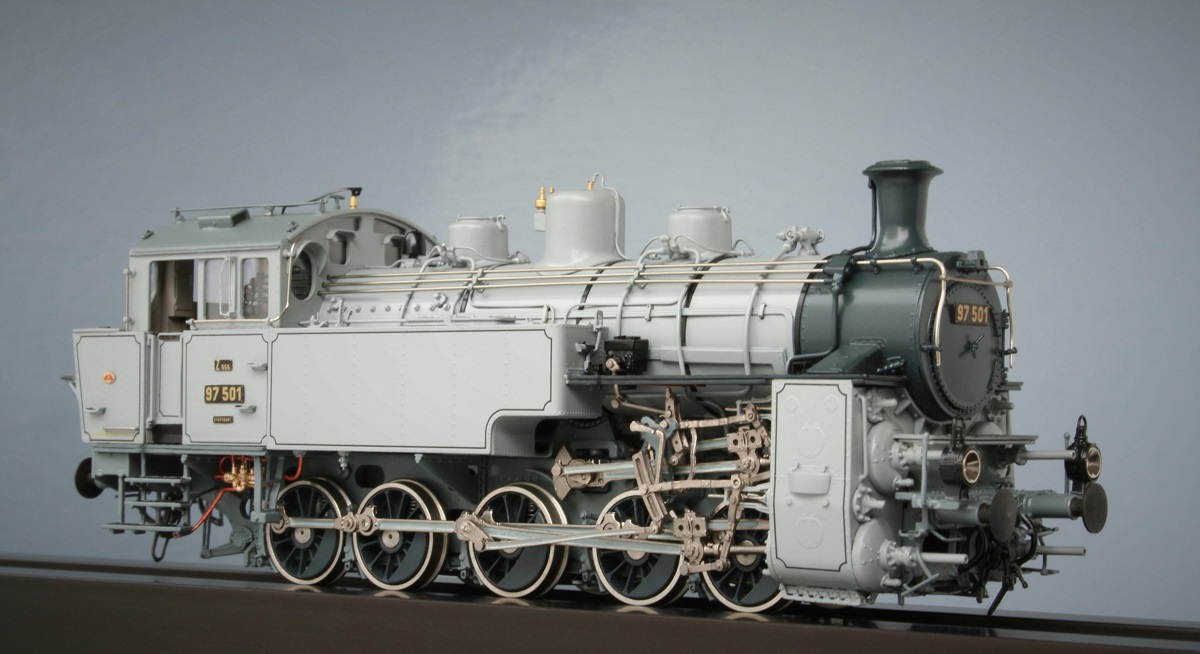 Micro Metakit 04200H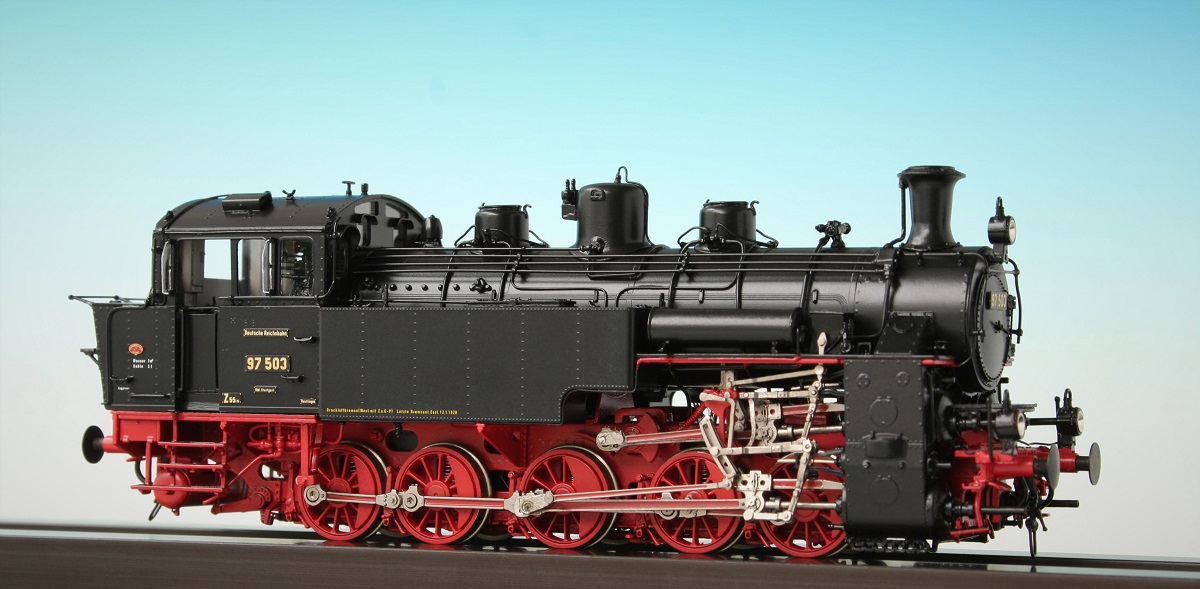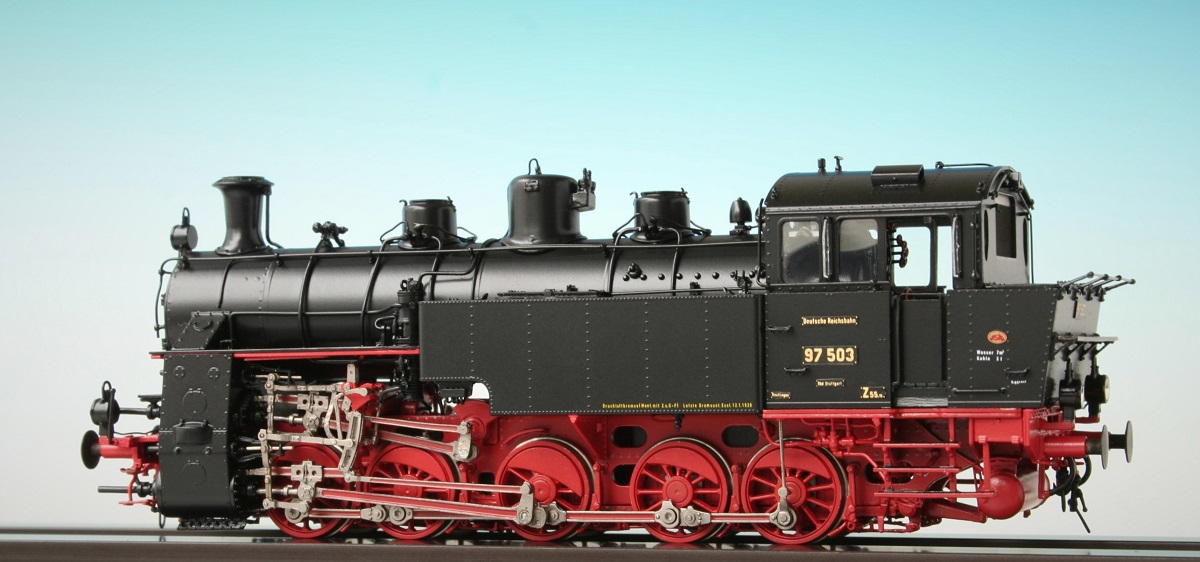 Micro Metakit 04202H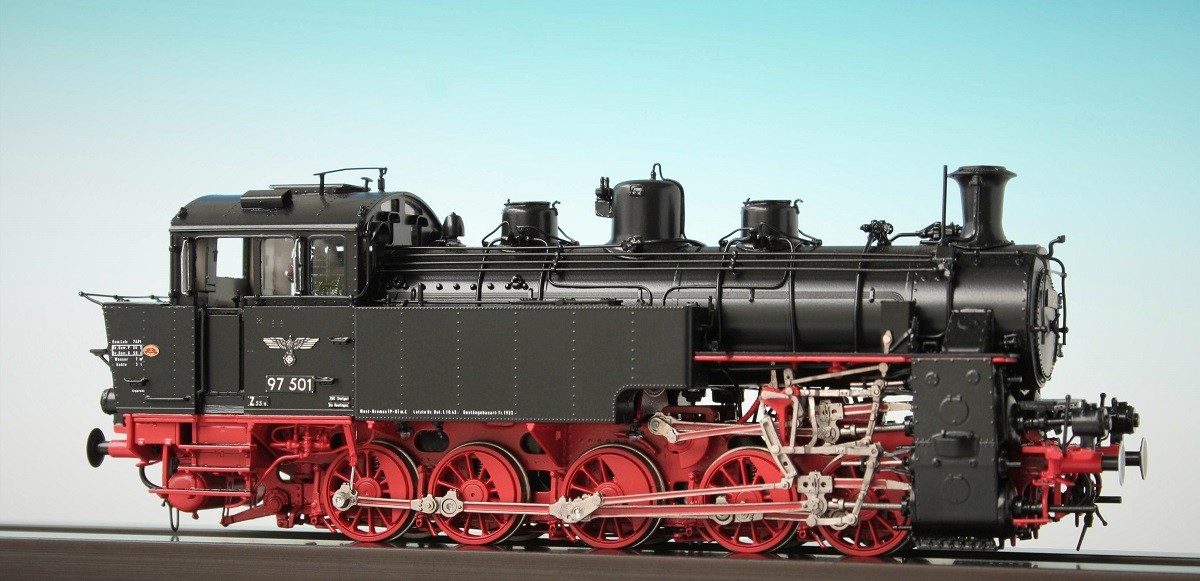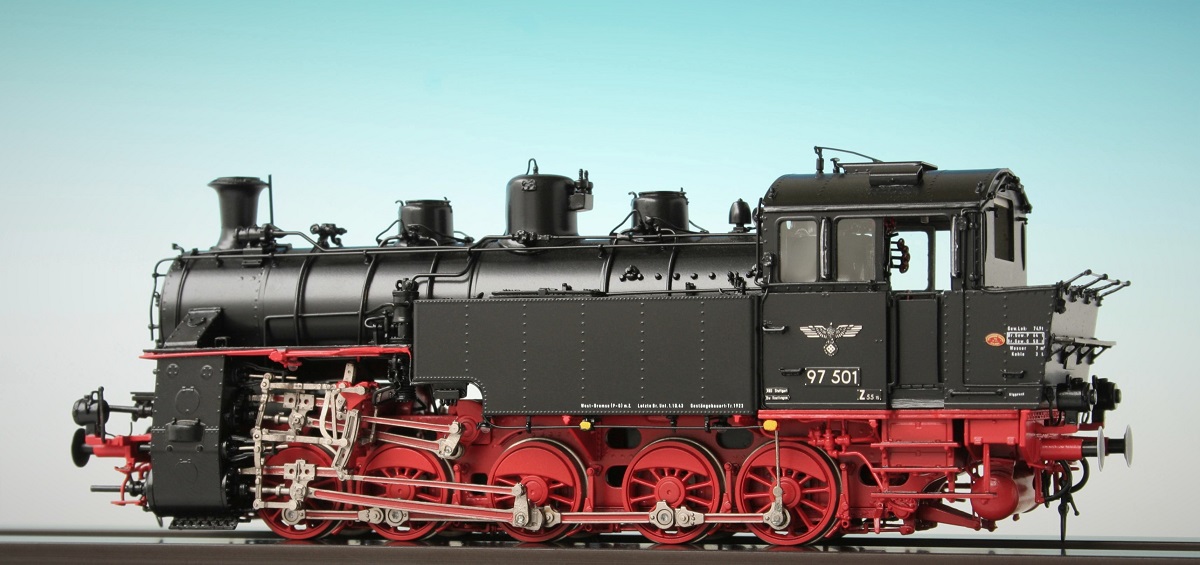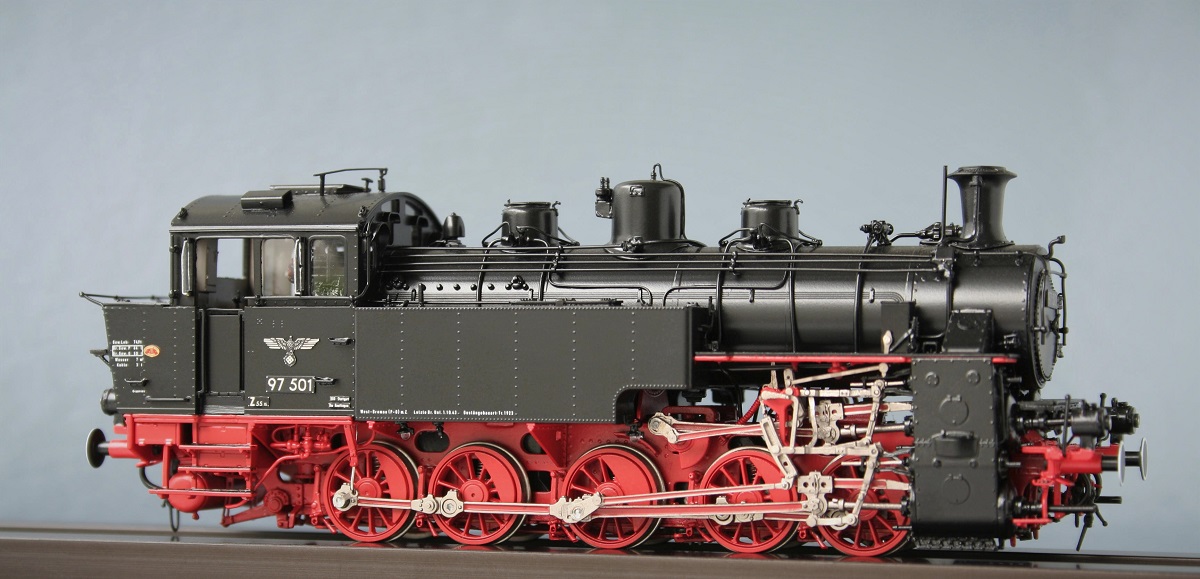 Micro Metakit 04203H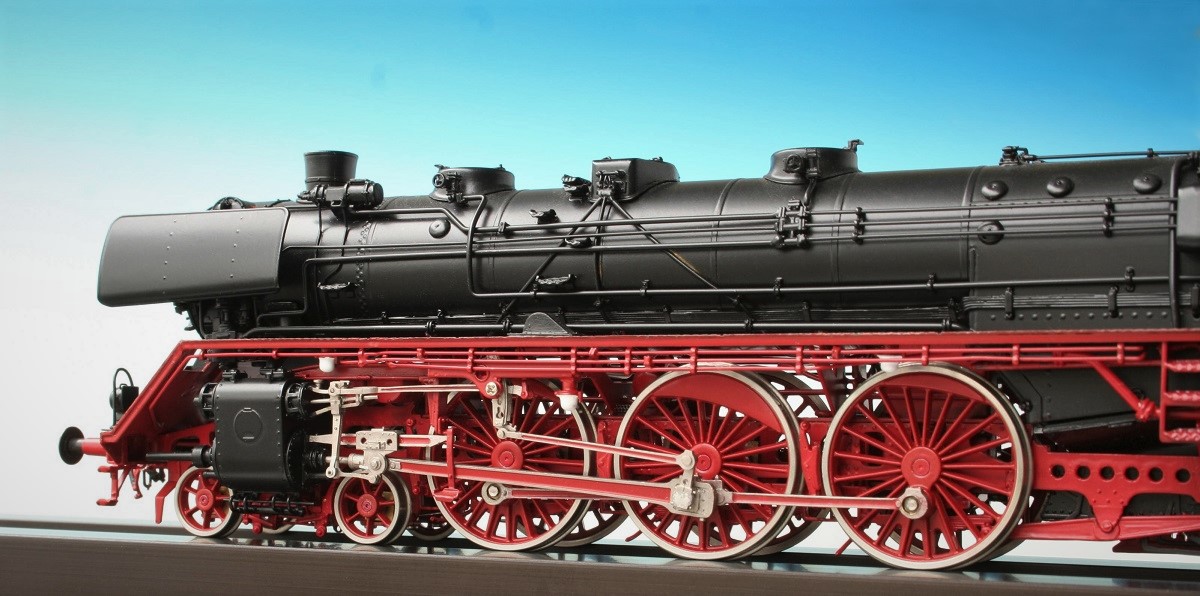 Micro Metakit 94803H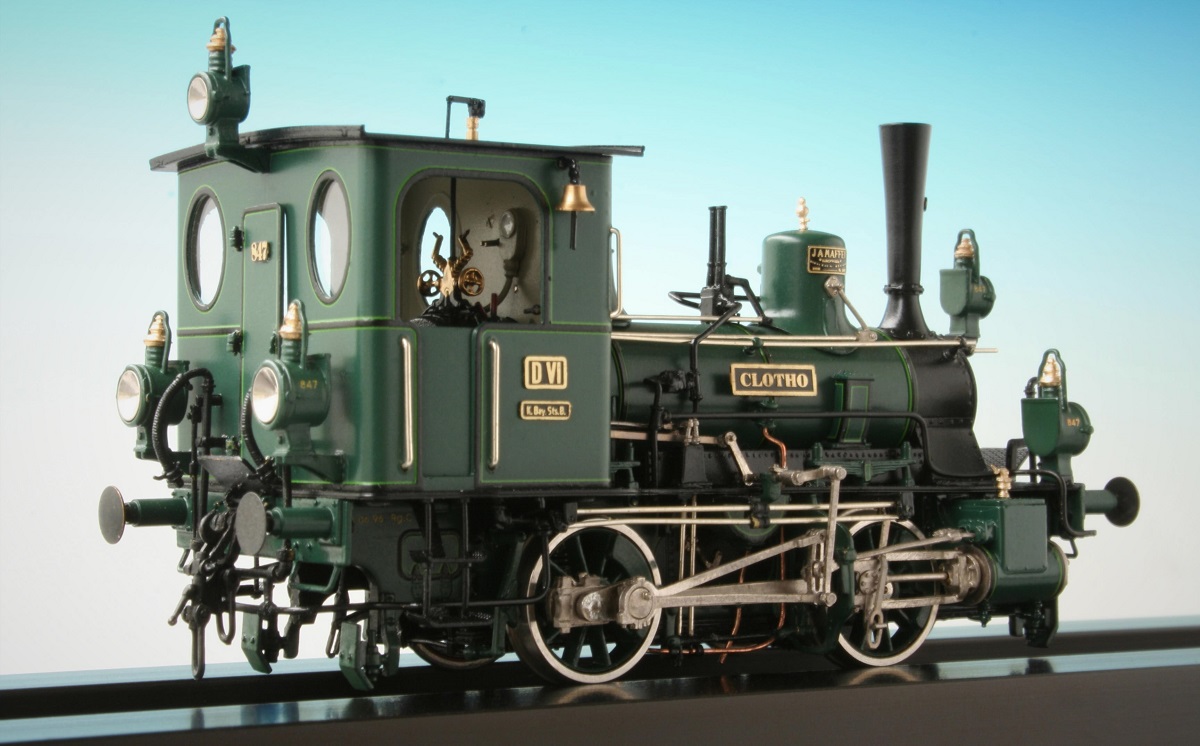 Micro Metakit 04101H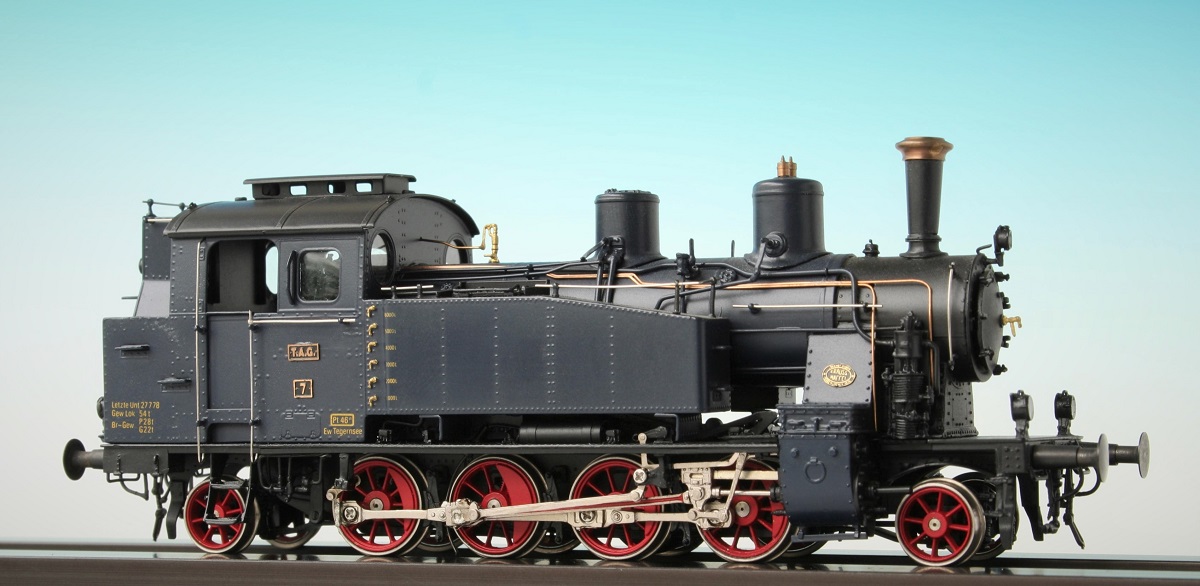 Micro Metakit 89001H, now with blue backdrop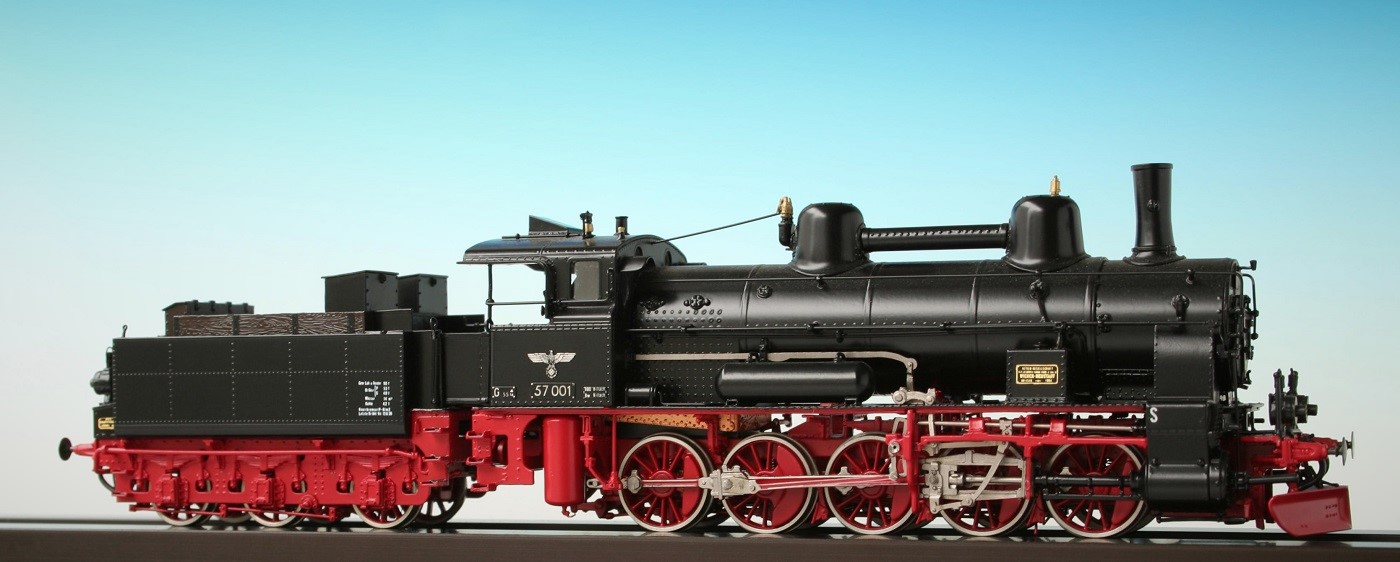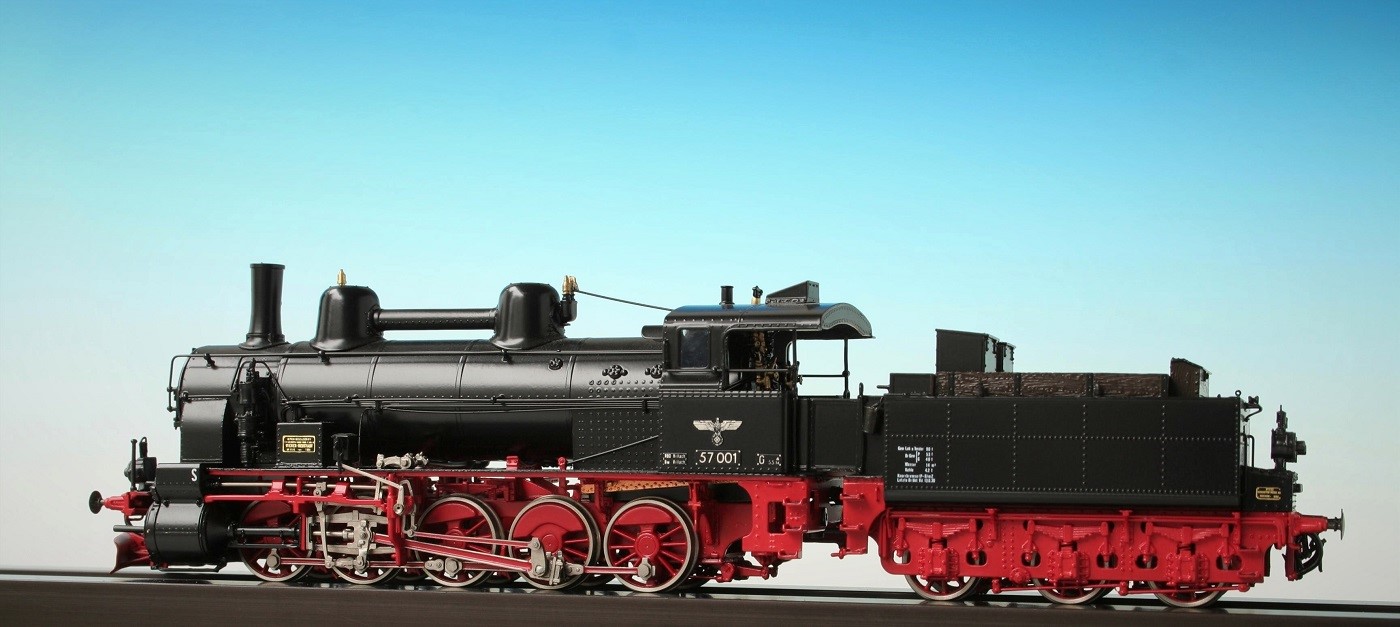 Micro Metakit 98804H, former Austrian Class 180 (added 17.6.2021)

... and with grey backdrop
Friday, 28 May
Working on the third water layer with Noch "Foam and Spume" in Journal 11, chapter 11.2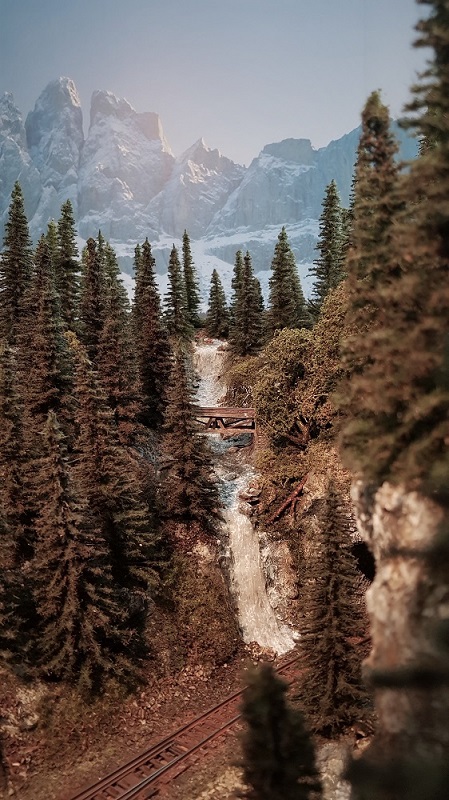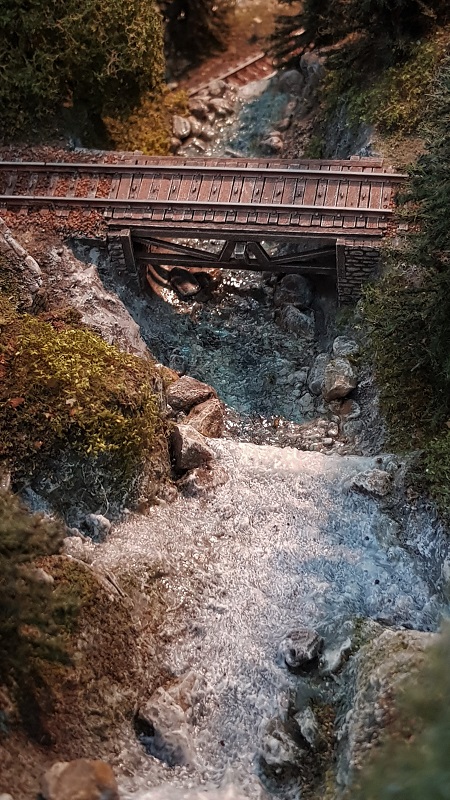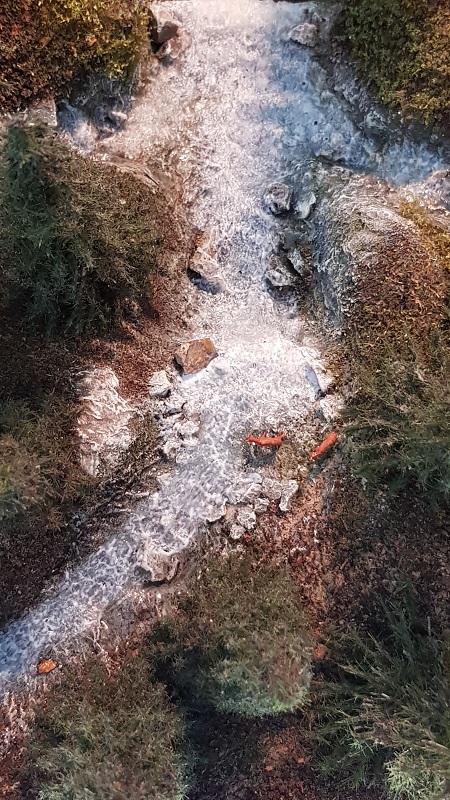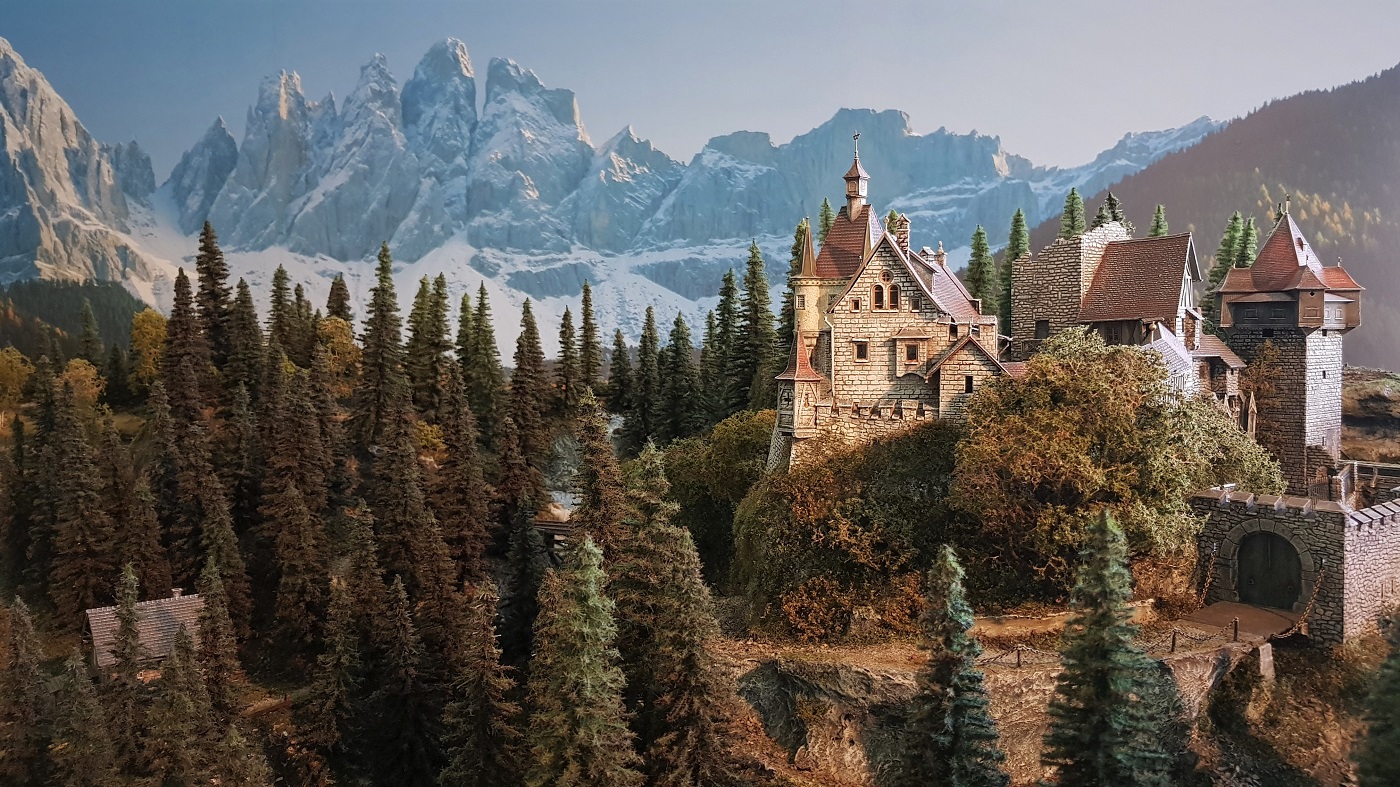 Tuesday, 25 May
Last week I provided the 2nd layer of water, using Vallejo Water Texture (26.201). I still need to do the finishing touch with 'doam and spume' (Noch).
Nevertheless, I like the effect already. See Journal 11.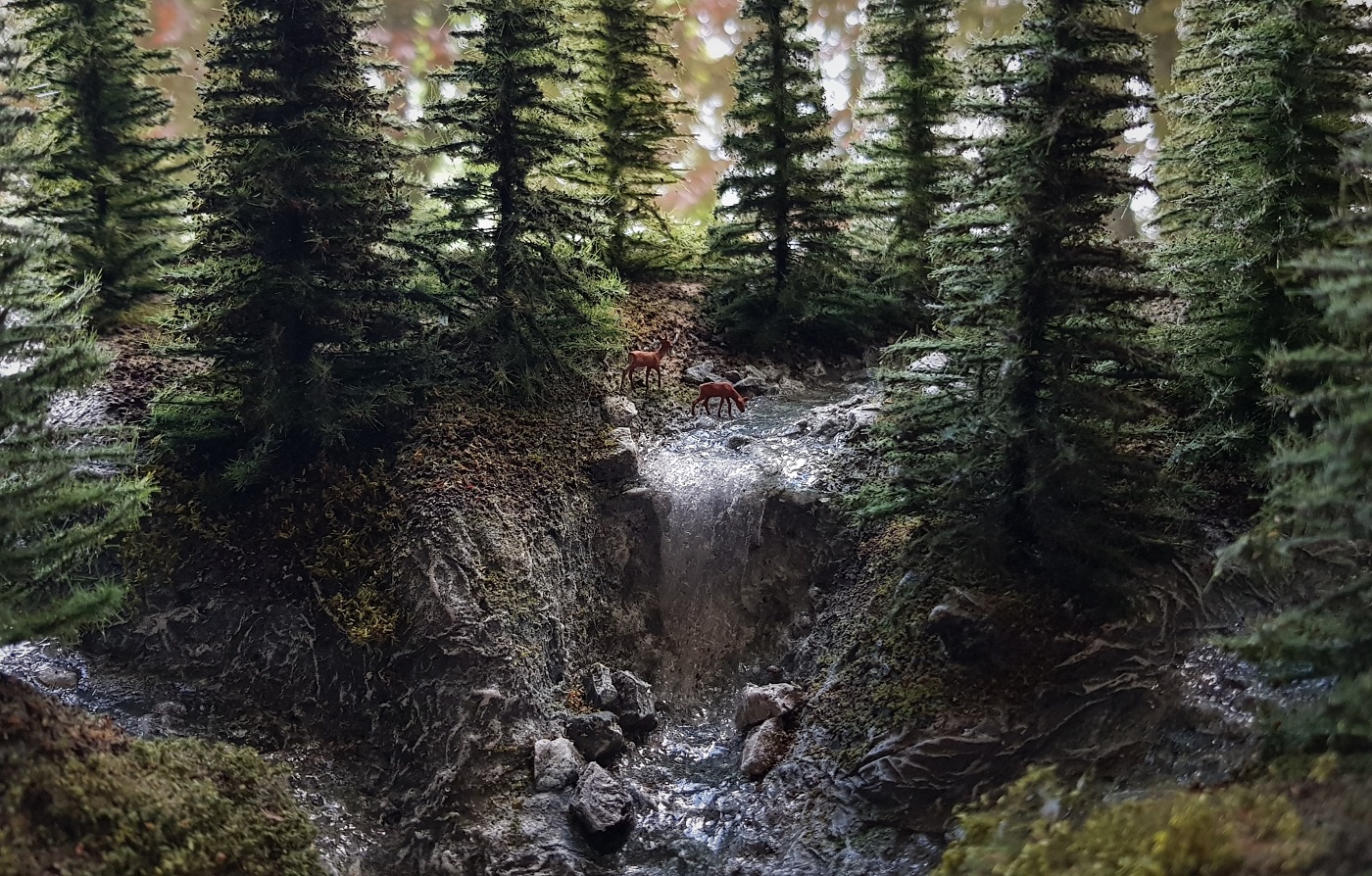 Saturday, 22 May
This morning a package was delivered: Faller Servo Steuerung (180724) and Faller Sound Module (180730).
No problem to put a fine bell tune after my liking to the folder. My cathedral will indeed have a very orignal sound now!
It's time to continue finishing the belltower!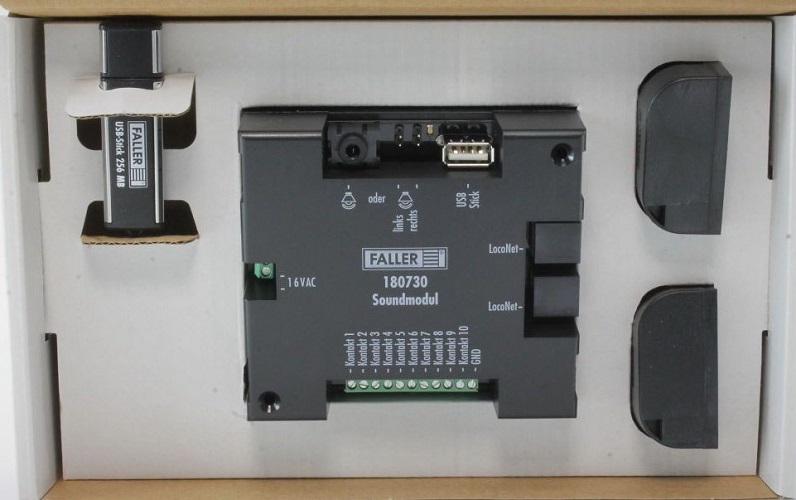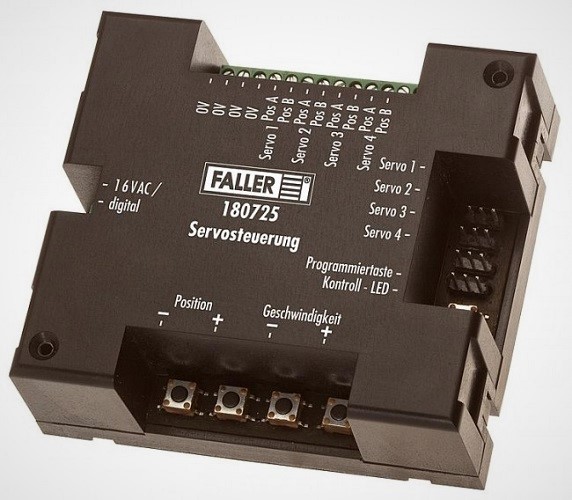 Sunday, May 16th
New addition of MiMe pictures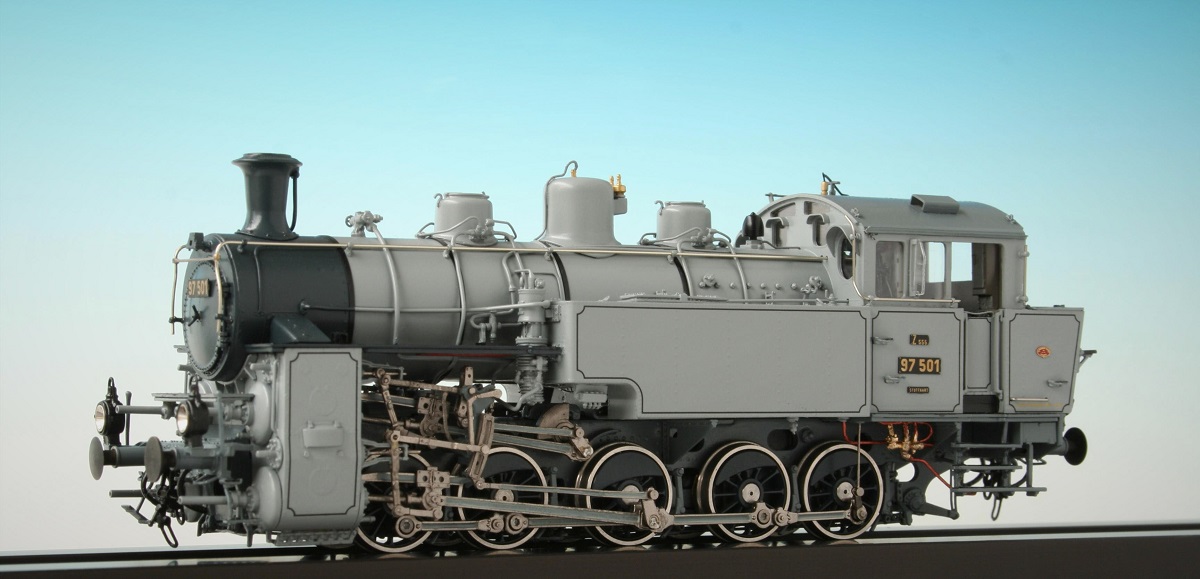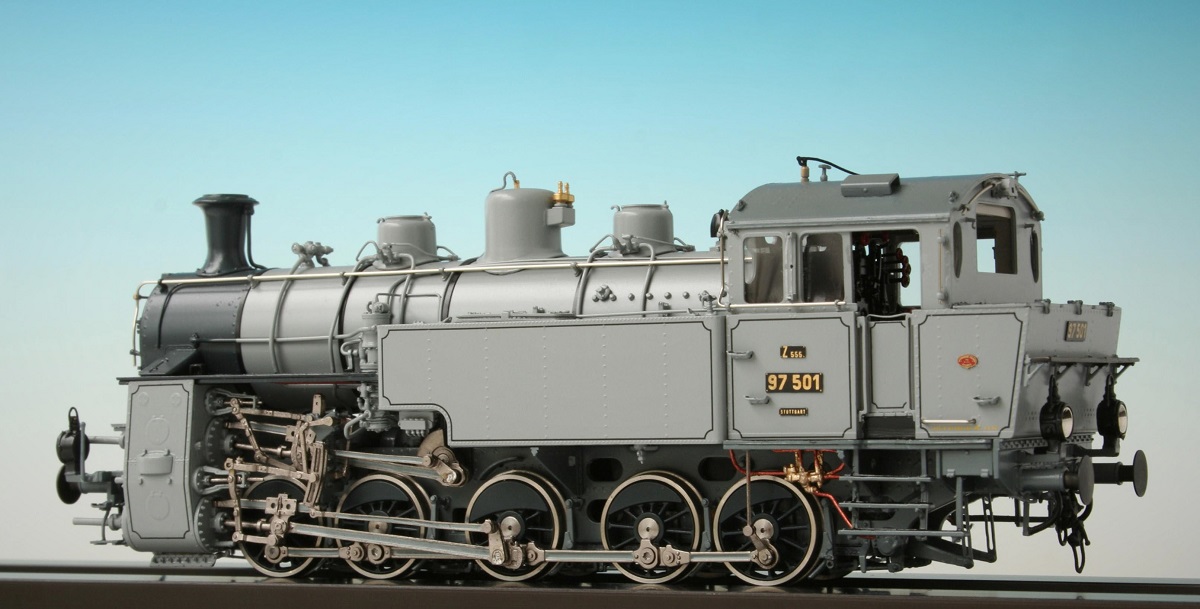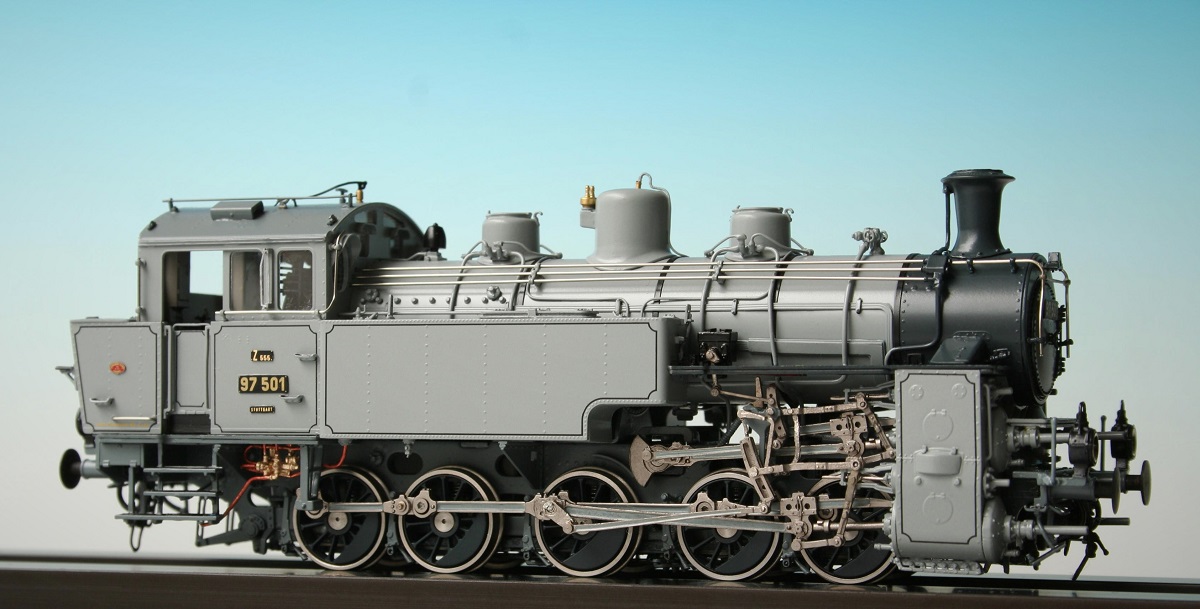 Micro Metakt 04200H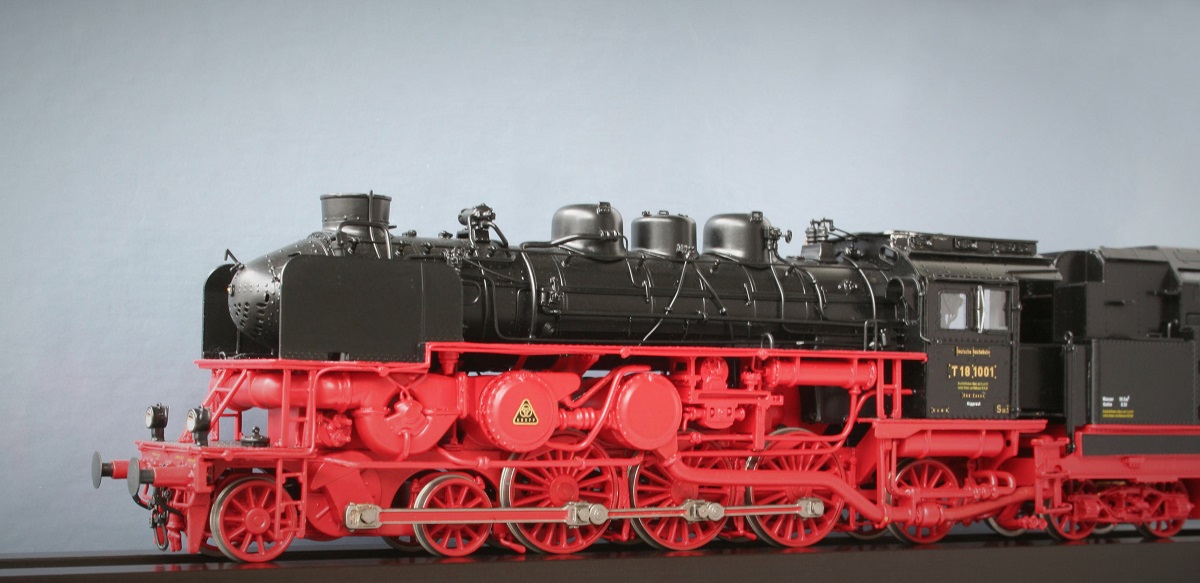 Micro Metakit 03302H
Saturday, 8/5
All the way to the roof. Last week I attached the flying buttresses. Today the construction of the clock tower started. See more in Journal 10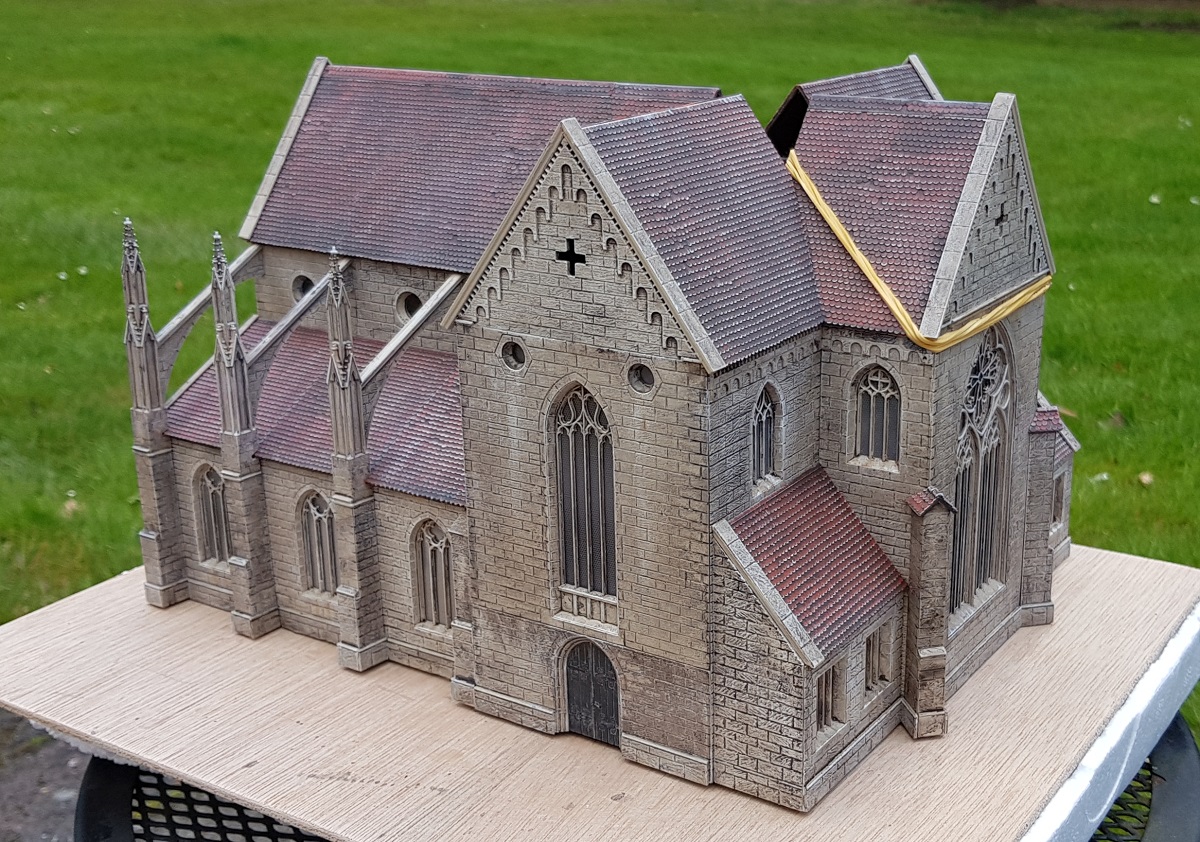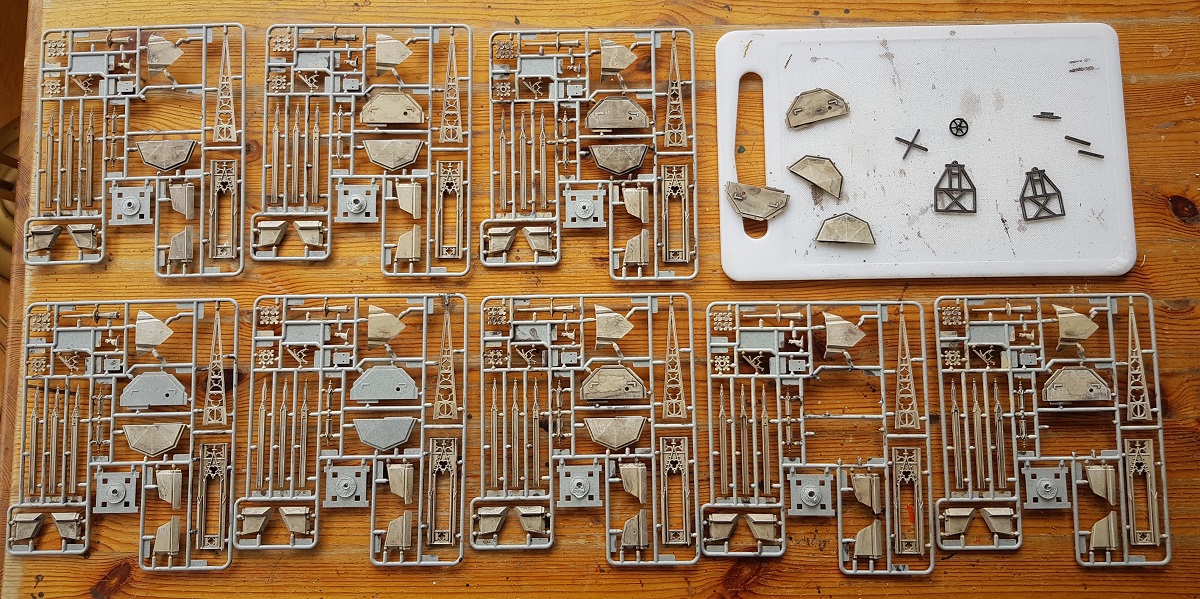 Friday, 30/4
Working on electricity... see Journal 10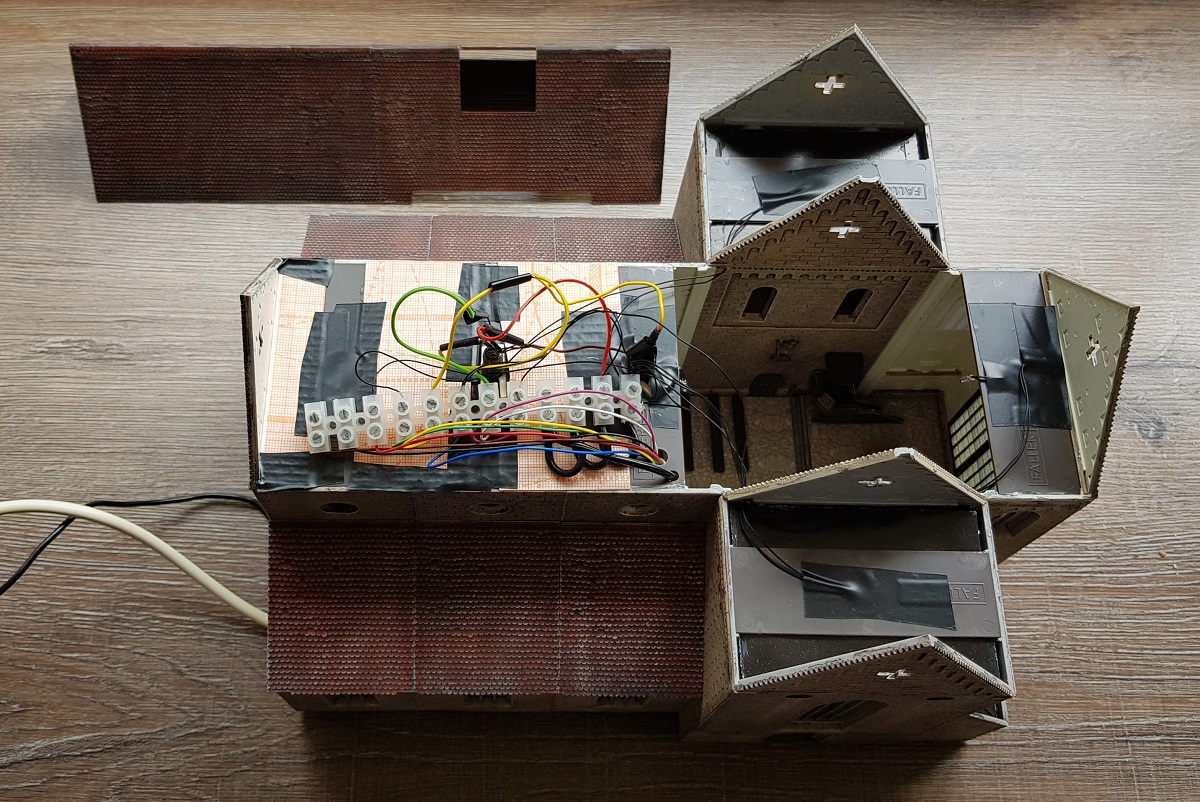 Monday, 19/4
When studying the building description of the Bebenhausen Monastery (Faller 130816), it turned out that the rosette window of the Bebenhausen Church (same mold) had been designed with a beautiful stained-glass window, while 'my' cathedral (Faller 130598) was only foreseen of a cardboard imitation with fantasy window.
A message to Faller and three days later this envelope with two (!) beautiful window sheets in my letterbox.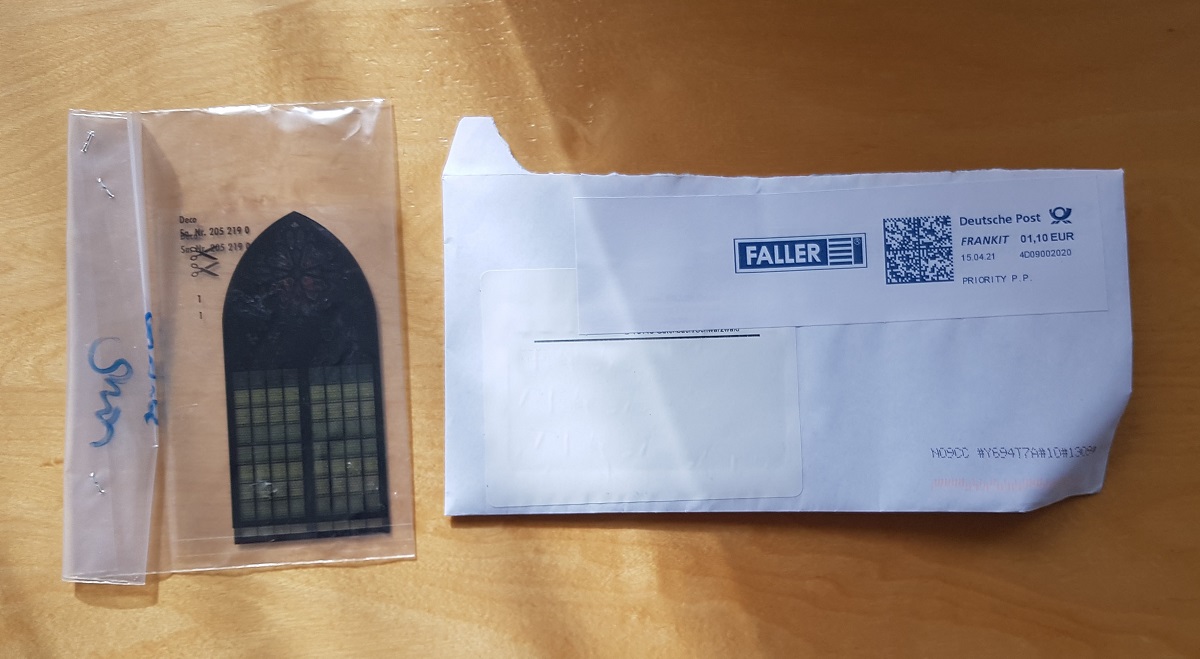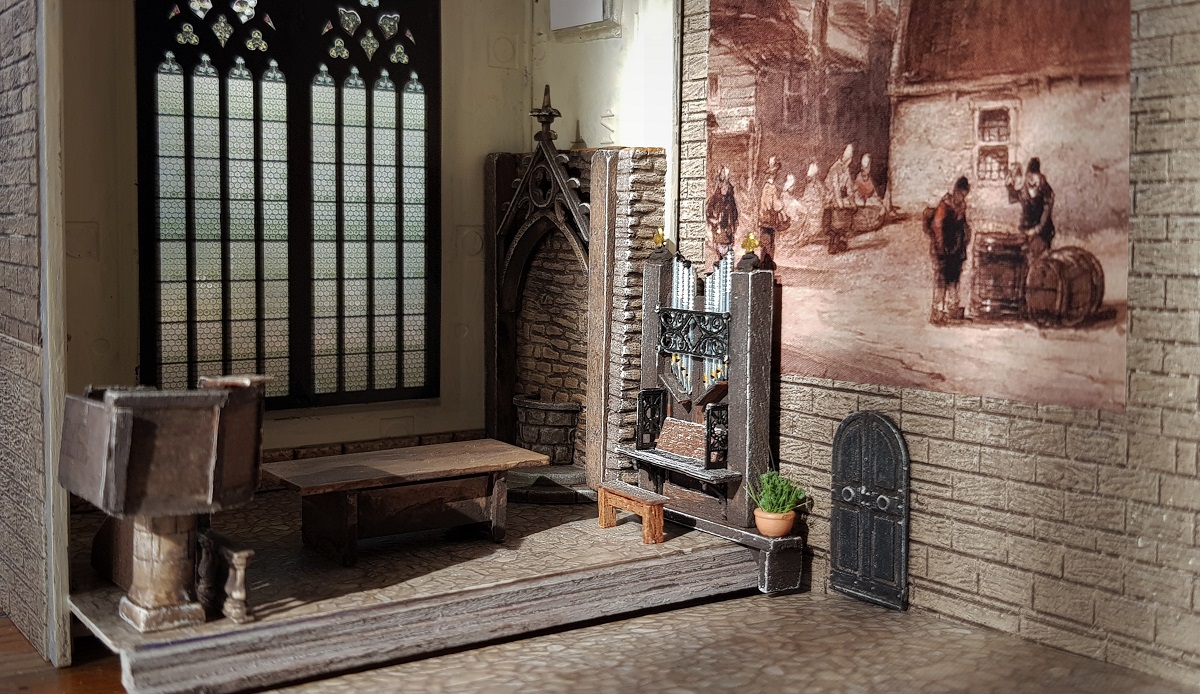 Sunday, April 11th
Après la messe... the organ is fixed to the balcony. Preparing ceiling lamps and lanterns.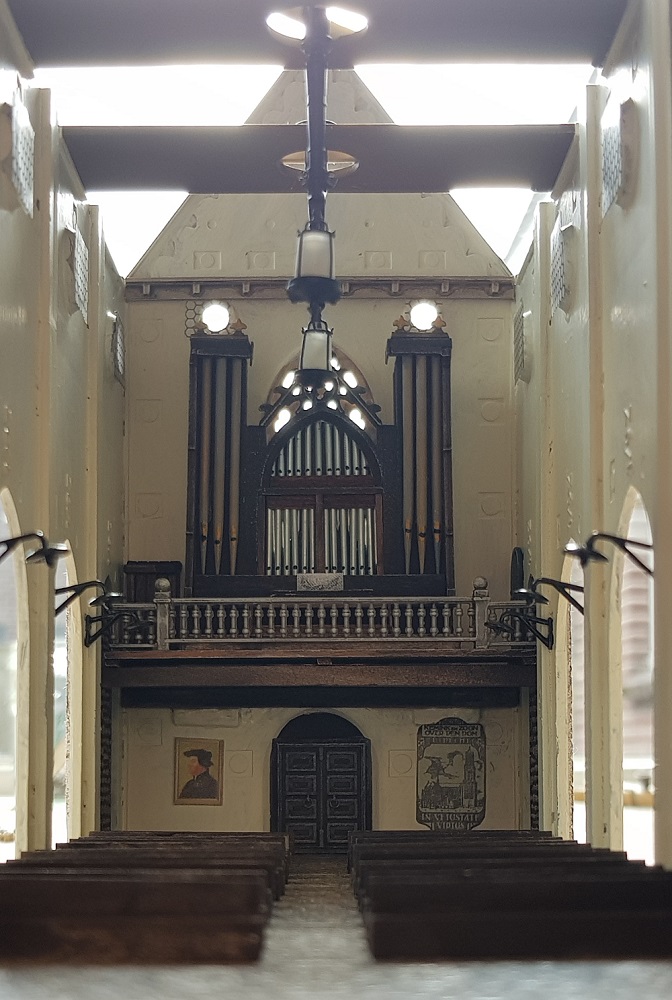 Saturday, April 10th
An altar, a pulpit and a choir organ were made, all scratch. Now the construction of the cathedral can be resumed. Read about the construction in Journal 10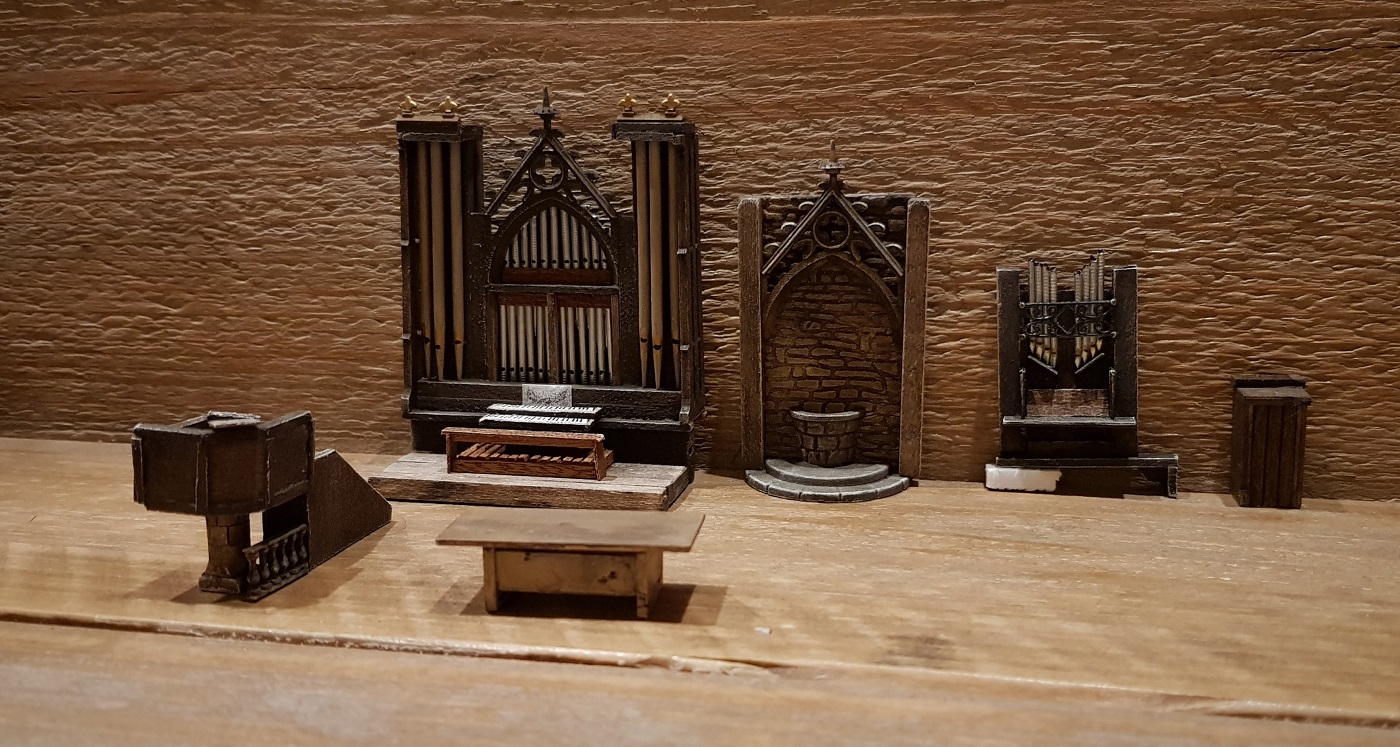 Thursday, 8 April
A new picture form the Rheine Files edited and added: DB 042 360-8 (DRG 41 360) in Doppeltraktion mit 'Langer Heinrich' über die Emslandstrecke (Emden/Rheine)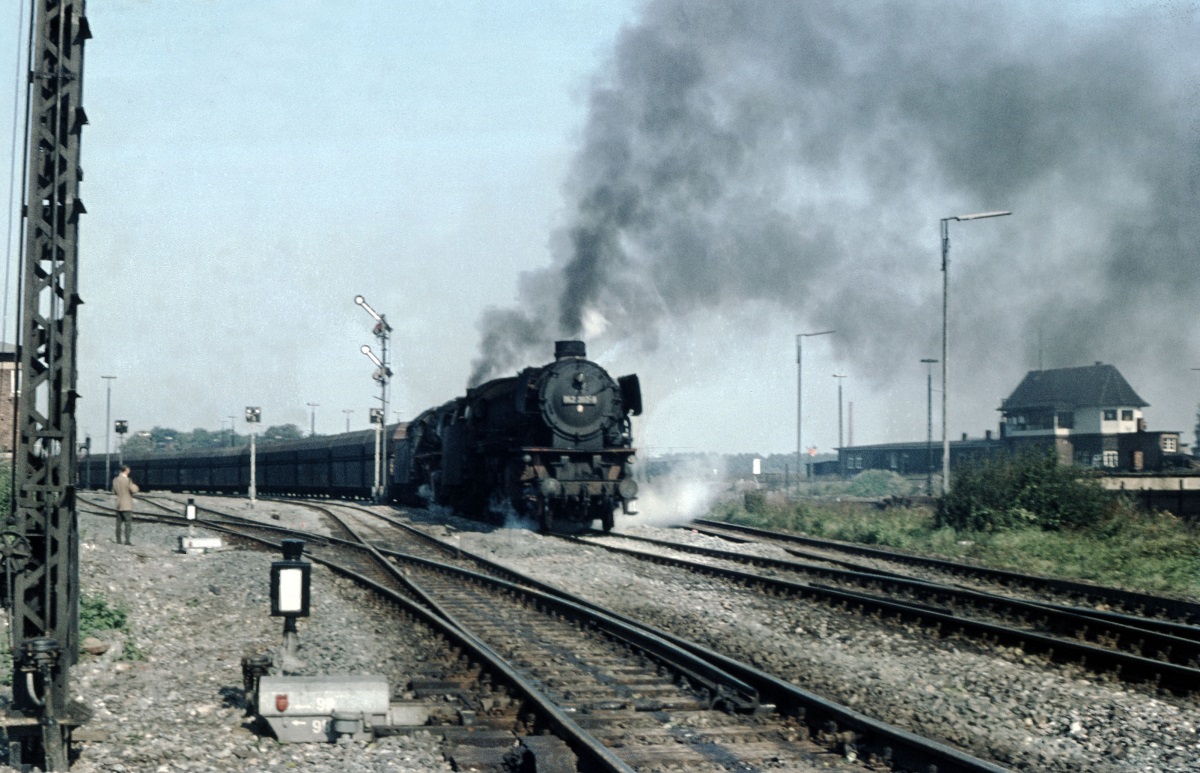 Viewed by JvB (left), shot by his brother GvB
April 2021
The Cathedral is having an organ in a rather Bätz-Schnitger-Walcker like style. Read the story in Chapter 10.1.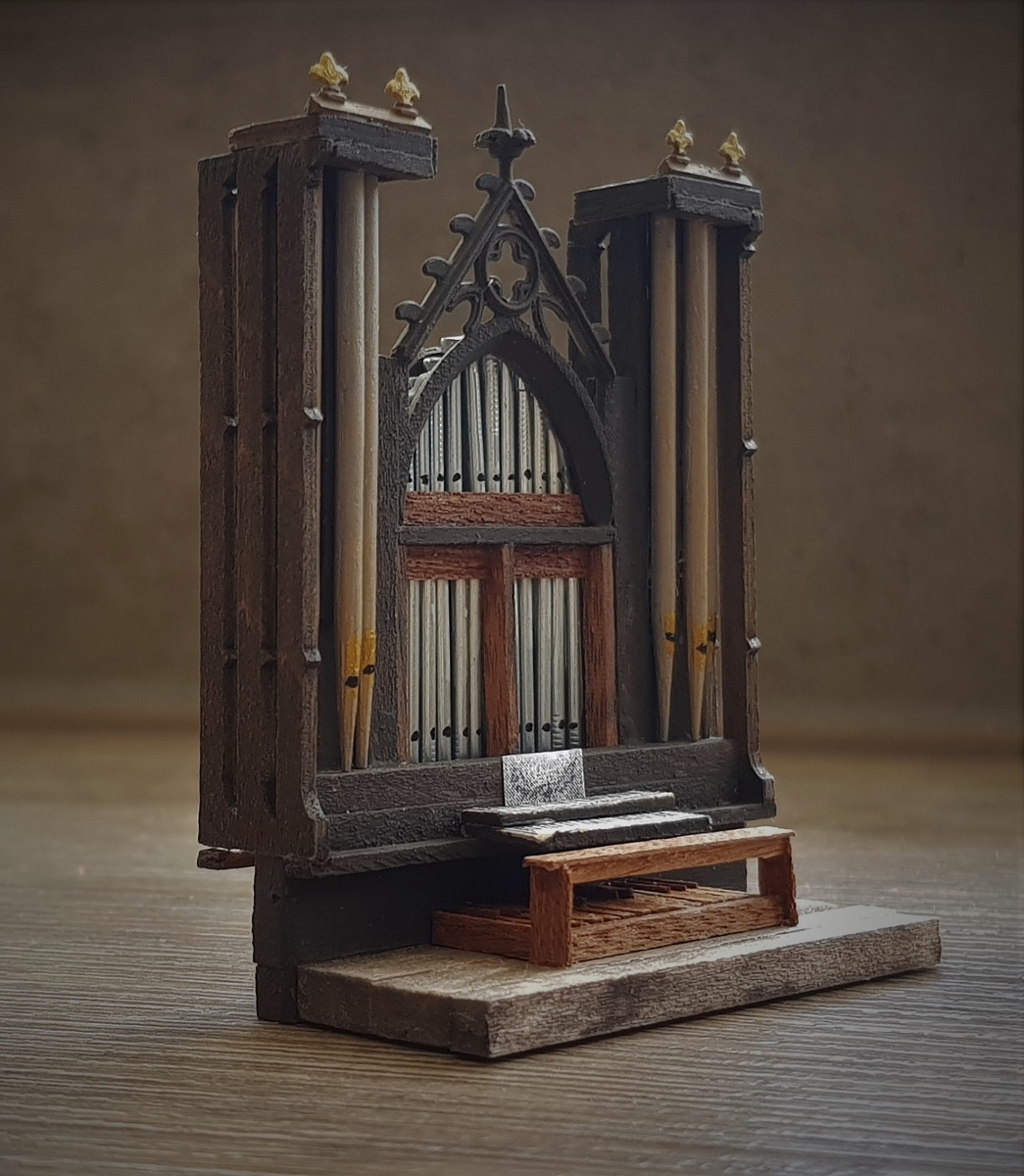 Wednesday, March 31st
Via the Internet I discovered that there are still some Class 95 in DRG livery (Märklin 39098) in circulation.
I bought mine in a small town in Frisia, together with wall cards or better: floor cards (Faller 170627) and Artitec stuff.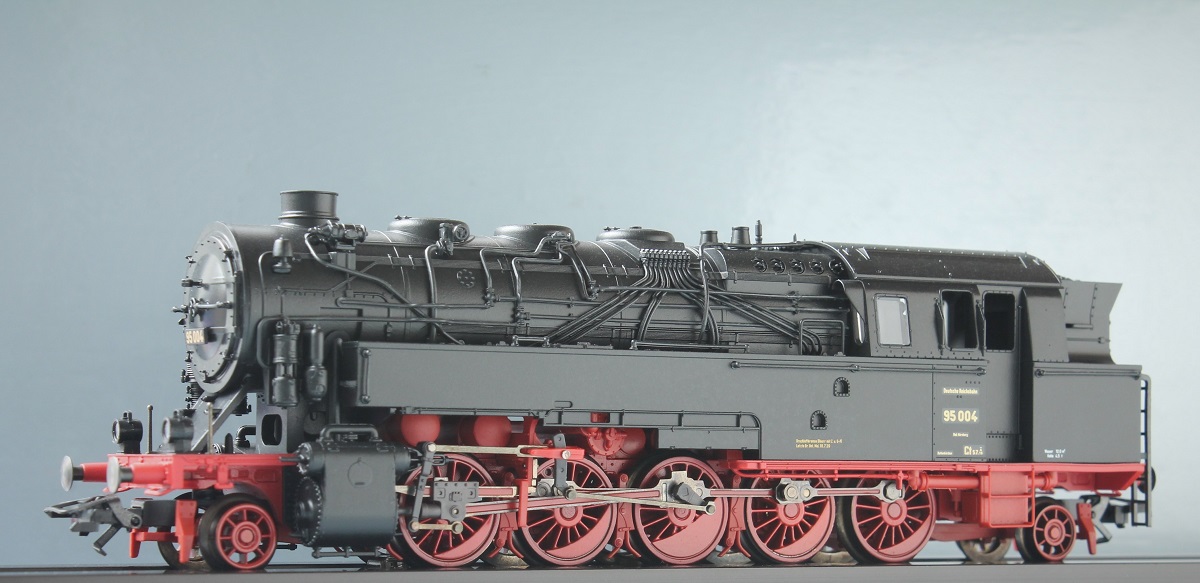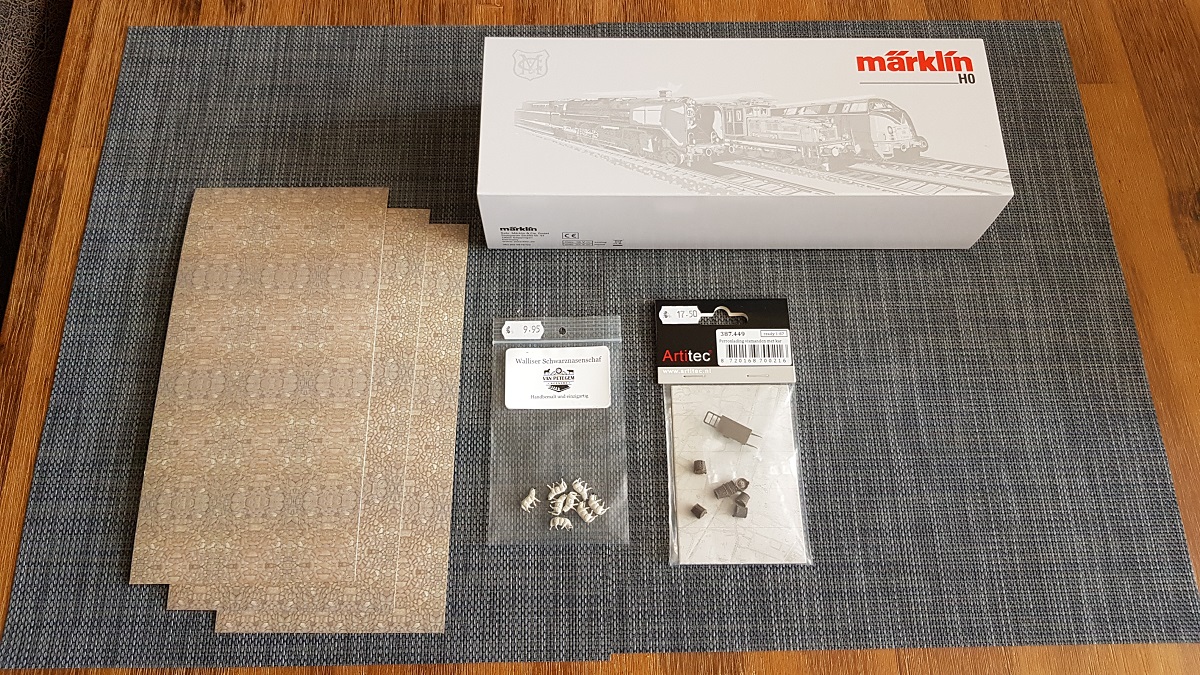 Sunday, 28 March
Last week I opened the box of Faller 130598. After checking things out, I started painting the Cathedral (Faller 130598).
This model kit contains 666 parts - not exactly a nice number for a church! - but I bought glue and light bulbs as well, so that makes 667 plus.
Read more in: Journal 10.1.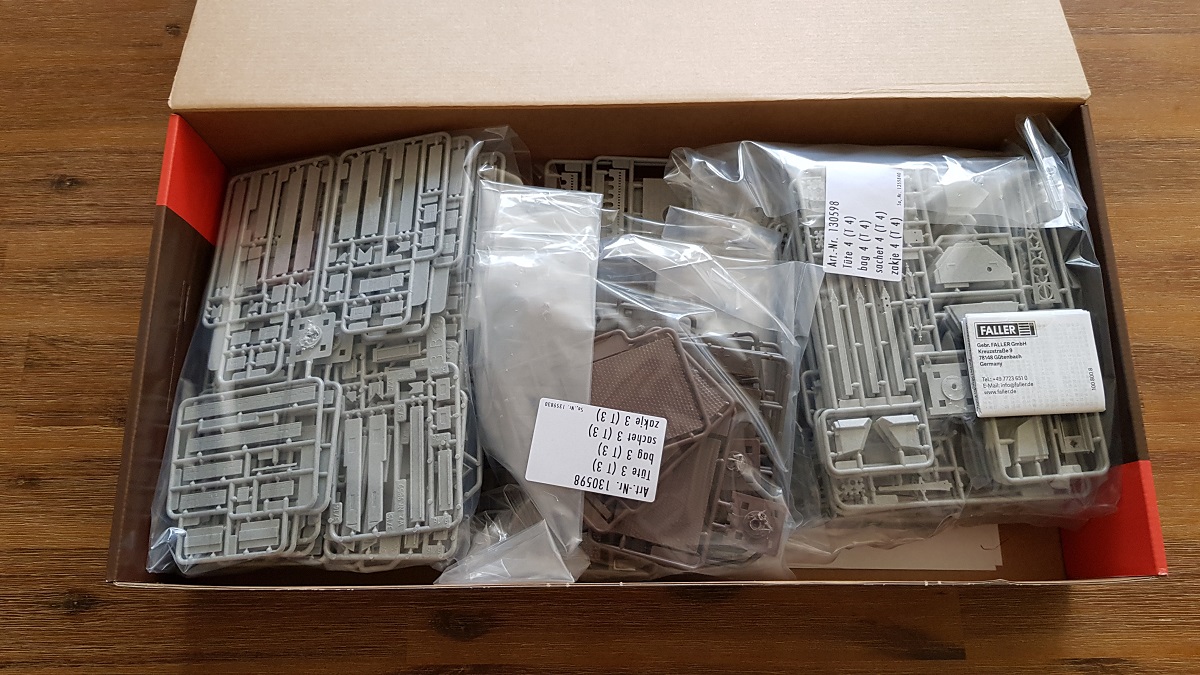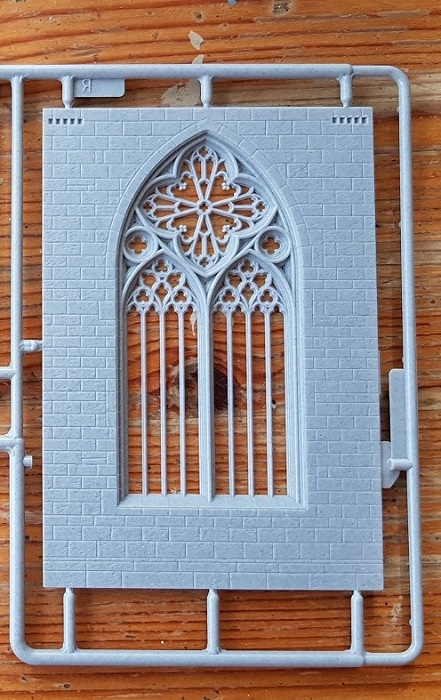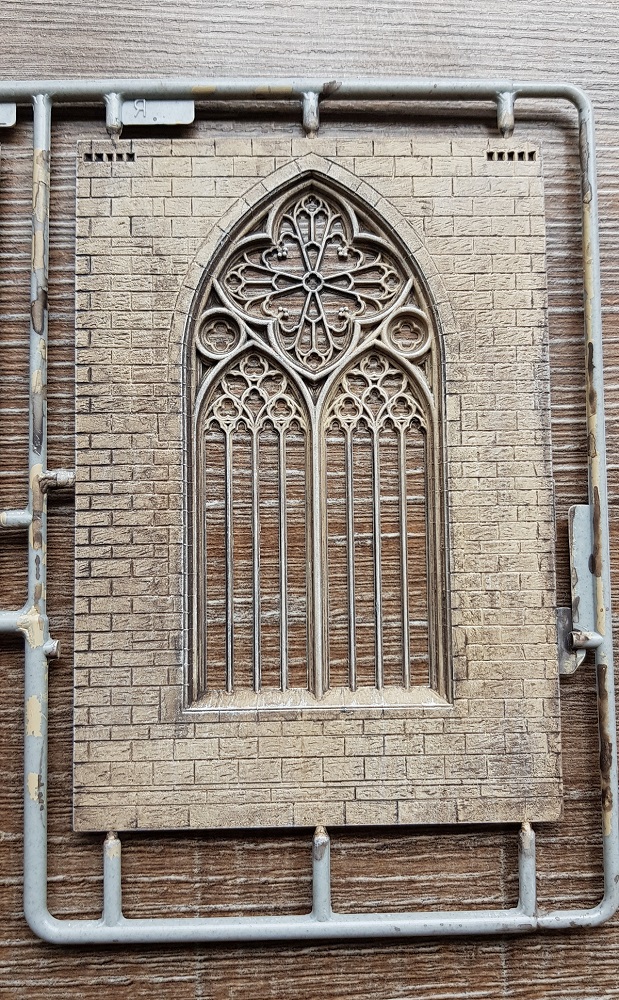 During painting I started to make a small display for a dear friend of mine with whom I visited the World's largest cuckoo clock years ago. Since this model has become obsolete on my layout, I decided to get rid of it. Because of her birthday I thought it a good idea to give it to her as a memory of a great time we shared.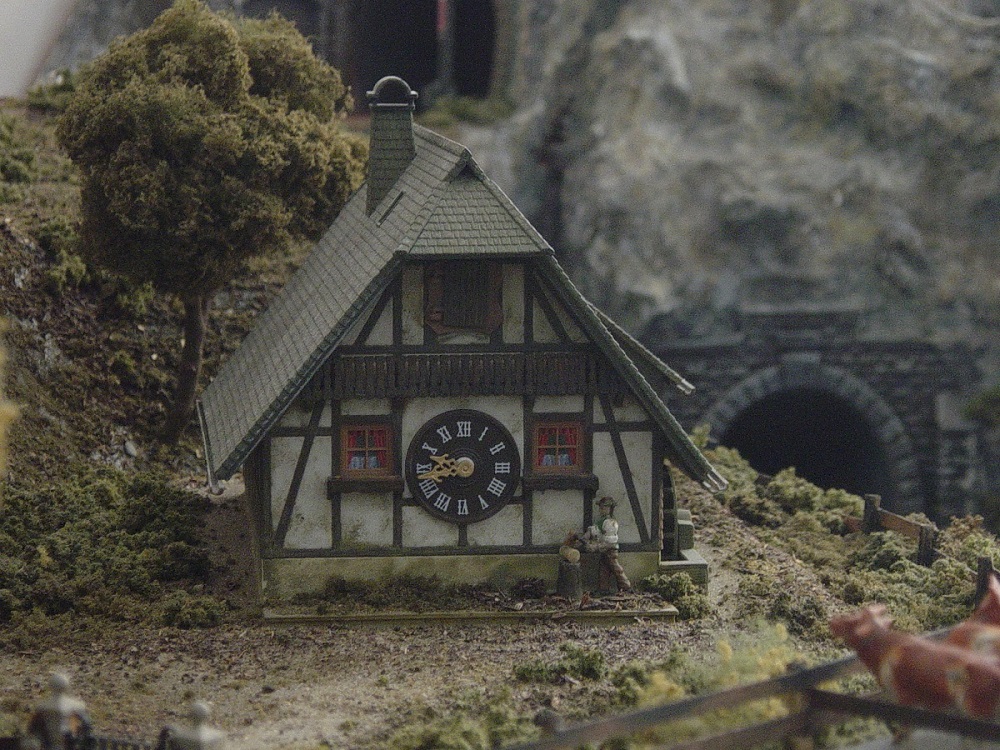 For many years on the Cochemer Bahn...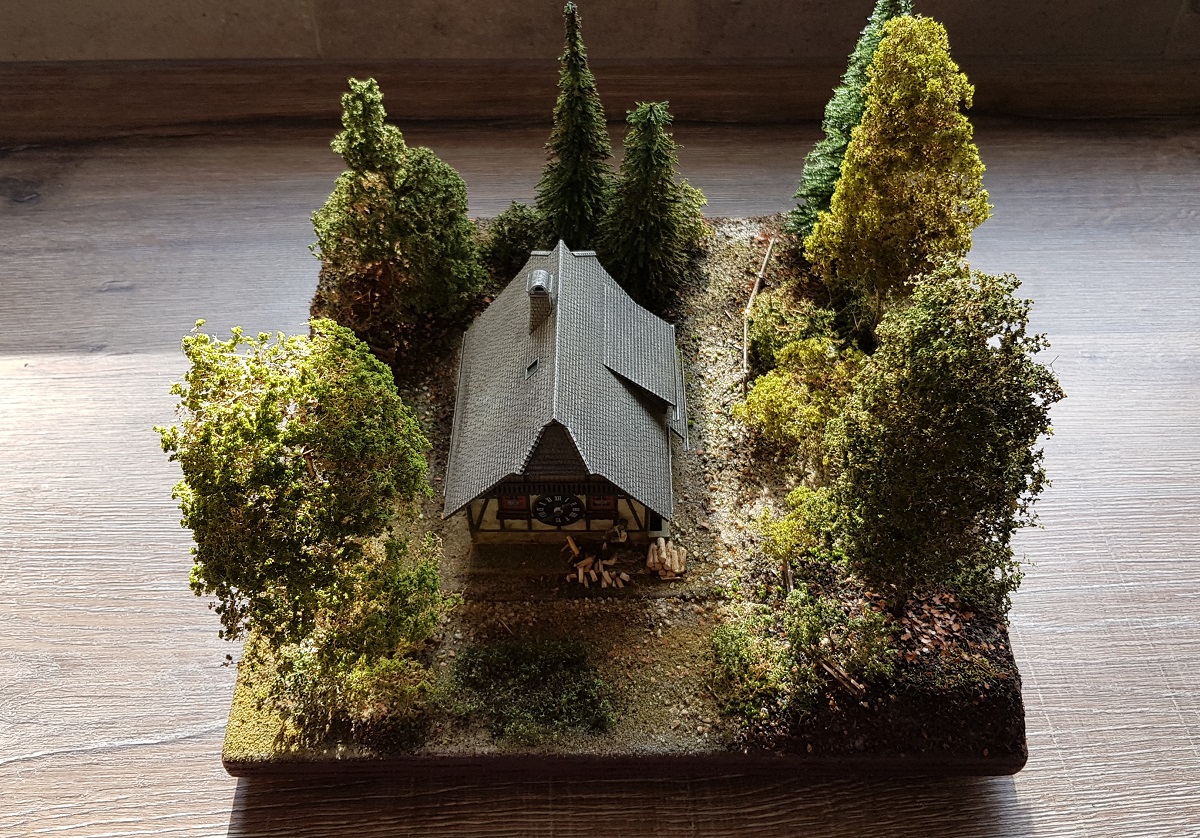 ... and now as a gift on a display.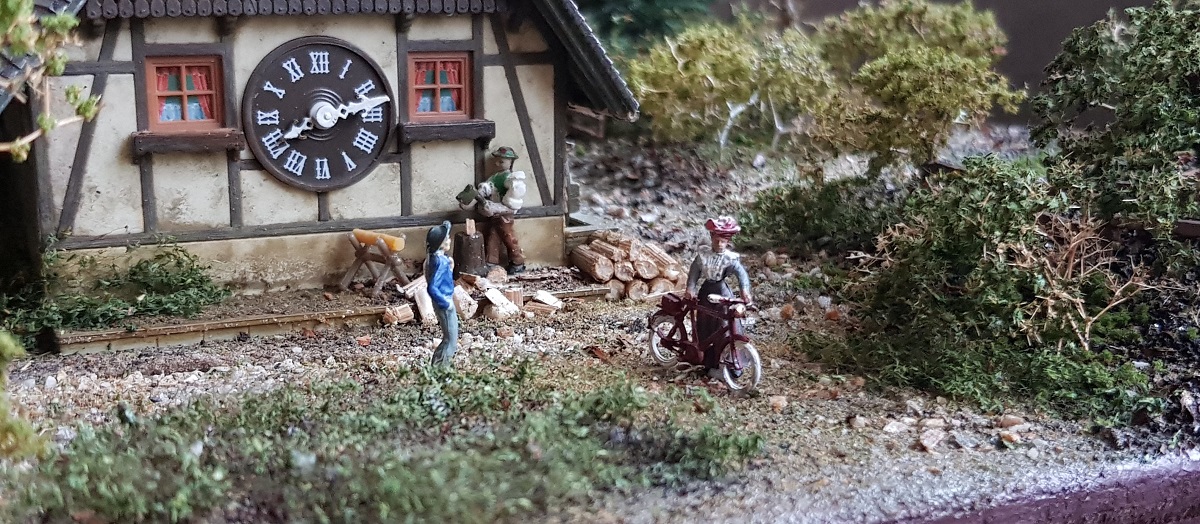 13.4.2021
Friday, 19 March
Aa new doorway from the bridge into the Drachenburg. Handmade. See more in Chapter 47.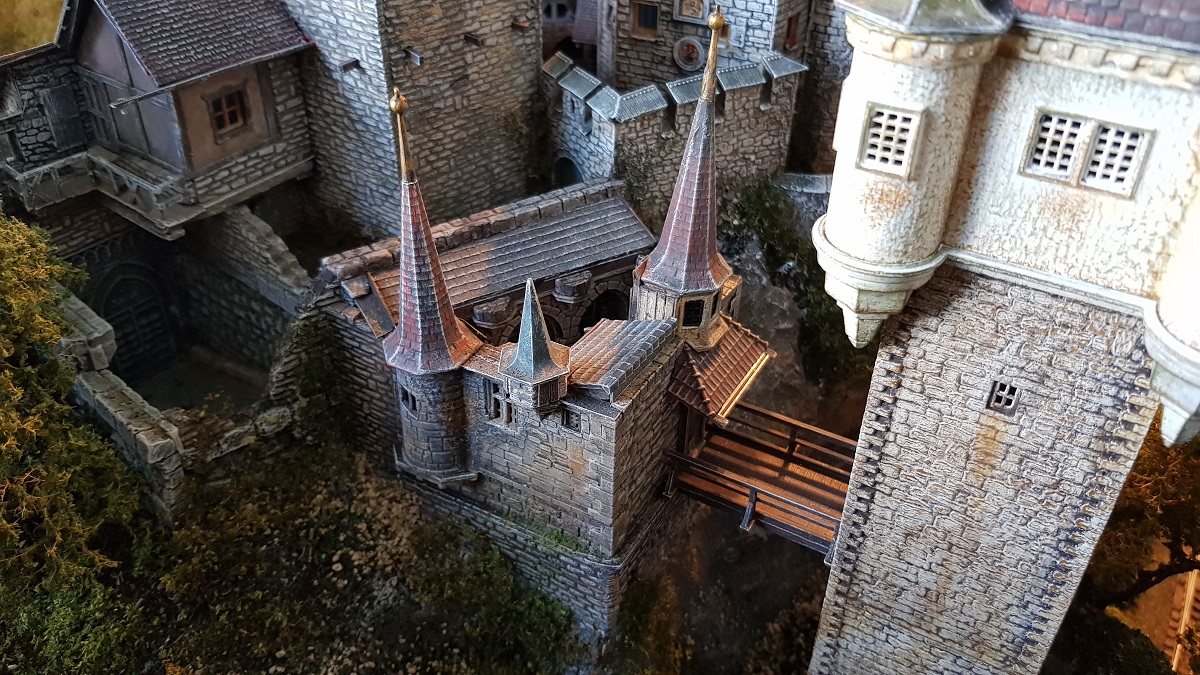 Wednesday, 17 March
Adding three Micro Metakit pictures, never released before: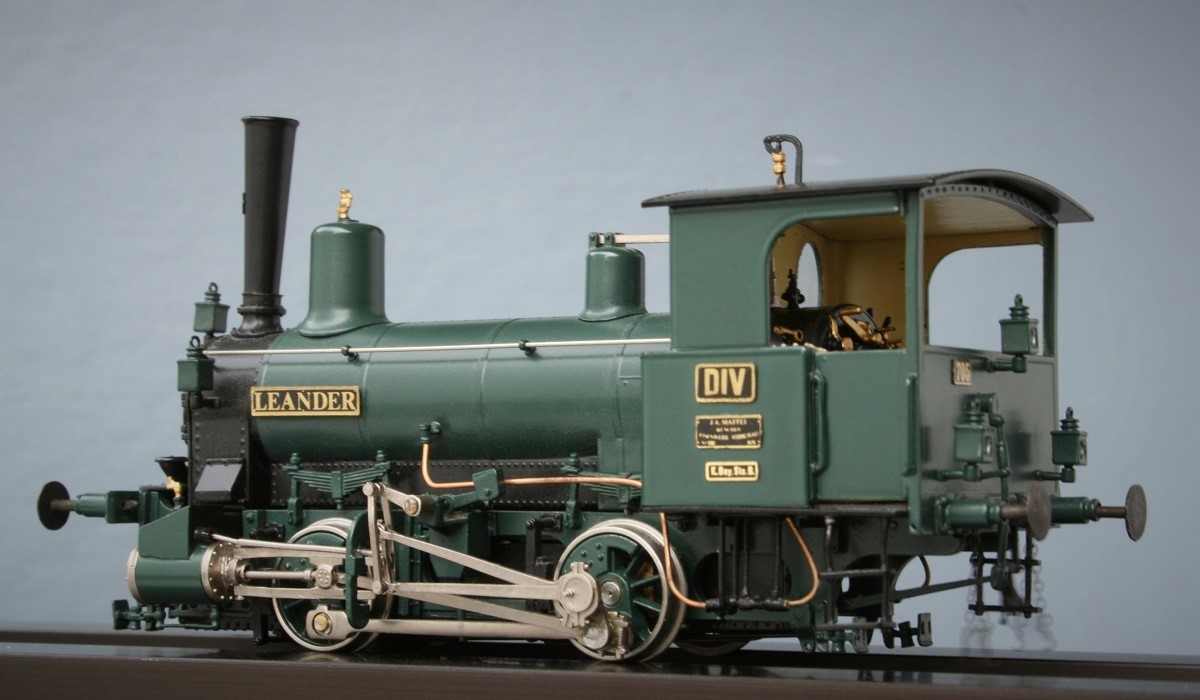 94301H ~ bay. D IV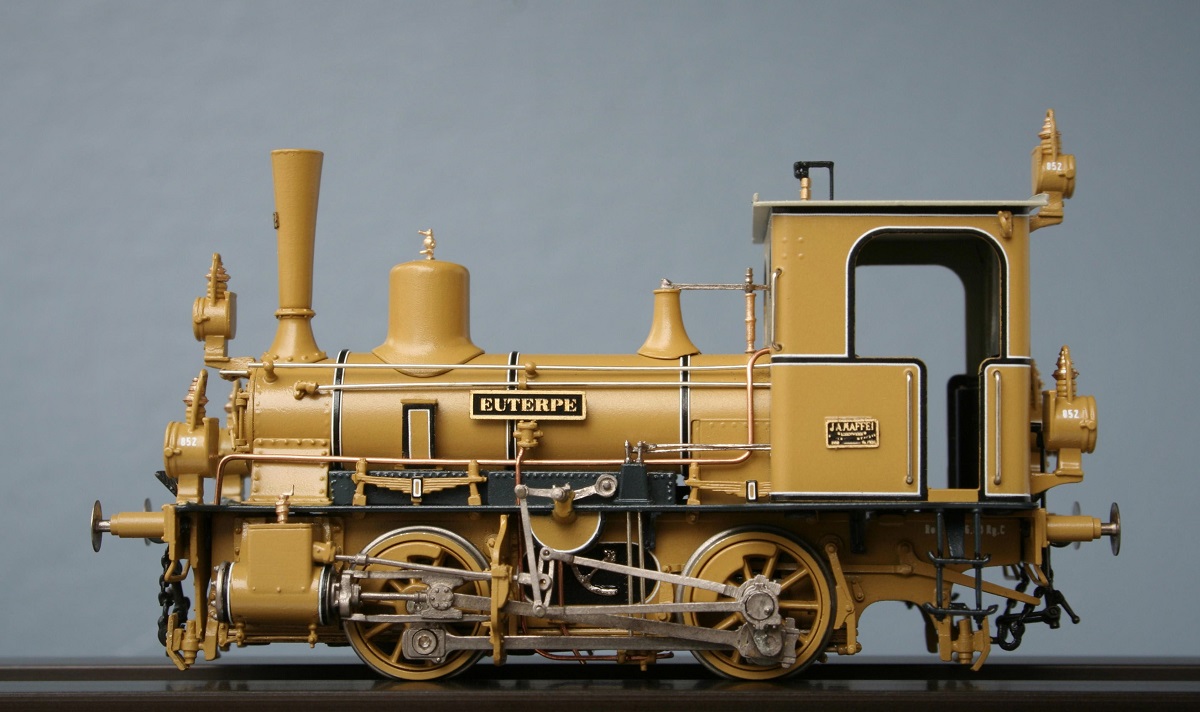 04100H ~Bay. D VI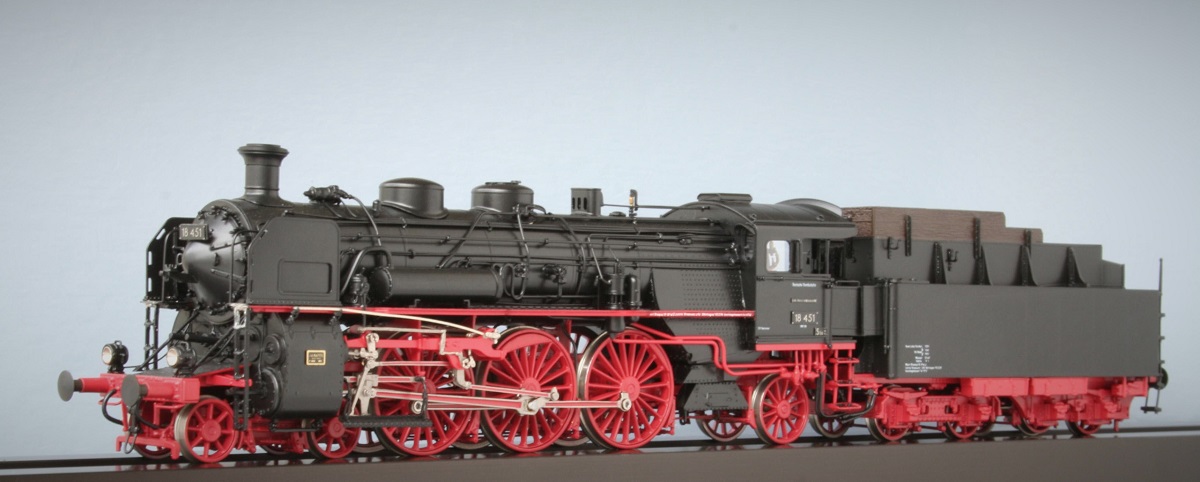 03105H ~ DB 18 451 for Lokomotiv-Versuchsanstalt Minden (LVA)
Saturday, March 13th
At Sander's place I not only collected my pre-ordered Trix and Brawa wagons today.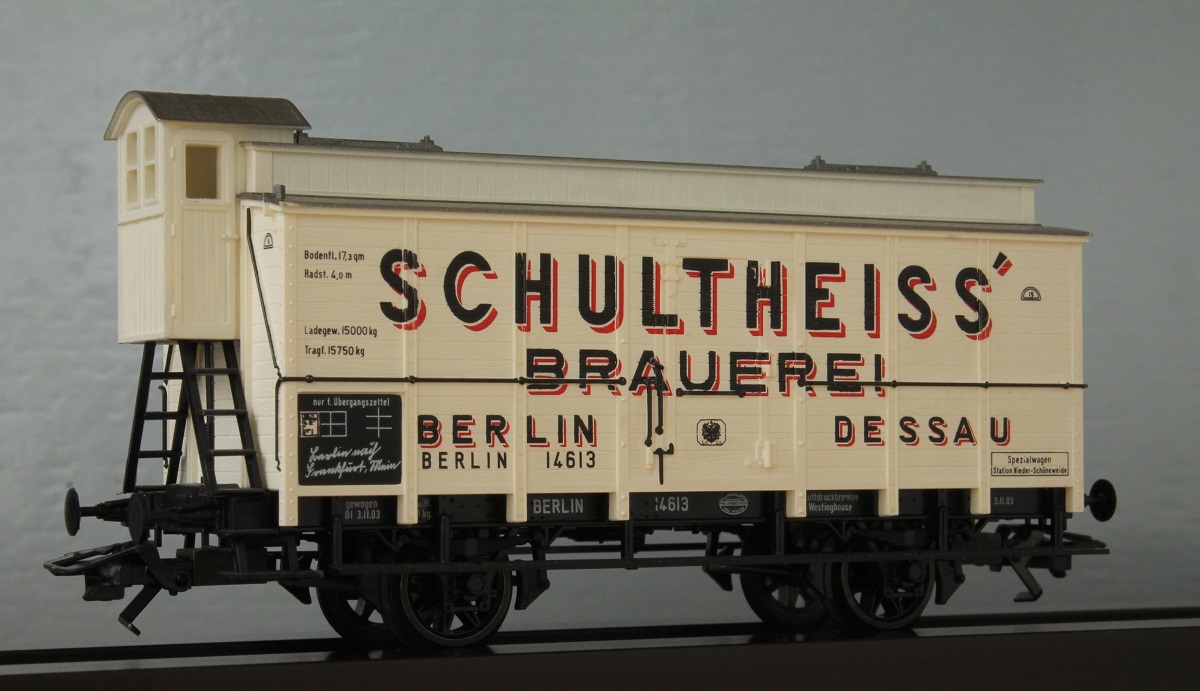 Trix 23525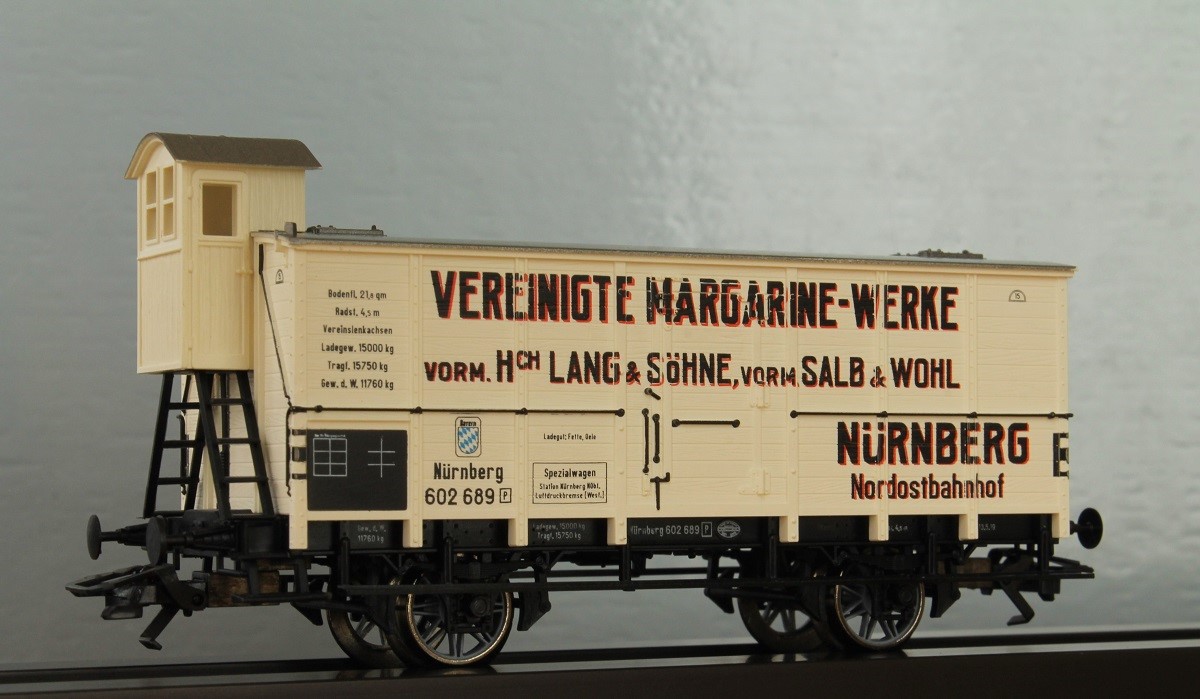 Trix 23828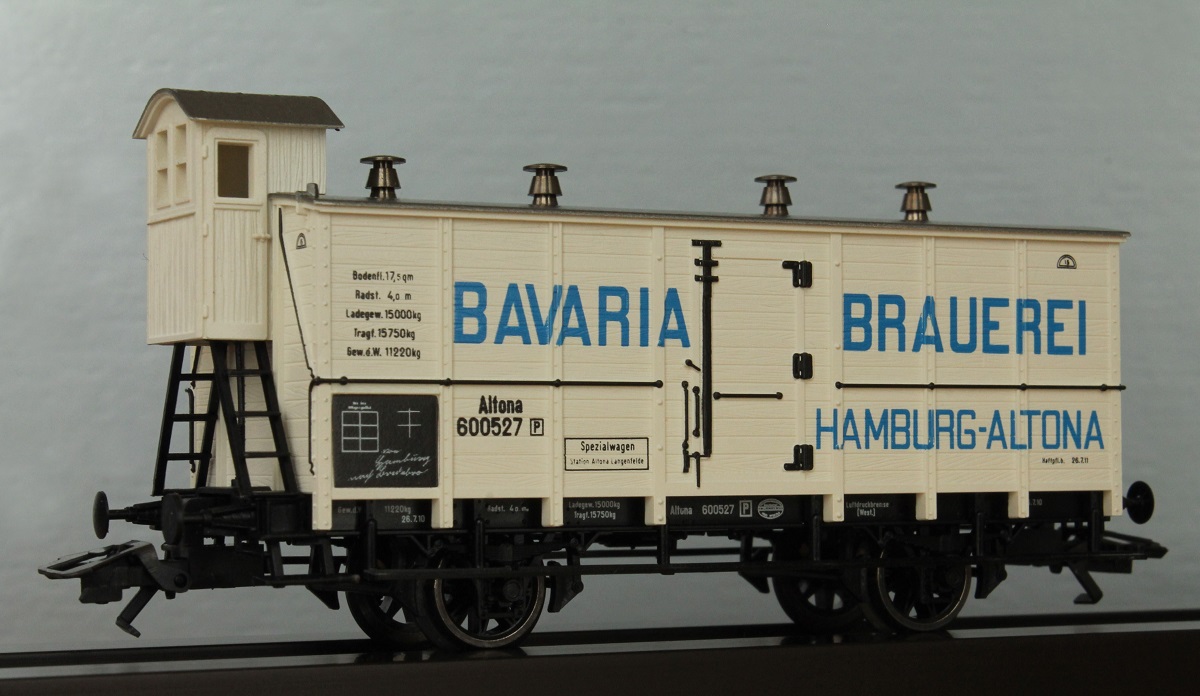 Trix 23536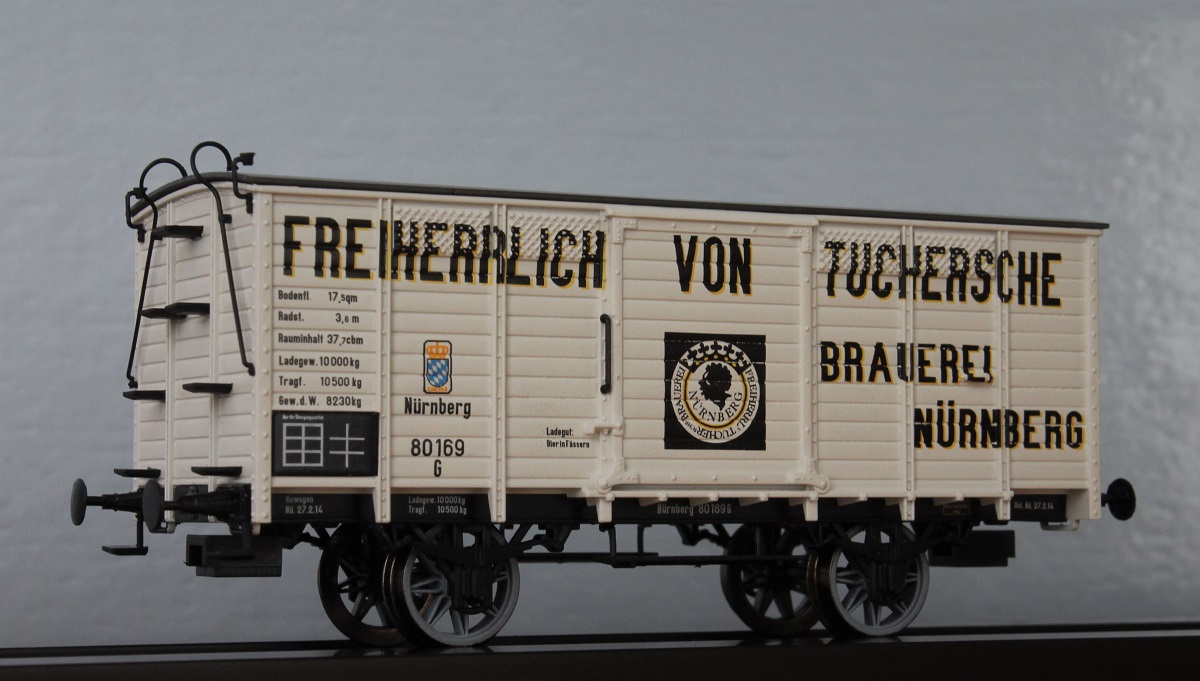 Brawa 48034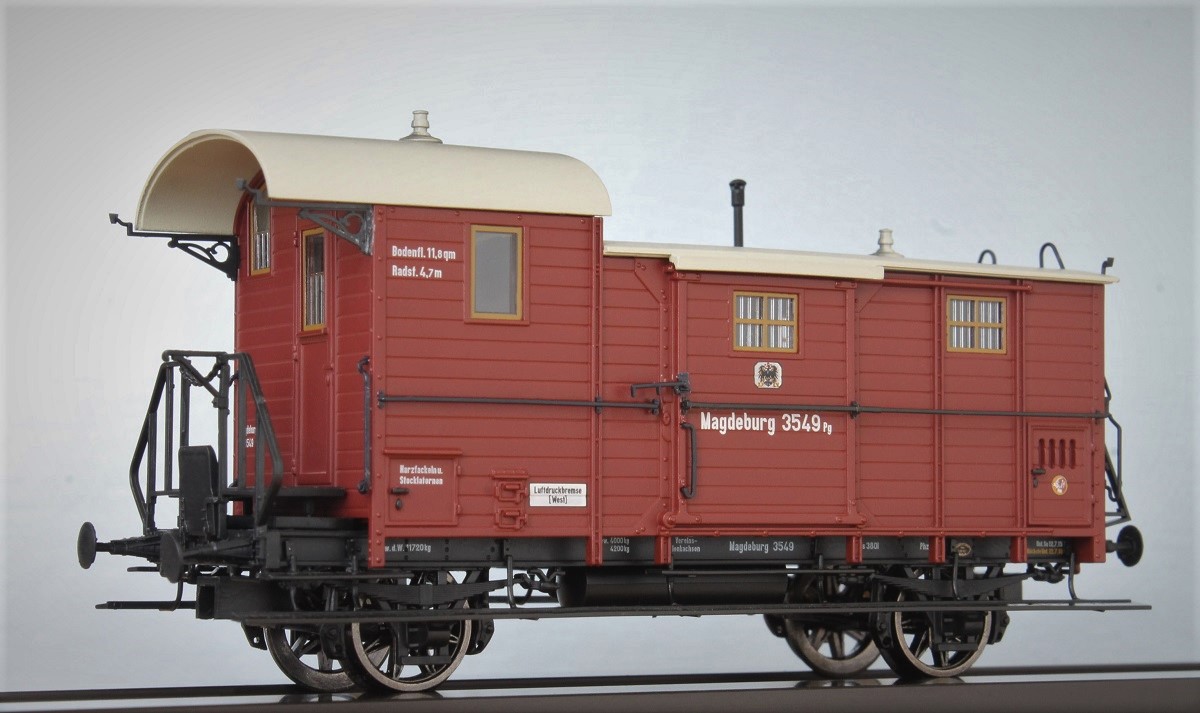 Brawa 48363
Friday, March 12th
The White Tower and Drachenburg are now connected to the Cochemer Burg.
Vegetation is applied and the lights are on...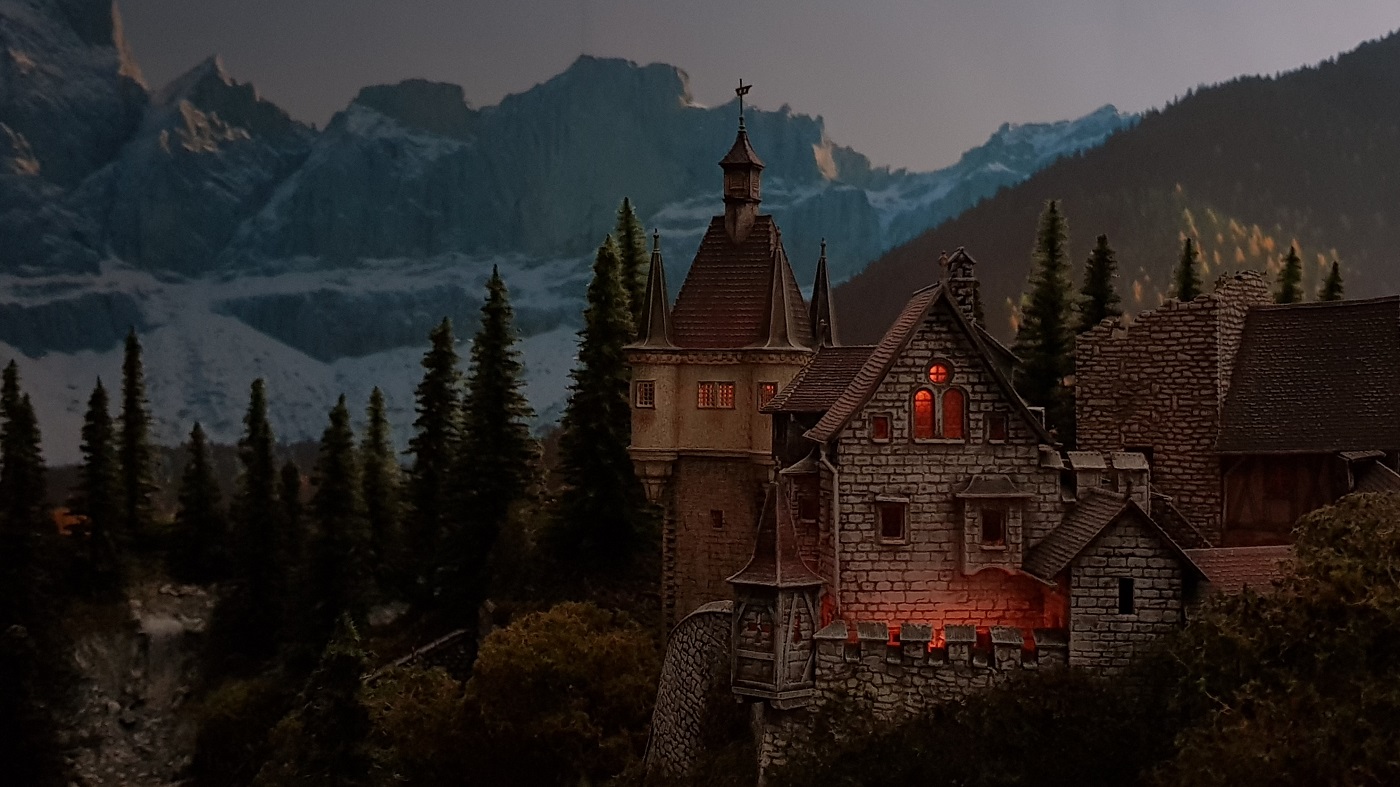 Thursday, March 4th
I found these gems in my Micro Metakit 'treasure box' from 2009. I only added the grey tone pictures in 2009, so 12 years later they are presented for the first time, not only on my domain but to the world as well. Pretty rare, if you ask me, since these models are not being produced anymore, neither by Micro Metakit nor Micro Feinmechanik.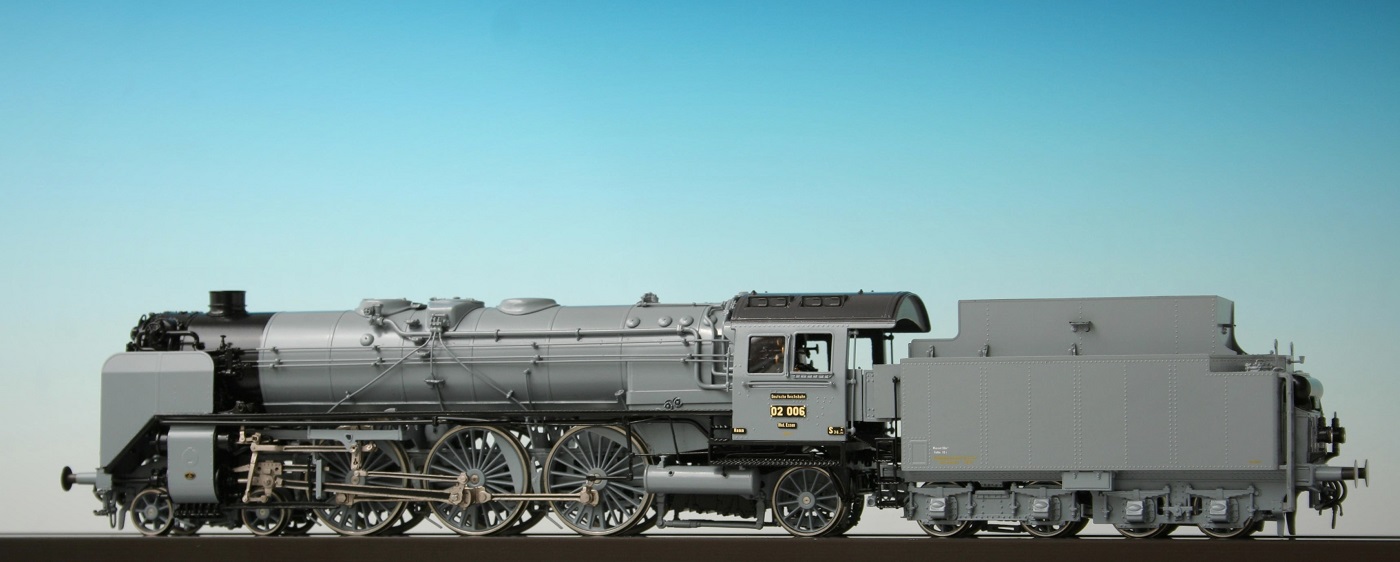 Monday, March 1st
I finished the D r a c h e n b u r g as good as. All lamps function and I'm looking forward seeing them shine in the darkness of the forest around the Cochemer Burg.
Since Achim Beyer commented (March 1st) on my FB with the phrase "Sehr schöne Burg. Weiß grade nicht warum aber sie erinnert mich an eine drachenburg.
.." this very name Drachenburg was in my mind all the time. Even more, since the rooftops and roof ridge of this small castle resemble the scales of a dragon.
So, thanks Achim!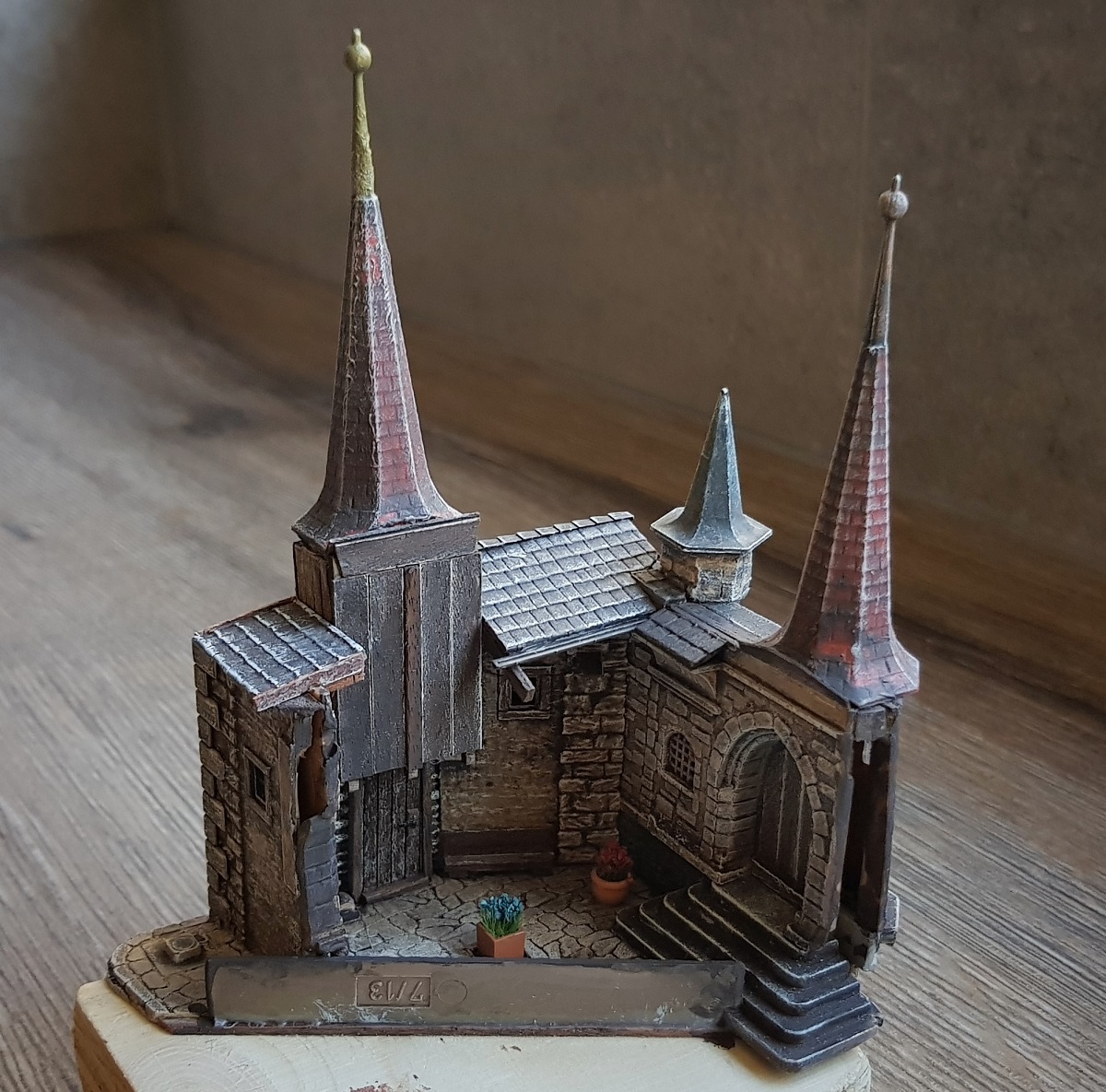 I took another shot (well, several!) of the Cochemer Burg as well. I still can't believe my eyes that this is happening. Such perfect harmony!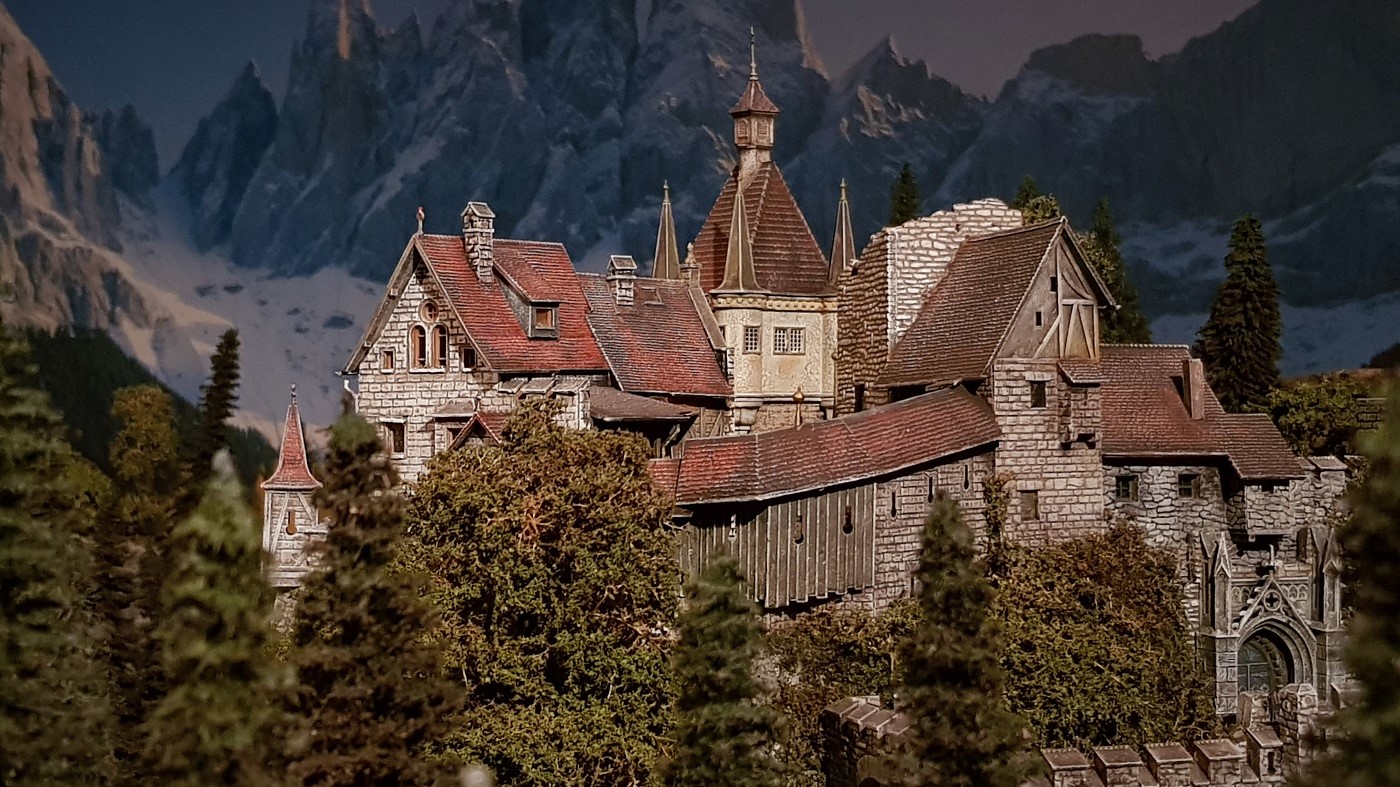 Sunday, 28/2
In the past week I was busy scratch building an extension of the castle, as a connection to the White Tower, also known as Gate Tower.
Read more in Chapter 46 and 47 of the Journal.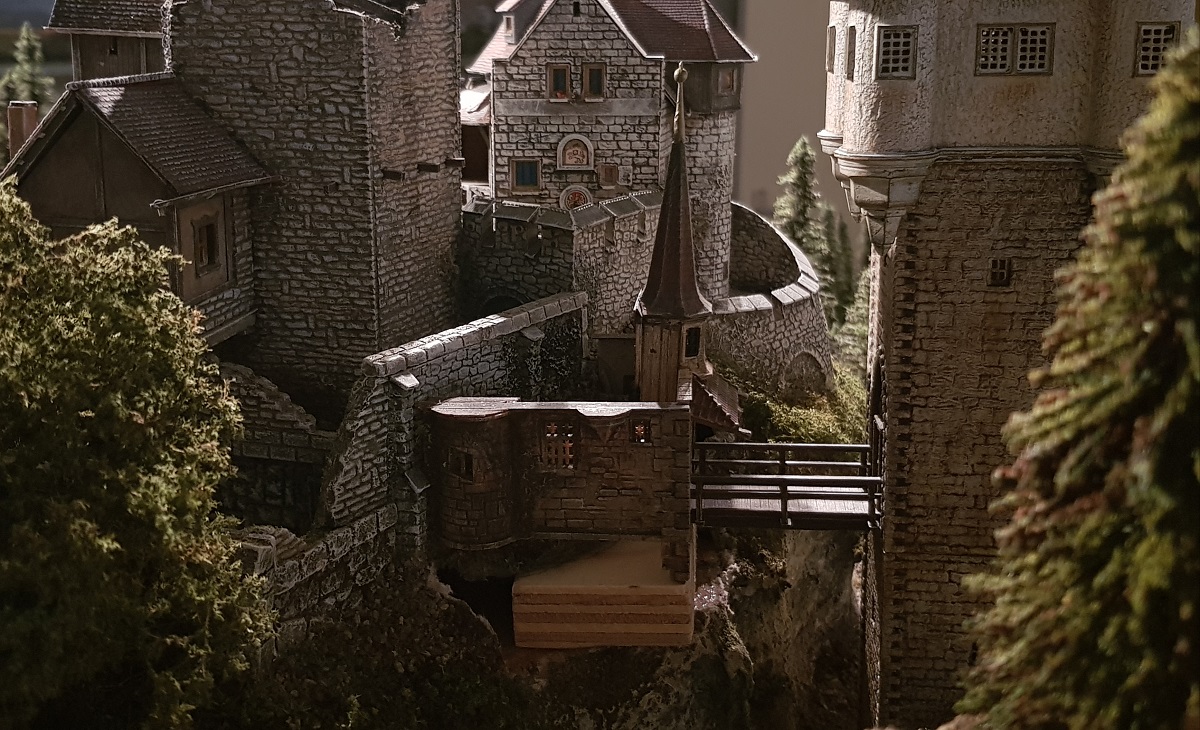 Saturday 20.2.2021
How only 5 inches (12,5 cm) can make a difference indeed. Now that the 'oversized villas' on the left side of the poster are offset by the urban sprawl, the backdrop can come out higher.
Things are getting into balance now. The forest in the centre of the model railway now flows smoothly into the green hills on the poster.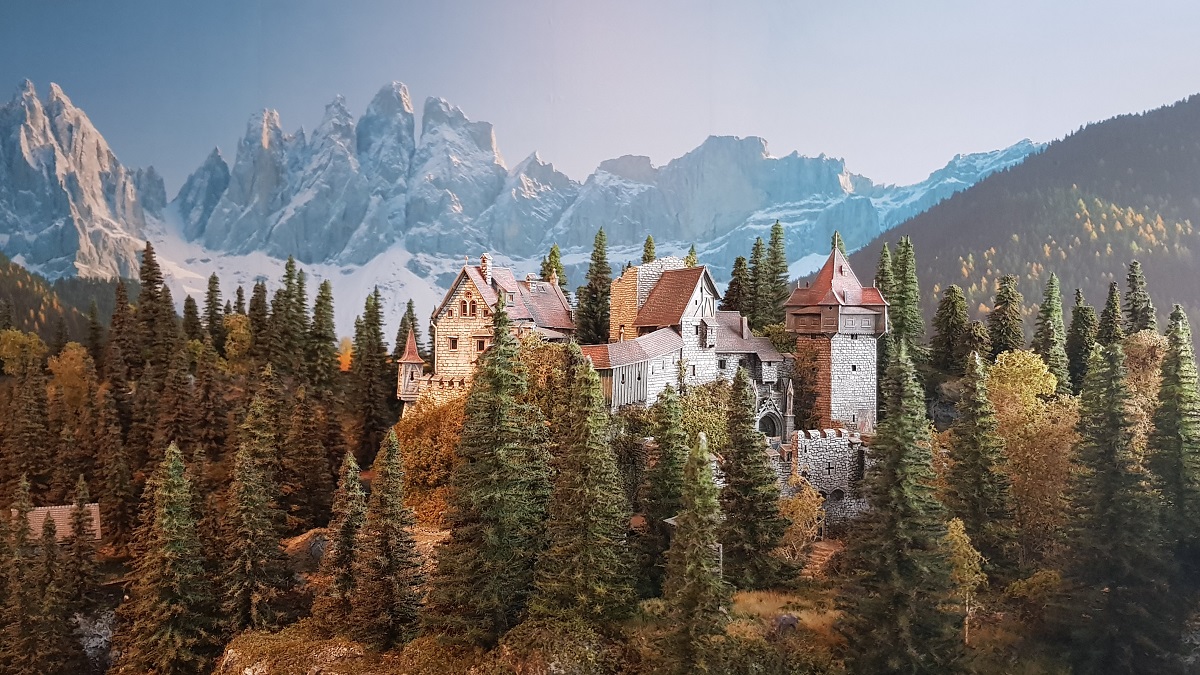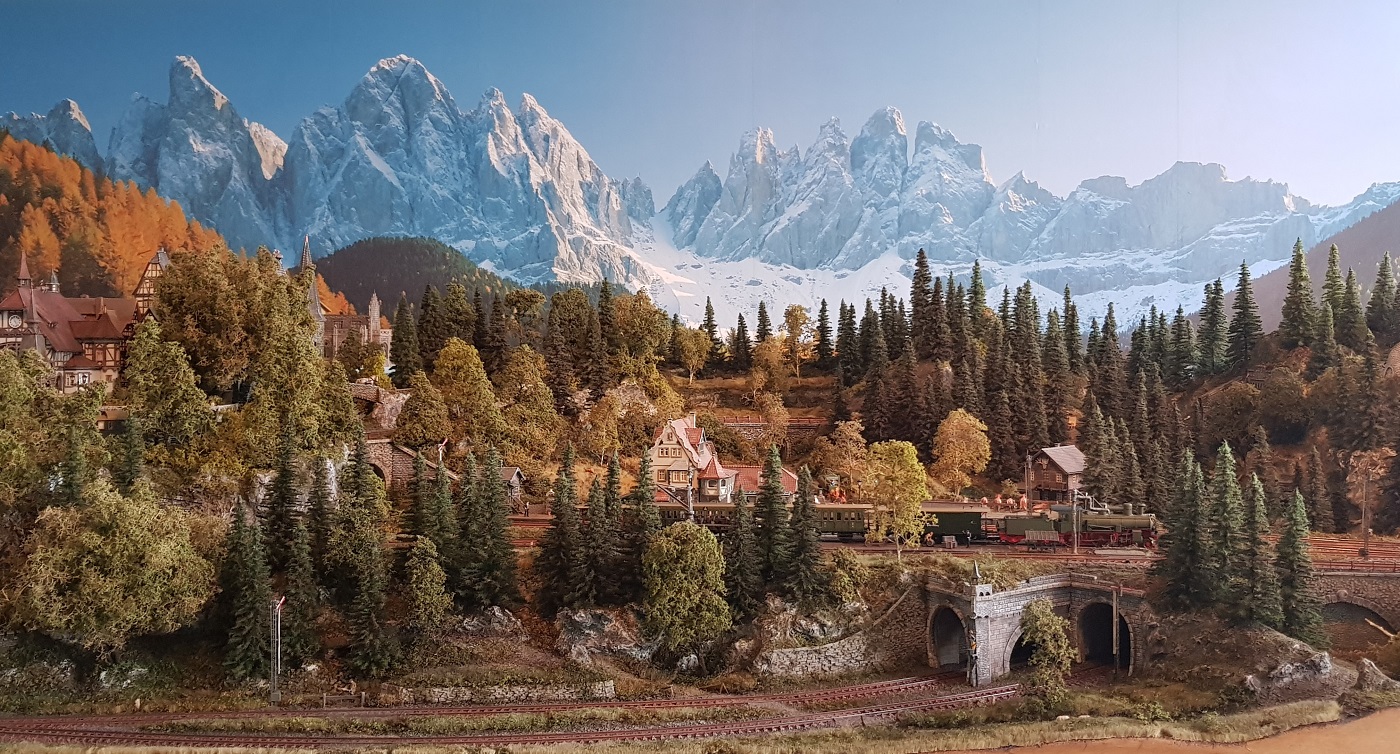 Thursday, 18.2.2021
As good as finished: the first part of the Monastery.
Before I decide where this building will be located on the monastery complex, the cathedral will have to be built first.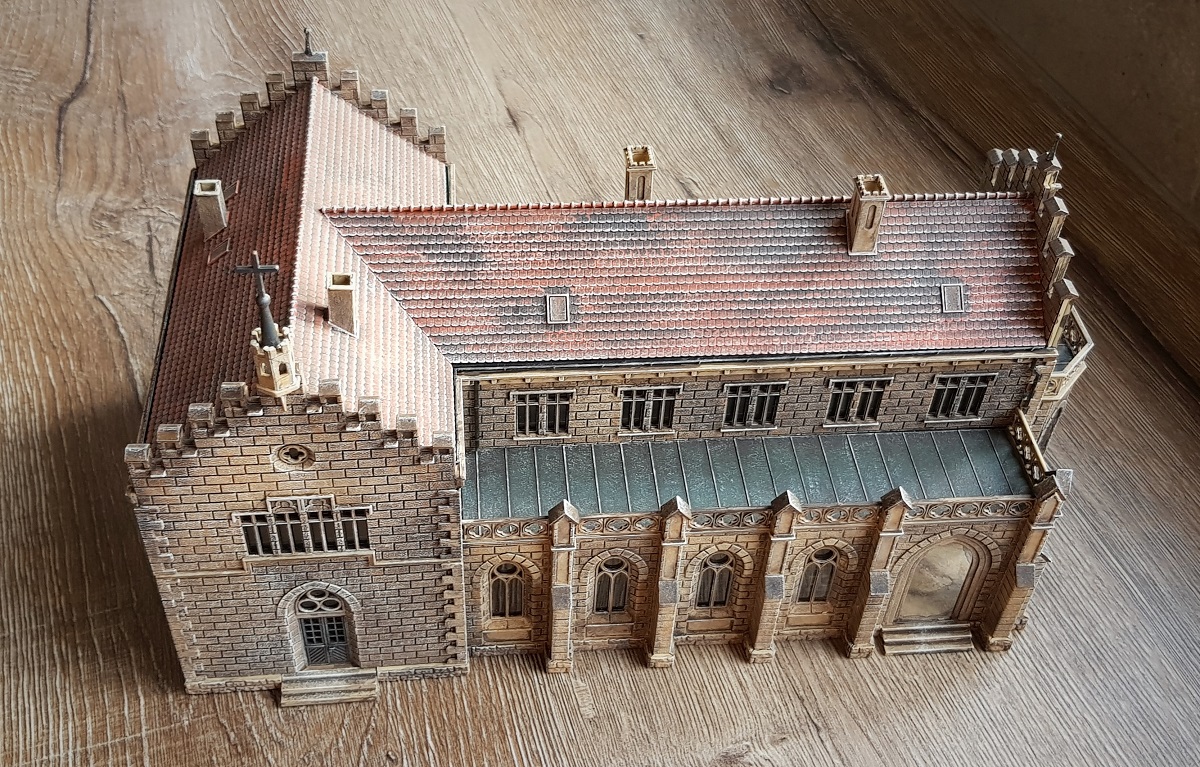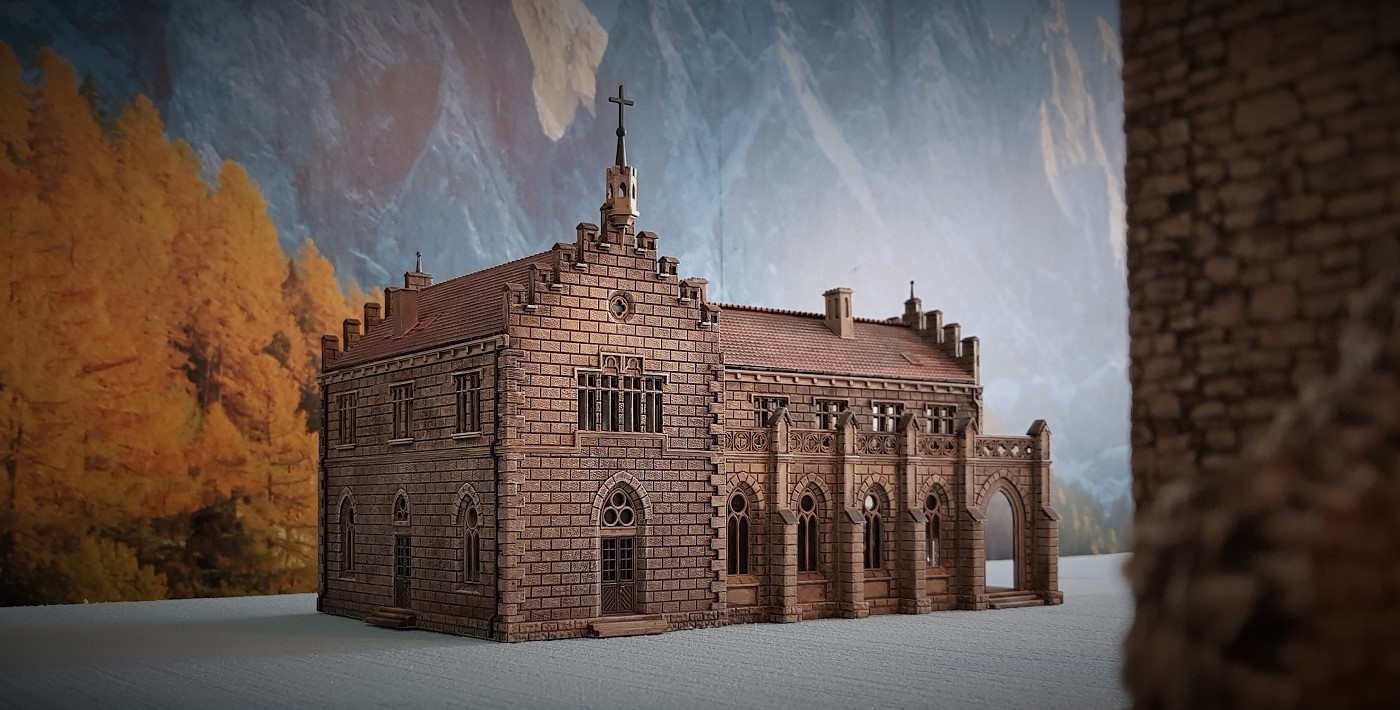 Tuesday, 16.2.2021
Addition to the Micro Metakit Files: tank locomotive bay. D VI, DIETERICH (BR 8871-72)
Micro Metakit 94300H
Thursday, 11.2.2021
After the balcony of the station as an intermission, I sincerely started to work on the Vollmer Monastery these days. A more detailed description in Chapter 44 (Journal 9).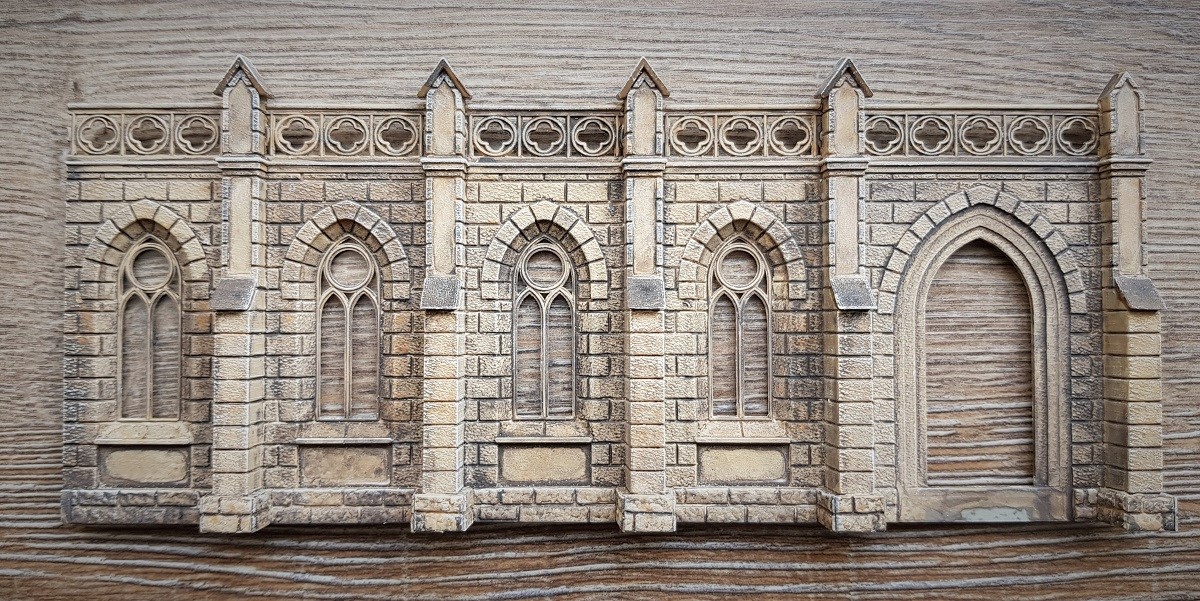 11.2.2021
Sunday, 7.2.2021
While an east wind rages across the country with snow showers, I sit inside tinkering with a station canopy. Read the story of its making in Chapter 43.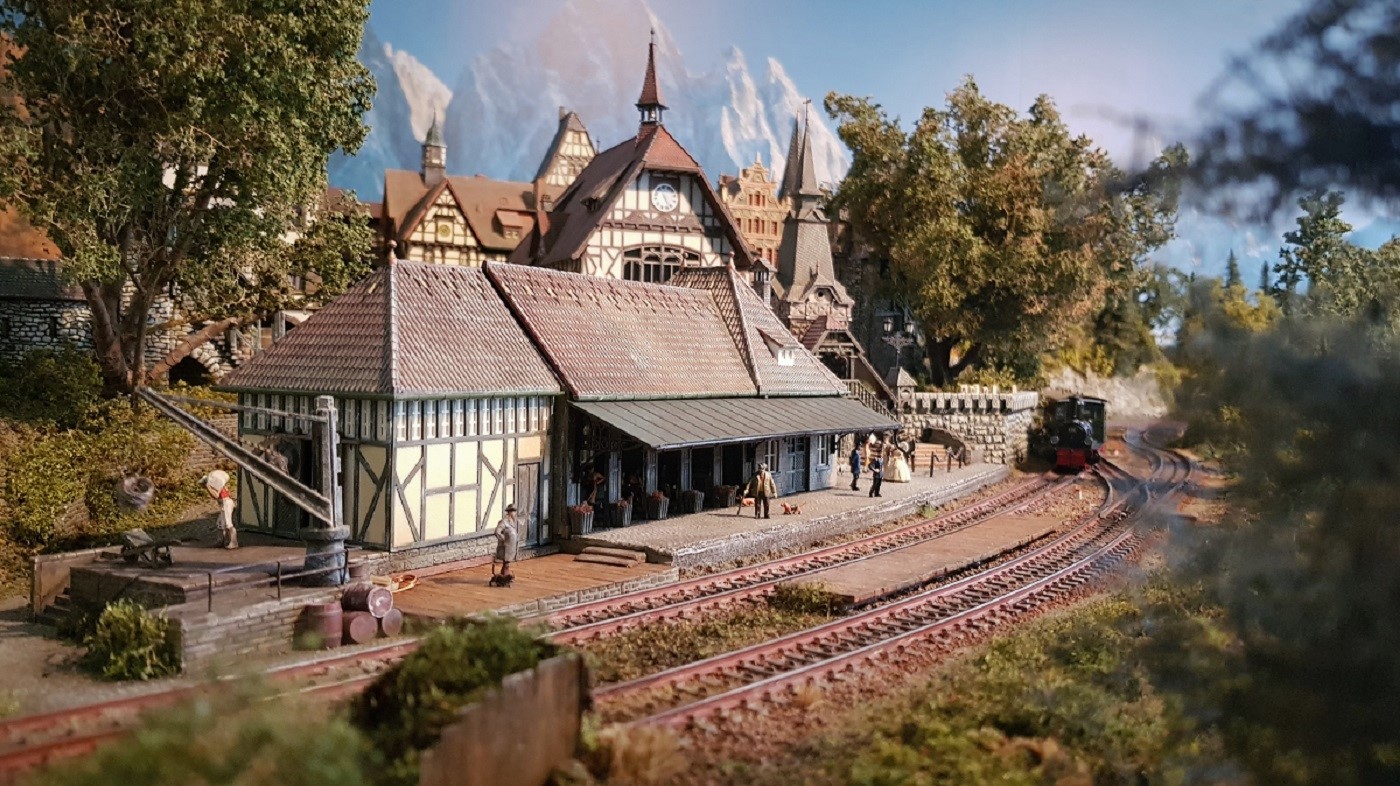 Thursday, 28.2.2021
Getting things started...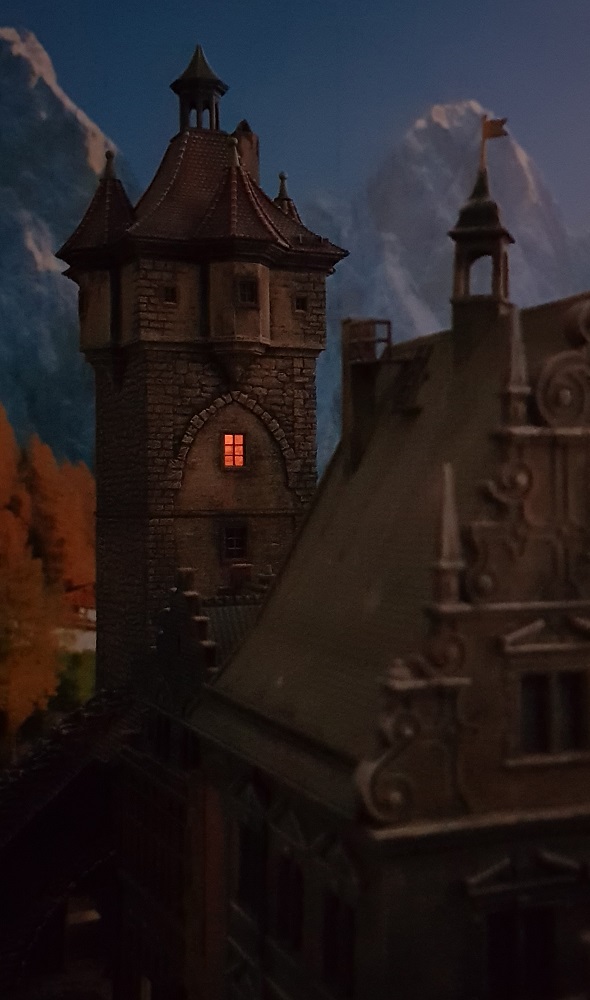 Tuesday, 26.1.2021
No time for boredom...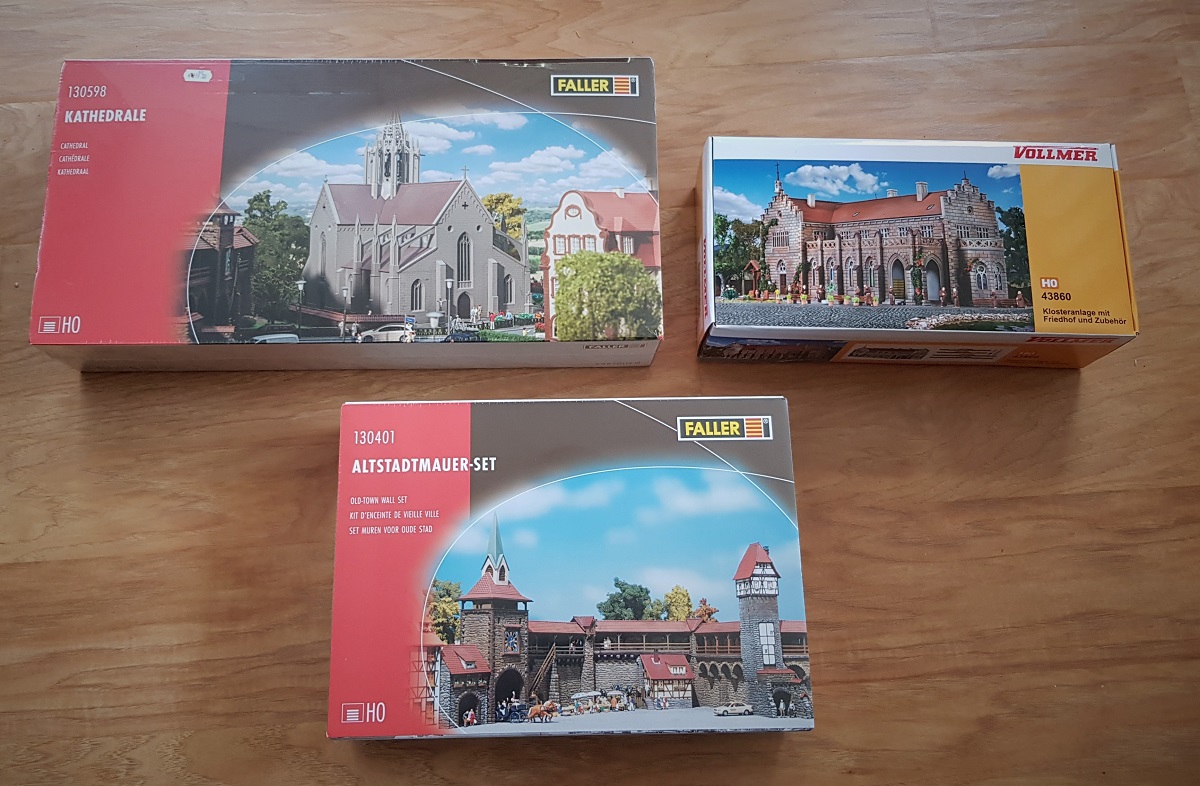 Saturday, 23.1.2021
Last week I had a curious plan.
As I set up the Klingentorturm on the outskirts of Cochemer Town, I saw how it stood exactly on the edge of the layout. No mirror behind it this time to create depth.
In addition, I have about 53 centimetres of space between layout and background. So, I thought: Why not an extension? Like something you can see under the gate.
A field road or something like that. But this idea quickly grew into urban expansion beyond the wall.
At first, I thought of the Bebenhausen Monastery (Faller 130816). A fantastic subject, which fits well with the theme of the layout.
Unfortunately, this model appears to be sold out for some years and alas, my dealer also had none...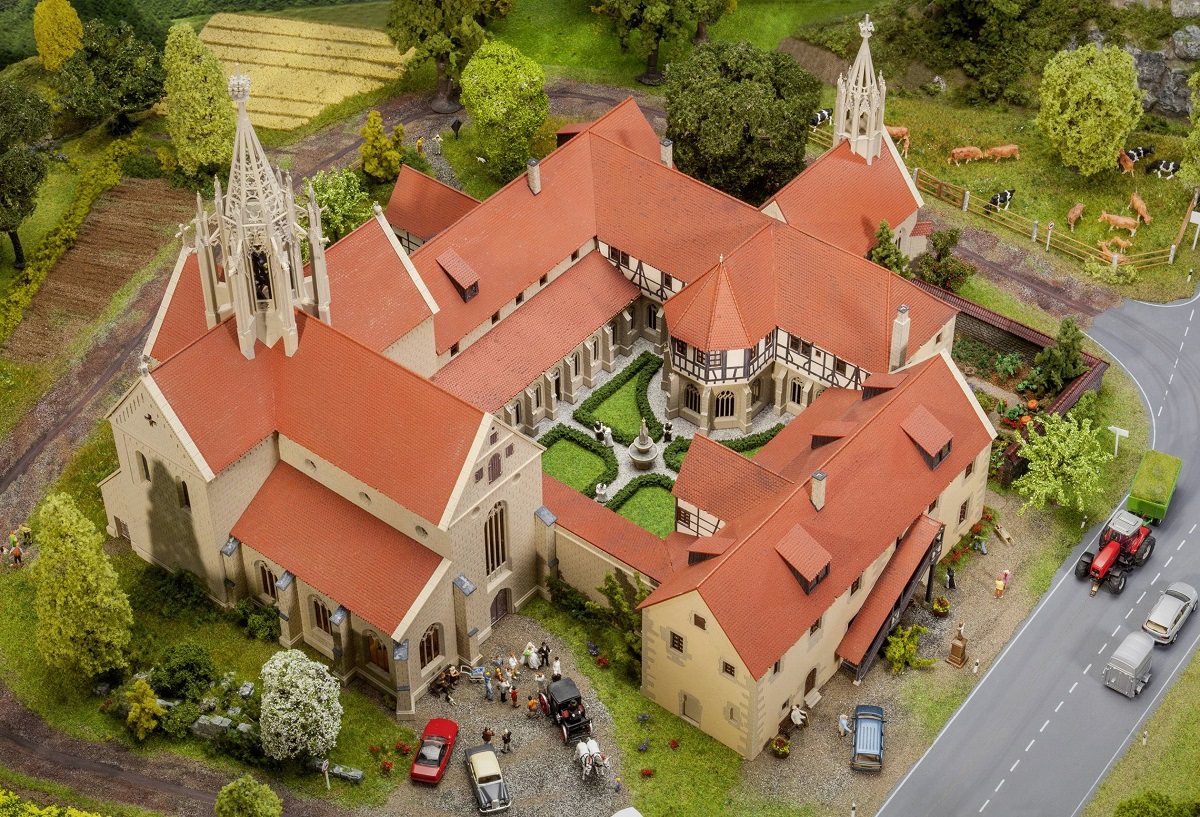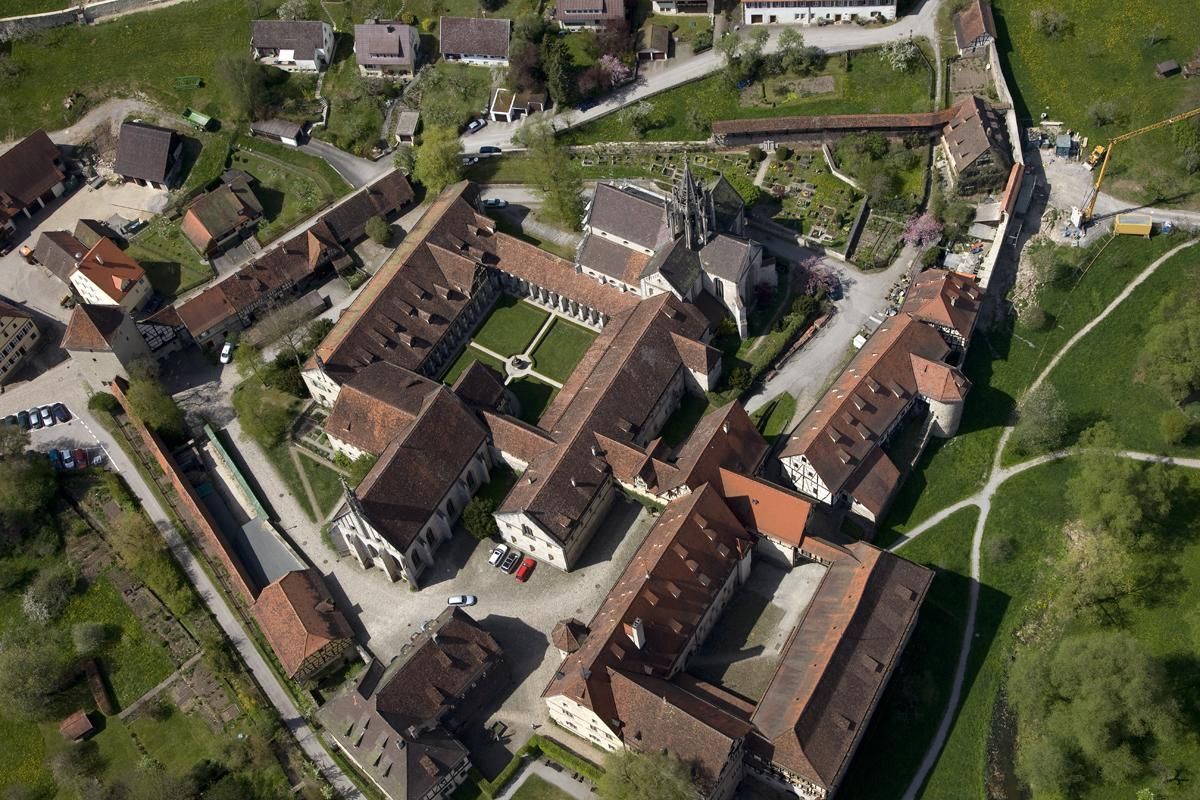 However, the Cathedral (Faller 130598) which in effect is part of the Bebenhausen Monastery, was still available.
To still create something of Monastery Grounds in combination with this cathedral, I ordered the Vollmer Monastery (43860) online on Monday 25/1, which was delivered a day later.
I can certainly move forward in the coming weeks, perhaps months...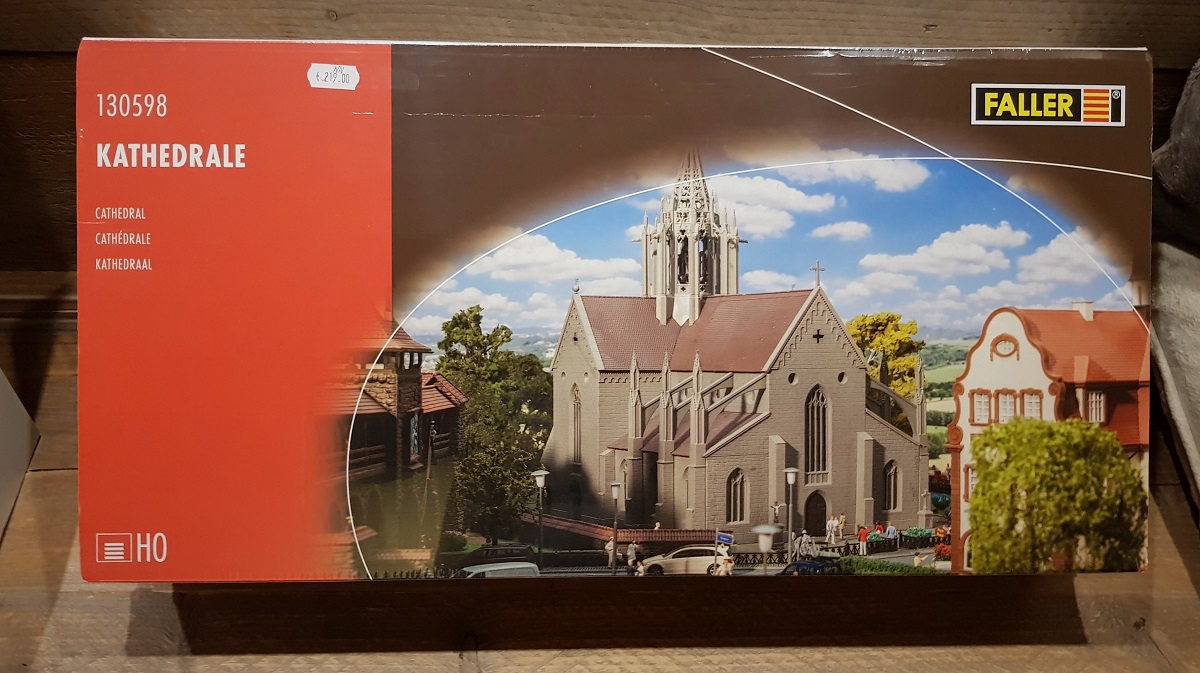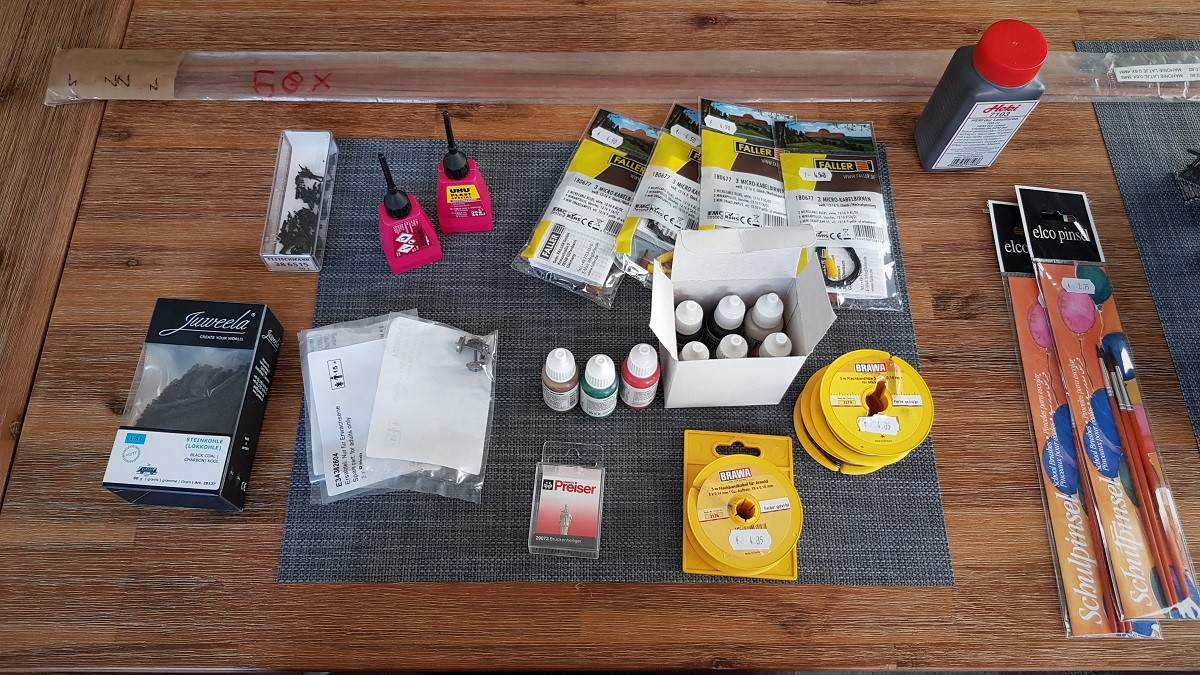 All materials delivered at my homestead (by myself)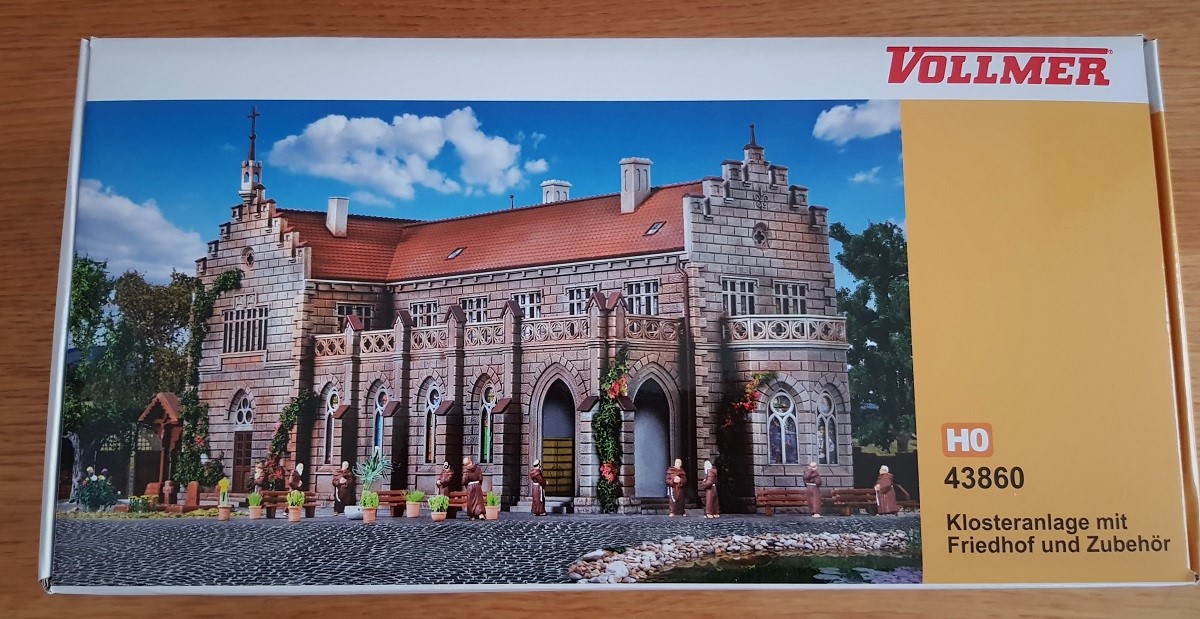 Thursday, 21.1.2021
We are approaching the roof. The third floor was provided with an interior.
Furthermore, the roof has been painted and I have started thinking about a transition from the Klingentor to the existing wall. A fun challenge...
See for more: Chapter 40 of Journal 8.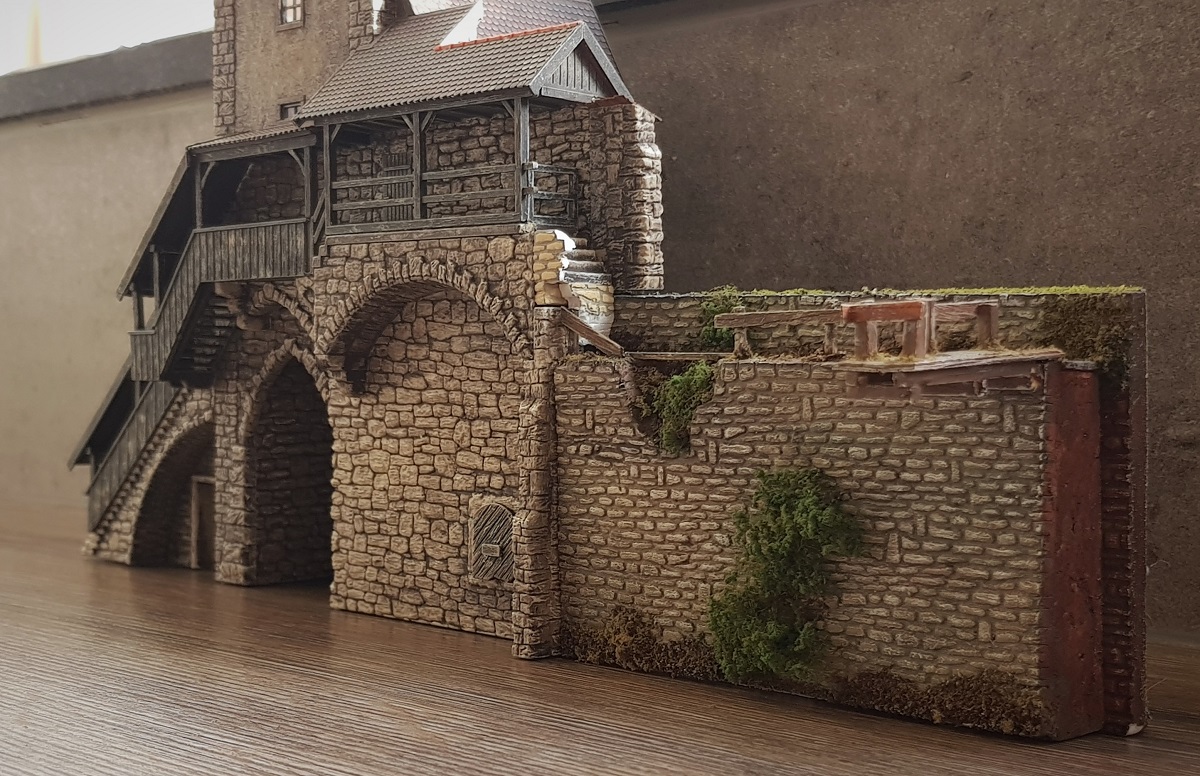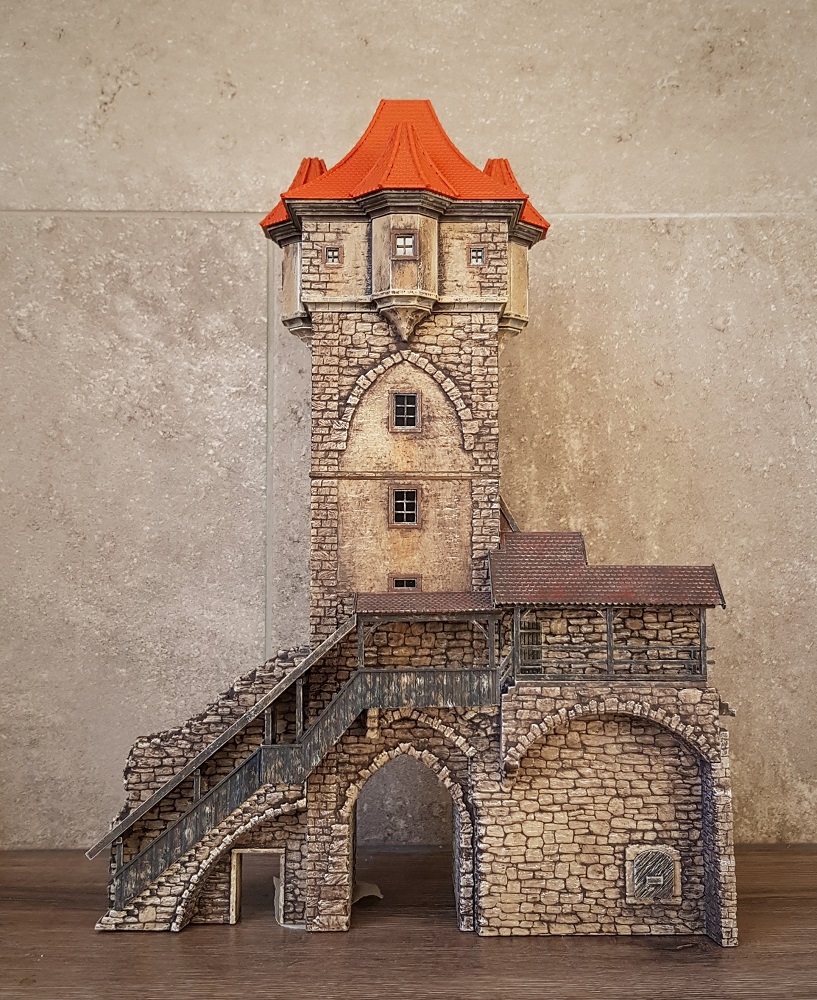 21.1.2021
Thursday, 14.1.2021
Heading for the next floor and alphabet a minore...
See Chapter 40.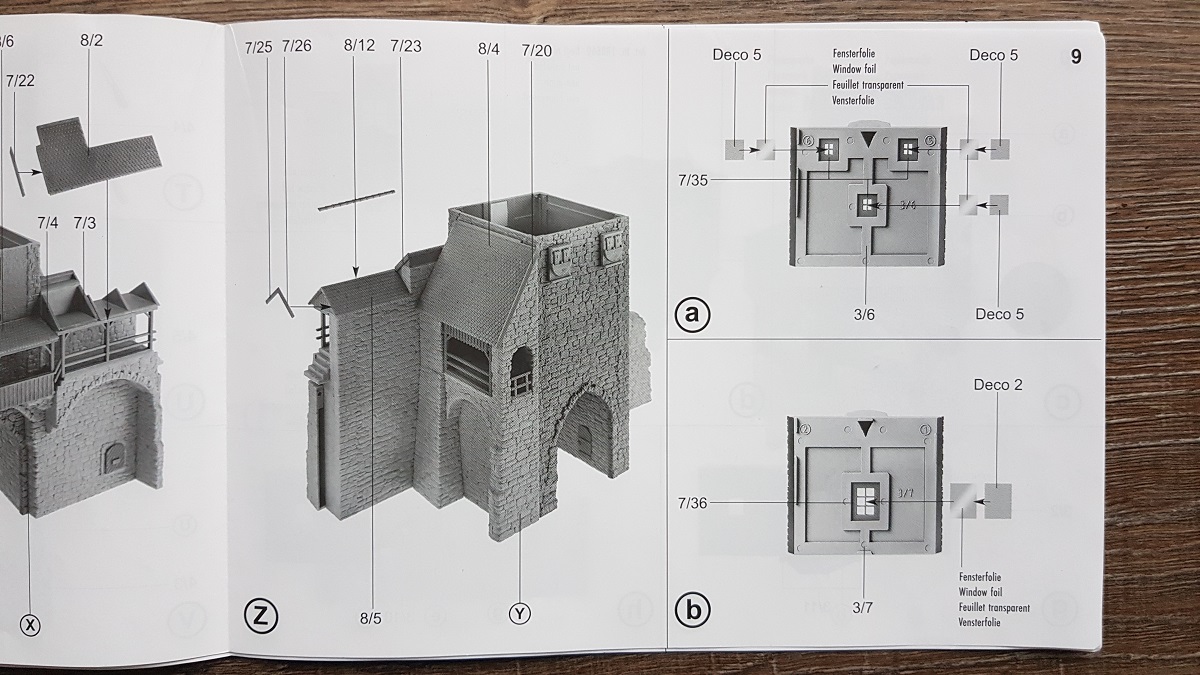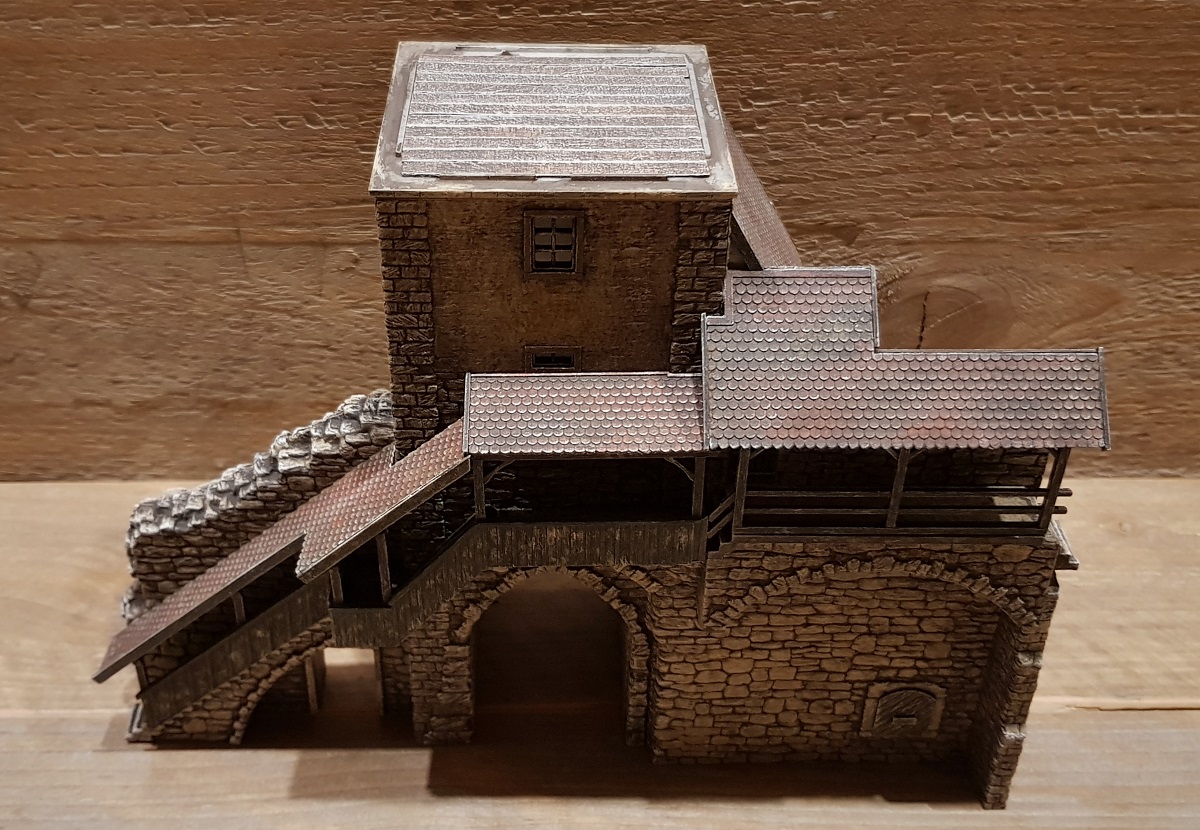 Monday, 11.1.2021
Slow but steady progress.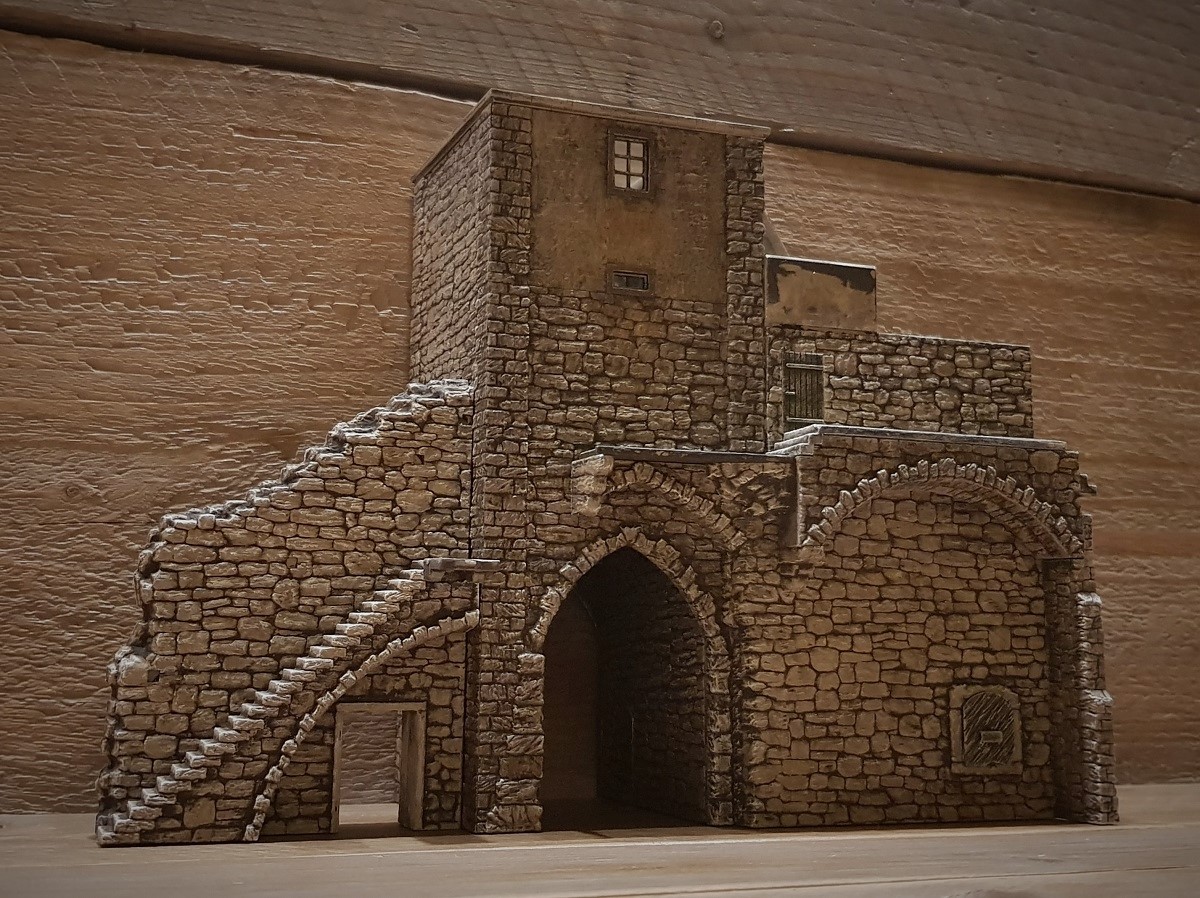 Tuesday, 3.1.2021
These days I work with great patience on painting the Klingentor (Faller 130400). In slow, joyful and satisfying progress...
Read more in Chapter 40 of Journal 8.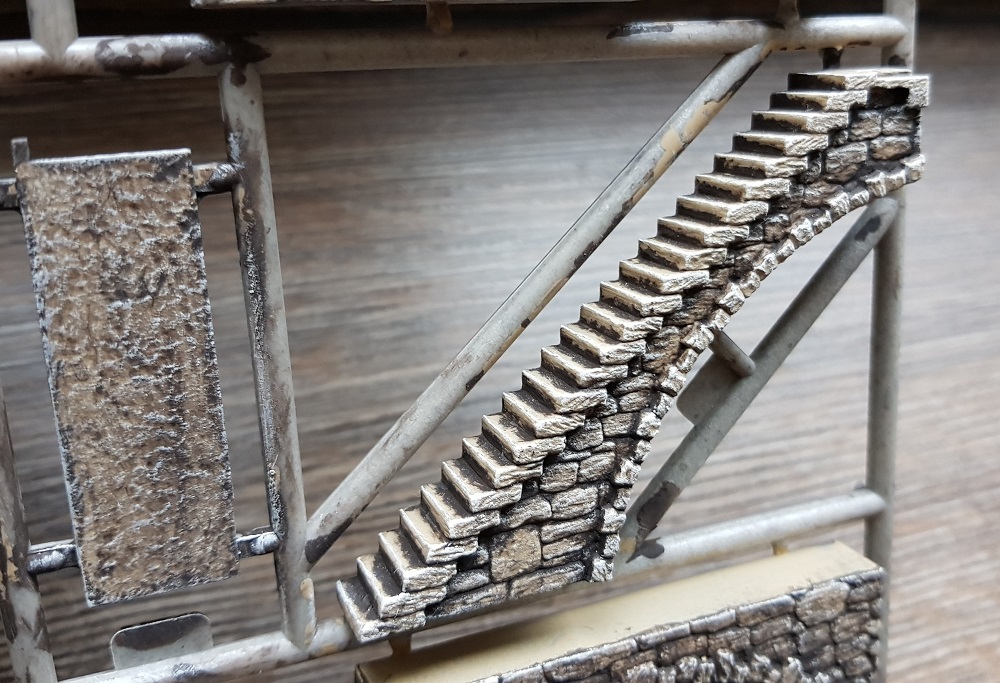 5.1.2021
Monday, 2.1.2020
A new chapter is written: the Cochemer Bahn finally has a decent background. Read Chapter 39.
I finished this 366 cm (12 foot) wide background on the last day of 2020, and I have to say, I'm quite proud of the effect on the whole layout and the opportunity in now will give to make more inspiring pictures and clips. On my FB channel, I posted 4 pictures of this project which resulted in over 600 hits within 21 hours and a great many responses.