Latest News:
11.3.2019
Three days leisure time stirred my creativity...

Read the story of Forest and Waldweide
7.3.2019
Working in the Train Room today: removing old wallpaper, positioning trees, starting 'Waldweide' between Castle and Forest. All things filling this lovely, leisurely day.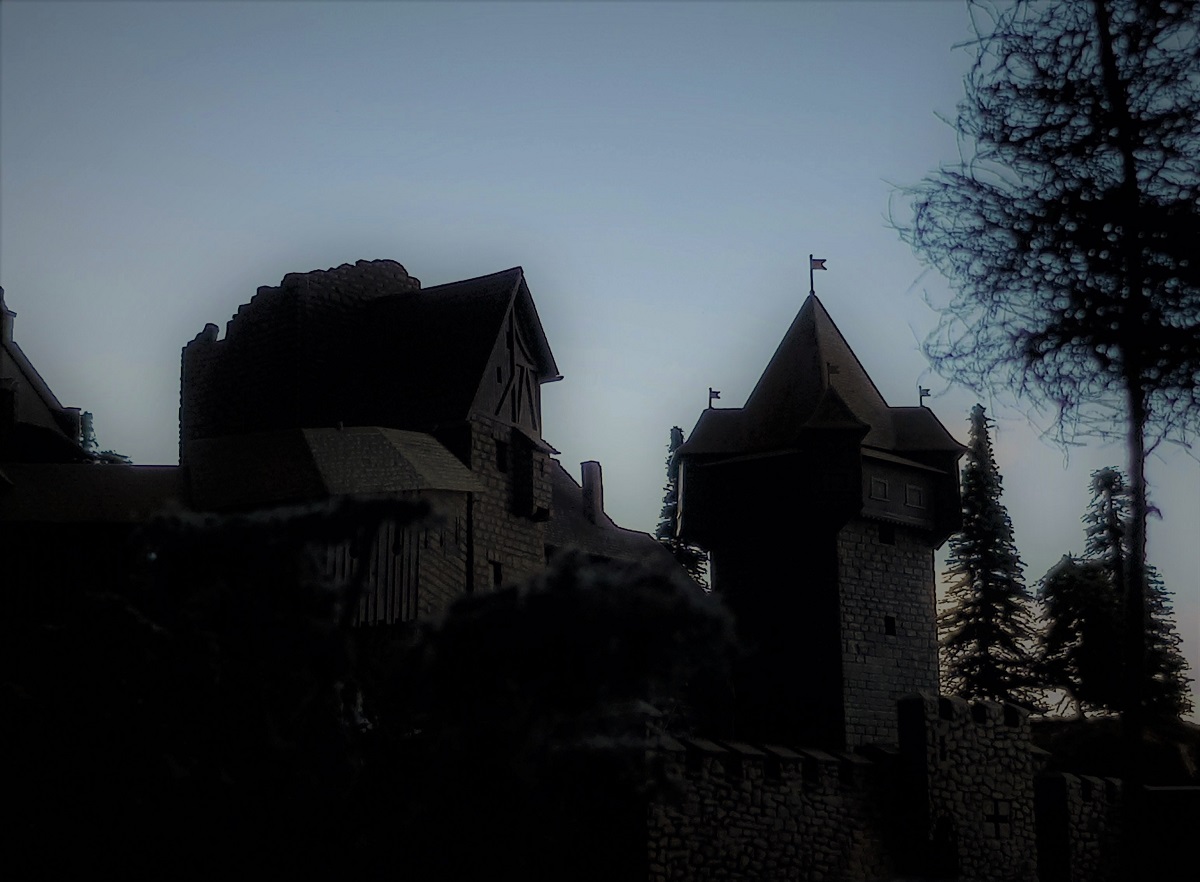 The Cochemer Burg, now with spruce trees in the background and hand made fir trees in the front.
One tree can make a difference. Good! Better! Drooling...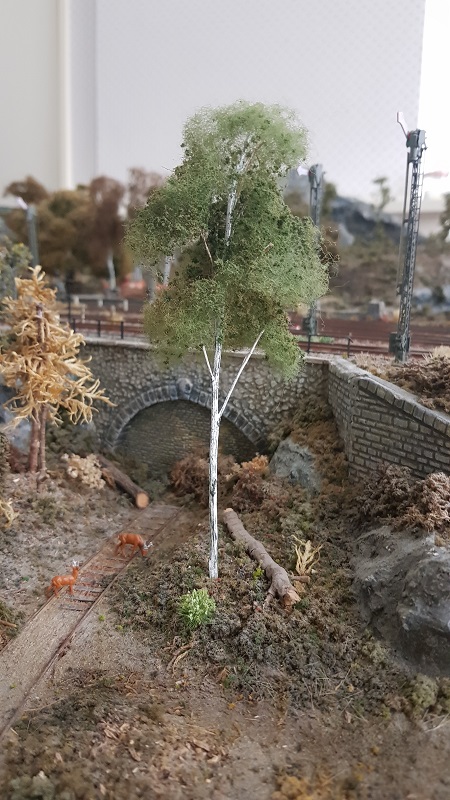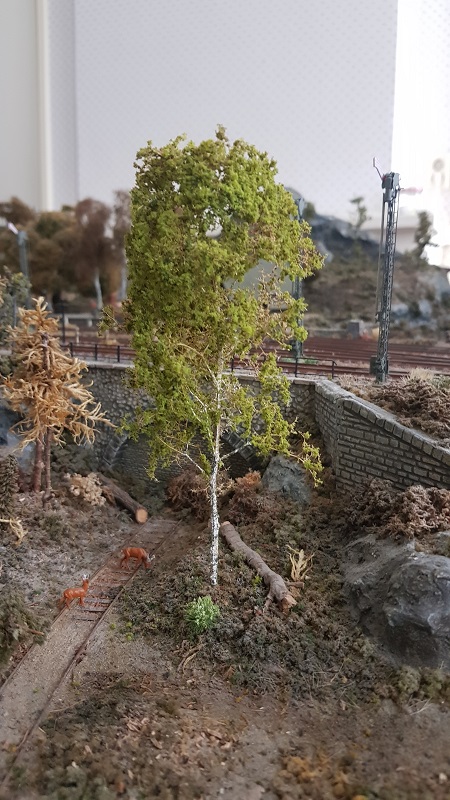 At the left side, my first birch tree, not too bad I guess.
However, at the right side a new Seemoos tree! It certainly makes a difference.
And then there is a new chapter: Waldweide!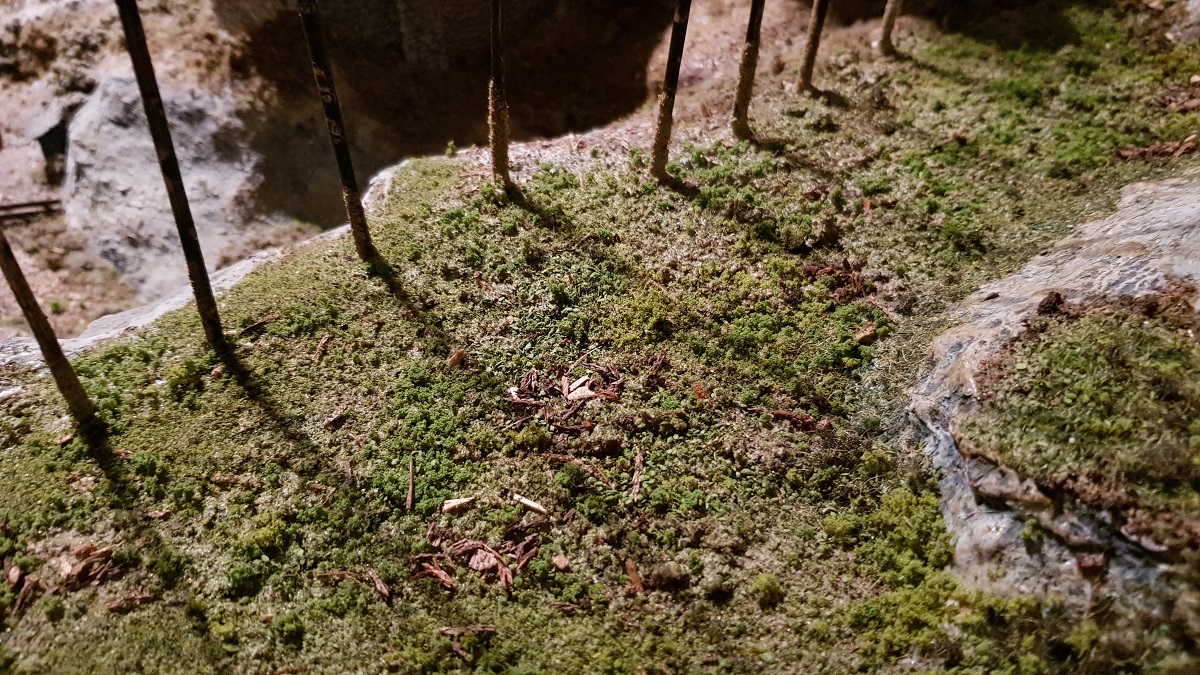 2.3.2019
Not all's well that ends... errrr... not so well...
In 2009 I purchased the grey version of the T 5 (40183), one of the finest models Brawa ever made, with superb running capacities and awesome detail.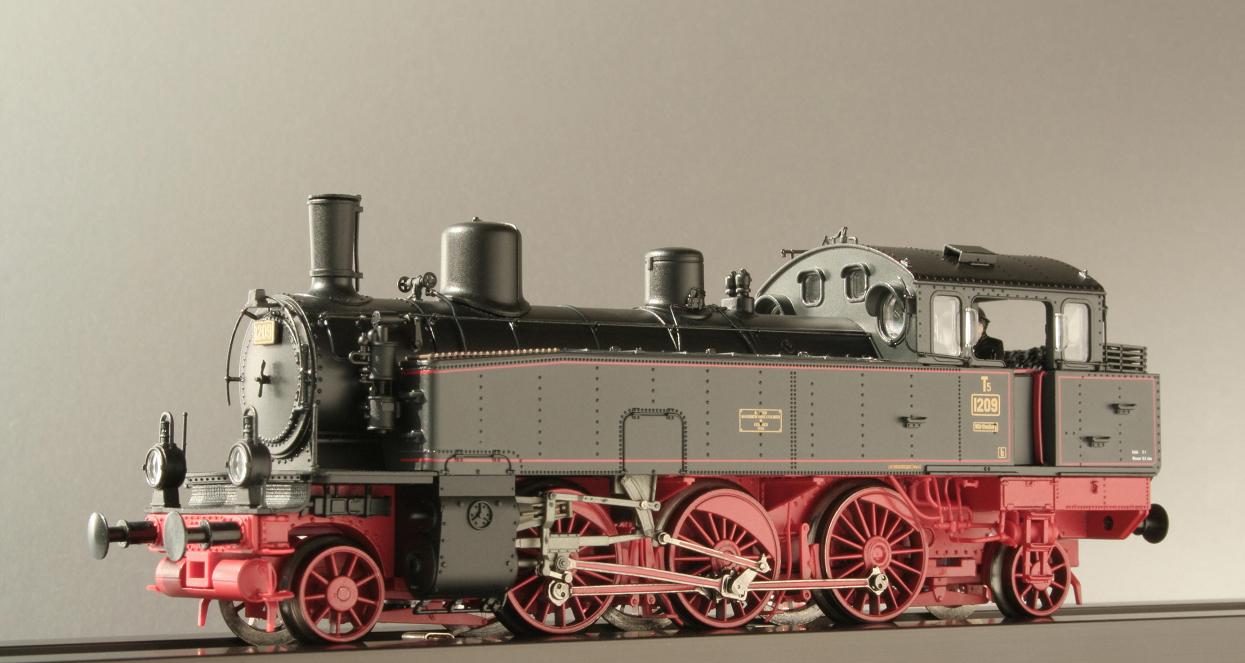 In 2015 or 2016 I took the model out of the show case to show others instead. But when I wanted to run the 1209 again last night, this is what came 'out of the box'...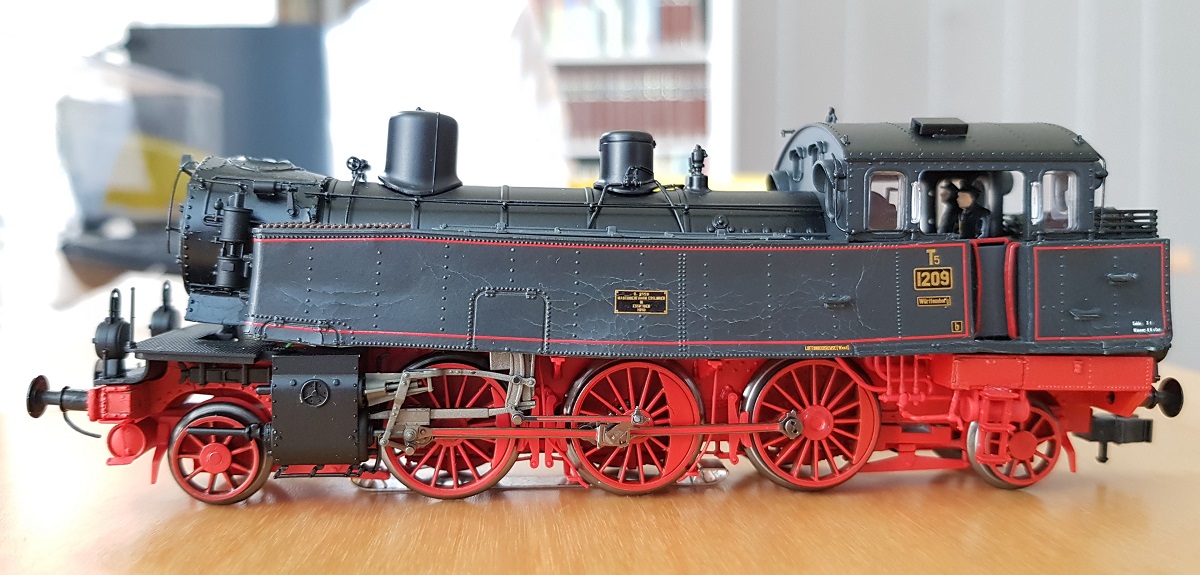 ZINKPEST !
I sent it back to Brawa this afternoon, after a call with the Hotline, and Brawa didn't need much explanation. So, they're aware of the situation.
I'm pretty curious how they will solve this major issue! It will most certainly determine my final decision whether or not buying any locomotive of this brand ever again.
2.3.2019
Since I want to make a proper make-over of some parts of the Cochemer Bahn - especially the 'forestal grounds', I treated myself with some NOCH products.
My first laser cut model (Jägerstand, Noch 14341), with two sachets of Forest Floor Scatter Grass (08350) and not in the least a real box of tree leaves ( 07154)
meant for my Seemoos trees. I'm pretty excited how it will work out.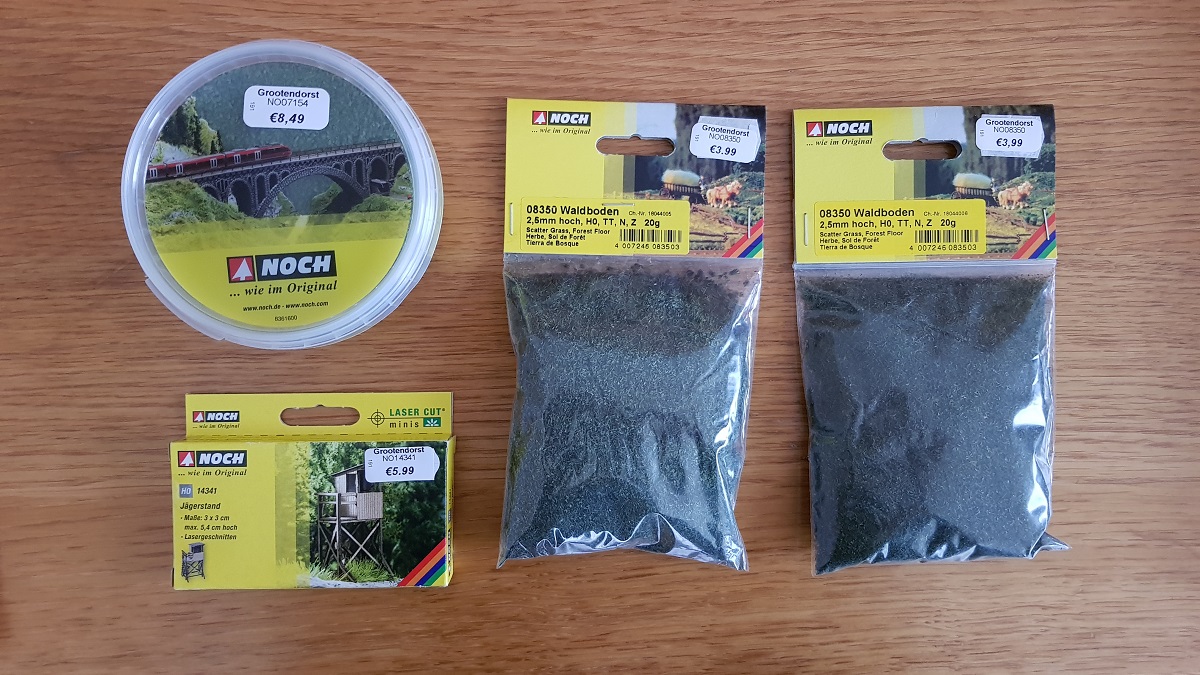 Noch 07154, 14341 and 08350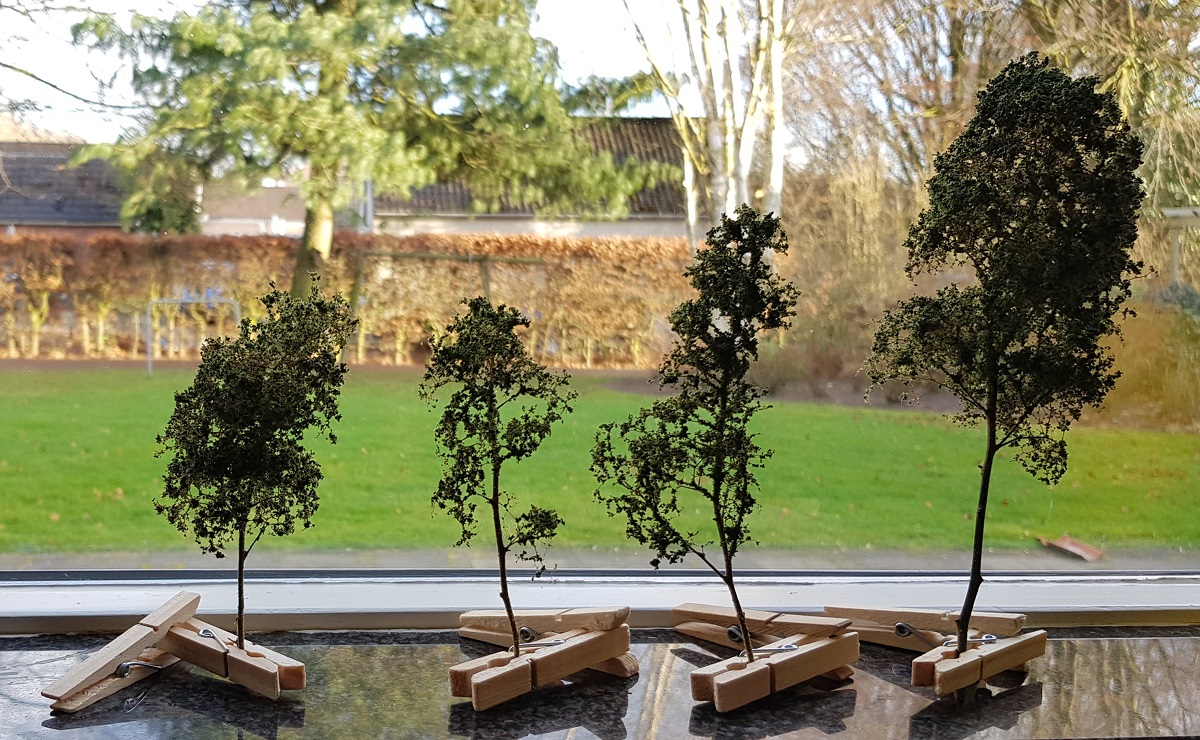 1.3.2019
More trees were made today. This afternoon I made the firm decision to position all Jacq Damen Trees NOT in the Black Forest behind the castle, but in FRONT of it!
They not only look but also fit better, since the castle grew pretty small with such large trees behind it. It's just a matter of perspective!
The Heki Spruce Trees will now be in their stead. In between, the 'Lorelei' tunnel got her final painting. After a yellow layer a few days ago, I gave it a white dry brush today.
Not yet after my liking (too white), but it'll do for the moment...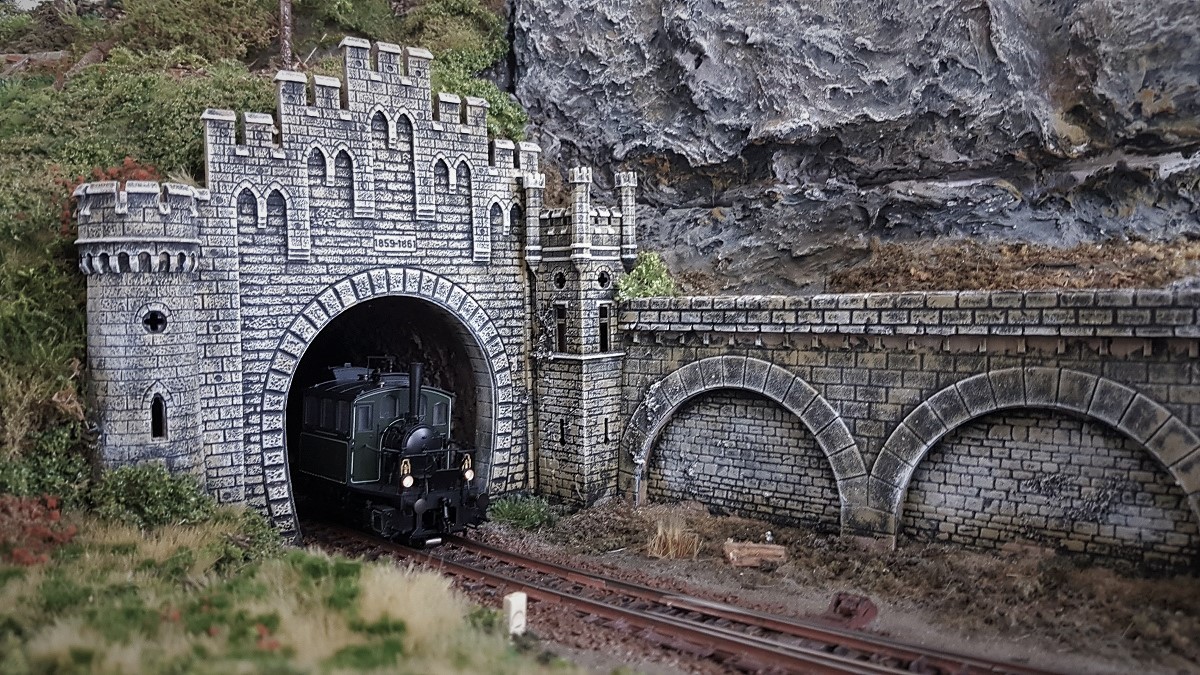 26.2.2019
Two leisure days promise some good. I started with making some new trees. On the one hand I found a sachet with 12 Heki fir trees.
On the other, there is still this box with Seemoos which promises to change into the finest of trees.
To start with the latter, see the Story of Birch Trees.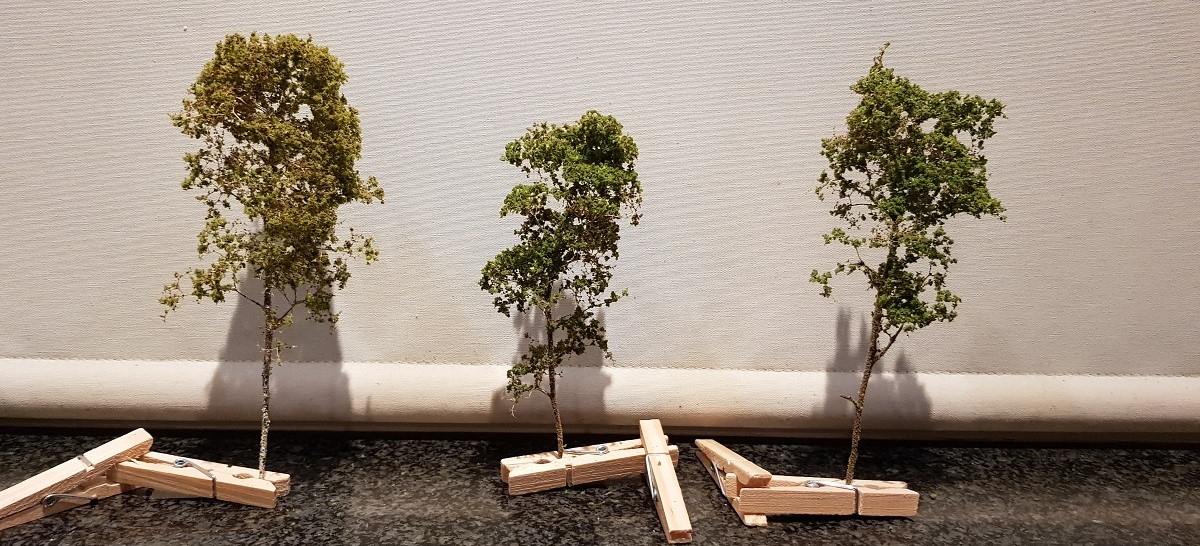 The making of Spruce Trees out of Heki Steckfichte - which I produced simultaneously - you can read right here!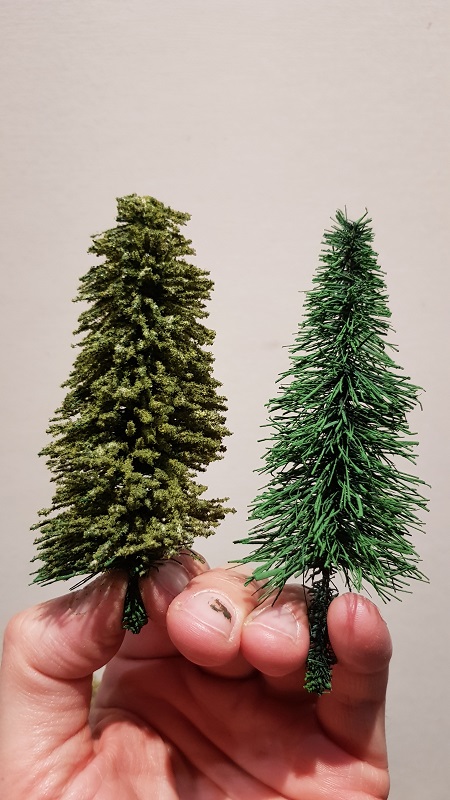 16.2.2019
Although I'm not fond of purchasing per Internet, I couldn't resist the offer of the 2014 Trix Clubmodel. The axles were even changed for free into the precious Märklin Bavarian grey open V-spoked wheels!
Yet, my collection already contains an "Eberlbräu", but that 1998 model has a black chassis with yellow printing: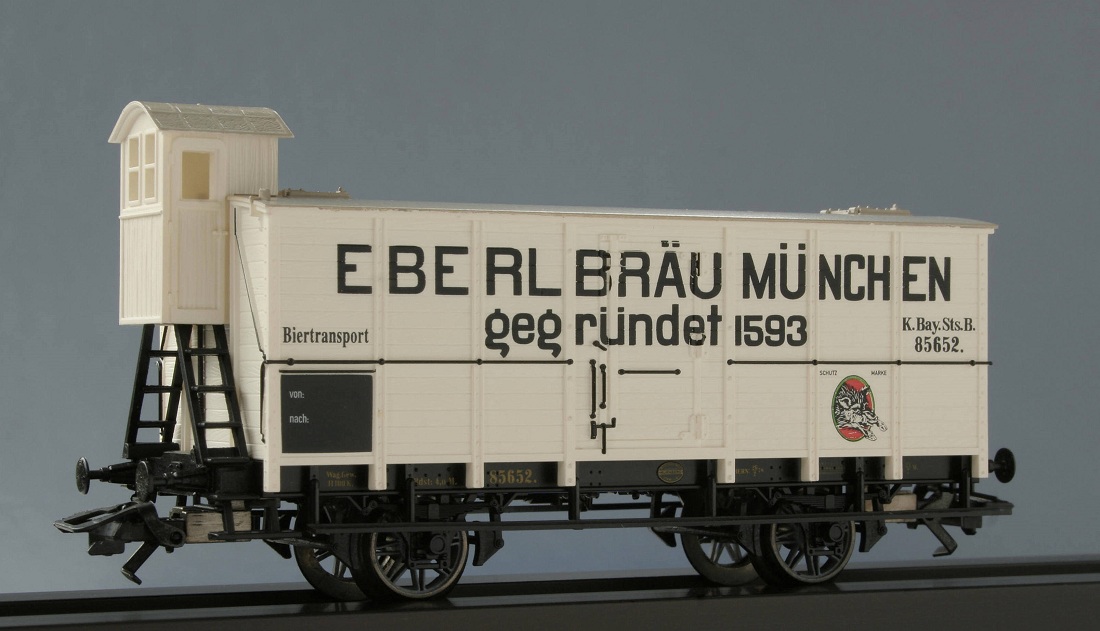 Märklin 43982 (E 1998)
Then there is the Eberlbräu from the 7-set (Märklin 45251), a 2010 limited edition.
Although this van has a white chassis yet, it also carries a different roadnumber.
Unfortunately - and unlike the announcement and box printing - these model have Era 2 buffers, the so called Hülsenpuffer.
Märkin not even cared for painting the wheels Bavarian grey: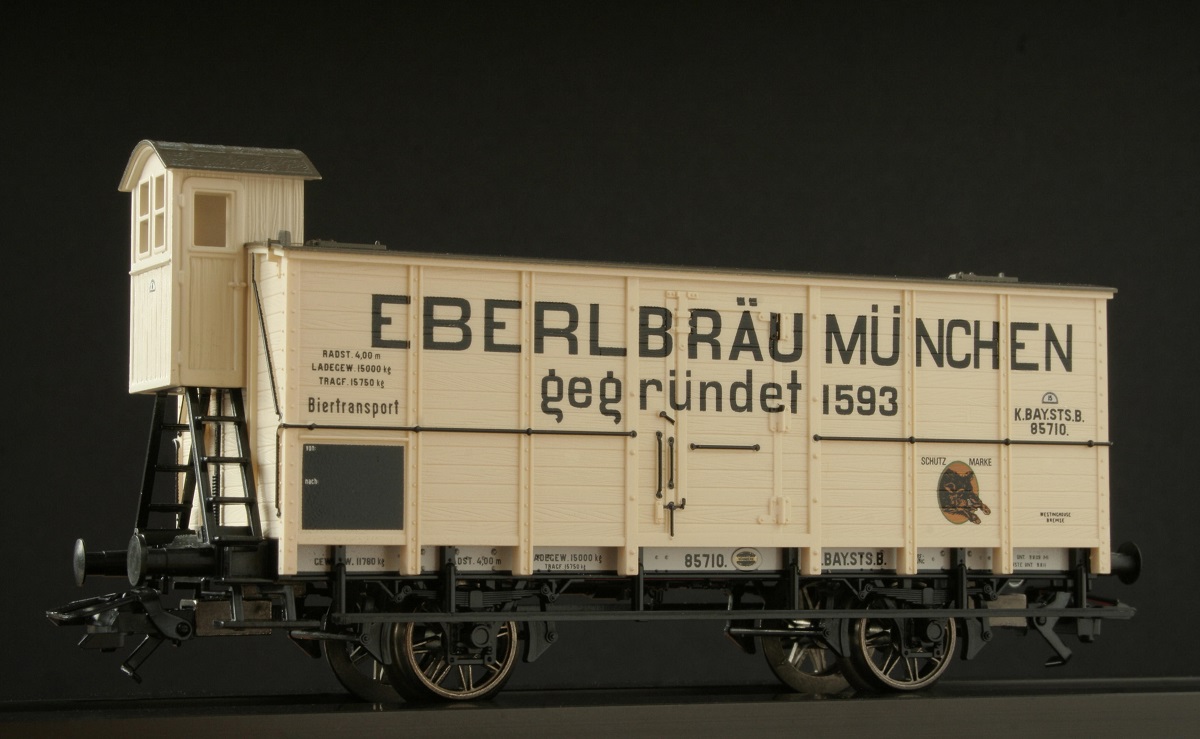 Märklin 45251-02 (E 2010)
But now - with white frame and Stangenpuffer - this 2014 version (Trix 24814) offers everything needed for Bayern Epoche 1 pur sang, as it should be!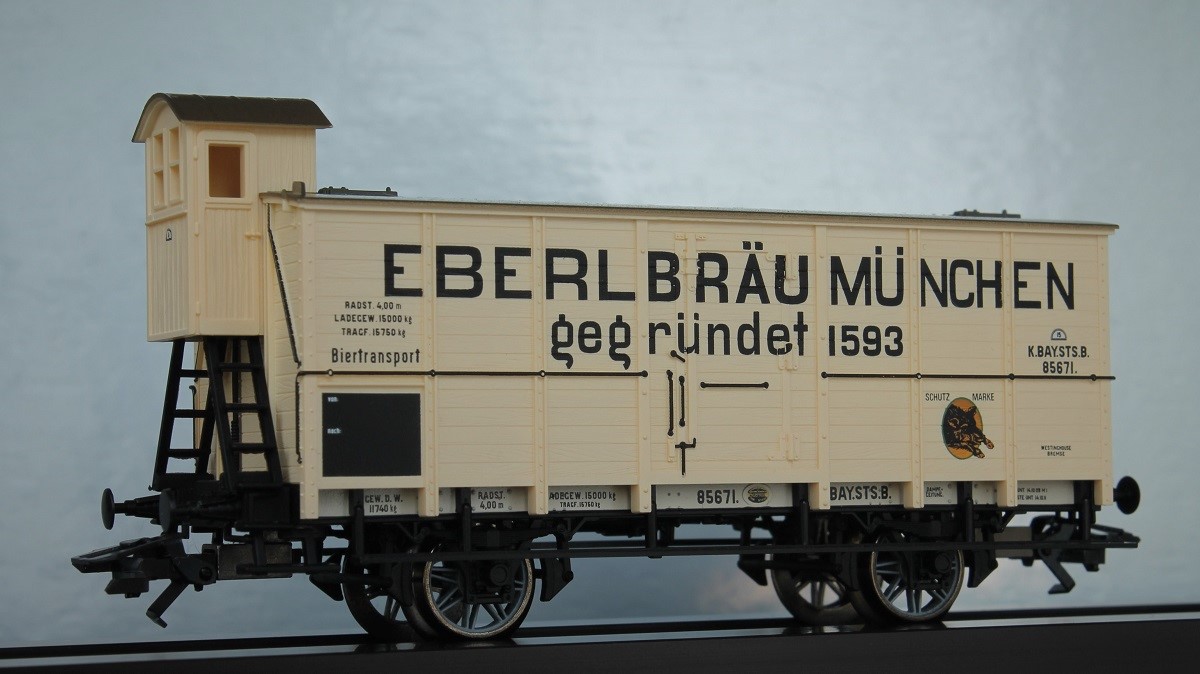 Trix 24814 (E 2014)
After DHL delivered this model early this morning (within a day!), I rushed to my hobby room for a whole day's working on my layout, implementing Down Hill into the adjescent scenery. Spring is in the air...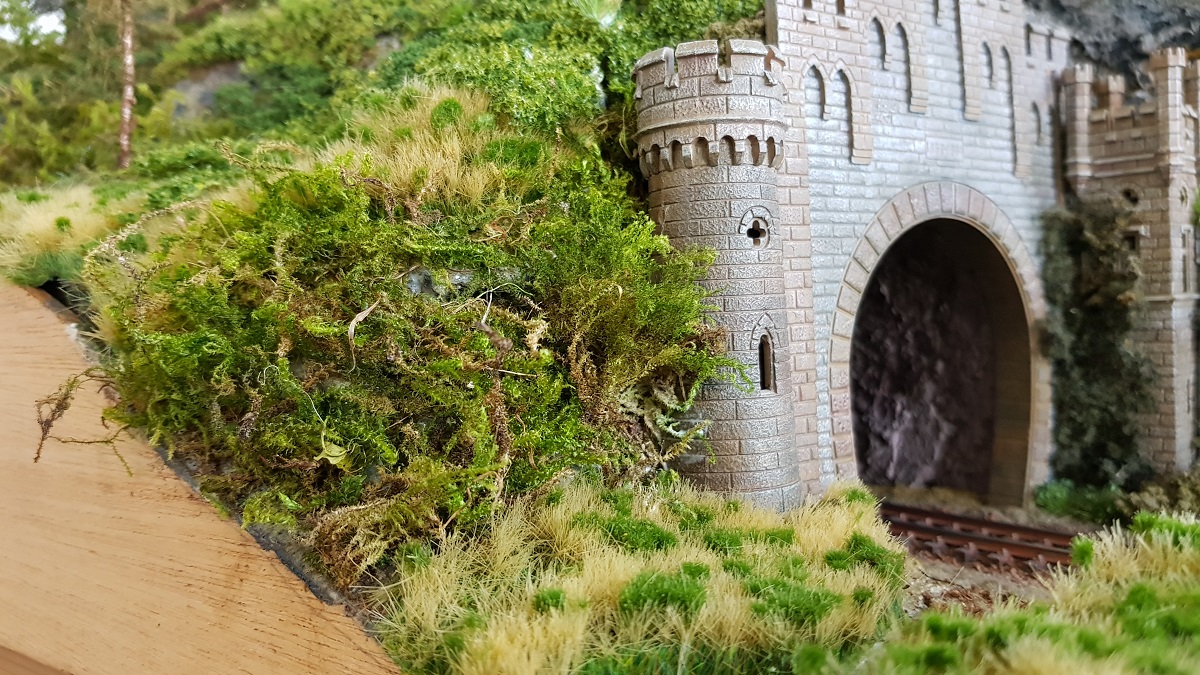 15.2.2019
Aio libero. This day is calling for completion! Please, continue reading the story of Down Hill...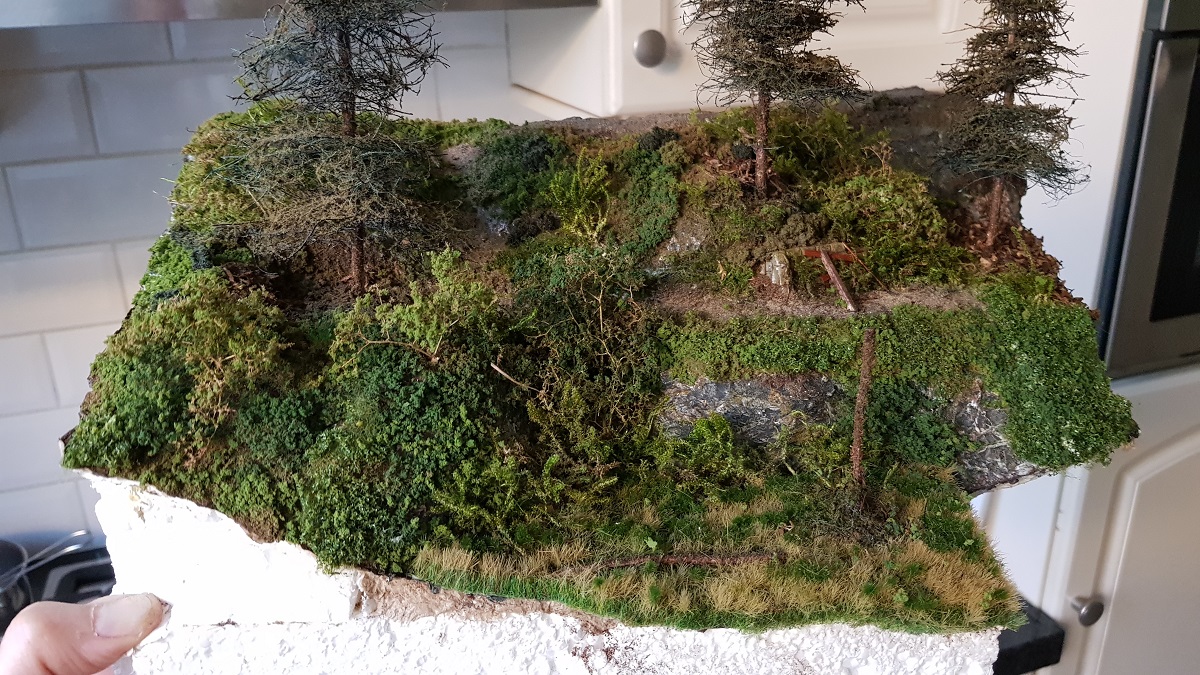 9.2.2019
Newly released Brawa cars from Era 1 were added to my collection...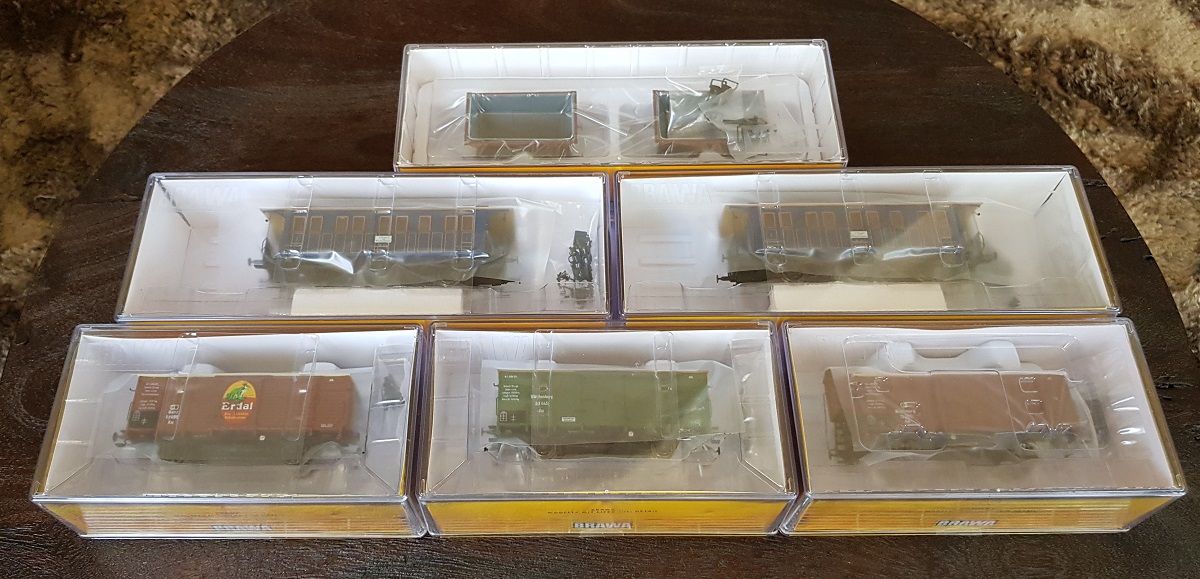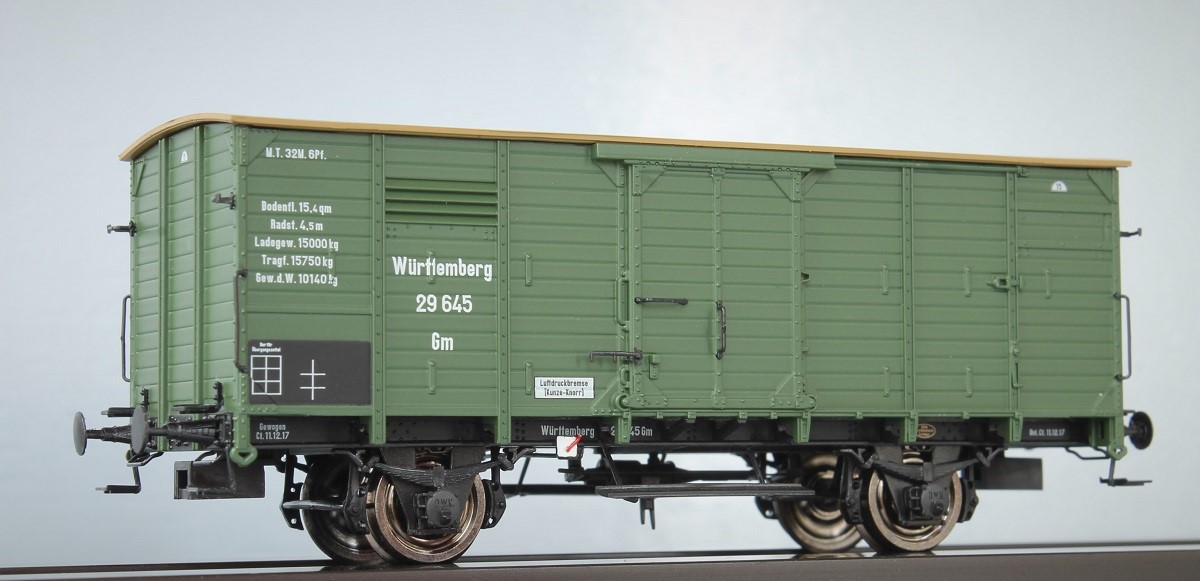 Brawa 49722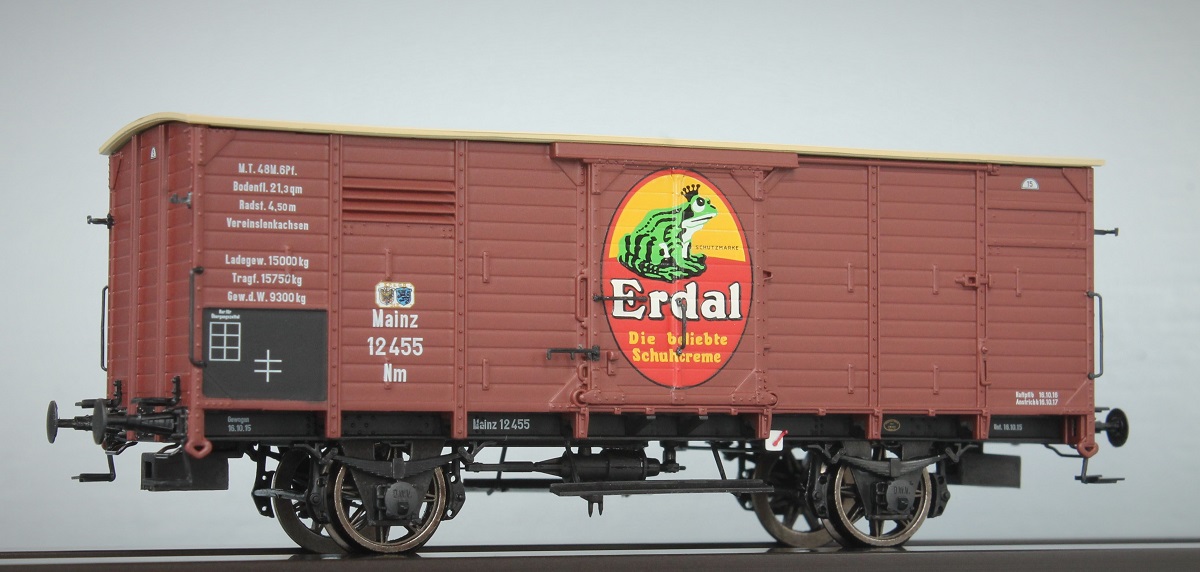 Brawa 49742 ~ Erdal grüner Frosch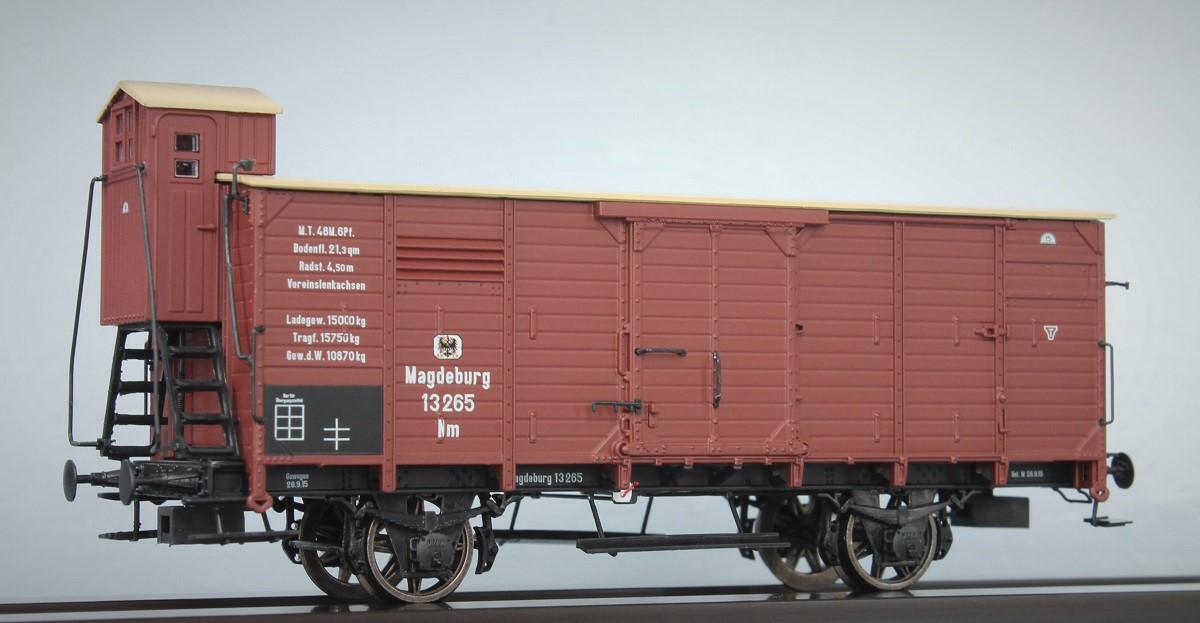 Brawa 49723 - Exclusiv 2018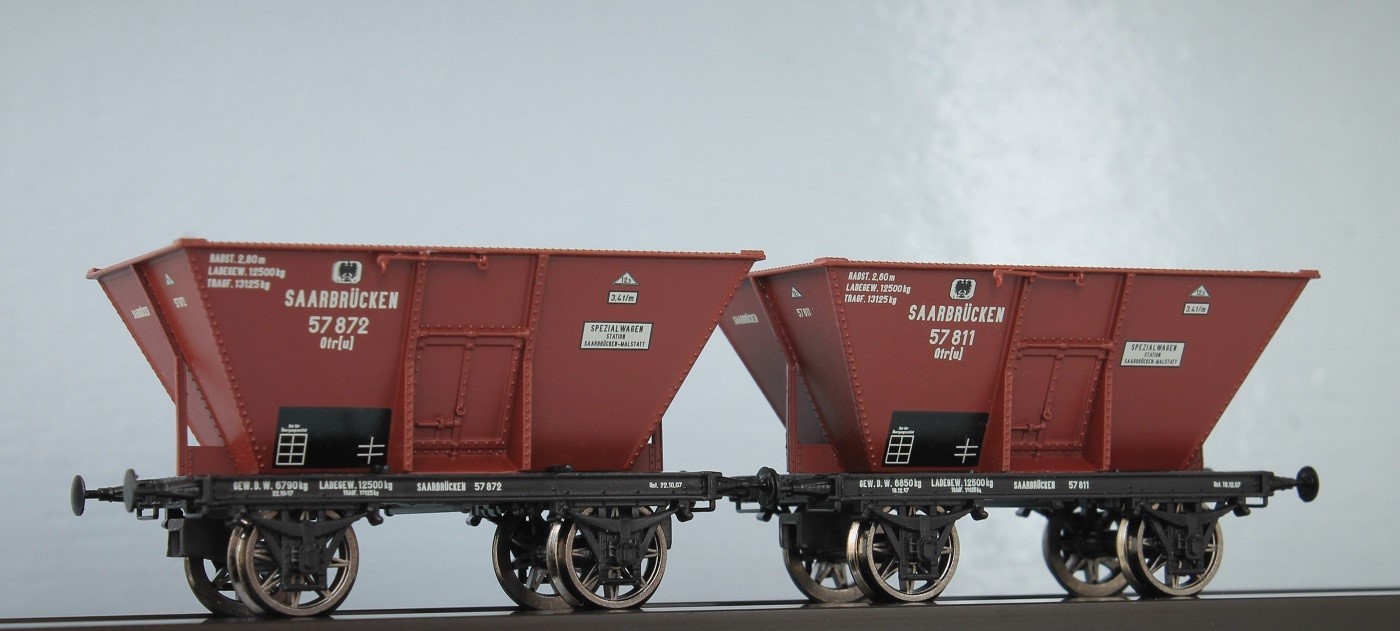 Brawa 48202

Brawa 45612 and 45611
6.2.2019
How the most negelcted part of my layout became a gem! Read the story of Down Hill.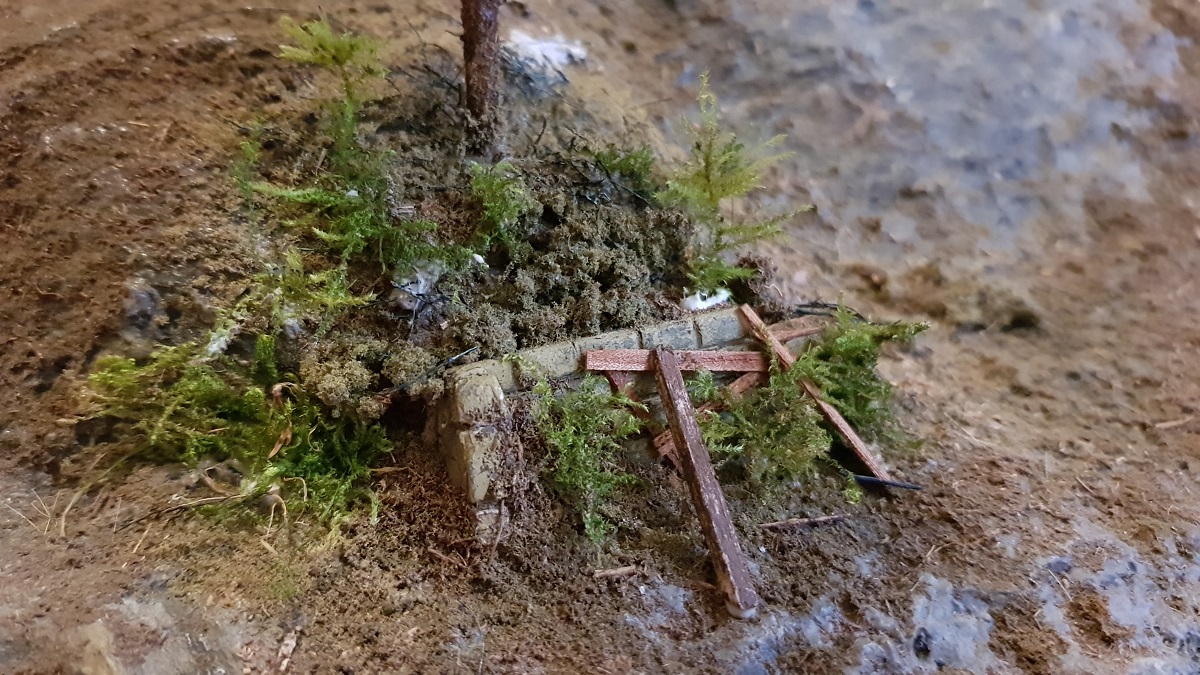 1.2.2019
I finally dared to make trees in the way Jacq Damen tought me! See the report of Pine Trees á la Jacq Damen!

28.1.2019
Since my train room still needs to be painted and foreseen with new wall paper, and the cabinet has to be moved from the spot, I won't fill the showcase with my most precious models until the job's done. This Baden IVh however longs for company...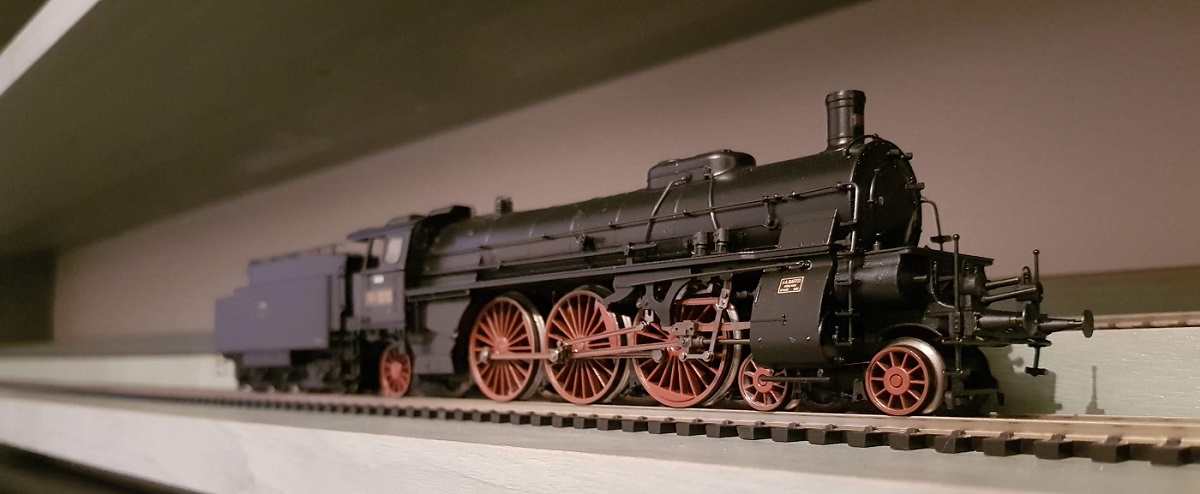 One of the first shots that I took with my new S8 (with only artificial light at the ceiling, no daylight involved)
24.1.2019
For reasons of hesitation, last year, I failed ordering the Sächsische Güterwagen Gm 15 111 (Brawa 49724, new 2018). After its release, it was sold out all too soon.
Even my own dealer couldn't lay hands on it anymore, nor the bigger shops in Germany. Fortunately I was able to find one shop who still had one option. Done...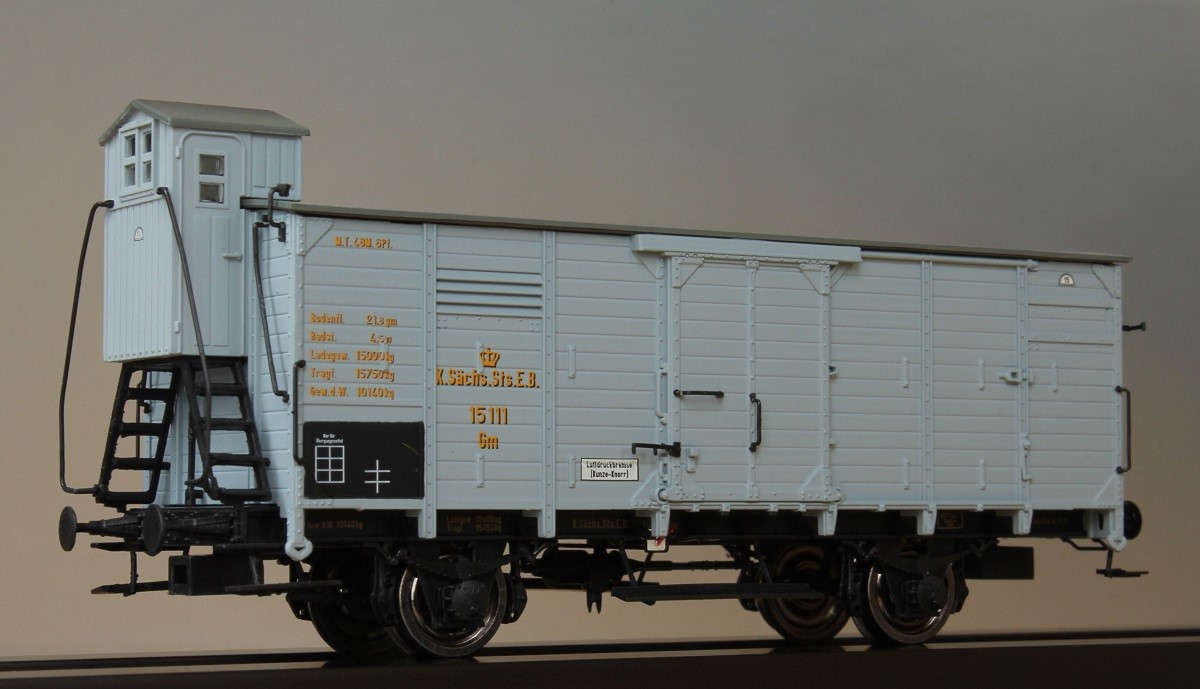 Brawa 49724
24.1.2019
Since I moved, I now have a separate room for maintenance of my rolling stock. Some models haven't run for over a decade of more, lying safely and comfi in their boxes!
Especially the analogue models and those with an older type of propulsion need to be looked after in order to avoid some kind of 'soaping'.
Instead of Wilesco Z83 (which is very visceus), I now use Ballistol Oil with a lower viscosity. Some models also need some adjusting of their switches.

Märklin 3100 on my workbench...
24.1.2019
Finally....
After some 12 years since I discussed a "go or no" (on John Oxlade's "Worldrailfan Forum") for an Elok-List which is similar to my ModelsList of steam locomotives,
I made a modest start with Class E 04. Just take a peek at my Elok-List!
For those who are still unfamiliar with the function of my List, let me help you out a bit (it's quite simple):
* Please put your cursor on Class 00 - 09 at the left top side of the page
* Then follow the drop-down-menu until you find E 04
* Move to the right and choose your favourtie openingspages, like DRG E 04 or DB 104
Only the openingspages differ with an Era aligned picture.
The content of the list itself is similar and can be found by clicking on one of the crests on the left side of the page.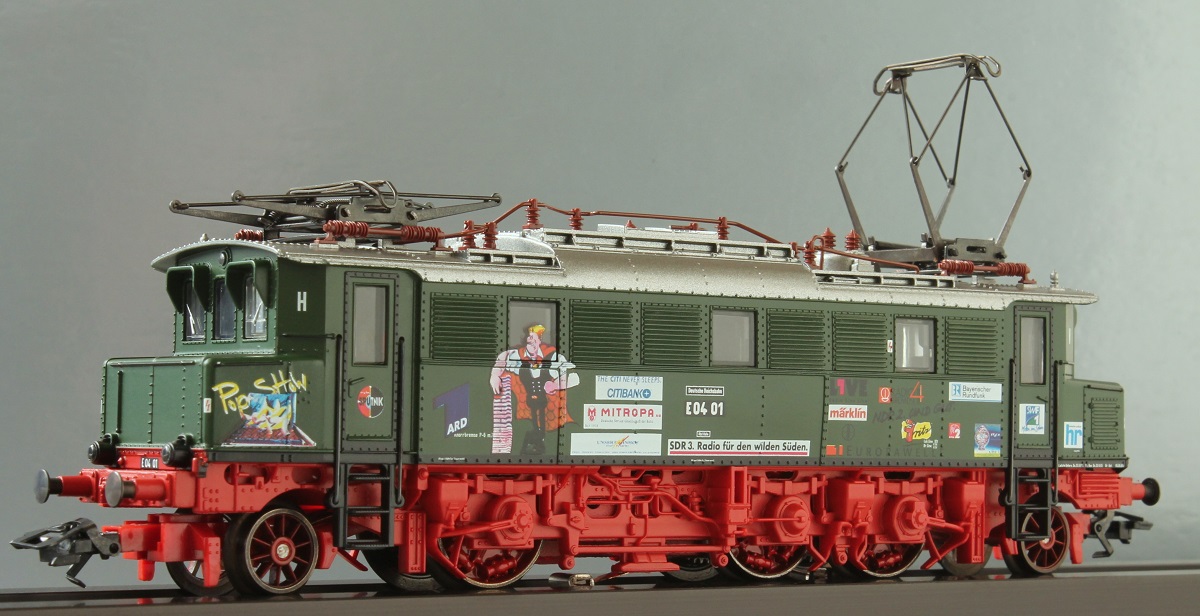 Märklin 2872
8.1.2019
Working through some folders of the passed years with unused pictures that I took at my dealers since 2007, I found this gem. It took me some 40 minutes to doctor it because of many smudges caused by dust and dirt on the sensor of my old Canon camera then. Even if the maulds are over 30 years old now - the very first Württemberger C was released in 1988 during my visit at the first Märklin Seminar - this locomotive is still one of my favourites, even the more since after the 1988 models this one has again three (sic!) front lights in so called A front code. Alas, the C 2032 is still an omission in my collection...

5.1.2019
One of the last photoshoots of recent purchases that I made at my uncle's, who in due time is going to sell his layout and will move to a smaller apartment: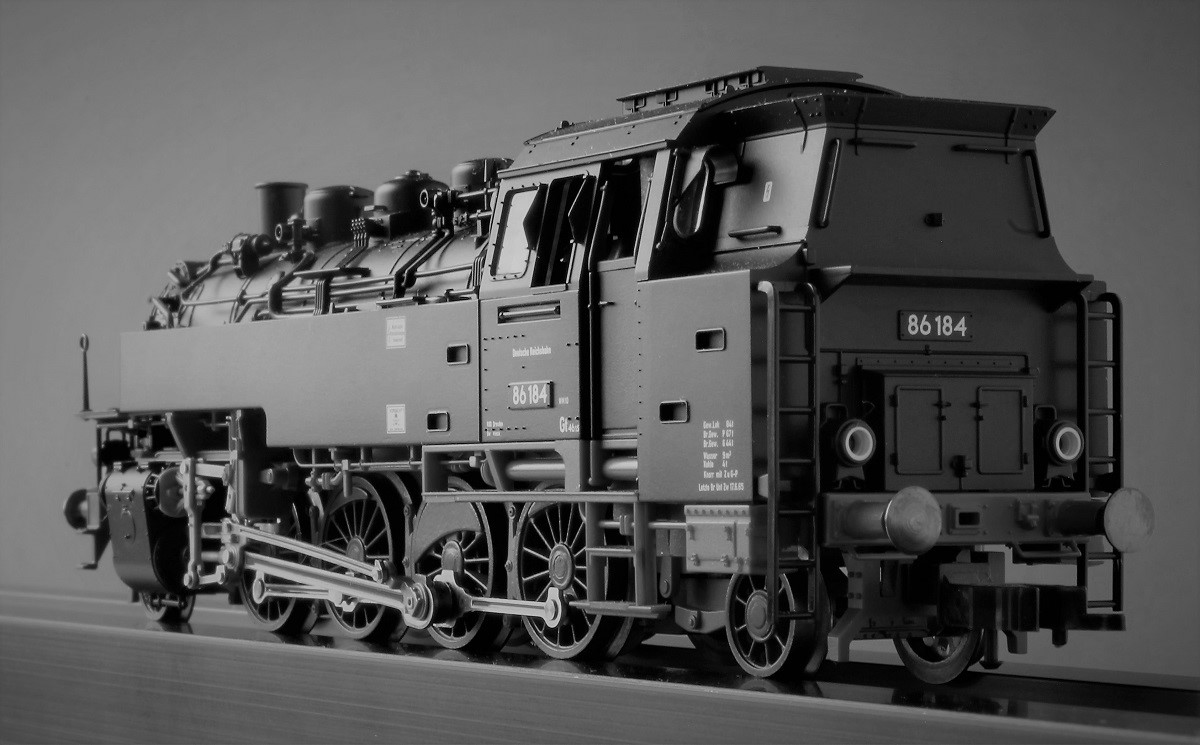 Fleischman 4087

Roco 43717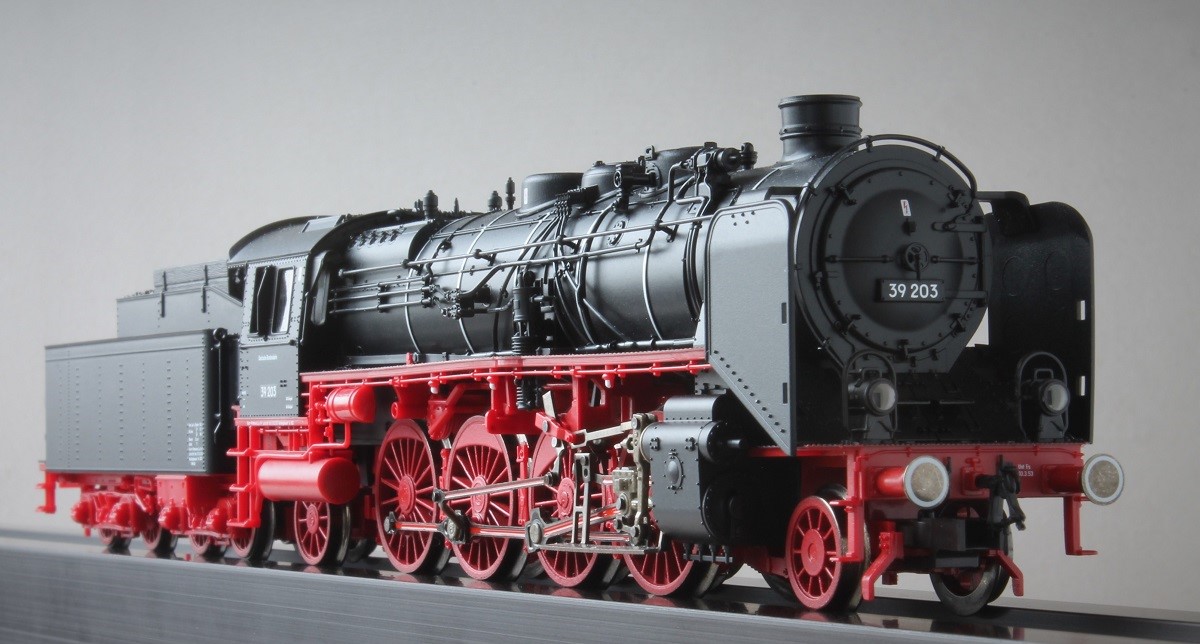 Fleischman 413875

Liliput 141723
3.1.2019
Visiting a model shop in Groningen City, I saw this giant S 3/6 in the showcase. It seems to be a kit from the Spanish company OcCre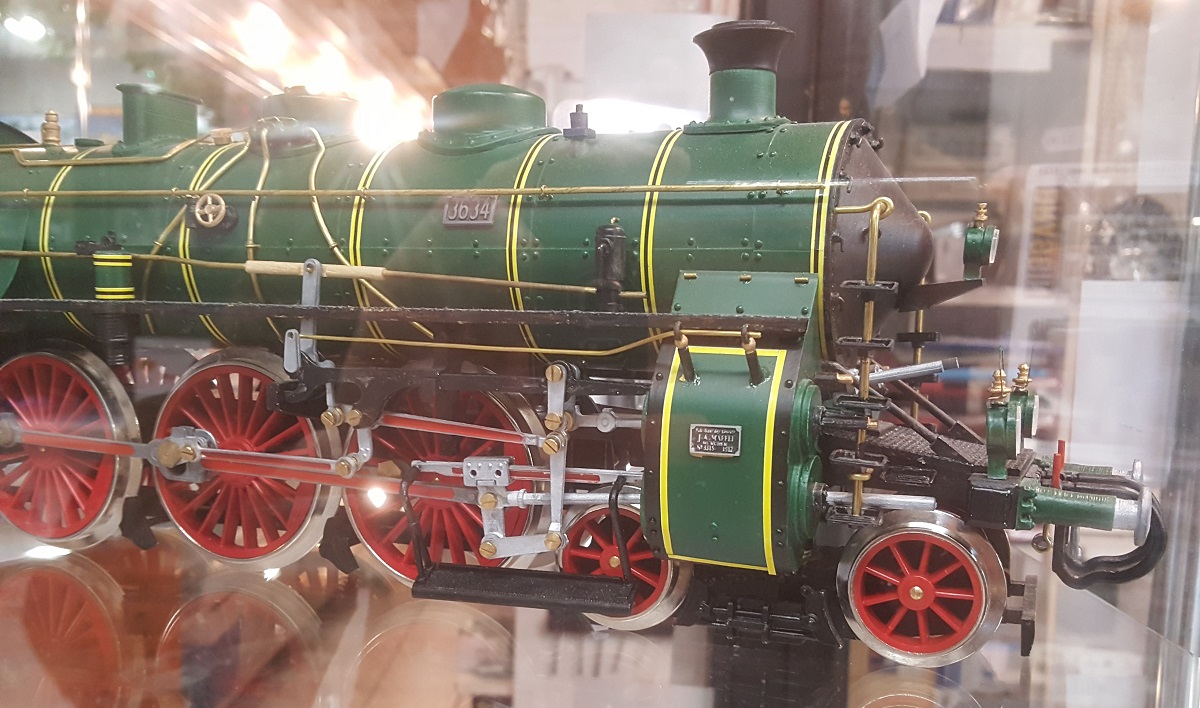 OcCre ~ OC54002