Latest News:
22.3.2020
Working on my video 'King Wilhelm II of Württemberg', it's hard not to put many if not all new pictures on the site.
But for today I want to share this one: the Württemberg C 2007, shunting the Royal Coach A15 in the radiant light of the sunset...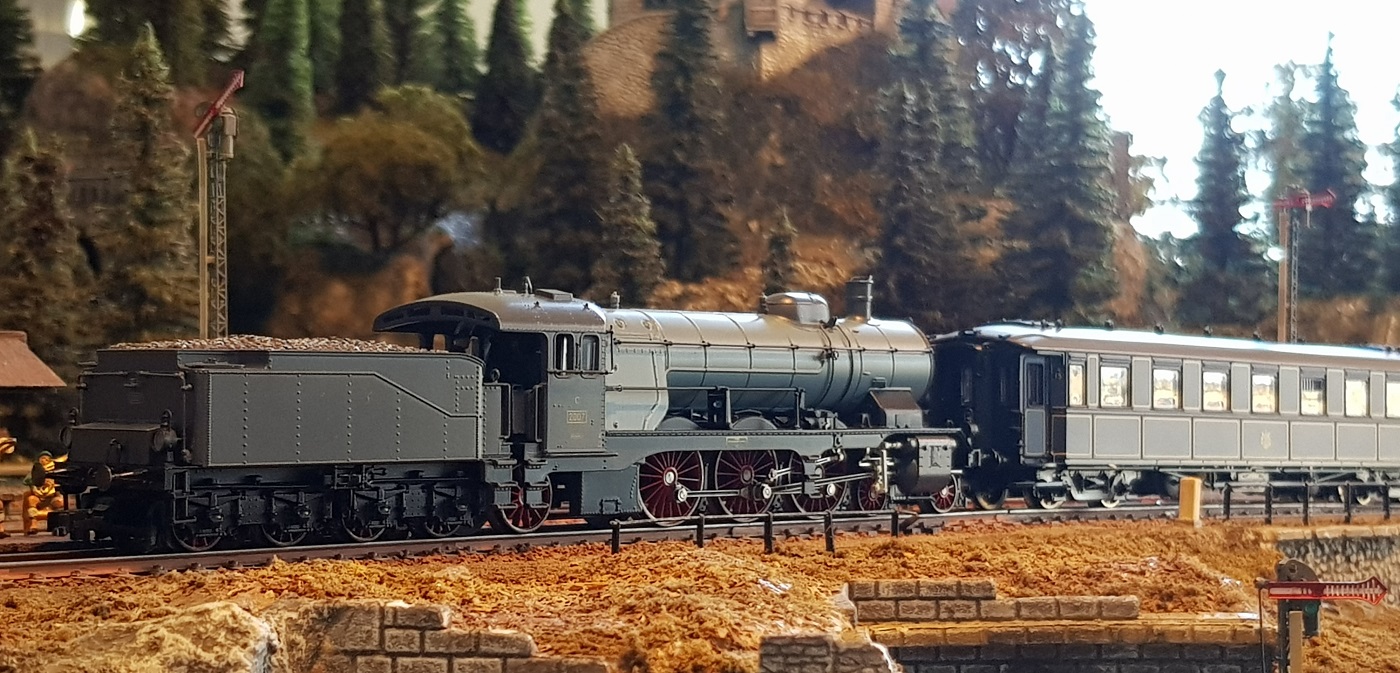 21.3.2020
From one things comes another...
I never thought that I would weather an exclusive Märklin locomotive. But the recent filming and the major renovation of the layout have changed my mind.
There are models that gleam into the display case, but some deserve some upgrading. The Württemberg K is one of them.
Since the painting of the coal couldn't appeal to me, I decided that the K would be my very first engine to have real coal.
Read more about it in a small report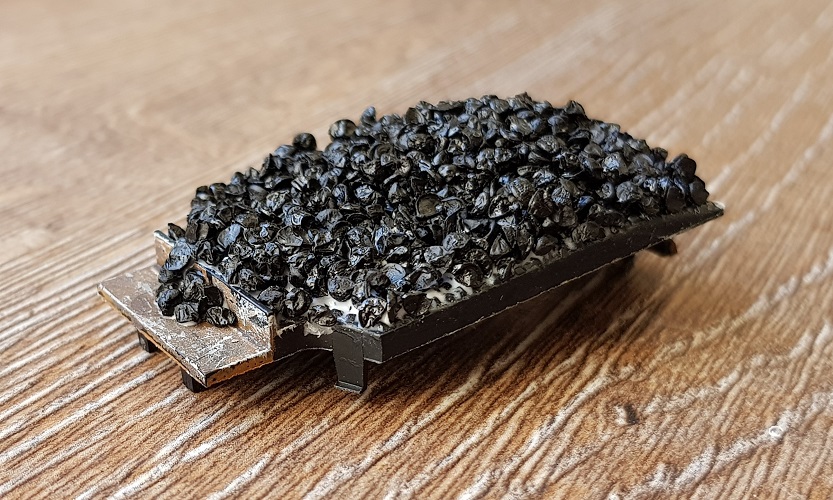 19.3.2020
While starting the Video starring the Royal Württemberg family with their Royal Coach A15, the thought came to my mind that the locomotive not only needs,
but since I painted the peat load of the Bay. B VI, I thought... why not give it a shot!
So three Württemberg Steamers got a painted load today, using Vallejo 70.983, Heki Lasur and a dry brush with Ash Grey:
* Märklin 3311, Wrt. C nr. 2007
* Märklin 3514, Wrt. C nr. 2004
* Märklin 37059, Wrt. K nr. 1801

C & K & C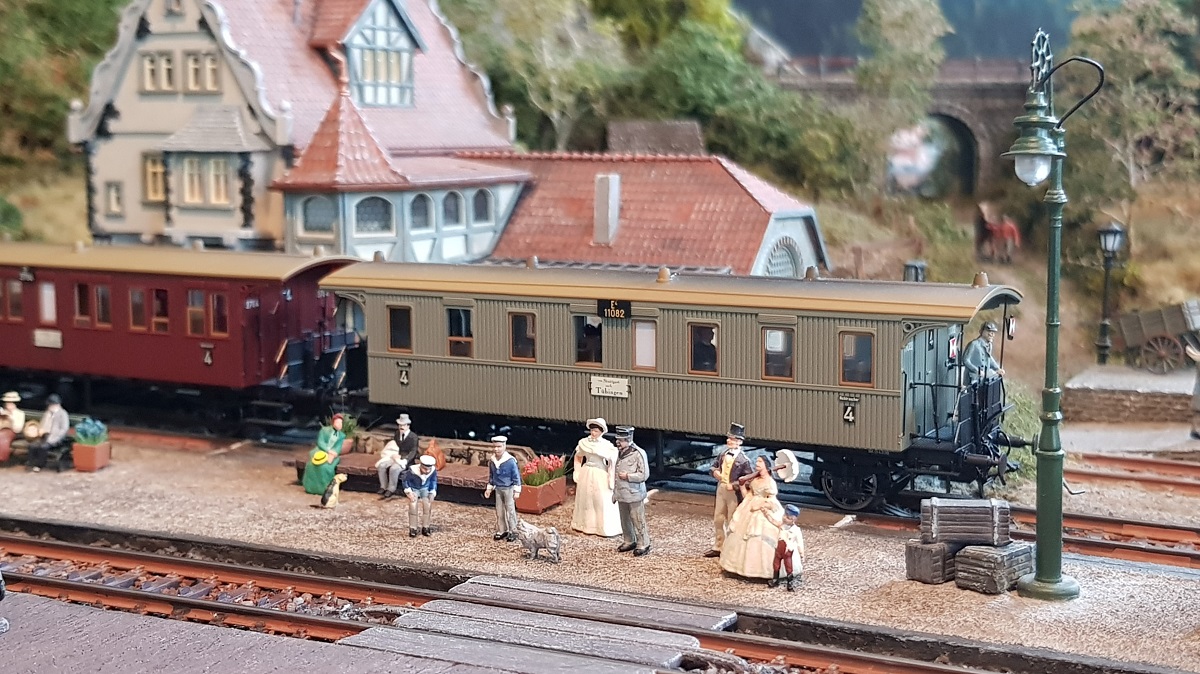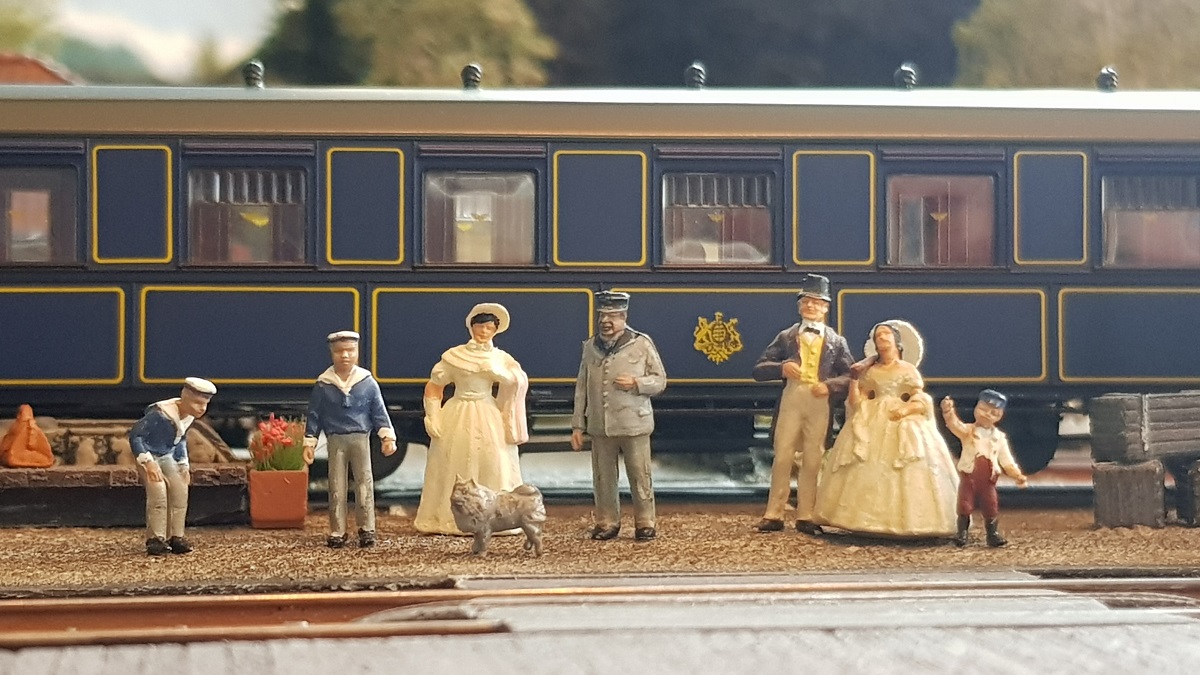 The royal family of König Wilhelm II from Württemberg
D a s b e s t e a u s W ü r t t e m b e r g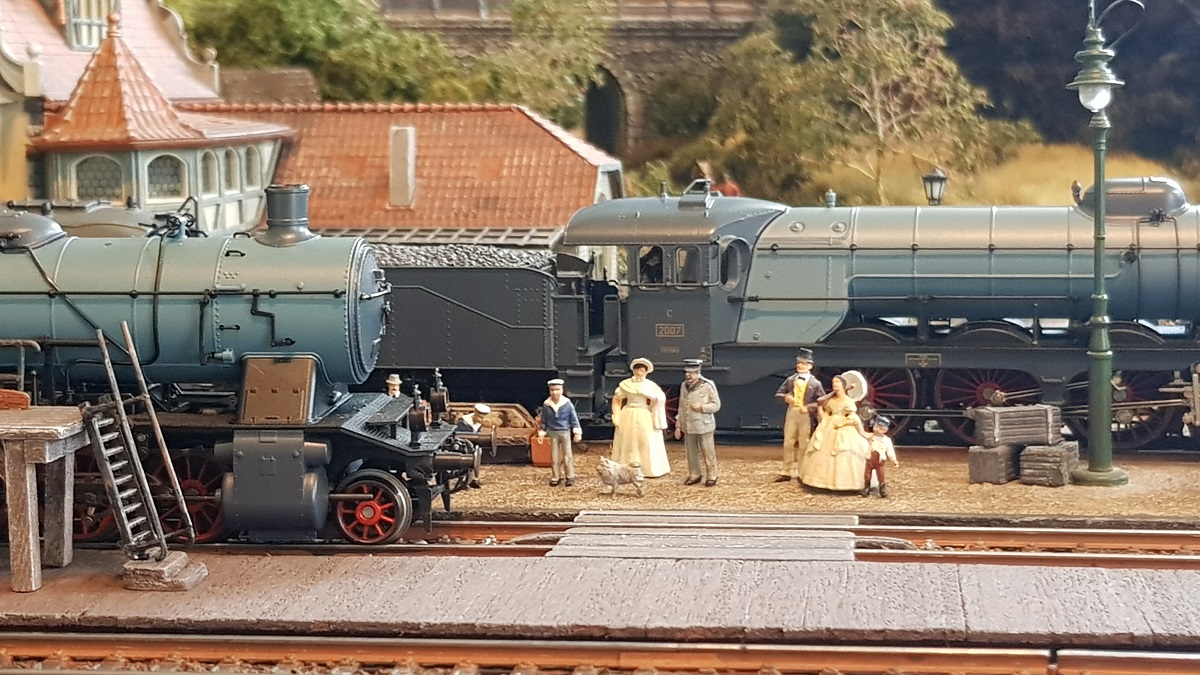 18.3.2020
I took me 5 days to realize this movie, but now it's there: the King Ludwig Train on the Cochemer Bahn.
Enjoy.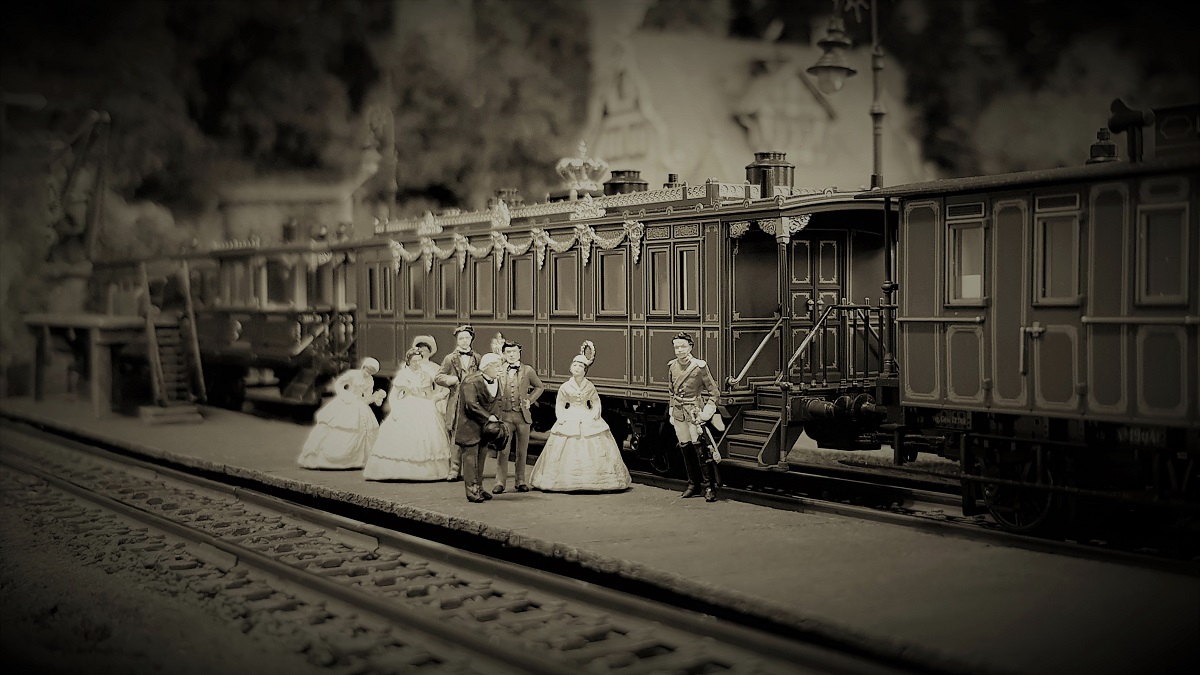 14.3.2020
While our country - and the world - is under the spell of the coronavirus, I had the idea of making a new video concerning the Royalties.
Form the 5 mentioned in my Royalty List, there are 4 in my collection. At first I wanted to make only one video where all royal trains are presented sequentially.
However, the raw takes of the KLZ with BVI alone contain more than an hour...
So, there will be like four movies to come, to begin with the König Ludwig Hofzug (KLZ), the Royal Train of the Bavarian King Ludwig II.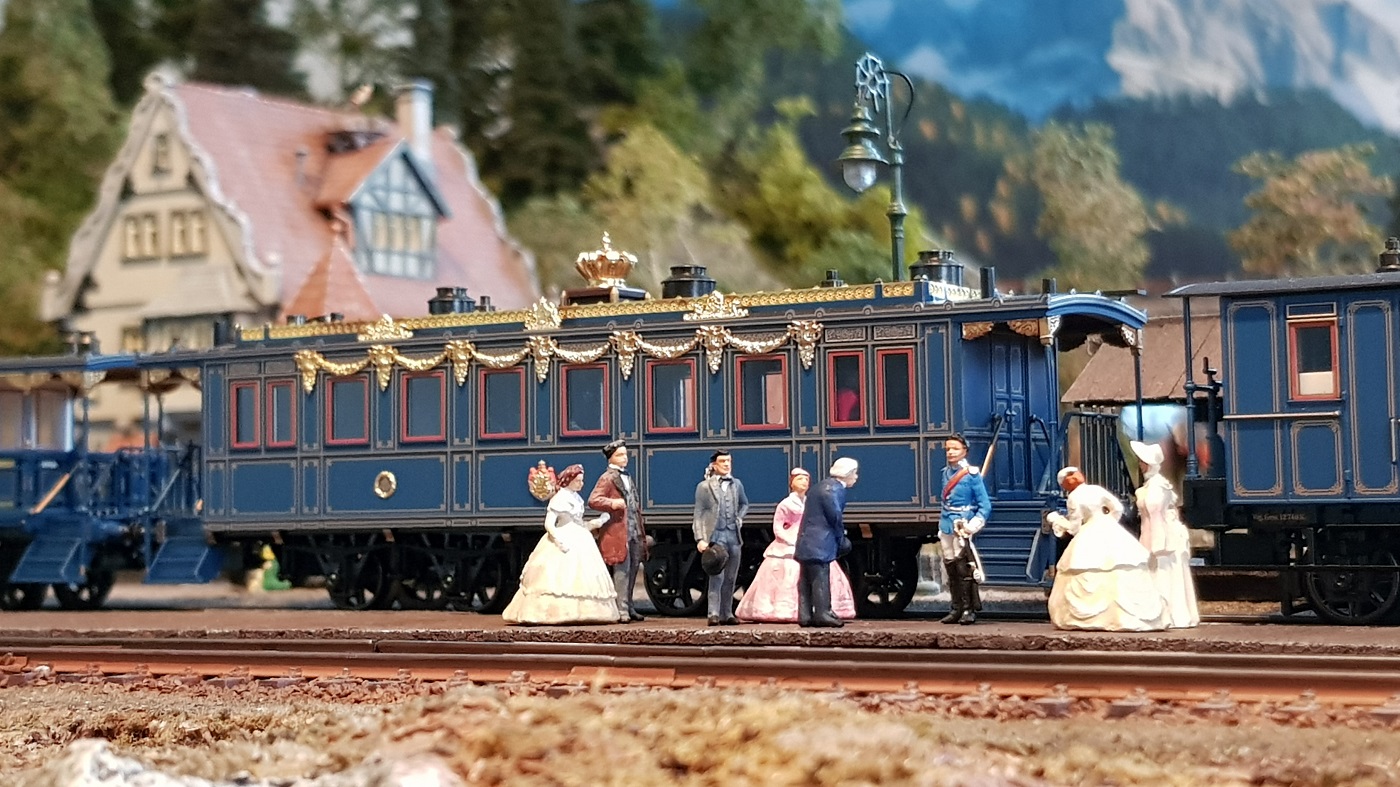 7.3.2020
My first attempt ever in making 'scale H0 water'... up to now: a total failure!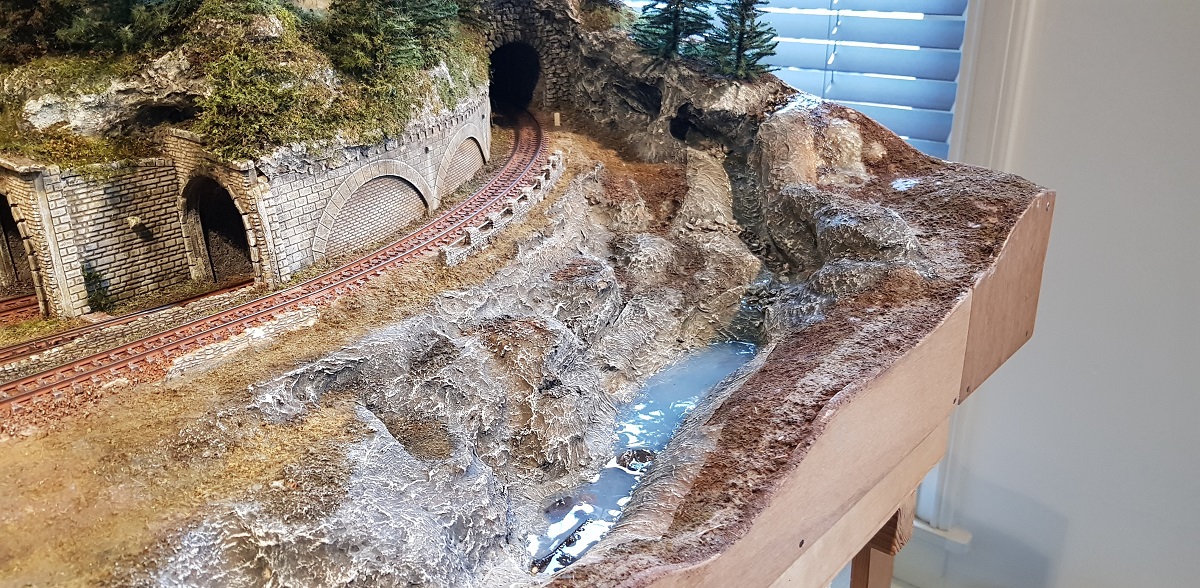 6.3.2020
Some detailing...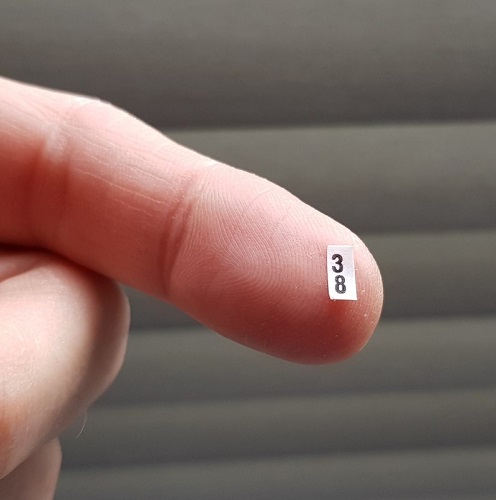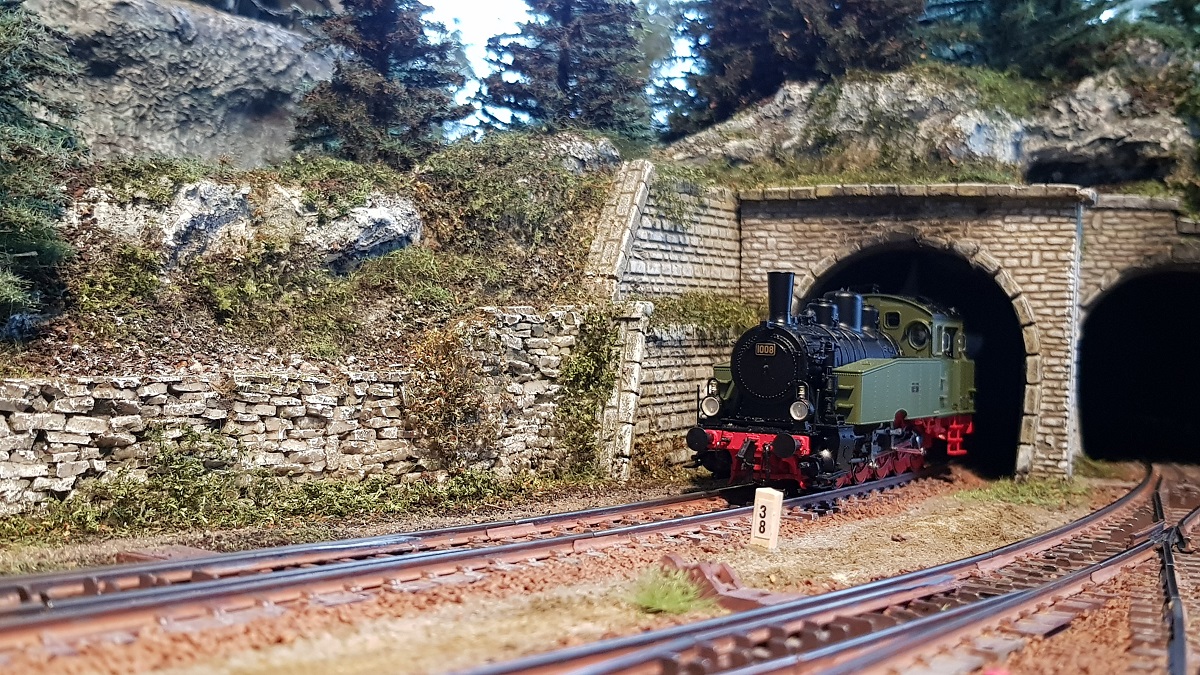 3.3.2020
Approaching the front while working clock wise...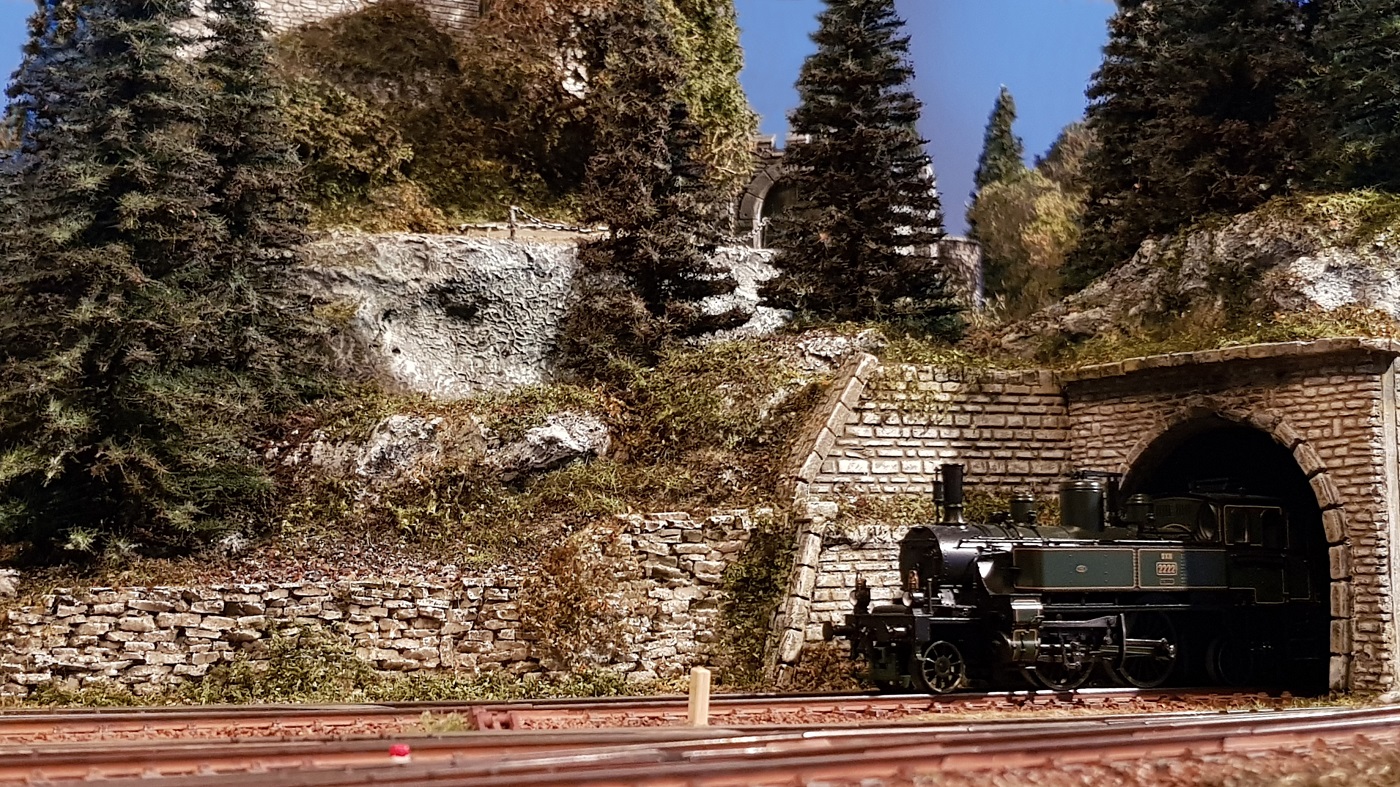 2.3.2020
For some days working on the Castle Forest, tunnel and... a new idea: the Forset Lake will also have a waterfall!
See: Chapter 23 C of the J o u r n a l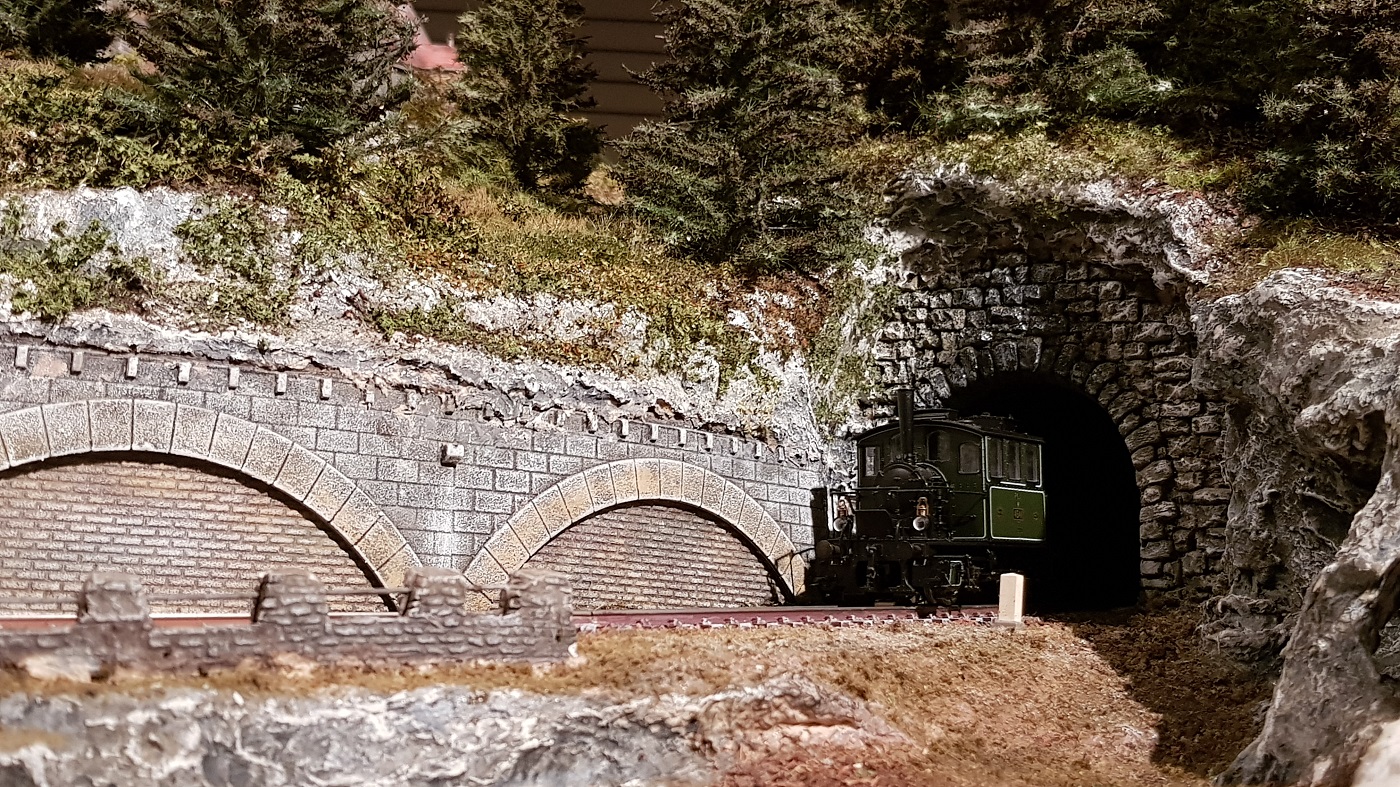 2.3.2020
2.3.2020
Two peat-fired locomotives of the Bavarian class B VI (Torflokomotiven) were painted for a more realistic look...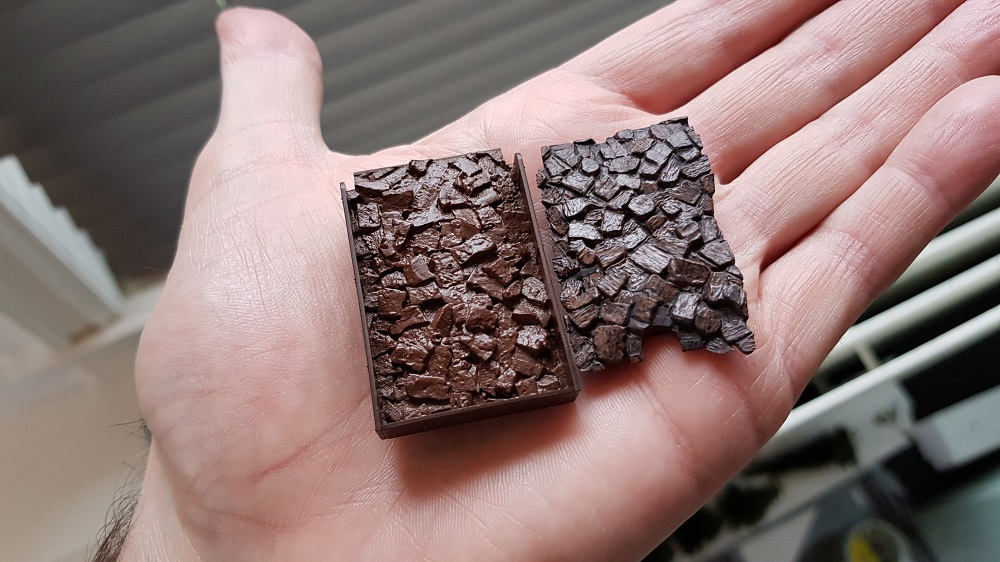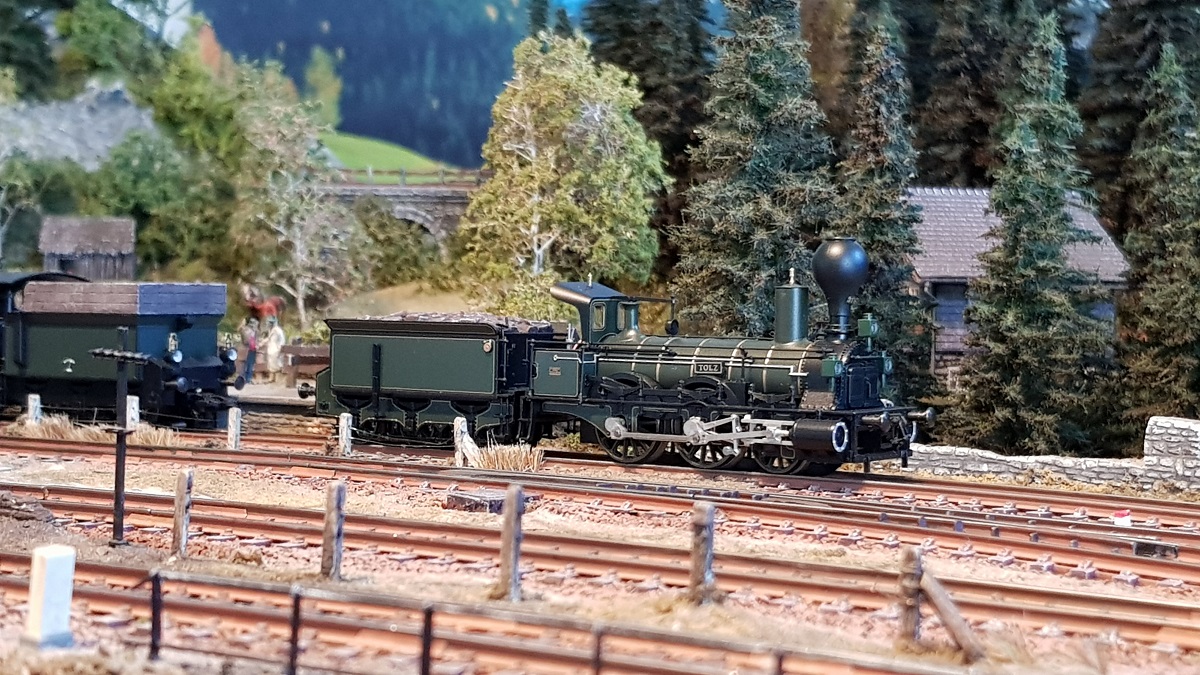 23.2.2020
A few hours to spend on the ridge on the southeastern side of the castle.
See: Chapter 23C ~ The Hill Ridge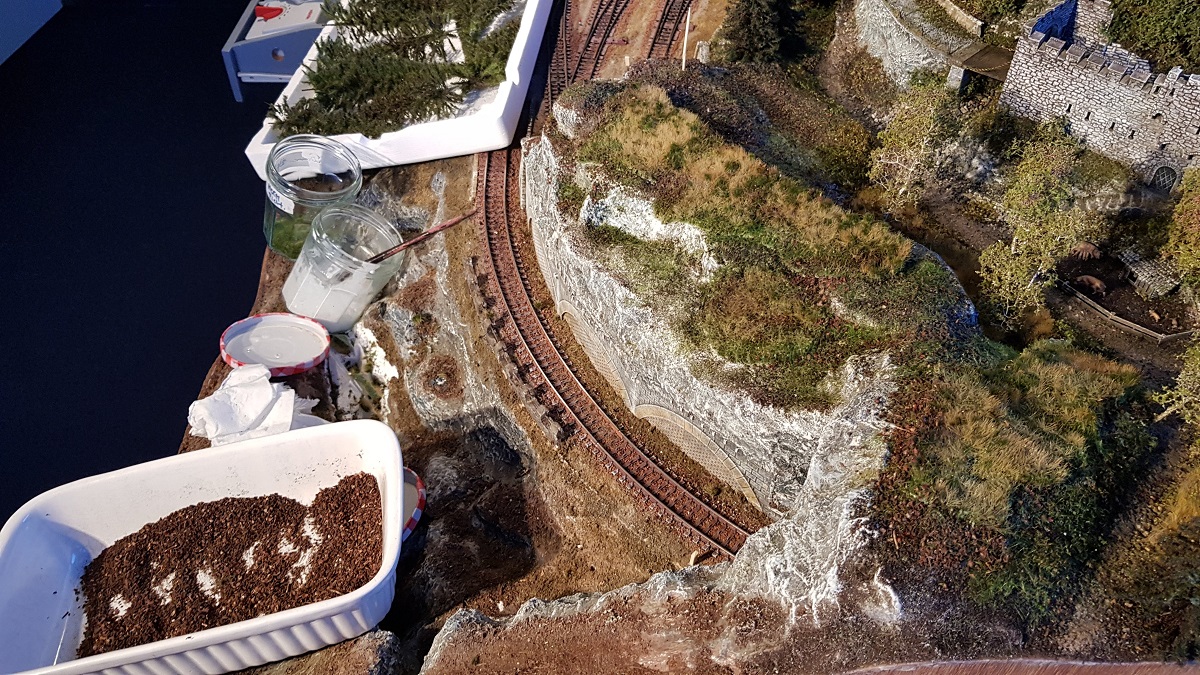 18.2.2020
Today I took the bold step to remove the ballast from between the sleepers on the small train bridge in the forest. I'm aware of te fact that white glue is pretty strong
and one needs a chisel to remove sand and balast. However, one way or another, I managed to remove it with a small screwdriver and the result was promising.
It would have been perfect to remove the materials between the sleepers so that you might look down into the stream. But then I had to remove the whole foundation.
Therefor, I choose for stability over aesthetics...
The story about the making of this bridge continues in Chapter 21 of the Journal.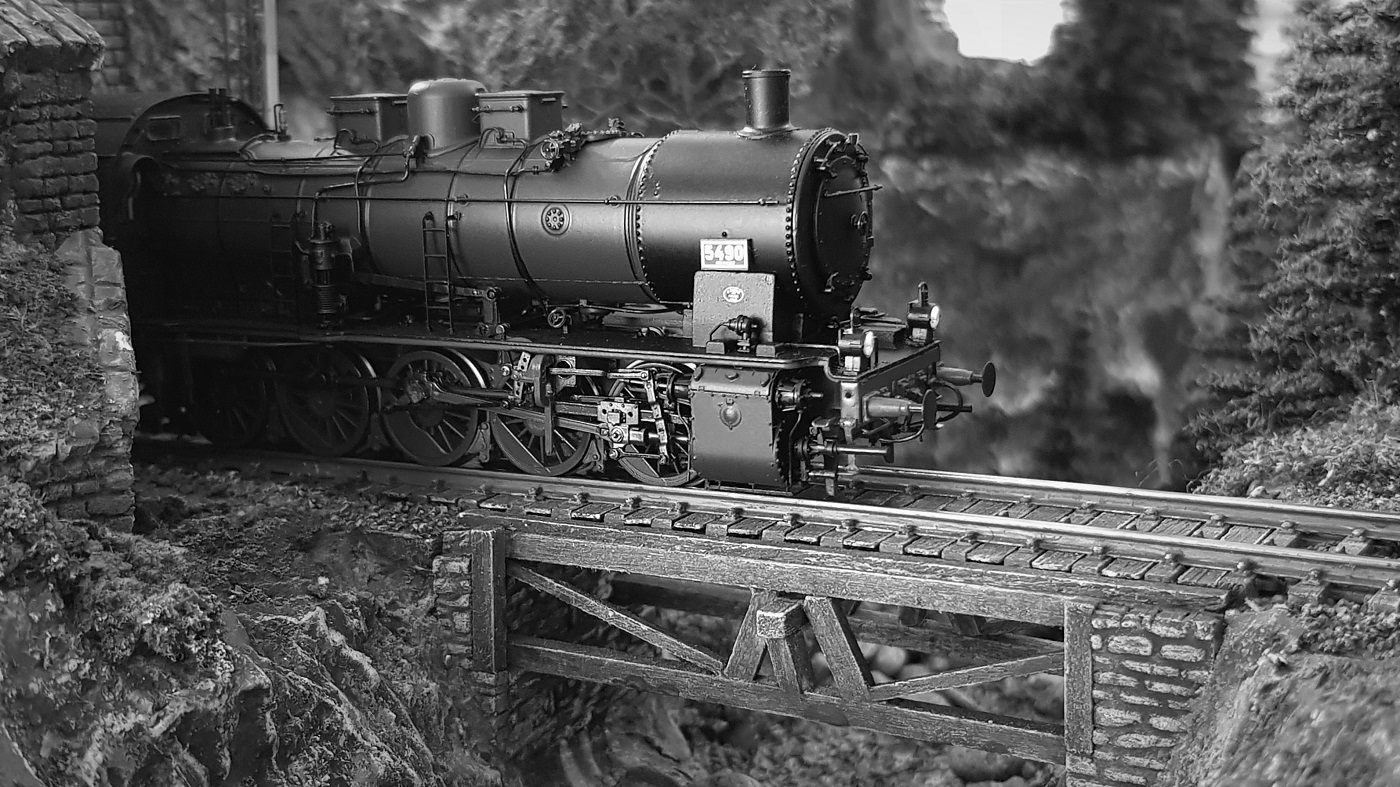 19.2.2020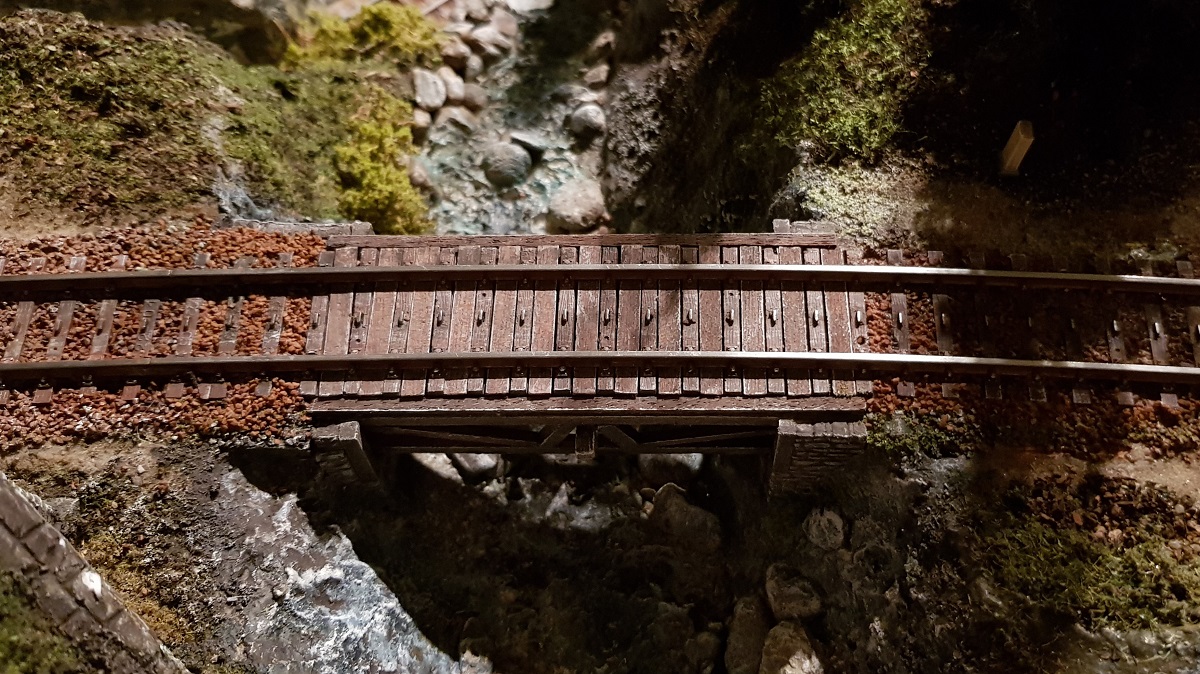 For one reason or another, the bridge seemed out of balance. Therefor I removed three planks on the left!
Once again proved: less is more!
15.2.2020
Some photography...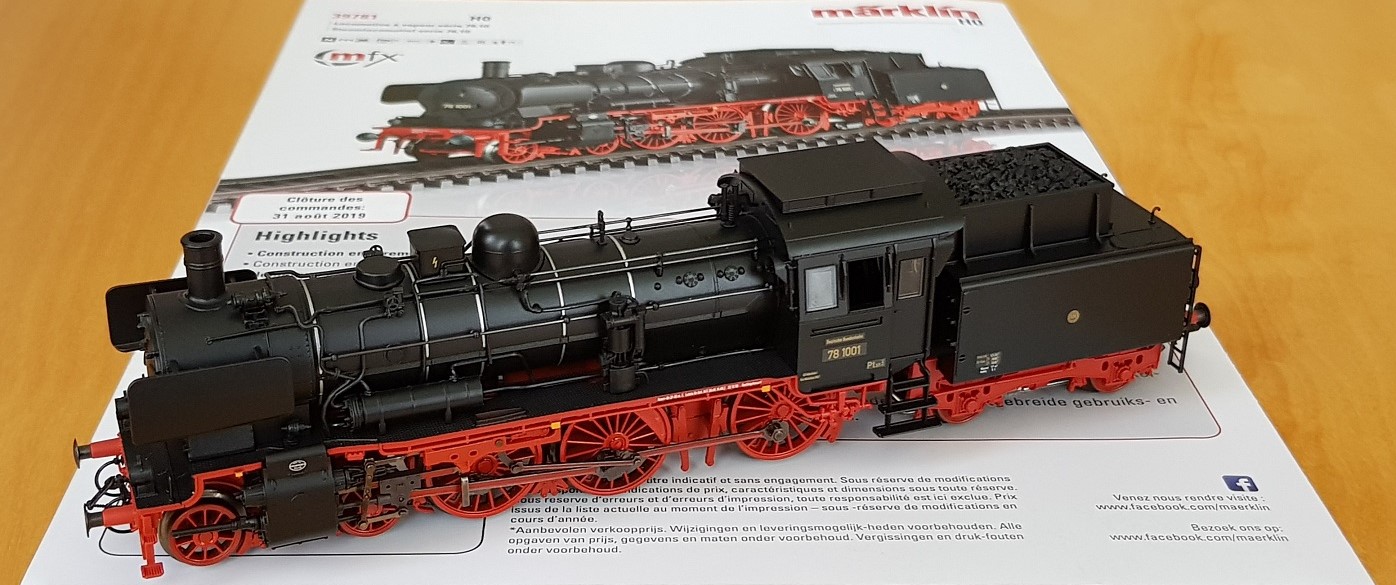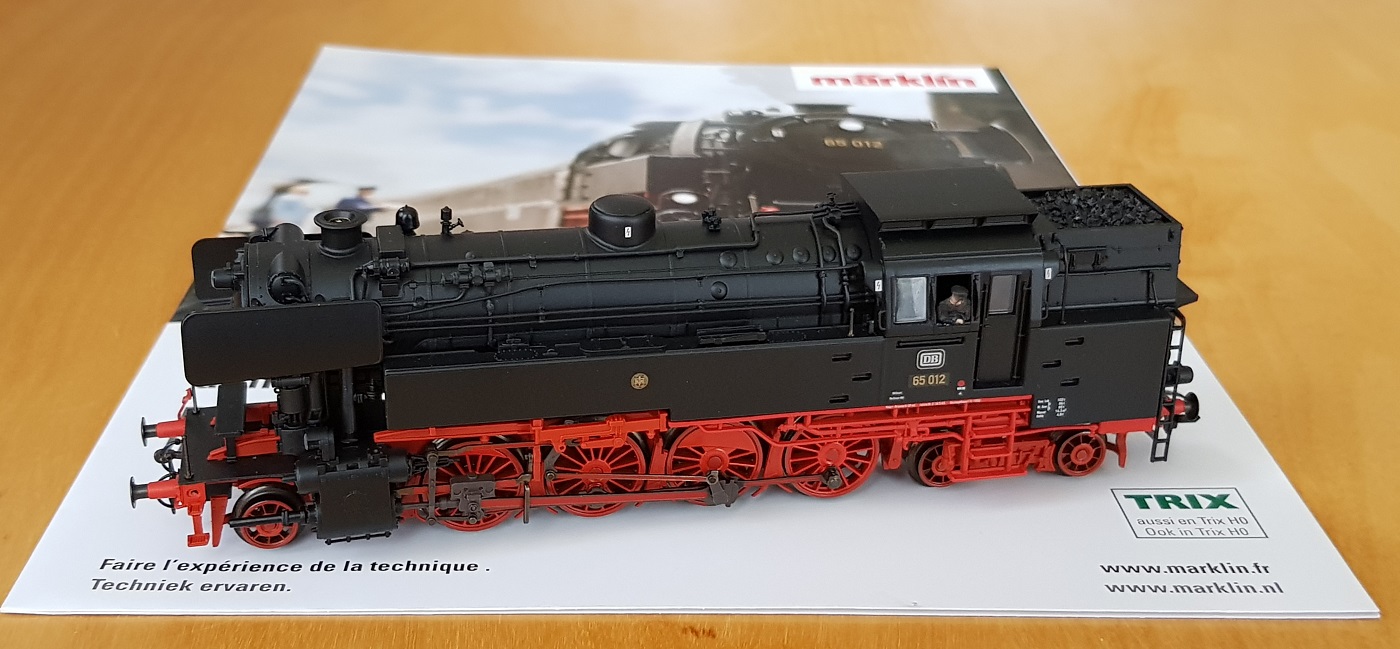 Furthermore, I gave the Pt 2/3 (Roco 79053) a Philotrain coupler and staff (Roco 'halflings').
Three out of four 'Milchwagen' got their shields 'Milchwagen' (right bottom side) and hook couplers. Quite an operation...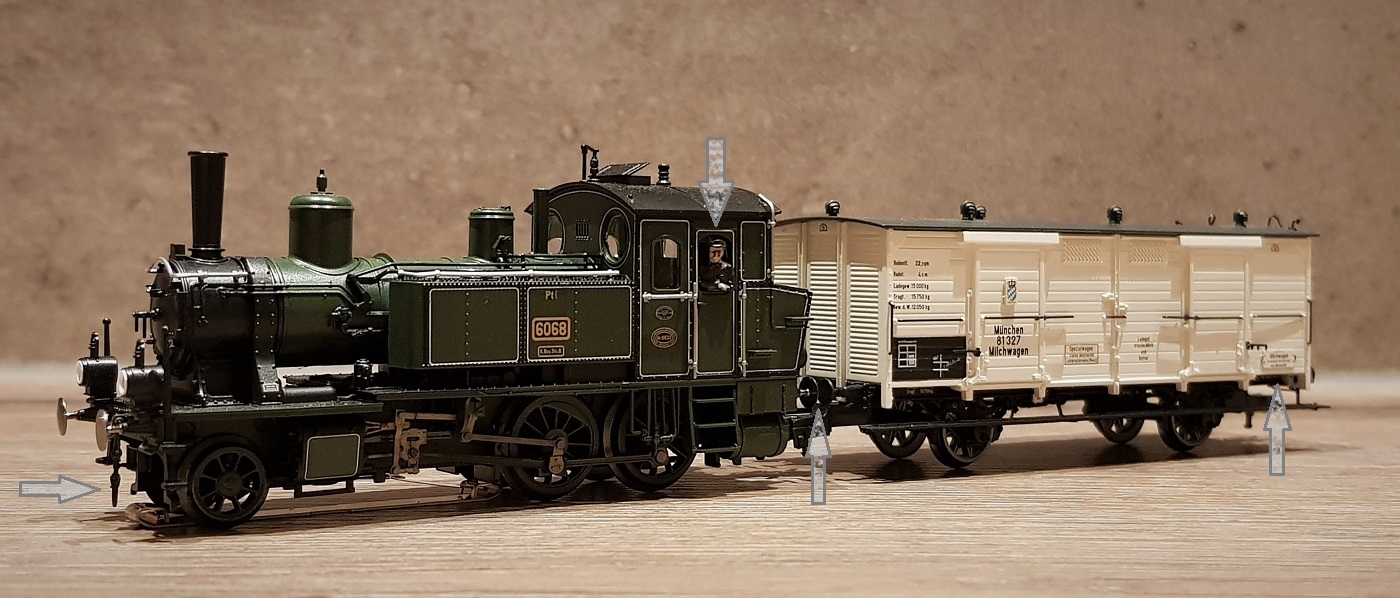 Roco 79053 with Brawa 48650
13.2.2020
The construction of the coal bunker took me all day...
The story goes on in Chapter 24.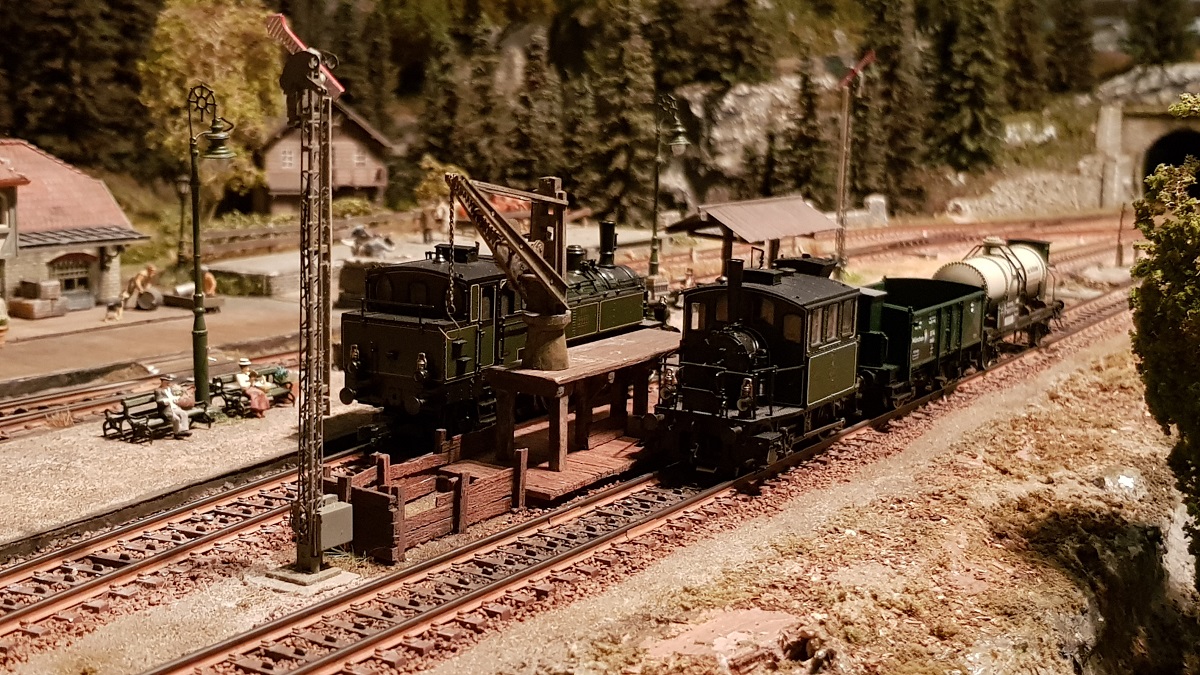 12.2.2020
Today I picked up the thread again from working on the platform. No fewer than 154 boards were laid.
This project also shows that some errors often lead to something better.
In this case: planks that were cut too short - while positioned in the curve - invited me to think of an adequate solution: a small coal bunker. Read more in Chapter 24.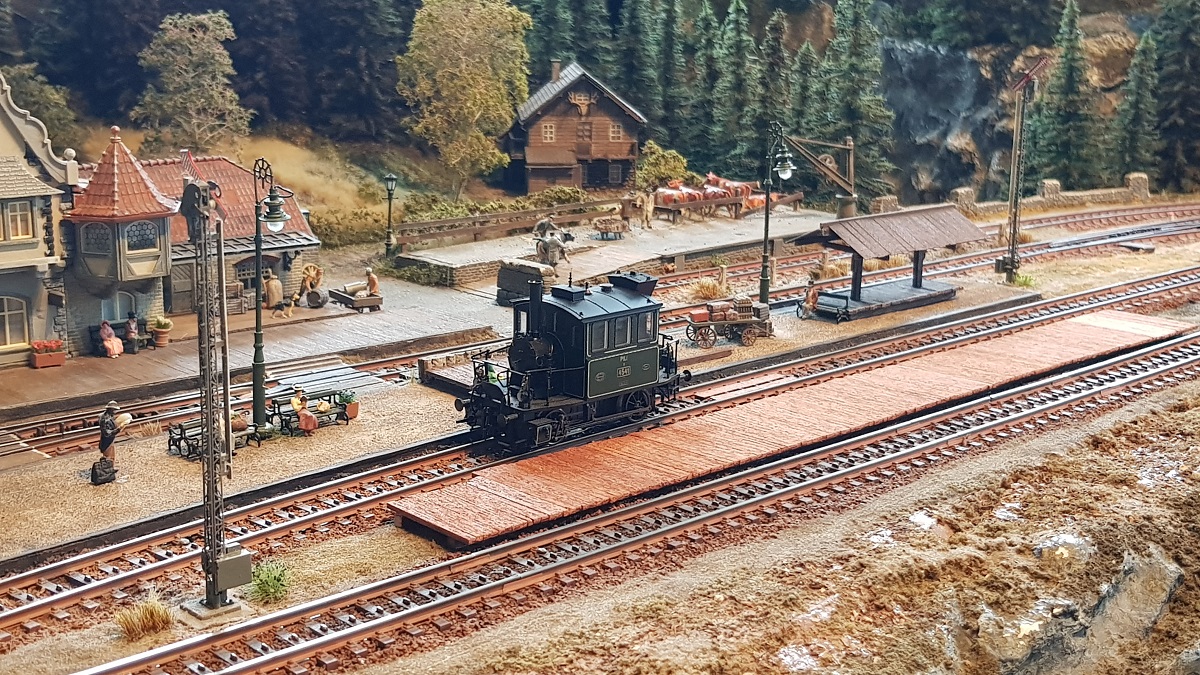 11.2.2020
At the edge of the Forest... today's work.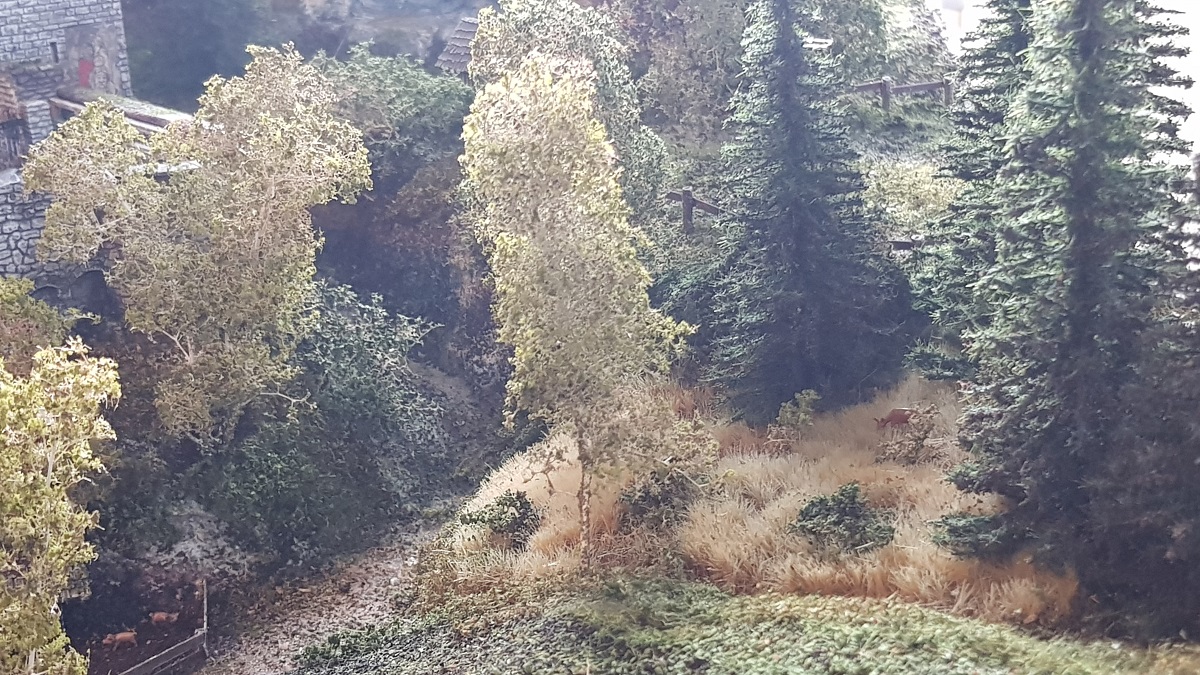 7.2.2020
A layout has never too many trees...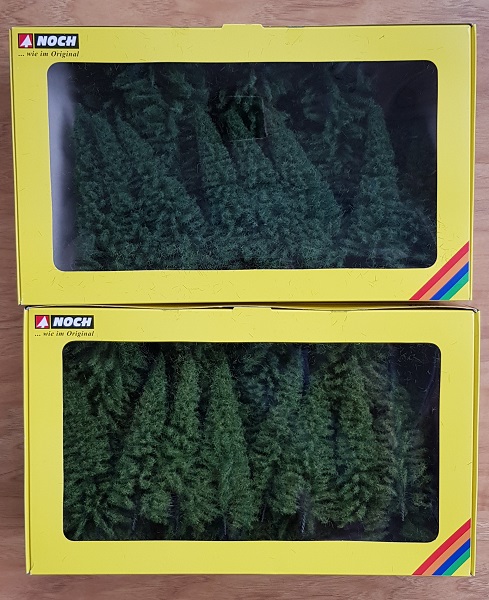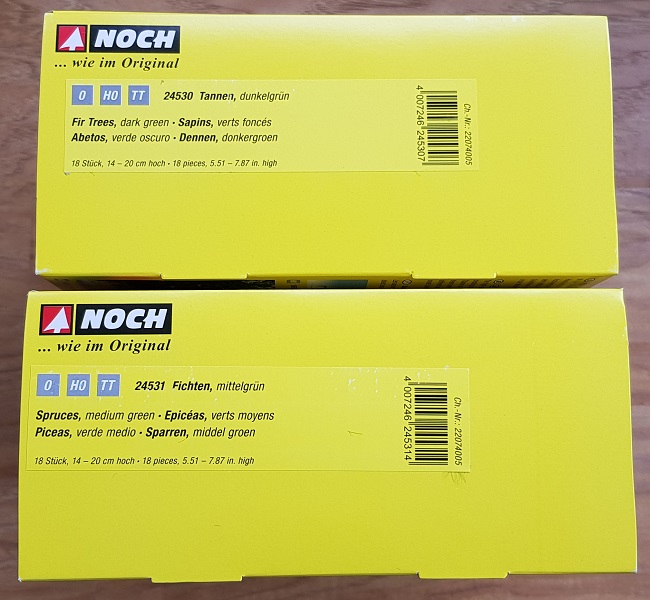 6.2.2020
T h e p i g s t y r e s t o r e d. More vegetation in and around!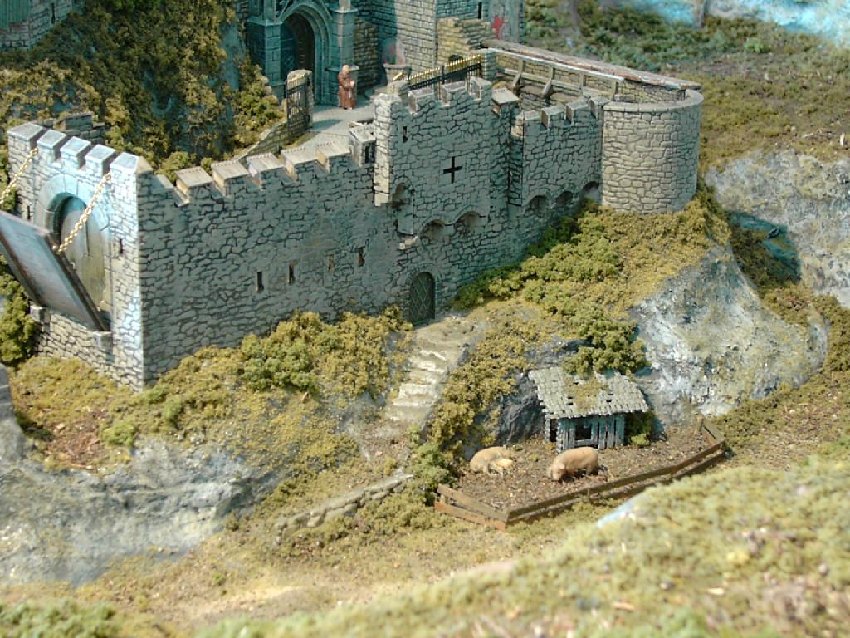 12.1.2006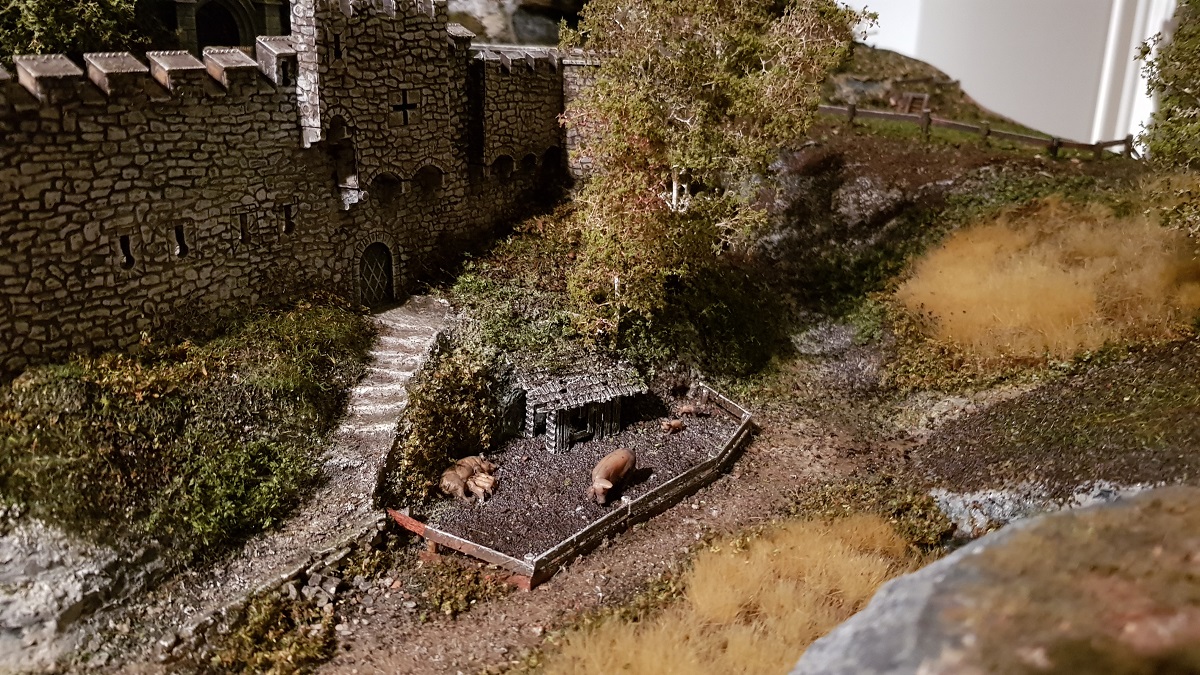 6.2.2020
5.2.2020
Working on a video of Baureihe 65... posted on 7.2.2020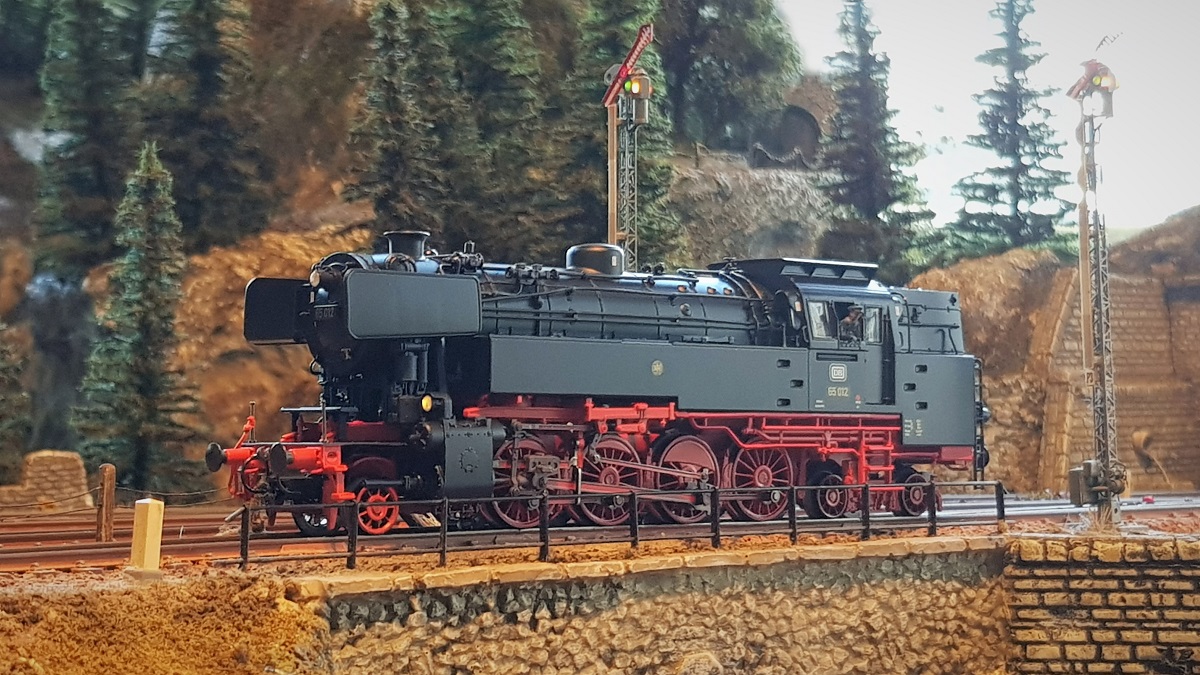 0202|2020
Today - a special date as palindrome - I posted a new video, starring the Cochemer Burg.
The music of National Treasue fits most perfect to the scenery...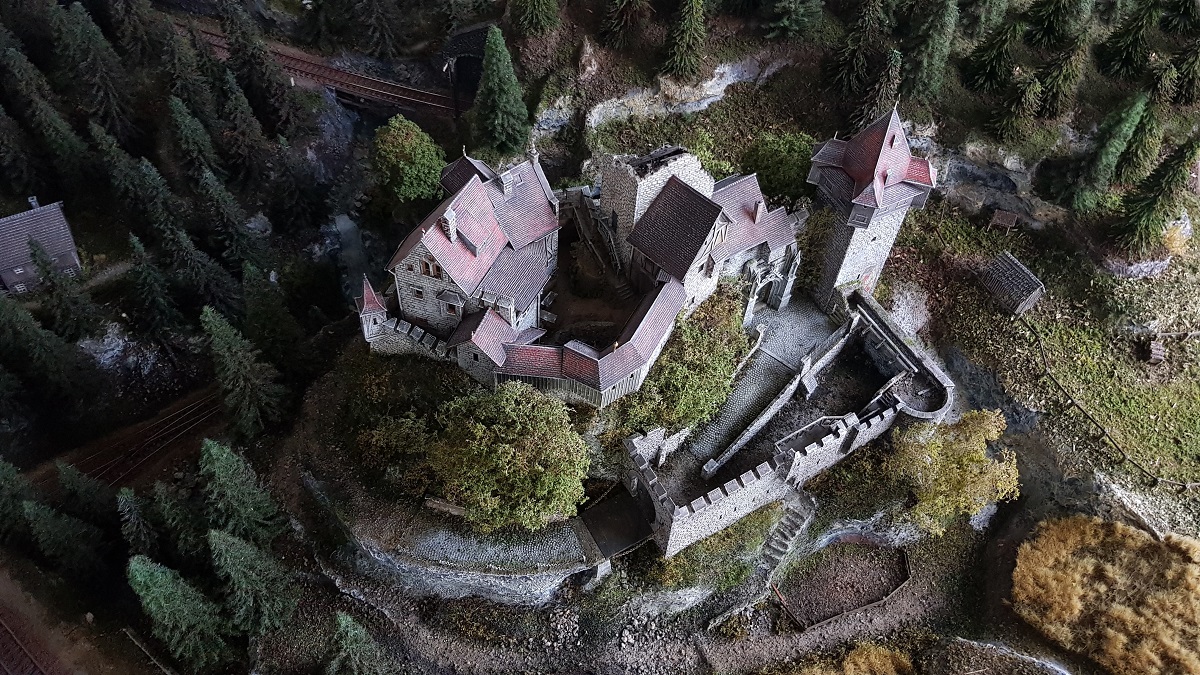 29-30.1.2020
V e g i i n t h e v a l l e y ! Read more about it in: Chapter 23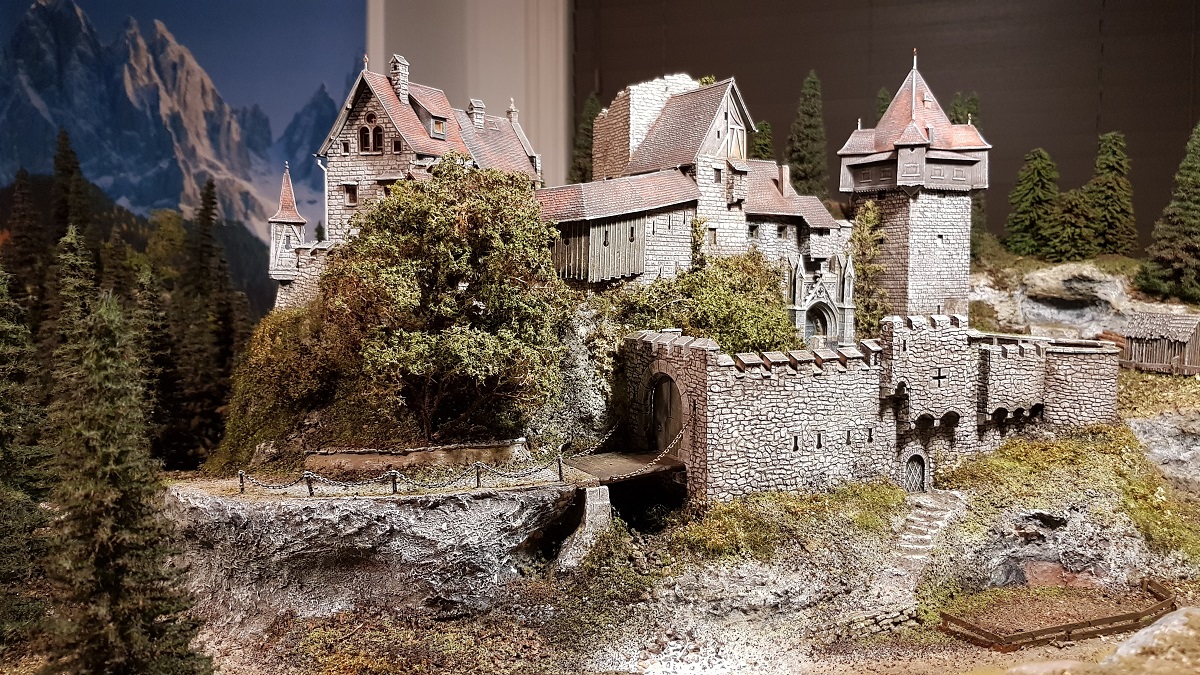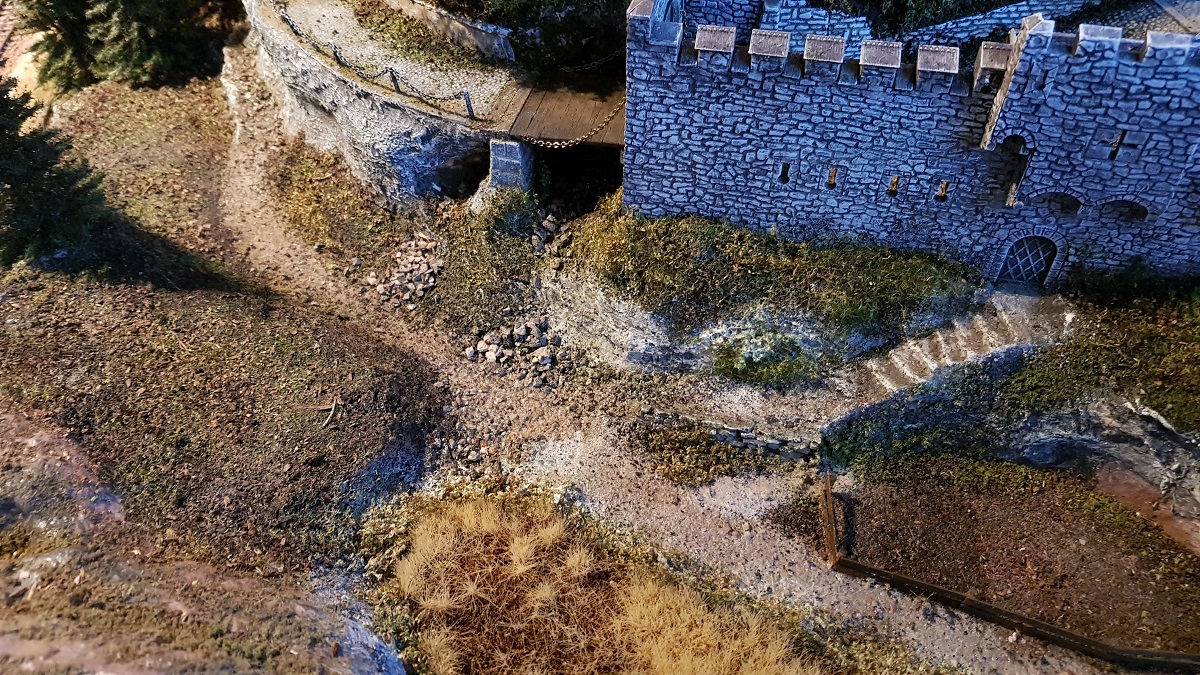 27.1.2020
Vegetation works around the castle. Read more at Chapter 23...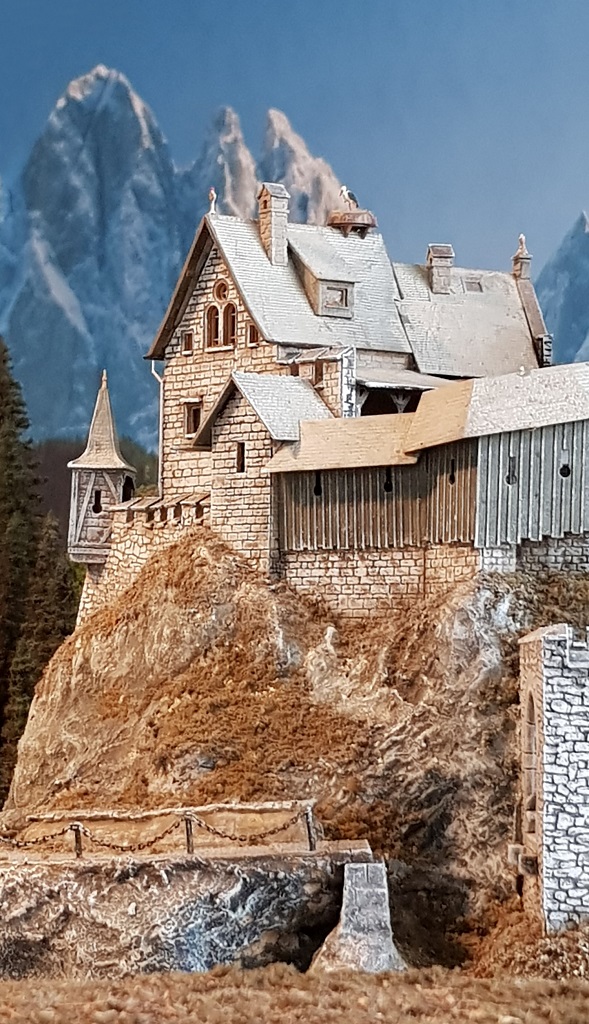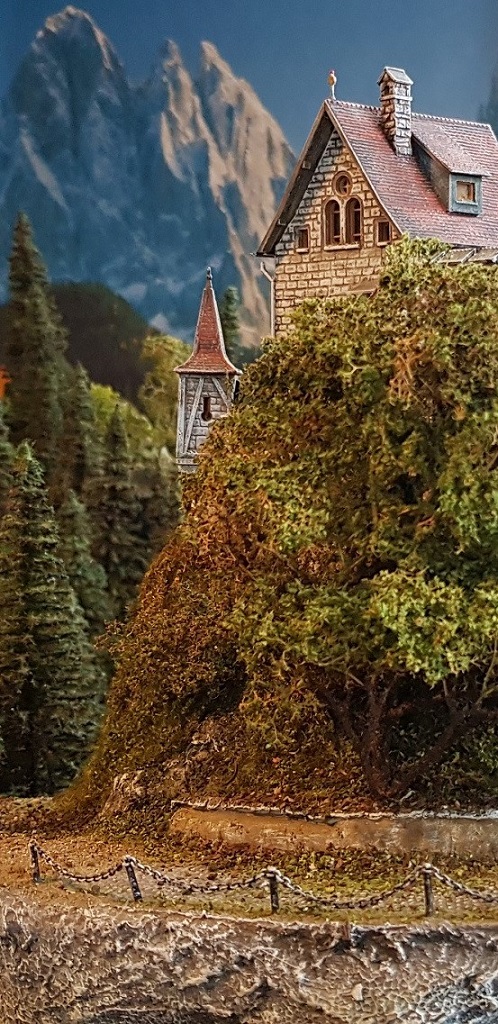 January 11th (left) and Januarui 27!
21.1.2020
I finished the roof titles of the Castle and started creating a miniture on top of the ruined tower...
Read more at Chapter 23...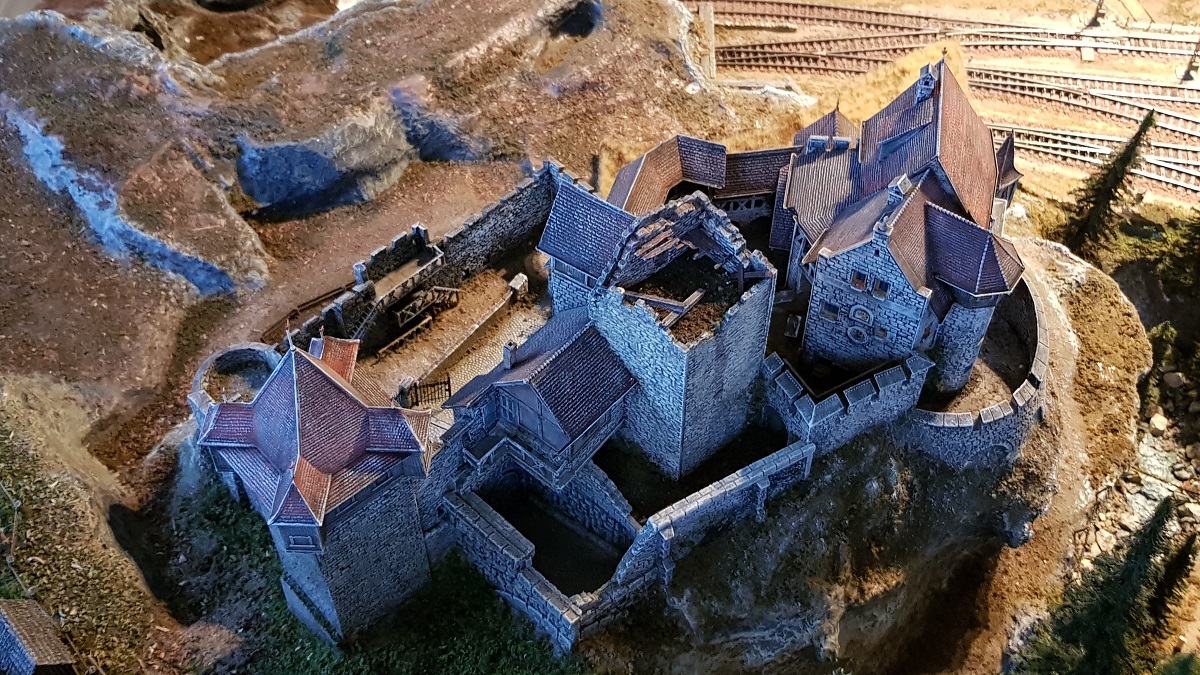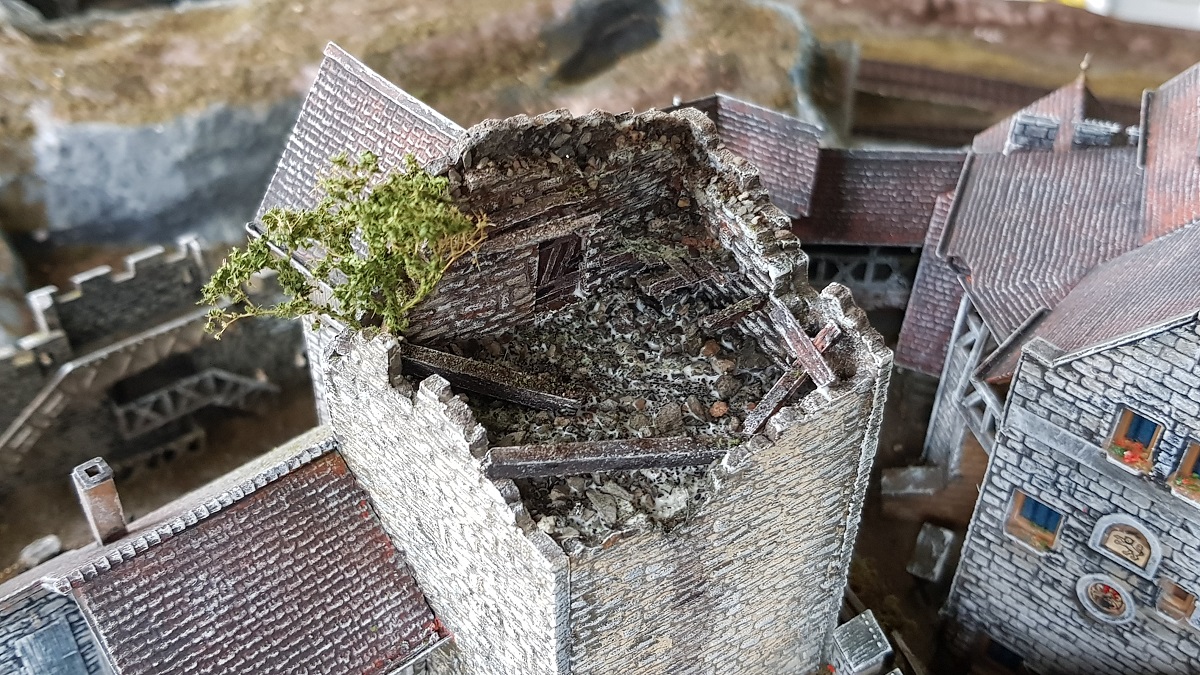 18.1.2020
A visit to the German town of Leer brought me this Trix beer van, a 2006 limited editon, found in a shop at Mühlenstraße, just lying there for another 14 years.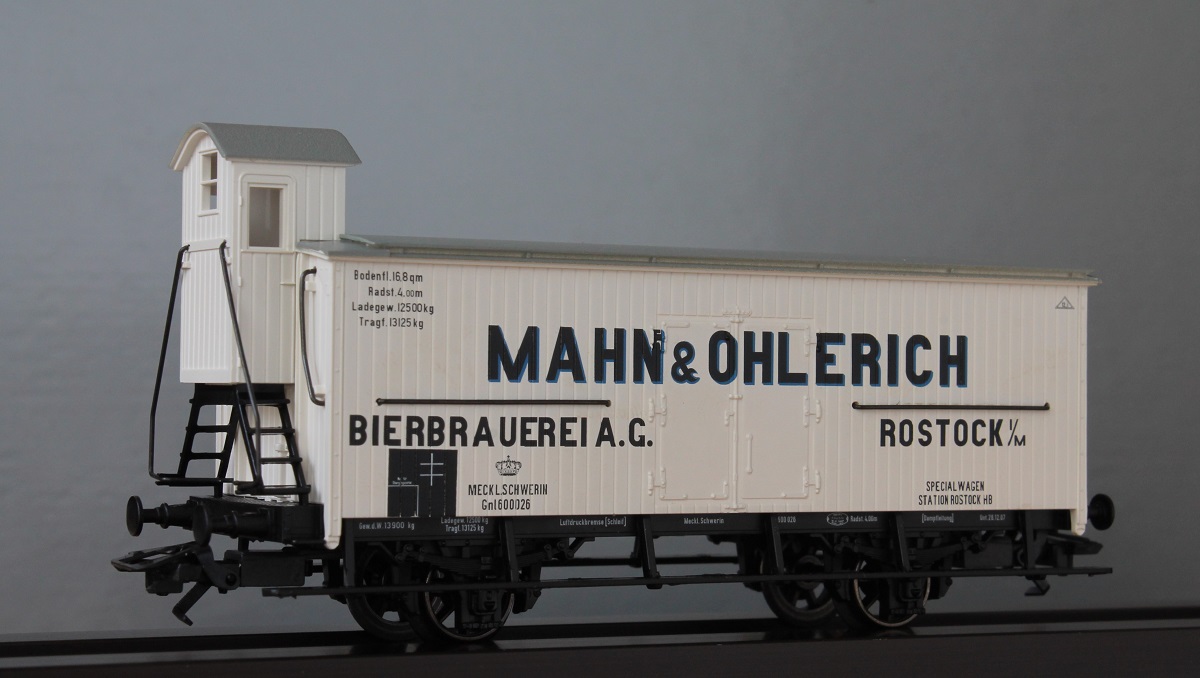 Trix 92014
17.1.2020
Mr. Eui Nam Ki m of Fine Models (Otzberg in Germany) was so kind to send me on request some fine pictures of the 2019 released BR 77.1 (Bay. Pt 3/6). Since their website had only rather dull pictures with a not so stimulating grey background (with crack), and these superb models deserve a better presentation, it seemed that this has happened. Among the received pictures is the DRG version 77 124 of which only a CAD-scan is published. Much obliged, Mr. Kim!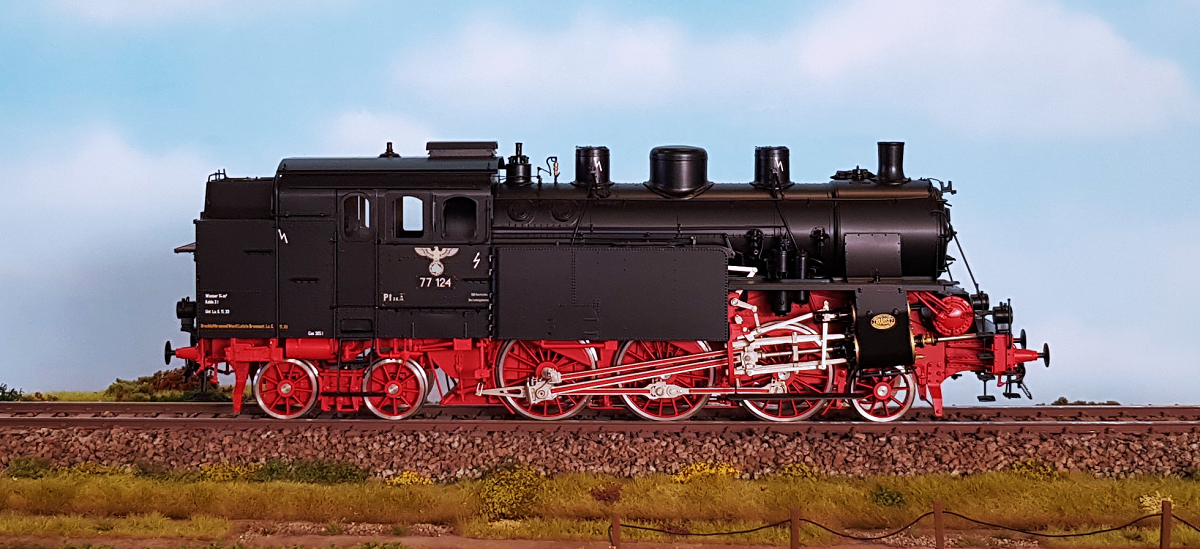 16.1.2020
A real adventure started tofay. Daring... daring. But yet one of the best ideas ever!
New tiles were delivered for the Cochemer Burg rooftop.
Read the whole story in Chapter 23 of Journal Part 3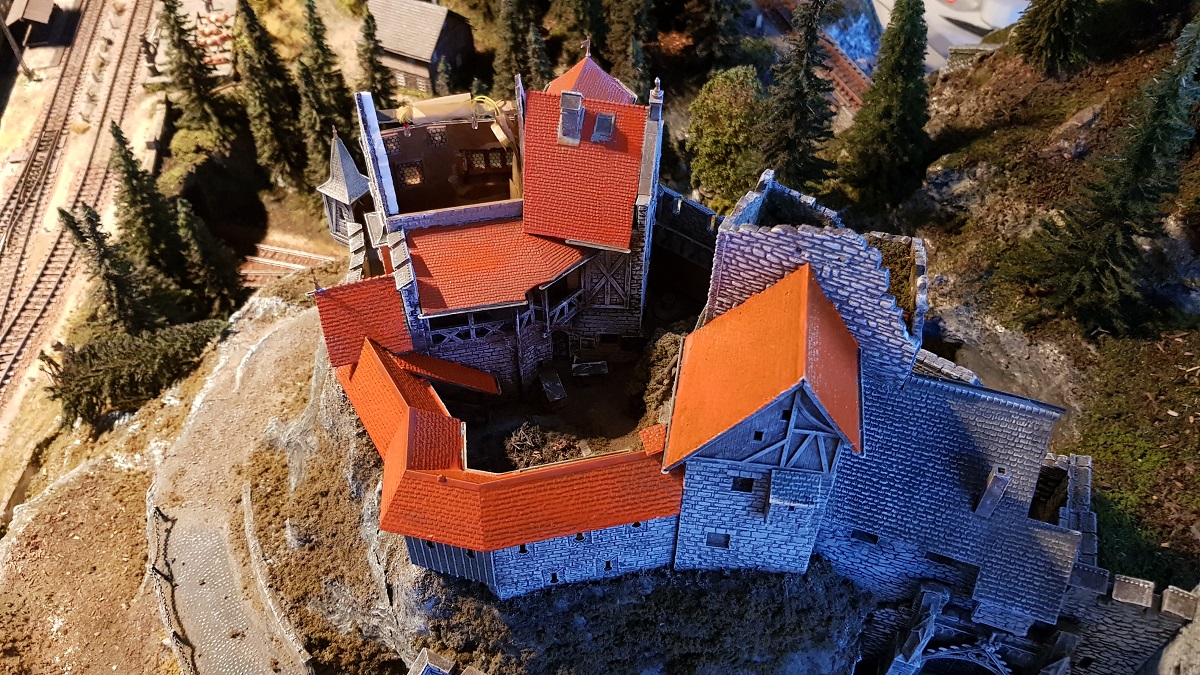 14.1.2020
Today, the DB 65 012 got personel (Roco "halflings" with lasur topping) for the next video clip.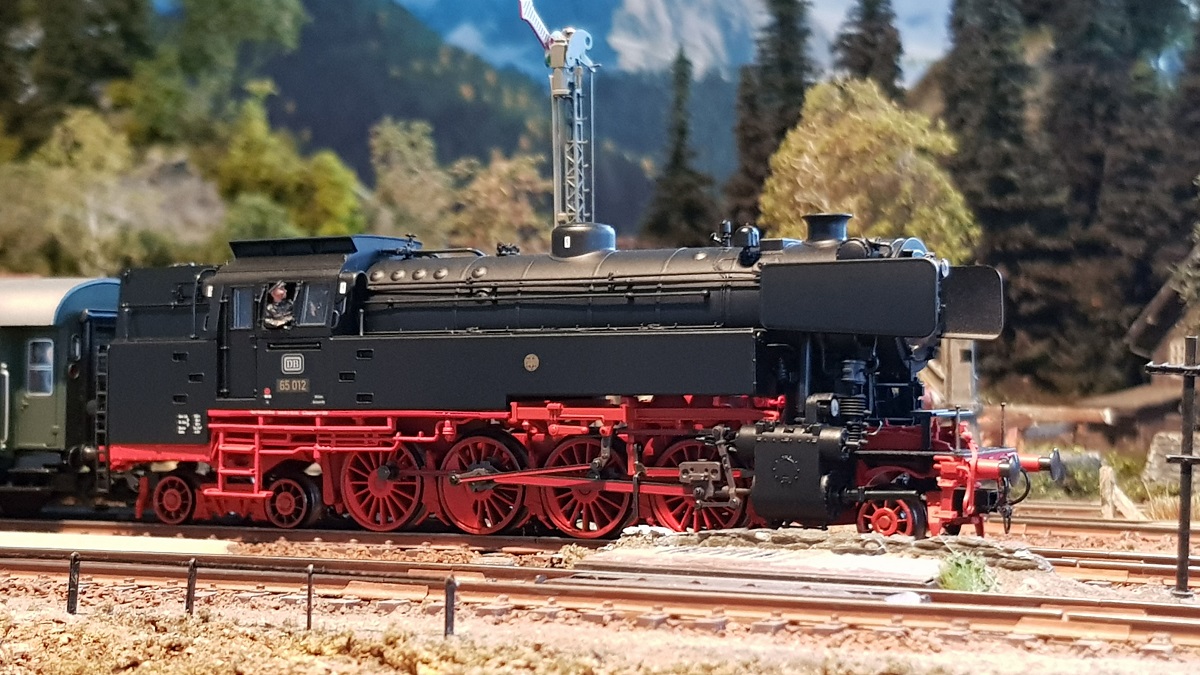 10-11.1.2020
While working on the waterfall, two other projects are simultaneously in progress:
1. The Castle ~ see Chapter 23 in the Journal!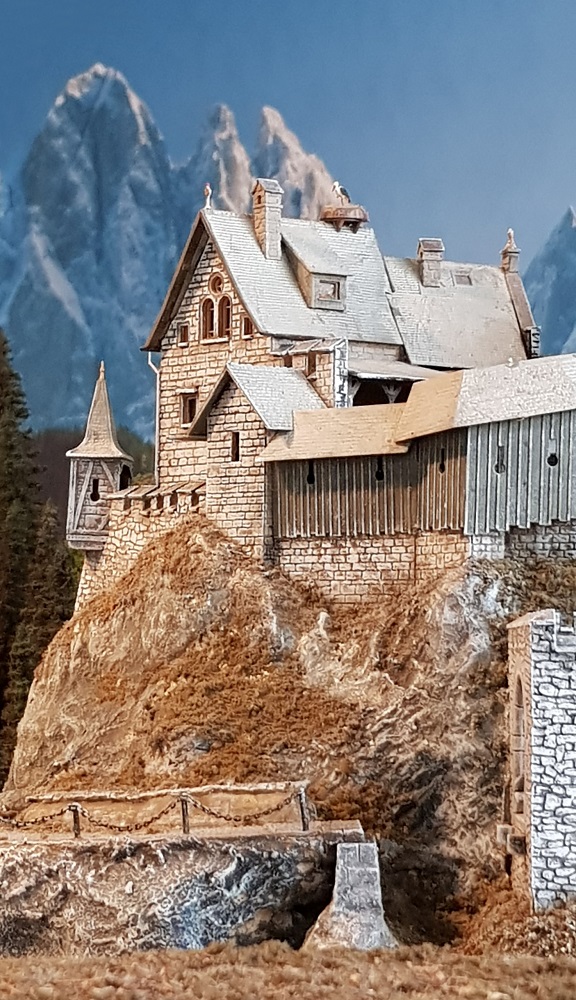 2. Another Platform ~ see Chapter 24 in the Journal!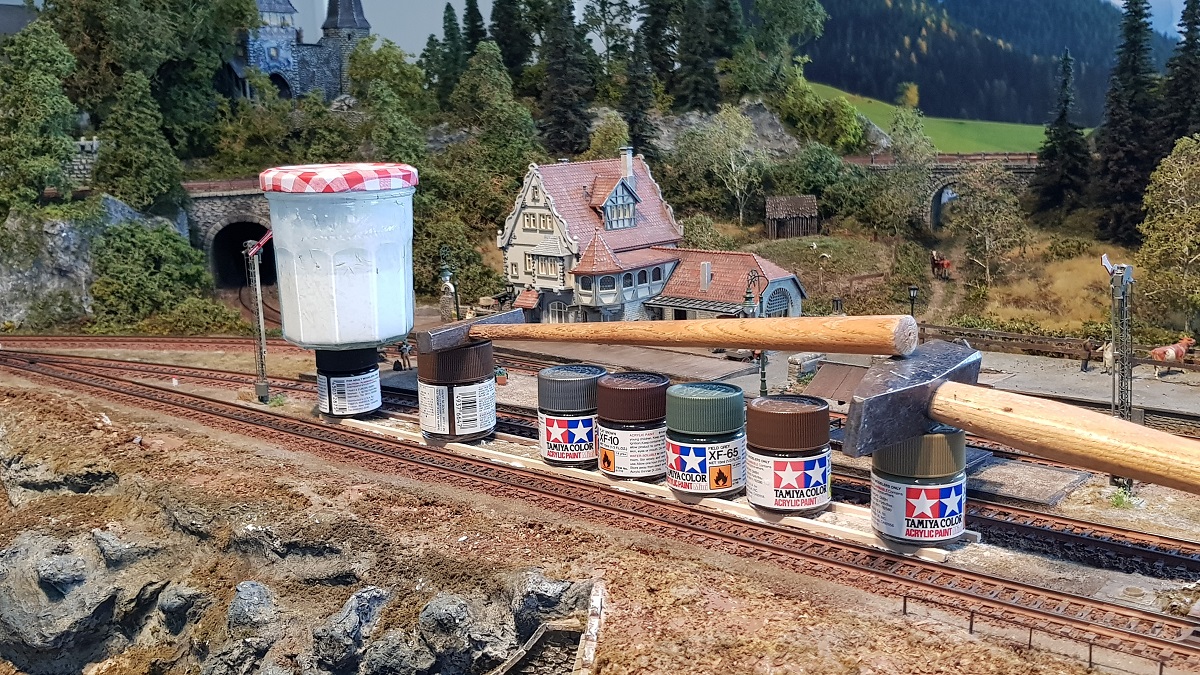 9.1.2020
I continued working on the layout again, picking up the thread of December: the W a t e r f a l l .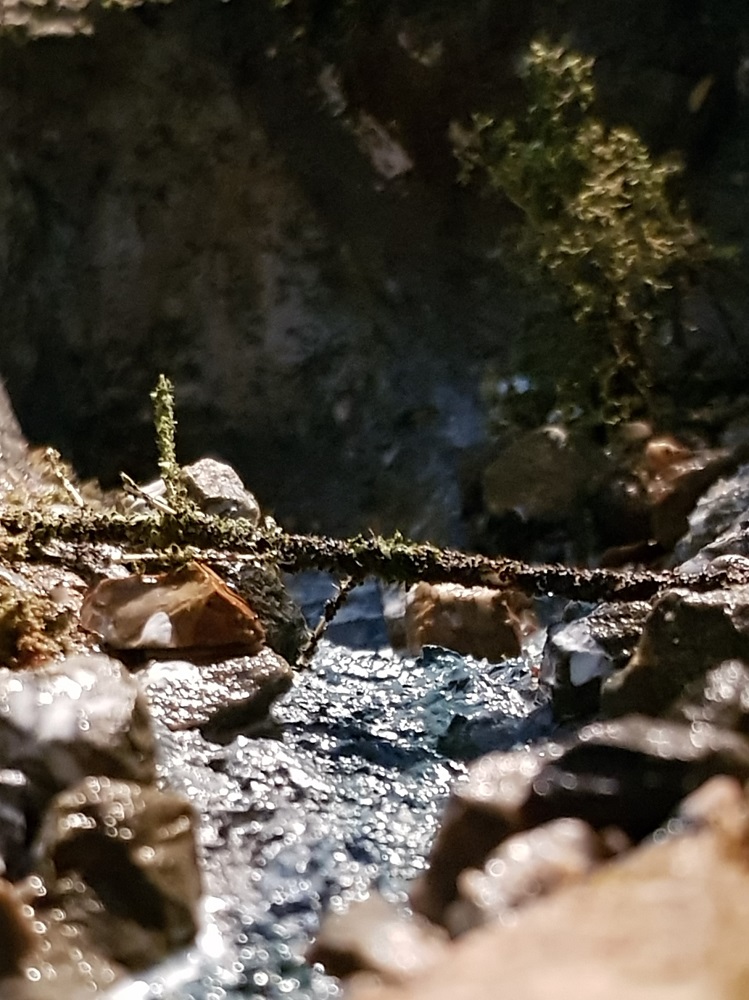 6.1.2020
Today I finished my up-to-now most elaborate film, Das liebe Landleben in Bayern um 1919.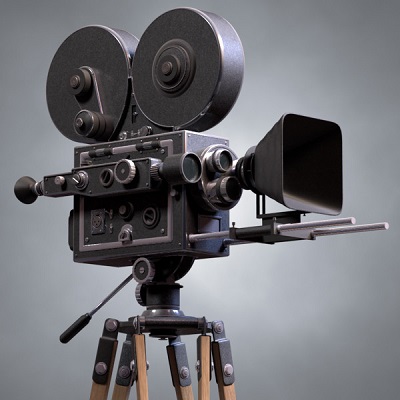 It took me some 5 days (and nights) in filming, editing, finetuning, searching for the right atmospheric music, looking for the sound of birds in the forest, etc.
While nearly finishing my film, I found a poem by this German poet called Karl Christian Tenner (1791-1866), who was born in the Bavarian Pfalz. How fitting!
His poem "Das Jägermädchen" fits most perfectly with the atmosphere surrounding the Forest Lodge, which in fact is the real star of this movie.
It was my specific intention to give this particular film a true and authentic German atmosphere, say Bayern pur sang.
Therefor I choose not only a German title, but went for a complete German text as well as a timeline according to Bavaria around 1919.
Even specific German words and phrases (terminus technicus) considering the German Railways in the early 1920's were not ignored.
Moments of reflection were intentionally added between different shots by using pictures of several Bavarian locomotives starring in this movie.
The final forestall shot with only singing birds is in effect meant to be the echo in our memories and for treasuring a time past.
Watch 'Das liebe Landleben in Bayern um 1919'
PS: I am most humbly flattered with over 700 views on YouTube within a day, as well as the kind gesture of mr. Jörg Vallen from the Busch Company a day after,
who kindly posted a message on their Facebook Account, which received already 497 likes in two days.