Pine trees on the Cochemer Bahn
in
Jacq Damen Style

When I first saw Jacq Damen's layout "Dreimühlentalbahn" on the Dortmund Fair of 2009, I instantly fell in love with his pine trees in the background.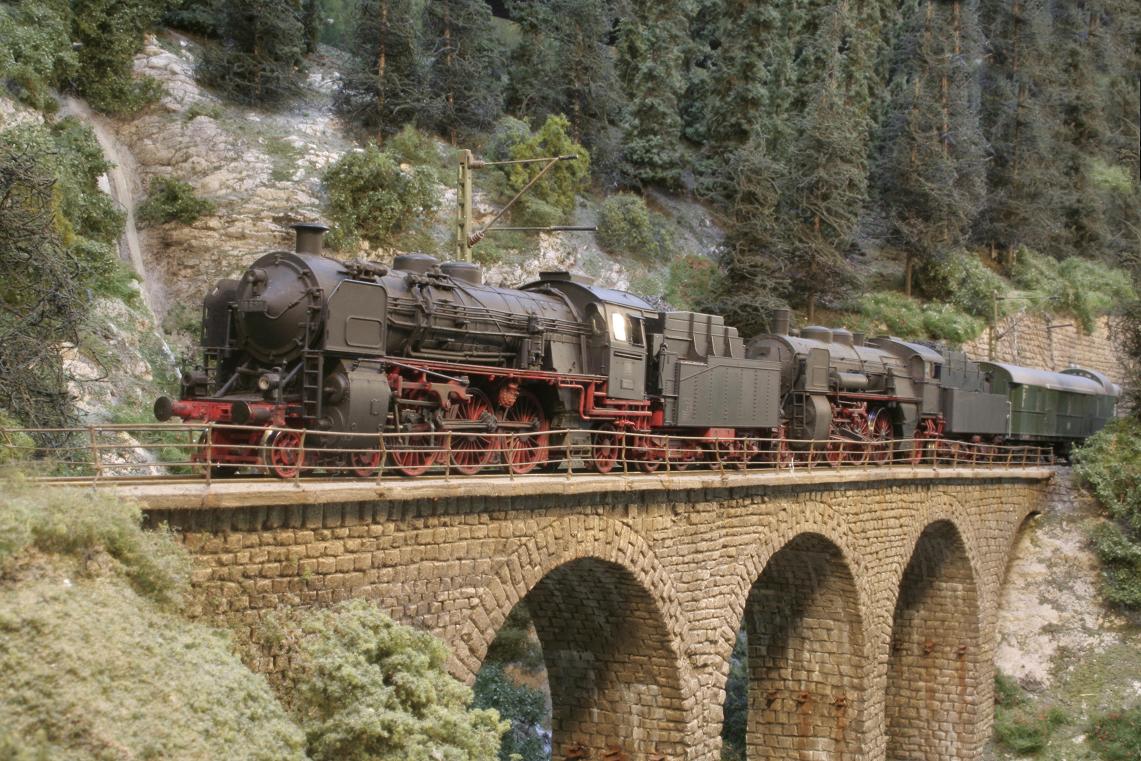 Frits Osterthun © Dortmund Intermodellbau 2009
When I visited Jacq at his homestead in Helmond (Netherlands) some months later (October 21, 2009),
he not only explained to me how to make this kind of trees,
but he also offered me the very same materials that he had used for his pine trees on the 'Dreimühlentalbahn'.
It was this black-greenisch stuff which the United States Army uses in their filter system.
Splendid material for suggesting thin pine tree branches.
~~~
The first of February 2019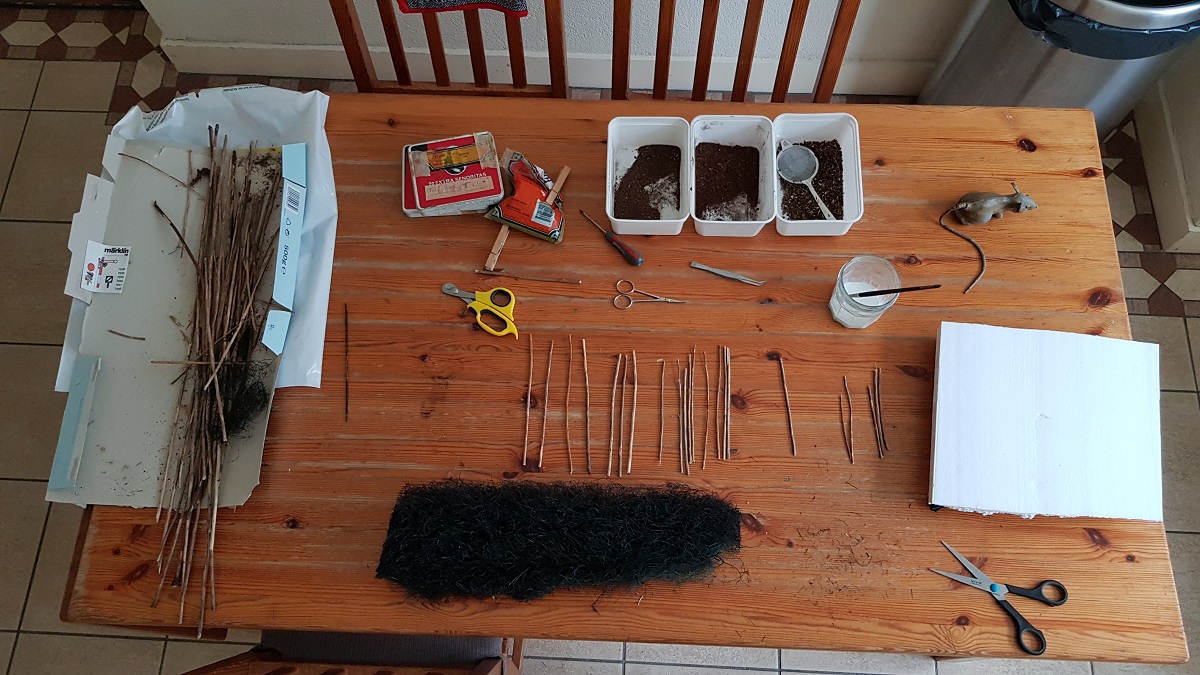 For tree trunks however, Jacq used these thin and strong satay sticks which he gave a black painting.
I tried to make one myself in 2009, but the whole experiment of making pine trees didn't work out as I wanted to.
I just quit and left the "Jacq stuff" hidden in the attick for another time to come...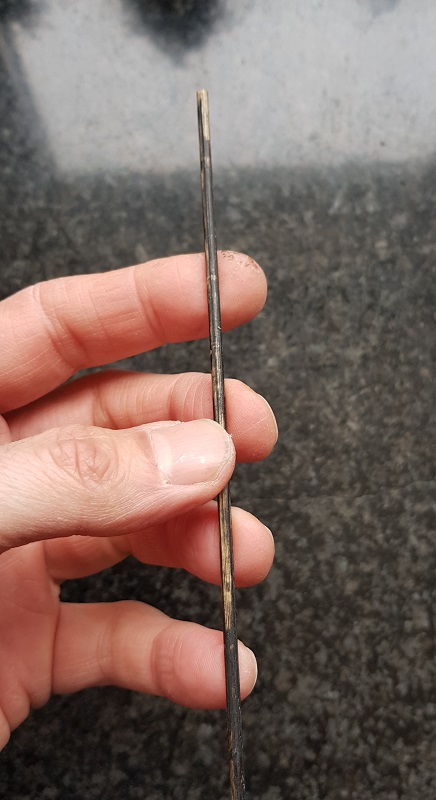 Now that I moved to the North and my layout gets a total refurbishing, the pine-tree-issue popped up again as well.
I promised myself to finish the Cochemer Bahn as I intended, so today was pine-tree-day!
Unlike Jacq, I choose natural materials from plants to suggest real tree trunks.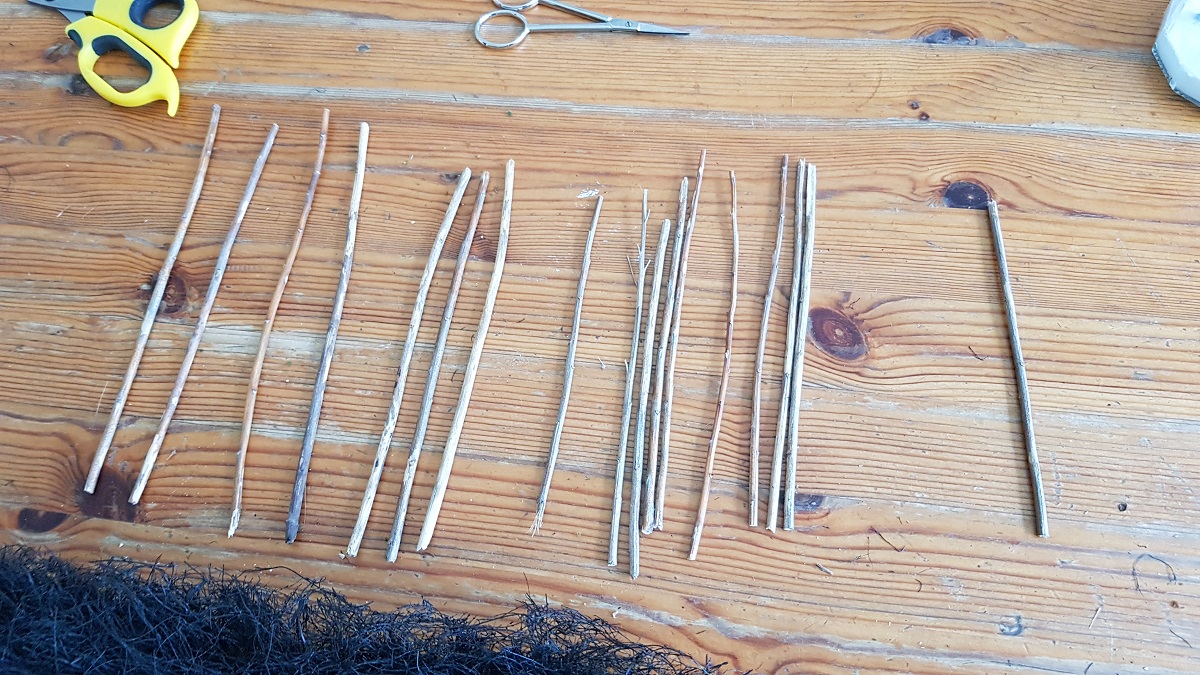 The 'filter foam' was ripped apart in small pieces. I choose 4 to 6 pieces for each tree, depending its height.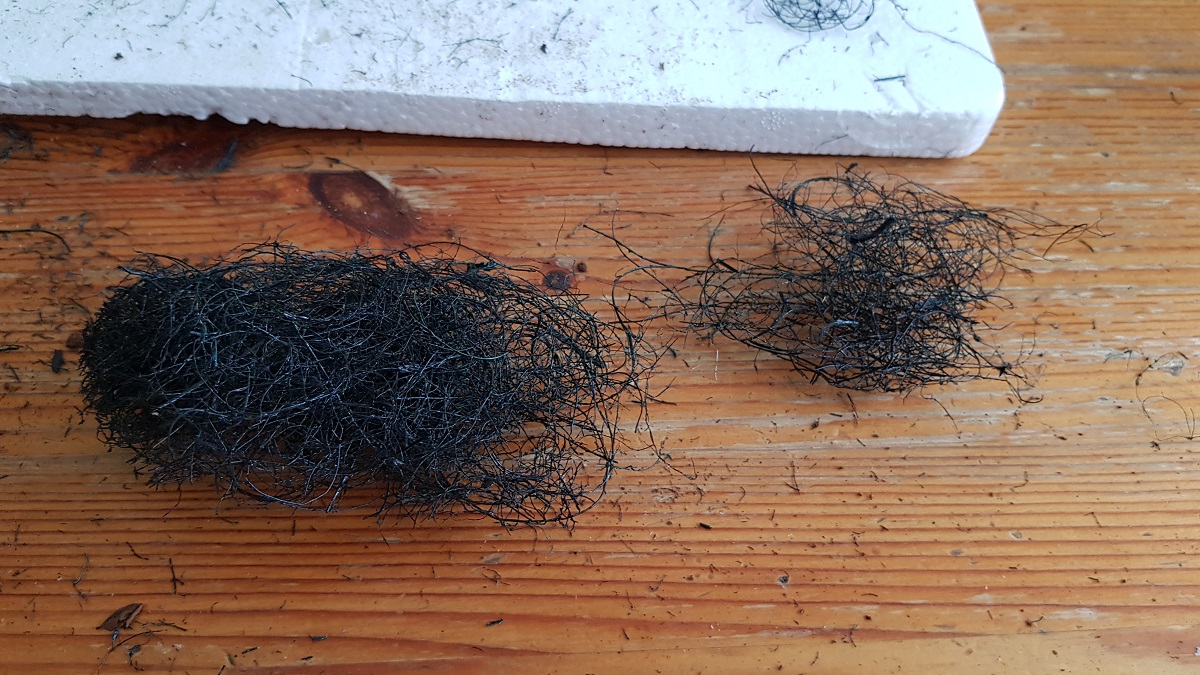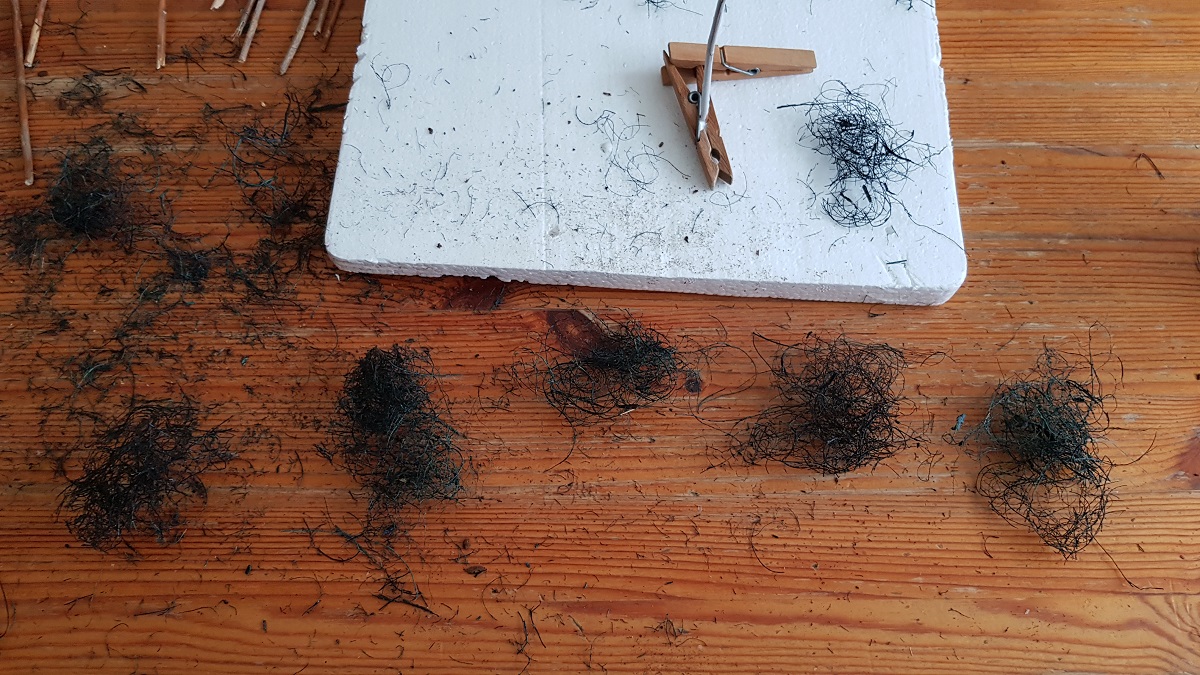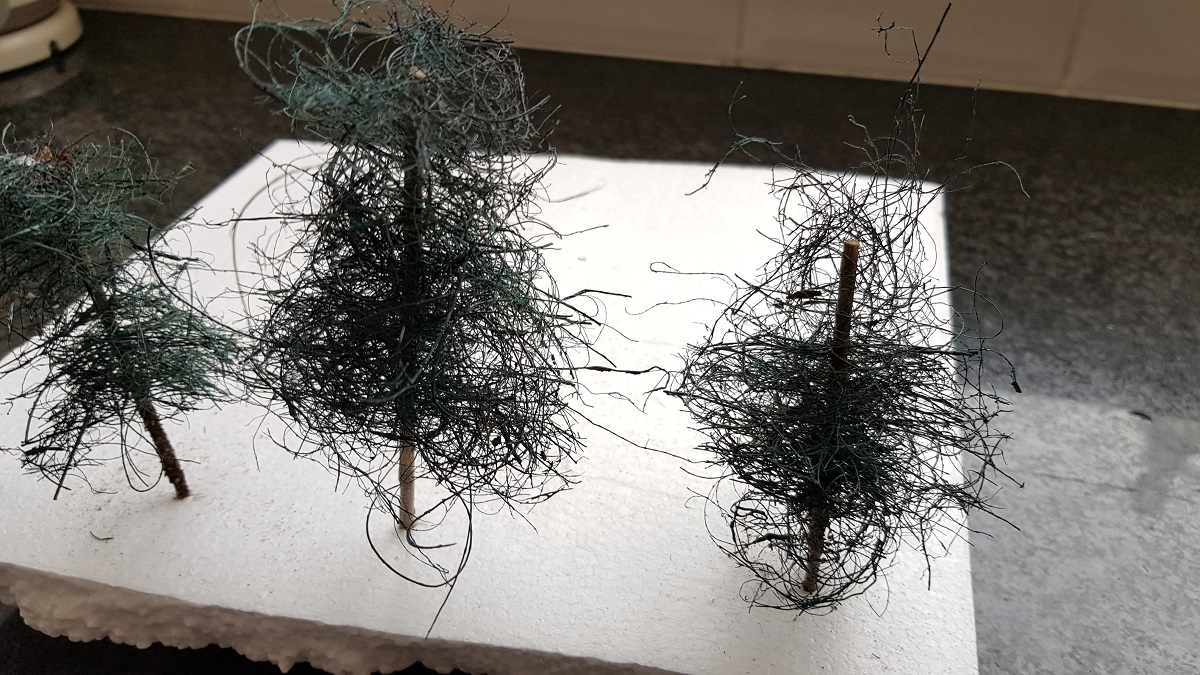 These three models still are in raw shape.
Since I want my pines to have a rough layer of bark, I used white glue for the whole trunk and sprinkled coarse turf on it.
The turf is a natural dirt material, that I sifted for obtaining various grain sizes.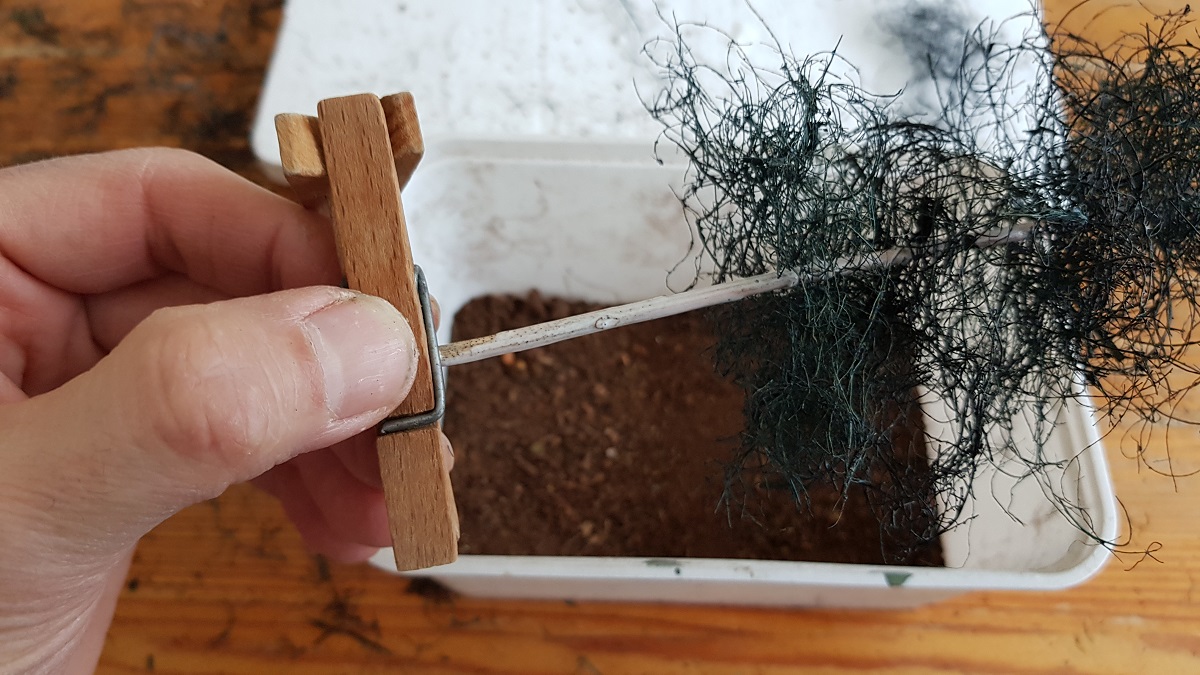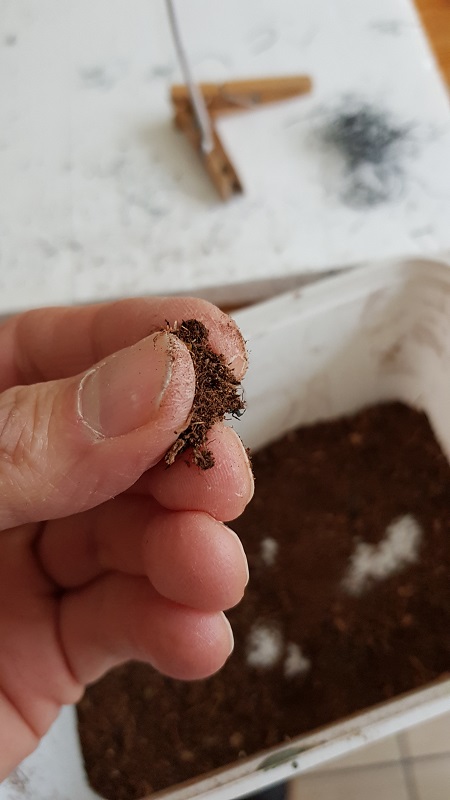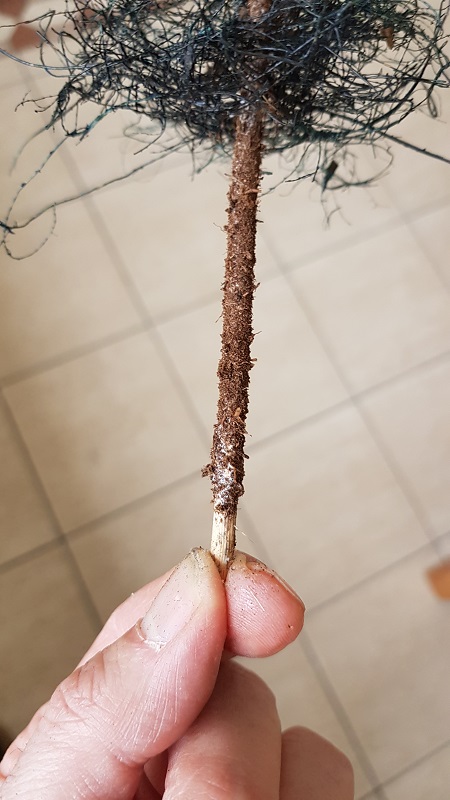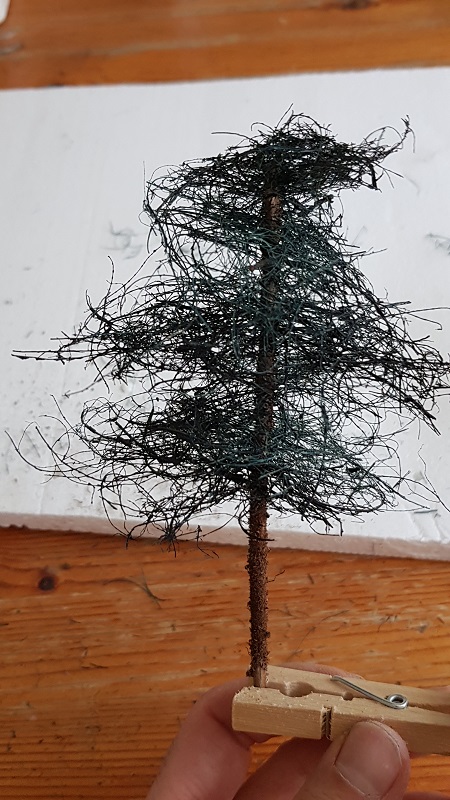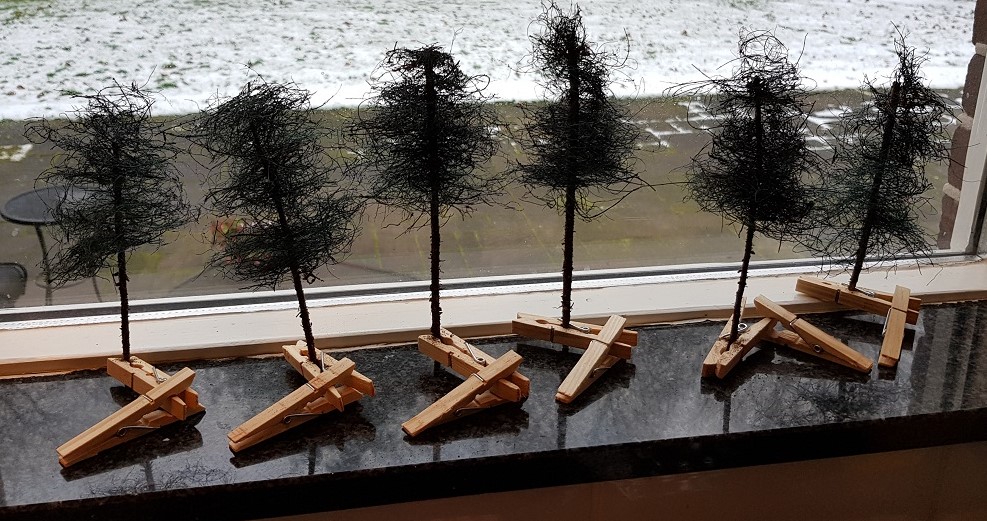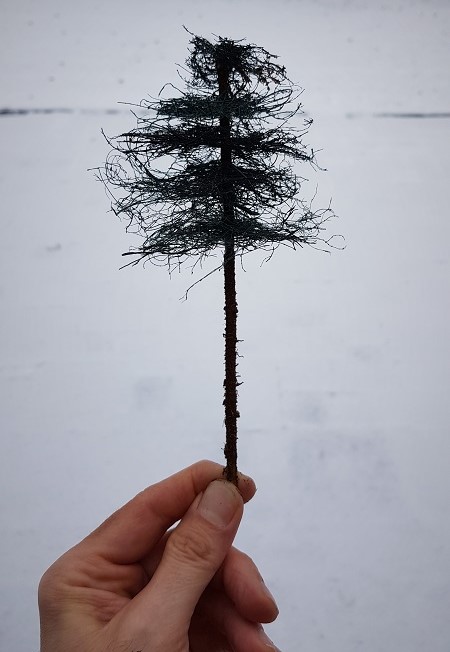 It still needs an additional crown on top to finish its major shape.
After the glue has dried, I will cut all the branches for shaping real pine trees.
The finishing touch will be a layer of greenish brown "leaves" on the branches
to give them this typical Jacq Damen-pine-tree-look of the Driemühlentalbahn.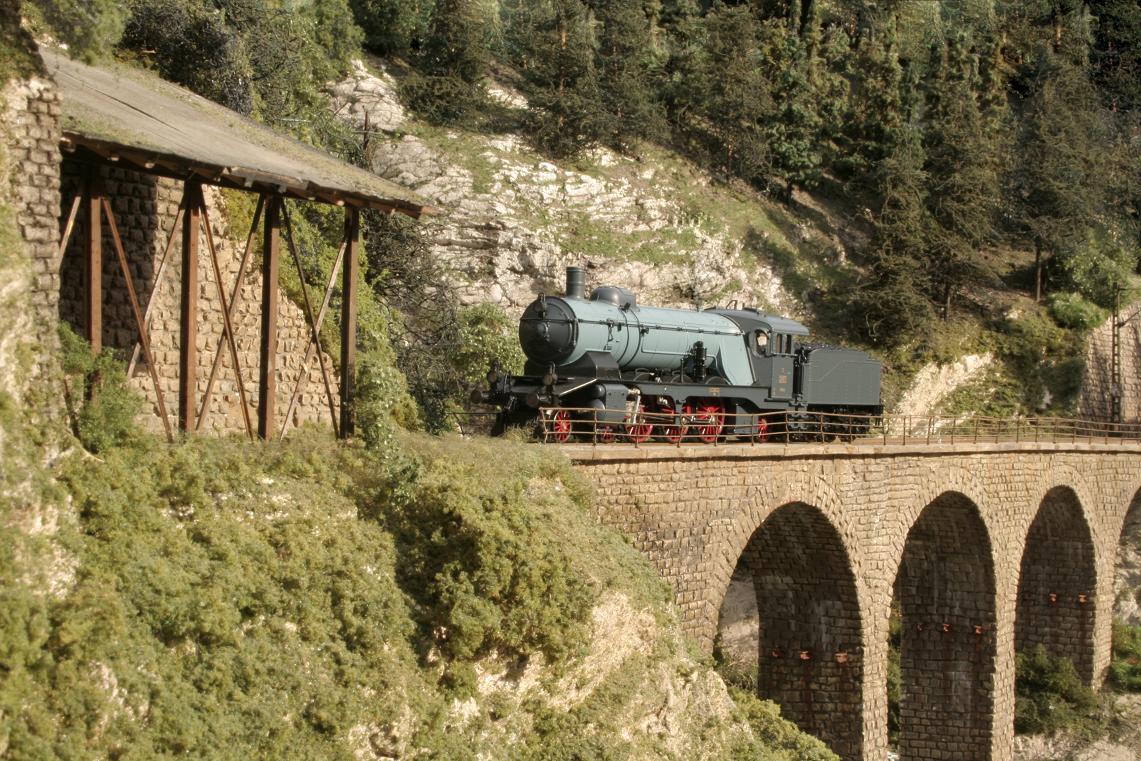 My Württemberg C on one of the finest parts of the 'Dreimühlentalbahn' during my visit at Jacq's in Helmond (October 2009)
~~~
Saturday, February 2, 2019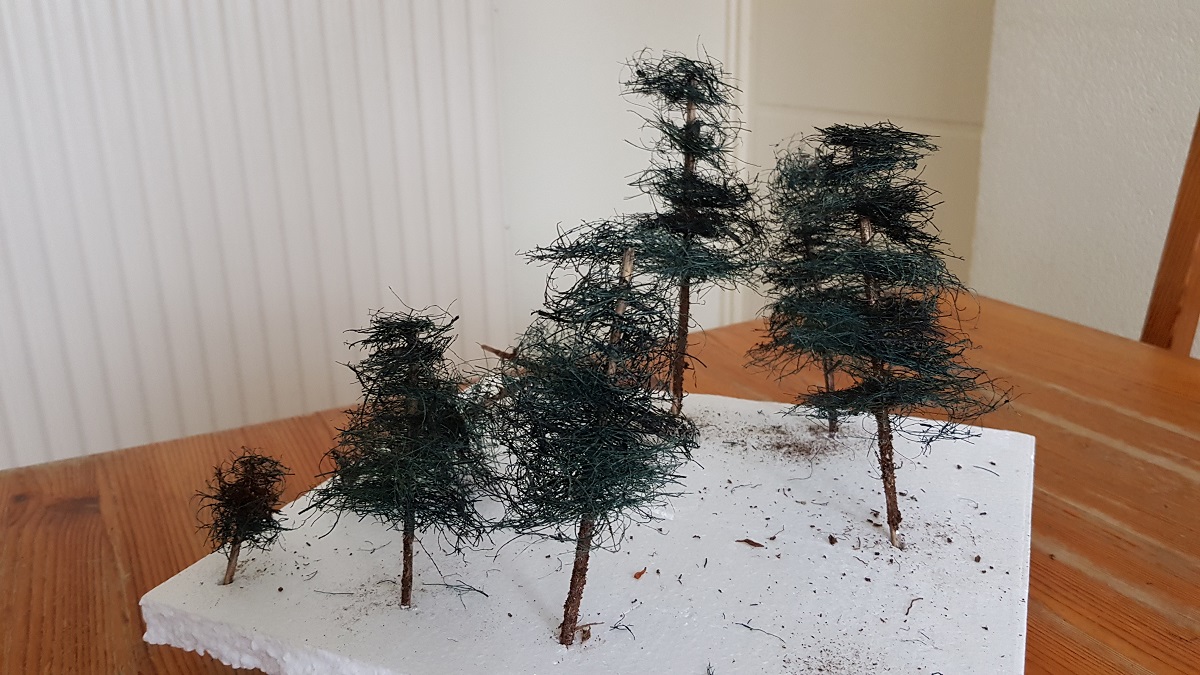 After drying during the night, it's a fine morning to do some cutting of the branches.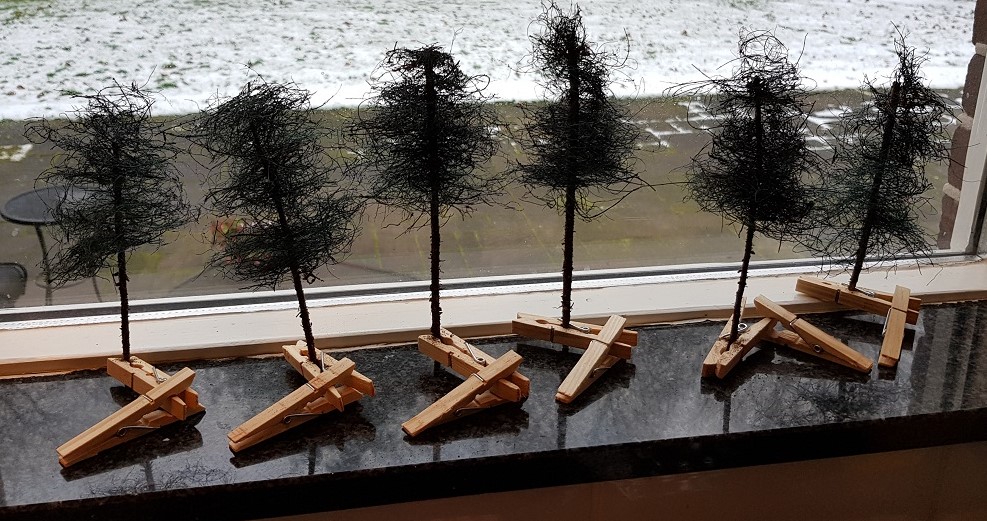 This is where I left them yesterday to dry during the night, and this is the result after some firm cutting.
~~~
Thursday, Februari 6, 2019
After some days of drying, the trees were firm enough to get their finishing touch: a layer of course turf (Woodland T42) to give the pine trees a more natural look.
I applied the turf while using a strong hair spray for glue!
Since I have no experience, I started not with the finest of my creations...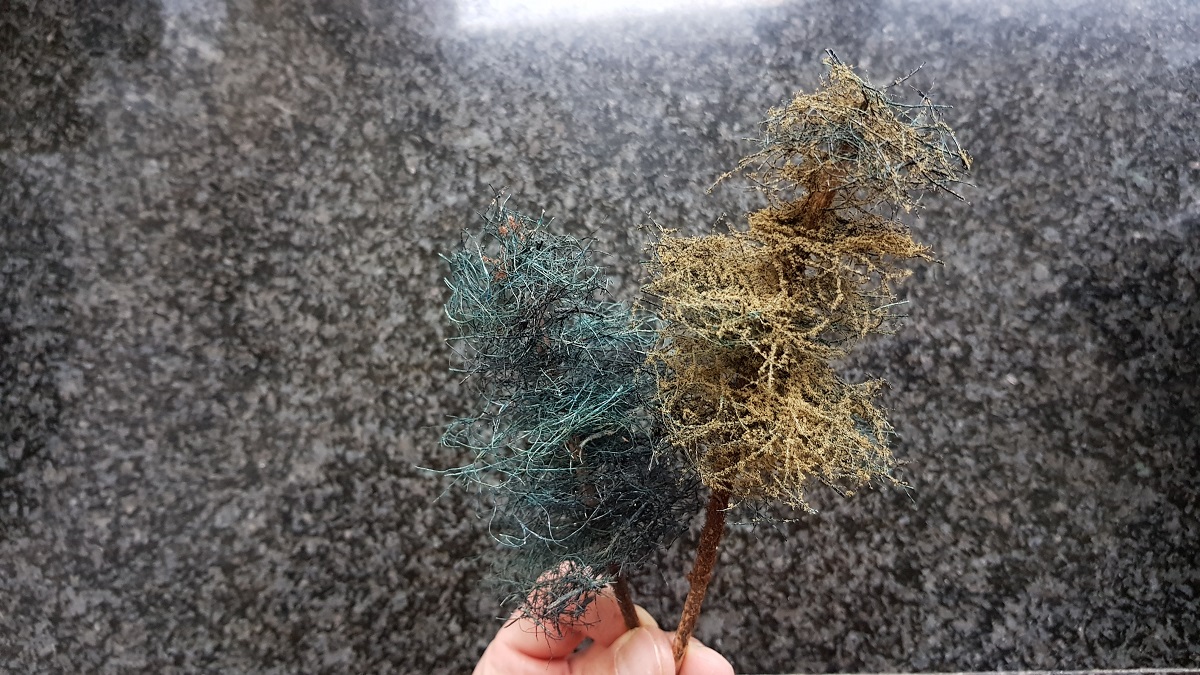 Less is indeed... more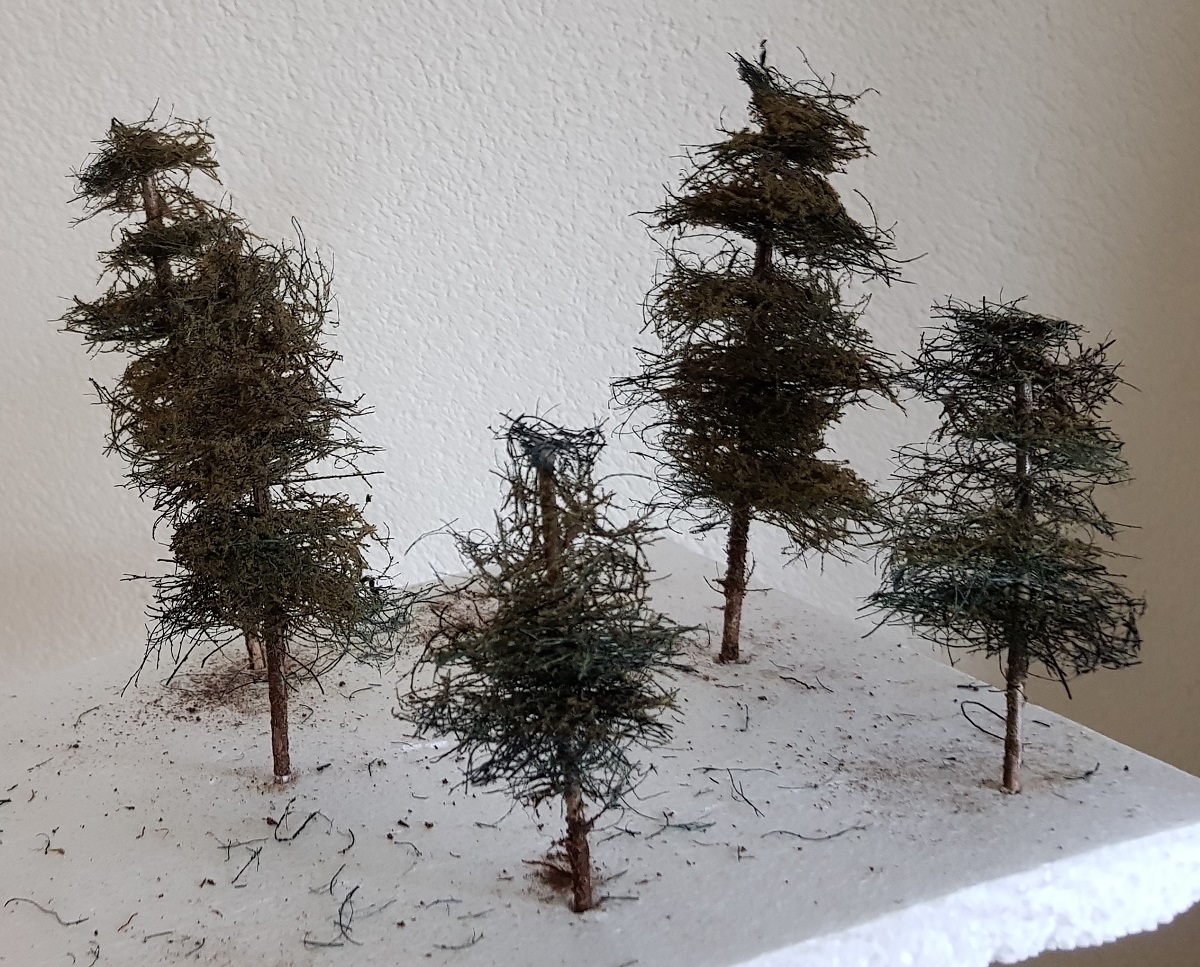 First impression...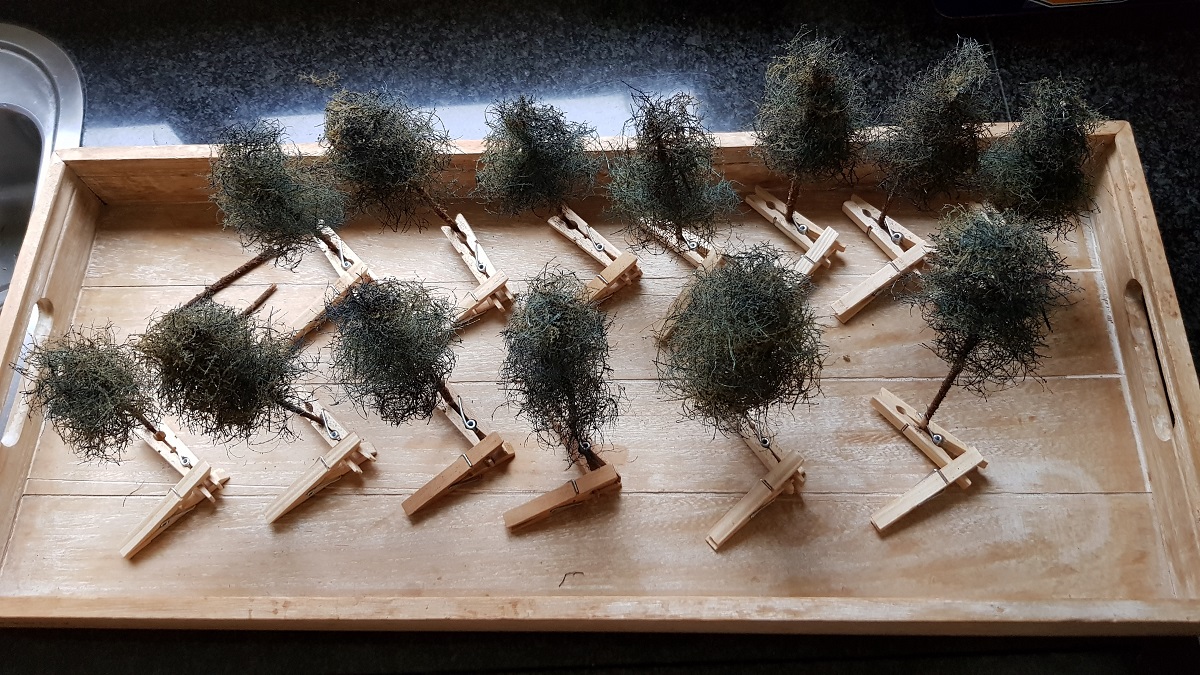 All twenty trees done... with some extra cutting and glueing...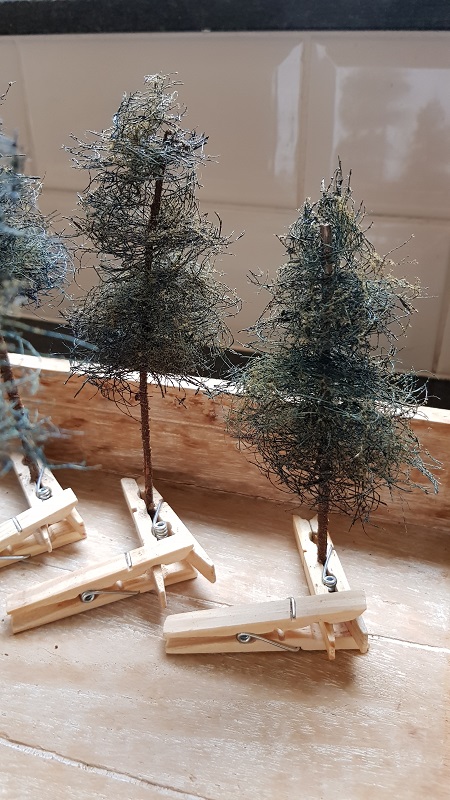 The finest of all!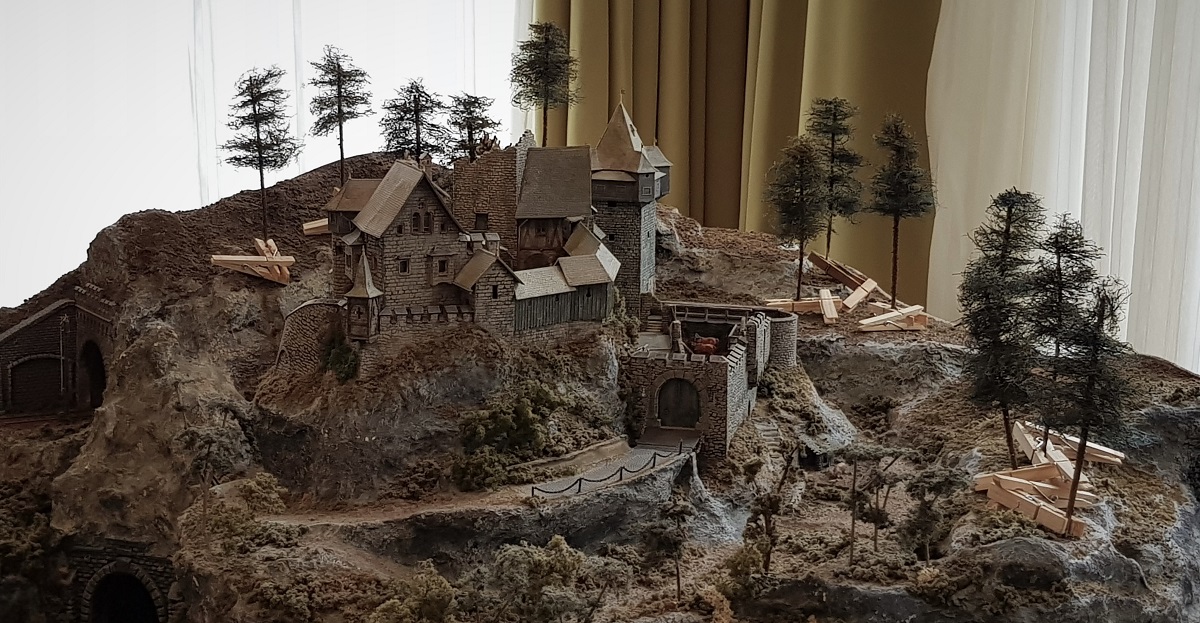 It will take some time before I have found the right composition of all trees.
Never the less, it feels pretty satisfying that my promise to Rogier Donker is taking shape!
He wrote:
"At a recent town council meeting King Ludwig the Magnificent suggested in no uncertain terms
that a new forest be grown behind the Cochemer Burg so his Majesty's private hunting preserve could be enlarged...
At the king's behest and insistence the town fathers, under protest, passed the new ordinance and so a new forest will magically appear one of these days.
"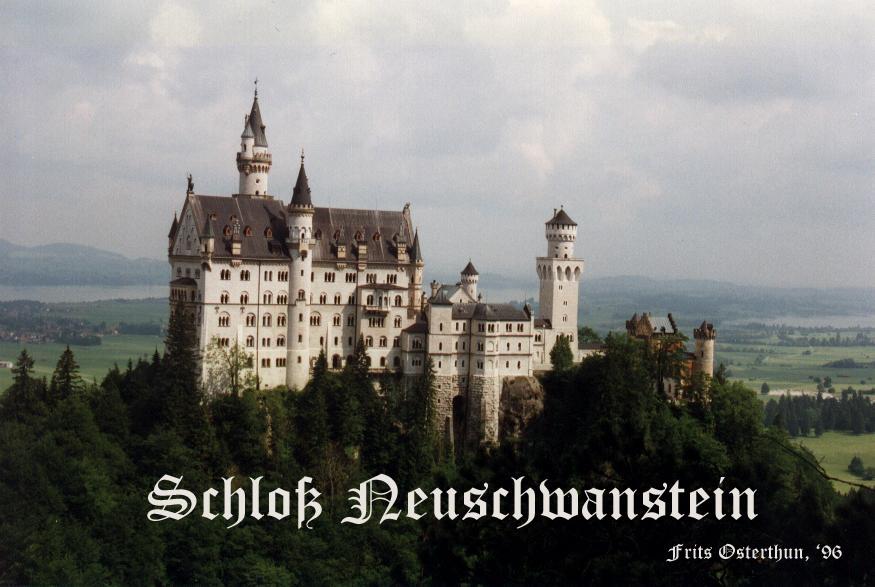 How it continues with the trees you can read at the story of the Forest!
~~~
Frits Osterthun © 6.2.2019
Last update: 12.2.2023